Shaolin Temple, Dengfeng Maps 2023: Updated, Detailed
Shaolin Temple is located in the central Henan Province, Dengfeng. It is only about 90km to Zhengzhou and 55km to Luoyang. As a World Heritage site and the birthplace of Kungfu, Shaolin Temple is a must-visit site for Kung Fu fans. In order to help you understand more about its location, transportation, and nearby sites and hotels, we've selected some useful maps, including Shaolin Temple China Map, Shaolin Temple Location Map, Shaolin Temple Tourist Map, etc. All Shaolin Temple Maps are downloadable for free. Please make full use of them to plan your Shaolin Temple Tours.
Shaolin Temple Location Maps - Where Is Shaolin Temple (Dengfeng)
Dengfeng city (112° 49'- 113° 19'E, 34° 35'- 34° 15'N) is located to the southwest of Zhengzhou city. The city is 58 kilometers long from east to west, 36 kilometers wide from south to north, with a total area of 1217 square kilometers. Shaolin Temple Scenic Area is located in the west of Dengfeng, about 15km to Dengfeng city.
Shaolin Temple Tourist Maps
Known for the Buddhist Zen culture and Kung Fu, Shaolin Temple attracts lots of tourists to take a devoted hike to Mt. Song, learn Shaolin Kung Fu from the masters and monks, and stroll around different temples and pagodas, etc. The maps of its major attractions with detailed information are offered for your Shaolin Temple Kung Fu trip!
▶ Popular Shaolin Temple Tours: 2 Days Shaolin Temple Tour from Zhengzhou | 3 Days In-depth Shaolin Kung Fu Class Tour | 3 Days Shaolin Kung Fu Tour including Luoyoang Highlights
Shaolin Temple Transportation Maps
Shaolin Temple is located on Mt. Song and only about 15km to Dengdeng city. It is well-connected by direct tourist buses from Zhengzhou and Luoyang. There is neither a train station nor an airport in Dengfeng. Apart from taking a bus to Shaolin Temple, if you depart from other Chinese cities like Shanghai, Chengdu, Chongqing, Hangzhou, Nanjing, and so on, you can also take a flight to Zhengzhou Airport which is about 90km to Shaolin Temple. Besides, many tourists would like to take a high-speed bullet train from Beijing or Xian to the high-speed railway stations in Zhengzhou or Luoyang and transfer to Shaolin Temple by bus/taxi/private car. Besides traveling Shaolin Temple alone, you are recommended to visit other places in Henan, such as Luoyang, Mount Yuntai, Guoliang Village, etc.
▶ Useful Links: Shaolin Temple Transportation | Beijing to Shaolin Temple | Xian to Shaolin Temple | Zhengzhou to Shaolin Temple | Luoyang to Shaolin Temple
▶ Popular Shaolin Temple Tours: 3 Days Shaolin Temple Longmen Grottoes Tour from Zhengzhou | 5 Days Ancient Henan Tour from Xian | 10 Days China Culture Tour Plus Shaolin Kung Fu Experience
How to Plan Your Dengfeng Shaolin Temple Tour
How to Get to Dengfeng Shaolin Temple: Usually take private car from Luoyang (about 1.5 hours) or Zhengzhou (about 2 hours); or take direct bus from Luoyang (about 2 hours) and Zhengzhou (around 1.5 hours)
Top Things to Do in Shaolin Temple: See ancient Buddhist architectures; watch Shaolin Kung Fu Show; join Shaolin Kung Fu Training Program
Where to Stay During Shaolin Temple Tour: Most tourists accommodate in hotels in Dengfeng City while Shaolin Kung Fu learners can stay in Kung Fu school with basic facilities.
After arrival from Luoyang or Zhengzhou, ordinary tourists usually spend one day visiting Shaolin Temple - a UNESCO World Cultural Heritage and the birthplace of Chinese Buddhist Zen and Chinese Kung Fu (Martial Arts). One-day Shaolin Temple tour is a classic itinerary covering the best essence, which takes you to admire the sacred shrine with 7 courtyards, the Pagoda Forest and lots of ancient architectures. Besides the sightseeing, you can also watch a wonderful Shaolin Kung Fu show and even join in a short-period Kung Fu training class to learn some basic styles. Love nature and physical condition allows? Take half a day more to do an excursion on Sanhuang Village of Mount Song, walk on the amazing roads cliffside and witness unique mountain landform. (If you or your kids plan to take a longer Kung Fu learning near Shaolin Temple, you can also contact us to get more recommendations.)
✔ 2 Days Shaolin Temple Tour from Zhengzhou
✔ 3 Days In-depth Shaolin Kung Fu Class Tour

If you have one more day and are quite interested in ancient Chinese culture, Luoyang is another must-visit destination in Henan (if you haven't visited). The awesome Longmen Grottoes stretching by the riverside and China's first Buddhist temple - White Horse Temple are iconic sites for your Luoyang tour. Still, there are many remarkable cultural and natural sights in Henan worthy your exploration, including the spectacular Yuntai Mountain, mysterious Guoliang Village, interesting Yin Ruins of Anyang, ancient capital Kaifeng, etc. Finishing your Henan tour, you may extend your journey to Beijing, Xian and other major destinations in China as you want. You can choose from our most popular China Shaolin Temple tour packages or contact us to customize a trip based on your requirements.
✔ 3 Days Shaolin Kung Fu Tour including Luoyang Highlights
✔ 8 Days China Ancient Capitals Tour (Beijing/Luoyang/Xian)
✔ 11 Days Essence of China Culture Tour by High Speed Trains
✔ 15 Days China Kungfu Panda Family Tour
Our Customers visited Pagoda Forest of Shaolin Temple
Our Customers Visited Luoyang Longmen Grottoes
Get Inspired by Real Travel Stories of Our Customers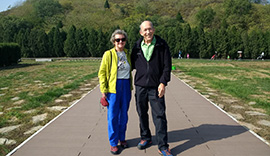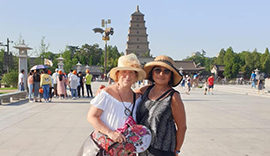 Our Delighted Customers
Top Dengfeng Shaolin Temple Tours
Helpful Dengfeng Shaolin Temple Travel Guide
Recommended Shaolin Temple Tours
Top 3 Shaolin Temple tours chosen by most customers to explore Shaolin Temple in the best way. Check the detailed itinerary,or tailor your own trip now with us.
3 Days Shaolin Temple Longmen Grottoes Tour from Zhengzhou

Zhengzhou / Shaolin Temple / Luoyang
8 Days China Ancient Capitals Tour

Beijing / Luoyang / Xian
3 Days Luoyang Shaolin Temple Mount Song Hiking Tour

Luoyang / Dengfeng / Luoyang