Shaolin Temple Hotels & Hostels - Where to Stay around Shaolin Temple 2022
Located on Mt Song of Dengfeng, the central Henan Province, between Luoyang and Zhengzhou, Shaolin Temple is a world-renown birthplace of Chinese Kung Fu influenced by the profound Buddhist culture. Every year, it attracts numerous Kung Fu fans and Buddhists there. To fully experience the Kung Fu culture here, many tourists will choose to stay in or around the Shaolin Temple scenic area. The accommodation sites are mainly in the Dengfeng downtown area and Shaolin Temple scenic site area and the distance between them is only about 15km. Although you can not expect to have the same accommodation facilities like many other Chinese cities, like Beijing, Xian, and Zhengzhou, most of them can meet the basic needs of tourists and offer you a cozy stay.
Can I Stay in Shaolin Temple?
Due to its great fame, numerous visitors, limited rooms, the temple itself is Not open for any public accommodation service. Not far away from the temple, the dwelling place for the Shaolin disciples and monks on the back Shaoshi mountain is opening for both male and female visitors who would like to experience the lifestyle of Shaolin disciples, and a compulsory donation is required: USD 200 per person per day including a tough Kung Fu training class taught by the Shaolin monk. However, the facilities for accommodation might be very rough and simple.
Since there are many hotels and homestays around the scenic area and Dengfeng City with a short distance to Shaolin Temple and a reasonable price, they are the common choices for most visitors.
Note: Accommodation in Dengfeng will be adjusted along with the off-season, peak season, different Buddhist events, and celebrations, and it will be difficult to find a room on certain days. Therefore, you are recommended to arrange your accommodation in advance.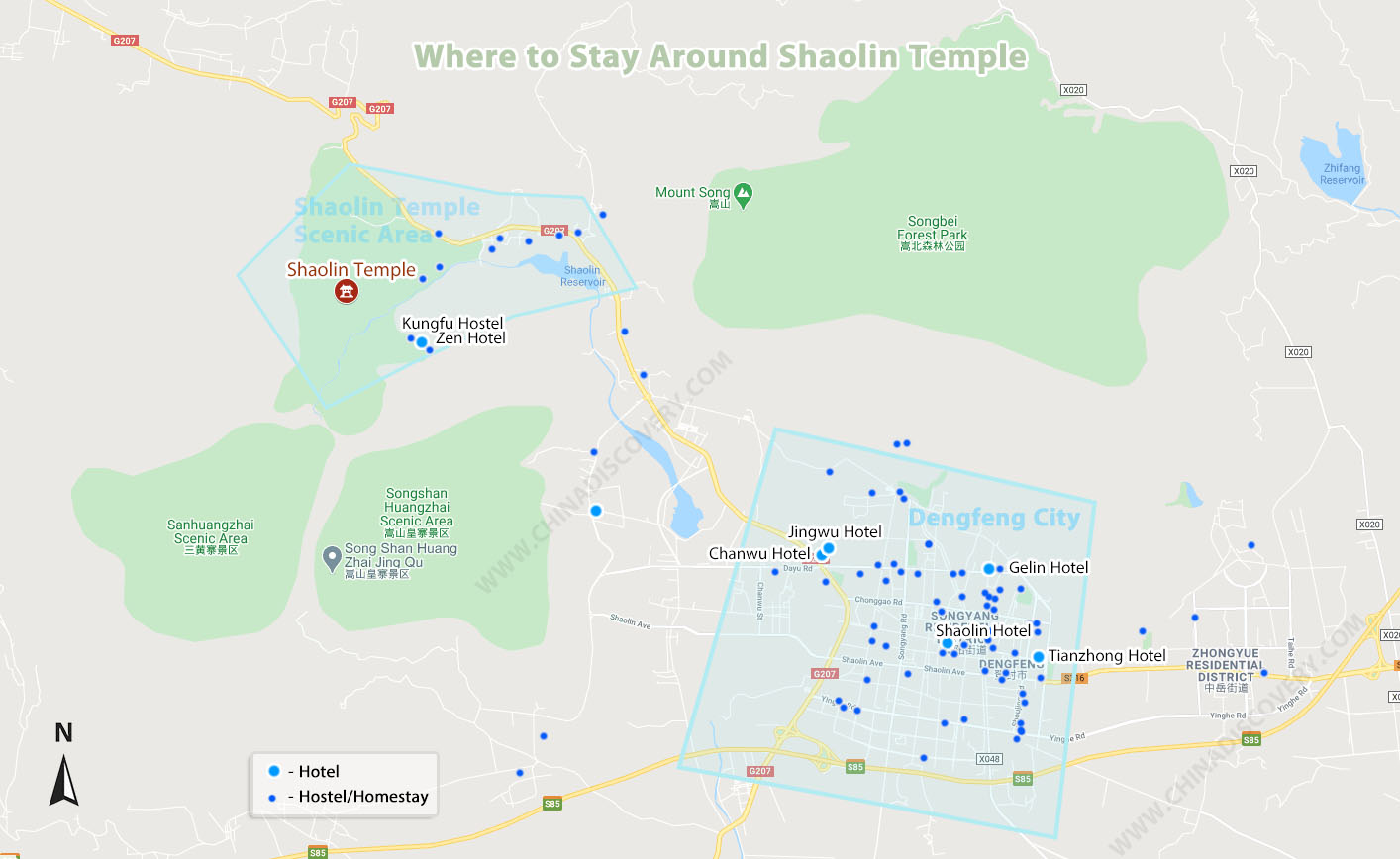 Where to Stay Around Shaolin Temple (Click to Enlarge)
Option 1: Comfortable Hotels in Dengfeng City
The driving distance from the Dengfeng downtown area to Shaolin Temple scenic area is only about 15km (15-30min by car). Though there are not many high-end hotels in Dengfeng, the hotels in Dengfeng downtown generally provide more accommodation choices and better amenities, which guarantee a comfortable stay and saves energy for the Mount Song hiking and temple visiting the next day.
Chanwu Hotel 禅武大酒店 ★★★★
Address: E'poling, West of Dayu Road, Dengfeng 452470, China 河南省登封市大禹路西段鹅坡岭
Service: Located conveniently location nearby scenic spots, with many martial arts features, Chanwu hotel is the top-rated hotel on Tripadvisor. It offers kinds of types of rooms and dining halls, what's more, stay here you can enjoy the free martial arts performance and appreciate the profound Wushu atmosphere.
Review: "Lots of history and culture on display here. Rooms are very cozy with lots of amenities. The in house restaurant is a little more than outside places but it is very good and convenient. Their complementary breakfast buffet is great. I travel to this area of China every few years and this place will be at the top of my lists to stay at."
Shaolin International Hotel 登封少林国际大酒店 ★★★★
Address: No.20 Shaolin Road, Dengfeng 450000, China 河南省登封市登封少林大道20号
Service: Upgraded Facilities in 2010, Shaolin International Hotel provides luxury suites, standard rooms, single rooms for you to select, each room is well equipped. Together with the business center, gym, bar, Kara OK, and other facilities, you can taste kinds of Western and Chinese dishes, including Shaolin vegetarian food. You can enjoy yourself here.
Dengfeng Tianzhong Hotel 登封天中大酒店 ★★★★
Address: No.22 East Section of Zhongyue Street, Dengfeng 450000, China 河南省郑州市登封市中岳大街东段22号
Service: Situated in the foot of Mt. Song, Tianzhong Hotel is the garden hotel with green trees around each season. With 8-storey, it has rooms of 130, including 81 deluxe standard rooms, 42 business rooms, 6 luxury suites, and a villa. All of these rooms provide a comfortable, safe housing rest environment for each visitor.
• Other recommended hotels in Defeng city: Jinhwu Hotel 登封精武大酒店 (Location: Intersection of Dengfeng Avenue and Dayu Road, Dengfeng City, Henan Province 河南省登封市登封大道与大禹路交叉口); Ge Lin Hotel 登封格林酒店 (Location: The intersection of Dayu road and Chongfu road in Dengfeng City, Henan Province 河南省登封市大禹路与崇福路交叉口向西20米路北)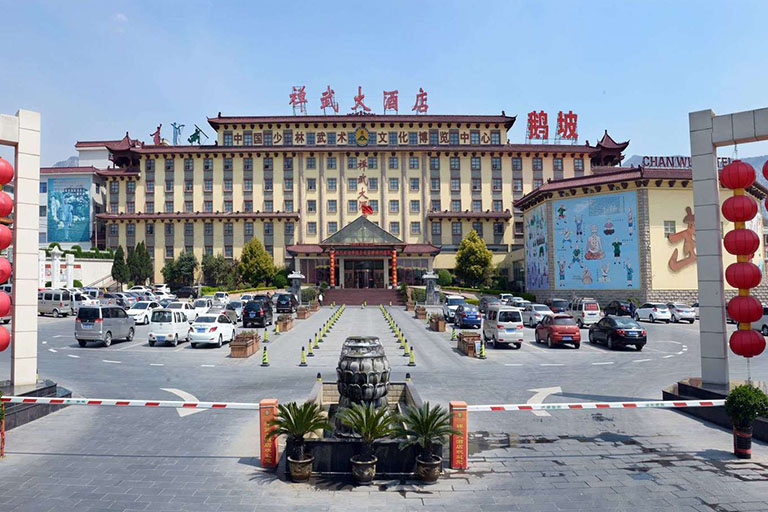 Chanwu Hotel
Shaolin International Hotel
Dengfeng Tianzhong Hotel
Option 2: Hotels and Hostles in Shaolin Temple Scenic Area
The accommodations choice in Shaolin Temple scenic area is very limited, and facilities of most hotels may need your basic staying needs. Besides the homestays, there is only one hotel available inside the scenic area, namely, the Zen Hotel (also named as, Chanju Hotel, 禅居饭店). You can also stay in the Shaolin Resort (少林度假宾馆) which is located in the small village next to the petrol station 5 minutes' walk from the scenic area gate. The village itself is very simple. If you are interested in Kung Fu study, many visitors also go to Kungfu Hostel (少林寺功夫客栈) which is very close to a Kung Fu school in Shaolin Temple scenic area.
• Popular Shaolin Temple Tour: ✔ 3 Days Shaolin Temple Longmen Grottoes Tour from Zhengzhou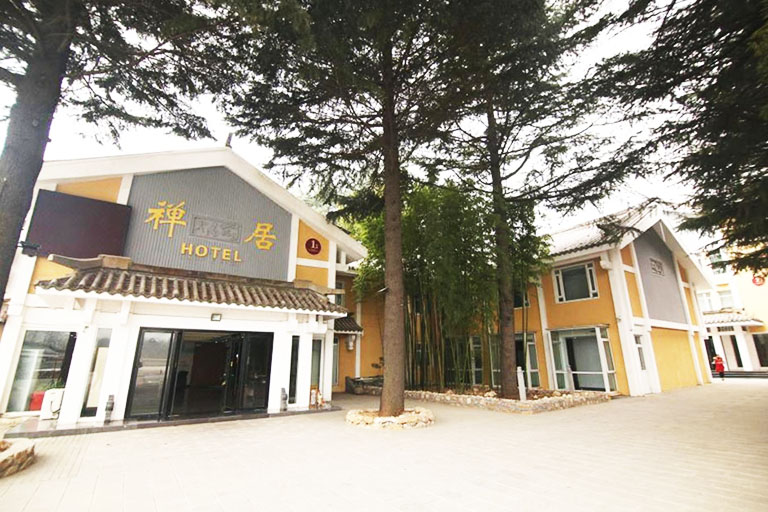 Zen Hotel
Zen Hotel 禅居饭店 ★★★★ the only hotel in Shaolin temple scenic area
Address: Songshan Shaolin Temple Scenic Area, Dengfeng, Henan, China 河南嵩山少林寺景区内武术馆西
Service: Located in the Shaolin Temple scenic areas, with 700 meters to the gate of Shaolin Temple, this hotel has 64 deluxe standard rooms, 4 sets of luxury suites. Fully equipped, it has 7 dining rooms and a meeting room for 30-300 people, suitable for single and group stay. You can hear the bells ring from the temple and overlook the Mt. Song natural sceneries.
Shaolin Resort 少林度假宾馆 ★★★ the closest hotel to Shaolin Temple
Address: 700m away from Shaolin Temple, Mount Song, Dengfeng, Henan, China 河南嵩山少林寺对面700米
Kungfu Hostel 少林寺功夫客栈 ★ cost-effective, simple, try Kungfu
Address: No. 20 courtyard, Shaolin Resort, Shaolin Temople scenic area, Dengfeng, Henan, China 河南嵩山少林度假村20号
Tips for Visiting Shao Temple
Please dress up properly. Do not smoke, make noise.
Having Meat and alcohol are not allowed in the temple.
If you want to greet the monk, you should put palms together, slightly bow your head. Do not hug, shake hands, or even touch the head of the monk.
The threshold in the middle of each temple can't be trampled on. It can only be stepped over for the threshold represents the shoulder of Buddha, otherwise, it is disrespectful.
When you enter the hall, you are not allowed to point at the Buddha with a single finger or take photos directly. To worship the Buddha, you should take off your hat, bag, and sunglasses.
How to Plan Your Dengfeng Shaolin Temple Tour
How to Get to Dengfeng Shaolin Temple: Usually take private car from Luoyang (about 1.5 hours) or Zhengzhou (about 2 hours); or take direct bus from Luoyang (about 2 hours) and Zhengzhou (around 1.5 hours)
Top Things to Do in Shaolin Temple: See ancient Buddhist architectures; watch Shaolin Kung Fu Show; join Shaolin Kung Fu Training Program
Where to Stay During Shaolin Temple Tour: Most tourists accommodate in hotels in Dengfeng City while Shaolin Kung Fu learners can stay in Kung Fu school with basic facilities.
After arrival from Luoyang or Zhengzhou, ordinary tourists usually spend one day visiting Shaolin Temple - a UNESCO World Cultural Heritage and the birthplace of Chinese Buddhist Zen and Chinese Kung Fu (Martial Arts). One-day Shaolin Temple tour is a classic itinerary covering the best essence, which takes you to admire the sacred shrine with 7 courtyards, the Pagoda Forest and lots of ancient architectures. Besides the sightseeing, you can also watch a wonderful Shaolin Kung Fu show and even join in a short-period Kung Fu training class to learn some basic styles. Love nature and physical condition allows? Take half a day more to do an excursion on Sanhuang Village of Mount Song, walk on the amazing roads cliffside and witness unique mountain landform. (If you or your kids plan to take a longer Kung Fu learning near Shaolin Temple, you can also contact us to get more recommendations.)
✔ 2 Days Shaolin Temple Tour from Zhengzhou
✔ 3 Days In-depth Shaolin Kung Fu Class Tour

If you have one more day and are quite interested in ancient Chinese culture, Luoyang is another must-visit destination in Henan (if you haven't visited). The awesome Longmen Grottoes stretching by the riverside and China's first Buddhist temple - White Horse Temple are iconic sites for your Luoyang tour. Still, there are many remarkable cultural and natural sights in Henan worthy your exploration, including the spectacular Yuntai Mountain, mysterious Guoliang Village, interesting Yin Ruins of Anyang, ancient capital Kaifeng, etc. Finishing your Henan tour, you may extend your journey to Beijing, Xian and other major destinations in China as you want. You can choose from our most popular China Shaolin Temple tour packages or contact us to customize a trip based on your requirements.
✔ 3 Days Shaolin Kung Fu Tour including Luoyang Highlights
✔ 8 Days China Ancient Capitals Tour (Beijing/Luoyang/Xian)
✔ 11 Days Essence of China Culture Tour by High Speed Trains
✔ 15 Days China Kungfu Panda Family Tour
Our Customers visited Pagoda Forest of Shaolin Temple
Our Customers Visited Luoyang Longmen Grottoes
Get Inspired by Real Travel Stories of Our Customers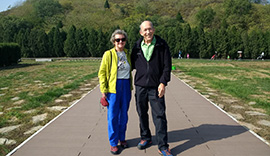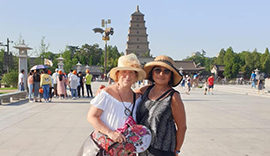 Our Delighted Customers
Top Dengfeng Shaolin Temple Tours
Helpful Dengfeng Shaolin Temple Travel Guide
Recommended Dengfeng Shaolin Temple Tours
Top 3 Dengfeng Shaolin Temple tours chosen by most customers to explore Dengfeng Shaolin Temple in the best way. Check the detailed itinerary, or tailor your own trip now with us.
3 Days Shaolin Temple Longmen Grottoes Tour from Zhengzhou

Zhengzhou / Shaolin Temple / Luoyang
8 Days China Ancient Capitals Tour

Beijing / Luoyang / Xian
3 Days Luoyang Shaolin Temple Mount Song Hiking Tour

Luoyang / Dengfeng / Luoyang
Start planning your tailor-made holiday to China by contacting one of our specialists. Once inquired, you'll get a response within 0.5~23.5 hours.
Customize a Trip
Have a question? Get answers from our travel experts or guests
Your Question:

Your Name:

Your Email: