Top 12 China Natural Wonders Chosen by Our Customers
China is a country that mostly known for its long history and colorful culture. All the global tourists are familiar with the great China attractions like the Great Wall in Beijing, the Terracotta Warriors in Xian, the Oriental Pearl Tower in Shanghai, etc. However, what China can offer are far from that. Beauty is around every corner in China too. There are also a great amount of natural wonders in China. And here, we will show you top 12 China Natural wonders that are hot chosen among our customers, including Jiuzhai Valley in Sichuan, Li River in Guilin, Danxia Landform Geographical Park in Zhangye, Echoing Sand Mountain and Crescent Lake in Dunhuang, etc.
Top 1: Jiuzhaigou National Park in Sichuan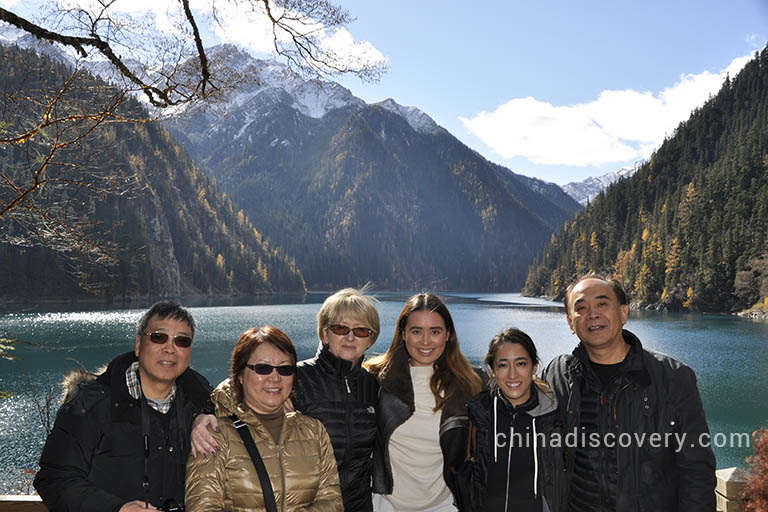 Oliver's group visited Jiuzhaigou National Park in 2014, tour customized by China Discovery
The beauty of Jiuzhaigou deserves all the good words in the world. All the colors can be found there all year around. If you are looking for a wonderland in China with unbeatable natural purities, that should be Jiuzhaigou.
Best Jiuzhaigou tours:
>> 4 Days Jiuzhaigou Tour from Chengdu (by Private Car)
>> 4 Days Jiuzhaigou Bus Tour from Chengdu (by Bus)
>> 5 Days Classic Chengdu & Jiuzhaigou Tour (by Flight)
Top 2: Yangtze River & Three Gorges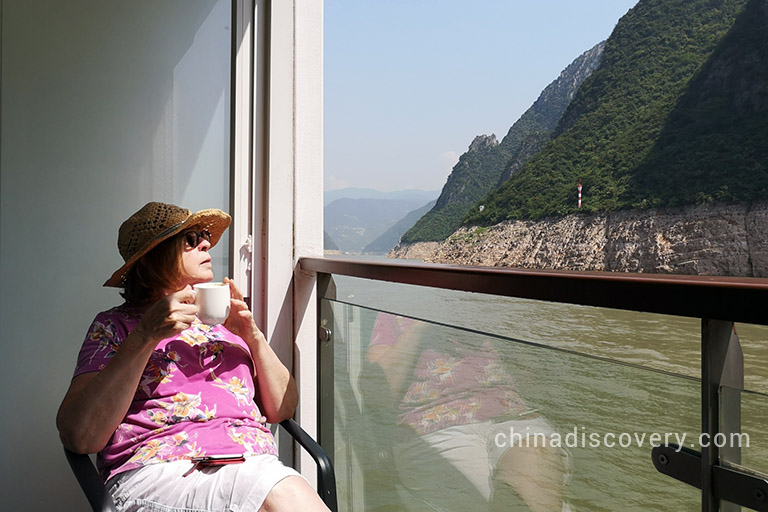 Adrian from UK experienced Yangtze River cruise in 2019, tour customized by China Discovery
If you only want to explore one river of China, you should go to visit Yangtze River. As one of the Mother Rivers of China, Yangtze River has been widely known as the most magical river in China with the most beautiful scenery.
Hot Yangtze River tour:
>> 13 Days Classic China Tour with Yangtze Cruise
Top 3: Zhangjiajie National Forest Park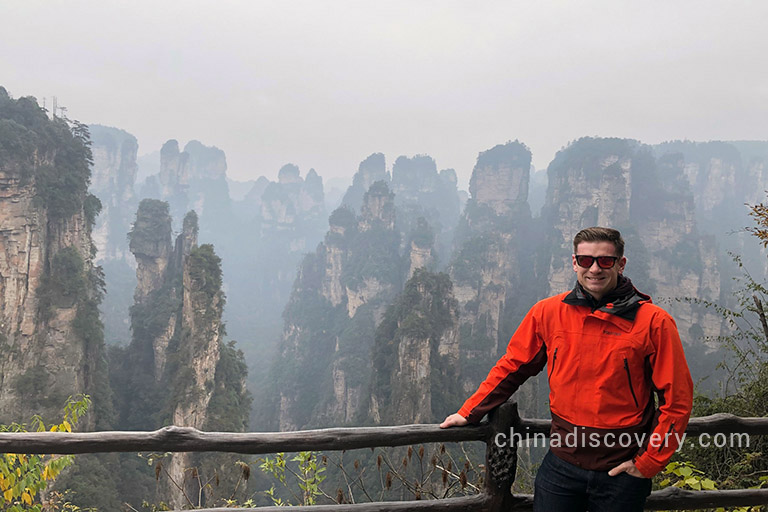 Miriam's group visited Zhangjiajie National Forest Park in 2017, tour customized by Catherin of China Discovery
Zhangjiajie National Forest Park is the first national forest park in China. It is part of Wulingyuan Scenic Area, where you could find more than 3,000 otherworldly quartzite sandstone pillars and also the prototype of Hallelujah Mountains in the first 3D film Avatar.
Popular Zhangjiajie tour:
>> 3 Days Classic Zhangjiajie Natural Wonders Tour
Top 4: Mount Everest in Tibet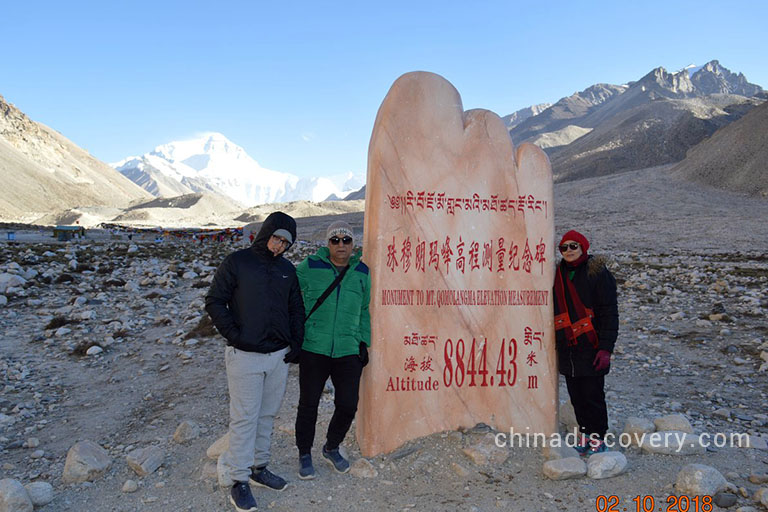 Awasthy's group from India visited Mount Everest in October 2018, tour customized by Leo of China Discovery
Mount Everest is the highest point on Earth. Even planning a tour to Mount Everest is a challenging job, let alone a trip to get close to it. However, Mount Everest is now not that inaccessible as it used to be. While for us regular tourists who may not be able to reach the top, we still have chance to see the world's most grandiose landscape and take selfies with the Altitude Measurement Monument.
Hot Mount Everest tour:
>> 8 Days Classic Mount Everest Tour from Lhasa
Top 5: Li River in Guilin and Yangshuo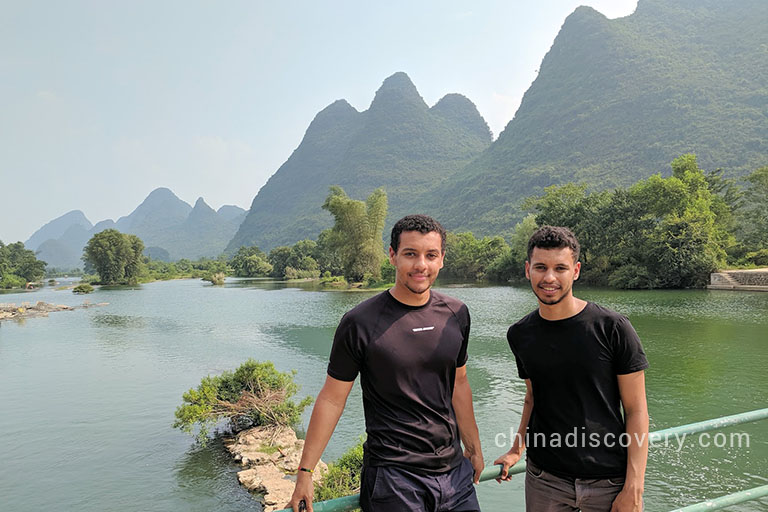 Gerhard's family visited Yangshuo Yulong River (tributary of Li River) in August 2019, tour customized by Wendy of China Discovery
What makes Li River standout is not only its mirror-like water but also the reflection of surrounding stunning mountains. It is said Guilin's scenery is the best under the Heaven. All this can be proved by picturesque Li River. And it comes no surprise why Li River can be chosen as the primary image on the reverse side of the new 20 Yuan (RMB 20) banknote.
Best Guilin tour with Li River cruise experience:
>> 5 Days Best Guilin In-depth Vacation (Li River, Yangshuo & Longji Terrace)
Top 6: Yellow Mountain in Huangshan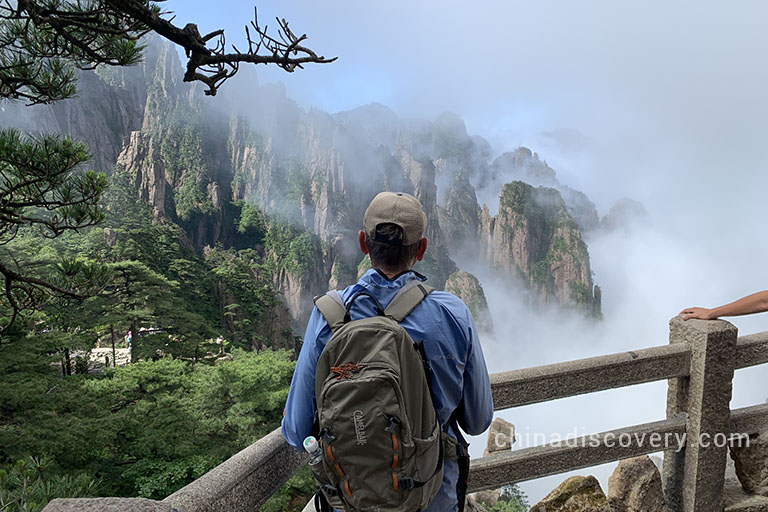 Robert from USA visited Yellow Mountain (Huangshan) in June 2019, tour customized by China Discovery
Yellow Mountain, or called Huangshan, has long been chosen as one of the best mountains in China, and this dreamy photo shoot by our customer explains why. Besides, Yellow Mountain is far more fascinating than the photo can tell. It even deserves visits in misty light rainy days.
Popular Yellow Mountain (Huangshan) tour:
>> 3 Days Huangshan Highlights Leisure Tour
Top 7: Namtso Lake and Yamdrok Lake in Tibet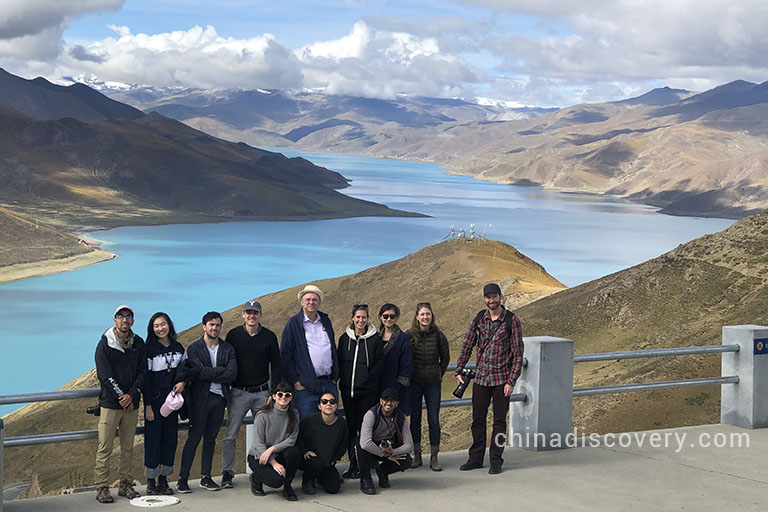 A group from Yale University visited Yamdrok Lake in October 2019, tour customized by Riley of China Discovery
Namtso Lake and Yamdrok Lake are two holy lakes of Tibet. National Geography described Namtso Lake as "the most beautiful lake in China". Travelers can't help being attracted by its fascinating landscape and holiness and beautiful legendary. Yamdrok Lake along the old Friendship Highway linking Tibet with Nepal also drives tourists crazy.
>> 9 Days Tibet Discovery Tour Including Everest and Namtso Lake
Top 8: Zhangye Danxia Landform Geographical Park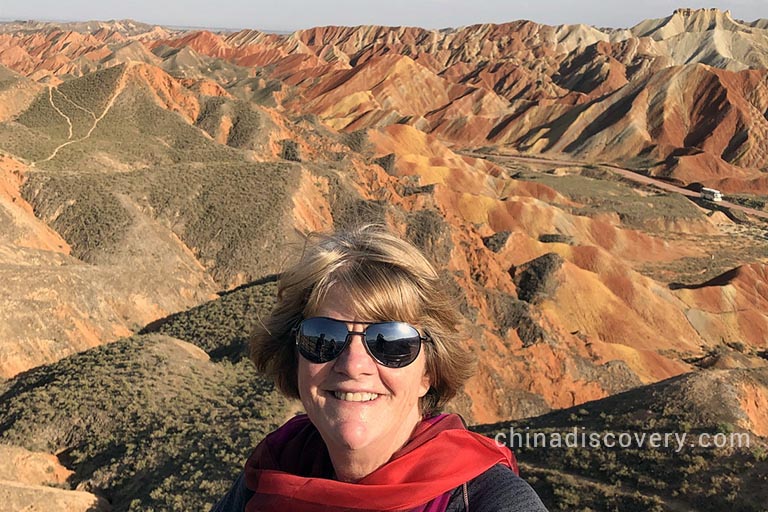 Robert's family from USA visited Zhangye Danxai Landform Geographical Park in September 2019, tour customized by Riley
Zhangye Danxia Landform Geographical Park is regarded as the greatest piece of work made by nature. Some people even hold the view that it is a masterpiece made by God - God overturned his palette, and the out-of-a-fairytale Zhangye Danxia Landform formed. This amazing Park is also one of the 'Top 10 Geographical Wonders of the World' selected by the National Geographic.
>> 6 Days Hexi Corridor Discovery Tour(Zhangye/Jiayuguan/Dunhuang)
Top 9: Dunhuang Echoing Sand Mountain and Crescent Lake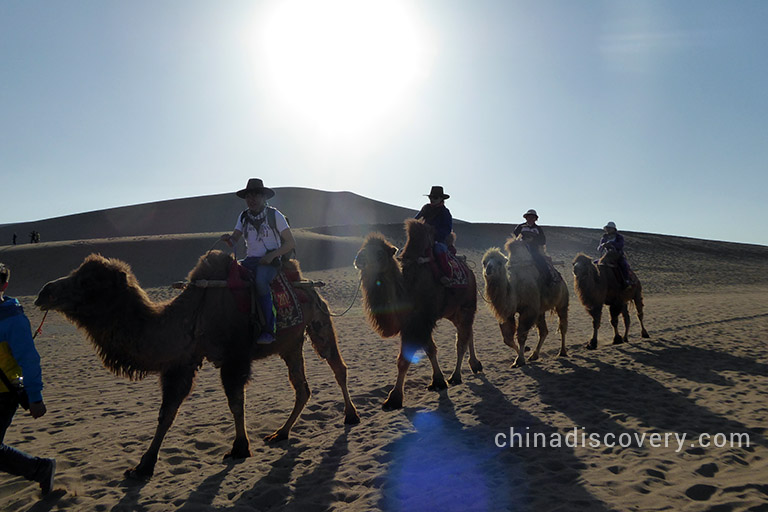 Boonshan's group visited Echoing Sand Mountain in 2015, tour customized by China Discovery
You have seen so many Mountains and Rivers of China. Do you think this is the end? You are definitely wrong. How about enjoy camel riding and desert camping in Dunhuang? Just as the ancient traders and tourists did along Ancient Silk Road.
>> 4 Days Classic Dunhuang Tour (optional camping)
>> 3 Days Dunhuang HighlightsTour with Desert Camping Experience
Top 10: Yuanyang Rice Terraces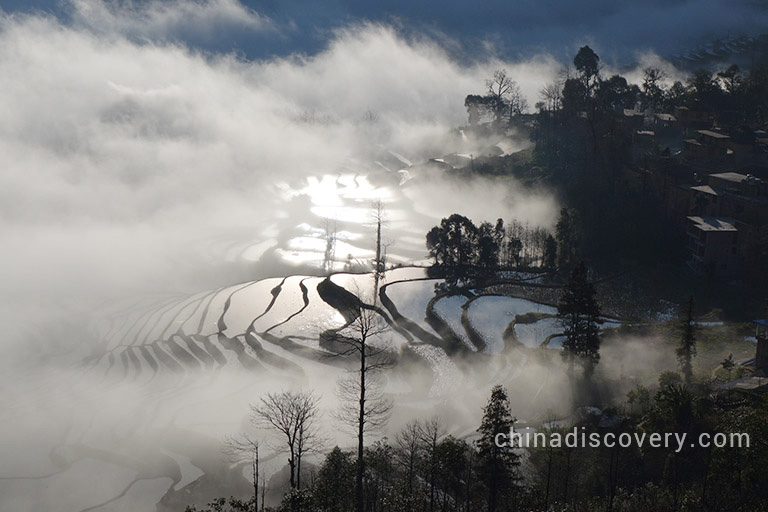 Irena's group visited Yuanyang Rice Terraces in 2016, tour customized by China Discovery
Spectacular terraces are gifts given by both nature and diligent farmers. They are the strongest proof that human beings living with nature hormonally. In China, there are top 6 most beautiful rice terraces and Yunyang Hani Rice Terraces in Yunnan rank on the top of the list.
>> 3 Days Yuanyang Rice Terraces & Hani Culture Discovery Tour
Top 11: Guilin Reed Flute Cave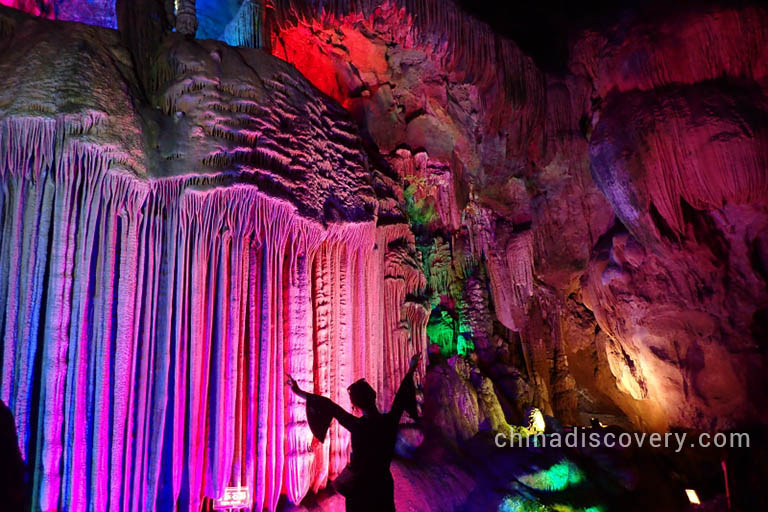 Sylvie's group visited Guilin Reed Flute Cave in 2018, tour customized by Echo of China Discovery
A trip to karst caves is somewhat like traveling underground. And in China, you could find many karst caves, among which Reed Flute Cave in Guilin is the most famous one. This cave is in really close to Guilin city center area. Inside the cave, there are various stalagmites, stalactites, stone pillars, stone flags which have been forming since 180 million years ago.
>> 3 Days Yuanyang Rice Terraces & Hani Culture Discovery Tour
Top 12: Kunming Stone Forest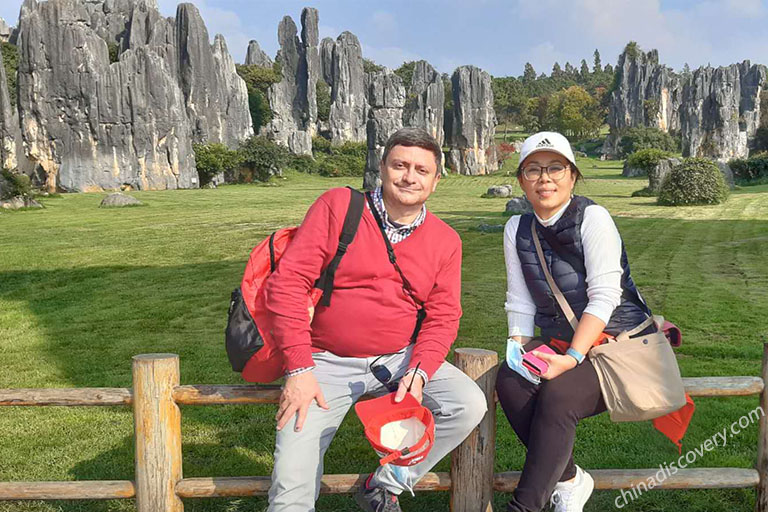 Yaowadee and Ezio from Italy visited Kunming Stone Forest on November 10, 2020, tour customized by Vivien of China Discovery
Stone Forest, as its name implies, is a large forest formed by a spectacular set of thriving stones. Strolling inside the forest is like wandering in huge labyrinths. Be careful, you are easy to get lost. The stones there are in odd but interesting shapes, animals, plants, and even human figures can be found there. If you unluckily get lost, maybe you can challenge yourself to find all of these interesting items out.
>> 3 Days Classic Guilin Tour - Guilin Brief Vacation
Explore China Natural Wonders with China Discovery
Can't wait to explore the natural wonders of China but don't know how to plan your tour? How about travel with China Discovery and let us help you? Tell us your needs and all your problems will be solved. During the whole journey, you can get rid of all the annoying things, such as selecting your hotel, booking a right train ticket, looking for the best local restaurant, etc.
The tour can be customized according to your time, group side, budget, interest, etc. If you are interested, please feel free to contact us and let our experienced travel consultants do you a favor.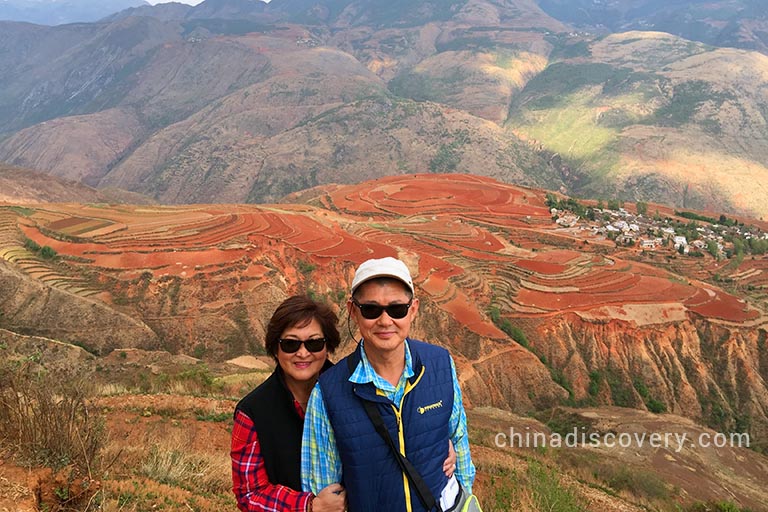 Our Customers in Dongchuan Red Land
Recommended Tours
Top 3 tours chosen by most customers to explore in the best way. Check the detailed itinerary, or tailor your own trip now with us.
7 Days Zhangjiajie to Fanjingshan Unbelievable Nature Tour

Zhangjiajie / Fenghuang / Fanjingshan
14 Days Best China Zhangjiajie Landscape Tour with Yangtze Cruise

Shanghai / Guilin / Chongqing / Yangtze Cruise / Yichang / Zhangjiajie / Beijing
5 Days Chengdu Jiuzhaigou Comfortable Tour

Chengdu / Huanglong / Jiuzhaigou
Start planning your tailor-made holiday to China by contacting one of our specialists. Once inquired, you'll get a response within 0.5~23.5 hours.
Customize a Trip
Have a question? Get answers from our travel experts or guests
Your Question:

Your Name:

Your Email: