Top 6 Attractions & Places to Visit on Chinese Banknotes
While the US uses the dollar, the official currency in mainland China is Renminbi (RMB/人民币). The symbol of Renminbi is ¥ and its code is CNY (Chinese Yuan). Yuan is the basic unit of the Renminbi. The paper banknotes for the Renminbi come in several different denominations, and the most frequently used are 1 Yuan, 5 Yuan, 10 Yuan, 20 Yuan, 50 Yuan and 100 Yuan. On the back of these latest Yuan banknotes (The fifth version), you could find 6 most famous sites of China. They are The Great Hall of the People in Beijing (100 Yuan), The Potala Palace in Lhasa (50 Yuan), Li River in Guilin (20 Yuan), Kui Gate along Yangtze River (10 Yuan), Mount Tai in Shandong Province (5 Yuan) and West Lake in Hangzhou (1 Yuan).
Once planning a tour to China, you will find it is so hard to find the best places to go because there are so many options. It is even impossible to limit a list of China's superlative attractions to a mere 50. So, where to visit in China? May be you can take the top 6 places found on Chinese Banknotes into account. In this guide, we will introduce you these top 6 places separately, with travel photos of our customers listed.
1. The Great Hall of the People in Beijing - 100 Yuan Note (¥100)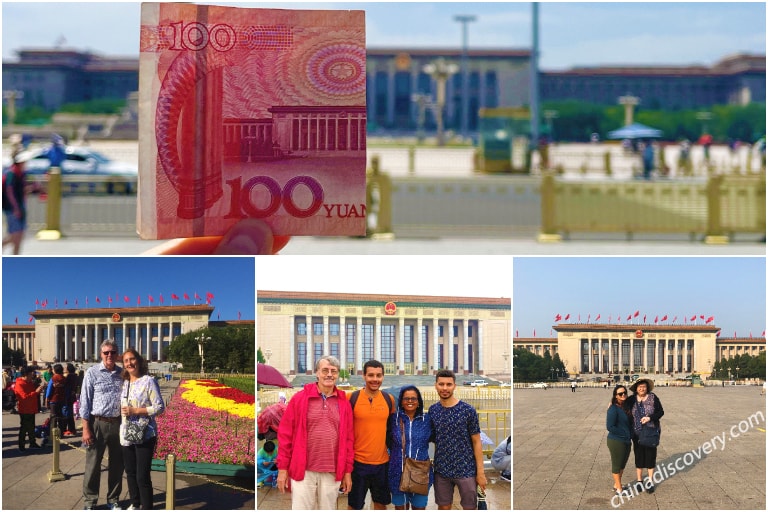 Lorna's group visited the Great Hall of the People in Beijing in September 2019, tour customized by Mark
When it comes to the most famous and most representative city of China, Beijing should be on the top of the answers. As the capital of China, Beijing gives visitors a glimpse of China's modern, ancient, elegant, etc. There are so many places to visit in Beijing, like the world-renowned Great Wall, Forbidden City, Hutong, Tian'anmen Square, Temple of Heaven, Summer Palace, Beijing Olympic Park… Besides, the Great Hall of the People on the west side of Tian'anmen Square also deserves a short visit, because you can take photos with your 100 Yuan there.
Hot Beijing Tour includes the visit to The Great Hall of the People:
>> 3 Days Beijing Essential Short Stay Tour (Transit Visa Free)
2. The Potala Palace in Lhasa, Tibet - 50 Yuan Note (¥50)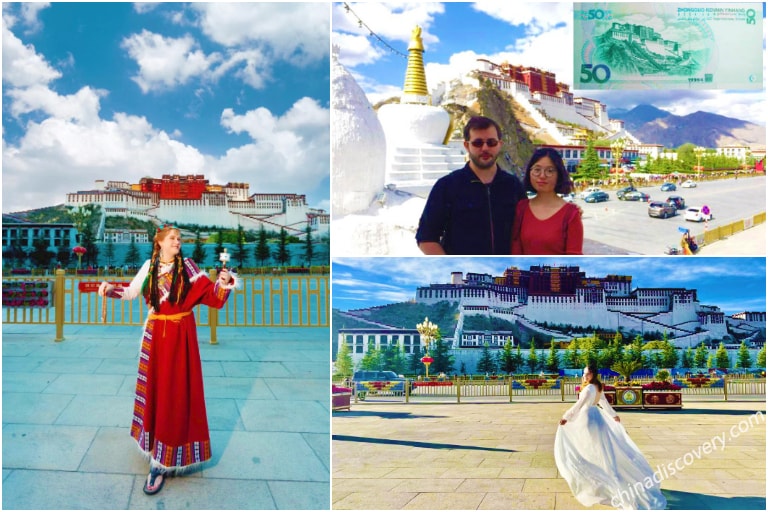 Diane's group visited the Potala Palace in Lhasa in 2018, tour customized by Johnson
The Potala Palace is the symbol of Tibet and the center of Tibetan culture, history and religion. Besides, it is also a museum of arts which keeps more than 70,000 arts and more than 60,000 Buddhist scriptures. The palace looks much the same as it did back in the 1645s when it was rebuilt. And it retains the same majesty that it used to have. When visiting the Potala Palace, remember to have an in-depth explore of its precious relics of Buddhism and take selfies with this grand building at the large square.
Hot China Tour includes the visit of the Potala Palace:
3. Li River in Guilin - 20 Yuan Note (¥20)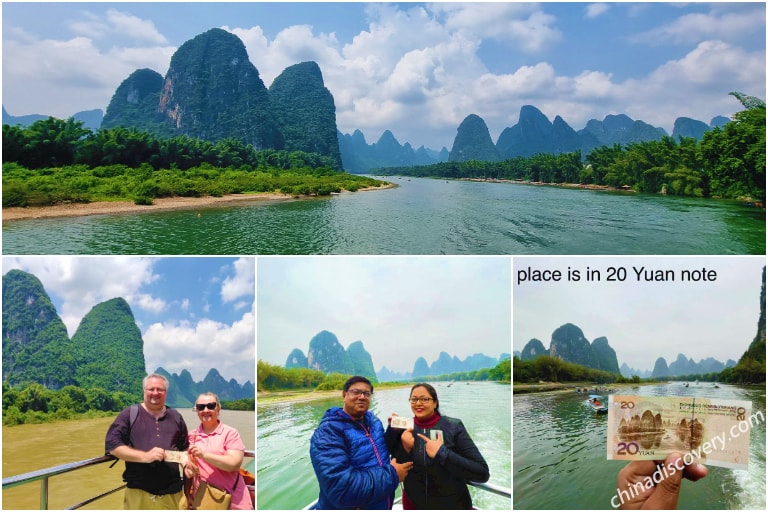 Antonio's Family experienced Li River cruise from Guilin to Yangshuo in August 2019, tour customized by Lyn
When you ask a Chinese about the best tourist destination in China to appreciate the most picturesque mountains and rivers, Guilin must come to his or her mind first. Regarded as "the finest scenery under heaven", Guilin is a dream tourist city for both domestic and overseas tourists. And among the many places to go in Guilin, Li River from Guilin downtown to Yangshuo country is our pick of best. There are 3 ways to Visit Li River, including by taking a leisure cruise ship, bamboo rafting and hiking. And only by taking a cruise ship can you get a same picture on the back of 20 Yuan banknotes.
Popular Guilin tour with the Li River Cruise Experience:
>> 5 Days Best Guilin In-depth Vacation (Li River, Yangshuo & Longji Terrace)
4. Kui Gate along Yangtze River - 10 Yuan Note (¥10)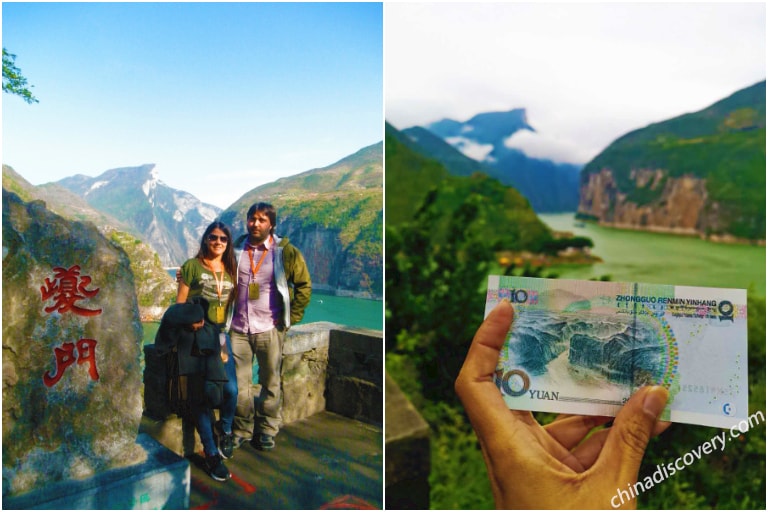 Chona Espinosa from Philippines experienced Yangtze River cruise in September 2018, tour customized by Catherin
Kui Gate (Kuimen 夔门) is also known as Qutang Pass, which is literally means the door for Three Gorges - the most attractive part of Yangtze River. You could meet with Kui Gate when you have a leisure Yangtze River cruise journey. And the best spot to take pictures with Kui Gate at White Emperor City, one of the most featured sites along Yangtze River.
Hot Chosen China tour with Yangtze River Cruise Experience:
>> 8 Days Best of Sichuan with Yangtze Cruise Tour (Sichuan + Yangtze River)
5. Mount Tai in Shandong Province - 5 Yuan Note (¥5)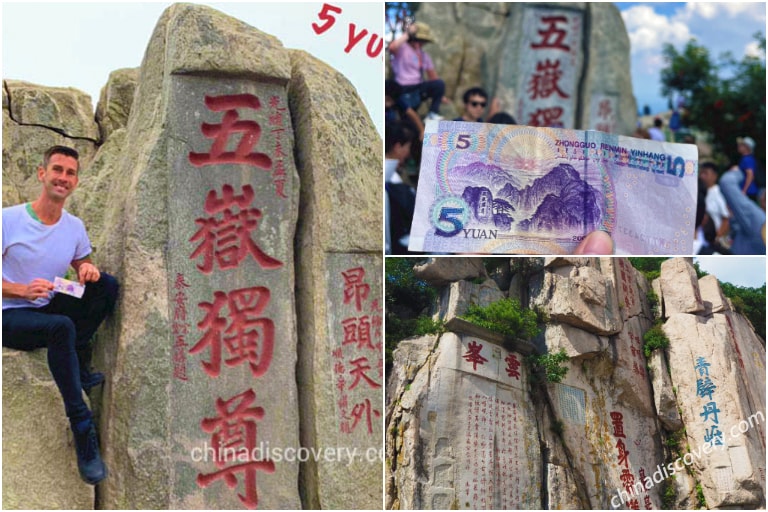 Tim from Australia visited Mount Tai in 2019, tour customized by Mark
The sacred Mount Tai in Shandong Province ranks on the top of the "Five Taoist Mountain in China" (The other four mountains are Mt. Hua in Shaanxi, Mt. Song in Henan, Mt. Heng in Hunan and Mt. Heng in Shanxi). In 1987, Mount Tai was listed as both World Natural Heritage and World Cultural Heritage by UNESCO. Hiking to the top of Mount Tai is a tough work. However, the beautiful scenery and stunning culture it offers on its top make it a quite worthy and pleasant journey. And on the way to the summit peak of Mount Tai - Jade Emperor Peak, you could take photos with the stone carving which can be also find at the back of 5 Yuan.
Recommended tour:
>> 10 Days Beijing Shandong Tour by Bullet Train
6. West Lake in Hangzhou, Zhejiang Province - 1 Yuan Note (¥1)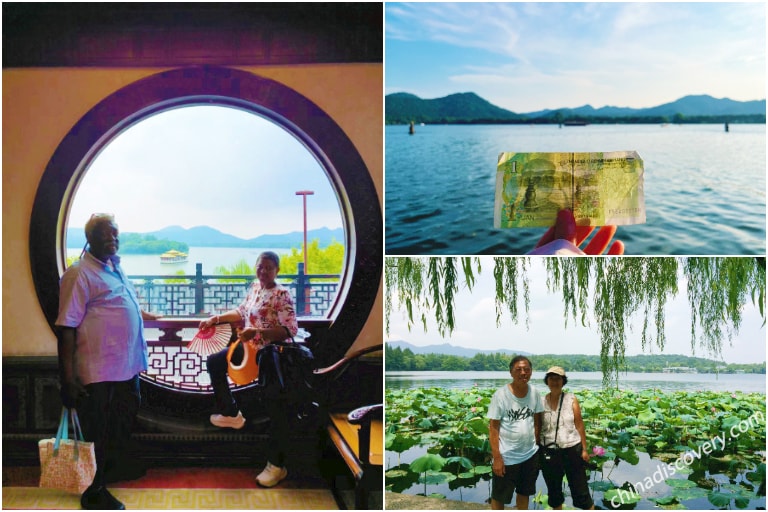 Elie from Belge visited the West Lake in Hangzhou in November 2019, tour customized by Wonder
West Lake (Xi Hu), long considered one of the scenic wonders of China, is the most famous attraction in Hangzhou, Zhejiang Province. Listed as a World Heritage Site in 2011 by UNESCO, West Lake is the only lake heritage site in China. UNESCO describes it as "has influenced garden design in the rest of China as well as Japan and Korea over the centuries" and "reflecting an idealized fusion between humans and nature". A tour to West Lake is quite an easy thing, because it sits in the city center area and can be reached by subway.
Most Popular Hangzhou tour includes a visit to West Lake:
>> 2 Days Relaxing Hangzhou Tour with West Lake Sightseeing
Travel These China's Banknote Scenes with China Discovery
These top 6 Banknote Scenes spread China from south to north and from east to west. Feel hard to find the best places to visit in China? How about traveling with us and exploring these top China's Banknote Scenes together? If you are interested, please feel free to contact us!
Also, you can add more wonderful China destinations to the tour, such as Xian, Chengdu, Zhangjiajie, Huangshan, etc. Choose the places you love, and then our experienced travel consultants will take care of the rest. So you can get rid of choose the traveling route, hotel, transportation methods, restaurants, etc.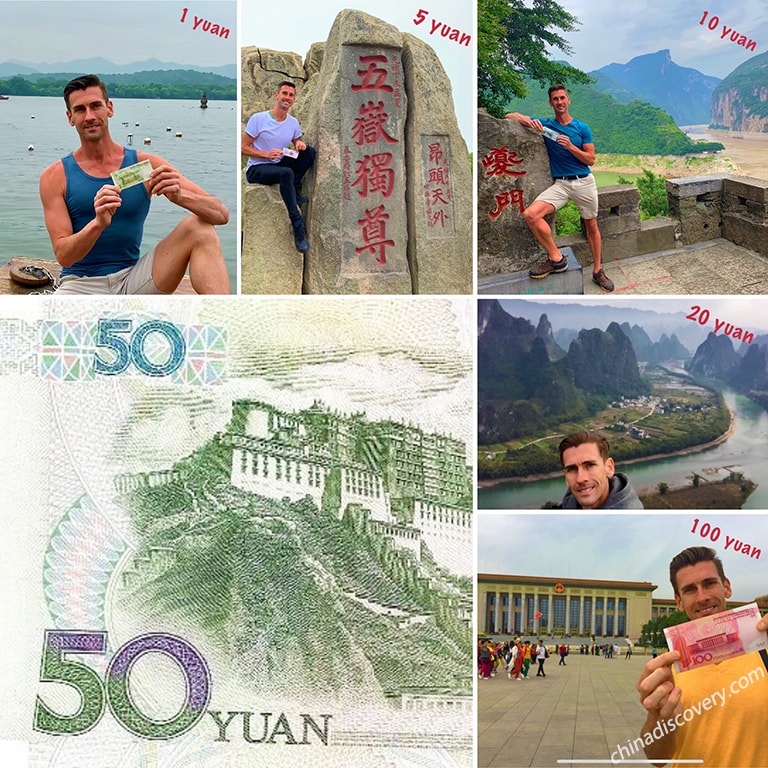 China's Banknote Scenes tour of Tim from Australia
Recommended Tours
Top 3 tours chosen by most customers to explore in the best way. Check the detailed itinerary, or tailor your own trip now with us.
4 Days Guilin Highlights Tour (Li River, Yangshuo & Longji Terraces)

Guilin / Yangshuo / Longsheng
10 Days Classic China Tour from Beijing - First Touch of China

Beijing / Xian / Guilin / Yangshuo / Shanghai
Start planning your tailor-made holiday to China by contacting one of our specialists. Once inquired, you'll get a response within 0.5~23.5 hours.
Customize a Trip
Have a question? Get answers from our travel experts or guests
Your Question:

Your Name:

Your Email: