10 Most Popular China Mountains with Travel Photos of Our Customers
China is a country in massive size and varied geography. Mountains in China range a lot. From thriving Karst Mountains, magical Avatar Mountains, holy Snow Mountains, to sacred Taoist and Buddhist Mountains, you could easily find a select group of mountains that have celebrity status there. And here, we've put together a list of China Mountains that are hot chosen among our customers, with travel photos shared by them listed. Check these our customers' pick of top 10 most popular China Mountains to get inspired about your own China tour!
Top 1: Yellow Mountain in Huangshan, Anhui Province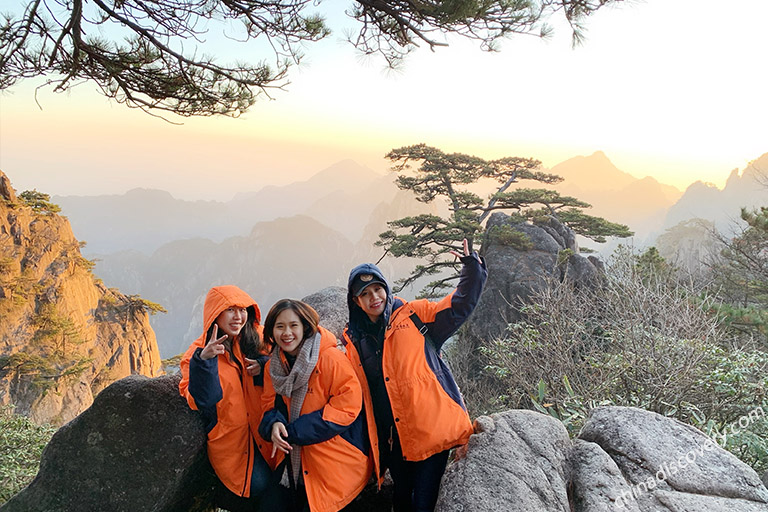 Our customers Jenny's group from Vietnam visited Yellow Mountain in Huangshan, Anhui on November 6, 2020, tour customized by Wonder
Yellow Mountain, or called Mt. Huangshan, is the hottest chosen mountain when creating traditional Chinese landscape paintings. The odd-shaped pines, spectacular rocky peaks, sea of clouds and hot spring, and winter snow of Yellow Mountain make painters can't help holding on their writing brush. And also, stunning Huangshan makes travelers can't help marveling about the magic power of nature.
Hot Yellow Mountain tours:
>> 3 Days Huangshan Highlights Leisure Tour
>> 4 Days Huangshan with Pig's Inn Carefree Countryside Idyll Tour
Top 2: Zhangjiajie Avatar Mountains in Hunan Province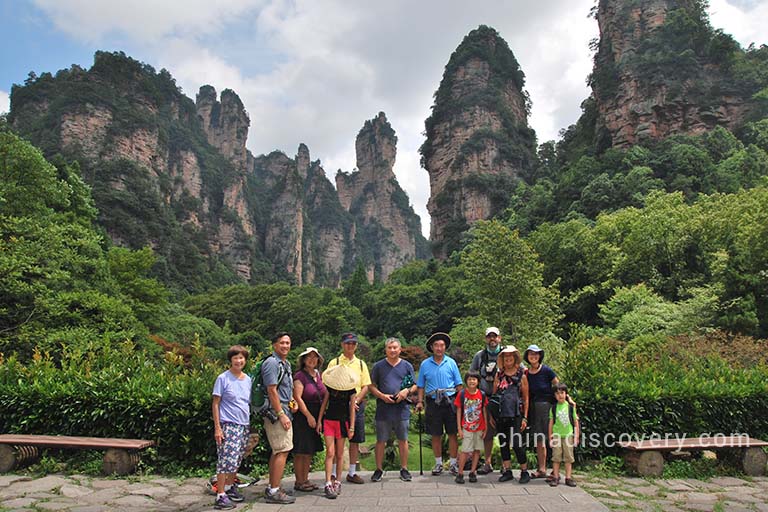 John's group visited Zhangjiajie National Forest Park in 2017, tour customized by Jack
What are the Avatar Mountains? If you have watched the Hollywood blockbuster film Avatar, you can quickly get the answer. The towering pillars in Yuanjiajie of Zhangjiajie Wulingyuan Scenic Area are the prototypes of the Hallelujah Mountains in the film, hence the name. Unlike only other mountains in the worlds, the mountains, or exactly called the pillars in Zhangjiajie Wulingyuan Scenic Area are narrow and straight. And any one of them can be easily hidden by your fingers from distance. It couldn't be translated into any words about your feeling of standing above numerous of thriving "fingers". When fog appears, the scenery in front of you can be more magical - the low parts of these fingers disappear and leave you a film-like Avatar world!
Popular Zhangjiajie tour with visits to Avatar Mountains:
>> 3 Days Classic Zhangjiajie Natural Wonders Tour
Top 3: Guilin Karst Mountains in Guangxi Province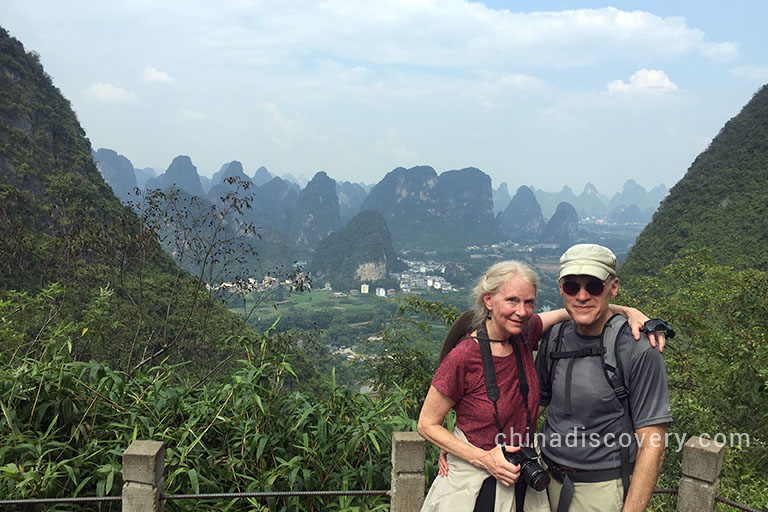 Skip's group from USA visited Yangshuo countryside in 2018, tour customized by Li
Guilin's mountains and rivers are regarded as the best under heaven, especially for its dramatic Karst Mountains. And its most amazing Karst Mountains can be found at the banks of Li River and Yangshuo countryside. And the winding Li River with thriving Karst Mountains as backdrop is the scene on the back of Chinese RMB 20 Banknotes (20 Yuan).
Best Guilin tour to have an in-depth explore of Karst Mountains:
>> 5 Days Best Guilin In-depth Vacation (Li River, Yangshuo & Longji Terrace)
Top 4: Mount Fanjing in Guizhou Province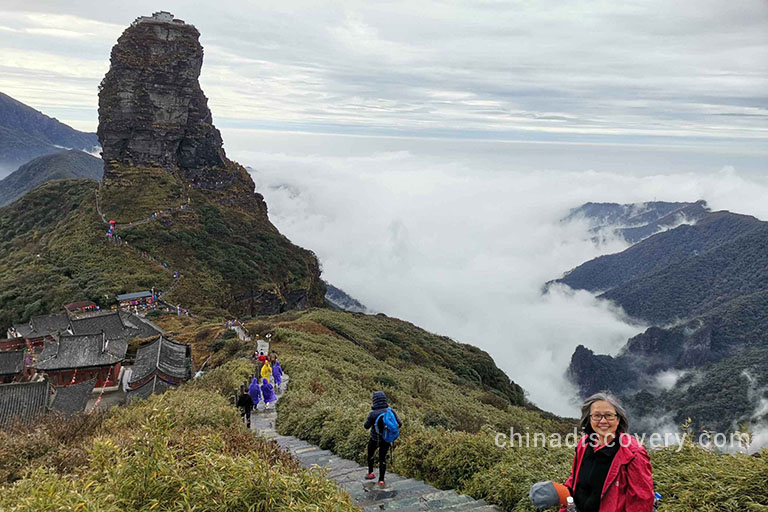 Jessica's Group from Malaysia visited Mount Fanjing, tour customized by Wonder
Fanjingshan, or called Mount Fanjing, was little known among overseas tourists and even domestic tourists before the late 2018. However, it is now one of the most popular tourist destinations in China.
Hot Fanjingshan tours:
>> 3 Days Classic Fanjingshan Tour
>> 9 Days Guilin Guizhou In-depth Highlights Tour
Top 5: Mount Everest in Tibet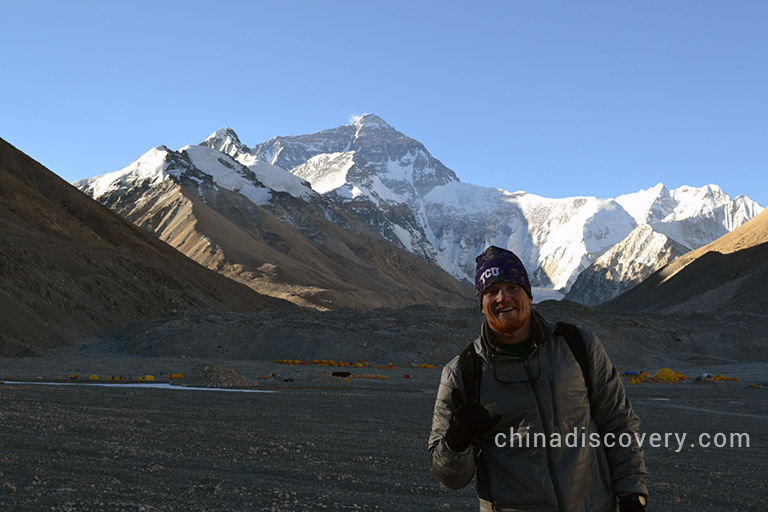 Joe visited Mount Everest in 2016, tour customized by Wonder
Mount Everest is not only a dreaming tourist site for tourists touring China, but also for all global adventurous enthusiasts. No one will be surprised when Mount Everest ranks on the top of the Most Famous Mountains in the World.
Popular Tibet tour with the visit to Mount Everts:
>> 8 Days Classic Mount Everest Tour from Lhasa
Top 6: Mount Hua in Shaanxi Province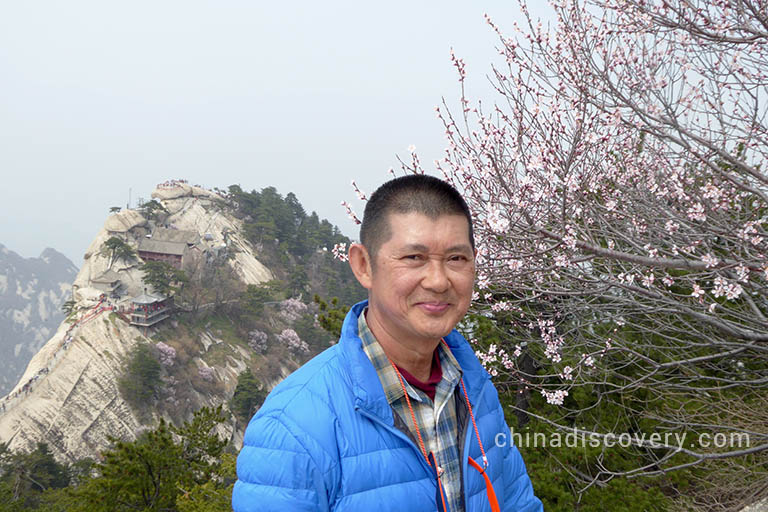 Boonshan visited Mount Hua in 2015
What comes to your mind first when you think about Mount Huashan? Are the lofty peaks and steep paths, the dangerous plank road in the Sky or the sacred Taoist culture? No matter how is the scene in your mind like, the real Mount Hua is far more appealing than that.
Hot Mount Hua & Xian tour:
>> 4 Days Xian Highlights Tour with Mount Huashan Hiking
Top 7: Mount Emei in Sichuan Province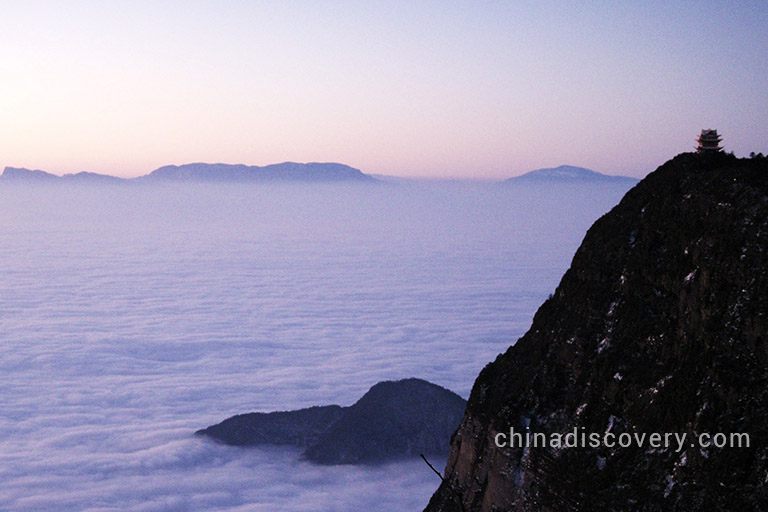 Marcin from USA visited Mount Emei in June 2019, tour customized by Lil
As one of the Four Great Buddhist Mountains in China and home to 5000 kinds of plants, Mount Emei is an amazing mountain to get close to adorable monkeys, Great Buddhist Temples and cultures. It is only 40 mins' driving from Leshan Giant Buddha and 2 hrs' driving from the pandas' home Chengdu.
Best Mount Emei tours:
>> 3 Days Mount Emei Leisure Hiking Tour from Chengdu
>> 4 Days Classic Leshan & Mount Emei Tour (Airport Pick Up)
Top 8: Jade Dragon Snow Mountain in Yunnan Province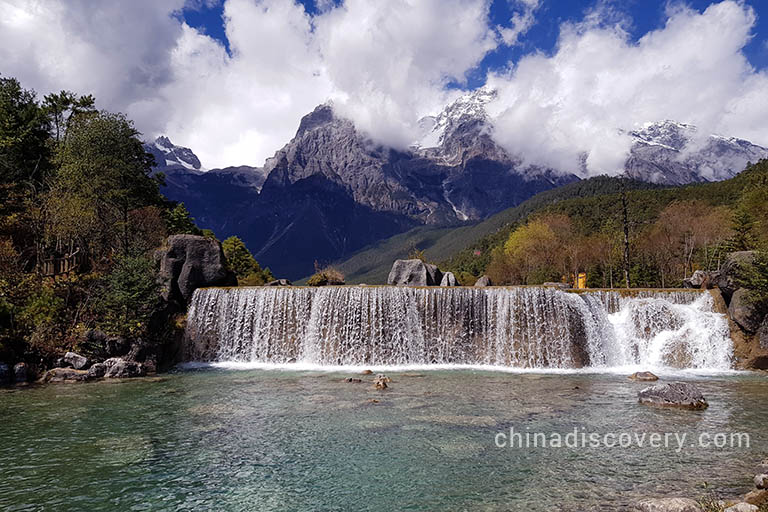 Lee's Family from Singapore visited Jade Dragon Snow Mountain in October 2018, tour customized by Catherin
Jade Dragon Snow Mountain gets its name because its 13 peaks like a lying jade dragon, with white snow covered all year around. A tour to Jade Dragon Snow Mountain is not only to appreciate the rare natural sceneries, but also to feel the precious and brilliant culture of Dongba people. You could also enjoy a large-scale live-action performance there.
Hot Jade Dragon Snow Mountain Tour:
>> Days Lijiang Cultural & Natural Tour with Jade Dragon Snow Mountain
Top 9: Mount Wutai in Shanxi Province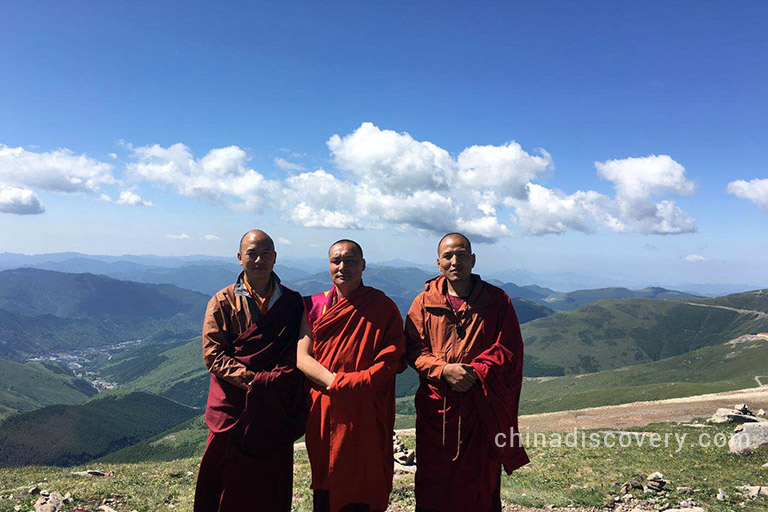 Mr. Phub's group from Bhutan visited Mount Wutai in 2018, tour customized by Rita
Mount Wutai or Wutaishan is one of the five Buddhist holy lands in the world and the four famous Buddhist Mountains in China. Visitors can go there to admire this world-only Bodhimanda of both Chinese and Tibetan Buddhism to feel the rich harmoniously mixed religious atmosphere.
Popular Mount Wutai tour:
>> 5 Days Datong & Wutaishan Discovery Tour
Top 10: Mount Tai in Shandong Province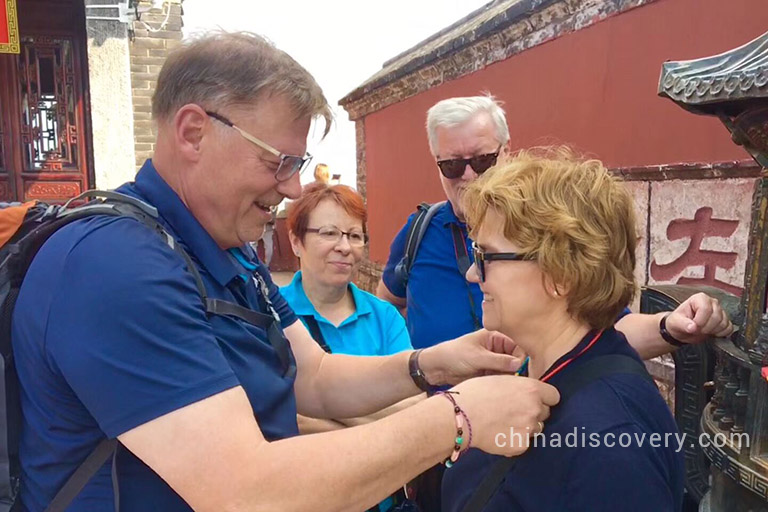 Alexander's group from Germany visited Mount Tai in October 2019, tour customized by Rita
Mount Tai, also known as Taishan, is the leader of the "Five Taoist Mountain in China" and the featured site in the reverse side of the 5 Yuan (RMB 5). It was said that emperors climbed it to pay homage to heaven and earth for centuries in history. And now, it is also a dreaming site for culture and adventure lovers.
Hot Mount Tai tour:
>> 10 Days Beijing Shandong Tour by Bullet Train
Travel China Mountains with China Discovery
Want a tour to visit China Mountains? Choose the mountains you love, and our professional travel consultants will take care of the rest. And during the whole journey, our experienced tour guide and local driver will arrange everything well, and you can focus on the scenery and history.
If you are interested, please feel free to contact us! The tour can be tailor-made according to your time, physical condition, budget, interest and needs.
Customize your tour right now!
Recommended Tours
Top 3 tours chosen by most customers to explore in the best way. Check the detailed itinerary, or tailor your own trip now with us.
4 Days Guilin Highlights Tour (Li River, Yangshuo & Longji Terraces)

Guilin / Yangshuo / Longsheng
7 Days Zhangjiajie to Fanjingshan Unbelievable Nature Tour

Zhangjiajie / Fenghuang / Fanjingshan
6 Days Best Mountains Tour with Huangshan & Zhangjiajie

Huangshan / Zhangjiajie
Start planning your tailor-made holiday to China by contacting one of our specialists. Once inquired, you'll get a response within 0.5~23.5 hours.
Customize a Trip
Have a question? Get answers from our travel experts or guests
Your Question:

Your Name:

Your Email: