Xiamen 144-Hour Visa-Free Transit Guide
Do I need a visa to visit Xiamen?
China has over 10 visa-free entry policies for foreigners, including Visa Exemption for citizens of Singapore, Brunei and Japan, 24-Hour, 72-Hour or 144-Hour Visa-Free Transit, etc. Those who are not qualified one of the situations must apply for and obtain a China Visa to visit Xiamen from Chinese Embassy or Consulate abroad in advance, or certain visitors get a Xiamen Visa on Arrival.
Table of Page Content
Xiamen began 72-Hour Transit Visa Exemption on April 1st, 2015. Since January 1st, 2019, China had extended the 144-Hour Visa-Free Transit Program to Ximen, and more 4 cities (Chengdu, Kunming, Wuhan and Qingdao) in China after implement in Beijing, Shanghai, Hangzhou.... Until December 2019, there are 20 Chinese cities offering such convenience for international transit passengers.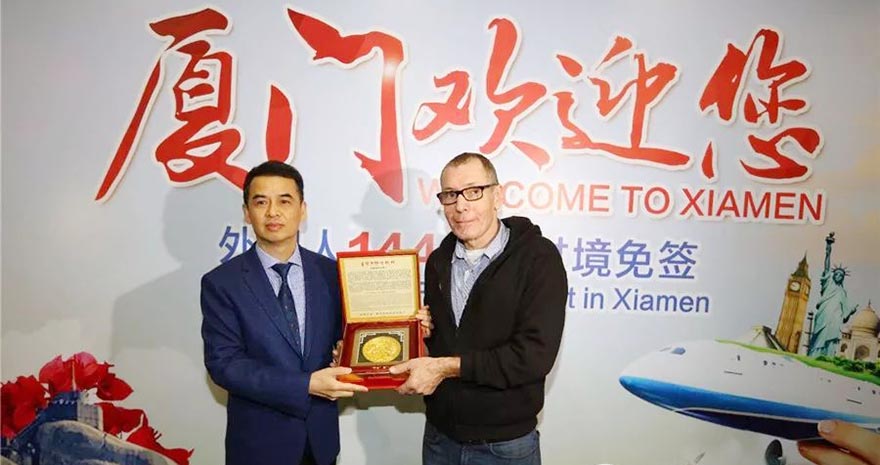 American tourist Stefan was the first to use 144-Hour Visa-Free Transit in Xiamen
Based on the policy, foreigners are allowed to apply transit visa exemption at Xiamen Gaoqi Airport, Xiamen Wutong Ferry Terminal, Xiamen International Cruise Center, as long as you come from 53 certain countries, hold valid international travel documents and tickets within confirmed seat and leaving Xiamen within 144 hours. That means eligible applicants may have a 6-day visa-free layover tour in Xiamen, which will save much time and give great chance to explore poetic Xiamen during the stopover.
Requirements include:
⒈ Be citizen of the appointed 53 foreign countries, e.g. US, UK, Canada, Australia, Russia, Singapore, and so on;
⒉ Take a valid passport or international travel document with remaining validity of at least 3 months;
If you have got a China Visa, but want to use visa-free entry this time, please tell the immigration officer when applying temporary entry at the port of entry.
⒊ Hold a departing flight ticket with confirmed seat and departure date to a third country or region within 144 hours.
Before arrival, the passport and flight or ship ticket should be well prepared for being checked at the border port.
⒋ Enter and exit through one of the three designated ports in Xiamen.
Entry & Exit Ports in Xiamen (3): Xiamen Gaoqi Intenational Airport, Xiamen Wutong Ferry Terminal, Xiamen International Cruise Center.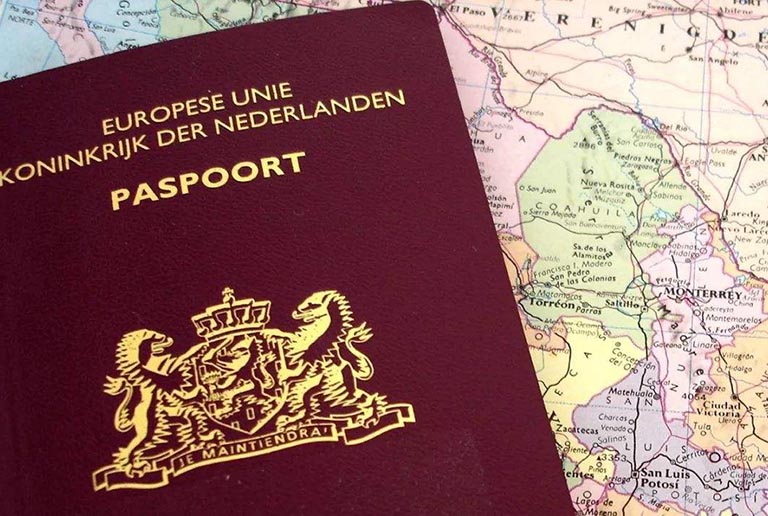 Passport is required for 144-Hour TWOV Application
Only the citizens (ordinary passport holders) of the following 53 foreign countries can apply 144-Hour Visa-Free Transit in Xiamen. Others excluded the list should apply a China Transit Visa (G Visa) for transit in Xiamen, or get a normal China Visa to visit Xiamen and Fujian Tulou, and other destinations in China.
Continent
Number
Transit Visa Free Countries
Europe
39
Countries under Schengen Visa Agreement (24):
Austria, Belgium, Czech, Denmark, Estonia, Finland, France, Germany, Greece, Hungary, Iceland, Italy, Latvia, Lithuania, Luxembourg, Malta, Netherlands, Poland, Portugal, Slovakia, Slovenia, Spain, Sweden, Switzerland.
Other Countries (15):
Russia, United Kingdom, Ireland, Cyprus, Bulgaria, Romania, Ukraine, Serbia, Croatia, Bosnia and Herzegovina, Montenegro, Macedonia, Albania, Monaco and Belarus.
America
6
United States, Canada, Brazil, Mexico, Argentina, the Republic of Chile.
Oceania
2
Australia, New Zealand.
Asia
6
South Korea, Japan, Singapore, Brunei, the United Arab Emirates, Qatar.
Attention: Nationality is merely one of the important preconditions to apply the 144-Hour Visa-Free Transit in Xiamen. No one can guarantee your will be approved visa free access successfully. If your passport is valid less than 3 months, or you had illegal stay and bad record of previous visit in China, you may be denied for the visa-exemption application.
Useful Links:
- Download the full visa free countries list in jpg format
- How to Get a Visa for China: Requirements, Application Process, Fees and Tips
1. About Travel Route
Your travel route should be: country (region) A --> Xiamen --> country (region) B
Valid Routes Examples (by flight):
Siem Reap (Combodia) --> Xiamen --> Tokyo
Seoul --> Xiamen --> Hong Kong
Taipei --> Xiamen --> Bangkok
2. About Stay Area
After entry, foreigners are allowed to tour and stay within administrative region of Xiamen only, which consists of 6 districts, Siming, Haicang, Huli, Jimei, Tongan and Xiang'an Districts.
Attractions you can visit: Gulangyu Island, Nanputuo Temple (South Putuo Temple), Xiamen University, Zhongshan Road Walking Street, etc,
You can NOT visit Fujian Tulous, Xiapu Mudflat outside Xiamen, unless you hold a China Visa instead of a short-term "Temporary Entry Permit".
3. About Port of Entry and Exit
Xiamen has 1 airport (Xiamen Gaoqi International Airport) and 2 harbors (Xiamen Wutong Ferry Terminal, Xiamen International Cruise Center) applicable to 144-Hour Visa-Free Transit. Aliens can use one of the three ports for entry and exit to onward destinations.
Xiamen Gaoqi International Airport (厦门高崎国际机场, IATA: XMN) , located in north Xiamen City, is the major airport serving Xiamen. Currently, the airport is well connected with 32 international/regional cities (including Hong Kong, Macau, Taipei, Tokyo, Manila, Kuala Lumpur, Singapore, Bangkok, Melbourne, Vancouver...) and over 120 cities in China (like Beijing, Shanghai, Chengdu, Chongqing, etc). Upon arrival, tourists can take airport shuttle express, local public bus or taxi to transfer to your hotel or downtown.
Useful Links: Xiamen Transportation Guide | Xiamen Travel Maps
4. About Visa-Free Period The visa-free 144 hours officially count from the 00:00am the next day upon arrival, not from the date you land at the airport or the issued date of your entry permit.
Tips: 1.) Visitors must make temporary accommodation registration within 24 hours after entry. If stay in hotel, the hotel staff will register for you, if not, you or your host have to do the registration to the local Public Security Bureau. 2.) Please go to the local Exit&Entry Administration of Kunming Public Security Bureau for further help, if you will overstay for irresistible causes.
5. About Ticket Booking
Make sure you already booked air/ship ticket leaving Xiamen within 144 hours, the reservation record will be checked carefully at the border immigration desk. We suggest you leave a relative longer time, several days are the best, to get greater chance of getting a 144 hour visa. If connection time is too rush, you may only granted 24 hours visa-free transit.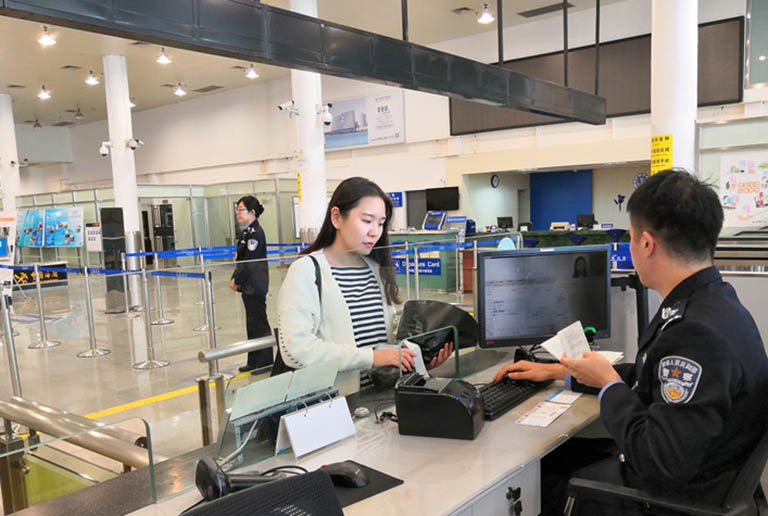 South Korean Cruise Passenger Transit in Xiamen
Xiamen Districts Map (click to enlarge)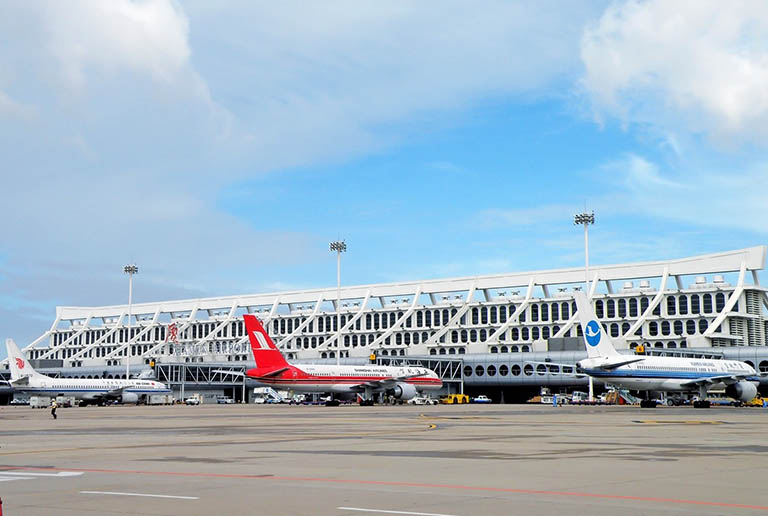 Xiamen Gaoqi International Airport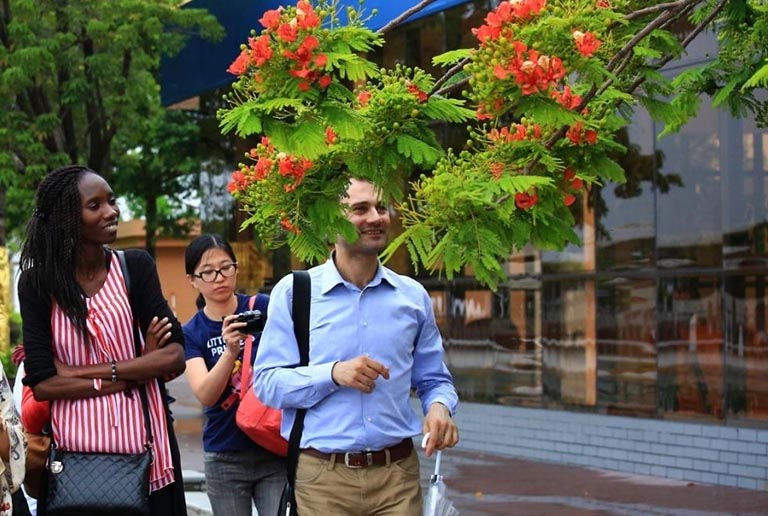 Foreigners Enjoy Trip to Xiamen
Step 1 - Fill in e-application form through online system in advance. Provide travel information and keep the QR code after submission.
Step 2 - When boarding, inform the air or ship company staff that you will apply 144-Hour Visa-Free Transit in Xiamen. They will soon transfer your request to the Immigration Authority at border ports before arrival.
Step 3 - Upon arrival, fill in the Arrival Card (blue version) at specialized desk, and then follow guide to 144-Hour Transit Visa Exemption counter. Print your application form out from the automatic machine. Wait and submit application with passport, connecting flight or ship ticket to next destination, and related travel itinerary.
Step 4 - The Exit and Entry Immigration officer will stick a Temporary Entry Permit on your passport to grant your short-term entry to Xiamen after verification.
Step 5 - Go through customs and immigration formalities, then you can leave the airport or cruise ports, begin your Xiamen layover tour for up to 6 days.
Except 144-Hour TWOV Program, Xiamen Special Economic Zone (SEZ) also provides simple and efficient On-Arrival Visa for special visits, such as emergency entry, invited high-level talents, tourist group or certain individual visitors.
For urgent entry, qualified applicants can apply China C, F, R, Q2, S2, R Visa at opened port. China Visa Types >>
Tourist Group Visa - Travelers joining in group tour (with at least 2 members) organized by licensed Chinese travel agency may get Chinese Tourist Group Visa at entry port under help of the agency.
Xiamen 5-Day Special Economic Zone Tourist Visa - A short-term single entry visa permits business, tour only in administrative region of Xiamen for 5 days. Applicants don't need to fill in application form, just complete the Arrival Card and accept immigration checking.
A China Visa is required from Exit & Entry Administration of Xiamen Public Security Bureau you intend to visit areas out of Xiamen Special Economic Zone.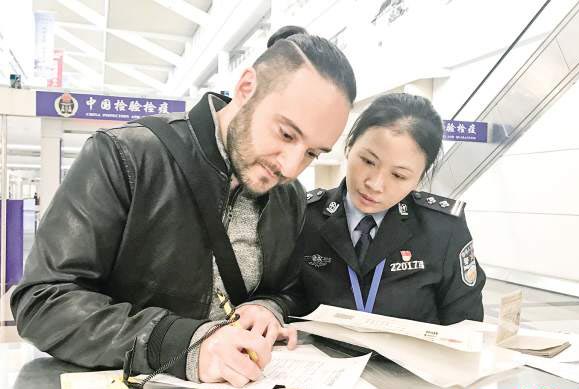 Germany Visitor Applied Work Visa on Arrival at Xiamen Gaoqi Airport
Xiamen is a well-known tourist destination in southeastern Fujian, China, which is famous for the World Cultural Heritage - Gulangyu Island, beautiful seaside scenery, Hokkien culture and pleasant climate all year around. Let's see what you can do during the layover in Xiamen.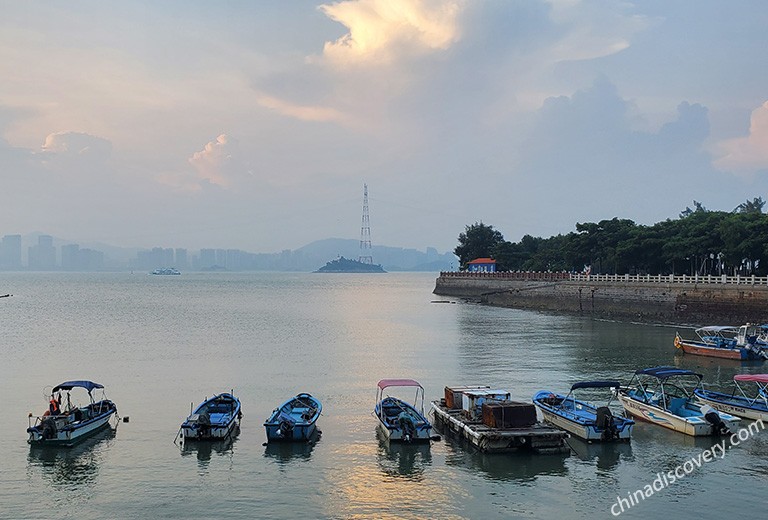 Beautiful Ximen Viewed from Gulangyu Island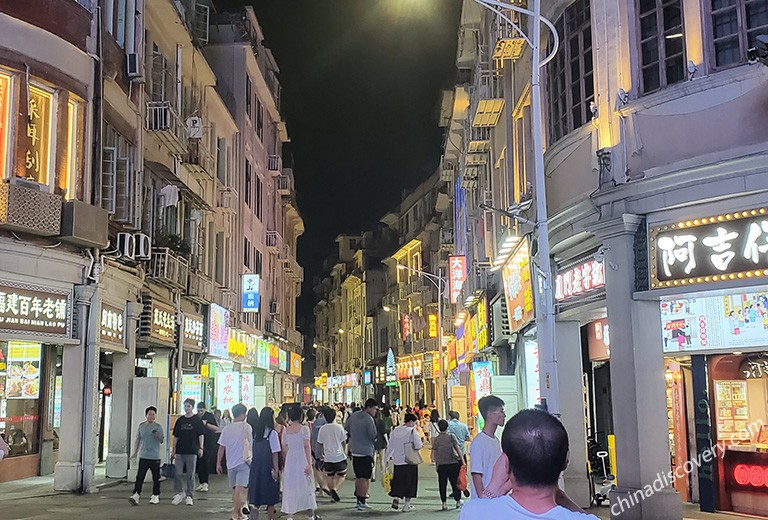 Xiamen Zhongshan Road Walking Street
Xiamen Day Trips
The top recommended is to take a morning ferry to the Gulangyu Island, a pedestrian island in southern Xiamen, where you can enjoy beaches, piano museum, wooden carvings, western-style architecture complex and gorgeous view of costal landscape from top and taste different kinds of local snacks.
Plan B is that, you can visit Nanputuo Temple, Xiamen University, cycle along the Kulangsu Huandao Road seeing the seaside scenery, shop in Zhongshan Road and witness nice night view there.
Xiamen Tours within 3 Days
Generally, 3 days are the best for a classic Xiamen tour to visit major highlights. Leave 1 day for tour in Gulangyu, another day to the Xiamen University, anputuo TempleN, Huli Mountain Fort, and nearby sites, and one more day to explore the very interesting Xiamen Botanic Garden, seek local favor in Zengcuoan Village and experience local daily life in the Eight Seafood Market.
144-Hour Visa-Free Transit tourist can contact us to customize private Xiamen layover tours according to your interests and schedule.
Below are our popular Xiamen Tours including Tulous (for reference only):
Xiamen 4~6-Day Tours
Since you have enough time to discover the charm of Xiamen, we suggest you join in more local activities and try different types of sites in Xiamen. Stay overnight in Gulangyu Island to view the sunrise, sunset, pretty day and night views. Get two days to visit main cultural and natural spots and notable landmarks. The last part should be free leisure time to wander around, ride a bike, touch the poetic atmosphere of Xiamen, try local cuisine, take pictures of the unique buildings.
Like sports? Join in our golf tour to stretch your legs and practise skills in outdoor fields.
Recommended Xiamen Tour: 5 Days Xiamen Golf Tour
China Discovery is a professional and experienced travel companion who offers high-value and worry-free tours for you. We not only design ideal itinerary covering sightseeing, dining, transfer and hotel, but also can provide any support you need for travel to China. No matter you are considering use 72-Hour/144-Hour Visa Free Transit to visit China or want to get a normal China Visa to visit Beijing, Shanghai, Xian, Guilin, or other destinations in mainland China, we are always ready to help, from pre-arrival preparation, application guide to every details required for getting a China Visa.
Please feel free to contact us to join in our top popular Xiamen tours, or let us customize a once-in-a-lifetime trip to Xiamen China for you.
More about Fujian Travel Guide
Recommended Tours
Top 3 tours chosen by most customers to explore in the best way. Check the detailed itinerary, or tailor your own trip now with us.
5 Days Xiamen, Fujian Tulou & Mount Wuyi Discovery Tour

Xiamen / Nanjing Tulou / Yongding Tulou / Xiamen / Wuyishan
3 Days Classic Xiamen and Fujian Tulou Tour

Xiamen / Nanjing Tulou / Yongding Tulou / Xiamen
5 Days Xiamen & Fujian Tulou Highlights Tour

Xiamen / Nanjing Tulou / Yongding Tulou / Xiamen
Start planning your tailor-made holiday to China by contacting one of our specialists. Once inquired, you'll get a response within 0.5~23.5 hours.
Customize a Trip
Have a question? Get answers from our travel experts or guests
Your Question:

Your Name:

Your Email: