144 Hours' Visa-Free Layover in Shanghai, Jiangsu and Zhejiang
Notice on Latest Visa and Entry Policies for Foreigners Entering China - Updated on April 25, 2023:
1. From April 29th, all travelers to China can use Covid-19 antigen tests taken within 48 hours before boarding instead of nucleic acid tests, and airlines will no longer verify pre-boarding testing certificates.
2. In order to further facilitate the entry and exit of Chinese and foreign personnel, it has been decided to make the following adjustments to the visa and entry policies for foreigners entering China, effective from 00:00 March 15, 2023 Beijing time:
1). The entry function of visas which were issued before March 28, 2020 and still valid will be restored.
2). Overseas visa offices will resume issuing various types of visas (including Tourist Visa) for foreigners to travel to China, with specific requirements detailed in the visa application guidelines of Chinese embassies or consulates.
3). Port visa offices will resume issuing various types of port visas for lawful purposes.
4). The policies of visa-free entry for Hainan, Shanghai International cruise arrival, Guangdong for Tourist group entry of foreigners from Hong Kong, Macau, and ASEAN tourist groups entering Guilin, Guangxi will be restored.
3. Attention on China Group Visa on Arrival in Nepal: needs minimum 4 applicants, and no maximum limit. All applicants from one list must all come to the Visa Center for application.
China Discovery will keep focusing on the updates of the latest Chinese visa and entry policy! You can also call 86 010 12367 (Official telephone number of China National Immigration Administration) to check further information. Welcome to join in our Facebook Groups to catch up with the latest news!
Invitation letter is a vital document for Chinese visa application. If you travel with us, we will not only create a valuable tour for you, but also provide you an invitation letter if you request, which will help you obtain your visa successfully. Start customizing your tour in China now!
We are one of the few China travel agencies who have kept active and received lots of feedbacks and reviews during pandemic years

Mathilde
"Dear Leo, The trip with Kevin was great, je is a really nice guide, very helpful and he provided many information. We enjoyed the tour very much. It was a great day. Many thanks for your assistance."
read more »
Reviewed on May 5, 2023

Akhilesh09
"We had a great experience with China Discovery on our Yunnan holiday (Lijiang, Dali and Shangri La). Rita, our tour planner, was simply amazing and crafted an incredible itinerary covering...."
read more »
Reviewed on May 23, 2023
China has carried out 144 Hours Visa-free Transit Policy in Shanghai from January 2016, permitting the layover in Shanghai can be expanded to Suzhou, Hangzhou, Nanjing and all cities in Jiangsu and Zhejiang Provinces. The special transit rule also applies to entry from Hangzhou Xiaoshan International Airport and Nanjing Lukou International Airport. In December 2019, Ningbo Lishe International Airport was added as a new port of entry. That is to say, you can apply for 144 Hour Visa-Free Transit in 4 cities in Yangtze River Delta, Shanghai, Hangzhou, Nanjing and Ningbo, and enjoy in-depth discovery in Shanghai together with Jiangsu (Suzhou, Nanjing, Yangzhou, Wuxi...) and Zhejiang (Hangzhou, Ningbo, Shaoxing, Wenzhou...) for 144 hours (6 days).
The latest official data shows during the past years, this entry rule has facilitated over 200,000 foreign travelers in Shanghai.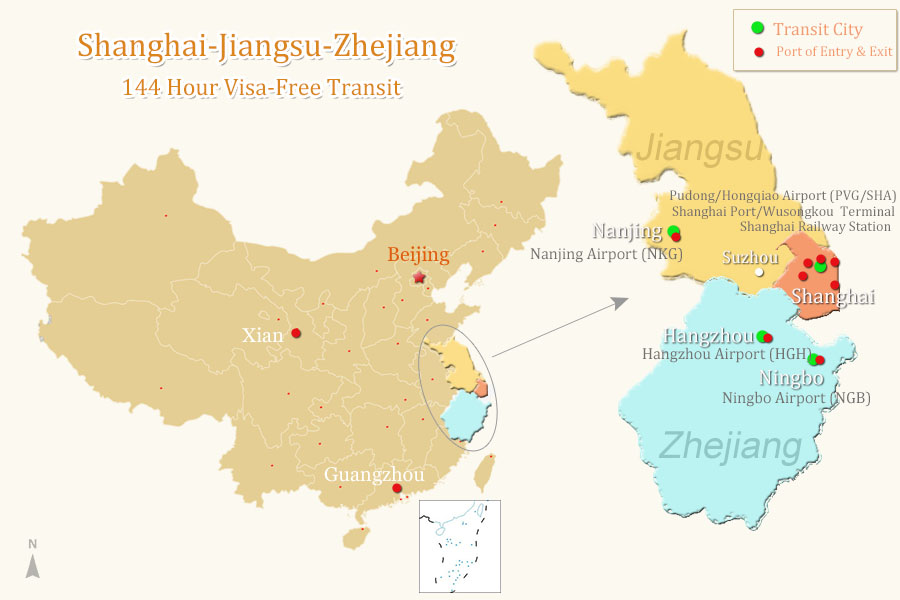 144 Hour Visa Free Transit in Shanghai Jiangsu Zhejiang Map (Zoom in to enlarge map)
4 Transit Cities - Shanghai, Hangzhou, Nanjing & Ningbo
There are 4 cities offering 144 Hours Visa-Free Transit in this area, including Shanghai, Hangzhou, Nanjing and Ningbo. Among them, Shanghai is the most frequently-used gate city to China, for it is well-linked with worldwide destinations and domestic cities, with much more international flights and cruises. The other three cities more often serve as regional traffic hubs. So, many travelers choose to transit through Shanghai, make a Shanghai layover tour before departing to the onward destination. But if your stopover city is Hangzhou, or Nanjing, Ningbo as planned, you can transit in the city and prolong the layover tour to Shanghai, Suzhou and Hangzhou as well.
8 Ports for Entry & Exit
Shanghai - 5: Shanghai Hongqiao International Airport (SHA), Shanghai Pudong International Airport (PVG), Shanghai Port International Cruise Terminal, Shanghai Wusongkou International Cruise Terminal, Shanghai Railway Station.
Hangzhou - 1: Hangzhou Xiaoshao International Airport (HGH)
Nanjing - 1: Nanjing Lukou International Airport (NKG)
Ningbo -1: Ningbo Lishe International Airport (NGB)
1. Foreign visitor must hold a valid passport (or international travel document with a validity of at least 3 months) of the 53 specific foreign nations.
53 visa-free countries include:
Continent
Number
Transit Visa Free Countries
Europe
39
Countries under Schengen Visa Agreement (24):
Austria, Belgium, Czech, Denmark, Estonia, Finland, France, Germany, Greece, Hungary, Iceland, Italy, Latvia, Lithuania, Luxembourg, Malta, Netherlands, Poland, Portugal, Slovakia, Slovenia, Spain, Sweden, Switzerland.
Other Countries (15):
Russia, United Kingdom, Ireland, Cyprus, Bulgaria, Romania, Ukraine, Serbia, Croatia, Bosnia and Herzegovina, Montenegro, Macedonia, Albania, Monaco and Belarus.
America
6
United States, Canada, Brazil, Mexico, Argentina, the Republic of Chile.
Oceania
2
Australia, New Zealand.
Asia
6
South Korea, Japan, Singapore, Brunei, the United Arab Emirates, Qatar.
2. Foreign visitor should also carry a connected air/cruise/train ticket to a third country (or region) with confirmed seat and date (depart within 144 hours).
3. Foreign visitor must entry and exit Shanghai via one of the five ports or appointed airports in Hangzhou, Nanjing and Ningbo.
Different from the prearrival Chinese visa application involving lots of paper works, applying for a 144 Hours Visa-Free Transit in Shanghai and other 3 cities is simple and fast. You just need to go through some formalities as the follows:
Step 1: When boarding, inform the flight/cruise attendant of your intention to apply for the 144 Hour Visa-Free Transit in Shanghai, or Hangzhou, Nanjing, Ningbo.
They will deliver your request to the Immigration Office in Shanghai. So you can directly start application after arrival.
Step 2: Upon arrival, follow the guidepost, fill in the Arrival Card at specialized counter. Next, go to the "Exclusive Channel for 144 Hour Transit Visa Exemption", complete an application form of this temporary entry, present your passport and departure air ticket, or train/cruise ticket to the officer.
Wait for his/her verification.
Step 3: Obtain a Temporary Entry Permit stamped your passport which grants your entry to Shanghai, Jiangsu and Zhejiang.
Step 4: Go through customs and immigration formalities, leave the airport and transfer to downtown Shanghai or Suzhou, Hangzhou, etc.
When getting ashore for a Shanghai excursion and moving to other costal areas, there are 4 essentials you need to pay attention to.
1. The moving area is Shanghai, Jiangsu and Zhejiang. So you can travel from Shanghai to nearby Suzhou, Hangzhou, Nanjing and other cities in Jiangsu and Zhejiang.
Travelling from Shanghai to Beijing, or Xian, or Huangshan Mountain, or other tourist destinations outside Shanghai, Jiangsu and Zhejiang is not allowed.
2. The duration of layover starts from 00:00 on the second day of upon arrival. On your Temporary Entry Permit, there is a clear "Date of Entry" and "Stay Until".
3. Please register temporary accommodation within 24 hours after entry. Hotel staff will make the registration if you stay in the hotel. If you stay in your friend's home, please visit the Exit-Entry Administration of the Local Public Security Bureau and complete the routine.
4. The policy only applies to travel route to a third country or region (including Hong Kong, Macau, Taiwan). If your onward destination is a city Chinese city, the route and application in unacceptable.
To help your layover tour go efficiently and meaningful, and exit China from the appointed port, below are our most inspiring travel itinerary listed for you.
Click to Jump to:
If You Transit in Shanghai
●Recommended Tour Itinerary 1: Shanghai Layover Tour (Classic Shanghai City Tour/In-depth Shanghai Tour) (2~3 Days)
If you take an international flight or cruise to Shanghai, you can get the 144 Hours Visa-Free Transit at the airport or cruise port. Then, it's highly suggested take 2 full days to explore the modern and ancient, traditional and exotic culture of Shanghai first. You can stroll along the Bund, view lining European style historical buildings and cloud-kissing skyscrapers across the Huangpu River, wander around Yu Garden and taste local snacks in the bazaar, admire China's splendid culture and history in Shanghai Museum, enjoy a leisurely walking in the Former French Concession, create happy family trip in Shanghai Disney Resort, etc.
For the rest days, you may take an in-depth Shanghai tour with 1 more day, visit more landmarks and join interesting local activities, like a Huangpu River Night Cruise. China Discovery can customize a longer Shanghai layover tour according to your personal preference.
☛ 2 Days Shanghai Classic City Tour (Most Time-Efficient) / ☛ 3 Days Shanghai Past & Present Contrast Tour
●Recommended Tour Itinerary 2: Shanghai City Tour with Side Trips to Suzhou/Hangzhou (3 ~5 Days)
Making a side trip to Suzhou and Hangzhou with 3 more days is the most recommended schedule. For you can both witness the modern bustle and hustle, and appreciate China's outstanding poetic and scenic treasures. The best highlights are the classical gardens & silk culture in Suzhou, West Lake and tea culture in Hangzhou. Depending on your time and interests, you can visit one of them or both. Below are our well-selected Shanghai and Suzhou, Hangzhou tour packages. Feel free to use our private tailor-made tour service to design a transit tour if you have other ideas.
☛ 5 Days Shanghai Suzhou Hangzhou Highlights Tour / ☛ 5 Days Essence of Shanghai & Hangzhou Tour
☛ 4 Days Shanghai In-depth Tour with Sidetrip to Suzhou
▶ Useful Tour Ideas: ☛ Best Shanghai Suzhou Tours | ☛ Shanghai Hangzhou Tours | ☛ Top Shanghai Suzhou Hangzhou Tours
Paul and His Wife Visited The Bund Shanghai
Timothy Family Enjoyed Shanghai Tour with Yu Garden
If You Transit in Hangzhou
●Recommended Tour Itinerary 1: Hangzhou Layover Tour (Hangzhou City Tour) (2~3 Days)
Spending 2 days on discovering the best highlights of Hangzhou is the most recommended agenda. You can walk around the picturesque West Lake and take a cruise trip, immerse yourself in the quiet and old Lingyin Temple, visit a local tea village and learn Chinese tea culture, worship traditional Chinese medicine in Hu Qing Yu Tang, see the magnificent ancient waterway transfer project - Grand Canal, etc. You may travel at a slower pace and visit other notable attractions in Hangzhou.
☛ 2 Days Hangzhou Essence Tour / ☛ 3 Days Classic Hangzhou Tour
●Recommended Tour Itinerary 2: Hangzhou Tour with Water Town Visit (2~3 Days)
Except sightseeing the West Lake, Wuzhen Water Town and Xitang Water Town are two of the most remarkable Chinese historic water town near Hangzhou, which deserve your visits. Crisscrossed by rivers, they preserve a large area of Ming and Qing Dynasty residences, ancient stone bridges, lanes, workshops and traditional customs. A day trip is best for one water town.
☛ 3 Best Hangzhou Tour with Wuzhen Water Town / ☛ 3 Best Hangzhou Tour with Wuzhen Water Town
●Recommended Tour Itinerary 3: Travel Hangzhou and Suzhou and Shanghai (5 Days)
Shanghai, Suzhou and Hangzhou the top three destinations in Yangtze River Delta. We highly suggest you extend the layover tour to Shanghai and Suzhou with 3 extra days.
Our Customers visited Meijia Dock Longjing Tea Plantation, Hangzhou
Our Customers in Tiger Hill, Suzhou
If You Transit in Nanjing
●Recommended Tour Itinerary 1: Nanjing Layover Tour (2~3 Days)
If you happen to transit in Nanjing, then you can take 2 to 3 days to visit the major sites in Nanjing, sense its cultural glamour diffused around the city. The top places to visit are Zhongshan Ling, a majestic mausoleum of Sun Yat-sen built on mountain slope, Xiao Ling, the tomb of Zhu Yuanzhang, the founder of the Ming Dynasty, Confucius Temple, Nanjing Museum, Nanjing Ancient City Wall, Qinhuai River, etc.
☛ 2 Days Time-Efficient Nanjing Essence Tour / ☛ 3 Days Nanjing Highlights Tour Including Jaw-Dropping Niushoushan
●Recommended Tour Itinerary 2: Travel Nanjing with Shanghai (4~5 Days)
If You Transit in Ningbo
●Recommended Tour Itinerary 1: Ningbo Layover Tour (2 Days)
Ningbo, located in the southeast of Hangzhou and southeast Zhejiang, is a national cultural and historical city. During your stopover, you can take 2 days to contact with its best highlights, such as Tianyi Pavilion, the oldest private library in China, Ningbo Museum, a unique architecture from China's first Pritzker Architecture Prize winner, Former Residence of Chiang Kai Shek, Xuedou Temple, etc.
●Recommended Tour Itinerary 2: Travel Ningbo with Hangzhou (3~4 Days)
Within 1 hour's high speed bullet train journey, you can move forward to Hangzhou, continue your layover tour with West Lake, Lingyin Temple and a local tea planting village.
Sun Yat-sen Mausoleum (Zhongshan Ling) in Nanjing
Tianyi Pavilion in Ningbo
Enjoy Worry-free Layover Tour with China Discovery
China Discovery is a professional and experienced travel companion who offers high-quality and worry-free China tour packages. We not only design an ideal itinerary covering sightseeing, dining, transfer and hotel, but also can provide any visa support & help you need for a China travel. Except the 144-Hour Visa-Free Transit, with our help, you may take advantage of other visa-free rules or get a regular Chinese Visa to experience different kinds of landscape, culture and history of China.
Please feel free to find your favorite Shanghai layover tour, or contact us to customize a once-in-a-lifetime trip to Shanghai, Suzhou, Hangzhou and other destinations in China for you.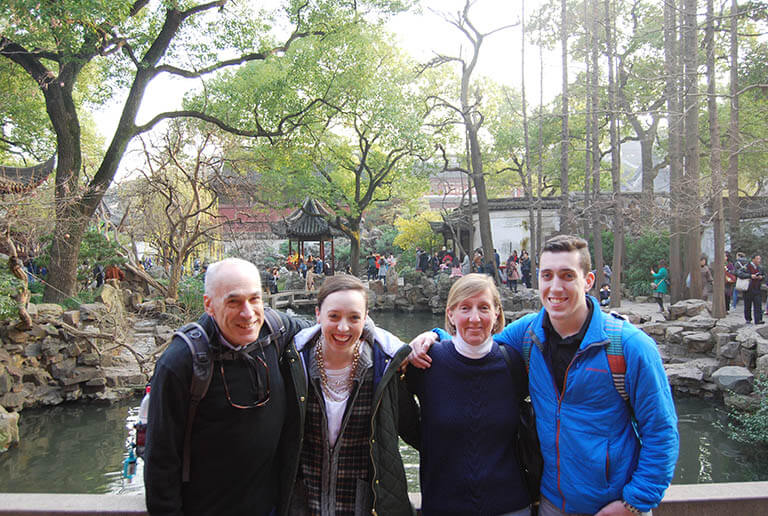 Our Clients Visited Yu Garden
Shanghai Travel Guide
Recommended Shanghai Suzhou Hangzhou Tours
Top 3 Shanghai Suzhou Hangzhou tours chosen by most customers to explore Shanghai Suzhou Hangzhou in the best way. Check the detailed itinerary, or tailor your own trip now with us.
5 Days Shanghai Hangzhou Suzhou Highlights Tour

Shanghai / Hangzhou / Suzhou / Shanghai
Start planning your tailor-made holiday to China by contacting one of our specialists. Once inquired, you'll get a response within 0.5~23.5 hours.
Customize a Trip
Have a question? Get answers from our travel experts or guests
Your Question:

Your Name:

Your Email: