China Visa Application Photo Requirements: Latest and Detailed 2023/2024
Notice on Latest Visa and Entry Policies for Foreigners Entering China - Updated on April 25, 2023:
1. From April 29th, all travelers to China can use Covid-19 antigen tests taken within 48 hours before boarding instead of nucleic acid tests, and airlines will no longer verify pre-boarding testing certificates.
2. In order to further facilitate the entry and exit of Chinese and foreign personnel, it has been decided to make the following adjustments to the visa and entry policies for foreigners entering China, effective from 00:00 March 15, 2023 Beijing time:
1). The entry function of visas which were issued before March 28, 2020 and still valid will be restored.
2). Overseas visa offices will resume issuing various types of visas (including Tourist Visa) for foreigners to travel to China, with specific requirements detailed in the visa application guidelines of Chinese embassies or consulates.
3). Port visa offices will resume issuing various types of port visas for lawful purposes.
4). The policies of visa-free entry for Hainan, Shanghai International cruise arrival, Guangdong for Tourist group entry of foreigners from Hong Kong, Macau, and ASEAN tourist groups entering Guilin, Guangxi will be restored.
3. Attention on China Group Visa on Arrival in Nepal: needs minimum 4 applicants, and no maximum limit. All applicants from one list must all come to the Visa Center for application.
China Discovery will keep focusing on the updates of the latest Chinese visa and entry policy! You can also call 86 010 12367 (Official telephone number of China National Immigration Administration) to check further information. Welcome to join in our Facebook Groups to catch up with the latest news!
Invitation letter is a vital document for Chinese visa application. If you travel with us, we will not only create a valuable tour for you, but also provide you an invitation letter if you request, which will help you obtain your visa successfully. Start customizing your tour in China now!
We are one of the few China travel agencies who have kept active and received lots of feedbacks and reviews during pandemic years

Yaser
"Hello Mr. Wonder, We have arrived safely to Kuwait and are now cherishing our memories of China. The service of the guides was generally very good. They gave us insight into the history..."
read more »
Reviewed on May 29, 2023

Ilia G
"I have purchased a private tour from Lijiang to Shangri-la with a driver in the first week of May, 2023. Tracy Tan (I do not know her Chinese name, unfortunately) from China Discovery..."
read more »
Reviewed on June 7, 2023
Just as important as a valid passport and China Visa Application Form, 2 qualified photos are also the basic requirement to apply for a visa for China. Applicants can upload a recent white color passport photo while filling in the visa application form online, or paste the photo on the paper application form. If the photo does not meet requirements, the application will not be processed by the Chinese Embassy and Consulates. Applicants must submit a recently-taken colour passport photo (bare-head, full face) against a white background attached on the visa application form. Check more details in the following guide to ensure you get a appropriate photo taken.
Photo Requirements for Chinese Visa Application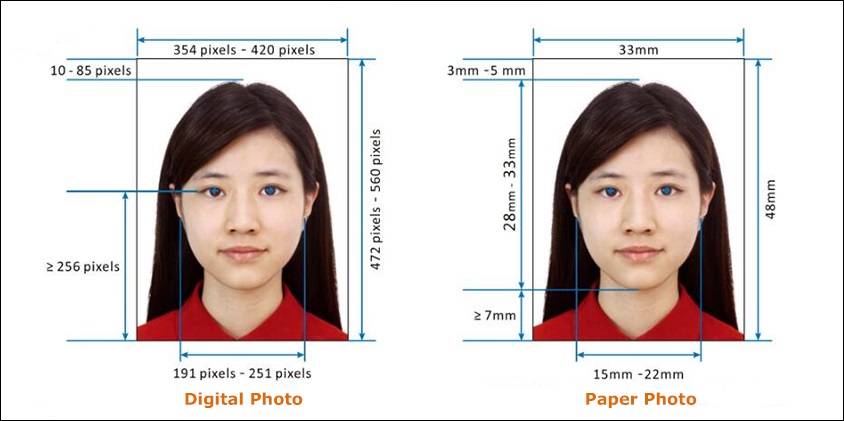 China Visa Photo (Sample from Chinese Embassy and Consulate General)
Basic Requirements
1. Color: a color (RGB 24bit true color) photo, any black and white photo is not accepted.
2. Background: can only use white and off-white background
3. Size: 33mm×48mm for paper photo.
4. Date: recent photo taken in last 6 months.
5. Quality: a clear-cut photo in high resolution, without any damage, stain, fold creases, and no shadows over face or in background.
6. Format: photos must be JPEG image, within size of 40 KB - 120 KB.
7. Others: the photos should present the front view of applicants, show the full facial features clearly and completely. Head should be horizontally centered with certain distance to the upper and bottom edge.
China Visa Photo Size
The China Visa Application Photo has specific size requirements applicants must obey. If you submit an improper photo online, you can replace with a new photo before the application is processed, otherwise, your visa application may be refused. What is the exact photo size for China Visa? A Chinese passport photo (33mm×48mm) is the one and only acceptable standard.
● Digital Photo: the electronic photo should meet requirements of horizontal pixels: 354 - 420 pixels and vertical pixels: 472 - 560 pixels.
● Paper Photo: the printed photo should be 33mm×48mm (width×height)/about 1.3×1.9 inches, head width is 15mm-22mm, height (chin to top of head) is 28mm-33mm, head to upper edge is between 3mm-5mm.
Notes: 1.) The Hong Kong Visa Application Photo should between 50mm×40mm and 55mm×45mm. 2.) The Macau Visa Application Photo is required be 1.5-inch photo. 3.) You can check more official requirements on China Visa Application Photo in https://www.visaforchina.org/SGP_EN/generalinformation/news/282849.shtml, or click here to download a detailed photo sample as instruction.
Restrictions & Prohibitions of China Visa Application Photo
1. Selfies and photos used with filters, blurred picture, over-exposed or under-exposed photos are not accepted.
2. Eyeglasses are acceptable if only they are clearly show the eyes, not reflecting. Don't wear sunglasses.
3. Make your face square to the camera, keep a neutral facial expression with mouth closed, no frowning or smiling.
4. Better wear clothes in dark colors, or other colors clearly distinguished from the white background. Prohibit wearing white, or close to white clothing.
5. Jewelries, accessories, headphones, and similar devices are not allowed.
6. Normal applicants can not wear hat, head covering and mask. For some religious or medical custom, applicants are allowed to wear those, but the faces (facial features) must be visible without any shadows.
More FAQs & Tips about China Visa Application Photo
1. When and Where to use the photo?
Whiling filling in the China Visa Application Form online, either through the Chinese Embassy and Consulates or the China Visa Application Service Center (https://www.visaforchina.org/), you can firstly upload a digital photo, download and print it out with the completed application form. If you failed to upload the photo, bring 2 qualified paper photos, one to paste on the form when you submit at the visa office of the embassy or service center.
2. Where to take Chinese Visa photo?
All the Chinese Embassy and Consulates offices do NOT provide photo service. For convenience of application, some China Visa Application Service Centers offer photo-taking service with charges. You can take photos in a professional studio as long as the photo meets all requirements.
3. Can I Use a 2×2 photo or passport photo for Chinese Visa?
For US passport holders, a 2×2 inches passport photo is the most common size, and most shop only offer photos in such size. However, Chinese Visa Application has strict photo size requirements. The standard US passport photo is larger than required size. It's strongly suggested to tell the photographer the size clearly, or use the photo service in the China Visa Application Service Center for safe.
4. What is the Chinese Visa photo requirements for Indians?
The mentioned China Visa Application photo requirements apply to all applicants in the word. Indians, and citizens from US, UK, Canada, Australia and other countries should submit photos with the same standard.
How to Get a Visa for China - Chinese Visa Application Guide
❶ Find out what kind of visa you need
Read different types of Chinese Visa to figure out which kind of visa you should apply for. Determine if you are suitable applicants for each visa type, by judging your purpose of visiting is for travel, business, work, transit, family reunion and etc or not. China Tourist Visa (L Visa) is for visitor going to China for tourism, F Visa is for exchanges, study tour, Business Visa (M Visa) is for commercial and trade, Student Visa (X Visa) is for studying in China. More Chinese Visa Types >>
❷ Apply for a Chinese Visa
According to various visa policy, applicants meet relevant requirements can submit China Visa application at Chinese Embassy, Diplomatic and Consular Missions or special ports of entry. You need to prepare and submit your valid passport with at least 6 months' validity and blank pages, copy of passport's first page, completed visa application form pasted with a recent photo (color photo with white background, taken within past 6 months, size: 48mmx33mm), sufficient visa fee and service charge and other supporting documents.
❸ Collect & check your China visa
The processing time differs from visa types. Normally, it takes about 4 to 5 business days for applicant to get a China Visa, and the accurate collection date will be noted on the pick-up slip. If you submit China Tourist Visa (L Visa) on Monday, you can pick up on Thursday. Check carefully the visa type, duration of stay, number of entries if they are issued correctly or not, after getting your passport back. Double check the validity when you plan to enter China, otherwise you will be denied entry.
You can visit How to Get a Visa for China: China Visa Applivation to know more about the visa requirements, processes, costs and useful tips.
Travel China Visa Free with China Discovery
China Discovery is a professional and experienced travel companion who offers high-value and worry-free tours for you. To fulfill your dream tour to China, we not only design ideal itinerary covering sightseeing, dining, transfer and hotel, but also will provide you useful Invitation Letter to help you obtain Chinese Visa, even customize a China Visa-free Tour in Beijing , Shanghai, Xian, Chengdu, Hangzhou and more available destinations if you meet relevant visa requirements.
Popular China Visa-free Tours:
Top China Visa-Free Cities
Introduction to China Visa
China Visa Application
China Visa Exemptions
Recommended Tours
Top 3 tours chosen by most customers to explore in the best way. Check the detailed itinerary, or tailor your own trip now with us.
2 Days Guilin Ideal Li River Cruise with Yangshuo Essence Tour

Guilin-Yangshuo
Start planning your tailor-made holiday to China by contacting one of our specialists. Once inquired, you'll get a response within 0.5~23.5 hours.
Customize a Trip
Questions & Discussions
Following are latest questions and answers from our webusers and customers. You can learn many useful information from the discussion and cases. You can also join in the discussions or ask your own question. Our experts will help you ASAP.
Address Request
What is the mailing address of the China Visa Application Service Center?
The official website of China Visa Application Service Center is : https://www.visaforchina.org/. At the home page, choose the country (region) - city where you reside now. After jump to the right application center, you can check its detailed location and office hours in About Us. There are also updated news and application guide for you.
Wish you and your family good heath and everything goes well during this special period.
Have a question? Get answers from our travel experts or guests
Your Question:

Your Name:

Your Email: