What to Do If My Passport & China Visa is Lost or Stolen?
Visitors must hold and present an original and physical version of passport to travel internationally. If you lost passport in your home country (not traveling abroad yet), you shall immediately make an appointment to apply at passport acceptance facility to replace your missing passport, avoid someone use your identity to do terrible things. What should you do if you already travel in China with a China Visa on the lost passport? Below we provide the most useful solution to such accident.
5 Steps to Do When Passport & China Visa is Lost
During your trip to China, your passport should be taken with you all the times. We highly suggest you make both electronic and paper copies (e.g. printed paper copy, extra photocopy on phone or by email), and fill in the emergency contact information on the last page of your passport in case of any unexpected events.
If unfortunately, your passport with a China Visa is lost or stolen while staying in China, whether continue to travel or leave soon, the entire itinerary will be utterly disrupted. How to book tickets? Can I board flight as scheduled? What if I will leave China soon? Don't worry, China Discovery is always ready to help you get out of the trouble. Follow the detailed procedures for a "Passport is Lost" situation.

Step-by-Step Guidance of Lost Passport & China Visa
Step 1 - Try Your Best to Find It
Return to places, attractions, restaurants, shops, bars, markets you've been visited recently to see if you can find out your passport. Ask help from the Lost and Found. There is a chance your may retrieve the lost passport back, if not, continue to the next move.
Step 2 - Report the Lost Passport to Local Police Station
Once realizing passport was lost indeed, don't get panic, just take a deep breath and calm down. There are people caught in same kind of situation before, there is always a way out. First, locate the nearest local police station (where the loss happened) and go make a official report for the lost passport ASAP. You may let the hotel receptionist or other staff to help you. Once report accepted, you will obtain a "Receipt of Report" issued by the police station (报警回执, in Chinese only).
Note: Once you report a passport lost or stolen, it becomes invalid and could NOT used for international travel any more if get a new one.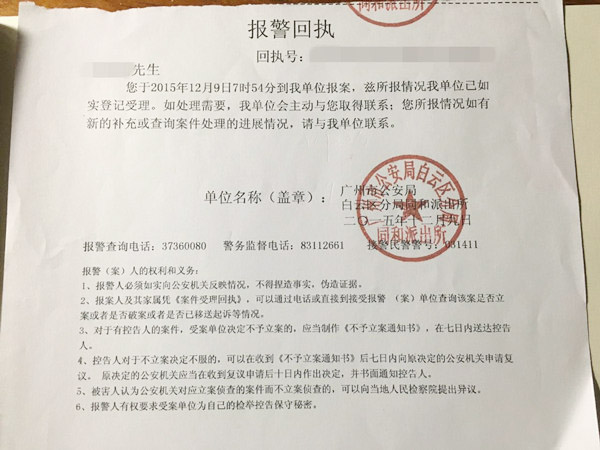 Receipt of Report from Guangzhou Public Security Bureau
Step 3 - Apply Confirmation of Reporting the Loss of Passport
Apply for a "Confirmation of Reporting the Loss of Passport" (护照报失证明, in both Chinese and English) in the Exit & Entry Administration of local Public Security Bureau (where your passport is lost). Below are materials you shall provide:
1.) original and copy of the police "Receipt of Report".
2.) copy of the lost passport or other identity proofs, such as ID Card, Social Security Card, Driving License, and so on.
3.) 2 recent front bareheaded full-faced photos with 2-inches.
4.) completed report from (you can get from the bureau) with clear and accurate personal information, including contact number, etc.
After submission, you will wait. And it normally takes about 2 working days for processing and issuance.
Exit & Entry Administration of Shanghai PSB
Step 4 - Apply for A Replacement Passport or Temporary Passport
The issued confirmation is only valid for 30 days, which requires you to get a replacement passport and a new China Visa within 30 days together, otherwise, you will face fine or possible detention.
Therefore, as a crucial step, please promptly visit your Embassy/Consulate in China to replace a new regular passport or temporary passport. You shall apply in person for a new passport, and bring all needed documents. The consular staff will offer assistance to his/her best.
If you are a US citizen, bring the following items:
● Original "Confirmation of Reporting the Loss of Passport";
● 1 recent color passport photo (2"X2'');
● Completed passport application form (DS-11 and DS-64, can be filled in when applying);
● Proof of individual identity (photo ID, driving license, student ID, etc.);
● Evidence of US citizenship (original birth certificate, expired passport, and else);
● Travel itinerary (flight/train/cruise tickets);
● Statement about the loss of passport;
● Passport application fee.
Replace A Passport from Your Embassy Abroad
How Much to Replace A Lost Passport?
The new passport costs the nearly same to your regular passport application in home country. Your Embassy/Consulate may accept payment by foreign currency or Chinese RMB.
How Long to Replace a Lost Passport?
Embassy or Consulate do NOT issue passports on weekends or public holidays. You may call after-hours officer for further help. It could take over 2 weeks long or even longer to get a new passport, and expedited service within several working days regularly only available in your home country.
If you'll take a flight or travel, back home soon, apply for a Emergency Travel Document (also called Emergency Passport). It can be issued within 24 hours, but is only valid until your travel ends. So remember to apply a regular after returning to home country.
Step 5 - Apply A New China Visa from PSB
After you get a passport or a temporary travel document, quickly apply for a new China Visa from the Exit & Entry Administration Department of local Public Security Bureau. You can't just exit China without obtaining a valid visa, the visa is needed even for Singaporeans, Japaneses and Bruneians who enjoy visa-free entry to China (because there is no entry stamp on new passport).
Here is the required materials to apply for China Visa:
◆ Original "Confirmation of Reporting the Loss of Passport";
◆ A photocopy of the lost passport or copy of other identification with personal photo (such as ID Card, Driver's License, Work Permit, Seaman's ID, insurance card,etc.).
◆ A identity confirmation letter from your Embassy/Consulate is needed if you can't present any related proof.
◆ Temporary accommodation registration record.
Keep the registration receipt when you check in hotel or departments after entry. Others staying in host family or Chinese friend's home shall provide same receipt done in the Public Security Bureau before.
◆ One 2-inch white-background passport photo (5cm × 5cm);
◆ China Visa application fee (check detailed schedules of visa fees).
Required Documents for China Visa Application
The PSB may demands you provide additional documents if needed. Upon receipt of all application requirements, the PSB takes about 7 working days for processing and issuance a China Visa. They may deny your application if you missed to report to get confirmation from the local Exit & Entry Administration firstly.
Useful Links: China Visa Application Form | China Visa Photo Requirements
Note:
If the lost China Visa expire during the replacement/visa application, or visa-free stay exceeds 15 days, foreigners must exit China ASAP once get valid passport and visa again.
More FAQS and Useful Tips about Lost Passport in China
Q1: I reported passport lost with a 2-year China Tourist Visa, applied a new passport, but I found it later. Is the China Visa still valid or not?
Many travelers may stuck in this situation. You have to understand that, the lost passport become invalid from the moment you declare loss, but the visa remains valid only if you hold the original China Visa. To us it, you must travel both the new passport and the expired passport with the current China Visa.
Q2: I obtained a long-term China visa, lost it with my old passport, but it haven't expire yet. Can I transfer the visa to my new passport?
Since the original visa is gone, you have to apply for a new China Visa for travel to China, do the required paperwork and pay adequate visa fees like before. The transfer service never exists.
Q3:I booked flight to leave China soon. It takes too long to get a new China Visa. Can I broad the airplane just show the copy of my valid China Visa on lost passport to the Immigration Officer? Or show them documents proving I lost it?
If you intend to leave China without original China Visa and valid entry stamp page on passport, you will become under suspicion immediately, even be detained when checking in. Don't take any risk, follow our guide to get a new visa for safe.
Q4: Do I need to carry my passport with me at all times? How about leave it at hotel and bring a copy?
Officially, yes, you're supposed to take passport anytime and anywhere, even though you seldom be check by police. However, you may get into trouble if you don't take passport with you when meeting.
Certainly, when you buy train ticket, check in hotel, take car with driver, buy tickets for tourists sites, you need to use your passport. Our advice is take with you, take good care of it, and make copies as mentioned above.
Q5: What documents are useful if I need to book hotel during the replacement and new visa application period?
Use the "Confirmation of Reporting the Loss of Passport" or "Receipt of China Visa Application " to check in.
Travel China with China Discovery
China Discovery is a professional and experienced travel companion who offers high-value and worry-free tours for you. We not only design ideal itinerary covering sightseeing, dining, transfer and hotel, but also can provide any visa-related support & help you need to travel to China. With a Chinese Visa, you can freely travel to many cities in mainland China, among all, Beijing, Shanghai, Hong Kong are often used as gate way cities, Xian, Guilin, Chengdu are also excellent destinations to discovery different regional culture, history and local customs in China.
You may choose from our most popular China tours, or just contact us, tell your interests and travel plans, we could customize a perfect China tour as you like.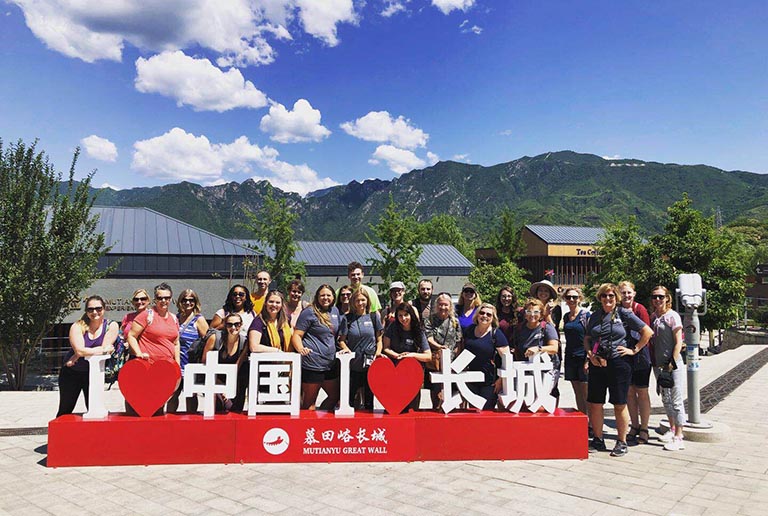 Our American Group Tourists Enjoyed Great Wall Hiking Tour in Beijing
Introduction to China Visa
China Visa Application
China Visa Exemptions
Recommended Tours
Top 3 tours chosen by most customers to explore in the best way. Check the detailed itinerary, or tailor your own trip now with us.
8 Days Best of China Tour (Flight/Bullet Train Covered)

Beijing / Xian / Shanghai
11 Days Authentic China Tour from Hong Kong

Hong Kong / Beijing / Xian / Guilin / Yangshuo / Guilin / Shanghai
10 Days Classic China Tour from Beijing - First Touch of China

Beijing / Xian / Guilin / Yangshuo / Shanghai
Start planning your tailor-made holiday to China by contacting one of our specialists. Once inquired, you'll get a response within 0.5~23.5 hours.
Customize a Trip
Have a question? Get answers from our travel experts or guests
Your Question:

Your Name:

Your Email: