Kunming Changshui International Airport (昆明长水国际机场, IATA: KMG, ICAO: ZPPP) is a major airport serving tourism in Kunming and Yunnan Province, as well as an crucial hub to South and Southeast Asia. Here is its location, transportation instruction for your Kunming tour.
>> Where is Kunming Airport?
Address: Changshui Viallge, Guandu District, Kunming, Yunnan 云南省昆明市官渡区长水村
The airport is located about 24.5km northeast of downtown area, and is connected by highway, metro line (Kunming Metro Line 6) and airport shuttle buses.
>> Kunming Airport Transportation
● Kunming Airport to City Center: it takes about 1 hour by taxi
● Kunming Airport to Major Attractions:
To Stone Forest: about 1h 20 mins (85km) by drive
To Western Hill: around 1 hour (50km) by drive
To Green Lake: about 40~50 mins (27km) by drive
To Flowers & Birds Market: about 50 mins (27km) by drive
To Dongchuan Red Land: about 3 hrs (170km) by drive
● Airport Shuttle Express:
There are also frequent airport shuttle expresses running from/to Kunming Airport every day. There has total 6 routes lines, and Route No.6 can take you traverse from Kunming Airport to Kunming Railway Station.
It's highly suggested to travel with China Discovery, because we will offer worry-free pick-up service from Kunming Airport and convenient transfer bettwen attrastions and your hotel. It's quite confusing to travel around by checking local transportation by yourself.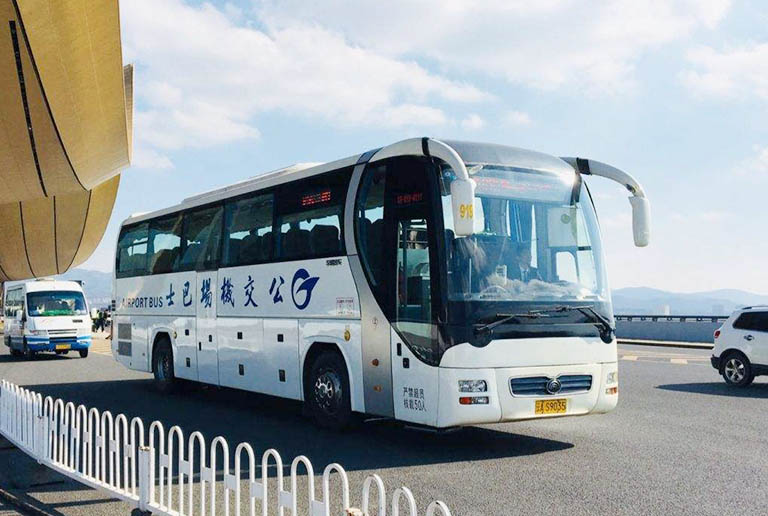 Kunming Airport Shuttle Express
>> Flights to/off Kunming
Kunming Changshui International Airport, together with Urumqi Diwopu International Airport are two main gateway hub airports in China. Until end of 2018, Kunming Airport has opened more than 300 flights, including around 270 domestic airlines and about 80 international/regional routes. The airport has more than 300 weekly flights to 36 cities in South Asia and Southeast Asia, which is the top airport with the most lines to South & Southeast Asia areas.
* Non-Stop International (Regional) Air Routes: Kunming <-->Hong Kong, Macau, Taipei, Singapore, Calcutta (India), Phuket, Bangkok, Chiengmai, (Thailand), Mandalay, Rangoon (Myanmar), Kuala Lumpur, Langkawi (Malaysia), Seoul (South Korea), Ho Chi Minh (Vietnam), etc.
* Domestic Air Routes: Kunming <-->Lijiang, Dali, Shangri-La, Shanghai, Chongqing, Haikou, Chengdu, Guangzhou, Shenzhen, Zhengzhou, Changsha, Xining, Xishuangbanna, Qingdao, Xiamen, Lanzhou, and so on.