Transit in China Without Visa - Updated China Visa Free Transit Policies
Notice on Latest Visa and Entry Policies for Foreigners Entering China - Updated on April 25, 2023:
1. From April 29th, all travelers to China can use Covid-19 antigen tests taken within 48 hours before boarding instead of nucleic acid tests, and airlines will no longer verify pre-boarding testing certificates.
2. In order to further facilitate the entry and exit of Chinese and foreign personnel, it has been decided to make the following adjustments to the visa and entry policies for foreigners entering China, effective from 00:00 March 15, 2023 Beijing time:
1). The entry function of visas which were issued before March 28, 2020 and still valid will be restored.
2). Overseas visa offices will resume issuing various types of visas (including Tourist Visa) for foreigners to travel to China, with specific requirements detailed in the visa application guidelines of Chinese embassies or consulates.
3). Port visa offices will resume issuing various types of port visas for lawful purposes.
4). The policies of visa-free entry for Hainan, Shanghai International cruise arrival, Guangdong for Tourist group entry of foreigners from Hong Kong, Macau, and ASEAN tourist groups entering Guilin, Guangxi will be restored.
3. Attention on China Group Visa on Arrival in Nepal: needs minimum 4 applicants, and no maximum limit. All applicants from one list must all come to the Visa Center for application.
China Discovery will keep focusing on the updates of the latest Chinese visa and entry policy! You can also call 86 010 12367 (Official telephone number of China National Immigration Administration) to check further information. Welcome to join in our Facebook Groups to catch up with the latest news!
Invitation letter is a vital document for Chinese visa application. If you travel with us, we will not only create a valuable tour for you, but also provide you an invitation letter if you request, which will help you obtain your visa successfully. Start customizing your tour in China now!
We are one of the few China travel agencies who have kept active and received lots of feedbacks and reviews during pandemic years

Yaser
"Hello Mr. Wonder, We have arrived safely to Kuwait and are now cherishing our memories of China. The service of the guides was generally very good. They gave us insight into the history..."
read more »
Reviewed on May 29, 2023

Ilia G
"I have purchased a private tour from Lijiang to Shangri-la with a driver in the first week of May, 2023. Tracy Tan (I do not know her Chinese name, unfortunately) from China Discovery..."
read more »
Reviewed on June 7, 2023
Do I Need A Visa to Transit Through China?
Normally, foreigner travelers require a Chinese Transit Visa (G Visa) for a layover. However, if you qualify for one of the following TWOV programs in China, the Transit Visa will be exempted at the transit port, no cost will be accrued, and you are able to be granted a short-term visa-free stay in certain cities of mainland China. Let's check the detailed requirements and application guide below.
Three Major China TWOV Rules
China initiated Visa Free Transit (TWOV) from January, 2013, and has benefited over 452,000 foreign visitors until September, 2019. In the past 2018, there are over 100,000 travelers taking free transit in China, mostly in Beijing, Shanghai and Guangzhou.
Currently, China has 3 kinds of transit visa waiver programs carried out for international travelers, that is, 24-Hour Visa-Free Transit, 72-Hour Visa-Free Transit and 144-Hour Visa-Free Transit. The three types of policies have different requirements, restrictions, duration of stay for each entry and are implemented in different cities (areas) in China. Now, China has 18 provinces, 23 cities (30 ports) offering 72 or 144 hour free transit.
China 24-Hour Transit Without Visa
As the one eligible for most transit passengers, the 24-Hour Visa-Free Transit executed in many cities in China. Under the policy, visitors who come from any foreign countries, hold connecting tickets (air, ship, train) to a third country or region within 24 hours can get Transit Visa Exemption, and make multiple stopovers while transit through mainland China. No visa is required if you stay inside the airport during the layover, but a Temporary Entry Permit shall be applied at immigration authority if you plan to leave the airport to rest in a hotel outside, or go to downtown for a quick sightseeing trip.
Notes:
1. Your passport should be valid for at least 3 months.
2. Your onward travel destination must be a third country or region different from the departure place.
3. The 24-Hour TWOV does NOT apply to all airports. Please contact the airport service hotline to check before arrival.
China 72-Hour Visa Free Transit
China started the 72-Hour Transit Visa Waiver service in Beijing, Shanghai, Guangzhou, Chongqing and else cities to international transit visitors from early 2013. Now 22 cities are eligible, including Xian, Guilin, Harbin, Changsha and so on. At first, it was valid for citizens from 45 appointed countries, and later added to 51 countries and now set for visitors from 53 countries, the same qualification as the 144-Hour Visa-Free Transit Policy. Ports of entry and exit have been increased subsequently.
Foreign Couple Firstly Enjoyed 72-Hour TWOV in Guangzhou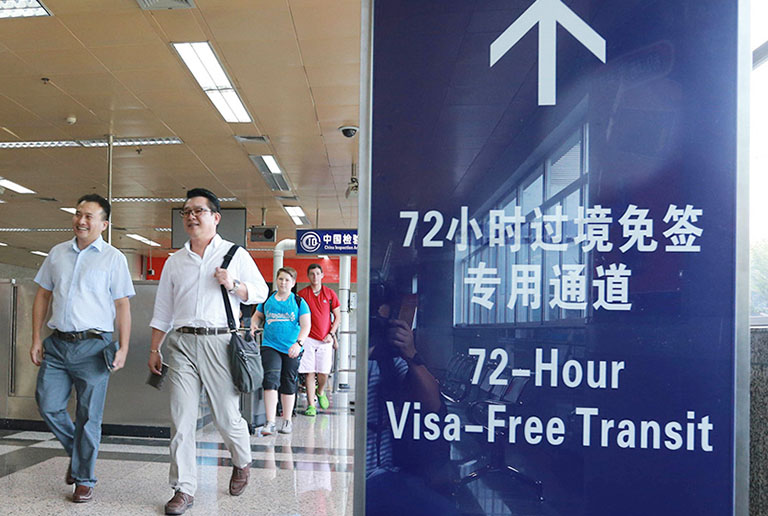 Transit Passengers Used 72 TWOV in Guilin
Chinese Cities Applicable to 72-Hour TWOV (23):
Beijing, Shanghai, Xian, Guilin, Tianjin, Hangzhou, Nanjing, Guangzhou, Shenzhen, Chengdu, Chongqing, Kunming, Wuhan, Changsha, Xiamen, Qingdao, Harbin, Dalian, Shenyang, Jieyang (Chaoshan), Shijiazhuang, Qinhuangdao, Ningbo.
Application Requirements Includes:
● Hold passport or international travel document with a validity of 3 months and above.
● Own citizenship of certain 53 foreign countries, such as, US, Canada, Australia, etc.
● Take connecting (flight or ship) ticket to a third country or region with confirmed date (departing within 72 hour after arrival) and seat.
● Enter and exit through specific ports.
On arrival, applicants should fill in Temporary Arrival Card to enter and stay in the transit city, accept inquiry from the immigration officer of the Exit & Entry Administration. Want to have a layover in Beijing, Shanghai, Xian, Guilin, Guangzhou or other cities? Click our Ultimate Guide for 72-Hour Visa-Free Transit in China to know more details of requirements, application process and popular tours!
Special Restrictions
During the visa-free stay, foreigners shall obey Chinese laws and regulations.
① If you will overstay than the allowed 72 hours, you shall apply for a Chinese Visa at the local Public Security Bureau.
② After checking in the hotel, you need to make accommodation registration personally or by the host to the Public Security Bureau in the city where you stay in.
③ You will face penalty if you stay longer than 72 hours, travel beyond the permitted area, or enter via non-appointed port, or fail to register accommodation status.
China 144-Hour Visa Free Transit
From January 6th 2016, China extended the previous 72-Hour Transit Visa Free in Shanghai, Hangzhou, Nanjing, Beijing, Xian, Tianjin, Chengdu, Guangzhou, altogether 20 cities in China to a longer 144 hours, to provide huge convenience and tour opportunity for transit travelers. It is the newest and also the longest TWOV program at present. Once meeting related regulations during the layover, you may obtain a 6-day visa-free entry to visit top tourist destinations in China. Note that the requirements and limitations are similar between 72-Hour TWOV and 144-TWOV.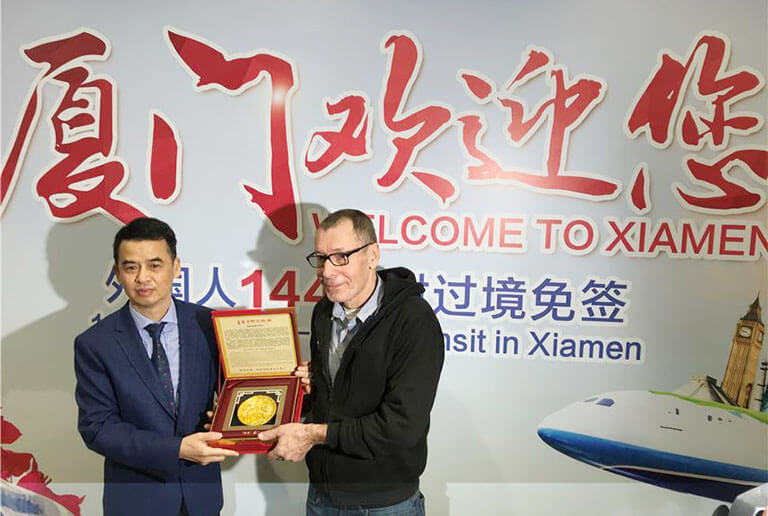 Transit Passenger Got 144-Hour Visa-Free Entry to Xiamen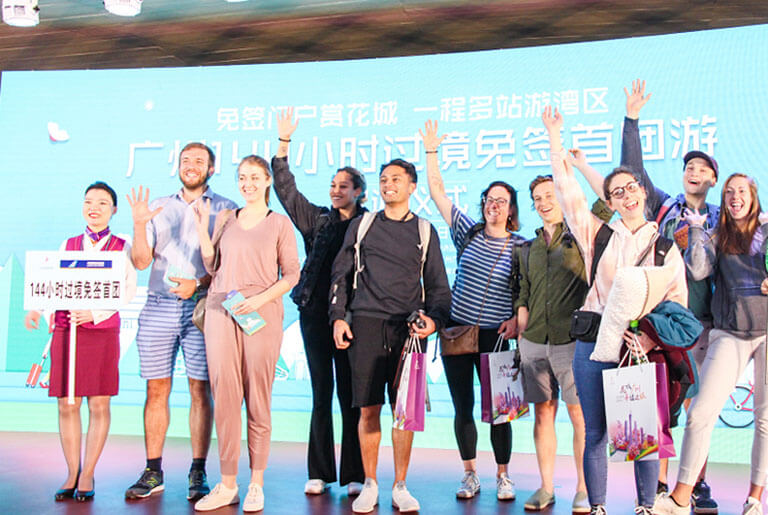 First Transit Group Took 144-Hour TWOV in Guangzhou
Chinese Cities Applicable to 144-Hour TWOV (20):
Beijing, Xian, Tianjin, Shijiazhuang, Qinhuangdao, Shanghai, Hangzhou, Nanjing, Ningbo, Shenyang, Dalian, Chengdu, Chongqing, Kunming, Wushan, Xiamen, Qingdao, Guangzhou, Shenzhen, Jieyang (揭阳).
Application Requirements Includes:
● Hold passport or international travel document with a validity of 3 months and above.
● Has citizenship of certain 53 foreign countries, such as, US, Canada, Australia, etc.
● Take connecting (flight or ship) ticket to a third country or region with confirmed date (departing within 144 hour after arrival) and seat.
● Enter and exit through specific ports.
For more valid city, quilification, application guide, please read the latest 144-Hour Visa-Free Policy in China.
China Transit Visa-Free Countries
The 24-Hour Direct Transit Visa Free applies to any foreign countries while the 72-Hour and 144-Hour TWOV are only valid for nationals from designated 53 countries in 4 continents (download the full country list here ).
>> European Countries (39)
European Countries under Schengen Visa Agreement (25):
Austria, Belgium, Czech, Denmark, Estonia, Finland, France, Germany, Greece, Hungary, Iceland, Italy, Latvia, Lithuania, Luxembourg, Malta, Netherlands, Poland, Portugal, Slovakia, Slovenia, Spain, Sweden, Switzerland, and Monaco.
Other European Countries (14):
Russia, United Kingdom, Ireland, Cyprus, Bulgaria, Romania, Ukraine, Serbia, Croatia, Bosnia and Herzegovina, Montenegro, Macedonia, Albania, and Belarus.
>> American Countries (6):
The United States, Canada, Brazil, Mexico, Argentina, and the Republic of Chile.
>> Oceania Countries (2):
Australia and New Zealand.
>> Asian Countries (6):
South Korea, Japan, Singapore, Brunei, the United Arab Emirates, and Qatar.
How to Apply for China Transit Visa Exemption?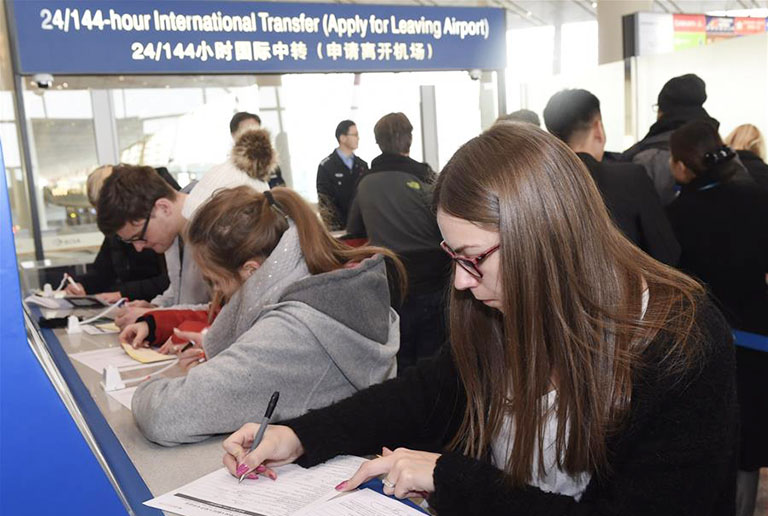 Complete Arrival Card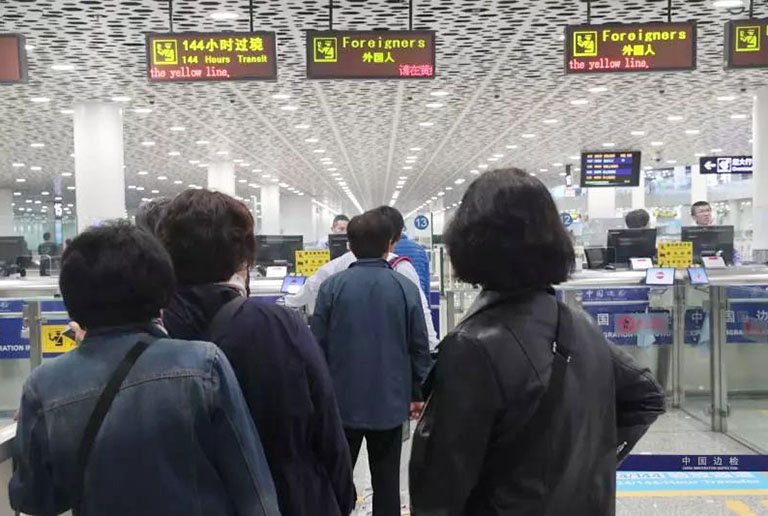 Queue up and Submit Transit Visa Exemption Application
Step 1: Notify the carrier (air company) that takes you to transit through China, submit your application of the TWOV program when boarding. They will report your need to the immigration office at the intermediate port.
Step 2: Follow signs at customs area, and get to the special counter immigration department set for Visa-free Transit visitors, and fill in an Arrival Card, submit to the officer.
Step 3: If get approved, your passport will be stamped a Temporary Entry Permit, which shows the issuing date, the permitted duration of stay at entry port.
Step 4: If you don't want to use the Chinese Visa you already obtained this time, you should tell the immigration officer you will enter and transit by applying the Visa-free Transit.
Step 5: After leaving airport, you must register yourself within 24 hours upon arrival at the local police station or Public Security Bureau (PSB). If you will stay in hotel, the hotel staff will do the registration for you.
Travel China Worry Free with China Discovery
Transiting in China without visa saves much your time, money and energy while having a stopover. It's a good idea to use the TWOV to have a layover tour to enjoy unique city charm full of Chinese style culture, history and modern ambience. Thus, you may hike on the Great Wall in Beijing, view the Terracotta Warriors in Xian, witness stunning skyscrapers in Shanghai, immerse in poetic landscape in Guilin, memorable Giant Panda tour in Chengdu...
China Discovery is a professional and experienced travel companion who offers high-value and worry-free China tours for you. We not only design ideal itinerary covering sightseeing, dining, transfer and hotel, but also can provide any visa support & help you need for China travel. With our help, you may take advantage of the free visa to visit China, or obtain a Chinese Visa to experience different kinds of landscape, culture and history of China freely.
Please feel free to  contact us to join in our top recommended China tours, or let us customize a once-in-a-lifetime trip to China for you.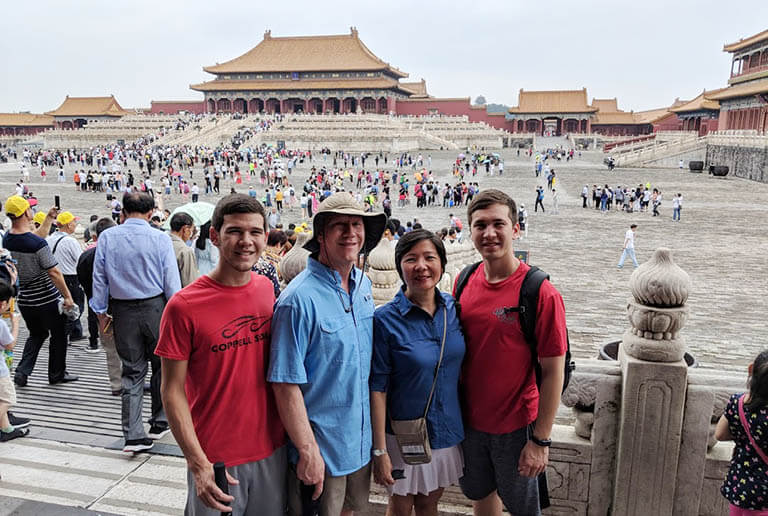 China Discovery Custom-made US Customers Beijing Tour to Forbidden City
Top China Visa-Free Cities
Introduction to China Visa
China Visa Application
China Visa Free Transit
Recommended Tours
Top 3 tours chosen by most customers to explore in the best way. Check the detailed itinerary, or tailor your own trip now with us.
Start planning your tailor-made holiday to China by contacting one of our specialists. Once inquired, you'll get a response within 0.5~23.5 hours.
Customize a Trip
Questions & Discussions
Following are latest questions and answers from our webusers and customers. You can learn many useful information from the discussion and cases. You can also join in the discussions or ask your own question. Our experts will help you ASAP.
visa
Is this visa all we need to visit china for 6 days, We are touring beijing, then on to Xi'an. we are over 70 years of age.
Hi John,

Thanks for your question. Traveling from Beijing to Xian doesn't apply to the 144 Hour Transit Visa free. You can only transit without visa only in Beijing or only in Xian. To visit Beijing and Xian together, you need to apply for a Tourist Visa (L).
Have a question? Get answers from our travel experts or guests
Your Question:

Your Name:

Your Email: