China Visa on Arrival: Requirements, Application, Fees & Cities
Notice on Latest Visa and Entry Policies for Foreigners Entering China - Updated on April 25, 2023:
1. From April 29th, all travelers to China can use Covid-19 antigen tests taken within 48 hours before boarding instead of nucleic acid tests, and airlines will no longer verify pre-boarding testing certificates.
2. In order to further facilitate the entry and exit of Chinese and foreign personnel, it has been decided to make the following adjustments to the visa and entry policies for foreigners entering China, effective from 00:00 March 15, 2023 Beijing time:
1). The entry function of visas which were issued before March 28, 2020 and still valid will be restored.
2). Overseas visa offices will resume issuing various types of visas (including Tourist Visa) for foreigners to travel to China, with specific requirements detailed in the visa application guidelines of Chinese embassies or consulates.
3). Port visa offices will resume issuing various types of port visas for lawful purposes.
4). The policies of visa-free entry for Hainan, Shanghai International cruise arrival, Guangdong for Tourist group entry of foreigners from Hong Kong, Macau, and ASEAN tourist groups entering Guilin, Guangxi will be restored.
3. Attention on China Group Visa on Arrival in Nepal: needs minimum 4 applicants, and no maximum limit. All applicants from one list must all come to the Visa Center for application.
China Discovery will keep focusing on the updates of the latest Chinese visa and entry policy! You can also call 86 010 12367 (Official telephone number of China National Immigration Administration) to check further information. Welcome to join in our Facebook Groups to catch up with the latest news!
Invitation letter is a vital document for Chinese visa application. If you travel with us, we will not only create a valuable tour for you, but also provide you an invitation letter if you request, which will help you obtain your visa successfully. Start customizing your tour in China now!
We are one of the few China travel agencies who have kept active and received lots of feedbacks and reviews during pandemic years

Yaser
"Hello Mr. Wonder, We have arrived safely to Kuwait and are now cherishing our memories of China. The service of the guides was generally very good. They gave us insight into the history..."
read more »
Reviewed on May 29, 2023

Ilia G
"I have purchased a private tour from Lijiang to Shangri-la with a driver in the first week of May, 2023. Tracy Tan (I do not know her Chinese name, unfortunately) from China Discovery..."
read more »
Reviewed on June 7, 2023
What is a visa on arrival?
What does Visa on Arrival (VOA) mean? Visa on Arrival (VOA) is also called Port Visa or Landing Visa, which means applicants apply and obtain a visa for a country (region) upon landing from border immigration authority, instead of getting an "Advanced Visa" in country of residence.
Can I get a visa on arrival in China?
Some cities in China offers Visa on Arrival (Port Visa) for special entry, such as the 5-Day Shenzhen Special Economic Zone (SEZ) Visa, 5-Day Xiamen SEZ Visa, 3-Day Zhuhai SEZ Visa, Tourist Group Visa, etc. Under the policy, visitors are allowed to apply Visa on Arrival at ports of entry through simple, fast and convenient processes, but visa fees are still charged. To avoid refusal and inconvenice, we suggest you'd better pre arrange a Chinese Visa.
Understand China Visa on Arrival Policy
Who can get China Visa on Arrival? Currently, China on Arrival Visa is available for 4 major cases, which includes visit to Special Economic Zones (Shenzhen, Zhuhai, Xiamen) in China, foreign tourist groups (applying Tourist Group Visa), emergency entry and invited overseas high level talents (appling China C/F/M/Q2/R/S2/Z/X1 Visa). The last two are usually assisted by the inviting unity with required documents. For ordinary tourists, the Special Economic Zone (SEZ) Visa and Tourist Group Visa are most frequently asked, and here we specifically explain them in this post.
China Special Economic Zone Tourist Visa - Visa on Arrival in Shenzhen, Zhuhai & Xiamen
Special Economic Zone Tourist Visa is issued to aliens who hold valid ordinary passport or international travel documents and plan to shortly visit Shenzhen, or Zhuha, or Xiamen in mainland China. Applicants can directly apply at certain border ports. The special type of visa is valid for single entry and 5 days for visit to Shenzhen, Xiamen, 3 days to Zhuhai. Validity counts from 00:00 on the second day after issurance, and movement is restricted to administration region of Special Economic Zone only.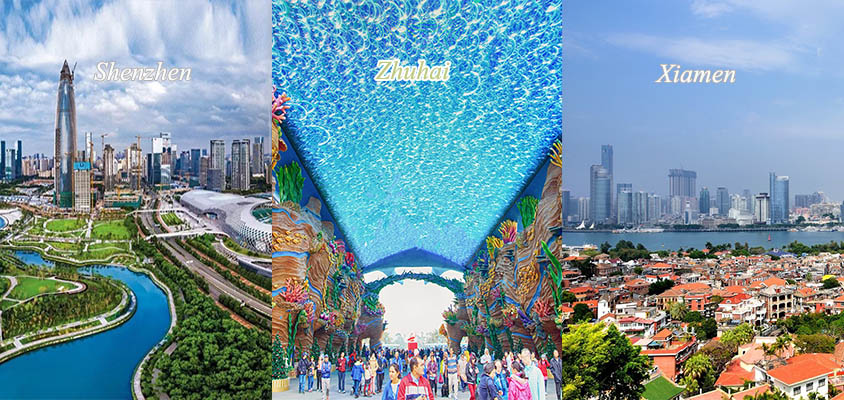 Shenzhen Zhuhai Xiamen Special Economic Zone Tourist on Arrival Visa
Which Countries can Apply SEZ Visa on Arrival?
Citizenship is one of the most important requirements for applying for a Special Economic Tourist Visa. Most foreigners are allowed to apply for the short-term regional China Visa on Arrival, except the following 28 foreign countries:
Indian, Afghanistan, Algeria, Bahrain, Cameroon, Egypt, Iran, Iraq, Jordan, Kuwait, Lebanon, Liberia, Libya, Morocco, Oman, Pakistan, Palestine, Qatar, Saudi Arabia, Somalia, Sri Lanka, Sudan, Syria, Turkey, Uganda and Yemen.
Documents Required for Special Economic Zone Tourist Visa
1. Valid ordinary passport with validity of 6 months at least (or other international travel document) & blank pages;
2. Completed Special Economic Zone Visa Application Form (you can get at border visa room);
3. Two-inch visa application photo;
4. Proper visa fees;
5. Related documents showing visit for travel or business, and other private affairs, e.g. invitation letter, round-trip air ticket, etc.
6. Entry Special Ecomonic Zones via appointed ports.
Tips: You may apply for Shenzhen and Zhuhai SEZ Visas only when you travel from Hong Kong or Macau.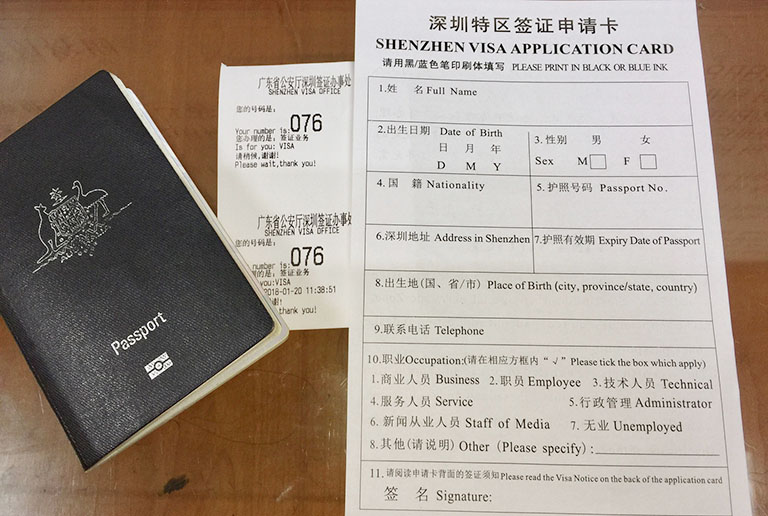 Requirements of Shenzhen Special Economic Zone Tourist Visa
How to Get Special Economic Zone on Arrival Visa in China?
After you went through Hong Kong immigration and crossed the border checkpoints, here is the detailed guide for application.
Step 1: Follow signs to find the visa office at the port of entry;
Step 2: Get a SEZ visa application form, take a queue number from the machine;
Step 3: Fill in the application form and wait for your number;
Step 4: As noticed above the window, go to the counter, hand over your passport, completd SEZ Visa application form, queue number slip;
Step 5: Take a photos as the cutoms officer request;
Step 6: Sit down again and wait for your turn to pay visa fee;
Step 7: Wait again for issurance, if successfully granted, pick up passport back and go through immigration checkpoints to exit the port.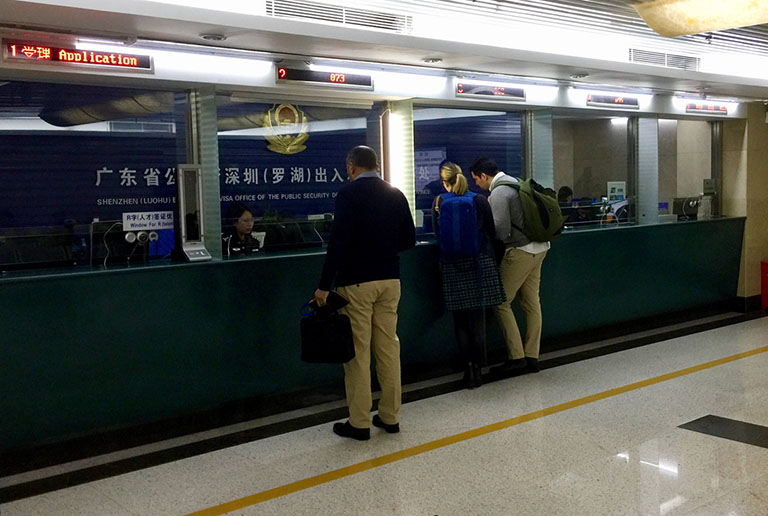 Apply Shenzhen 5-Day Visa on Arrival in Luohu Port
Special Economic Zone Tourist Visa Fees
The SEZ Visa Fees is requried to be paid in Chinese currency - RMB and differ by nationalities. For foreign countries without reciprocal arrangments, the fee is CNY 168 for most nationals, for others, it charges about CNY 314 (about £36) for UK citizens, and CNY 956 (about USD 138) for USA citizens. (Passort holders of Micronesia, Maldives and Pakistan enjoy short-term SEZ Visa free of charge.)
Shenzhen Visa on Arrival
Shenzhen provides 5-Day Port Visa for regular travelers from Hong Kong or Macau at Shenzhen Bao'an International Airport, Luohu, Huanggang, Shekou and Futian Ports, and convenient on arrival Tourist Group Visa for tour group (with 2 and more person) arranged by Hong Kong or Macau based travel agency.
Useful Links: Shenzhen Visa on Arrival | Shenzhen 144-Hour Visa-Free Transit | Shenzhen Hong Kong Border Crossing
Zhuhai & Xiamen Visa on Arrival: Same as Shenzhen, the other two Special Economic Zones, Zhuhai offers 3-Day SEZ on Arrival Visa at Gongbei, Jiuzhou and Hengqin Ports, and Xiamen implemented 5-Day SEZ visa at Xiamen Gaoqi International Airport.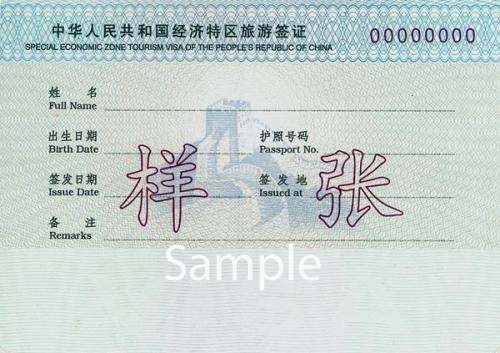 Shenzhen Special Economic Zone Tourist Visa (Old Version)
Chinese Tourist Group Visa - Group L Visa on Arrival in Beijing, Shanghai, Xian...
China Toursit Group Visa, or called Group L Visa, is isseud to foreign tour groups comprising of at least 5 members, which are organized and recerived by authorized Chinese travel agencies. The visa is also a single-entry visa for one visit and normally issed with a duration of stay of 30 days at most. It is applied by the travel agency, instead of the individual visitor, in the overseas Chinese Embassy or at authorized ports of 22 cities in China, including Beijing, Shanghai, Xian, Guilin, Tianjin, Dalian, Chongqing, Fuzhou, Xiamen, Hangzhou, Kunming, Chengdu, Nanjing, Guangzhou (Baiyun Airport), Shenzhen (Luohu, Shekou Port), Zhuhai (Gongbei Port), Hainan, Sanya, Jinan, Qingdao, Yantai, Weihai.
Required Documents:
● Member tourists' valid passports (valid at least 6 months) or other international travel documents;
● Completed China Port Visa Application Form (click here to download);
● Qualified visa application photo (size: 2x2 inches);
● Standard printout list of the whole tour group tourists in triplicate;
● Original or fax of the invitation letter from the authorized travel agency;
● Planned travel itinerary (group number must be marked);
● All tourists shall enter and exit from the same port, at the same time and travel under same itinerarty.
Application Processes
Applicants only need to provide documents and personal information to the licensed travel agency, who will help you apply and pick up the issued Tourist Group Visa. The authorized travel agency will submit to border immigration authority ahead of departure, and receive the group at the border checkpoints.
China Port Visa Application Form
Chinese Tourist Group Visa Fees
The single-entry Group Tourist Visa (L Visa) is also charged differently for each country. It takes about CAD 40 for a Canadian citizen, USD 110 for a US citizen, NPR 1750 for a Nepalese, about USD 40 for other citizens. Pakistani, Maldivian and Serbian Citizens don't need to pay the visa fees in accordance with related laws and regulations.
China Visa on Arrival in Beijing, Shanghai, Hong Kong & other Cities
If you are looking for China Visa on Arrival in Beijing, Shanghai, Hong Kong, Hainan and other cities, please read the rough guide below.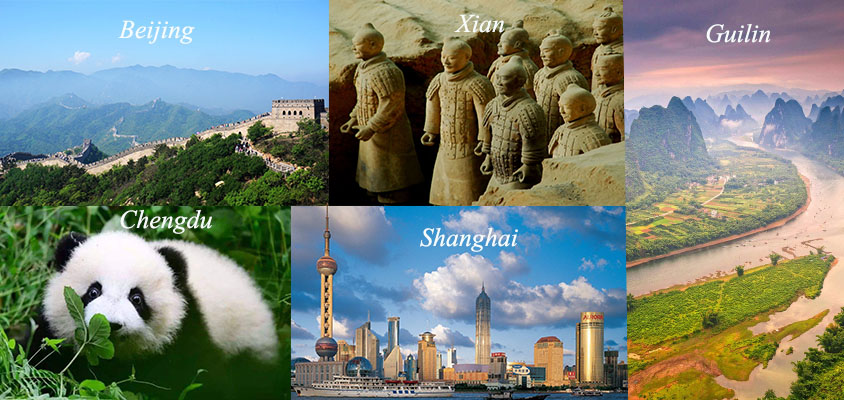 Apply Tourist Group Visa in Beijing Shanghai Xian Chengdu Guilin
Except regional Special Economic Zone Tourist Visa, Visa-on-Arrical policy for emergency entry, special visitors like invited foreign high level talents, overseas students and incoming employees is valid in Beijing, Shanghai, Guangzhou, Chengdu and many other cities. 59 designated countries may enjoy 30-day Hainan Visa on Arrival at all opened ports, such as Haikou Meilan International Airport, Sanya Fenghuang International Airport.
Useful Ports of Entry:
Beijing: Terminal 2 & 3, Beijing Capital Internation Airport
Shanghai: Terminal 1 & 2, Shanghai Pudong International Airport & Terminal 1, Shanghai Hongqiao International Airport
Chengdu: Chengdu Shuangliu International Airport
China Tourist Group Visa (New Version Used Since June 1, 2019)
Hong Kong Visa on Arrival
Citizens from 170 foreign countries or regions may enjoy visa-free entry to Hong Kong Special Administrative Region (SAR) without applying a Visit Visa or Entry Permit ahead. Other either apply from a overseas Chinese Embassy or Consulate, or mail application materials to the HKSAR Immigration Department straightforwardly. So far, on arrival visa is not valid for foreign visitors. More about Hong Kong Visa Free >>
Travel with China Discovery
China Discovery is a professional and experienced travel companion who offers high-value and worry-free tours for you. We not only design ideal itinerary covering sightseeing, dining, transfer and hotel, but also can provide any support & help you need to travel to China. With a Chinese Visa, you can freely travel to many cities in mainland China, among all, Beijing, Shanghai are used as gate way cities, Xian, Guilin, Chengdu are also excellent destinations to discovery different regional culture, history and local customs in China.
You may choose from our most popular China tours, or just contact us, tell your interests and travel plans, we could customize a perfect China tour as you like.
Introduction to China Visa
China Visa Application
China Visa Exemptions
Recommended Tours
Top 3 tours chosen by most customers to explore in the best way. Check the detailed itinerary, or tailor your own trip now with us.
5 Days Shanghai Suzhou Hangzhou Tour with West Lake Biking

Shanghai / Suzhou / Shanghai / Hangzhou
Start planning your tailor-made holiday to China by contacting one of our specialists. Once inquired, you'll get a response within 0.5~23.5 hours.
Customize a Trip
Questions & Discussions
Following are latest questions and answers from our webusers and customers. You can learn many useful information from the discussion and cases. You can also join in the discussions or ask your own question. Our experts will help you ASAP.
Visa to Guangzhou
I hold a Swiss pass port. Can I get a tourist visa for 6 days on arrival,?
Thank you
Hi Astrid,

Thanks for your question. You cannot get a tourist visa for 6 days on arrival at Guangzhou, but you can apply for the 144 Hour Transit Visa Free at Guangzhou Baiyun International Airport which also allows you to stay up to 6 days in Guangzhou and other cities in Guangdong Province. You can check details here https://www.chinadiscovery.com/chinese-visa/guangzhou-visa-free.html
Have a question? Get answers from our travel experts or guests
Your Question:

Your Name:

Your Email: