Latest China Visa News
Notice on Latest Visa and Entry Policies for Foreigners Entering China - Updated on April 25, 2023:
1. From April 29th, all travelers to China can use Covid-19 antigen tests taken within 48 hours before boarding instead of nucleic acid tests, and airlines will no longer verify pre-boarding testing certificates.
2. In order to further facilitate the entry and exit of Chinese and foreign personnel, it has been decided to make the following adjustments to the visa and entry policies for foreigners entering China, effective from 00:00 March 15, 2023 Beijing time:
1). The entry function of visas which were issued before March 28, 2020 and still valid will be restored.
2). Overseas visa offices will resume issuing various types of visas (including Tourist Visa) for foreigners to travel to China, with specific requirements detailed in the visa application guidelines of Chinese embassies or consulates.
3). Port visa offices will resume issuing various types of port visas for lawful purposes.
4). The policies of visa-free entry for Hainan, Shanghai International cruise arrival, Guangdong for Tourist group entry of foreigners from Hong Kong, Macau, and ASEAN tourist groups entering Guilin, Guangxi will be restored.
3. Attention on China Group Visa on Arrival in Nepal: needs minimum 4 applicants, and no maximum limit. All applicants from one list must all come to the Visa Center for application.
China Discovery will keep focusing on the updates of the latest Chinese visa and entry policy! You can also call 86 010 12367 (Official telephone number of China National Immigration Administration) to check further information. Welcome to join in our Facebook Groups to catch up with the latest news!
Invitation letter is a vital document for Chinese visa application. If you travel with us, we will not only create a valuable tour for you, but also provide you an invitation letter if you request, which will help you obtain your visa successfully. Start customizing your tour in China now!
We are one of the few China travel agencies who have kept active and received lots of feedbacks and reviews during pandemic years

Yaser
"Hello Mr. Wonder, We have arrived safely to Kuwait and are now cherishing our memories of China. The service of the guides was generally very good. They gave us insight into the history..."
read more »
Reviewed on May 29, 2023

McKenzie
"I visited Beijing for two days, and with the help of China Discovery, I had an amazing experience. Wonder created an excellent itinerary so that my mom and I could see the essential..."
read more »
Reviewed on June 3, 2023
Here we update the newest China visa information to keep you better know China visa policy and help you plan an excellent trip to China!
1. 10-year Chinese Visa & Multi-year Multi-entry Chinese Visas
Update Date: March 14, 2023
10-year Chinese Visas issued before March 26, 2020 and still in validity can be used to enter China now. There is no confirmed information yet about whether the expired 10-year Chinese Visa will be renewed or not, and whether 10-year Chinese Visa still in validity will get extra 3-year validity or not.
2. Updated China Arrival & Resumption of 24/72/144-Hour Transit Visa Free
Update Date: March 5, 2023
1. From January 8, 2023, persons coming to China should undergo a PCR or antigen self-test 48 hours before departure. Those with a negative result can come to China without applying for a health code from our embassy or consulate abroad. Travelers will no longer need to quarantine upon arrival.
2. The issuance of port visas will be resumed, so will be the 24/72/144-hour transit visa-free policy.
3. Updated China Entry Rules for holders of valid APEC Business Travel Cards and foreign students
Update Date: August 24, 2022
From 00:00 August 24, 2022, holders of valid APEC Business Travel Cards and foreign students holding valid Chinese residence permits for study are allowed to enter China with no need of applying for new visas. Besides, China will also resume accepting Study X1-Visa applications from foreigners applying to study in China for more than 180 days.
Family members (spouse, parents, children under the age of 18, parents-in-law) of foreign students holding valid study (X1) visas or study residence permits, can apply for a private affair (S1 or S2) visa for family reunion.
4. Foreign Nationals Holding Valid Chinese Residence Permits for Work, Personal Matters and Family Reunion can Enter China from September 28, 2020!
Update Date: September 23, 2020
The Ministry of Foreign Affairs and the National Immigration Administration of China has announced an adjustment of the current entry policy. From 00:00 September 28, 2020, foreign visitors holding valid Chinese residence permits in three categories (work-Z Visa, personal matters - S Visa and family reunion - Q Visa) can enter China without reapplying for a China Visa . If your residence permit already expired after 00:00 March 28, 2020, and your purpose of visiting China remains the same, you can submit the overdue permit and related materials to apply for a new China Visa.
5. Three Important New Policies about China Visa Free Transit
Update Date: December 1, 2019.
According to official news, three big changes about China's 144 Hour Transit Visa Free Policy has come into effect to offer more convenience for foreign tourists from December 1, 2019.
① Xian and Chongqing will extend the present 72 hours to 144-Hour Visa-free Transit.
② Using the 144-Hour Transit Visa Free Policy to transit in Chengdu, visitors can travel to more destinations in Sichuan Province besides Chengdu, including Leshan (Leshan Giant Buddha and Mount Emei), Yibin (Shunan Bamboo Sea), Deyang, Suining, Meishan, Ya'an, Ziyang, Neijing, Zigong, Luzhou, total 11 cities within Sichuna.
③ Ningbo (Zhejiang Province) has begun the 144-Hour Visa-free Transit for air travelers, and allow regional tour in Shanghai, Hangzhou, Nanjing and all cities in Jiangsu and Zhejiang Provinces, Yangtze River Delta.
Useful Links: Xian 144 Hour Transit Visa Free | Chengdu 144 Hour Transit Visa Free | China 144 Hour Visa Free Transit
6. Change of Version of China Visa
Update Date: June 1, 2019
National Immigration Administration of China announced that a new version of China Visa, China Group Visa and China Residence Permit will start to be used for promoting inspection efficiency and enhancing anti-counterfeiting performance, since June 1st, 2019. The biggest new change is that, a color photo of the applicant is added on the left side of visa page (except the Group Visa).
Meanwhile, immigration authorities will stop to issue the current version of China Visa, China Special Economic Zone Tourist Visa, China Group Visa and Foreigners' Residence Permit of China.
Please notice that previous version of China Visa can be used as long as it has not expire, and the requirements, application procedures and visa fees remain the same as before.
Useful Links: China Visa Requirements | How to Apply for A China Visa | How Much is A China Visa | How to Understand China Visa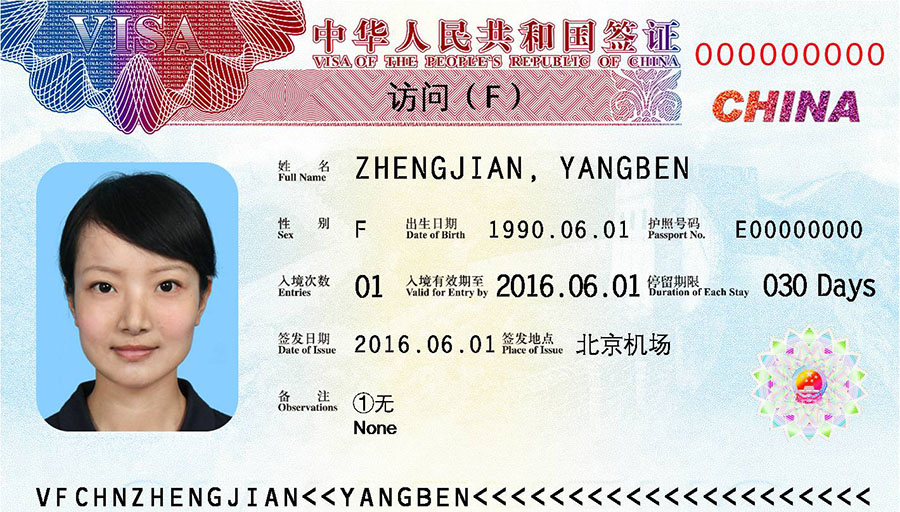 Chinese Noncommercial Visit (F) Visa (New Version)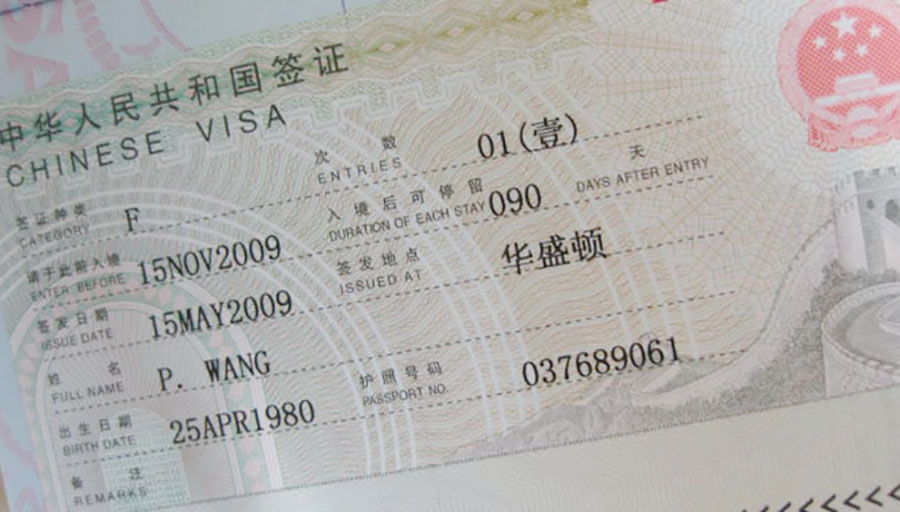 Old Version of China F Visa
Travel with China Discovery
China Discovery is a professional and experienced travel companion who offers high-value and worry-free tours. We not only design ideal itinerary covering sightseeing, dining, transfer and hotel, but also can provide any visa-related support & help you need to travel to China. To fulfill your dream tour to Beijing, Shanghai, Xian, Guilin, Chengdu and more destinations in China, we will try our best to provide you each travel related service, visa matters included.
You may choose from our most popular China tours, or just  contact us, tell your interests and travel plans, we could customize a perfect China tour as you like.
Introduction to China Visa
China Visa Application
China Visa Exemption
Recommended Tours
Top 3 tours chosen by most customers to explore in the best way. Check the detailed itinerary, or tailor your own trip now with us.
3 Days Classic Guilin Tour - Guilin Brief Vacation

Guilin / Yangshuo
Start planning your tailor-made holiday to China by contacting one of our specialists. Once inquired, you'll get a response within 0.5~23.5 hours.
Customize a Trip
Have a question? Get answers from our travel experts or guests
Your Question:

Your Name:

Your Email: