China Visa Policy for Singaporean Citizens: 15 Days Visa Free Has Been Suspended
Notice on Further Adjusting the Visa and Entry Policies for Foreigners Entering China - Updated on March 14, 2023:
In order to further facilitate the entry and exit of Chinese and foreign personnel, it has been decided to make the following adjustments to the visa and entry policies for foreigners entering China, effective from 00:00 March 15, 2023 Beijing time:
1. The entry function of visas which were issued before March 28, 2020 and still valid will be restored.
2. Overseas visa offices will resume issuing various types of visas (including Tourist Visa) for foreigners to travel to China, with specific requirements detailed in the visa application guidelines of Chinese embassies or consulates.
3. Port visa offices will resume issuing various types of port visas for lawful purposes.
4. The policies of visa-free entry for Hainan, Shanghai International cruise arrival, Guangdong for Tourist group entry of foreigners from Hong Kong, Macau, and ASEAN tourist groups entering Guilin, Guangxi will be restored.
China Discovery will keep focusing on the updates of the latest Chinese visa and entry policy! You can also call 86 010 12367 (Official telephone number of China National Immigration Administration) to check further information. Welcome to join in our Facebook Groups to catch up with the latest news!
Invitation letter is a vital document for Chinese visa application. If you travel with us, we will not only create a valuable tour for you, but also provide you an invitation letter if you request, which will help you obtain your visa successfully. Start customizing your tour in China now!
We are one of the few China travel agencies who have kept active and received lots of feedbacks and reviews during pandemic years
"It was our second time with China Discovery Tours. Once again they tailored the tour according to our ideas and interests - and succeeded in surprising us!
read more »
Reviewed on March 20, 2023
"We loved it! Our tour guide Frank was very kind, informative, and funny :) We loved how easy it was and how much we got to see in a day, I will definitely recommend to our friends!
read more »
Reviewed on March 16, 2023
Do Singaporean citizens/passport holders need visa to China?
According to the latest Chinese visa policy starting from January 8, 2023, 15 Days Visa-free China Entry for Singaporean nationals has been suspended, which means Singaporean nationals now need to obtain a valid visa to enter China before the visa-free policy being resumed. Tourist visa (L), Work visa (Z Visa), business visa (M Visa), student visa (X Visa), family reunion visa (S Visa), permanent stay permit (D Visa) are all available now. Here is the application process. If you don't want to apply for a visa, you can take advantage of the 144-hour Visa Free Transit which is available in Beijing, Shanghai, Guangzhou, Chengdu, etc. Hainan-30 day visa free travel is also available for Singaporean nationals.
You can now ignore news and policies in below article.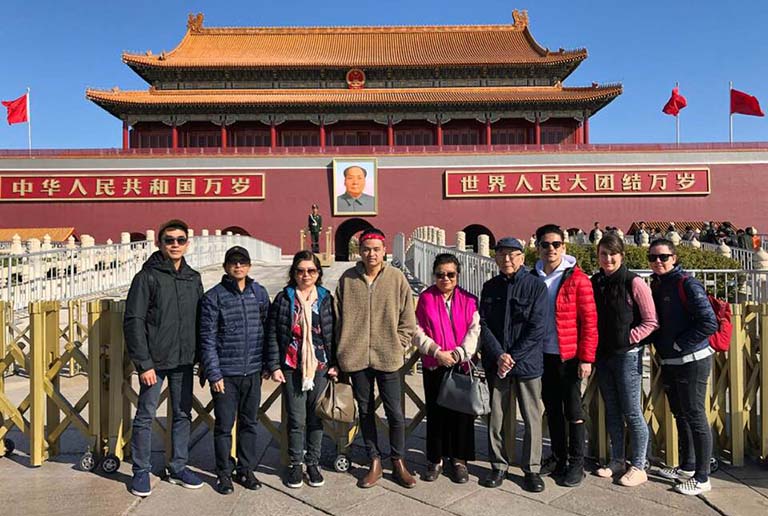 Our Singaporean Clients Visited Bejing Tian'anmen Square
Singapore to China Visa Free - Travel China Without Visa
An unilateral visa exemption agreement for Singaporeans' traveling to China was put into force on July 1st, 2003. So, China can be regarded as a visa free country for Singapore citizens. In the policy, Singapore ordinary passport holders can get visa exempted to China for a short-term stay, as long as you take valid original regular passport, travel to China for the purposes of tourism, business, visit family, relatives, friends, or transit.
Singapore visitors can enter and exit through all China's ports opened to foreigners. The longest duration of stay is no longer than 15 days. Passport and flight to China are the two most important things you shall well prepared before departure. Upon arrival, you will get a Temporary Entry Permit stamped on your passport without any charges. Then, it's your free time to arrange the 2-week long holiday in China to enjoy a Great Wall Hiking Tour, Silk Road Tour, Tibet Discovery Tour, Family Travel, and so forth.
Note:
For Singaporeans holding
APEC Business Travel Card
, the card can be used directly as a multiple-entry China Business Visa for 3 years. The permitted duration is 2 months for each entry.
Most Popular Tourist Destinations in China
China Visa Required for Singaporeans - Apply China Visa in Singapore
Even through holding a Singapore passport, you still need to get a visa from the local Public Security Bureau (PSB) in mainland China if you intend to stay longer than 15 days after entry. Or if you plan to go to China for study, employment, journalism, residence, etc., a China Visa should be applied and obtained from Chinese Embassy or Consulate abroad. Below are the details of getting a China Visa in Singapore.
Attention: Where to Submit? Singaporeans, Malaysians or foreigners residing in Singapore are all required to submit visa application to China Visa Application Service Center (CVASC) authorized by Chinese Embassy. The embassy will not accept any ordinary application, but the issuance will be made by the embassy.
China Visa Requirements
Before physically visit the China Visa Application Service Center, you shall prepare the listed documents one by one, and as required.
Basic Requirements:
● Passport
Original passport with a remaining a validity of at least 6 months and over 2 blank pages. Make copy of the passport's data page, already used visa pages, former China Visa if had.
● China Visa Application Form
Option 1: Fill in online application form at http://www.visaforchina.org..
Print the completed form out, write down application date and sign on the paper form
Option 2: Download the latest version of China Visa Application Form (v.2013 - 4 pages in total) and fill in the digital form, print it out and sign it.
● Photo
At least 2 recently-taken (within last 6 months) passport-size color photos which are against a light background. (Size: 38mmX48mm)
Useful Link: China Visa Photo Requirements
● Others
1.) Proof of legal entry, stay, residence in another country or region, if you not apply in your home country.
2.) Previous Chinese passport & copy of the data page, if you used to be a Chinese citizen and apply China Visa the first time. If you had got China Visa before, please provice photocopy of the data page, photo paga, previous China Visa page of your old Chinese passport.
Supporting Documents:
● Travel related documents: round-trip (flight, train, ship) tickets, hotel booking, travel itinerary, etc.
● An Invitation Letter: if you're inviteed to travel to China, please prepare formal Invitation Letter by the invited individual or unity.
Warm Tips: Travel with China Discovery, we can provide you Invitation Letter and travel itinerary to help you apply for China Visa in Singapore.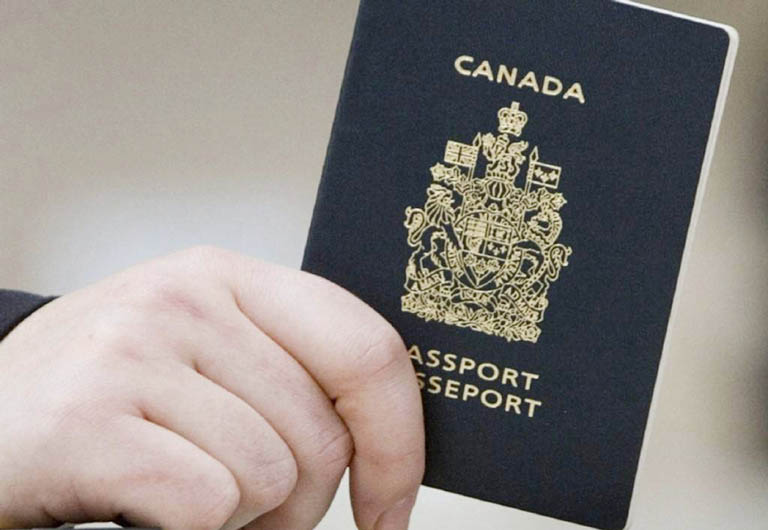 Passport is Required when Applying China Visa in Singapore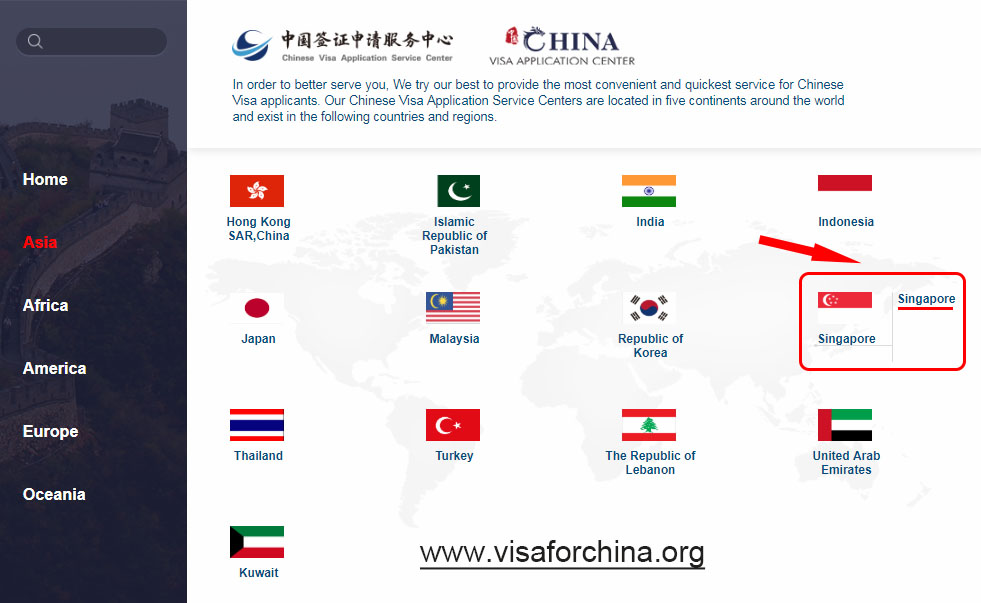 Log in Visa Center Website to Complete Application Form & Make Appointment Online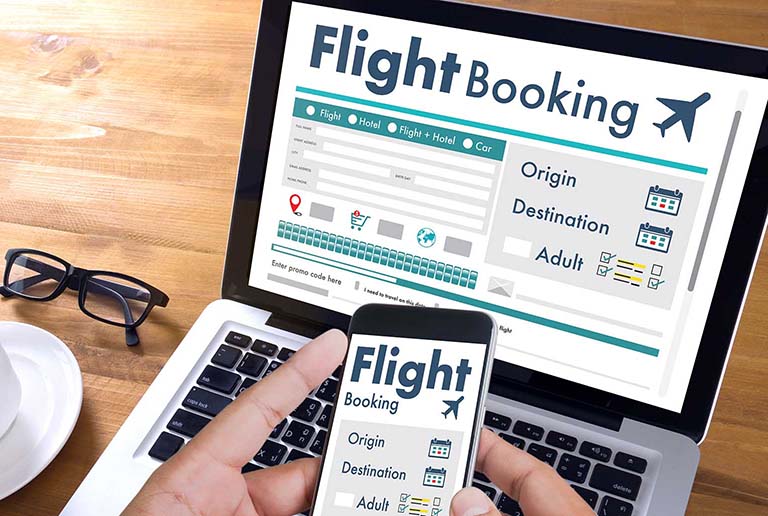 Booking Air Tickets and Hotel for China Tourist Visa Application
China Visa Fee in Singapore
Applicants should pay China Visa Application Fee after submission in the center office. The total cost = visa application fee + service fee. You will pay extra fees for expedited service, such as Express Service and Rush Service. Here we list the major visa price for Singaporean and other common international citizens as follows:
Nationality
Number of Entries
Regular Application
(Application + Service Fees)
Express Application
(Application + Service Fees)
Rush Application
(Application + Service Fees)
Singapore
Single Entry
SGD (25+60)= SGD 85
SGD (60+90)= SGD 150
SGD (75+120)= SGD 195
Double Entries
SGD (35+60)= SGD 95
SGD (70+90)= SGD 160
SGD (85+120)= SGD 205
Multiple Entries (6 Months)
SGD (45+60)=SGD 105
SGD (80+90)=SGD 170
SGD (95+120)=SGD 215
Multiple Entries (≥12 Months)
SGD (65+60)=SGD 125
SGD (100+90)=SGD 190
SGD (115+120)=SGD 235
US Citizens
Single/Double Entries
Multiple Entries
(6 Months/≥12 Months)
SGD (200+60)=SGD 260
SGD (235+90)=SGD 325
SGD (250+120)=SGD 370
Canada Citizens
Single/Double Entries
Multiple Entries
(6 Months/≥12 Months)
SGD (105+60)=SGD 165
SGD (140+90)=SGD 230
SGD (155+120)=SGD 275
Others Citizens
(Malaysian, Indians...)
Single Entry
SGD (50+60)=SGD 110
SGD (85+90)=SGD 175
SGD (100+120)=SGD 220
Double Entries
SGD (50+60)=SGD 110
SGD (85+90)=SGD 175
SGD (100+120)=SGD 220
Mutiple Entries (6 Months)
SGD (100+60)=SGD 160
SGD (135+90)=SGD 225
SGD (150+120)=SGD 270
Mutiple Entries (≥12 Months)
SGD (150+60)=SGD 210
SGD (185+90)=SGD 275
SGD (200+120)=SGD 320
Note: The accepted methods of payment include cash (Singapore Dollar), debit card (NETS & Union Pay). Also, you can download detailed schedules of China Visa fees here.
How Do I Apply for China Visa in Singapore?
Individual not using travel agent to apply China Visa can get the most useful China Visa Application instructions as we introduced here.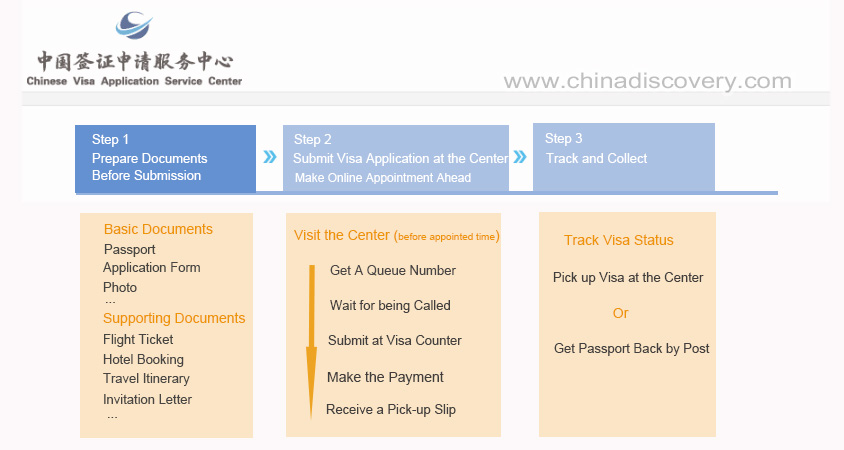 How to Apply China Visa in Singapore
How Long to Get A China Visa?
China Visa processing time depends on individual cases and which service applicants choose to use.
Regular Application: about 4 working days.
Express Service: usually around 3 working days.
Urgent Service: about 2 working days.
If you submit urgent application between 9:00am - 12:00pm, you can collect during 9:00am - 16:00pm on the second working day; if you submit between 12:00pm to 14:00pm in the afternoon, please pick up at 12:00pm - 16:00pm on the next working day.
Tips: The embassy may ask applicant to submit additional materials, which could get the application period a little bit longer than expected.
China Visa Application Service Center in Singapore
Address: 80 Robinson Road, #16-01/02/02A, Singapore 068898
Opening Hours: Monday - Friday, except Saturday, Sunday and national public holidays
Submission Hours: 9:00am to 15:00pm
Payment & Collection Hours: 9:00am to 16:00pm
Urgent Submission: 9:00am to 12:00pm
Contact information
Call: 67139380
Fax: 62260852
E-mail: singaporecentre@visaforchina.org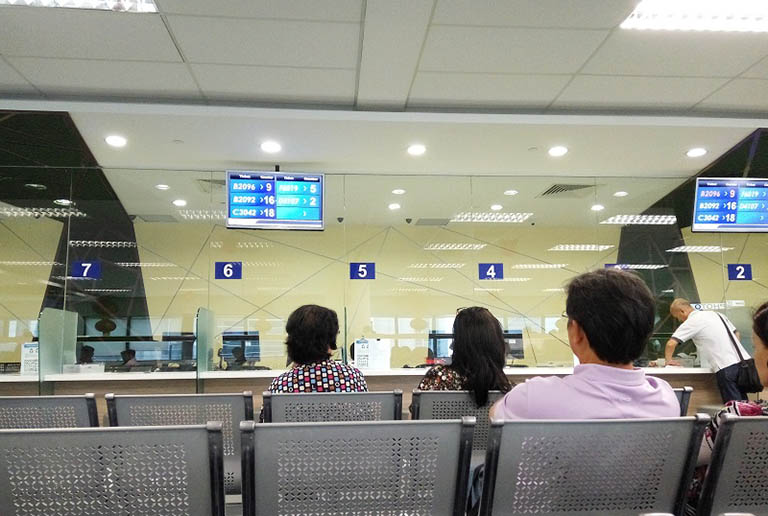 China Visa Application Center in Singapore
Apply Hong Kong Visa in Singapore
Do Singaporeans need visa for Hong Kong?
Hong Kong is treated as a third region from mainland China, where can't use a China Visa for entry. Singapore passport holders may enjoy visa-free access to Hong Kong no longer than 90 days, when entering for travel or certain business-related activities. Your Singapore passport shall be valid for more than 1 month.
Those who will visit Hong Kong for study, work, business must apply and get a Hong Kong Visa beforehand.
Hong Kong Visa Application Guide
First, check the Hong Kong Immigration Department official website (https://www.immd.gov.hk/eng/services/index.html) to get useful information. Required Documents includes: passport, application form, photos, travel related supporting documents, etc.
Second, prepare all required documents & visa fees as required by the Hong Kong Immigration Department.
Third, visit China Visa Application Service Center in Singapore to submit Hong Kong Visa application. No online appointment is needed.
Related Link: Hong Kong Visa Application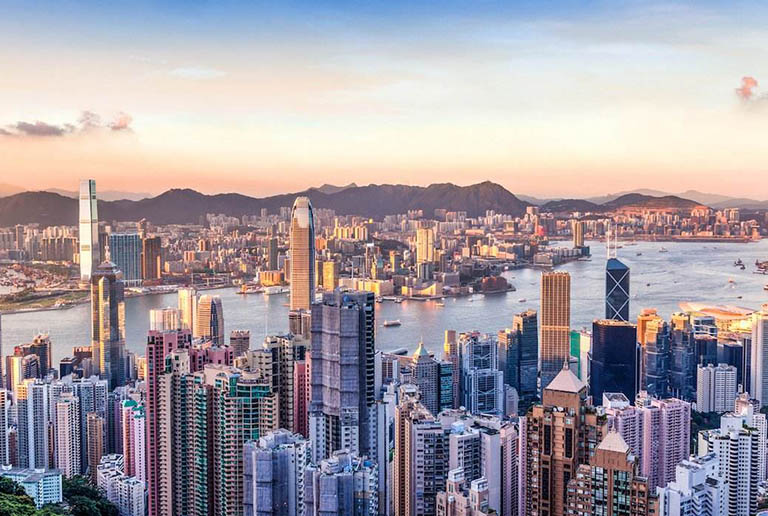 Skyscrapers in Hong Kong
Recommended Hong Kong Tours:
Travel to China from Singapore
Singapore is located in the south of China and the nearest city in China is Hainan Province. It is essential transport hub in Asia. Currently, there are two main transportation available between Singapore and China: by international flight or cruise.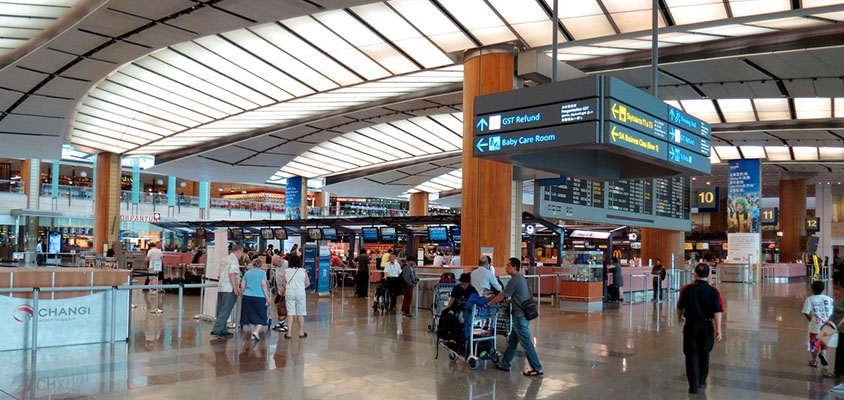 Singapore Changi Airport
By Flight: Singapore Changi International Airport (新加坡樟宜国际机场,IATA: SIN, ICAO: WSSS) is the sole airport opening flights to China, with frequent airlines to over 20 cities. You can fly from Singapore Changi Airport to Beijing, Shanghai, Xian, Guangzhou, Shenzhen, Chengdu, Sanya, Chongqing, Nanjing, Hong Kong, Macau and more cities in mainland China.
By Cruise: Taking an sea voyage trip from Port of Singapore to go north, sail through Hong Kong, Taipei and ultimately visit Shanghai, Beijing, Xiamen Dalian, Hainan or other coastal cities is also very popular and relaxing way to get to China. There are many world famous cruise you can experience, including the Royal Caribbean, Oceania Cruise, Holland America, Silversea Cruises, etc.
How to Plan A China Tour
China is a vast and great country with stunning natural scenery, historic and cultural heritages, interesting traditions and lovely local people. How to discovery China during the 15 visa-free tour or even a longer holiday.

Major Steps to Plan A China Tour
First, decide where you will visit in China, choose destinations you're interested in. In China, Beijing and Shanghai are best gateway cities for international tourists. They not only has very convenient connection to worldwide cities and domestic cities, themselves are also significant tourist cities with rich tourism resources. You can easily travel from Beijing or Shanghai to Xian, Chengdu, Guilin, Hangzhou, and more top destinations in China.
Second, plan your travel itinerary and get clear idea to travel independently or join in group. It's up to you to do a much free travel alone or share same driver, guide in a lower budget.
Third, check weather and climate to find a best season to visit China. As one of the very large countries in the world, China is suitable for tour all year round. To say one at least, spring and autumn with mild climate, pleasant temperature are the two best seasons for traveling around in China. For example, you may enjoy Great Wall Hiking, attend Nyingchi Peach Blossom Festival in Tibet during late March to middle April, explore coolness in Guiyang, autumn color in Mt. Huangshan, winter sunshine in Yunnan or ice and snow world in Harbin.
More travel planning ideas, please visit our How to Plan Your China Tour 2023
Travel China with China Discovery
China Discovery is a professional and experienced travel companion who offers high-value and worry-free tours for you. We not only design ideal itinerary covering sightseeing, dining, transfer and hotel, but also can provide any visa-related support & help you need to travel to China. With a Chinese Visa, you can freely travel to many cities in mainland China, among all, Beijing, Shanghai, Hong Kong are often used as gate way cities, Xian, Guilin, Chengdu are also excellent destinations to discovery different regional culture, history and local customs in China.
You may choose from our most popular China tours, or just contact us, tell your interests and travel plans, we could customize a perfect China tour as you like.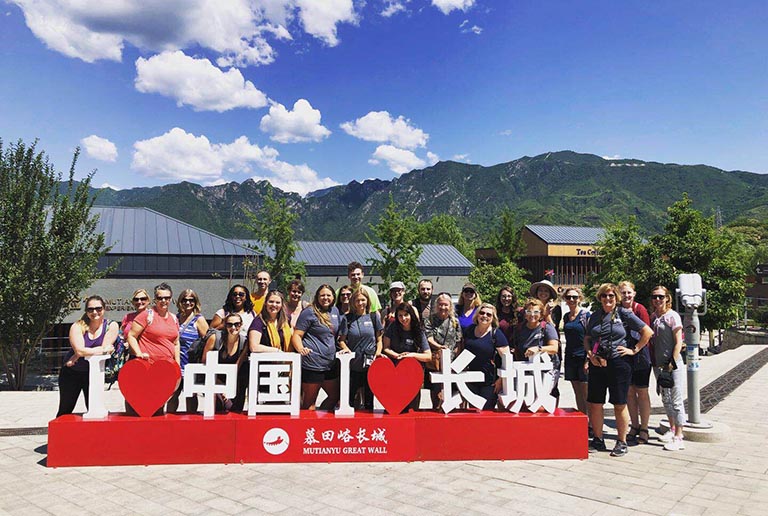 Our American Group Tourists Enjoyed Great Wall Hiking Tour in Beijing