Apply for China Visa Online - Guide & Processes 2023/2024
Notice on Latest Visa and Entry Policies for Foreigners Entering China - Updated on April 25, 2023:
1. From April 29th, all travelers to China can use Covid-19 antigen tests taken within 48 hours before boarding instead of nucleic acid tests, and airlines will no longer verify pre-boarding testing certificates.
2. In order to further facilitate the entry and exit of Chinese and foreign personnel, it has been decided to make the following adjustments to the visa and entry policies for foreigners entering China, effective from 00:00 March 15, 2023 Beijing time:
1). The entry function of visas which were issued before March 28, 2020 and still valid will be restored.
2). Overseas visa offices will resume issuing various types of visas (including Tourist Visa) for foreigners to travel to China, with specific requirements detailed in the visa application guidelines of Chinese embassies or consulates.
3). Port visa offices will resume issuing various types of port visas for lawful purposes.
4). The policies of visa-free entry for Hainan, Shanghai International cruise arrival, Guangdong for Tourist group entry of foreigners from Hong Kong, Macau, and ASEAN tourist groups entering Guilin, Guangxi will be restored.
3. Attention on China Group Visa on Arrival in Nepal: needs minimum 4 applicants, and no maximum limit. All applicants from one list must all come to the Visa Center for application.
China Discovery will keep focusing on the updates of the latest Chinese visa and entry policy! You can also call 86 010 12367 (Official telephone number of China National Immigration Administration) to check further information. Welcome to join in our Facebook Groups to catch up with the latest news!
Invitation letter is a vital document for Chinese visa application. If you travel with us, we will not only create a valuable tour for you, but also provide you an invitation letter if you request, which will help you obtain your visa successfully. Start customizing your tour in China now!
We are one of the few China travel agencies who have kept active and received lots of feedbacks and reviews during pandemic years

Mathilde
"Dear Leo, The trip with Kevin was great, je is a really nice guide, very helpful and he provided many information. We enjoyed the tour very much. It was a great day. Many thanks for your assistance."
read more »
Reviewed on May 5, 2023

Akhilesh09
"We had a great experience with China Discovery on our Yunnan holiday (Lijiang, Dali and Shangri La). Rita, our tour planner, was simply amazing and crafted an incredible itinerary covering...."
read more »
Reviewed on May 23, 2023
Can I Apply for a Chinese Visa Online?
The ways to apply for a Chinese Visa differ from countries and visa types. Currently, no one can apply for and get a Chinese Visa just through the Internet. However, if you are in the 2 following cases, you can complete the application form online in advance, and book an appointment online for offline submission. That would save you much time, avoid long queues.
1.) If you plan to apply for Chinese Visa in US, Afghanistan, Armenia, Bahrain, Lebanon, Pakistan, Bulgaria, Norway, Guyana and etc, you must make the submission directly to the Chinese Embassy and Consulates by using the COVA (China Visa Online Application) and AVAS (Appointment for Visa Application Submission) systems. Click https://cova.cs.mfa.gov.cn to see if you can complete visa application form online to the embassy.
2.) If you reside in and plan to apply in the 46 countries/regions (including Canada, Australia, UK, Malaysia, Singapore, France...), you are required to submit China Visa Application to the CVASC (China Visa Application Service Center). Visit http://www.visaforchina.org/ to check whether you should submit via the visa service center.
Other applicants must download the newest application form (v 2013) from official website, fill in the electronic form (in PDF/Word format) and print it out, submit with all required documents to the consular office of the Chinese Embassy and Consulates.
Apply China Visa Online to the Chinese Embassy and Consulate
Once confirmed you are eligible for visa submission at COVA, you must complete the China Visa Application Form and pre-book an appointment online, and submit all required application documents to the visa offices of the Chinese Embassies and Consulates. Below are detailed processes: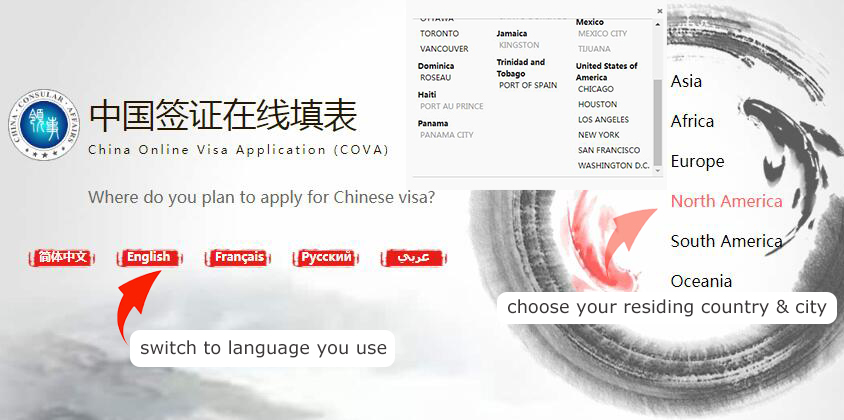 Homepage of the China Visa Online Application System (COVA)
① Log in the official website of COVA (https://cova.cs.mfa.gov.cn), choose the country and city you will submit application.
② Create an new China Visa Application Form online, fill in the electronic form step by step, provide all personal information completely and truthfully. Note down the application ID number for retrieving the saved form & booking a appointment. After careful check, save and submit the application form. The form cannot be changed once it is submitted.
③ Print the completed form out, sign and date it.
④ Visit https://avas.cs.mfa.gov.cn to make an appointment for submission to the embassy. Print the confirmation page. (Use your Application ID to book the China Visa Online Appointment)
⑤ Arrive at the the embassy visa office at least 20 minutes in advance. Submit the paper form, confirmation page with other required documents when it's your turn.
⑥ Pick up your passport and visa (if granted), once you are noticed by the visa officer. Pay the China Visa Fees to the embassy upon collection.
Notes:
* Most Chinese embassies and consulates require make appointment online in advance. Directly walking in the visa office to submit application without appointment may cause refusal by the embassy or consulate. If you want walk-in service, you can contact the Chinese embassies and consulates to check availability.
* You can submit and pick up the documents in person, or entrust another person, agent on your behalf.
Most Recommended China Tour Packages:
>> 10 Days Classic China Tour from Beijing
>> 13 Days Classic China Tour with Yangtze Cruise
>> 13 Days China Landscape Tour including Zhangjiajie and Guilin
China Visa Application Submission to China Visa Application Center
In order to better serve applicants, Chinese Embassies and Consulates in Canada, Australia, UK, France, Malaysia, and other 41 countries hav authorized local China Visa Application Service Centers to accept visa application submission. Thus, you have to apply for Chinese Visa via the service center, go through all the processes as the center required. Follow the instruction below for your application: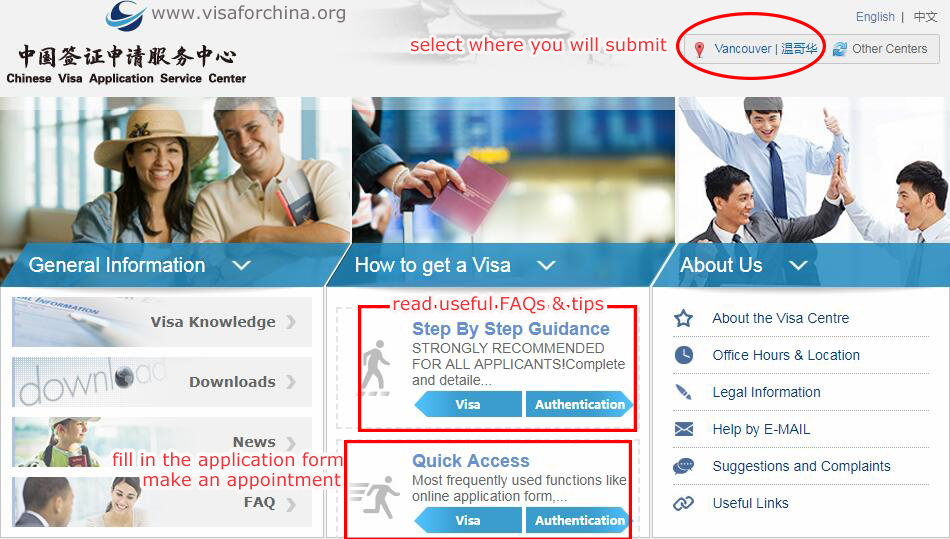 Major Section on the Official Website of China Visa Application Service Center
⑴ Visit website of CVASC (http://www.visaforchina.cn/) to locate the country/city you live in. Get information about the visa center, including office hours, location, and contact numbers and emails.
⑵ View "Step by Step Guidance" & "Visa Knowledge" to know the required documents, frequently asked questions and tips, and general procedures.
⑶ Go to "Quick Access" to start a new China Visa Application Form, finish all information needed. Declare in the last section, and submit the application form online. Please also write down the form number once produced, for you can use it to change, cancel or reschedule your appointment.
⑷ Back to "Quick Access" to make an China Visa Online Appointment. The center will be closed during weekends and public holidays.
⑸ Print the visa application form, the confirmation page of the appointment.
⑹ Visit the service center at least 10 minutes before the booking time, submit all the prepared documents (including the passport, printed form, confirmation page of appointment and else supporting documents). You can choose express or rush service, mail-back service if it is offered. Pay the visa fees and service charges then. How Much is a Chinese Visa?
⑺ Track the visa processing status online. Once noticed it is processed and ready for collection, you can pick up your passport & other documents in person, or by third party.
Notes:
* You will pay additional service fees to the visa center, while visa fees is charged by the embassy. So the totally cost is higher than direct submission to the embassies.
* Urgent application (if available) must be submitted before 11:30 am on that day.
* Many visa centers only accept visa applications with appointments, and they do NOT accept walk-in submission.
Top Popuar China Tours:
>> 6 Days China History & Mystery Tour
>> 6 Days Guilin In-depth Tour from Hong Kong
>> 7 Days Shanghai Suzhou Beijing Contrast Tour by High Speed Train
>> 9 Days East China & Yellow Mountain by High Speed Train
Useful Advice on China Visa Online Application
1. A printed completed China Visa Application Form is always obligatory for all foreign applicants, whether you fill in the form through online systems of Chinese Embassy or China Visa Application Service Center. A qualified photo is also an crucial requirement.
2. You should submit application to the embassy or service center charging the area where you reside in, probably not the nearest one. If your home is too far away from the embassy/visa center, you can entrust your friend, an agent to submit your application.
3. It's strongly suggested to book an appointment in advance if you can. Because it is much more convenient and time-saving.
Travel China Worry-free with China Discovery
China Discovery is an professional and experienced travel companion who offers high-value and worry-free tours for you. We not only design ideal itinerary covering sightseeing, dining, transfer and hotel, but also can provide Invitation Letter to help you obtain Chinese Visa. If it's your first time travel to China, Beijing, Shanghai, Xian and Guilin are the top recommended destinations with best representative tourism attractions of. The great cultural, historical, natural landscape will fulfill your dream tour to China. For those who want an in-depth discovery in China, featured China Panda Tour, Ancient Silk Road Tour, High Speed Train Tour, Colorful Ethnic Tour are good ways to find more interesting places and authentic locals.
Most Recommended China Tours:
If you are interested in China visa-free tour, we could also customize a China Visa-free Tour in Beijing, Shanghai, Xian, Chengdu, Hangzhou and more available destinations if you meet relevant visa requirements.
Top China Visa-Free Cities
Introduction to China Visa
China Visa Application
China Visa Exemptions
Recommended Tours
Top 3 tours chosen by most customers to explore in the best way. Check the detailed itinerary, or tailor your own trip now with us.
2 Days Guilin Ideal Li River Cruise with Yangshuo Essence Tour

Guilin-Yangshuo
Start planning your tailor-made holiday to China by contacting one of our specialists. Once inquired, you'll get a response within 0.5~23.5 hours.
Customize a Trip
Questions & Discussions
Following are latest questions and answers from our webusers and customers. You can learn many useful information from the discussion and cases. You can also join in the discussions or ask your own question. Our experts will help you ASAP.
Extend visa
I extend my Visa for one month and expired on 17/2 2020Du to coronavirus can extend one more months and requirement papers for extension
Hi Munir,

In this case, you need to contact the Exit & Entry Administration Department of Public Security Bureau (PSB) in your area for help.
help
I lost my visa appointment number, how can i gateit
Hi Tilahun,

If you lost the paper slip, you can re-print from your confirmation email or message.
If you lost the all the electronic record, you can log on the China Visa Application Service Center website (www.visaforchina.org), use your Application Form ID and phone number to manage your appointment, cancel or reschedule a submission time.
Wish you figure it out, and successfully get a China Visa. Have a nice day!
Best Regards,
Have a question? Get answers from our travel experts or guests
Your Question:

Your Name:

Your Email: