Xian Huashan High Speed Train
Once having been the capital of 13 ancient Chinese dynasties, Xian is one of the "World 10 Greatest Ancient Cities". (Top 7 Ancient Capitals of China) It is one of the hottest destinations in China for travellers from home and abroad to appreciate the profound culture and historical charm of China. Huashan or called Mount Hua is reputed as the "original place of Chinese culture" and one of the Greatest Mountains in China.
Those two destinations both in Shaanxi province are about 110 kilometers away from each other, which needs just about half an hour by bullet train, and about 1.5-2 hours to drive for about 120-150 kilometers of different routes. Visitors can transfer by train, coach and private car, and among all the means of transportation, the Xian Huashan bullet train is the most convenient, budge-benefit and time saving way to get to Mount Hua from Xian and get to Xian from Mount Hua.
The length of the railway which connects Xian and Huashan is 121km (75 miles) and the high speed trains between them only take one stop in Weinan (渭南).
Xian Huashan High Speed Train Schedule
Xian operates near 400 high speed trains to the main cities of China. Almost all the high speed trains from Xian to southern China will pass through Huashan, like Beijing, Shanghai, Hanghzou, Fuzhou, Nanjing, Qingdao, Dalian, etc. There are about 45 daily high speed trains running from Xian North Railway Station to Huashan North Railway Station usually. The whole trip takes about 30 minutes. From around 06:30 to 20:00, there is at least one high speed train available from Xian to Huashan.
● Xian to Huashan
From
To
Frequency (day)
Operating Hours
Duration
Detailed Schedule >
Xian North
Huashan North
about 45
About 06:30-20:00
About 30-100 minutes
● Huashan to Xian
From
To
Frequency (day)
Operating Hours
Duration
Detailed Schedule >
Huashan North
Xian North
Over 35
About 09:20-22:00
About 30-50 minutes
Recommended Xian Huashan Tour Packages:
>> 2 Days Terracotta Warriors Tour with Mount Hua Hiking
>> 4 Days Xian Highlights Tour with Mount Huashan Hiking

Which Stations Used in Xian?
In Xian, there are several railway stations, but Xian North Railway Station is the main high speed railway station in Xian City. All high speed trains between Xian and Huashan stop in Xian North Railway Station.
Xian North Railway Station (西安北站)
Address: Yuansuo Road, Weiyang District, Xian City (陕西省西安市未央区元朔路)
Xian North Railway Station is about 20km (about 50 minutes' driving) to the city center, 50km (about 1 hour's driving) to Terracotta Warriors and Horses and 30km (about 40 minutes' driving) to Xian Xianyang International Airport. You can take metro Line 2 from Xian North Railway Station to the downtown area within 40 minutes directly. There are airport shuttle buses available running between Xian North Railway Station and Xian Xianyang Airport.
Xian North Railway Station
Which Station Used in Huashan
Huashan North Railway Station is the only high speed railway station in Huayin City.
Huashan North Railway Station (华山北站)
Address: North side of Huayue Avenue, Huayin City, Shaanxi Province (陕西省华阴市华岳大道北端).
Although, it is a small station, there are more than 80 high speed trains will pass through Huashan North Railway Station. With a good location, it is only about 3km to the city center of Huayin and about 5km to Mount Hua Scenic Area. There are buses from Huashan North Railway Station to Mount Hua Directly and you can also call a taxi.
Huashan North Railway Station
Note: All the above railway station transportation information is only for your reference. You can contact us to check the latest traffic guide to/off those railway stations and get more messages of rest stations.
How to Plan Your Xian Huashan High Speed Train Tour?
Want to explore the long lasting history in Xian and challenge yourself to hike the thrilling hiking routes of Mount Huashan? A Xian Huashan high speed train tour is unmissable. You could spend 2 ~ 3 days touring Xian and another 1 ~ 2 days on Mount Huashan Hiking. During your trip, you can feel the fast travel from Xian to Huashan.
Xian
As an ancient city with a history of over 3,000 years, Xian has been listed as the World Historical and Cultural City by UNESCO. Rich history endows Xian with unique charms as a tourist destination. Visiting Xian, Terracotta Warriors and Horses is a must. It is the funerary object of Qinshihuang - the first emperor of China. The Ancient City Wall, the largest and best preserved existing ancient city wall in China, is also the highlight of Xian, Walking or biking on the wall allows you to enjoy different views of this old city. If you want to learn more about he history of Xian, informative Shaanxi History Museum is strongly recommended. From the various exhibitions displayed in the museum, you can get a better understanding of China's profound civilization. Muslim Quarter is a good place for a leisurely walk and some nice snacks. Here you can also visit the Grand Mosque which is the most important example of the Hui nationality's mosque in China. Of course, you can also climb to Giant Wild Goose Pagoda which is the most famous architecture in Grand Mosque.
Useful links:
Xian Travel Guide | Popular Xian Tour Packages | Top Xian Things to Do
Popular Xian Tours:
Terracotta Warriors and Horses Visit
Xian Ancient City Wall
Huashan
Mount Huashan is one of the "Five Greatest Mountains" and famed for its dangerous hiking routes. Passing through the extremely narrow wooden platforms, you will be called "winner" by others. A Huashan hiking usually takes 1 day. In the earily morning, you are suggested to take the cableway from East Gate to the North Peak. In the cableway, you can watch the beautiful scenery far away. Then, you can climb to East Peak where you can admire the spectacular scenery. After that, turn to South Peak via Nantian Gate and Plankroad. If you want something more exciting, you can try the fearsome path – 4-meter long and 0.3-meter wide plank road. After the South Peak, you will take the last hiking to West Peak which is also known as Lotus Peak because of its Lotuslike shape.
Useful links:
Mount Huashan | Mount Huashan Hiking Tours
Landacape of Mount Huashan
Extend your Xian Hushan High Speed Train Tour
Giant Panda Breeding Research Base
Summer Palace in Beijing
Tips for Booking and Taking Xian Huashan High Speed Train
1. Seats choosing & price comparing
On Xian Huashan high speed trains, there are three types of seats: the "Business Class Seats" like the first class seat in an aircraft and the most comfortable and expensive, with the price of 175.5RMB per person, the "First Class Seats" of the middle class of 89.5RMB per person and the "Second Class Seats" of the most economical class of 54.5RMB per person.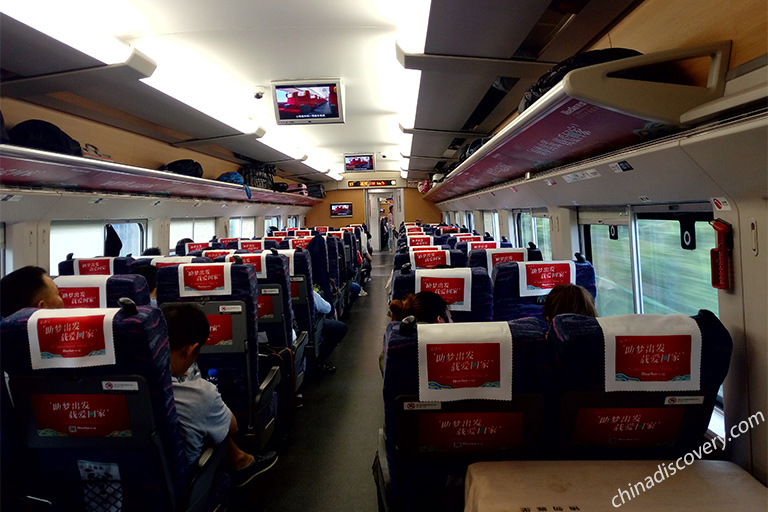 Second Class Seat on Bullet Train
2. Booking & collect your bullet train ticket
To book a Xian Huashan high speed train ticket, you could choose to book it at the official website: China Railway Customer Service Center or with a travel agency, also you could directly tell China Discovery to book the tickets for you. Besides, you could go to the Railway Station or Designated Ticket Offices to do that.
To collect your high speed train ticket, you could go to the railway station nearby, however, the Self-service Ticketing Machines are not serving foreign people. Besides, you can tell China Discovery to help you to do the collection, which only needs your passport information.
>> Check more about booking and collecting high speed train tickets.
3. How to embark the bullet train?
1) Prepare your documents well (valid passport with China Visa); 2) Get to the right train station in advance; 3) Collect train tickets; 4) Read your train ticket; 5) Pass the security control; 6) Pass through Security & Luggage Checks; 7) Find the right waiting room; 8) Cross the ticket checking gate; 9) Get to the right platform; 10) Get on your train. Keep the ticket well, because the ticket will be checked again to leave the station after you get off.
>> Check more about boarding on & getting off a high speed train.
4. Facilities and service
All high speed trains in China are equipped with advanced facilities and good service to make your journey more convenient and comfortable. There are different places you can put your luggage onboard, racks and specialized luggage storage areas. Besides, the air-conditioner train offers you plug under the seats to charge your phone or laptop, sightseeing window to view the outside scenery as well as western-style toilets. There is also available dining area you can get some supplies. Bilingual signs and the broadcast use both Chinese and English so that you don't need to worry about the communication.
>> Check more about facilities & service on high speed train.
High Speed Train Travel with China Discovery
We China Discovery are very willing to help you with the high speed train tickets booking, tour customization and local guide and transfer arrangement, so you can be able to experience the superb bullet train in style and enjoy all the highlights of your ideal destinations in China without any worry. If you are interested, please feel free to contact our professional travel consultants who are here ready to build your own tour to best suit for your needs and likes. Popular China High Speed Bullet Train Tours >
More Popular High Speed Railways
Read More about China High Speed Trains