Ultimate Guide for Train Travelling with Children in China
If you want to skip the awful traffic of the highways and often delays of flights for your family vacation in China, you really should try the fashionable high speed bullet train ride which is famous for its fast, safety, punctuality and modernness. Moreover, it will save money and bring your family a lot of fun.
It's a unique experience to take a China train, especially a Bullet train, with your kids
It may be a little arbitrary, but when it comes to choose between flight and high speed bullet train when planning a family vacation in China, we think that taking high speed train is the most recommended option. China high speed rail is safe, confortable, fast and affordable. Besides, there are lots of ways to make your family travelling by train with children fun and enjoyable too. It can be an great family adventure with enriching experience – playing favorite games with your kid, watching a cartoon movie on IPAD, walking through carriages to hunt for newfangled design and facilities on China's stylish bullet train, catching beautiful sceneries passing by the window…Choosing to travel by train can get your holiday off to the best possible start.
Travelling by train with children needn't be a hassle. So if you have got a fascinating place to go, got the snacks, stroller, and stuffed animals packed, you can get some useful inspirations from our last-minute expert advices below: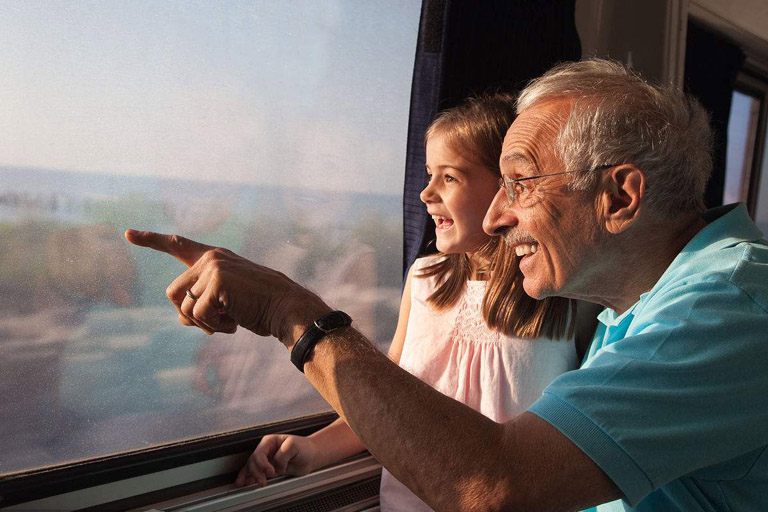 Kids Love Train Travel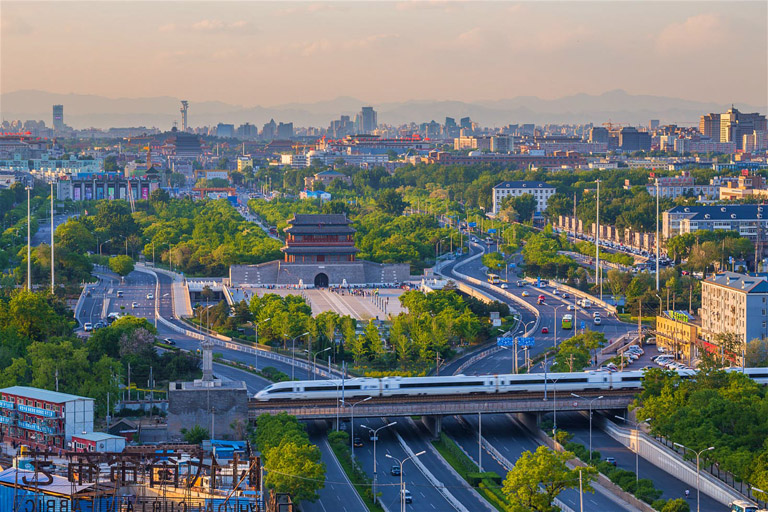 A Bullet Train Going Throgh City in Beijing
Buy Discounted Tickets for Your Kids
According to the China Rail Regulations, taking train with children can enjoy discounted fares, or even free of charge as long as meeting some specific requirements. It's good to know that these regulations also apply to foreign travelers. Sometimes it can save a lot of money. Unlike flight which decides the discounts with ages, China trains offer free or discounted train fares according to the division of heights of the kids. There are standard lines painted on the wall or doors at the Ticket Halls, Check-in Passages, and Exists to measure the heights of kids. The train attendant will also make the last height measurement before boarding the train at each door of trains. The actual height is based on shoes-off.
Free of ticket - if your kid is short than 120cm (3.9feet), you don't have to buy a ticket for him (her). Actually there is no a special type of Free Ticket in China's railway system. Your kid(s) can't occupy a seat or bunk, but can buy a Child Ticket (usually half or 75% of the full price of adult ticket). One adult can only bring a kid (below 120cm) who can ride train for free, which means, if you bring two kids below 120cm, only one kid can take train for free, another has to buy a Child Ticket.
Enjoy discounted ticket - Kids whose heights are between 120cm~150cm can buy train tickets at a discount and get their own seats or sleepers. There is no limitation on how many child tickets you can buy. The discounts of Child Tickets based on tickets types: seats or sleepers. It's usually 50% off for hard seats on regular train, and first class, second class and business class seats on high speed bullet trains, and 25% off for sleepers on regular trains. Please note that there is no children discount offered for sleepers on high speed bullet trains.
When should buy full-price ticket - if your kids are taller than 150cm (4.9feet), you have to buy an adult ticket which have no discount offered.
Note: you can specify the height of your kid in the order form when purchasing tickets online.
Useful Links
How to Read China High Speed Train Tickets
How to Book China High Speed Train Tickets
How to Collect China High Speed Train Tickets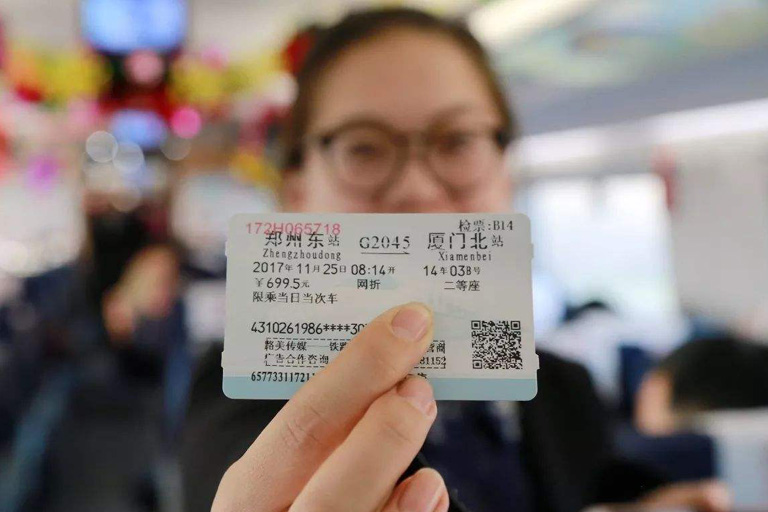 Discounted Ticket for Kids (120cm~150cm)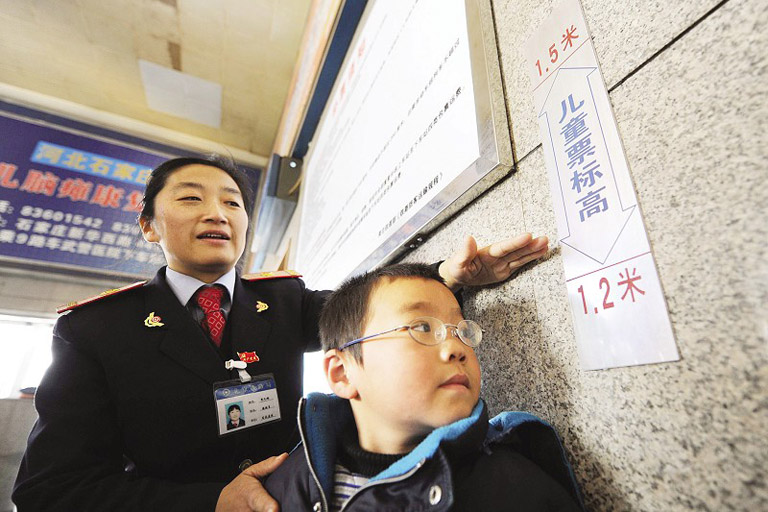 Measure Height at Railway Station
Having Fun on China Train
How to Choose Your Seats or Sleepers for Family Travel
Currently, there are two types of trains in operation in China: high speed bullet trains (HRS) and regular trains. Generally speaking, high speed bullet trains are much faster, and provide more modern facilities than regular trains. While the regular trains provides more trains to remote areas as well as more options for overnight trains. It's very important to ensure a quiet and comfortable stay when it comes to travelling by train with your little ones in China.
High Speed Train is the Best Option
Try to choose the modern and new HSR trains (with name of G, D and C), also known as high speed bullet trains, which run at speed between 200km/hr ~ 350km/hr, also provide more comfortable seats, wider spaces and family-friendly facilities. Most high speed trains offers Business Class Seats, First Class Seats and Second Class Seats.
Keep Reading: Understanding China Train Designations (G / D / C Trains)
The Second Class Carriage has five seats in a row, separated by an aisle, that are close together but still relatively comfortable. It's not recommended for family travel with children because these Second Class carriages are usually crowded. There may be some people talking loud, and eating a variety of foods.
The First Class carriages are more or less empty. The seats are larger (a lot of leg rooms) with two on each side of the aisle, equipped with back cushions, power plugins, mini-table, headphone jacks, etc.
Beyond the First and Second Class Seats is the Business Class Seats which are very confortable leather chairs, quite far apart from each other, with huge and clean windows for sightseeing, and allows you to lie flat comfortably. Besides, there are plenty of rooms for luggages and bags. They are an awesome treat for family travel.
Useful Links
Second Class Seats / First Class Seats / Business Class Seats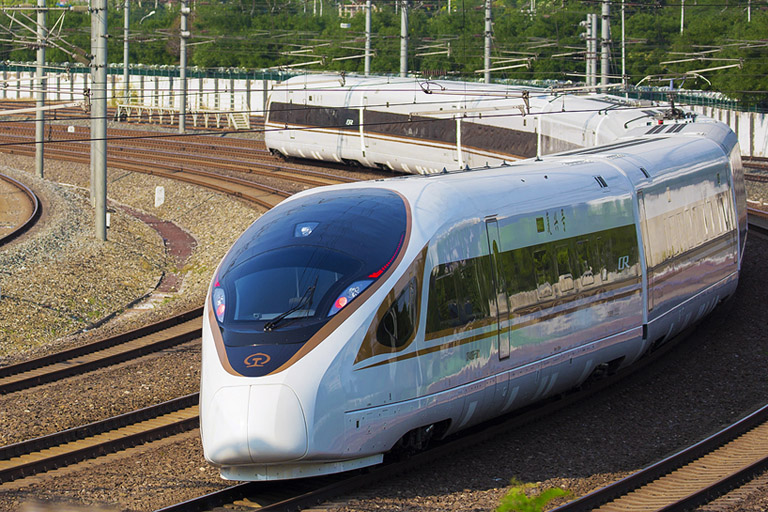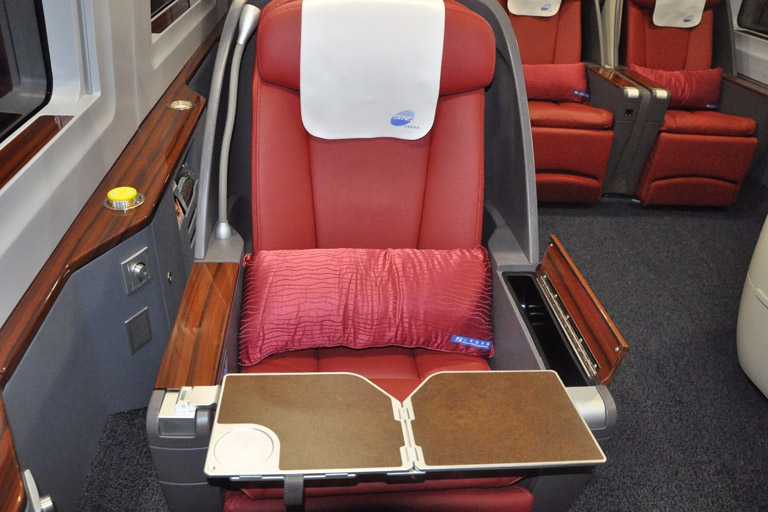 China's newest Fuxing Train and its Business Class seat
Choose Soft Sleeper If You Have to Take Regular Trains
The regular trains, usually named after T, K, Z, serve majority part of China, including the big cities and remote small towns. If your family is planning a trip to the remote destinations, and wants to lower the budget, the regular train is an option. But try to avoid the Hard Seats and Hard Sleepers which are not as clean, comfortable and quiet as the Soft Sleepers. There are usually 4 bunks in a Soft Sleeper Compartment. You can close the door to be quieter and private.
Useful tips:
1. There are diaper-changing tables available on high-speed trains
2. An overnight high-speed train is recommended fir you need to travel for long distance, such as from Shanghai to Xian.
3. D-series high speed trains are usually cheaper than G-series high speed trains.
4. If you want to travel to Tibet by train, a soft sleeper is strongly recommended. You may need to spend 2 nights on the train.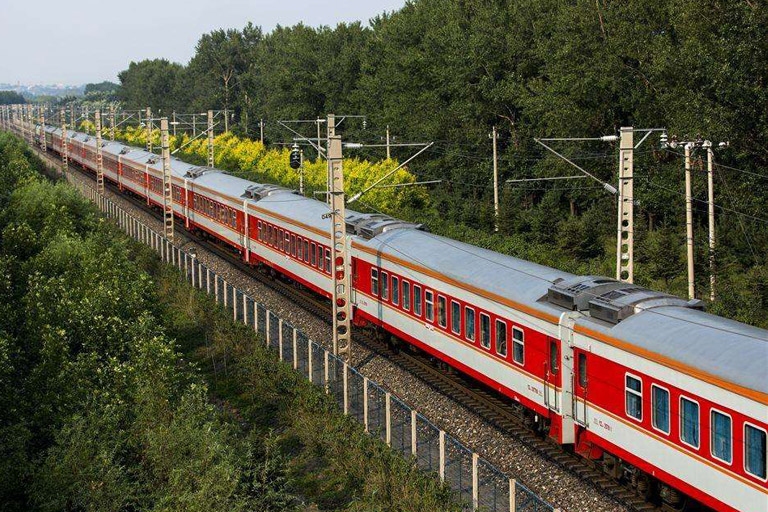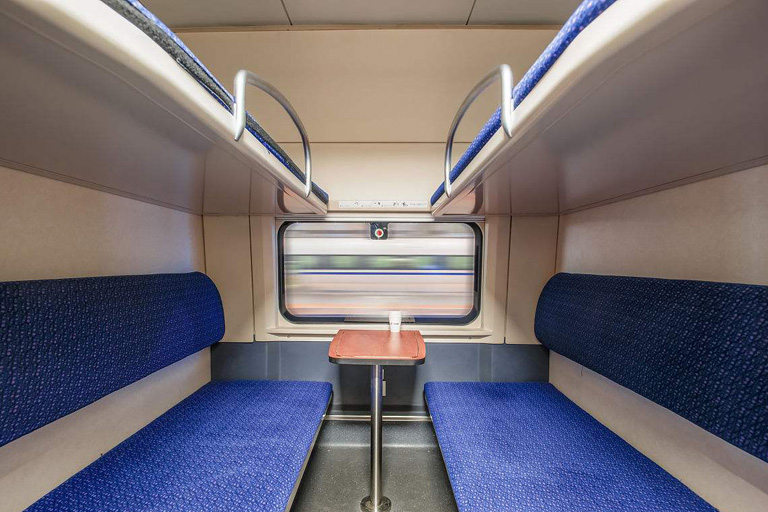 China's regular train and its Soft Sleepers
If You Are Travelling with Infant
Don't be afraid of travelling with infant in China. China trains and railway stations have provide some infant-friendly facilities, including infant waiting room, express check-in, diaper-changing table, etc.
1. Infant is free of charge to take trains in China
According to China Rail Regulation, infant doesn't have to purchase a ticket, and can share seats/sleeper with his/her guardian. To enjoy a better stay, you can also purchase a child ticket for your infant (usually 50% or 75% of the full fare).
2. There are convenient facilities provided for families with infant
In the railway station: there are infant waiting rooms (or areas) provided in most large railway stations in China, such as Shanghai Hongqiao, Chengdu East, Beijing South, where the moms can feed baby, change diapers, and wait for train boarding. Some railway stations even have some simple entertainment facilities for kids to play. It is also available for families with infant to board train before regular passengers. Some railway stations have no infant waiting room, but paid waiting rooms which usually charge 10 CNY/pp. Check all facilities and services on China high speed trains
On the train: All seats and sleepers on the train are suitable for you kid to sit or sleep on, but you are suggested to bring your infant close to you instead of taking an extra seat because there are no safety belt to fasten you infant to the seats/sleeper, and you also have to pay extra fare for an extra seat or sleeper. In the high speed bullet trains, there is an accessible lavatory with obvious signs for you to change diapers. While on the regular K, T and Z trains, there is no such facility. Drinkable hot water can be obtained at the water dispensers which usually locate at the end of each carriage.
3. Stroller can be taken to board train, but has to be foldable and portable
You can take stroller to board train, but better not bring large ones. It also should be foldable and portable. Avoid hard seats which are too narrow and crowed. If you take regular trains (K,T,Z), soft sleeper is recommended to ensure more rooms for your stroller and other luggages. If you take high speed trains, better choose First Class Seats or Business Class Seats. The stroller can be placed in front of our legs. If you take an overnight highs speed train, sleeper is recommended.
4. Prepare and pack all necessary stuffs for you and your infant
Make sure all necessary stuffs you may need to bring have been packed well before hand, such as the diapers, diaper cream, infant formula, disinfectant gel, children's fever suspension medicine, children's rehydration powder or liquid, mosquito spray, children's fever suspension medicine, children's antihistamine and favorite snacks and small toys. There are only supply of food and drinks on the trains. Put all these stuffs in a portable bag which can be reached within short distance.
If You Are Travelling with Children over 3 Years Old
Train travel can be an interesting adventure for kids. You can make it a precious quality time for your family members to stay together, sit together around a table to talk or play game, or to walk though coaches to meet different people and learn about their culture. A kid can usually acquire some degrees of independence on a train journey.
1. Encourage your child's natural curiosity
Kids love everything about trains, including train itself and interesting facts about train, railway station, railway, etc. We suggest you arrive at the railway station early (about 30mins before) to allow some additional time to savour the sense of adventure - learn to collect tickets, and read different signs in the stations, look at the "big screen" that shows train departures and arrivals, check out the "bullet head" of the high speed trains, see how a train setting out of the station…
2. Pack Food & Drinks
Currently only Chinese food is served on China trains. You can go to Dinning Car to order something, or buy packed meals when the trolley passing by your seats. If you and your kids don't get very well with Chinese food, you should pack some favorite snacks and drinks on you own. Food & drinks on China high speed trains
3. Plan entertainment for your kids
Even though there are tons of sceneries to see outside the windows, kids also usually get bored easily on the train, so you should also pack some games for your kids to kill time especially when you are going to take a long-distance train. Card, chess, jigsaw… whatever your kids like to play, but don't take those with very large size and make big noise.
Before your train departure, you can download a train-themed movie on your IPAD for kids to watch while riding the real train.
4. Always keep an eye on your kids, and do not let the kids run around in the carriages
The trains run usually at a high speed especially the bullet trains. And there are always some passengers walking through the aisle (usually to fetch hot water). You should always to keep an eye on your kids, and do not let them run in the carriages in case of falling down or getting hurt. If you really need to leave your kids alone, you can ask the train attendant to take care of them. Well if you are taking a high speed train (which is not as long as a K, T, Z train), you can walk with your little ones to through carriages to stretch your legs, or to have a rest in the dinning car.
Recommended High Speed Rail Routes for Family with Children
The spring is the blooming season. You can have a delightful vacation to the southern China where you can not only enjoy a pleasant weather with the average temperatures roughly the same as in autumn (about 50-72 F), but also marvel at the colorful blossoms in the ancient gardens and villages and vast rape flower fields. There are also many chances to experience ethnic festivals during the Spring season. You are suggested to wear layered clothing because there usually a temperature difference between daytime and night.
Keep Reading to Plan Your China High Speed Train Travel
Recommended Tours
Top 3 tours chosen by most customers to explore in the best way. Check the detailed itinerary, or tailor your own trip now with us.
9 Days East China & Mt. Huang Tour by High Speed Train

Shanghai / Suzhou / Hangzhou / Huangshan
10 Days China Family Tour with Panda Reserve Visit

Beijing / Xian / Chengdu / Shanghai
6 Days Best Hong Kong Guilin Tour with Guangzhou Layover

Hong Kong / Guangzhou / Guilin
Start planning your tailor-made holiday to China by contacting one of our specialists. Once inquired, you'll get a response within 0.5~23.5 hours.
Customize a Trip
Have a question? Get answers from our travel experts or guests
Your Question:

Your Name:

Your Email: