Shanghai Kunming High Speed Train - Railway Highlights, Stations, Tickets & Map
Shanghai Kunming High Speed Railway, also known as Hukun Passenger Dedicated High Speed Railway (沪昆客运专线), connects metropolis Shanghai and colorful Kunming in Yunnan Province together. With a total length of 2,253km (1,400 miles), this high speed rail is China's longest east-west running high speed rail which passes through most tourist regions (Shanghai, Zhejiang, Jiangxi, Hunan, Guizhou and Yunnan). Starting from Shanghai in the early morning, you can reach Kunming at night. The whole trip takes only 11 ~ 12 hours, at least 25 hours shorter than the normal trains.
Praised as one of the most beautiful high speed rails in China, Shanghai Kunming High Speed Railway provides an unforgettable eye-feasting journey. From the Yangtze River Delta in eastern China to Yunnan-Guizhou High Plateau in southwestern China, you will see stupendous landscape ranging from alpha to omega. Many cities along the road are well worth visiting. Check the detailed Shanghai Kunming High Speed Train Route Map to better plan your Shanghai Kunming high speed train travel.
Shanghai Kunming High Speed Train Schedules
● Shanghai to Kunming
From
To
Frequency (day)
Operating Hours
Duration
Detailed Schedule >
Shanghai Hongqiao
Kunming South
about 4
about 07:30-11:30
about 11-12 hours
● Kunming to Shanghai
From
To
Frequency (day)
Operating Hours
Duration
Detailed Schedule >
Kunming South
Shanghai Hongqiao
about 4
about 07:30-10:30
about 11.5-12.5 hours
Other Recommended Sections on Shanghai Kunming High Speed Railway
There are over 20 midway railway stations of about 15 cities along the Shanghai Kunming High Speed Railway. Usually, most travelers choose some sections of the railway to experience instead of traveling from Shanghai to Kunming by high speed train directly. Please check the train time schedule of each one popular railway section:
Please Note: This information of time and duration might changes slightly, be free to contact us for the up-to-date schedule.
What to See along Shanghai Kunming High Speed Railway
Connecting Eastern China and Southwestern China, the Shanghai Kunming High Speed Train offers lots of stunning views along the rail, such as cultural sites, city views and the wild natural scenery. The most popular cities along Shanghai Kunming High Speed Rail include Hangzhou, Nanchang, Changsha, Kaili, Guiyang, etc.
1.Shanghai - Fantastic Internationally Famous Modern City
Shanghai is city best seen as a prologue or epilogue of China experience and our Shanghai Kunming trip will start from Shanghai. As an international metropolis full of vigor and fashion, Shanghai never fails to catch the eyes of numerous tourists from different corners in the world. In Shanghai, you can feel a strong atmosphere of western romance blending with Chinese tradition. Here you can enjoy the tastiest night view of the Bund, you can feel the charm of Chinese classic gardens in Yu Garden & Bazaar, you can appreciate the beauty of ancient Shikumen buildings in Xintiandi, you can step into the local life of old Shanghai people in Tianzifang and you can have a touch with Chinese history and culture by watching the treasure exhibited in the Shanghai Museum... Far more than that, there are countless surprises are waiting for your discovery!
Useful links:
Popular Shanghai Tours | Shanghai Travel Guide | Top Shanghai Things to Do
Shanghai Hongqiao Railway Station
Address: No. 1500, Shengui Road, Minhang district, Shanghai (上海市闵行区申贵路1500号 - 上海虹桥站); driving about 20km to the downtown
Transportation: Located adjacent Shanghai Hongqiao International Airport, Shanghai Hongqiao Railway Stations is equipped with subway, public bus and taxi. Metro Line 2 can take you to Shanghai Museum, Nanjing Road, Oriental Pearl Tower, etc. Metro Line 10 can take you to Xintiandi, Yuyuan Garden, the Bund, etc. Metro Line 17 can take you to Zhujiajiao Water Town.
Yu Garden in Shanghai
Shanghai Hongqiao Railway Station
2.Hangzhou - Scenic City with West Lake
Hanghzou is one of the most enduringly attractive cities in China from ancient times. Its dreamy West Lake vistas and surrounding green hills has tempted many poets and emperors into long sojourns. They left numerous famous poetry and interesting stories. Taking a walk along the bank of West Lake , you will get countless viewing-deck to admire its charm. However, the beauty of mesmerizing Hangzhou is not limited to West Lake. You could climb to the old Liuhe Pagoda, pilgrim to Lingyin Temple or wander through Longjing Tea Village for a wonderful break from the busy city. Hangzhou Food, featuring in freshness and lightness, is also a magnet for travelers. Most popular dishes include West Lake Fish in Vinegar Gravy, Braised Dongpo Pork, Fried Shrimps with Longjing Tea and Beggars' Chicken. If you want to taste some snacks, don't miss Hefang Street and Southern Song Imperial Street near the West Lake.
Useful links:
Popular Hangzhou Tours | Hangzhou Travel Guide | Top Hangzhou Things to Do
Hangzhou East Railway Station
Address: No.1, Tiancheng Road, Jianggan District, Hangzhou, Zhejiang (杭州市江干区天城路1号 - 杭州东站); about 10km to West Lake and Hefang Street
Transportation: Metro Line 1 and Line 4 are available to take you from Hangzhou East Railway Station to the downtown area. If you want to go to West Lake, you can take metro Line 1 to Longxiang Bridge firstly and then use a public bus. It needs about 1.5 hours usually. Taking a taxi, you can travel to West Lake within 40 minutes if you are lucky to miss rush hours.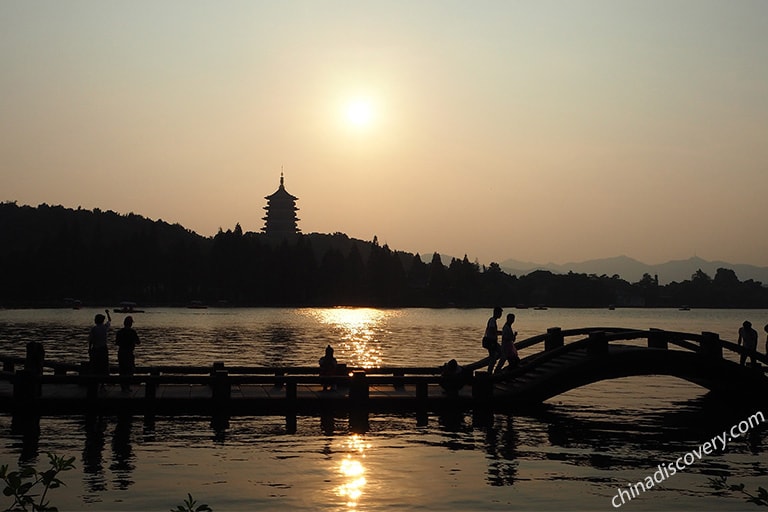 Beautiful West Lake in Hangzhou
Hangzhou East Railway Station
3.Nanchang - Location of Tengwang Pavilion (One of Great Three Pavilions of Southern China)
Nanchang, the capital city of Jiangxi Province, enjoys a history of over 2,000 years. More than a national historical and cultural city with many relic sites, Nanchang also witness the prosperity and development of China – China's first airplane, first coastal missile, first motorbike and first tractors are all made in Nanchang. The landmark in Nanchang City is Tengwang Pavilion (Prince of Teng's Pavilion), whose image occurred in many literatures, including Preface to Prince of Teng's Pavilion which is considered as a founding essay of Tang Literature. Together with Yellow Crane Tower in Wuhan and Yuyang Tower in Yueyang (in Hunan Province), Tengwang Pavilion is honored as one of the Three Famed Towers in Southern China. Bayi Square, located in the center of Nanchang City, is the place where the Communist Party first insurged. Now you can see many local people walking, hawking and dancing there.
Nanchang West Railway Station
Address: Xizhan Street, Honggutan New District, Nanchang City (江西省南昌市红谷滩新区西站大街 - 南昌西站); about 18km to the city center and about 16km to Tengwang Pavilion
Transportation: The station is connected with metro Line 2. It is available to take metro Line 2 to Metro Headquarters Terminal and then transfer to Metro Line 1 to Tengwang Pavilion or Bayi Square. Driving to Tengwang Pavilion or Bayi Square takes 35 minutes usually.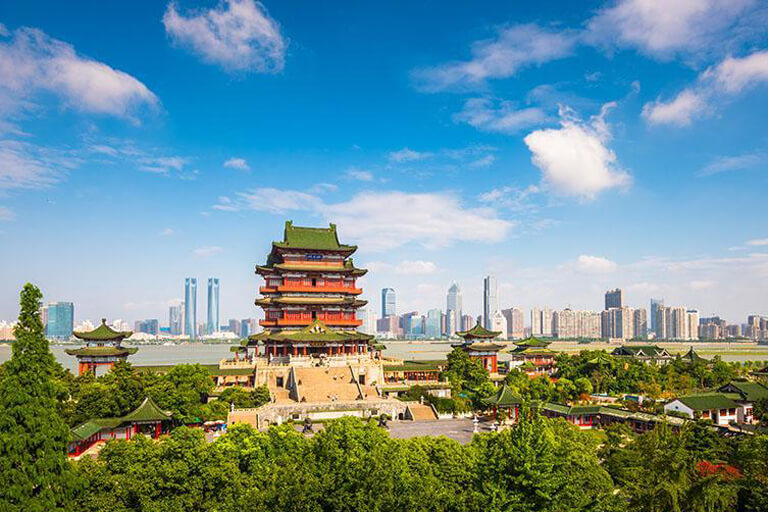 Nanchang Tengwang Pavilion
Nanchang West Railway Station
4.Changsha - Popular Gateway to Avatar World Zhangjiajie
Changsha, located on Xiangjiang River, is the provincial capital of Hunan and the center city of middle reaches of Yangtze River. With a history of about 3,000 years, Changsha also enjoys some historical sites. Mount Yuelu, Yuelu Academy and Orange Island Park are three must-sees in Changsha City. Located at the foot of Mount Yuelu, Yuelu Academy is one of the four major academies in ancient China. Visiting Yuelu Academy allows you to discover the humanities and social science and studies of Chinese ancient civilization and Huxiang culture. Orange Island Park is famed for the scenery of snow on the river. Chairman Mazo Zedong once stood at the park and composed a great poem. You can't miss Huanan Provincial Museum if you want admire the cultural treasures of Hunan.
Usually, travelers like to extend a Changsha tour to Zhangjiajie to enjoy the incredible Avatar landscape or to Fenghuang Ancient City to experience the old life.
Useful links:
Changsha Tour Packages | Best Zhangjiajie Tours Changsha to Zhangjiajie |
Recommended Tours:
>> 5 Days Amazing Zhangjiajie & Fenghuang Ancient Town Tour
>> 3 Days Classic Zhangjiajie Natural Wonders Tour
Changsha South Railway Station
Address: Huahou Road, Yuhua Dirstrict, Changsha City (长沙市雨花区花侯路 – 长沙南站); about 13km to downtown, about 80 km to Orange Island Park and about 20 km to Yuelu Academy
Transportation: It takes about 50 minutes' drive to Orange Island Park, nearly 1 hour to Yuelu Academy.
Changsha Orange Island
Zhangjiajie National Forest Park
Changsha South Railway Station
5.Kaili - Splendid Miao Ethnic Culture
Kaili is a county-level city located in northwestern Qiandongnan of southeastern Guizhou. As a big gathering of ethnic minority villages, especially the Miao villages, Kaili attracted numerous travelers every year. Xijiang Miao Village is China's largest Miao village with thousand-household houses. In Xijiang Miao Villages, you can see lots of featured wooden stilted houses and experience many Miao's festivals. If you want to explore some places more peaceful, you can travel to Upper Langde Miao Village, which is more authentic and less crowded Miao village. Upper Langde Miao Village always give travelers the 12 courses of "block-way" rice wine set from the foot of the village to the entrance gate. The singing and dancing show performed in the morning when travel groups come is wonderful.
Useful links:
Most Popular Kaili Tours | Guizhou Kaili Travel Guide | Top Things to Do
Popular Kaili Tours:
>> 5 Days Guizhou Miao & Dong Minority Essence Tour
>> 6 Days Diverse Guizhou Tour (Guilin/Kaili/Fanjingshan)
Kaili South Railway Station
Address: Jinhui Avenue, Kaili, Qiandongnan Miao and Dong Autonomous Prefecture, Guizhou (贵州省黔东南苗族侗族自治州凯里市金汇大道 - 凯里南站); 40km to Xijiang Miao Village and 40km to Upper Langde Village.
Transportation: It usually takes about 50 minutes to Xijiang Miao Village and 1 hour to Upper Langde Village by driving.
Kaili Xijiang Miao Village in Kaili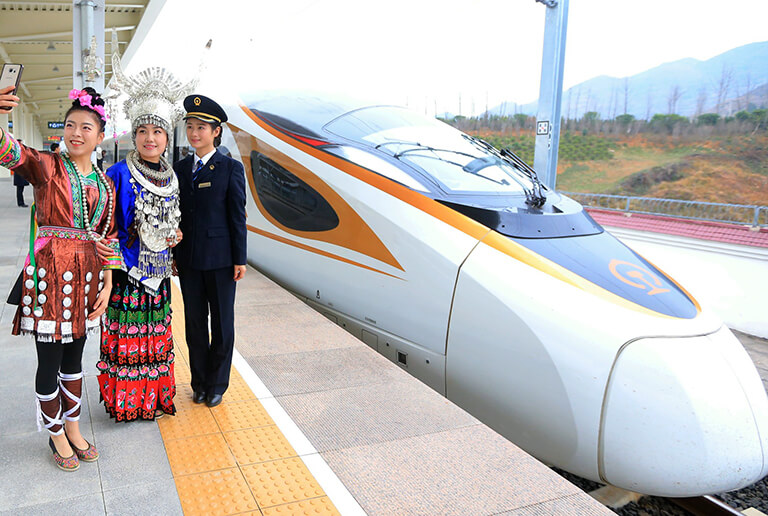 The First Fuxing Train (Shanghai to Kunming G1373 Train) Stopping at Kaili South Railway Station
6.Guiyang - Vital Transfer Center for Guizhou Tour
As the provincial capital city of Guizhou Province, Guiyang is equipped with good hotel and relatively developed transportation system. Most travelers regarded Guiyang as a travel base to Kaili or Anshun (to see Huangguoshu Waterfall). You can also stay one or two days to visit the highlights of Guiyang. Built in Ming Dynasty, Jiaxiu Pavilion is the iconic landmark of Guiyang. There are many impressive arts and calligraphies in this pavilion. If you seek for some respite from the city noise, just go to Cuiwei Park which features a restored temple with some well-designed architectures. In 20km south of Guiyang City is an old town called Qingyan Ancient Town and you can appreciate rich culture and history there.
Useful links:
Popular Guiyang Tours | Things to Do in Guiyang | Featured Activities in Guiyang
Guiyang North Railway Station
Address: East Jiaxiubei Road, Guanshanhu District, Northwest Guiyang City, Guizhou Province (贵州省贵阳市观山湖区甲秀北路东侧 贵阳北站); about 10km to downtown and Qianling Park, 15km to Cuiwei Park and 40km to Qingyan Ancient Town.
Transportation: Usually you can get to Jiaxiu Tower within 30 minutes, Qianling Park within 40 minutes and Qingyan Ancient Town within 1 hour by driving.
Guiyang Jiaxiu Tower
Guiyang North Railway Station
7.Kunming - Beautiful Spring City in Colorful Yunnan
Yunnan's capital city Kunming is located in the center of Yunnan-Guizhou High Plateau. Blessed with pleasing climate all the year round, it is praised as Spring City and the Best Summer & Winder Resort. The special geographic and climatologic environment endows Kunming with awe-inspiring scenery, like magnificent lakes, tranquil hills, colorful lands, etc. The premier sight in Kunming must be Stone Forest which is formed 270 million years ago. Here you can enjoy stone forest, karst caves, waterfalls and underground river and so on. Dongchuan Red Land is another incredible attraction in Kunming. Though Dongchuan Red Land is about 180km away from downtown of Kunming City, it's worthwhile to drive about 4 hours to visit the most unique and stunning landscape.
Popular Kunming Tours | Kunming Travel Guide | Things to Do in Kunming
How to Travel from Kunming to Yuyang, Dali, Lijiang and Shangri-La
Kunming is also a perfect gateway city to other destinations in Yunnan, like Yuanyang, Dali, Lijiang and Shangri-La. You are suggested to spend 2 ~ 3 days exploring Yuanyang, 1 ~ 2 days visiting highlights of Dali, 2 days admiring the old fragrance of Lijiang and another 2 days admiring the beauty of Shangri-La.
Renowned as Cultural Landscape of Honghe Hani Rice Terraces, Yuanyang is a paradise for nature-lovers and shutterbugs.
Since Kunming Dali High Speed Train has been operated, you can take an about 2.5 hours' high speed train to Dali after your Kunming tour. Dali is romantic city located between mountains and crystal clear Erhai Lake. Taking a relaxing boat trip on Earhai Lake and a stroll in Dali Old Town, you can feel the peace of Dali.
Lijiang has the one of China's four best ancient cities - Lijiang Ancient Town. There are many historical sites in Lijiang Anicnet Town, like Mufu Palace and Sifang Street Square. Baisha Mural Painting and Shuhe Ancient Town are also can't-be-missed attractions.
At last, you can travel to mysterious Shangri-La to see Yunnan's most rewarding monastery - Ganden Sumtseling Monastery, China's national park - Pudacuo National Park, one of world's deepest gorges - Tiger Leaping Gorge, etc.
Useful Links:
Kunming to Dali Train | Dali to Kunming Train | Kunming to Lijiang
Lijiang to Kunming | Dali to Lijiang | Lijiang to Dali
Recommended Yunnan Kunming Tours:
>> 6 Days Yunnan Essence Tour (Kunming / Dali / Lijiang)
Stone Forest in Kunming
Lijiang Anicent Town
Amazing Yuanyang Rice Terrace
Kunming South Railway Station
Address: West Foothill of Bailongtan Mountain, Wujiaying Street, Chenggong District, Kunming, Yunnan (云南省昆明市呈贡区吴家营街道白龙潭山脚之西 - 昆明南站); 31km to the downtown and 80km to Stone Forest.
Transportation: Kunming South Railway Station can be reached by metro Line 1. To get to Stone Forest, it is available to take a 20 minutes' high speed train to Shilin Station and then take a 20 minutes' public bus to Stone Forest.
Useful Links:
Kunming to Stone Forest Train | Stone Forest to Kunming Train
Kunming South Railway Station
China Train Travel Tips
Class of Ticket
You can usually choose from the First Class Seat, the Second Class Seat or Business Class Seat on the high speed trains. While, there are three types offered on the normal train, including Soft Sleeper, Hard Sleeper and Hard Seat. learn more >>
Book, Collect, Alter and Cancel
Foreign tourists can book train ticket online or via a ticket agency, or buy the tickets physically at the train station with your valid passport. Train ticket alteration and cancellation are only available at ticket counters. learn more >>
Board & Get off
1) Prepare your passport and China Visa; 2) Get to the right train station at least 30 mins in advance; 3) Collect your train ticket; 4) Read your train ticket; 5) Pass the security control; 6) Pass through Security & Luggage Checks; 7) Find the right waiting room; 8) Cross the ticket checking gate; 9) Get to the right platform; 10) Get on your train. learn more >>
Baggage Allowance
Passengers don't need to check luggage separately. Each passenger is allowed to carry luggage in certain weight and volume, but without limitation of amount and types. learn more >>
Facilities and Service
All high speed trains in China are equipped with advanced facilities and good service, including luggage racks, air-conditioner, power socket, dining car, hot water, etc. learn more >>
High Speed Train Travel with China Discovery
We China Discovery are very willing to help you with the high speed train tickets booking, tour customization and local guide and transfer arrangement, so you can be able to experience the superb bullet train in style and enjoy all the highlights of your ideal destinations in China without any worry. If you are interested, please feel free to contact our professional travel consultants who are here ready to build your own tour to best suit for your needs and likes. Here is updated China high speed train schedules & routes and Popular China High Speed Bullet Train Tours >.
More Popular China High Speed Railways
Useful China Train Travel Guide