Outstanding Service on China High Speed Trains
High Speed Trains are the most convenient trains in China, with warm service provided along the whole trip. Actually, the service on high speed trains in China is as excellent as on the airplanes. Check the following details about service on High Speed Trains and have a better preparation about your china train trip.
Table of Contents
Once you arrived at the entrance door of your carriage, you can find there will be an attendant standing beside the door. And when the train arrived at the last station, the attendant will stand beside the door too. Actually, there will be guidance service along the China High Speed Train trip. When you are boarding, the attendant will check your ticket and give you a warm notice that there is a gap between the carriage and railway platform. When the train is going to leave, especially leave from the middle stations of the trip, the attendants will check whether there is someone smoking outside or not.
Check more about Board & Disembark from High Speed Train
When a China High Speed train is going to stop, there will be broadcast announcement that tells the passengers where they are going to arrive. Both Chinese and English are available, making you worry free about missing your arrival station. During the other time of the whole trip, quiet and gentle music will accompany with you. Paging service is available when there is someone in need.
The broadcast uses Chinese and English so that travelers won't miss the important information. Both Chinese and English are available on the trains. And bilingual signs in both Chinese and English will be helpful. Moreover, if you want to get some help from the staff, they'll use English to make things easy.
Three kinds of food and drink service are available on a China High Speed Train. First, there is a dining car provides meal, drink and snacks on the 5th carriage of an eight-carriage train. The meal is varying from CNY15 to CNY45, while the drink varies from CNY2 to CNY28. A menu both in Chinese and English can be found here, from which you can have a total view about all the food, drink and snacks sold on the train. Second, the trolley service that sells meal and packed snacks will be available around every half an hour during the trip. The attendants on the train will push a trolley from one carriage to another, and you can stop them to buy meals, drinks and snacks when they passing through your carriage. No menu available, but the attendants on the trains can communicate with you in Basic English words and sentences. Third, for the passengers who have ordered the meal delivery service through 12306 one hour prior departure, the attendant will give your meal at your seat, even though you bought meals from KFC instead of them.
Check more about Food & Drinks on China High Speed Trains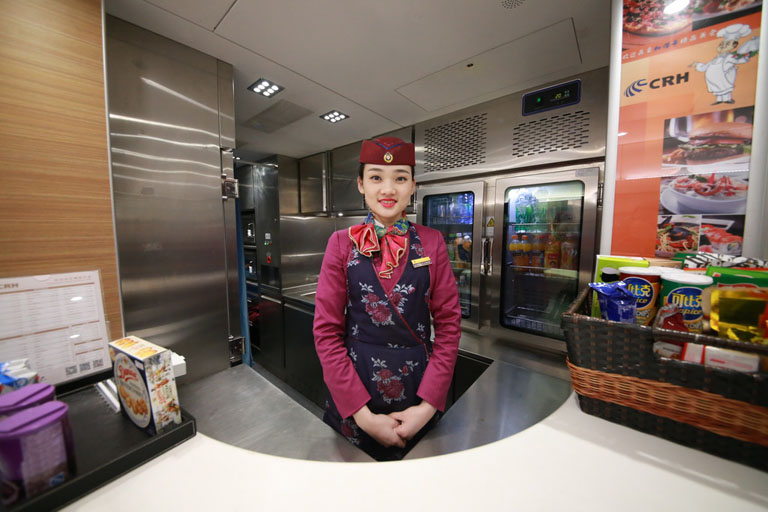 Large and Clean Food Dining Car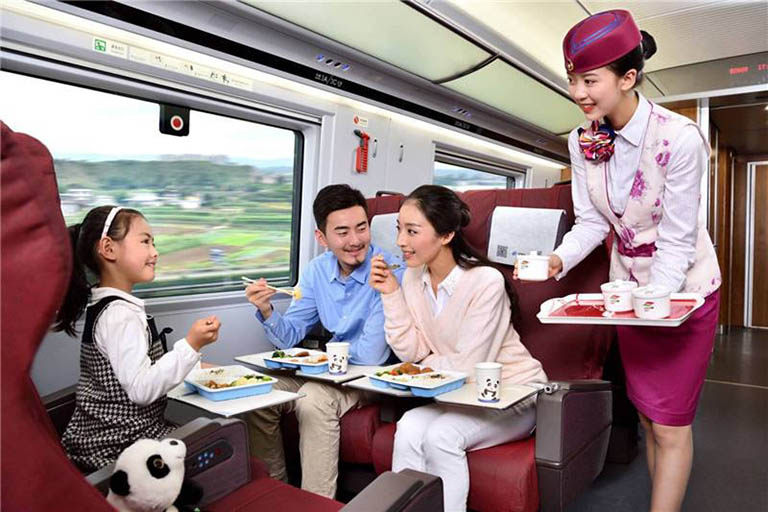 China High Speed Train Food Service
For Business Class passengers, there is a service bell settled on your seat. Though the attendants don't seat inside the carriage, you can still get a quick answer from them once you press the bell. And the attendants can provide the following free service:
● Slippers, hand towels, headphones, earplugs, eye patches and blankets.
● Six kinds of drinks: Mineral water, soda water, fruit juice, hot tea and Coffee.
● A gift bag with six kinds of snacks supplied in.
● Free Business Meal Supply Time :
Breakfast: before 8:00; Lunch: 11:30-13:00; Supper: 17:30-19:00
Check more about Classes of Seat on High Speed Trains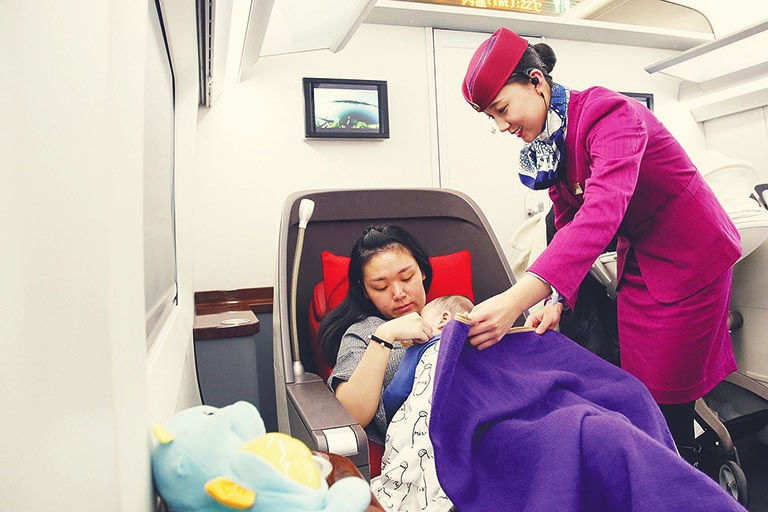 Service for Business Class Seat Passengers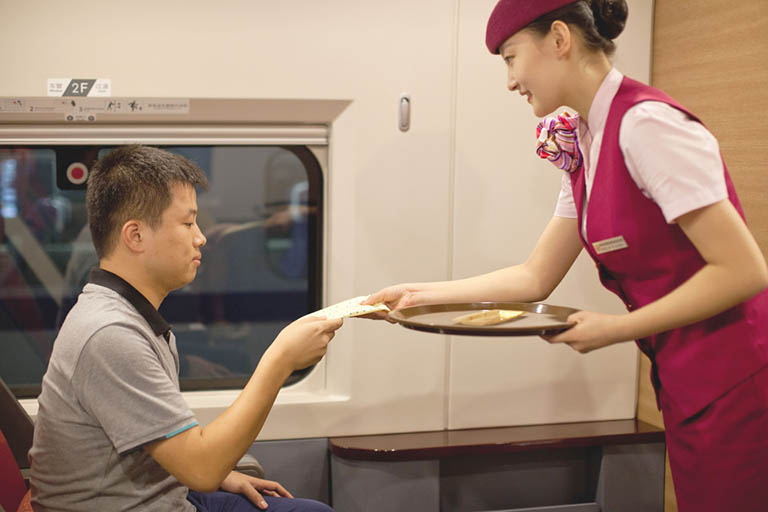 Business Class Seat on High Speed Trains
There is free special care for the elderly, infirm sick, disabled and pregnant on High Speed Trains. But the service is required to be ordered in advance (24 hours prior to departure). The station provides priority and assistance for those passengers in both boarding and disembarking. And the police patrols will be intensified over the carr
High Speed Trains are cleaner than normal trains in China. Everyone on High Speed Train can get a small disposal bag with interior waterproof design. You can put litters inside the bag, and then throw it into the dustbin at the end of the carriage. The cleaners of High Speed Trains will collect the dirty bag every now and then. Once your disposal bag has been collected by them, you can ask one more from them. And when the train arrived at the last station, the cleaners will make a deep clean of the whole train.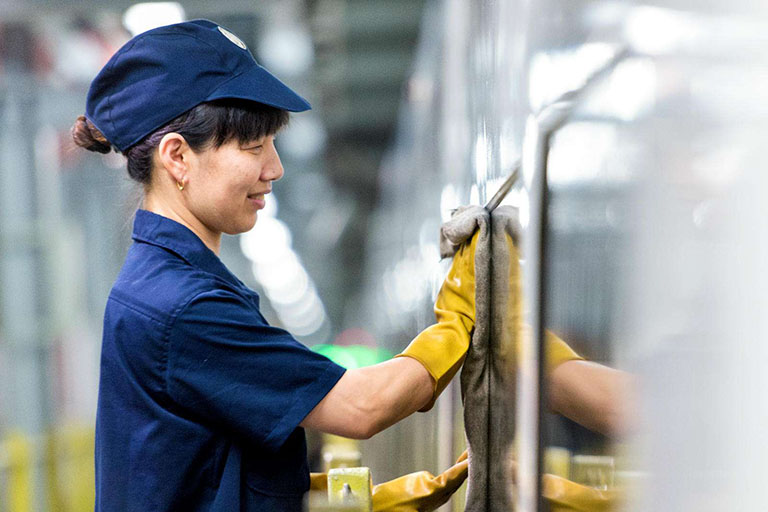 Cleaning Staff on High Speed Trains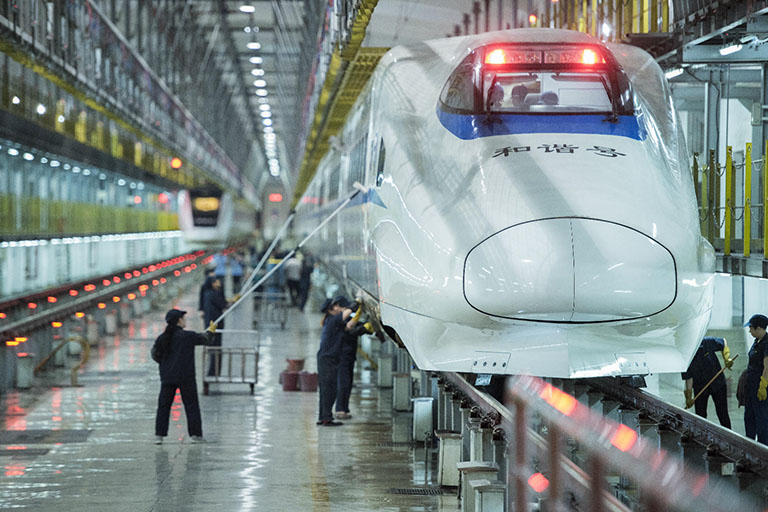 Deep Clean for the High Speed Train
The places where goods are most likely to be lost on High Speed Trains are the entrance, luggage racks, seats, washrooms and dining car. Once you find that you have lost something on the train, you can have a careful searching over these places. And you can also ask the attendants for help. When you find that you have lost something after disembarked from the train, you can fill a lost baggage form on the official ticket website 12306.cn and wait for a reply. Usually, you can get the answer within 6 hours.
Check more about China Train Baggage Allowance & Policy
The barrier-free washrooms and some washrooms with western style toilet are equipped with a SOS button. Once you are in emergency, you can press it and get the help from the attendants. There is no separate treatment room or medical team on High Speed Trains, but the attendants on the trains can provide basic emergency treatment.
After read the above details, you must have a better understanding about the service that provided on China High Speed Trains now. But if you have any other questions and concerns, please feel free to contact our professional travel expert for help. China Discovery sincerely wishes you enjoy your China High Speed Train trip.
Highly Recommended Routes to Experience China High Speed Trains
As high speed train travel are becoming much popular and recommended by large portion of visitors in China, here we also list some top high speed train routes chosen by most people during their China tour. See the routes at below and pick one to experience the great advantages of travelling by high speed train. Also, you could check all high speed train routes to select which section to experience.
Extension Readings of High Speed Train Travel in China
Recommended Tours
Top 3 tours chosen by most customers to explore in the best way. Check the detailed itinerary, or tailor your own trip now with us.
9 Days East China & Mt. Huang Tour by High Speed Train

Shanghai / Suzhou / Hangzhou / Huangshan
7 Days Shanghai Suzhou Beijing Contrast Tour by High Speed Train

Shanghai / Tongli / Suzhou / Beijing
Start planning your tailor-made holiday to China by contacting one of our specialists. Once inquired, you'll get a response within 0.5~23.5 hours.
Customize a Trip
Have a question? Get answers from our travel experts or guests
Your Question:

Your Name:

Your Email:
Why Book with China Discovery
Affordable and valuable price
100% tailor-made packages
Highly rated customers reviews
Efficient customer support