Travel from Zhangye to Jiayuguan: By Train or By Bus
The Lanzhou Xinjiang High Speed Railway makes it fast and convenient to travel Zhangye together with Jiayuguan not far away. During the combined trip, you can not only view stunning natural wonder in Danxia Landform Geopark in Zhangye, but also physically feel the grand westernmost Great Wall of China. Most people choose to make a short layover in Jiayuguan from Lanzhou, Zhangye and then continue exploration of Dunhuang and more destinations on the ancient"Silk Road" to feel different landscape, culture and history of China.
Where is Jiayuguan? How far is Jiayuguan from Zhangye?
Jiayuguan (嘉峪关) is a prefecture-level city in northwest Gansu and mid-east of Hexi Corridor. It is close to Jiuquan City in the east, about 750km of west of Lanzhou, Capital of Gansu Province. Jiayuguan is most famous for the Jiayuguan Pass - the west end of ancient Great Walls of China which is reputed as"the First and Greatest Pass Under Heaven".
While Zhangye is a prefecture-level city situated in northwest of Gansu Province and middle of Hexi Corridor, and it borders Jiayuguan in the south.
The private driving distance between Zhangye to Jiayuguan is: about 230km/2.5 hours.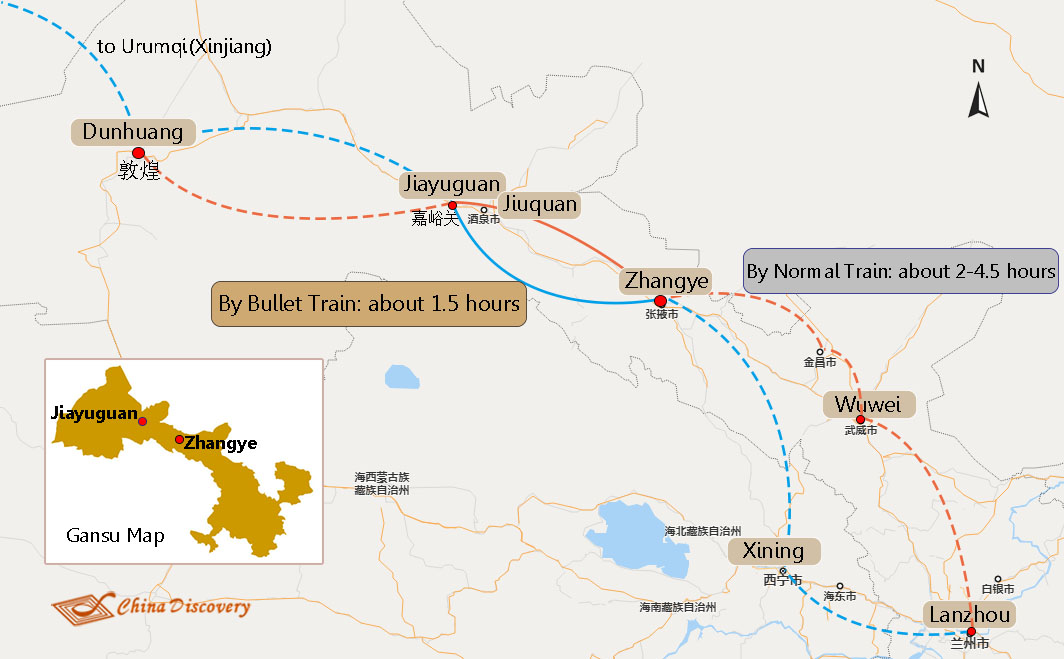 Zhangye to Jiayuguan Transportation Map
1. Zhangye to Jiayuguan By Train - Most Convenient Option
Every day, there are over 40 direct trains running from Zhangye to Jiayuguan, including fast bullet train and normal trains at ordinary speed. Train journey is about 1.5 hours to 3 hours, based on which kind of train you take.
● 1.Zhangye to Jiayuguan Bullet Train - the Fastest
Railway Length: about 212 km/ 132 mi
Duration: about 1.5 hours
Now, Zhangye sends more than 10 bullet trains (all D trains) from Zhangye West Railway Station (张掖西站) in Zhangye to Jiayuguan South Railway Station (嘉峪关南站) in Jiayuguan. The first train leaves at nearly 10:30 and the last train departs at almost 21:30 in the evening. You can choose from First Class Seat of Second Class Seat for the short train trip.
Useful Links:
◆ Zhangye West Railway Station | Jiayuguan to Zhangye Train Schedules
China Train Travel Guide
● 2.Zhangye to Jiayuguan Normal Train
Duration: about 2 ~ 4.5 hours
At the same time, there are about 40 normal trains (including traditional K, T, Z trains) available. The trains are scheduled from Zhangye Railway Station (张掖站) to Jiayuguan Railway Station (嘉峪关站), during about 00:00 at midnight to the 23:30 in late evening.
Our Advice: Train travel is most suitable for independent travelers who have enough time and good directions and know Chinese well. But, you still need extra transfer to the landmark attractions after arrival. It's highly suggested to travel with China Discovery, using our private and direct transportation to visit spots and enjoy sightseeing.
Most Popular Zhangye Jiayuguan Tours:
>> 6 Days Hexi Corridor Discovery Tour
>> 7 Days Ancient Silk Road Treasure Tour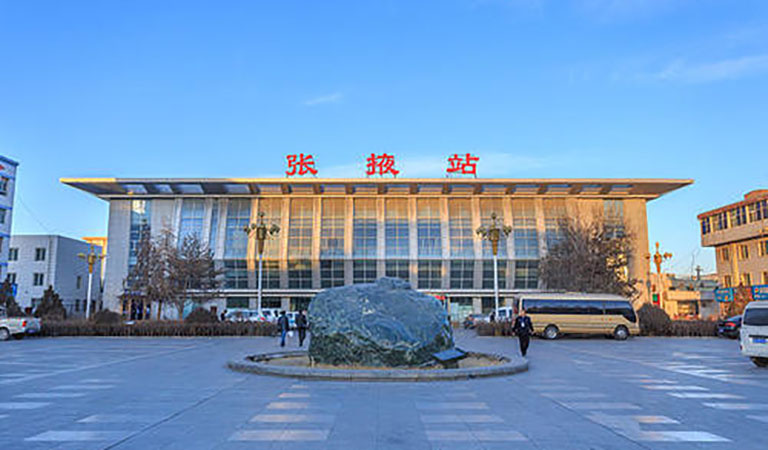 Zhangye Railway Station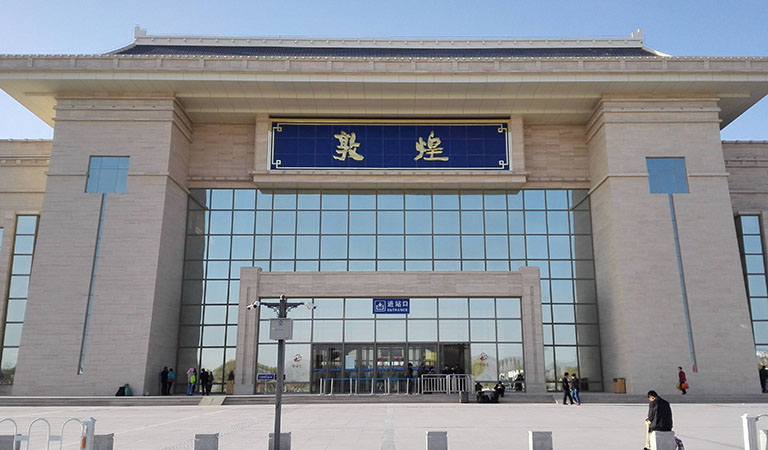 Jiayuguan South Railway Station
Check the following real-time Zhangye to Jiayuguan Train Timetables:
Referential Currency: RMB=1USD
Train No.
Departure / Train Staiton
Duration
Seat Type / USD Price / Availability
Note: Train information is subject to final confirmation due to the delay of data occasionally.
2. Zhangye to Jiayuguan by Bus
From & To: Zhangye West Bus Station (张掖汽车西站) → Jiayuguan Bus Station (嘉峪关汽车站)
Driving Distance: about 230 km
Duration: over 3 hours
Taking a bus from Zhangye to Jiayuguan is a doable Plan B if you fail to buy the train ticket. At present, there are only 2 daily buses offered, one departs at 10:20 in the morning and the other one leaves at 13:00 in the afternoon. Please note that, after arrival in Jiayuguan, you can take local taxi to tour Jiayuguan Pass and other sites around.
How to Plan A Zhangye Jiayuguan Tour
Located in Northwestern China at a short distance, Zhangye and Jiayuguan are both node cities worth a quick visit on the ancient "Silk Road". China nature and culture fans definitely love to see the featured scenery and fortress different from other regions in China.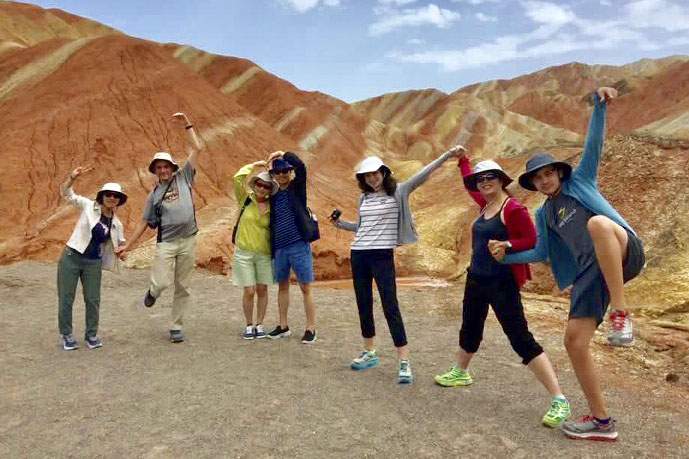 Our USA Family Customers Enjoyed Trip to Zhangye Danxia Geopark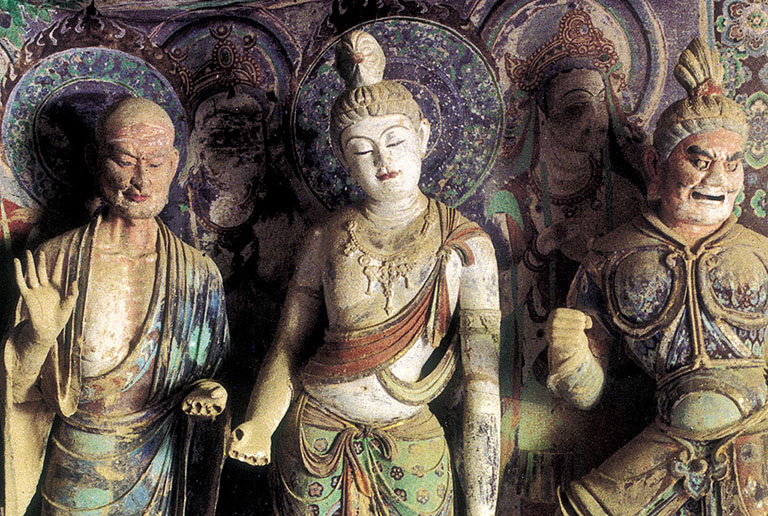 Mogao Grottoes in Dunhuang
Best Travel Idea: Travel further to meet the most brilliant pearl on "Silk Road"- the Mogao Grottoes in Dunhuang, or extend discovery to Urumqi (Xingjiang).
Travel Zhangye & Jiayuguan with China Discovery
China Discovery is a professional, reliable and experienced travel companion offering best tour services for our guests. We not only provide travel guide and tips online, but also try our best to make sure you enjoy your China travel, supporting you on visa, transport, sightseeing, accommodation, dining and more details. You may select from our popular tour packages, or contact us to customize a special one based on your own hobbies, budget and itinerary.
Recommended Longer Silk Road Tour with Zhangye & Jiayuguan
>> 15 Days Classic Ancient China Silk Road Tour with Bullet Train Experience
>> 11 Days Northwestern China Cultural Relic & Desert Landscape Tour
>> 10 Days Qinghai and Gansu Highlights Tour
Most Popular Zhangye Tours
Useful Zhangye Travel Guide
Zhangye to More Silk Road Destinations
Recommended Jiayuguan Tours
Top 3 Jiayuguan tours chosen by most customers to explore Jiayuguan in the best way. Check the detailed itinerary, or tailor your own trip now with us.
6 Days Hexi Corridor Discovery Tour(Zhangye/Jiayuguan/Dunhuang)

Lanzhou - Zhangye - Jiayuguan - Dunhuang
8 Days Gansu Highlights Tour

Lanzhou / Xiahe / Jiayuguan / Dunhuang
8 Days Miraculous Land Tour from Dunhuang to Zhangye Xining

Dunhuang - Jiayuguan - Zhangye - Xining
Start planning your tailor-made holiday to China by contacting one of our specialists. Once inquired, you'll get a response within 0.5~23.5 hours.
Customize a Trip
Have a question? Get answers from our travel experts or guests
Your Question:

Your Name:

Your Email: