Xining to Lhasa: Trains, Flights, Schedules, Fares, Maps 2023
Xining is the capital of Qinghai province in western China, a melting pot of many ethnic groups on Qinghai Tibet Plateau with picturesque highland scenery. It is also an important gateway city to Lhasa, the capital of the Tibet Autonomous Region. The distance from Xining to Lhasa is about 1,956km (1,215 mi). There are mainly 2 ways from Xining to Lhasa, namely trains and flights.
• Option 1: Xining to Lhasa Train: 20-22 hours, price from CNY 250 to CNY 500 - Recommended
• Option 2: Xining to Lhasa Flight: 2 - 2.5 hours - Fast
Tibet Travel Permit is Needed to Purchase Flight/Train Ticket to Lhasa
Except for Chinese citizens, Travelers without a Chinese ID card shall apply for a Tibet Travel Permit to book a flight/train ticket to Lhasa. The Tibet Travel Permit is issued only by Tibet Tourism Bureau and can only be applied by the travel agency on behalf of the travelers. It application process usually needs about 15 - 20 days. Therefore, if you have a Tibet Trip Plan, please contact us as soon as possible to apply for the Tibet Travel Permit.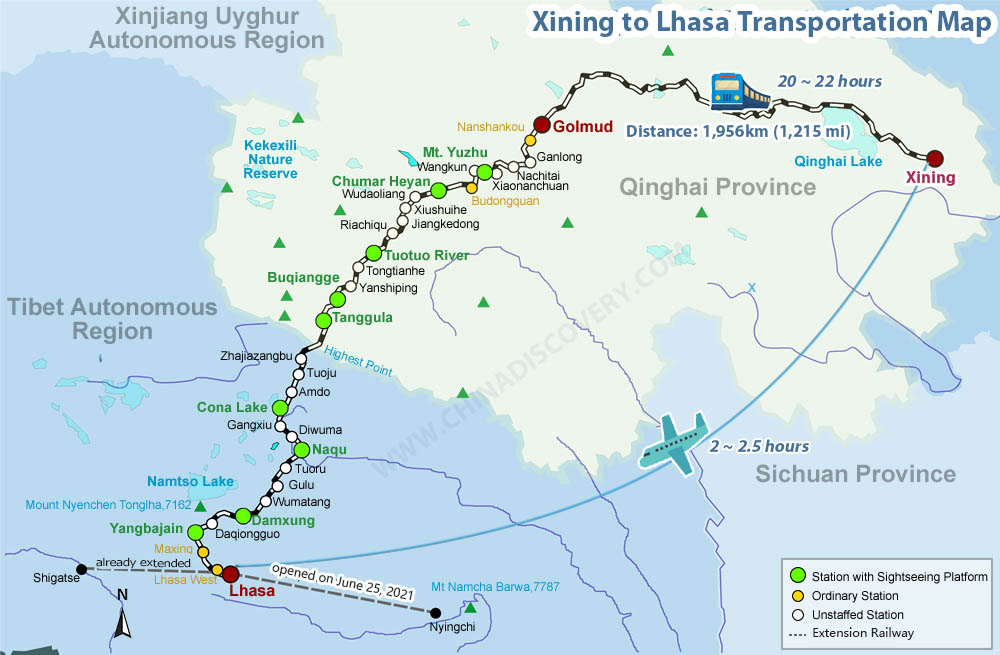 Xining Lhasa Transportation Map
Get from Xining to Lhasa by Train - Top Recommended
Xining Lhasa Railway, aka Qinghai Tibet Railway, includes 2 sections: Xining Golmud Section (814 km) and Golmud Lhasa Section (1,142 km). It is the highest plateau railway in the world with an avg elevation above 4,000 meters. There are about 6 overnight Z trains running from Xining to Lhasa, taking about 20 - 22 hours, departing at Xining Railway Station and getting to Lhasa Railway Station. Please check the following train schedules to see the detailed train info.
Railway Station Information
Xining Railway Station 西宁火车站
Location: NO. 128 Huzhu Middle Road, Chengdong District, Xining City, Qinghai Province 青海省西宁市城东区互助中路128号, about 6 km (20 min by car, 40 min by bus) to downtown, 28 km (40 minutes' drive) to Xining Caojiabao International Airport.
Lhasa Railway Station 拉萨火车站
Location: Tongzhan Road, duilongdeqing District, Lhasa City, southwest of Lhasa, Tibet, China,拉萨市堆龙德庆区通站路 about 2 kilometers to the Liuwu Bridge of the Lhasa River, which links central Lhasa to Lhasa Railway Station, 8 kilometers to downtown Lhasa, 20 kilometers to the southwest of the Potala Palace.
Referential Currency: RMB=1USD
Train No.
Departure / Train Staiton
Duration
Seat Type / USD Price / Availability
Note: Train information is subject to final confirmation due to the delay of data occasionally.
What to See Along the Railway from Xining to Lhasa
▶ Qinghai Tibet Railway Stations with Sightseeing Platforms: Xining - Golmud- Mt Yuzhu - Chumar Heyan - Tuotuo River - Buqiangge - Tanggula - Cona Lake - Naqu - Damxung - Yangbajain - Lhasa
Traveling from Xining to Lhasa, there are many things to see along your way along the Qinghai Tibet Railway: the snow-capped mountains and Yuzhu Peak, the wild creatures like the Tibetan Antelopes, yuks and donkeys in Hoh Xil, the breathtaking Qinghai Lake and limpid Cuo'na Lake, the beautiful Sanjiangyuan National Reserve and majestic Kunlun Mountains.
How's Facility on Xining Lhasa Train
There are air-conditioning system and Oxygen Supply on the trains, which allows you have a comfortable travel experience on the high plateau. During your stay on the train, you can have some Chinese food at the dining carriage with rice, vegetable, meals, and soups provided and snacks and bottled water sold through the food trolley. The water in the washing area is undrinkable, and the toilets include one western style and one squat style with no tissues.
What Kind of Train Ticket to Choose
There are usually 3 types of tickets to choose from, namely hard seat, hard sleeper, soft sleeper. The ticket price varies according to the type of seat you choose. The hard seat ticket is only about CNY 250, but the facility is hard for you to sleep at night; the hard sleeper ticket id about CNY 500, and then sleeper is relatively narrower than the soft sleeper and it doesn't provide so much privacy and comfort. Although the ticket price is the highest about CNY 800, the travel experience on the soft sleeper is much comfortable than the hard one. If you are traveling with your family by train, choosing a soft sleeper is the most recommended.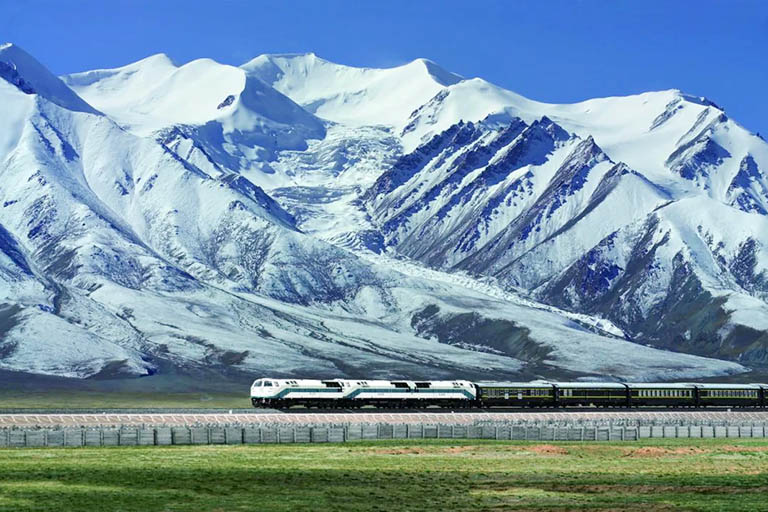 Snow-covered Mountains in Northern Tibet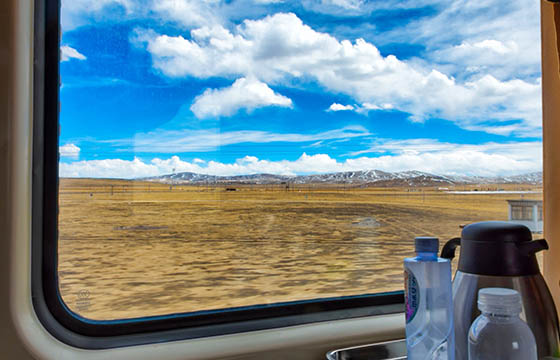 Scenery Outside the Window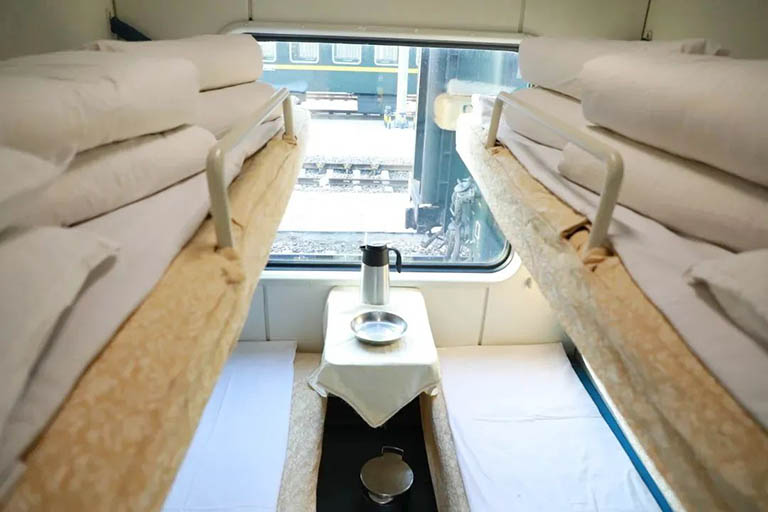 Soft Sleeper of Xining Lhasa Train
China Train Travel Tips
Class of Ticket
You can usually choose from the First Class Seat, the Second Class Seat or Business Class Seat on the high speed trains. While, there are three types offered on the normal train, including Soft Sleeper, Hard Sleeper and Hard Seat. learn more >>
Book, Collect, Alter and Cancel
Foreign tourists can book train ticket online or via a ticket agency, or buy the tickets physically at the train station with your valid passport. Train ticket alteration and cancellation are only available at ticket counters. learn more >>
Board & Get off
1) Prepare your passport and China Visa; 2) Get to the right train station at least 30 mins in advance; 3) Collect your train ticket; 4) Read your train ticket; 5) Pass the security control; 6) Pass through Security & Luggage Checks; 7) Find the right waiting room; 8) Cross the ticket checking gate; 9) Get to the right platform; 10) Get on your train. learn more >>
Baggage Allowance
Passengers don't need to check luggage separately. Each passenger is allowed to carry luggage in certain weight and volume, but without limitation of amount and types. learn more >>
Facilities and Service
All high speed trains in China are equipped with advanced facilities and good service, including luggage racks, air-conditioner, power socket, dining car, hot water, etc. learn more >>
Get from Xining to Lhasa by Air
Besides overnight trains to Xining, if you would like to get to Lhasa in the shortest time, taking a flight is your best choice. Every day, there are about 5 to 10 flights taking off from Xining Caojiabao Airport to Lhasa Gongga International Airport from 7:30 am early in the morning and 10:30 pm late at night with a duration of 2-2.5 hours. If time allows, we suggest that you take the morning flight so that you can get to Lhasa in the afternoon and adjust yourself to the high altitude area.
▶ Please check the real-time Xining Lhasa flight info for your reference.
Airport Information
Xining Caojiabao Airport 西宁曹家堡机场 (IATA: XNN)
Location: Huzhu Tu Autonomous County, Haidong, Qinghai 青海省海东市互助土族自治县, about 33 km to the southeast of Xining city
Lhasa Gonggar International Airport 拉萨贡嘎国际机场 (IATA: LXA)
Location: Gyazuling Town, Gonggar County, Shannan Prefecture, Tibet, 山南市贡嘎县友谊路 about 60km from Lhasa downtown, about 60km from Lhasa downtown. It costs about 100~200 CNY to the Barkhor Street area of Lhasa city by taxi.
Things to Know Before Your Tibet Tour from Xining
1. Independent Travel is not allowed in Tibet
2. Tibet Entry Permit is Required for any Tibet tour
3. Extra Permits are required in other regions beyond Lhasa
4. There is no age limitation to travel to Tibet, but do not take risks if you have a serious disease or are easily get high altitude sickness.
5. Tibet tour is not available from late February to the end of March due to holidays.
6. Some special places are not open for travelers.
7. Regular Tourists cannot reach higher Everest area beyond Rongbuk Monastery.
How to Plan a Xining Lhasa Tour
Usually, one day Xining tour is the most popular and classic trip itinerary which is suitable for visiting the top attractions, including the Kumbum Monastery, Dongguan Mosque, China Tibetan Medicine Culture Museum, etc. later, travelers take another day trip to the beautiful Qinghai Lake. If time allows, you can visit Chaka Salt Lake, Kanbula National Forest Park for one more day respectively. For those who are interested in Amdo Tibetan culture, you can travel from Xining to Tongren, take one day to visit Rongwo Monastery, and go back to Xining.
☛ 3 Days Qinghai Short Stay Tour
☛ 4 Days Qinghai Lake Chaka Salt Lake Enchanting Tour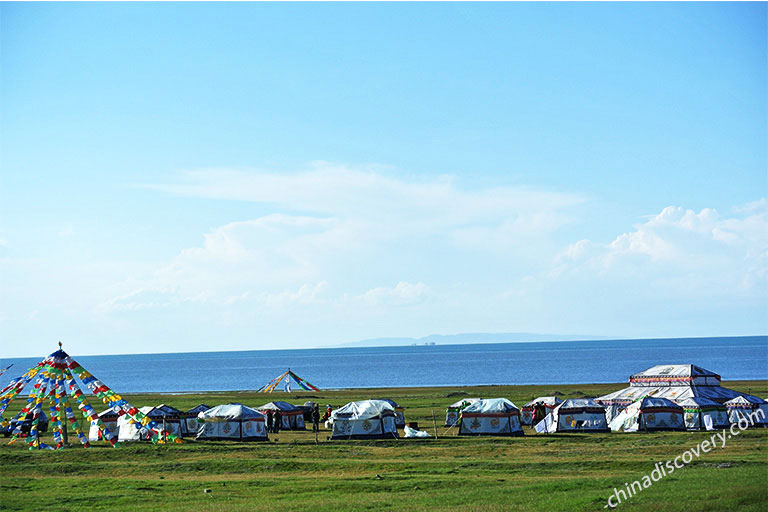 Qinghai Lake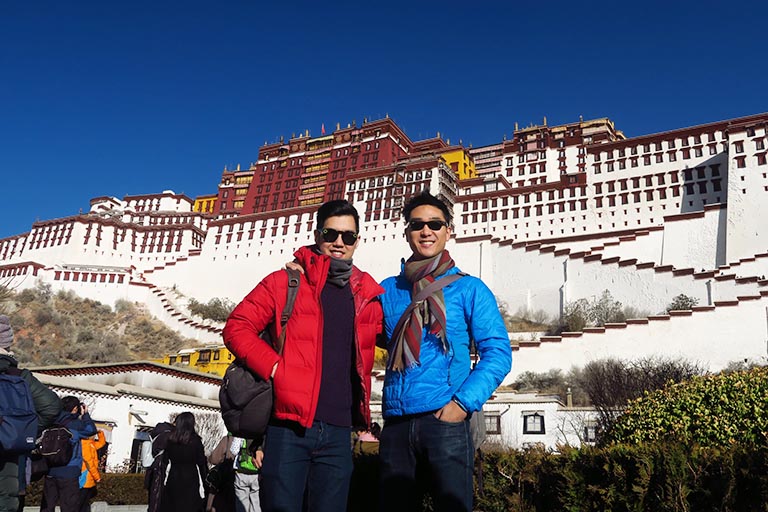 Jeff from Taiwan Visited Potala Palace with China Discovery
Travel Worry-free with China Discovery
China Discovery is a leading comprehensive travel agency in China, providing excellent customized tour packages across China. We have helped thousands of travelers fulfill their dream tour in China. Just tell us your schedule and budget, we can arrange a satisfactory China tour including Xining, Lhasa, and other popular tourist destinations. It will cover transport, sightseeing, tour guide, local vehicle and driver, accommodation, Chinese Visa, Tibet Travel Permit application assistance, etc. The length of places to visit and theme can be customized depending on your individual requirements. You may choose from our most popular Tibet tours or contact us to customize a special one!
Recommended Xining Lhasa Train Tours
Top 3 Xining Lhasa Train tours chosen by most customers to explore Xining Lhasa Train in the best way. Check the detailed itinerary, or tailor your own trip now with us.
6 Days Xining to Tibet Lhasa Train Tour by Qinghai Tibet Railway

Xining - Qinghai Lake - Lhasa
10 Days Qinghai Tibet Plateau Exploration with Trip to Mount Everest

Xining - Qinghai Lake - Lhasa - Gyantse - Shigatse - Mount Everest - Lhasa
10 Days Panda & Qinghai Tibet Railway Memorable Tour

Chengdu / Xining / Qinghai Lake / Lhasa / Namtso
Start planning your tailor-made holiday to China by contacting one of our specialists. Once inquired, you'll get a response within 0.5~23.5 hours.
Customize a Trip
Have a question? Get answers from our travel experts or guests
Your Question:

Your Name:

Your Email: