Xian to Pingyao (Pingyao Ancient City) Train Schedules, Tickets and Stations
Xian is one of the World Famous Historical Ancient Cities and is the terminal of the Silk Road. After your exploration of the historical and cultural relics in Xian, you could now also take a high-speed train to Pingyao in Shanxi Province to extend your China culture and history enjoyment, with an understanding of the Pingyao Ancient City and a series of highlighting historical relics and sites. 
Every day, from 6:30 am to 8:30 pm, there are about 14 trains departing from Xian to Pingyao, including about 10 high-speed D trains. The high-speed trains can reach Pingyao Gucheng Railway Station (Pingyao Ancient City Railway Station) from Xian North Railway Station within about 2.5-3.5 hours. Besides, there are two normal overnight trains running from Xian Railway Station to Pingyao Railway Station, with a duration of 8.5 hours. 
Xian to Pingyao High Speed Train Route
▶ High-Speed Train Route from Xian to Pingyao: Xian North Station (西安北 xī ān běi) → Wenan North Station (渭南北 wèi nán běi) → Dali Station (大荔 dà lì) → Yongji North Station (永济北 yǒng jì běi) → Huozhou East Station (霍州东 huò zhōu dōng) → Lingshi East Station (灵石东 líng shí dōng) → Pingyao Gucheng Station (平遥古城 píng yáo gǔ chéng)
Xian Pingyao high-speed railway has been put into use since 2014. The whole route is measured for about 481 kilometers. Please check the detailed train route map below to know the detailed running way of the trains.
Xian Pingyao High Speed Rail Map
Referential Currency: RMB=1USD
Train No.
Departure / Train Staiton
Duration
Seat Type / USD Price / Availability
Note: Train information is subject to final confirmation due to the delay of data occasionally.
Xian North Railway Station (西安北站) - High-Speed Railway Station
Location: Yuanshuo Road, Weiyang District, Xian (西安市未央区元朔路).
Xian North Station is about 20 kilometers to Xian downtown and takes around 1 hour to arrive by car. Also, Metro Line 2 is available from this station and it can take you to the city center, the Bell Tower, and many other places there for about 30 minutes. To get to the Terracotta Warriors Scenic Spot, it usually takes around 1 hour. Besides, airport buses, local public buses, etc. are also available for your transfer. Learn more about Xian North Railway Station
Xian Railway Station (西安站) - Normal Train Station
Location: 44 Huancheng North Road, Xincheng District, Xi'an City (西安市新城区环城北路44号)
Distance: It is only about 4km to the city center, Bell Tower area.
Pingyao Ancient City Station (Pingyao Gucheng Station) (平遥古城站) - High-Speed Railway Station
Location: Houji Village, Pingyao County, Shanxi Province (山西省平遥县候冀村)
Pingyao Ancient City Station is also known as Pingyao Gucheng Station. About 8.5 kilometers' driving distance from Pingyao Ancient City, it takes about 18-20 minutes to get there by car. If you take a local bus, it will take you about 45 minutes.
Pingyao Railway Station (平遥站) - Normal Train Station
Location: 14 Zhongdu Road, Pingyao County, Jinzhong City, Shanxi Province (山西省晋中市平遥县中都路14号)
Distance: It is only about 1km to Pingyao Ancient City.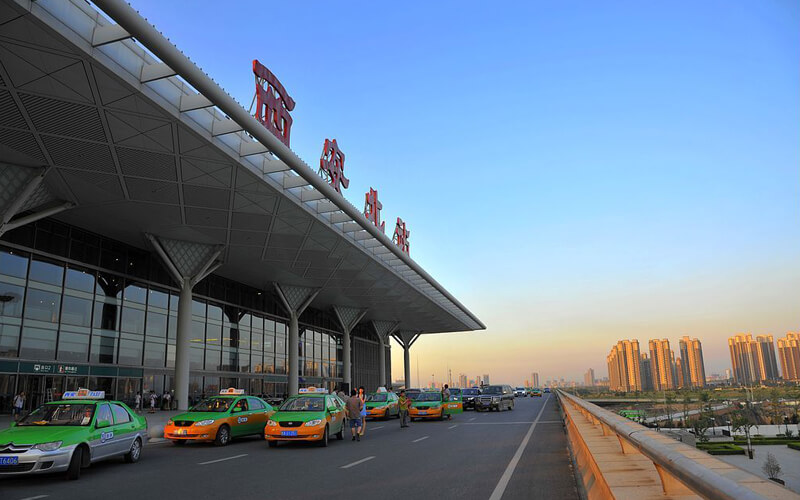 Drop-off Platform of Xian North Railway Station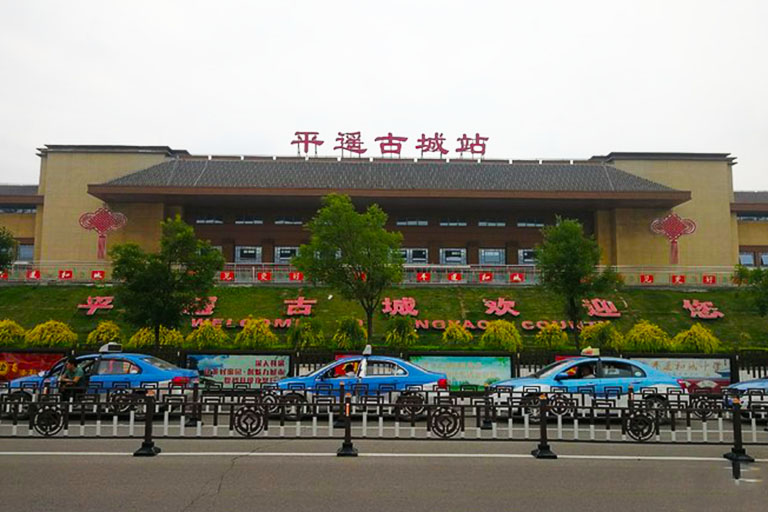 Pingyao Gucheng Railway Station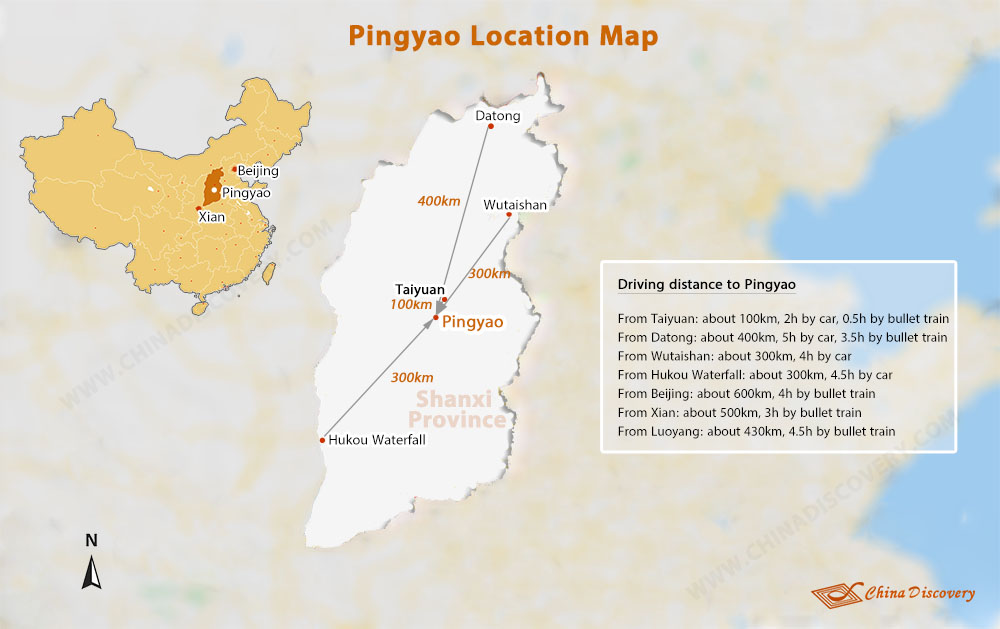 Pingyao Location Map (Click to Enlarge)
How to Plan Your Xian Pingyao Tour
Best time to visit Pingyao: March to mid-June, mid-September to November, and Chinese Spring Festival Time (Jan or Feb)
How to get to Pingyao: High-speed bullet trains to Pingyao Gucheng Railway Station; normal trains to Pingyao Railway Station; Long-distance Bus to Pingyao Bus Station; Flights to Taiyuan Airport and transfer from Taiyuan to Pingyao by private car/bus/train.
About 500km away from Xian, Pingyao is noted for the World Heritage Site - Pingyao Ancient City. It is well-preserved, keeping the architecture style of the Ming and Qing Dynasty (14th-20th centuries). Here, you can leisurely stroll and get to learn about the traditions of the northern Chinese, especially during the Chinese Spring Festival. Usually, 2 to 3 days are enough for you to explore the attractions in Pingyao, including scenic sites and ancient streets of Pingyao Ancient City, Qiao's Family Compound, Shuanglin Temple, etc.
☛ 2 Days Classic Pingyao Tour
☛ 3 Days Pingyao Discovery Tour
Also, Pingyao is well connected with many other cities in Shanxi province. You can spend more days having a Shanxi discovery tour: witnessing the stunning Yungang Grottoes and Hanging Temple in Datong, hiking on and the famous Buddhism mountain, Wutaishan, visiting the magnificent Hukou Waterfall, and getting to Jinsi Temple and Shanxi Museum in the capital of Shanxi province, Taiyuan.
☛ 4 Days In-depth Pingyao & Taiyuan Tour
☛ 4 Days Essence of Datong & Pingyao Tour
☛ 6 Days Essence of Shanxi Tour
If you would like to travel outside Shanxi, you can take a flight from Taiyuan to many other cites of China. It is also very convenient to take a high-speed train from Pingyao/Taiyuan to Xian and Luoyang with no more than 4 hours or head to Beijing by high-speed train.
☛ 4 Days Ancient Pingyao & Xian Tour
☛ 6 Days Beijing Pingyao Highlights Tour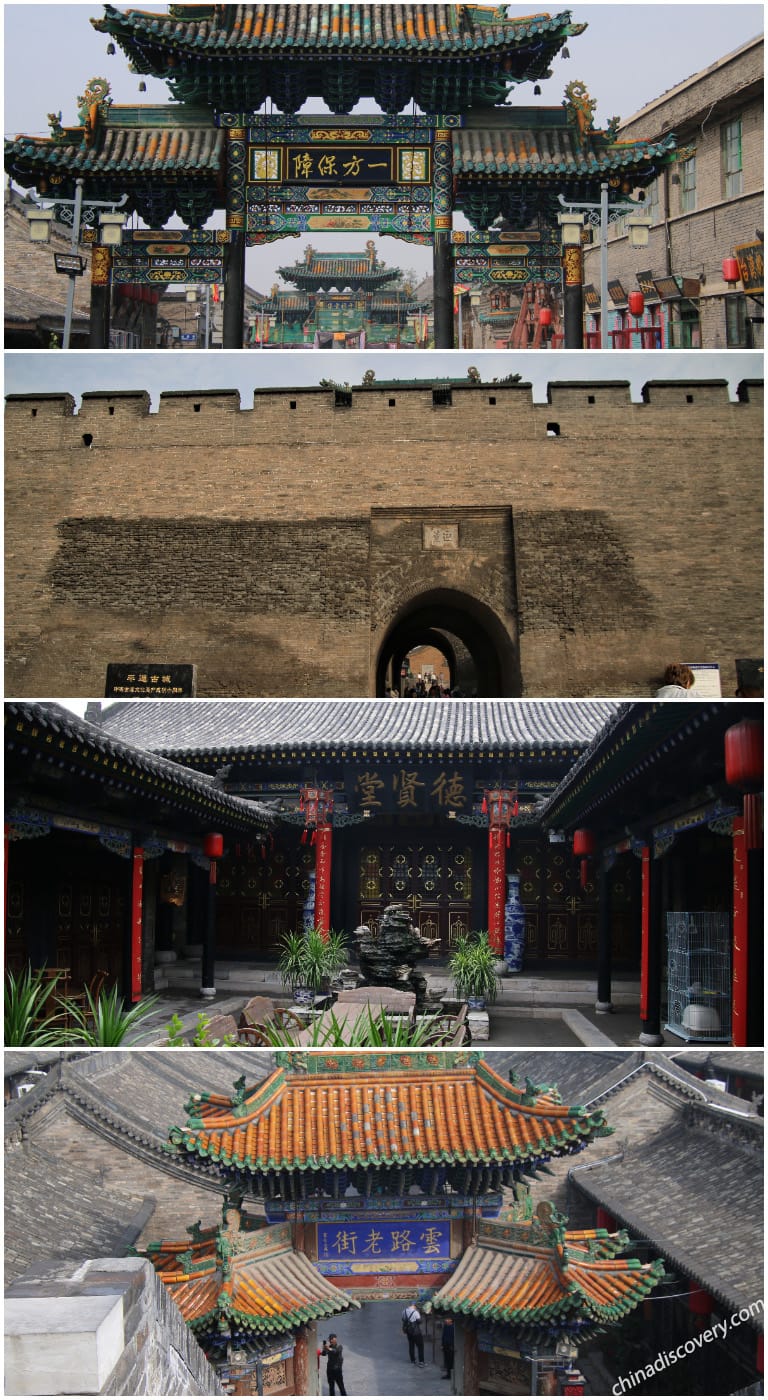 Ancient Sites of Pingyao
High Speed Train Tips
Class of Ticket
On high speed trains from Xian to Pingyao, there are two kinds of tickets are provided, including First Class Seat and Second Class Seat. Second Class Seat is the most budget level you will share a row space with other passengers. First Class of Seat is more comfortable and quiet for those who prefer a good rest on the way. Check all types of seats on China high speed train>
Book, Collect, Alter and Cancel
Foreign tourists can book train ticket online or ask help from ticket agency, or buy the tickets physically at the train station with your valid passport. One thing you should remember is to book the ticket as early as possible, especially in peak tourist seasons. After collecting the tickets, please read carefully about the train number, departure date and station to make sure you won't miss the train. If you want to cancel, alter your train tickets, you are required to bring your passport to the ticket counter and make the adjustments. Check details about How to Book, Collect, Alter, and Cancel Train Tickets>
Board & Get off
1) Prepare your documents well (valid passport with China Visa); 2) Get to the right train station in advance; 3) Collect train tickets; 4) Read your train ticket; 5) Pass the security control; 6) Pass through Security & Luggage Checks; 7) Find the right waiting room; 8) Cross the ticket checking gate; 9) Get to the right platform; 10) Get on your train. Keep the ticket well, because the ticket will be checked again to leave the station after you get off. Check details about How to Board & Disembark a Train>
Baggage Allowance
China train travel with luggage is much easier than taking flight, for you don't need to check luggage separately. Each passenger with a train ticket is allowed to carry luggage in certain weight and volume, but without limitation of amount and types. Though there are written regulation and rules about the luggage allowance, in practice, passengers can take as much luggage as you can if only you handled them properly. Check detailed Baggage Allowance & Policy to Take China Train>
Facilities and Service
All high speed trains in China are equipped with advanced facilities and good service to make your journey more convenient and comfortable. There are different places you can put your luggage onboard, racks and specialized luggage storage areas. Besides, the air-conditioner train offers you plug under the seats to charge your phone or laptop, sightseeing window to view the outside scenery as well as western-style toilets. There is also available dining area you can get some supplies. Bilingual signs and the broadcast use both Chinese and English so that you don't need to worry about the communication. Check All Facilities & Service on China Train>
Extension Readings of High Speed Train Travel in China
Schedules of More Nearby Popular Trains
Recommended High Speed Train Tours
Top 3 High Speed Train tours chosen by most customers to explore High Speed Train in the best way. Check the detailed itinerary, or tailor your own trip now with us.
7 Days Shanghai Suzhou Beijing Contrast Tour by High Speed Train

Shanghai / Tongli / Suzhou / Beijing
13 Days China Leisure Tour with Yangtze Cruise & Train Experience

Beijing / Xian / Chengdu / Chongqing / Yangtze Cruise / Yichang / Shanghai
Start planning your tailor-made holiday to China by contacting one of our specialists. Once inquired, you'll get a response within 0.5~23.5 hours.
Customize a Trip
Have a question? Get answers from our travel experts or guests
Your Question:

Your Name:

Your Email: