How to Get from Shanghai to Zhengzhou: By Flight or Train?
Shanghai is one of the most popular gateways to start a China tour, which is also well-lined with most major destinations in China by both flight and railway. While for visiting Shaolin Temple in Dengfeng, Zhengzhou, most tourists make a transit via Zhengzhou. So, if you are Chinese Kung Fu fans looking for the best way to get from Shanghai to Zhengzhou, here is the right place to find the most useful transportation guide and advice.
How Far is Zhengzhou from Shanghai? - Shanghai to Zhengzhou Distance
Shanghai Location: Shanghai, the biggest city of China, is located in Yangtze River Delta, east China, facing East Sea to the east and bordering Jiangsu Province to the north and Zhejiang Province to the southwest.
Zhengzhou Location: As the capital and the biggest city of Henan Province, Zhengzhou lies in downstream of the Yellow River, central Henan and the hinterland of Chinas' Central Plains.
Distance from Shanghai to Zhengzhou: Zhengzhou lies in the northwest of Shanghai with Anhui and Jiangsu Provinces between them. The estimated driving distance from Shanghai to Zhengzhou is about 940 km, around 11.5 hours by private driving.
At present, travelers can take a direct flight or train to Zhengzhou from Shanghai, according to your preference, itinerary and budget. Below we provide detailed flight and train journey duration and schedules you can check to choose the most suitable way to go.
✔ 2 Days Shaolin Kung Fu Tour from Zhengzhou / 3 Days Shaolin Temple Longmen Grottoes Tour from Zhengzhou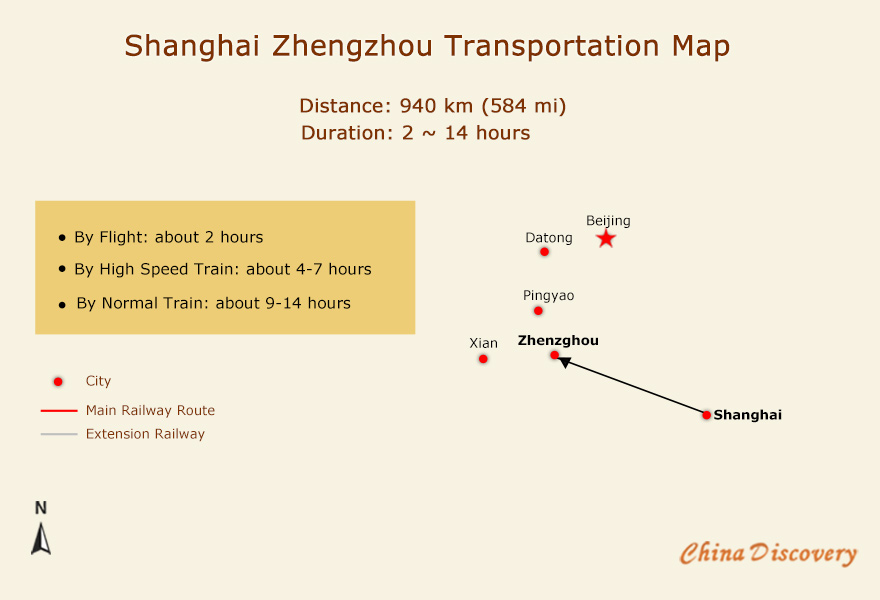 Shanghai to Zhengzhou Transportation Map
Get from Shanghai to Zhengzhou by Flight
Shanghai to Zhengzhou Flight Schedules:
| | | | | |
| --- | --- | --- | --- | --- |
| Flight No. | Departure Airport | Arrival Airport | Departure & Arrival Time | Duration |
| Flight MU5395 | Shanghai Hongqiao International Airport (T2) | Zhengzhou Xinzheng International Airport (T2) | 07:40-09:50 | about 2 hours |
| Flight CZ3592 | Shanghai Pudong International Airport (T1) | Zhengzhou Xinzheng International Airport (T2) | 11:15-13:25 | about 2 hours |
| Flight FM9329 | Shanghai Hongqiao International Airport (T2) | Zhengzhou Xinzheng International Airport (T2) | 14:30-16:40 | about 2 hours |
| Flight MU5385 | Shanghai Hongqiao International Airport (T2) | Zhengzhou Xinzheng International Airport (T2) | 16:50-19:00 | about 2 hours |
| Flight FM9567 | Shanghai Pudong International Airport (T1) | Zhengzhou Xinzheng International Airport (T2) | 19:05-21:15 | about 2 hours |
Note: The above flight schedules from Shanghai to Zhengzhou is listed for reference only and is subject to seasonal adjustment by the airline accompanies. You can click Shanghai to Zhengzhou Flight Schedule or contact us to get updated and detailed flight information.
Get from Shanghai to Zhengzhou by Train
Shanghai delivers over 40 trains to Zhengzhou each day, including many high speed trains costing less than half a day and some normal trains running more than 10 hours.
Below is the Real-time Shanghai to Zhengzhou High Speed Train Timetable:
Referential Currency: RMB=1USD
Train No.
Departure / Train Staiton
Duration
Seat Type / USD Price / Availability
Note: Train information is subject to final confirmation due to the delay of data occasionally.
China Train Travel Tips
Class of Ticket
On the high speed train from Shanghai to Zhengzhou, you can choose form a First Class Seat, a Second Class Seat or Business Class Seat. While, there are three types offered on the normal train, including Soft Sleeper, Hard Sleeper and Hard Seat. Check All Types of Seats on China Train >>
Book, Collect, Alter and Cancel
Foreign tourists can book train ticket online or via a ticket agency, or buy the tickets physically at the train station with your valid passport. Remember to book ticket as early as possible and check the train number, departure date and station after collecting it. You can bring your passport to the ticket counter and make the adjustments and cancellation Check How to Book, Collect, Alter, and Cancel Train Tickets >>
Board & Get off
1) Prepare your valid passport with China Visa; 2) Get to the right train station in advance; 3) Collect your train ticket; 4) Read your train ticket; 5) Pass the security control; 6) Pass through Security & Luggage Checks; 7) Find the right waiting room; 8) Cross the ticket checking gate; 9) Get to the right platform; 10) Get on your train. Keep the ticket well, because the ticket will be checked again to leave the station after you get off. Check How to Board & Disembark a Train >>
Baggage Allowance
China train travel with luggage is much easier than taking a flight, for you don't need to check luggage separately. Each train passenger is allowed to carry luggage in certain weight and volume, but without limitation of amount and types. Check Baggage Allowance & Policy to Take China Train >>
Facilities and Service
All high speed trains in China are equipped with advanced facilities and good service to make your journey more convenient and comfortable. You can put your luggage on the rack and luggage storage areas. The rain also has air-conditioner, power socket, dining car, hot water and many considerate facilities. Normal trains just provide simple equipment. Check All Facilities & Service on China Train >>
How to Plan a Shanghai Zhengzhou Tour
Usually, tourists tours Shanghai and Zhengzhou together with Beijing and Xian, and Luoyang nearby. A trip like that not only includes the top destinations with international renowned World Heritages, but also present different culture, history and city landscape of China, needing around 10 days.
3 Days is a popular itinerary for a Beijing tour. You can hike the world-famous Great Wall of China and visit Forbidden City, Tian'anmen Square, Temple of Heaven, Beijing Hutongs and other landmark to capture Chinese imperial culture and history in Beijing. High speed train from Beijing to Xian only needs 4.5 hours. In , you can spend 2 days visiting the Terracotta Army, walking on the Ancient City Wall, sampling diverse local snacks in Muslim Quarter, watching a Tang Dynasty show, etc.
Next, take 1.5 hours' high speed train from Xian to Luoyang, use 1 day to visit Longmen Grottoes China's biggest Buddhist cave with thousands of Buddhist statues of Northern Wei, Sui and Tang Dynasties and White Horse Temple - the oldest Buddhist temple in China. And then, you can spend 1 day visiting Shaolin Temple in Dengfeng, Zhengzhou. In this holy birthplace of Chinese Kung Fu, you will see gorgeous Buddhist architectures, watch a Shaolin Kung Fu show and even join in a short Kung Fu class to learn some basic styles. Later, get back to Zhenzghou to catch a flight to Shanghai. Leave 2 days for Shanghai to visit the Bund, Shanghai Museum, Yuyuan Bazzar, Shanghai World Financial Center and other top sites in Shanghia to fully feel the dynamic modernization of Shanghai.
✔ 10 Days China Culture Tour plus Shaolin Kung Fu Experience
✔ 12 Days Unforgettable Kung Fu Panda Tour
If you like, you can extend your Kung Fu trip longer to the real "Kung Fu Panda" in Chengdu, and discovery Datong, Pingyao Ancient City and more wonderful destinations in China.
✔ 11 Days China World Heritage Tour in North China
✔ 12 Days Historical China Tour with Train Experience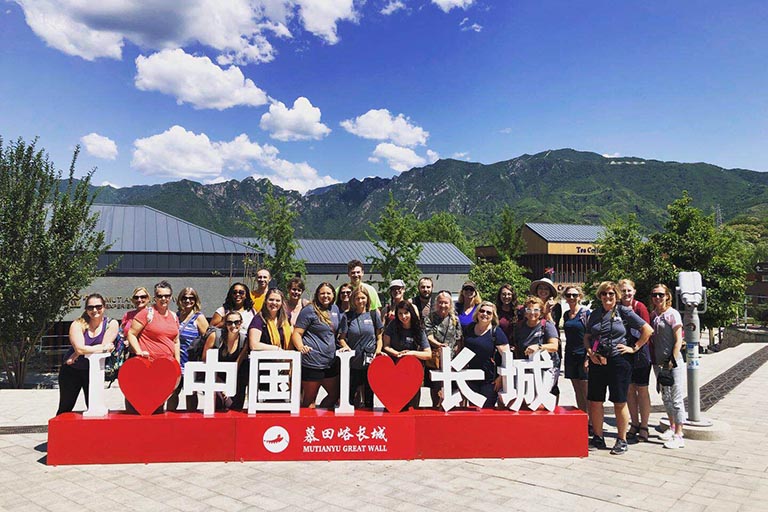 Our American Group Tourists Visited Mutianyu Great Wall in Beijing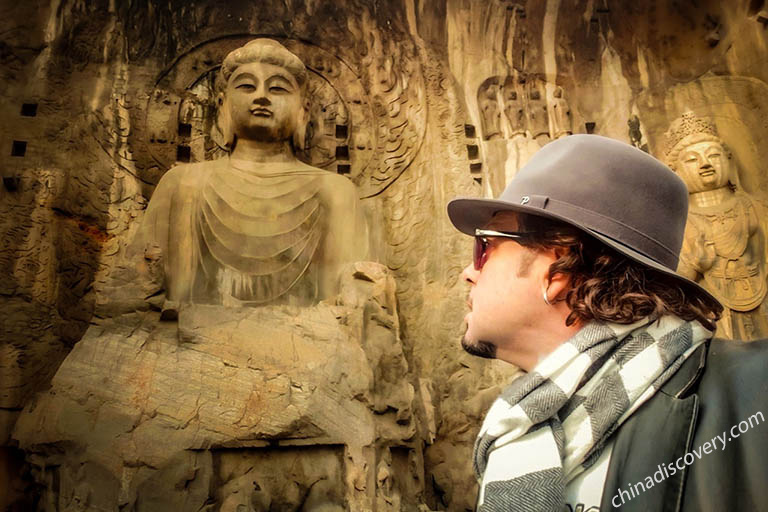 Our Italian Client Enjoyed His Luoyang Longmen Grottoes Tour
Customized Shaolin Temple Tour with China Discovery
Travel Shanghai & Zhengzhou with China Discovery
China Discovery is an experienced, professional and reliable travel companion devoted to offering high-quality and the best tour services for all travelers to China. In order to have a hassle-free travel and focus on the trip itself, it's highly recommended travelling with China Discovery. You can select from our most popular Zhengzhou tours, or contact our travel consultant to customize a special one based on your requirements. So, you can enjoy convenient airport pick-up and drop-off service and transportation to all scenic spots in a safe, clean, comfortable, air-conditioned and non-smoking vehicle. Also, we will arrange knowledgeable local tour guide, excellent accommodation and dining arrangements to ensure you rest well and get better understanding of Buddhism, Shaolin Zen and Kung Fu culture of Henan.
Helpful Zhengzhou Travel Guide
Recommended Zhengzhou Tours
Top 3 Zhengzhou tours chosen by most customers to explore Zhengzhou in the best way. Check the detailed itinerary, or tailor your own trip now with us.
2 Days Shaolin Temple Tour from Zhengzhou

Zhengzhou / Dengfeng / Shaolin Temple / Zhengzhou
3 Days Shaolin Temple Longmen Grottoes Tour from Zhengzhou

Zhengzhou / Shaolin Temple / Luoyang
6 Days Henan Highlights Tour

Zhengzhou / Anyang / Kaifeng / Dengfeng / Luoyang
Start planning your tailor-made holiday to China by contacting one of our specialists. Once inquired, you'll get a response within 0.5~23.5 hours.
Customize a Trip
Have a question? Get answers from our travel experts or guests
Your Question:

Your Name:

Your Email: