Get from Shanghai to Shaoxing by Bullet Train, Car 2021
Shanghai, a "Magic City" and "the Oriental Paris" whose attractions fascinate millions of tourists each year, is always being used as the first stop for most first-time foreign travelers in China. After spending 2-3 days in Shanghai, you can continue your tour to Zhejiang province. Among all destinations in Zhejiang, Shaoxing is the city with the strongest Humanistic Atmosphere. Moreover, the flying high speed trains running from Shanghai to Shaoxing will all pass "the paradise on earth" Hangzhou, therefore you can tour these three popular cities together and witness the prosperity and sightseeing along this charming area.
There are two common used ways to get from Shanghai to Shaoxing, by car or high speed rail. Continue to read the following passages to get more detailed information about Shanghai Shaoxing transportation and plan your Shanghai, Shaoxing, Zhejiang tour in 2021.
How Far is Shanghai to Shaoxing? - Distance from Shanghai to Shaoxing
Shanghai to Shaoxing Distance: The distance between Shanghai and Ningbo is about 200 km, takes about 2.5-3 hours by car and 1 hour 10 minutes - 1 hour 50 minutes by high speed train.
Shanghai Location: Shanghai the biggest city of China, is located in Yangtze River Delta, east China, facing East Sea to the east and bordering Jiangsu Province to the north and Zhejiang Province to the southwest.
Shaoxing Location: Shaoxing is located in north-central Zhejiang Province, eastern China, with Ningbo City (110km away) in the east, Hangzhou City (60km away) in the west and Jiaxing City across the Qiantang River in the north. It is an important city in the Yangtze River Delta city cluster.
Shanghai Shaoxing High Speed Rail Map
Option 1: Travel Shanghai & Shaoxing with China Discovery
As an experienced, professional, and reliable travel agency in China, China Discovery offers convenient and efficient transfer for all visitors to China, including intercity transportation from Shanghai to Shaoxing, Shaoxing to Shanghai. We can pick you up at the airport, train station, or from your hotel, and attractions in Shanghai/Shaoxing and escort you to your next stop directly by a safe, licensed, clean and comfortable vehicle. So you can save lots of time, rest well on the way and focus on the trip itself. Travelling with China Discovery, you will enjoy a transfer worry-free Shanghai Shaoxing tour and get a better travel experience. Besides, you can also extend your tour to Ningbo and Putuo Mountain in Zhejiang east coast. Start your Shanghai Shaoxing tour by contacting us here >>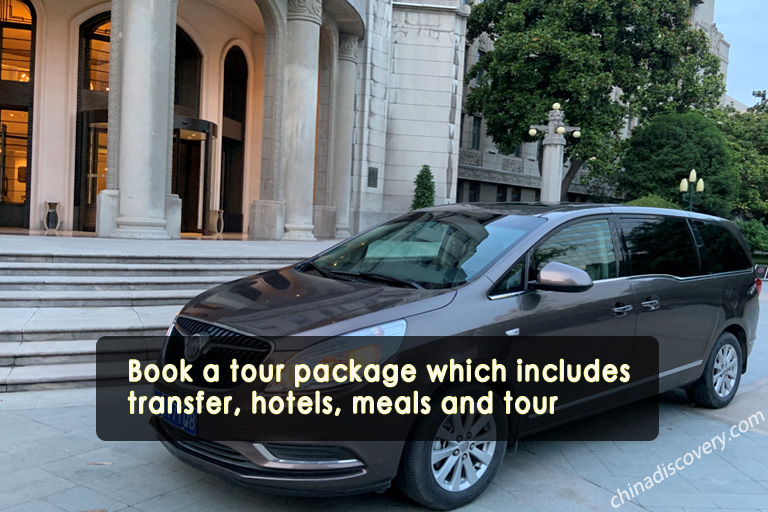 Travel Shanghai Shaoxing With China Discovery
Option 2: Shanghai to Shaoxing by High Speed Train - Top Recommended
● Frequency: around 25 high speed trains per day
● Train Time: 1 hour 10 minutes ~ 1 hour 50 minutes
● From & To: Shanghai Hongqiao 上海虹桥站 → Shaoxing North 绍兴北站
High-speed train travel is the most popular way for independent travelers to get from Shanghai to Shaoxing/Shaoxing to Shanghai. The fastest run only takes 1 hour and 10 minutes. All trains running between Shanghai and Ningbo would pass Hangzhou city, some may also stop at Jiaxing, Haining, Yuyao and Tongxiang, etc.
Every day, there are nearly 25 D and G high speed trains running between Shanghai and Ningbo from 05:50 ~ 20:35. More detailed information about the real-time train schedule between Shaoxing and Shanghai, please check:
>> Shaoxing to Shanghai Real-time Train Schedule
Shanghai Hongqiao Railway Station (上海虹桥站)
Location: No. 1500, Mingui Road, Minhang District. (上海市闵行区申贵路1500号)

Shanghai Hongqiao Railway Station is the main high speed railway station in Shanghai. Close to Shanghai Hongqiao International Airport, it can be reached easily by Maglev Train, metro Line 2, metro Line 10, taxi and public bus. Shanghai Hongqiao Railway Station is about 20 km away from the city center, which takes 30 minutes by car/taxi and 40-50 minutes by metro. Shanghai Hongqiao Railway Station, honored as one of the greatest transportation junctions in Shanghai, offers high speed trains to major tourist cities, such as Beijing, Xian, Huangshan, Hangzhou, Suzhou and Nanjing, etc.
Shaoxing North Railway Station (绍兴北站)
Location: The intersectional parts of No.1 Road and Qiantaoao Highway, Yuecheng District, Shaoxing City (绍兴市越城区钱陶公路与一号路交汇处)

Shaoxing North Railway Station is about 15km north from Lu Xun's Hometown (Shaoxing City Center), which takes 50 minutes by car and about 1 hour by BRT Line 1. North Railway Station is the high-speed train station in Shaoxing, which has many daily trains from Shanghai, Beijing, Hangzhou, Guangzhou, Nanjing, Xiamen, Ningbo, Wuhan, Changsha, etc.
More Useful Links:
Shanghai Transportation | Shanghai Train Stations | Shanghai High Speed Train >>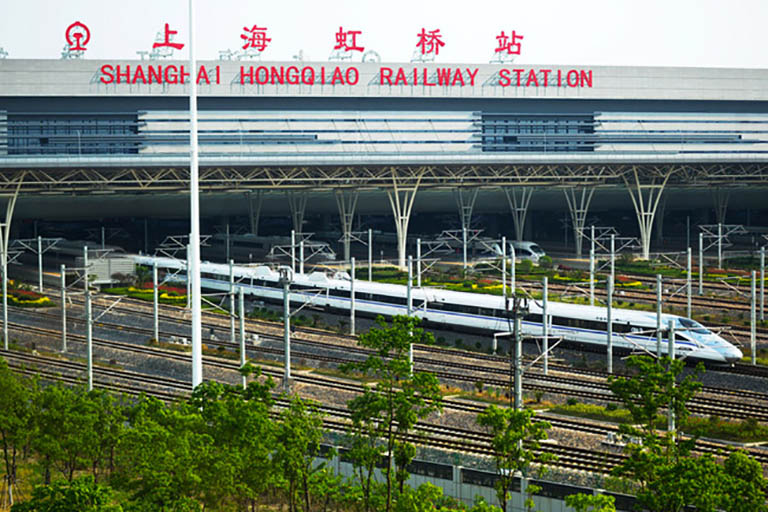 Shanghai Hongqiao Railway Station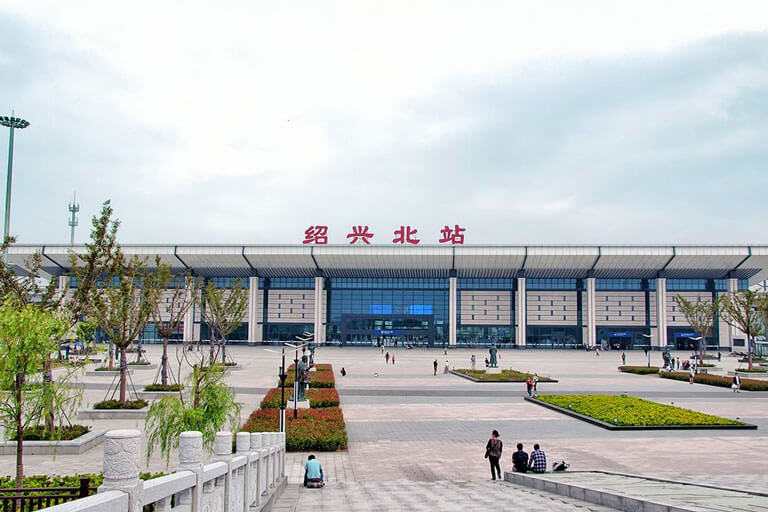 Shaoxing North Railway Station
Referential Currency: RMB=1USD
Train No.
Departure / Train Staiton
Duration
Seat Type / USD Price / Availability
Note: Train information is subject to final confirmation due to the delay of data occasionally.
China Train Travel Tips
Class of Ticket
You can usually choose from the First Class Seat, the Second Class Seat or Business Class Seat on the high speed trains. While, there are three types offered on the normal train, including Soft Sleeper, Hard Sleeper and Hard Seat. learn more >>
Book, Collect, Alter and Cancel
Foreign tourists can book train ticket online or via a ticket agency, or buy the tickets physically at the train station with your valid passport. Train ticket alteration and cancellation are only available at ticket counters. learn more >>
Board & Get off
1) Prepare your passport and China Visa; 2) Get to the right train station at least 30 mins in advance; 3) Collect your train ticket; 4) Read your train ticket; 5) Pass the security control; 6) Pass through Security & Luggage Checks; 7) Find the right waiting room; 8) Cross the ticket checking gate; 9) Get to the right platform; 10) Get on your train. learn more >>
Baggage Allowance
Passengers don't need to check luggage separately. Each passenger is allowed to carry luggage in certain weight and volume, but without limitation of amount and types. learn more >>
Facilities and Service
All high speed trains in China are equipped with advanced facilities and good service, including luggage racks, air-conditioner, power socket, dining car, hot water, etc. learn more >>
How to Get around & Highlights in Shanghai and Shaoxing
Get around Shanghai and Shaoxing
Shanghai and Shaoxing are both hot tourist destinations in east China. Both cities have well-established public transportation systems. You can take taxis and public buses to travel around two cities. Besides, Shanghai also has a fast and convenient metro transportation system prepared for independent travelers. However, in order to save you from troublesome traffic transfers and plans, you can also choose to book personalized tour packages with licensed private cars and professional English-speaking guide services with us. Let us take care of every detail and you can focus more on the highlights in each destination.
Why Visit Shaoxing? Attractions & Highlights in Shaoxing
Shaoxing, is the hometown of the Chinese literary giant Lu Xun. The complex homeland love knot can be seen everywhere, from the Baicao Garden to the Sanwei Study Room, from Kong Yiji's fennel beans to the Shaoxing opera. Shaoxing is a city where you can experience the strongest humanistic atmosphere in Zhejiang.
With over 2500 years rich history, besides the Luxun Native Place and Shen Garden are must-go attractions in Shaoxing, there are many historical streets and blocks worthwhile for visiting, such as Cangqiao Street and Yuezucheng Block, etc. As the hometown of many historical figures, Shaoxing is also prosperous in culture, taking a black-awning boat and enjoying the melodious Yue Opera, experiencing local customs by living one night at Shaoxing's typical old residence - "Taimen", finding a local restaurant and ordering a dish of fennel beans with a bow of yellow wine to end your one day culture exploration in Shaoxing.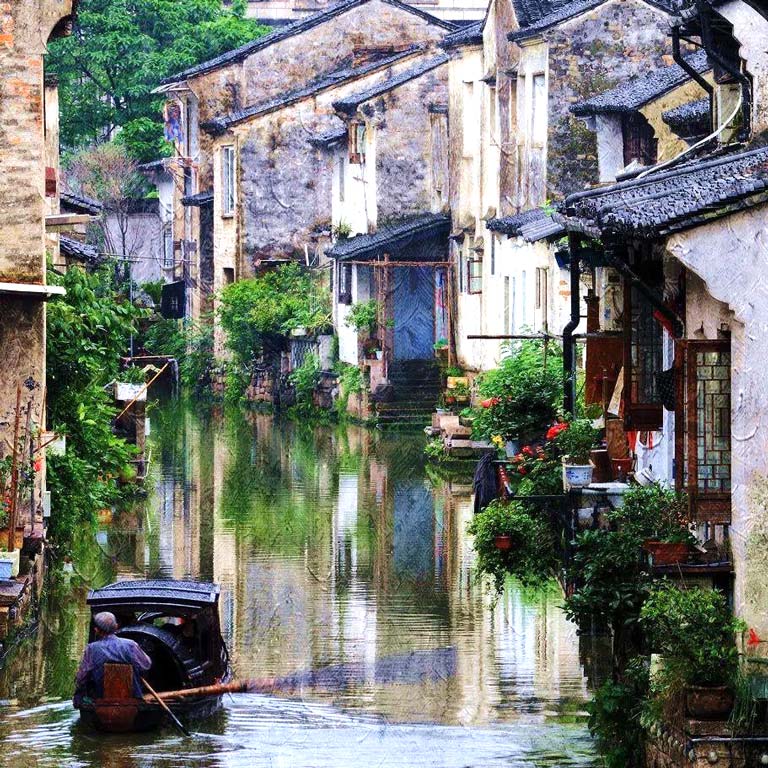 Shaoxing Cangqiao Street Block
• Unmissable Attractions in Shaoxing: Luxun Native Place, Shen Garden, Shaoxing East Lake, Orchid Pavilion, Bazi Bridge, Qingteng Study Room, Anchang Ancient Town, Kuaijishan etc.
• Hottest Zhejiang Tour: ✔ 6 Days Zhejiang Highlights Tour from Hangzhou
Why Visit Shanghai? Attractions & Highlights in Shanghai
Shanghai, known as the Paris of the East, is a gateway city to visit China. Perfect cultural fusion of the West and East, the traditional and modern are the best city highlights fully embodied its diversity and unique charms.
Shanghai is modern and untamed, but it is also traditional and exotic with Yu Garden and The Bund as its proofs. It's anything you want it to be. You can spend your morning browsing Nanjing Road, your afternoon catching stunning city views from the top of the Observation Deck on the Oriental Pearl Tower, and the night cruising on the dazzling Huangpu River. Or, if you're a museum-goer or an art lover, you can admire the various collections and striking works on display at Shanghai Museum and Tianzifang. Besides, there are also many amusement destinations which are suitable for family tour, such as Zhujiajiao Water Town, Shanghai Disneyland, etc.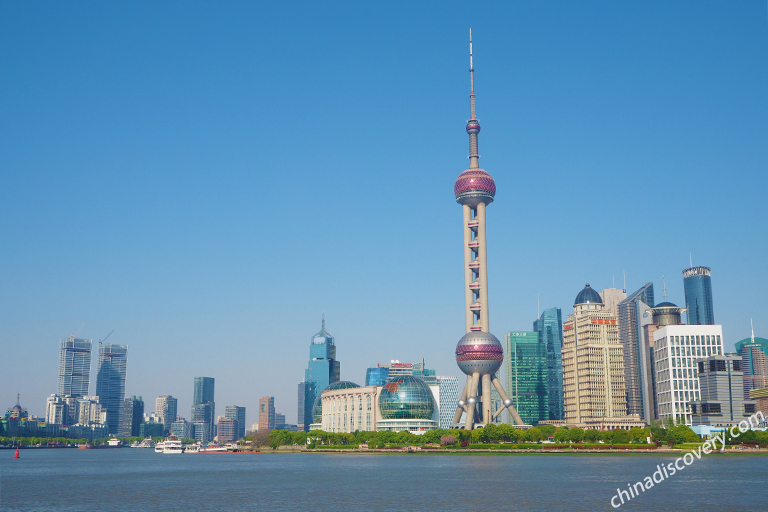 Oriental Pearl TV Tower in Shanghai
How to Plan a Zhejiang Tour
Places to Visit in Zhejiang: Hangzhou, Putuoshan, Wuzhen, Ningbo, Anji, Moganshan...
How to Get to Zhejiang: International flights to Hangzhou or Ningbo, domestic flights to Hangzhou, Ningbo, high speed trains to Hangzhou, Ningbo, Jiaxing, Yiwu, Wenzhou, etc., or ferry to Ningbo, Zhoushan, Putuoshan, etc.
Best Time to Visit Zhejiang: all year around
Zhejiang Province abundant with amazing lakes, water towns, mountains, temples, islands, rivers, etc. making it an ideal tourist destination like a poetic painting! Usually, Hangzhou, Putuoshan, Ningbo and the elegant water towns in Jiaxing like Wuzhen and Xitang are the most popular places to visit in Zhejiang, and it takes about 5~7 day to savor all those highlights. A 3-4 days Hangzhou & Wuzhen tour is very popular. Also, some visitors also spend 1~2 days to other attractive places like Huzhou with refreshing Moganshan resort and Anji adventure, Zhoushan with beautiful islets, Yiwu - Yiwu International Trading Market and Hengdian as Hollywood in China, Shaoxing - Lu Xun's Hometown, etc.
☛ 3 Days Best Hangzhou Tour with Wuzhen Water Town
☛ 6 Days Zhejiang Highlights Tour from Hangzhou
☛ 2 Days Putuoshan Buddhism Tour
As Zhejiang is very close to Shanghai, Suzhou and Huangshan, plenty of visitors prefer a richer extension trip to those destinations before or after Zhejiang discovery. And the 5 Days Shanghai Hangzhou Suzhou Tour is the favorite one for international travelers!
☛ 5 Days Shanghai Hangzhou Suzhou Highlights Tour
☛ 9 Days East China & Mt. Huang Tour by High Speed Train
If time allows, we also highly recommend you extend your Zhejiang tour to more wonderful destinations in China to savor more highlights in one go, like Beijing, Xian, Guilin, Chengdu, Yangtze River, Zhangjiajie, etc. If you have any idea or other places to visit, please feel free to contact us to help plan or customize your personal Zhejiang Tour in 2021/2022!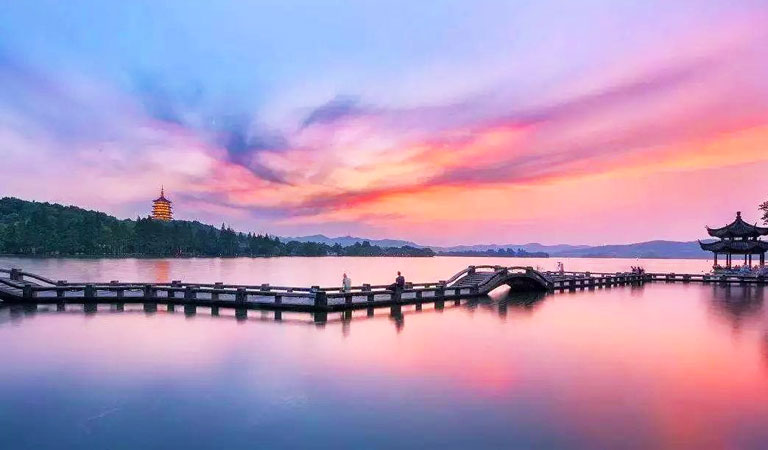 Hangzhou West Lake
Mount Putuo (Putuoshan)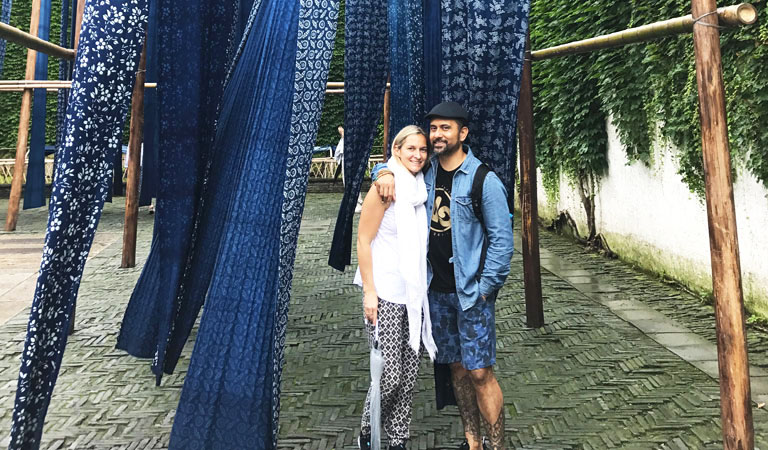 Our Customer at Wuzhen Water Town in 2017
Get Inspired by Real Travel Stories of Our Customers
China Discovery have helped numerous customers to visit Zhejiang and other destinations nearby and in China for decades. With our all-inclusive private tour packages, they enjoyed their trips to visit West Lake, Lingyin Temple, Putuoshan, Wuzhen, etc. Some of them kindly shared their precious photos and stories about their Zhejiang journey, just get inspired now.
"This last night in Hangzhou led us to explore a different side of West Lake, vastly changing our erstwhile bland impression of the famed tourist site…" - shared by CS from Singapore (Read her entire travel story: Delightful Journey to Poetic Jiangnan Area)
Feel interested about such a worry-free Zhejiang tour? Please feel free to contact us and our professional travel consultants are always here ready to help!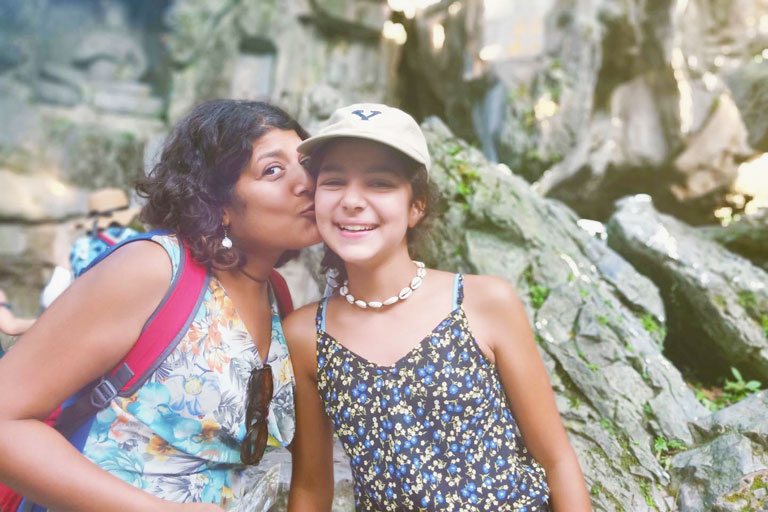 Our Customers Visiting Hangzhou Feilai Peak in 2019
Recommended Shanghai Shaoxing Tours
Top 3 Shanghai Shaoxing tours chosen by most customers to explore Shanghai Shaoxing in the best way. Check the detailed itinerary, or tailor your own trip now with us.
Start planning your tailor-made holiday to China by contacting one of our specialists. Once enquired, you'll get a response within 0.5~23.5 hours.
Customize a Trip
Have a question? Get answers from our travel experts or guests
Your Question:

Your Name:

Your Email: