High-speed train travel is the most popular way for independent travelers to get from Shanghai to Ningbo/Ningbo to Shanghai. The fastest run only takes 1 hour and 40 minutes. All trains running between Shanghai and Ningbo would pass Hangzhou city, some may also stop at Shaoxing, Jiaxing, Yuyao and Tongxiang, etc.
Every day, there are nearly 50 D and G high speed trains running between Shanghai and Ningbo from 06:00 ~ 20:30. More detailed information about the real-time train schedule between Ningbo and Shanghai, please check:
Shanghai Hongqiao Railway Station (上海虹桥站)
Location: No. 1500, Mingui Road, Minhang District. (上海市闵行区申贵路1500号)

Shanghai Hongqiao Railway Station is the main high speed railway station in Shanghai. Close to Shanghai Hongqiao International Airport, it can be reached easily by Maglev Train, metro Line 2, metro Line 10, taxi and public bus. Shanghai Hongqiao Railway Station, honored as one of the greatest transportation junctions in Shanghai, offers high speed trains to major tourist cities, such as Beijing, Xian, Huangshan, Hangzhou, Suzhou and Nanjing, etc.
Ningbo Railway Station (宁波站)
Location: No. 19, East Road of Railway Station South, Haishu District, Ningbo (宁波市海曙区南站东路19号)

Ningbo Railway Station is located in the center of the city, close to major city attractions, like Tianyi Pavilion & Yuehu Park Scenic Area and Ningbo Drum Tower, etc. It's only 2km away from Ningbo City Center - Tianyi Square, less than 1 km away from Tianyi Pavilion and 12km away from Ningbo Lishe International Airport. Except from the taxi, travelers have fast and efficient subways (Metro Line 2 and Line 4) to transfer between the station and airport, and else downtown scenic spots. Nowadays, Ningbo Railway Station is only one railway station for passengers. Besides trains from Shanghai, there are also frequently-operated high speed trains to Ningbo from Hangzhou, Nanjing, Fuzhou, Xiamen, Beijing, Changshan, Shenzhen, etc.
More Useful Links:
Shanghai Transportation | Shanghai Train Stations | Shanghai High Speed Train >>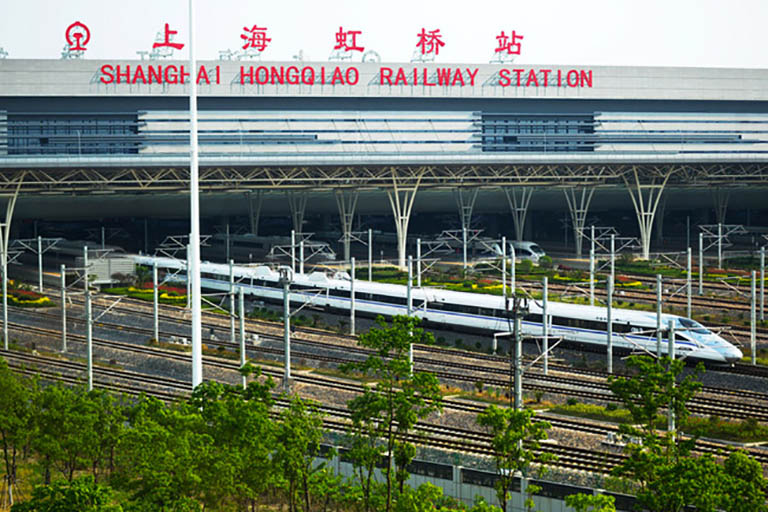 Shanghai Hongqiao Railway Station
High Speed Train to Ningbo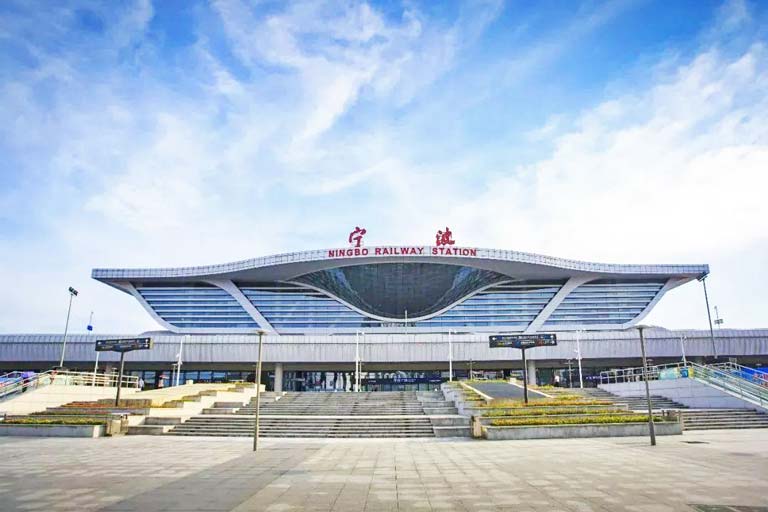 Ningbo Railway Station
China Train Travel Tips
Class of Ticket
You can usually choose from the First Class Seat, the Second Class Seat or Business Class Seat on the high speed trains. While, there are three types offered on the normal train, including Soft Sleeper, Hard Sleeper and Hard Seat. learn more >>
Book, Collect, Alter and Cancel
Foreign tourists can book train ticket online or via a ticket agency, or buy the tickets physically at the train station with your valid passport. Train ticket alteration and cancellation are only available at ticket counters. learn more >>
Board & Get off
1) Prepare your passport and China Visa; 2) Get to the right train station at least 30 mins in advance; 3) Collect your train ticket; 4) Read your train ticket; 5) Pass the security control; 6) Pass through Security & Luggage Checks; 7) Find the right waiting room; 8) Cross the ticket checking gate; 9) Get to the right platform; 10) Get on your train. learn more >>
Baggage Allowance
Passengers don't need to check luggage separately. Each passenger is allowed to carry luggage in certain weight and volume, but without limitation of amount and types. learn more >>
Facilities and Service
All high speed trains in China are equipped with advanced facilities and good service, including luggage racks, air-conditioner, power socket, dining car, hot water, etc. learn more >>
How to Get around & Highlights in Shanghai and Ningbo
Get around Shanghai and Ningbo
Shanghai and Ningbo are both highly developed port city in east China. Therefore, both cities have well-established public transportation systems. You can take taxis, metro and public buses to travel around the city. However, in order to save you from troublesome traffic transfers and plans, you can also choose to book personalized tour packages with licensed private car and professional English-speaking guide services with us. Let us take care of every detail and you can focus more on the highlights in each destination.
Why Visit Ningbo? Attractions & Highlights in Ningbo
Ningbo, located at the meeting point of China's Grand Canal and Maritime Silk Road in the middle of China Eastern Coastal, is the fourth largest port city in the world. It is ot only one of the "five major treaty ports" in modern China, but also has been in close contact with foreign countries since ancient times.
 With over 7000 years rich history, you can trace the ancient Hemudu culture by visiting Hemudu Ruins, honor one of the three oldest private libraries in the world - Tianyi Pavilion, strolling along the Old Bund to experience the coming together of Eastern and Western cultures, seek local snacks in historical streets and blocks, also don't miss those top ranked museums and millenarian temples in the suburb. Moreover, Xikou Town also worth paying a whole day to explore, Mr. Chiang's Former Residence, Xuedou Mountain are highlights in the town.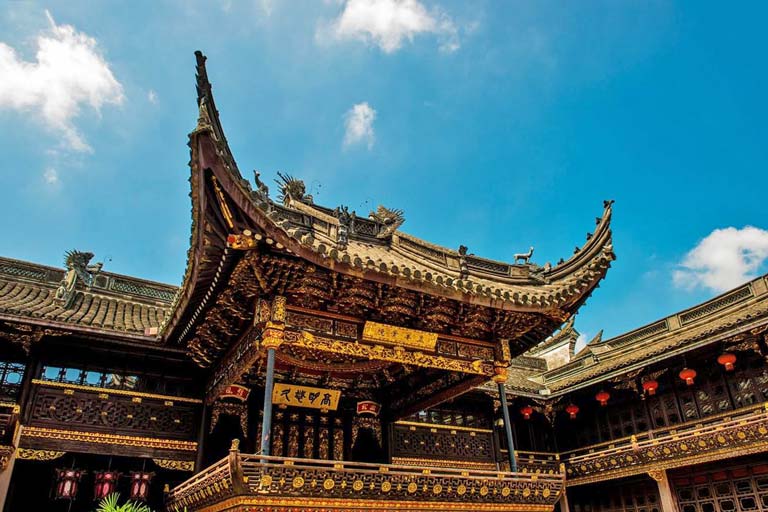 Tianyi Pavilion
Why Visit Shanghai? Attractions & Highlights in Shanghai
Shanghai, known as the Paris of the East, is a gateway city to visit China. Perfect cultural fusion of the West and East, the traditional and modern are the best city highlights fully embodied its diversity and unique charms.
Shanghai is modern and untamed, but it is also traditional and exotic with Yu Garden and The Bund as its proofs. It's anything you want it to be. You can spend your morning browsing Nanjing Road, your afternoon catching stunning city views from the top of the Observation Deck on the Oriental Pearl Tower, and the night cruising on the dazzling Huangpu River. Or, if you're a museum-goer or an art lover, you can admire the various collections and striking works on display at Shanghai Museum and Tianzifang. Besides, there are also many amusement destinations which are suitable for family tour, such as Zhujiajiao Water Town, Shanghai Disneyland, etc.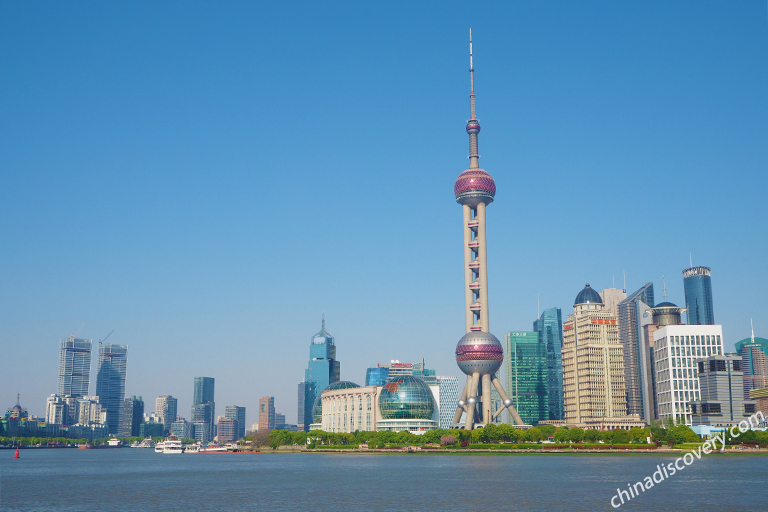 Oriental Pearl TV Tower in Shanghai
How to Plan a Ningbo, Zhejiang Tour?
Things to Do in Ningbo: Tianyi Pavilion, Ningbo Old Bund, Ningbo Museum, Xikou Xuedou Scenic Area, Former Residence of Chiang Kai-shek, Tiantong Temple…
How to Get to Ningbo: International flights from Singapore (6.5 hrs), Tokyo (3 hrs), etc., 2-3 hrs' domestic flights from Guangzhou, Beijing, Chengdu, etc., or high speed trains from Hangzhou (1 hr), Shanghai (2~2.5 hrs), Suzhou (2.5~3.5 hrs), etc.
Best Time to Visit Ningbo: Spring and Autumn
Tourists usually take about 1-2 days to explore Ningbo. The scenic spots in Ningbo downtown are relatively concentrated. You may visit the Tianyi Pavilion, Ningbo Old Bund, Tianyi Square, etc. within 1 day. If you would like to spend more days exploring the suburbs and countryside, you may visit the Former Residence of Chiang Kai-shek and Xuekou Mountain Scenic Area or Tiantong Temple, Asoka Temple and Dongqian Lake.
Ningbo is one of the best transfer places to reach Putuoshan. Most visitors prefer to visit Ningbo and Putuoshan together. It usually takes about 2 days to have a lifetime spiritual pilgrimage in Putuoshan. Then they may extend the "Heaven on Earth" - Hangzhou (2-3 days), the representative Wuzhen Water Town (1-2 days). A classic Zhejiang trip with Hangzhou, Ningbo, Wuzhen and Putuoshan usually takes 6-7 days. Also, you can extend to Anji bamboo forest or Moganshan resort in Huzhou (2-4 days), etc.
☛ 6 Days Zhejiang Highlights Tours from Hangzhou
Besides, compared with just travelling Ningbo, Zhejiang, most visitors prefer to travel to the metropolis Shanghai, Suzhou Gardens, Hangzhou Lakes, Huangshan Mountains more nearby hot cities in One Go! Such an amazing tour will take 7~8 days.
☛ 3 Days Hangzhou & Suzhou Beauty Tour by High Speed Train
☛ 5 Days Shanghai Hangzhou Suzhou Highlights Tour
☛ 5 Days Yellow Mountain Tour from Hangzhou
Have your preferences? Please feel free to tell us your likes and let our professional travel consultants customize a personal tour for you!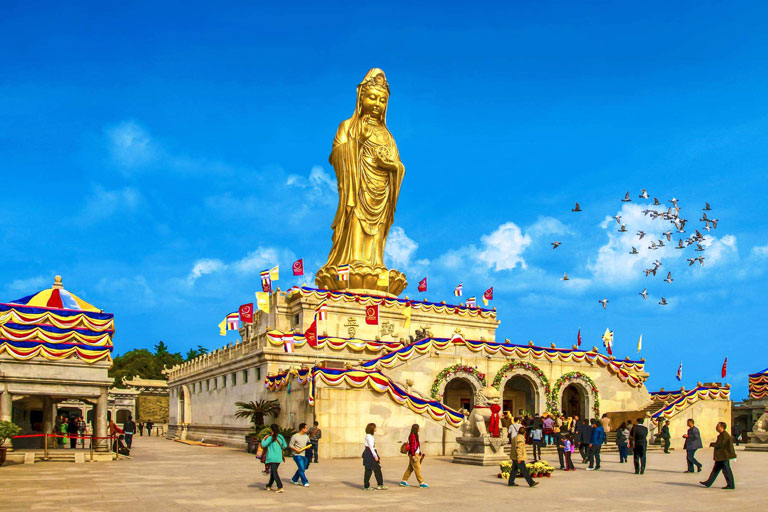 Putuoshan
Our Customers visited Meijia Dock Longjing Tea Plantation, Hangzhou
Travel Ningbo with China Discovery
If you want to get rid of hustle of public transportation, best visiting time and other troublesome tour planning, you can take a private tour package which covers sightseeing, night shows and activities, dining and transfer from us. Our local tour guide and driver will escort you to any destinations with speed and convenience, and take care of all the details. You just need to focus on sightseeing.
If you have more questions about Ningbo and Ningbo tours, please feel free to contact us and our professional travel consultants are here ready to help!