Shanghai to Jiuhuashan (Mount Jiuhua) Trains Schedules, Fares, Railways Stations
As an international transportation hub, Shanghai has sophisticated high speed train network. Jiuhuashan is one of the tourist cities that can be reached by punctual and convenient high speed trains traveling from Shanghai. Currently, there are 11 High Speed G-trains and 2 Normal K-trains traveling from Shanghai to Chizhou (the name of the nearest railway station to Jiuhuashan) every day. The first High Speed Train departs from Shanghai Railway Station at around 5:30 am and the last departs from Shanghai Hongqiao Railway Station at around 5:00pm.
Referential Currency: RMB=1USD
Train No.
Departure / Train Staiton
Duration
Seat Type / USD Price / Availability
Note: Train information is subject to final confirmation due to the delay of data occasionally.
Shanghai Jiuhuashan (Mount Jiuhua) High Speed Train Route
There is no direct and separate High Speed Rail linking Shanghai and Jiuhuashan. The current Shanghai Jiuhuashan High Speed Rail is a significant section on High Speed Rails reaching from Shanghai or Wenzhou to Anqing (安庆). Along the Shanghai Jiuhuashan High Speed Rail, High Speed Trains make stopovers at 8~10 middle stops. Some popular tourist destinations like Suzhou (苏州), Zhenjiang (镇江) and Nanjing (南京) are also settled on the way. For the details, you can check the following typical route as reference:
Shanghai Jiuhuashan (Mount Jiuhua) High Speed Rail Map
Shanghai Railway Station
Location: No. 303, Moling Road, Jing'an District (上海市静安区秣陵路303号 – 上海站)
Shanghai Railway Station is the oldest railway station in Shanghai. It is in convenient transportation location to the city attractions like the Bund (外滩), Shanghai Museum (上海博物馆), Yuyuan Garden (豫园), Nanjing Road, etc. Taxi, public buses, express buses, metro lines have already covered there. Check more about Shanghai Railway Station>
Shanghai Hongqiao Railway Station
Location: No. 1500, Mingui Road, Minhang District. (上海市闵行区申贵路1500号 –上海虹桥站)
Shanghai Honqiao Railway Station is the largest railway station of Shanghai, also the most widely known one. From there by taking the metro line 10, you can get to its nearby Shanghai Hongqiao International Airport (上海虹桥国际机场) within 10 minutes, which is only one stop away from the railway station. The available transportation means of there are taxi, metro line 2, metro line 10, public bus lines, etc. Learn more about Shanghai Hongqiao Railway Station>
Chizhou Railway Station
Location: Yongming Road, Guichi District, Chizhou, Anhui (安徽省池州市贵池区永明路 – 池州站)
Chizhou is the city where Jiuhuashan (Mount Jiuhua) located in. Chizhou Railway Station is about 35 min's driving to the city center of Chizhou. The Jiuhuashan Scenic Area is about 50km away from the Railway Station. Travelers can take tourist shuttle buses, public bus and taxi from the railway station to Jiuhuashan. The shuttle buses make no stop at any middle stations, while the public buses may stop at 7~8 middle stops.
High Speed Train Tips
Class of Ticket
Usually, there are three kinds of tickets are provided on high speed trains, Business Class Seat, First Class Seat and Second Class Seat. Second Class Seat is the most budget level you will share a row space with other passengers. And the First Class of Seat is more comfortable and quiet for those who prefer a good rest on the way. If you would like to try the most luxury and superior train travel experience, the Business Class better than the business level on airplane will shock you beyond expectation. Check All Types of Seats on China High Speed Train>
Book, Collect, Alter and Cancel
Foreign tourists can book train ticket online or ask help from ticket agency, or buy the tickets physically at the train station with your valid passport. One thing you should remember is to book the ticket as early as possible, especially in peak tourist seasons. After collecting the tickets, please read carefully about the train number, departure date and station to make sure you won't miss the train. If you want to cancel, alter your train tickets, you are required to bring your passport to the ticket counter and make the adjustments. Check details about How to Book, Collect, Alter, and Cancel Train Tickets>
Board & Get off
1) Prepare your documents well (valid passport with China Visa); 2) Get to the right train station in advance; 3) Collect train tickets; 4) Read your train ticket; 5) Pass the security control; 6) Pass through Security & Luggage Checks; 7) Find the right waiting room; 8) Cross the ticket checking gate; 9) Get to the right platform; 10) Get on your train. Keep the ticket well, because the ticket will be checked again to leave the station after you get off. Check details about How to Board & Disembark a Train>
Baggage Allowance
China train travel with luggage is much easier than taking flight, for you don't need to check luggage separately. Each passenger with a train ticket is allowed to carry luggage in certain weight and volume, but without limitation of amount and types. Though there are written regulation and rules about the luggage allowance, in practice, passengers can take as much luggage as you can if only you handled them properly. Check detailed Baggage Allowance & Policy to Take China Train>
Facilities and Service
All high speed trains in China are equipped with advanced facilities and good service to make your journey more convenient and comfortable. There are different places you can put your luggage onboard, racks and specialized luggage storage areas. Besides, the air-conditioner train offers you plug under the seats to charge your phone or laptop, sightseeing window to view the outside scenery as well as western-style toilets. There is also available dining area you can get some supplies. Bilingual signs and the broadcast use both Chinese and English so that you don't need to worry about the communication. Check All Facilities & Service on China Train>
How to Plan Your Shanghai Mount Jiuhua Tour
Shanghai is usually the gateway city to Mount Jiuhua. You need at least 2~3 days to explore must-visit sites include the Bund, Yu Garden, Shanghai Museum, Shanghai Towers. Only about 430km away from Mt Jiuhua, it is also not far from another beautiful Buddhist Mountain - Mount Putuo.
✔ 2 Days Classic Shanghai City Tour
✔ 3 Days Shanghai Past and Present Contrast Tour
If you specially visit Mount Jiuhua for Buddhist pilgrimage from Shanghai, Shanghai is a transportation hub where you can easily find a way there and get back convinetely. Traveling by high-speed railway, you will stop over multiple other attractive cities like Suzhou and Nanjing.
On your arrival day in Mount Jiuhua, you can firstly visit the 99-Meter Golden Statue of Ksitigarbha Bodhisattva at the north foothill, near the tourist center. And then take the tourist bus to Jiuhua Street where gathers main temples. You can visit Huangcheng Temple - the oldest temple of Mount Jiuhua, which has changed to the Jiuhuashan Museum of Historic Relics and exhibits thousands of Buddhist treasures. Incarnation Grand Hall enshrining the flesh body of Ksitigarbha Bodhisattva is also a sanctum pilgrim paying homage to. Later, you can visit Zhantanlin Temple, viewing much delicate carved architecture and worshiping giant statues of Thousand Armed and Eyed Avalokitesvara, Three Saints of Hua-yan worshiped, and visit Zhiyuan Temple - the largest temple with the most complete layout on Mount Jiuhua.
✔ 2 Days Mount Jiuhua Buddhism Tour
✔ 2 Days Mount Jiuhua Scenic Hiking Tour
On the second day, you can take a cable car to Longevity Palace where preserves the incarnation of famous Chines monk Haiyu (Wuxia). Take some time to admire the life-like 500 bronze statues of Arhats and view a natural sleeping Buddha from the observation deck. After that, you can ride on a cable car to Heavenly Terrace Peak (Tiantai Peak), visit Ancient Lecture Temple and the highest temple - Tiantai Temple on the summit, enjoy a panoramic view of surrounding forest-covered mountains and follow trail of Ksitigarbha Bodhisattva and many master monks.
✔ 4 Days Mount Jiuhua Buddhism Tour with Shanghai Essence
✔ 5 Days Buddhism Tour to Mount Putuo & Mount Jiuhua from Shanghai
If you're also a traveler fascinated by natures and haven't visited Mount Huangshan, then you can use several hours (within half-day) to visit the Flower Terrace Scenic Area, a charming place for seeing the peculiarly-shaped rocky peaks, lush pine trees, fresh air. The highlighting experience is walking through the Hanging Plank Road stretching along the cliff and overlooking spots under the mountain.
✔ 5 Days Huangshan Tour & Buddhist Pilgrimage to Mount Jiuhua
✔ 6 Days Shanghai Mount Jiuhua & Huangshan Tour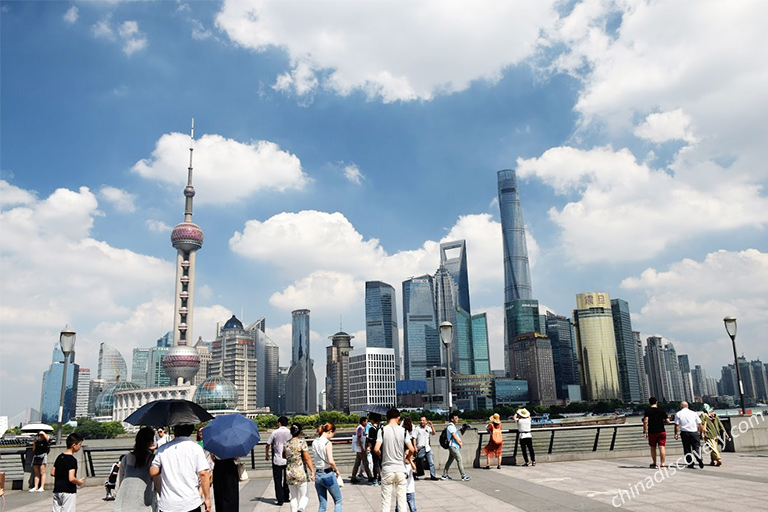 Customers' Photo before the Bund in Shanghai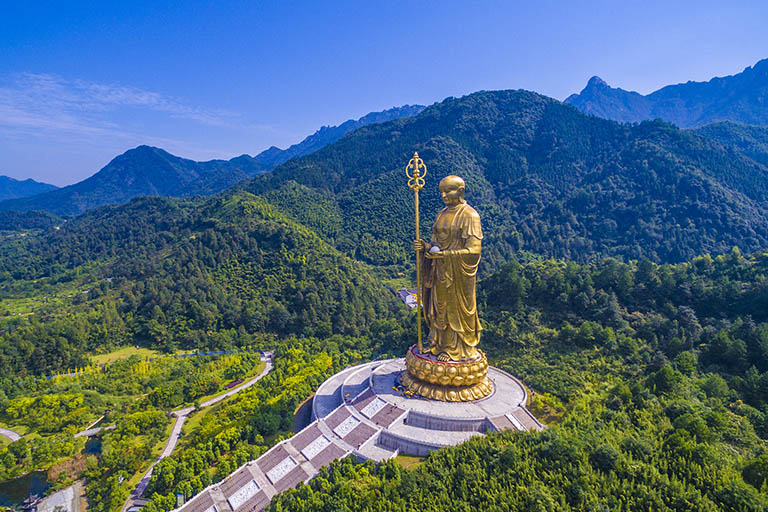 99-Meter Ksitigarbha Bodhisattva Statue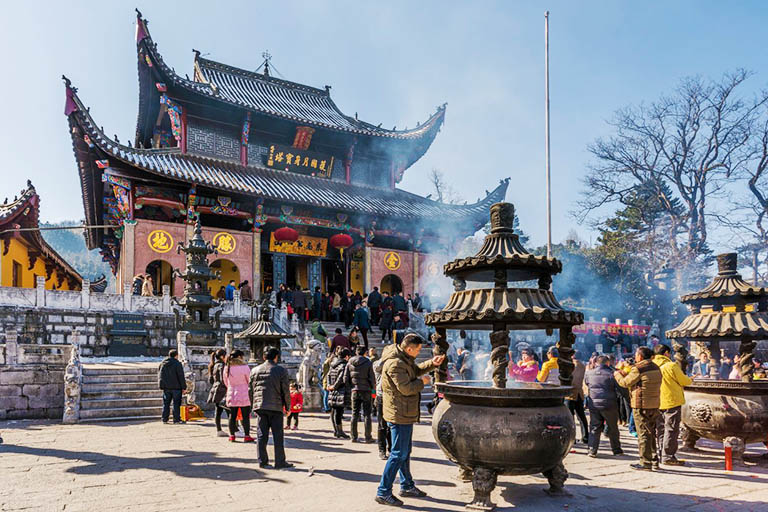 Pilgrims in Incarnation Grand Hall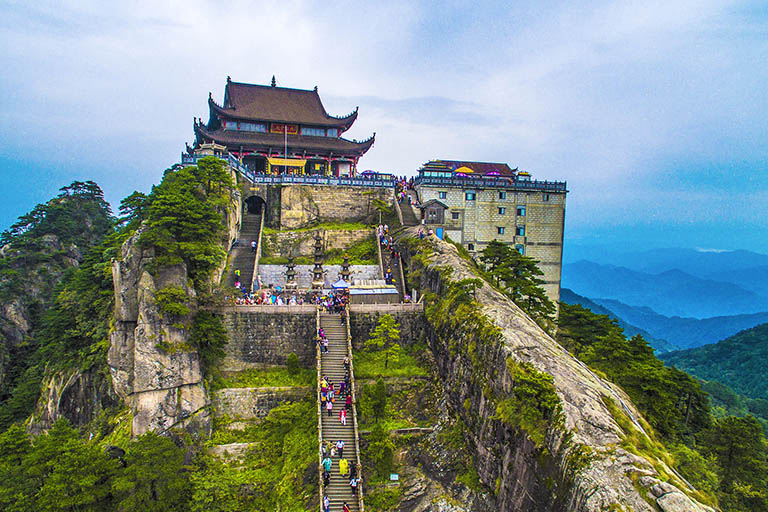 Tiantai Temple on Heavenly Terrace Peak
Travel with China Discovery
China Discovery is an experienced, professional and reliable travel companion devoted to offering high-quality and the best tour services for all travelers to China. In order to have a hassle-free travel and focus on the trip itself, it's highly recommended travelling with China Discovery. So, you can enjoy convenient airport pick-up and drop-off service and transportation to all scenic spots in a safe, clean, comfortable, air-conditioned and non-smoking vehicle. Also, we will arrange knowledgeable local tour guide, excellent accommodation and dining arrangements to ensure you rest well and get better understanding of Buddhist of Mount Jiuhua. You may select a favorite from our most popular Mount Jiuhua tours or contact us to design a unique itinerary according to your personal time and preference.
Mount Jiuhua Travel Guide
Extension Readings of High Speed Train Travel in China
Recommended Chizhou Jiuhuashan Tours
Top 3 Chizhou Jiuhuashan tours chosen by most customers to explore Chizhou Jiuhuashan in the best way. Check the detailed itinerary, or tailor your own trip now with us.
2 Days Mount Jiuhua Buddhism Tour

Mount Jiuhua
2 Days Mount Jiuhua Scenic Hiking Tour

Mount Jiuhua
6 Days China Mountains Tour with Classic Shanghai

Shanghai / Jiuhuashan / Huangshan
Start planning your tailor-made holiday to China by contacting one of our specialists. Once inquired, you'll get a response within 0.5~23.5 hours.
Customize a Trip
Have a question? Get answers from our travel experts or guests
Your Question:

Your Name:

Your Email: