Shanghai to Beijing Train Schedules, Tickets and Stations
With the first Fuxing Train of China  (the up-to-date high-speed train series) got the real trial between Beijing and Shanghai in 2017, tourists travel between the two cities by high-speed train can enjoy a much higher running speed, most advanced facilities, and service and convenience. Imagine that you are in Shanghai in the morning, and then you have a fast and amazing train journey on the newest high-speed train and set foot in Beijing within several hours, where you can take a hike of Great Wall, ride a bike in Beijing Hutong, wonder in the Forbidden City, how awesome that would be.
Totally, Shanghai operates about 43 return trains to Beijing every day, the same amount of trains in opposite direction,and most of them are high speed trains (G trains & few D trains) and 3 normal slow trains (T & Z trains). Compared to the 15 hours ~ 16 hours' travel time for slow overnight trains, high-speed trains only runs 4.5 hours ~ 6.5 hours for G trains and 12 hours for D trains, and finally, all reach Beijing South Railway Station. In the morning, the first high speeds traindeparts from Shanghai Hongqiao Railway Station at around 06:30 and arrives in Beijing South Railway Station about 6 hours later. The latest high-speed G train departs at 19:00 and arrives at around 23:30 with the shortest duration of 4.5 hours.
Referential Currency: RMB=1USD
Train No.
Departure / Train Staiton
Duration
Seat Type / USD Price / Availability
Note: Train information is subject to final confirmation due to the delay of data occasionally.
Shanghai Beijing High Speed Train Route
The Beijing Shanghai High-Speed Rail, starting working in 2011, has delivered more than 600 million of passengers, about twice of the total population of America. With the length of 1874km, this route starts from Shanghai, goes northward, mainly makes stops at Suzhou North (苏州北), Nanjing South (南京南), Jinan West (济南西) and more cities and ultimately gets to Beijing South Railway Station by crossing 7 provinces in all. By taking high-speed trains on this rail, you can also travel to Suzhou from Shanghai for about 25 mins' driving.
Shanghai Hongqiao Railway Station (上海虹桥站)
Location: No.1500, Shengui Road, Minhang District, West Shanghai (上海市闵行区申贵路1500号)
Shanghai Hongqiao Railway Station is the most important and largest high-speed train station in Eastern China, whose total area is equal to 3 times that of Tiananmen Square. It lies to the west of Shanghai Hongqiao Airport, about 40 mins' driving to Shanghai Museum and 45 mins' driving to Yuyuan Garden. Every day, about 550 high-speed trains are departing from here and reaching Xian, Chengdu, Chongqing, Hangzhou, Lanzhou, Nanjing, Guiyang, etc. If you want to get to the station from Hongqiao Airport, you can take Metro Line 10 to Terminal 1and walk a few minutes to Terminal 2. And taking a taxi is a good choice for passengers from Pudong Airport. If you prefer to experience local traffic, Metro Line 2 & Line 10 that are connected with the train station offers great convenience to transfer.
Shanghai Railway Station (上海站)
Location: No.303, Moling Road, Jingan District, North Shanghai (上海市静安区秣陵路303号)
Shanghai Railway Station is one of the major train stations of Shanghai, both serving 170 high-speed trains (G & D trains)and 53 normal (K, T, Z trains) every day. The station is located about 15 mins' driving to Shanghai Museum, 30 mins' driving to Shanghai Hongqiao Airport, and 1 hour to Shanghai Pudong Airport. From here, you can take Metro Line 1, Line 3, and Line 4 to transfer to downtown or other places in Shanghai or get to the Pudong Airport by airport bus. Learn more about Shanghai Railway Station >
★Popular Shanghai Tours: 2 Days Classic Shanghai City Tour
3 Days Shanghai Past and Present Contrast Tour
Beijing South Railway Station (北京南站)
Location: No.12 Yongwai Avenue, Fengtai District, South Beijing (北京市丰台区永外大街12号)
Located about 1 hours' driving from Beijing Capital International Airport and 25 mins' driving from Tiananmen Square, Beijing South Railway Station is the biggest high speed train station of Beijing, handling nearly 400 high-speed trains throughout the country. You can get to the station by taxi directly, take the airport bus from the Capital Airport, or transfer to Metro Line 4 or Line 14 from downtown areas. Apart from Beijing-Shanghai high-speed train, the station is also the departure station of Beijing-Tianjin Intercity High Speed Train, Beijing-Hangzhou High Speed Train, and Beijing-Xiamen High Speed Train and so on. Beijing South Railway Station >
★Popular Beijing Tours: 3 Days Beijing Essential Short Stay Tour
4 Days Classic Beijing Tour Package
China Train Travel Tips
Class of Ticket
You can usually choose from the First Class Seat, the Second Class Seat or Business Class Seat on the high speed trains. While, there are three types offered on the normal train, including Soft Sleeper, Hard Sleeper and Hard Seat. learn more >>
Book, Collect, Alter and Cancel
Foreign tourists can book train ticket online or via a ticket agency, or buy the tickets physically at the train station with your valid passport. Train ticket alteration and cancellation are only available at ticket counters. learn more >>
Board & Get off
1) Prepare your passport and China Visa; 2) Get to the right train station at least 30 mins in advance; 3) Collect your train ticket; 4) Read your train ticket; 5) Pass the security control; 6) Pass through Security & Luggage Checks; 7) Find the right waiting room; 8) Cross the ticket checking gate; 9) Get to the right platform; 10) Get on your train. learn more >>
Baggage Allowance
Passengers don't need to check luggage separately. Each passenger is allowed to carry luggage in certain weight and volume, but without limitation of amount and types. learn more >>
Facilities and Service
All high speed trains in China are equipped with advanced facilities and good service, including luggage racks, air-conditioner, power socket, dining car, hot water, etc. learn more >>
How to Plan Your Shanghai Beijing Tour
Known as an important gateway city to China, Shanghai preserves the mixed culture of the western and eastern. The duration and theme of your Shanghai tour can be flexibly arranged based on your time and interests. Usually, tourists spend 2 to 3 days on sightseeing the most famous landmarks in Shanghai, including the Shanghai Museum, Shanghai World Financial Center (WFC) - the highest breathtaking skyline in Lujiazhui, various historical architectures, Yu Garden, City God Temple along the Bund and busy Nanjing Road. Local culture lovers can use one extra day to visit Tianzifang, Zhujiajiao Water Town, while family travelers can have fun in Shanghai Disney Resort. Meanwhile, you can also expedience Maglev Train and energetic nightlife, taste diverse snacks to make your Shanghai tour interesting and memorable.
✔ 2 Days Classic Shanghai City Tour
✔ 3 Days Shanghai Past and Present Contrast Tour
✔ 3 Days Shanghai Highlights & Zhujiajiao Water Town Tour
Travel from Shanghai to Beijing
Beijing and Shanghai are two most popular tourist destinations in China. They are two of the places you must go, if you visit China for the first time, both having diverse things to do, high-quality accommodation, amazing food, featured cultural activities. You can travel either from Beijing to Shanghai or from Shanghai to Beijing. In Shanghai, you can visit the Bund, Shanghai Museum, Yuyuan Garden, etc. While in Beijing, you can spend 2 to 4 days to hike different sections of Great Walls, visit Forbidden City, Temple of Heaven, traditional Hutongs, etc. Meanwhile, you can also experience the local Beijingers' lifestyle, taste diverse Chinese food and snacks to make your Shanghai Beijing tour interesting and memorable.
✔ 7 Days Shanghai Beijing Essence Tour (By High Speed Train)
✔ 6 Days Shanghai Beijing In-depth Tour (by Flight)
Travel Beijing, Shanghai, Xian & More China Destinations
Beijing Xian Shanghai are golden triangle cities often visited together for a week holiday. Besides Beijing and Shanghai, you can use 2 or 3 days to visit the main attractions in Xian including the incredible man-made wonder, the Terracotta Warriors, the Giant Wild Goose Pagoda, the Muslim Quarter, and Xian Ancient City Wall. Or, with more time in Shanghai, you can extend the trip to the nearby cities of Shanghai such as Hangzhou, Suzhou, Huangshan Mountain, and further to Zhangjiajie, Guilin, Chengdu, Yunnan, Silk Road, Tibet and more phenomenal destinations to enrich your China discovery.
✔ 8 Days Best of China Tour
✔ 8 Days Best Shanghai, Xian & Beijing Tour
Travel with China Discovery
As a leading travel agency in China which dedicates to offering high-quality China tours, China Discovery has helped thousands of travelers enjoy their trips to Shanghai, Beijing, Xian, etc., in China. Travel with us, you can enjoy worry-free tour services as well as well-organized itineraries, even our assistance of Chinese Visa application, convenient airport/train station pick-up & drop-off and transfer between all scenic spots, knowledgeable tour guide, safe & licensed private vehicle, satisfactory accommodation and dining and so on. You are free to choose from our most popular Beijing Shanghai tour packages or contact us to design a memorable holiday in China.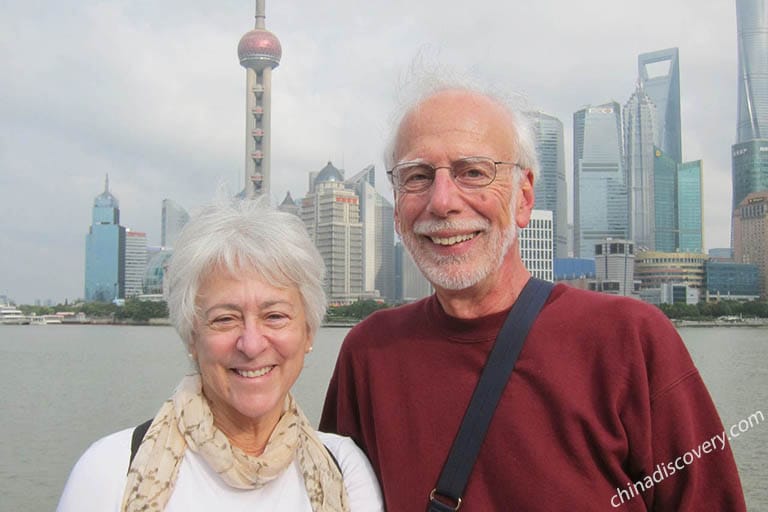 Paul & His Wife Visited the Bund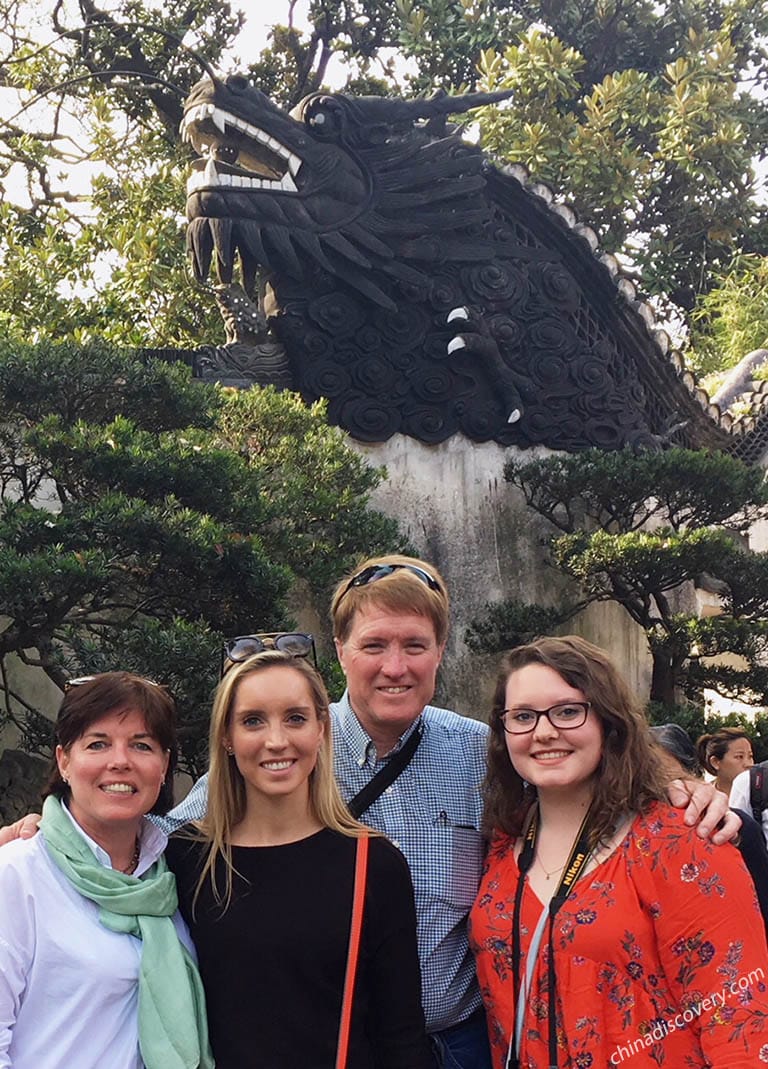 Timothy Family in Yu Garden
Our Tailor-made Group Tour to Mutianyu Great Wall, Beijing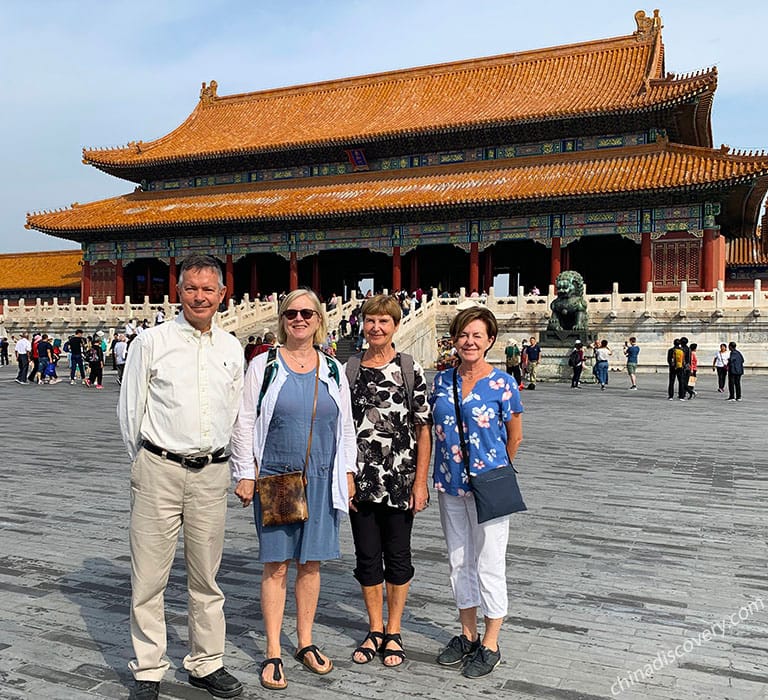 Clients from USA Visited Forbidden City
Beijing Travel Guide
China Train Travel Guide
Recommended Shanghai Beijing Tours
Top 3 Shanghai Beijing tours chosen by most customers to explore Shanghai Beijing in the best way. Check the detailed itinerary, or tailor your own trip now with us.
6 Days Beijing Shanghai Tour by High Speed Train

Beijing / Shanghai
8 Days Beijing Shanghai Essence Tour with Mt. Huangshan Hiking

Beijing / Huangshan / Shanghai
7 Days Shanghai Suzhou Beijing Contrast Tour by High Speed Train

Shanghai / Tongli / Suzhou / Beijing
Start planning your tailor-made holiday to China by contacting one of our specialists. Once inquired, you'll get a response within 0.5~23.5 hours.
Customize a Trip
Have a question? Get answers from our travel experts or guests
Your Question:

Your Name:

Your Email: