How to Get from Pingyao to Beijing | Pingyao to Beijing Train
Located in central Shanxi Province, Pingyao is famous for the most-preserved Pingyao Ancient City which is a UNESCO World Cultural Heritage with over 2,700 years of history. Most travelers like to visit Pingyao between Xian and Beijing, to complete an exploration of ancient China. By seeing the best example of ancient dwellings of Ming and Qing Dynasties in Northern China, you can have a sharp contrast impression between the royal luxury palaces (like the Forbidden City) and ordinary houses of the civilians. A journey of Pingyao and Beijing will give you vivid sights and distinction of feudal society in ancient China.
Check the following transportation guide from Pingyao to Beijing to better plan and enjoy a transfer worry-free journey!
How far is Beijing from Pingyao?
Pingyao Location: Pingyao is a famous cultural county in Jinzhong City, central Shanxi Province. It is located about 500 km from Xian and Luoyang, 400 km from Datong in the north and nearly 300 km from Wutaishan and Hukou Waterfall.
Beijing Location: Serving as the capital of China, Beijing lies in Northern China, bordering Tianjin in the southwest and Hebei Province in other sides. Beijing is situated around 1,100 km northeast of Xian and about 350 km far from Datong.
Pingyao to Beijing Distance: Beijing lies in the northeast of Pingyao, with an estimated driving distance of about 600 km. Taking a fast high speed train within a half day is the most popular way to get from Pingyao to Beijing, since there is no airport located in Pingyao and the overnight sleeper train takes ten hours and above.
Pingyao to Beijing Transportation Map
Option 1: Get from Pingyao to Beijing by High Speed Bullet Train - Most Recommended
● Frequency: 3 high speed bullet trains (G & D trains) per day
● Train Time: about 4 hours - 5 hours
● From & To: Pingyao Ancient City Railway Station (平遥古城站) - Beijing West Railway Station (北京西站)
High speed, punctual arrival, huge convenient and advanced facilities making Pingyao to Beijing high speed train journey quite popular in nowadays. Just 4 hours, you can travel from an ancient county-level city to a spectacular ancient capital, discovering China's different architecture and local history.
Every day, Pingyao sends 3 high speed bullet trains to Beijing from 08:40 - 16:00. Departing from Pingyao Ancient Railway Station, the trains will pass Taiyuan, Shijiazhuang and Shijiazhuang Zhengding International Airport (IATA: SJW) and arrives at Beijing West Railway Station. On the G Train, you can book Business Class Seat, First Class Seat or Second Class Seat, while D trains have two kinds of tickets only - First & Second Class Seat.
Tips: Pingyao Ancient Railway Station is situated about 10 km southwest of Pingyao Ancient City, which takes around 20 minutes by drive.
Top Recommended Pingyao Tours:
✔2 Days Classic Pingyao Tour / 3 Days Pingyao Discovery Tour
Most Popular Beijing Tours:
✔4 Days Classic Beijing Tour Package / 3 Days Best Essential Short Stay Tour
◆ Pingyao Ancient City Railway Station 平遥古城站
Address: Wenjing Avenue, Houji Village, Pingyao County, Jinzhong City, Shanxi Province 山西省晋中市平遥县侯冀村文景大道
Transportation: The Pingyao Ancient City Railway Station (also called Pingyao Gucheng Railway Station) lies farther to Pingyao Ancient City than Pingyao Railway Station. Driving distance to Pingyao Ancient City is about 9 km and just 3 km to Shuanglin Temple, almost 100 km (1.5 hours' ride) from Taiyuan Wusu Airport (the nearest airport). Pingyao City Bus 108 is the special bus running in loop among two train stations in Pingyao, Pingyao Ancient City and Shuanglin Temple.
◆ Beijing West Railway Station 北京西站
Address: No.118, East Lianhuachi Road, Fengtai District, Southerst Beijing (北京市丰台区莲花池东路118号)
Transportation: It is about 10km to Forbidden City, 25 mins by car, 40km to Beijing Capital International Airport, 55km to Beijing Daxing Airport.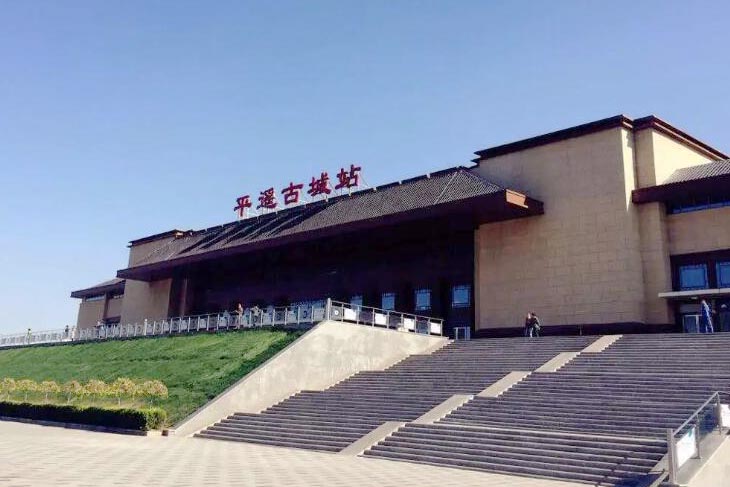 Pingyao Ancient City Railway Station
Pingyao Ancient City Railway Station Location Map (click to enlarge)
Below is the Real-time Pingyao to Beijing High Speed Train Timetable:
Referential Currency: RMB=1USD
Train No.
Departure / Train Staiton
Duration
Seat Type / USD Price / Availability
Note: Train information is subject to final confirmation due to the delay of data occasionally.
Option 2: Get from Pingyao to Beijing by Normal Train
● Frequency: 3 normal trains (K Trains) per day
● Train Time: about 9 ~ 13. hours
● From & To: Pingyao Railway Station (平遥站) - Beijing Railway Station (北京站)
At the same time, there are 3 normal trains running from Pingyao to Beijing on a daily basis. The exact midway stations depend on which train you take, so you may pass Taiyuan,Wutaishan, Shijiazhuang, Zhangjiakou, etc. All the normal trains are overnight sleeper trains leaving Pingyao in the afternoon or evening hours and get to Beijing the next early morning. With a longer train time, you'd better book a Soft Sleeper Berth rather than a Hard Sleeper or Hard Seat ticket. And, the normal train ticket is much cheaper than that of high speed train and you can also save one night accommodation fees by taking the overnight train.
Tips: Pingyao Railway Station is just 1 km close to Pingyao Ancient City. You can walk 15 minutes to get to the station.
◆ Pingyao Railway Station 平遥站
Address: No.14, Zhongdu Road, Pingyao County, Jinzhong City, Shanxi Province 山西省晋中市平遥县中都路14号
Transportation: Pingyao Railway Station is located in the northwest corner of Pingyao Ancient City, within walking distance to the ancient site and just 10 minutes' driving to Shuanglin Temple.
◆ Beijing Railway Station 北京站
Address: No.13, Maojiawan Hutong Jia, Dongcheng District, Southeast Beijing (北京市东城区毛家湾胡同甲13号)
Transportation: It is about about 5km to the Palace Museum/Tiananmen Square.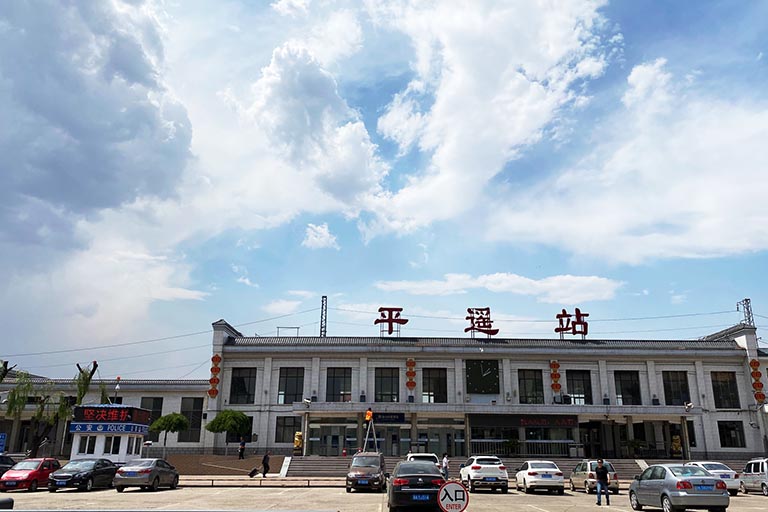 Pingyao Railway Station
Beijing Railway Station
Option 3: Get from Pingyao to Beijing by Flight via Taiyuan
Currently, there is no airport directly serving Pingyao and the nearest airport is Taiyuan Wusu International Airport (TYN). So if you want to get to Beijing from Pingyao by flight, you have to transfer in Taiyuan, which takes more time and money than a 4-hour high speed train. Thus, it's not recommended to travel like this way.
First, drive nearly 100 km, 2 hours from Pingyao to Taiyuan Wusu International Airport.
Second, take a non-stop Taiyuan to Beijing flight from Taiyuan Wusu International Airport to Beijing Capital International Airport (IATA: PEK) or Beijing Daxing International Airport (IATA: PKX)
Note: There are four direct flights scheduled each day, with a short flight time of 1.5 hours only.
How to Plan a Pingyao Beijing Tour
Best Time to Visit Beijing: March to mid-June (Spring), mid-September to November (Autumn)
Top Attractions to Visit in Beijing: Mutianyu Great Wall, Forbidden City, Temple of Heaven, Beijing Hutongs…
Your Pingyao Beijing tour can be flexibly arranged based on your length of vacation, interested places to visit and personal hobbies. In Pingyao, you can take 1 full day to visit Pingyao Ancient City, climb up the Ancient City Wall, see the Rishengchang Former Bank, wonder busy Ming and Qing Dynasties Street lined with shops and other major ancient spots. With more time, you can visit Shuanglin Temple nearby to witness thousands of beautiful ancient painted sculptures and enjoy a serene atmosphere. In-depth cultural discovery of Pingyao can be customized to Wang's Family Compound, Zhangbi Ancient Castle and more attractions around.
✔3 Days Pingyao Discovery Tour
Since Shanxi is an extraordinary cultural region in Northern China with numerous cultural legacies, it's highly advised to spare more time travel Pingyao with Datong, and more outstanding destinations in Shanxi, such as the Wutai Mountain - another World Heritage sites of Shanxi & a sacred Buddhist mountain in China, roaring Hukou Waterfall on Yellow River - world's largest yellow waterfall, etc.
✔4 Days Essence of Datong and Pingyao Tour
✔4 Days In-depth Pingyao & Taiyuan Tour
✔3 Days Yellow River Hukou Waterfall Tour from Pingyao
✔6 Days Datong Pingyao Tour Plus Wutaishan Visit
Close location makes Shanxi usually be toured with neighboring destinations, like Beijing, Xian, Luoyang and Hohhot, even extended to Shanghai, Chengdu and other parts of China. That fantastically offers you great chance to see different landscape and regional highlights in vast China, covering both nature and culture. Don't miss the Great Wall in Beijing, cute Giant Pandas in Chengdu, splendid mixed culture in metropolis of Shanghai, picturesque prairie in Hohhot…Choose from our most popular China Shanxi tour packages or contact us to customize a memorable travel experience!
Popular China Shanxi Tours including Pingyao:
✔4 Days Ancient Pingyao & Xian Tour
✔6 Days Beijing Pingyao Highlights Tour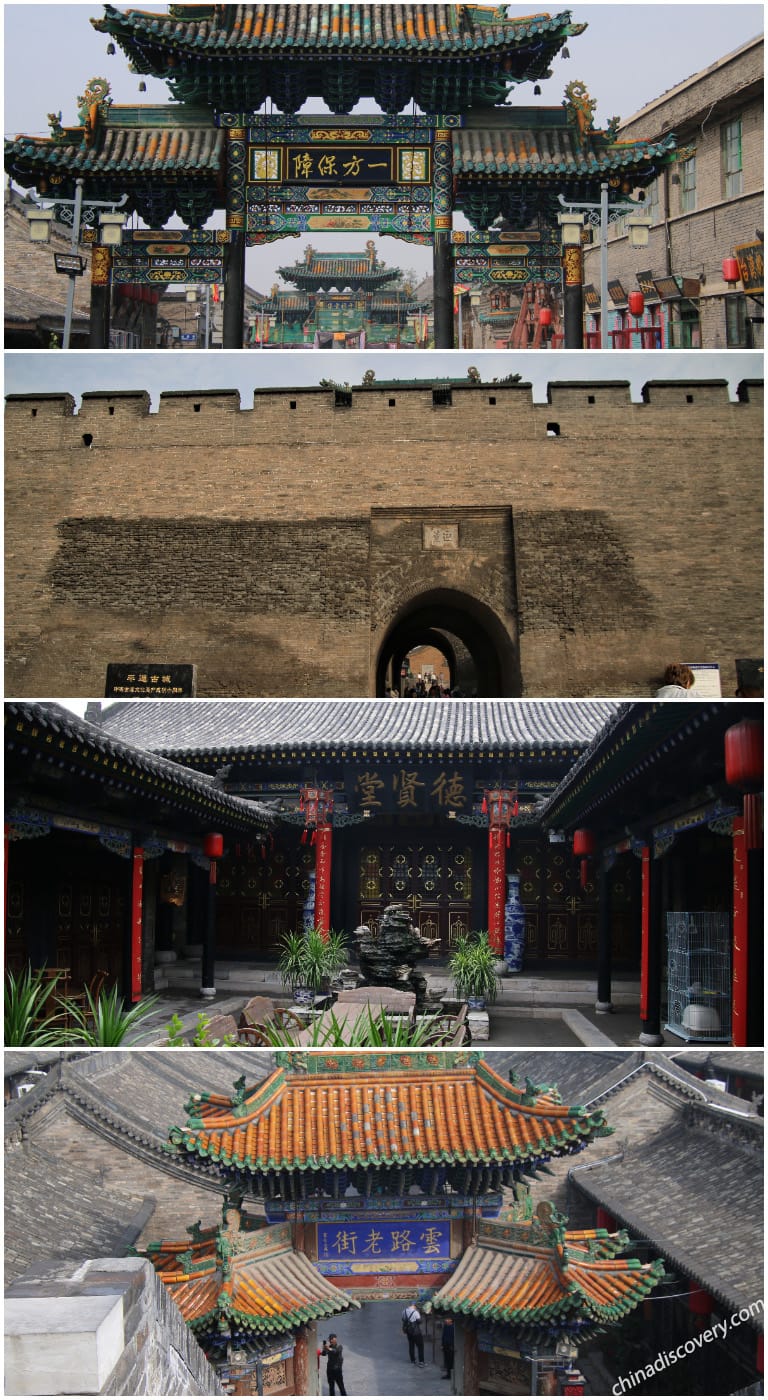 Ancient Tourist Attractions of Pingyao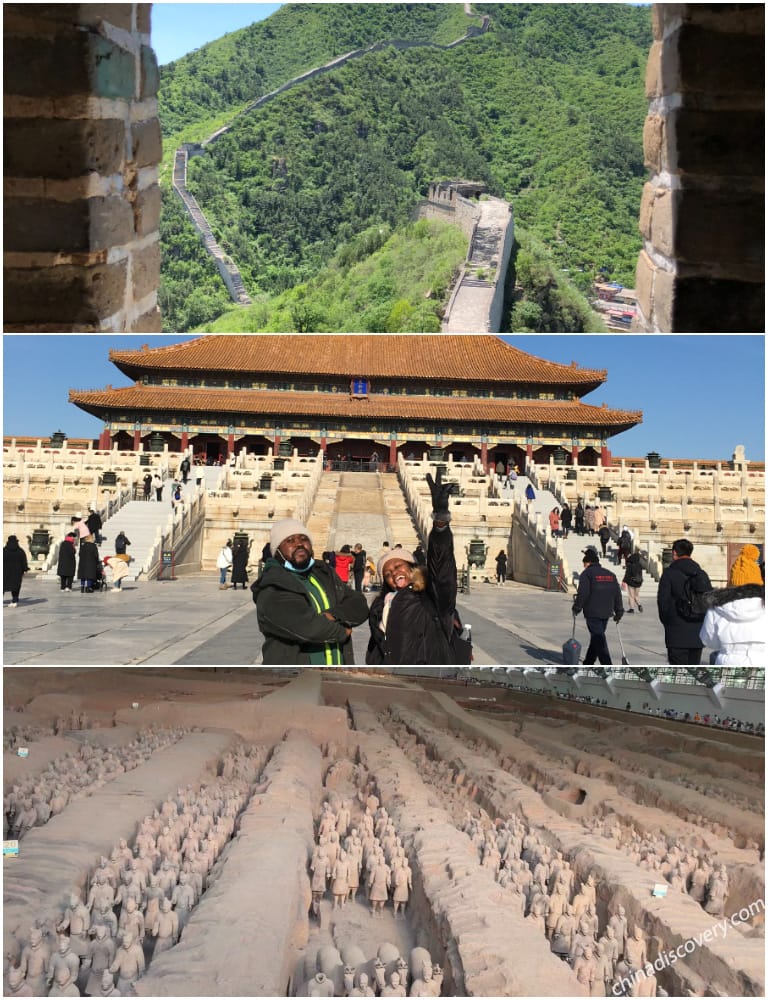 Top Attractions in Beijing and Xian
China High Speed Train Travel Tips
Class of Ticket
There are two kinds of tickets are provided on high speed train from Datong to Pingyao, First Class Seat and Second Class Seat. Second Class Seat is the most budget level you will share a row space with other passengers. And the First Class of Seat is more comfortable and quiet for those who prefer a good rest on the way. Check All Types of Seats on China High Speed Train>
Book, Collect, Alter and Cancel
Foreign tourists can book train ticket online or ask help from ticket agency, or buy the tickets physically at the train station with your valid passport. One thing you should remember is to book the ticket as early as possible, especially in peak tourist seasons. After collecting the tickets, please read carefully about the train number, departure date and station to make sure you won't miss the train. If you want to cancel, alter your train tickets, you are required to bring your passport to the ticket counter and make the adjustments. Check details about How to Book, Collect, Alter, and Cancel Train Tickets>
Board & Get off
1) Prepare your documents well (valid passport with China Visa); 2) Get to the right train station in advance; 3) Collect train tickets; 4) Read your train ticket; 5) Pass the security control; 6) Pass through Security & Luggage Checks; 7) Find the right waiting room; 8) Cross the ticket checking gate; 9) Get to the right platform; 10) Get on your train. Keep the ticket well, because the ticket will be checked again to leave the station after you get off. Check details about How to Board & Disembark a Train>
Baggage Allowance
China train travel with luggage is much easier than taking flight, for you don't need to check luggage separately. Each passenger with a train ticket is allowed to carry luggage in certain weight and volume, but without limitation of amount and types. Though there are written regulation and rules about the luggage allowance, in practice, passengers can take as much luggage as you can if only you handled them properly. Check detailed Baggage Allowance & Policy to Take China Train>
Facilities and Service
All high speed trains in China are equipped with advanced facilities and good service to make your journey more convenient and comfortable. There are different places you can put your luggage onboard, racks and specialized luggage storage areas. Besides, the air-conditioner train offers you plug under the seats to charge your phone or laptop, sightseeing window to view the outside scenery as well as western-style toilets. There is also available dining area you can get some supplies. Bilingual signs and the broadcast use both Chinese and English so that you don't need to worry about the communication. Check All Facilities & Service on China Train>
Extension Readings of High Speed Train Travel in China
More Popular Beijing High Speed Train Schedules
Recommended Pingyao Tours
Top 3 Pingyao tours chosen by most customers to explore Pingyao in the best way. Check the detailed itinerary, or tailor your own trip now with us.
3 Days Pingyao Discovery Tour

Pingyao
4 Days Essence of Datong & Pingyao Tour

Datong / Pingyao
Start planning your tailor-made holiday to China by contacting one of our specialists. Once enquired, you'll get a response within 0.5~23.5 hours.
Customize a Trip
Have a question? Get answers from our travel experts or guests
Your Question:

Your Name:

Your Email: