How to Get from Leshan to Emeishan 2023
How do I get from Leshan to Emeishan?
Listed as a UNESCO World Cultural & Natural Heritage site in Sichuan, Mount Emei Scenic Area including the Leshan Giant Buddha is a very popular side trip destination nearby Chengdu. To personally feel the two magnificent Buddhist spots, lots of travelers travel from Leshan to Emeishan for a Mount Emei tour afterwards. Currently, there are fast high speed train (about 15 minutes), regular buses and tourist buses available for getting from Leshan to Emeishan. Check more detailed Leshan to Emeishan Transportation Guide below to better plan your Leshan Emeishan Tours!
Where is Emeishan and Mount Emei located
How far is Emeishan from Leshan?
Mount Emei is located in west of Emeishan City (a small county-level city), west Leshan City, south of Chengdu City, Sichuan Province. Emeishan is located around 32 km (1 hour's drive) from Leshan City. The mountain scenic area lies about 5 km from Emeishan Railway Station, 10 km from Emei Railway Station and nearly 20 km west of Leshan Giant Buddha and around 30 km from Leshan Railway Station.
If you get from Leshan to Emeishan by different transportation, you can get to different places and cost different hours. Extra transfer is possibly needed when you are not get to Mount Emei scenic area directly.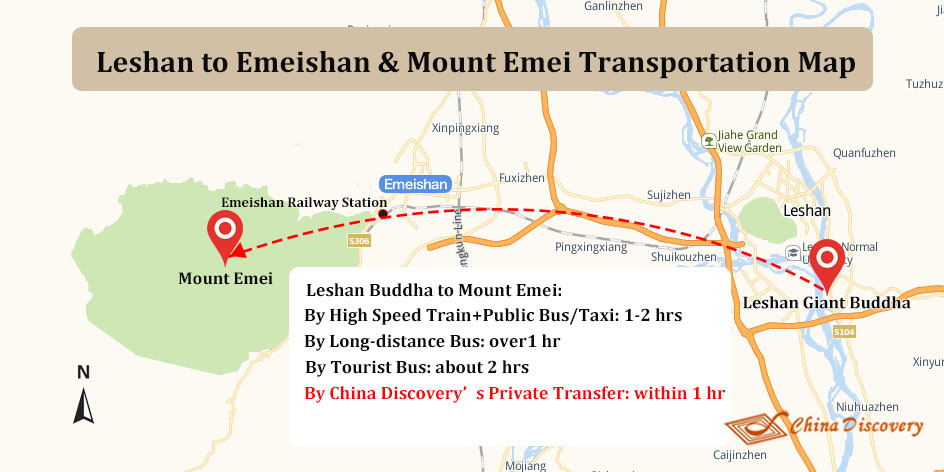 Leshan to Emeishan and Mount Emei Transportation Map
Option 1: Leshan to Mount Emei, Emeishan by China Discovery's Private Car - Most Recommended
China Discovery fully understands that, for each foreign traveler, every minute and penny should be spent valuable and meaningful. Thus, to help you enjoy a worry-free trip and cost less time on research, China Discovery (an experienced, professional and reliable local based travel agency in Chengdu) provides you with the most convenient transfer service from Leshan to Mount Emei, which you can be accompanied by our local tour guide in a safe, clean and comfortable vehicle and learn some cultural introduction of Mount Emei before visiting. Meanwhile, you can rest well on a private car, and don't have to worry about where to store your baggage. We can offer all helpful tour services and necessary guide for you!
Private Leshan to Emeishan Transfer by China Discovery
Option 2: Leshan to Emeishan by Train
Leshan Railway Station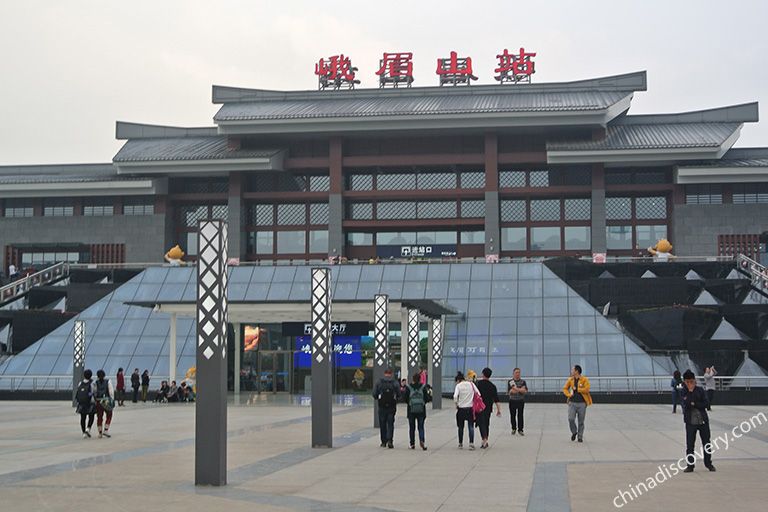 Emeishan Railway Station
Below is update real-time Leshan to Emeishan High Speed Train Schedules, Tickets for you:
Referential Currency: RMB=1USD
Train No.
Departure / Train Staiton
Duration
Seat Type / USD Price / Availability
Note: Train information is subject to final confirmation due to the delay of data occasionally.
Option 3: Leshan to Emeishan by Long-distance Bus
For those who miss the Leshan to Emeishan train, or like simpler way of booking a bus tickets, you can firstly transfer from Leshan Giant Buddha to bus stations in Leshan, and then take a Leshan to Emeishan bus to either get to Emeishan City or straightly to bus station near Baoguo Temple at foothill.
From Leshan Passenger Transport Terminal (乐山肖坝旅游车站)
Leshan Passenger Transport Terminal is also called Leshan Xiaoba Bus Station, which is the major bus station used in Leshan. It has both bus to Baoguo Temple of Mount Emei and Emei Bus Station (about 6 km/10 minutes' drive away from Mount Emei). Please note that bus from Xiaoba Bus Station to Emei Bus Station (about 28 km) departs between 07:30-18:00 while bus to Baoguo Temple Station (about 34 km) runs from 07:30 to 17:00, both leaves every half an hour. The bus takes about 40 minutes to Mount Emei. We strongly suggest independent travelers take the bus to Baoguo Temple to save time, since the Baoguo Temple is the starting point of a Mount Emei hiking trip.
From Leshan Coach Terminal (乐山汽车客运中心站) - Not Recommended
Leshan Coach Terminal has over 20 bus delivering to Emeishan, some of them pass by Yangmei (杨煤) and you can get off. It will be a little difficult to call a taxi to get to Mount Emei from Yangmei, since the station is in remote suburb area of south Mount Emei scenic area.
Leshan Xiaoba Bus Station
Option 4: Leshan to Emeishan Intercity Tourist Bus
Since September 2017, an intercity tourist bus, Bus No.601 has been specially introduced to offer greater convenience for Leshan and Emeishan tourists. The bus perfectly connects Leshan Giant Buddha and Mount Emei by a no-transfer bus journey. You can get on from Leshan Giant Buddha, or at Leshan Railway Station after taking a Chengdu to Leshan high speed train, pass more than 30 midway stations and get to Baoguo Temple Station directly.
Bus No.601 runs every 15 minutes between 7:00 to 19:00. It takes about 2 hours (approximately 45 km) to Baoguo Temple Station, Mount Emei from Leshan Giant Buddha. The bus ticket is charged by distance and foreign tourists need to prepare some cash.
Leshan to Emeishan Intercity Bus No.601
How to Plan Your Leshan Emeishan Tour
A Leshan Emeishan Tour is usually the extended trip from Chengdu, requires about 2 to 4 days covering major highlights in Leshan and Emeishan, like Leshan Giant Buddha, Mount Emei and other spots. On day 1, you can transfer from Chengdu to Leshan, visit the world's largest and highest stone-caved Buddha statue, marvel at the 71-meter-tall Leshan Giant Buddha sitting by riverside, whose instep can hold over 100 people. Half an day is suitable for seeing the Giant Buddha either by hiking or boat sightseeing. In the afternoon, you will drive from Leshan to Emeishan and accommodate at Baoguo Temple, the biggest temple of Mount Emei at the mountain foot. Next day, you can start a full hiking trip from Baoguo Temple all the way up to Golden Summit, or take tourist bus to Leidongping, and then take a cable car to Golden Summit to view amazing sea of cloud and mind-blowing landscape when weather is good. If you have more time, you may stay overnight and watch a beautiful sunset and sunrise on the mountain. Generally, your Mount Emei tour can be done within 1 day by cable car or get 1 to 2 days for in-depth cultural and natural exploration.
Top Leshan Buddha & Mount Emei Tours with Chengdu:
√ 5 Days Chengdu, Leshan & Mount Emei Tour
√ 4 Days Sichuan Buddhism Tour with Leshan Giant Buddha & Mount Emei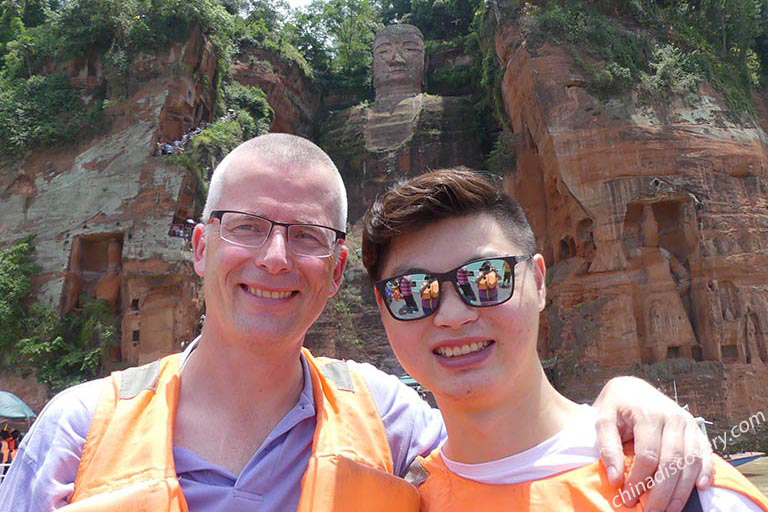 China Discovery's Customer Visited Leshan Giant Buddha
Private Mount Emei Tour Customzied by China Discovery
Travel Leshan & Emeishan with China Discovery
China Discovery not only offers private transfer between Leshan and Emeishan, but also has best-selling Leshan Emeishan Tour Packages, covering classic and unique itinerary, considerate ticket, accommodation and dining arrangement, even visa assistance and packing advice. Our goal is to make sure you enjoy your China travel to Chengdu, Leshan, Emeishan and other destinations. Want to make your once-in-a-lifetime journey different? Just contact us to tell your requirements and hobbies, we can customize a special tour based on your own hobbies, budget and itinerary.
Leshan & Emeishan Travel Guide
China Train Travel Guide
Recommended Leshan Emeishan Tours
Top 3 Leshan Emeishan tours chosen by most customers to explore Leshan Emeishan in the best way. Check the detailed itinerary, or tailor your own trip now with us.
4 Days Classic Leshan Buddha & Mount Emei Tour from Chengdu

Chengdu / Leshan / Mt. Emei / Chengdu
6 Days Leshan, Mount Emei & Panda Volunteer Tour

Chengdu / Leshan / Emei / Chengdu / Dujiangyan / Chengdu
5 Days Chengdu, Leshan & Mount Emei Tour

Chengdu / Leshan / Mt. Emei / Chengdu
Start planning your tailor-made holiday to China by contacting one of our specialists. Once inquired, you'll get a response within 0.5~23.5 hours.
Customize a Trip
Have a question? Get answers from our travel experts or guests
Your Question:

Your Name:

Your Email: