Lanzhou to Dunhuang Travel Plans - How to Get from Lanzhou to Dunhuang
Lanzhou, the capital of Gansu Province, is not only rich in Yellow River culture but also has a mature transportation system. Dunhuang, another time-honored city in Gansu, is home to the marvelous Mogao Caves. These two cities are 1095km apart and both planes (2 hours) and trains (8.5 – 14.5 hours) are available. So many people will choose to travel from Lanzhou to Dunhuang both for sightseeing and transportation reasons. Here we have provided you with more specific information about how to travel from Lanzhou to Dunhuang to help you make a better Lanzhou Dunhuang travel plan.
Get from Lanzhou to Dunhuang by Plane - Lanzhou to Dunhuang Flights
There are 2 - 6 direct daily flights from Lanzhou Zhongchuan International Airport to Dunhuang International Airport. So you can transfer between these two cities in about 2 hours. Here we have selected some flights listed below for your reference and the schedule may vary from season to season, so please don't hesitate to contact us for the updated flight information if you are interested.
| | | | | |
| --- | --- | --- | --- | --- |
| Flight No. | Operator | Dep. Time | Arr. Time | Duration |
| MU9681 | China Eastern Airlines | 09:20 | 11:15 | 1h55min |
| 3U8569 | Sichuan Airlines | 10:20 | 12:10 | 1h50min |
| 3U8739 | Sichuan Airlines | 10:40 | 12:35 | 1h55min |
| HU7315 | Hainan Airlines | 14:10 | 15:50 | 1h40min |
✈ Lanzhou Zhongchuan International Airport (兰州中川国际机场 IATA: LHW)
Address: Zhongchuan Town, Yongdeng County, Lanzhou (兰州市永登县中川镇), about 70km, 1 hour's drive from downtown. >>Know More about Get to & around Lanzhou
✈ Dunhuang International Airport (敦煌国际机场 IATA: DNH)
• Address: Mogao Town, Dunhuang City, Jiuquan City, Gansu (甘肃省酒泉市敦煌市莫高镇), 13km, 25 minutes' drive to the east of Dunhuang downtown. >>Know More about Dunhuang International Airport
Get from Lanzhou to Dunhuang by Train - Lanzhou to Dunhuang Trains
There are 4 daily trains from Lanzhou to Dunhuang, and they are all overnight normal trains. Please check the following real-time Lanzhou to Dunhuang Train Timetables:
Referential Currency: RMB=1USD
Train No.
Departure / Train Staiton
Duration
Seat Type / USD Price / Availability
Note: Train information is subject to final confirmation due to the delay of data occasionally.
Classic Gansu Tour from Lanzhou to Dunhuang - Strongly Recommended
Actually, Lanzhou always serves as a transfer hub to other cities owing to its transportation advantages. It is located in the east of Gansu Province and other famous tourist cities such as Zhangye, Jiayuguan, and Dunhuang are in its west. It can be said that they are on an east-west line in Gansu. So it is very convenient and recommended to travel from Lanzhou all the way to Zhangye, Jiayuguan, and Dunhuang to add more highlights in your trip.
The whole trip will take about 6 days. Arriving in Lanzhou, you can spend some time walking around the city casually and then have a good rest. The next day, take a morning train to Zhangye and spend the rest of the day exploring the stunning Danxia landform. After that, pay a visit to Giant Buddha Temple where you can see the largest indoor sleeping Buddha in Asia, and then you can head to Jiayuguan (1.5h by high speed train or 2.5h by car) to find the westernmost starting point of Great Wall of Ming Dynasty - Jiayuguan Pass. Then the last two nights are for you to fully explore the Mogao Caves, Echoing Sand Mountain, Crescent Lake, etc. in Dunhuang.
Recommended Tour:6 Days Hexi Corridor Discovery Tour from Lanzhou
How to Plan a Lanzhou Dunhuang Tour
If you just want to have a Lanzhou Dunhuang Tour, about 4 days will be sufficient. When you are in Lanzhou, you can have a hike on White Pagoda Mountain, and then have an in-depth understanding of the mother river of China, the Yellow River by visiting the First Bridge on Yellow River, Yellow River Mother Statues, etc. At last, if you are interested and time permits, you can pay a visit to Gansu Provincial Museum and Bingling Temple where you can appreciate some outstanding examples of Buddhist artwork.
According to your schedule, you can decide whether to go to Dunhuang by plane in the morning or afternoon. After your arrival, you can go to the Echoing Sand Mountains to have fun in the vast desert and find out why Crescent Lake has never dried up for so many years. Then spend another day exploring Yumen Pass (Jade Gate Pass) which used to be a military defensive pass along the ancient Silk Road, the Ruin of Great Wall of Han Dynasty which was built to fight against Xiongnu in the ancient times, Yadan National Geological Park which features Yardang landforms, and Yangguan Pass which was the gate to another branch of ancient Silk Road. The last day you can admire thousands of colorfully painted Buddhist statues and have an eye-feast on the exquisite mural paintings in the 2000-year-old Mogao Grottoes.
If you have more days, you can futher extend your trip to other cities such as Xiahe, Tianshui, and Xining.
Recommended Tours Covering Lanzhou and Dunhuang:
>>6 Days Hexi Corridor Discovery Tour from Lanzhou
>>8 Days Gansu Highlights Tour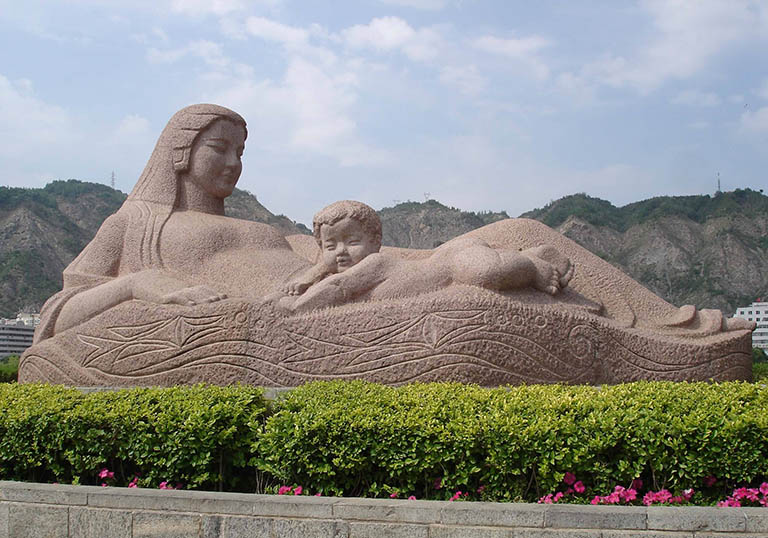 Yellow River Mother Statue
Mogao Cave No. 45
Travel Worry-free with China Discovery
If you just want to focus on the trip itself without worrying too much about anything else, you can consider travelling with us! We at China Discovery provide comfortable and efficient private travel service for our clients who have booked one of our tour packages. No matter when your flight/train arrives, our friendly tour guide and driver in every city will wait for you there, then escort you to your hotel or any location you want to visit with an air-conditioned and non-smoking vehicle. During the trip, everything such as ticket, transfer, accommodation, meal will all be taken care of and you only need to focus on what you are interested in. The tour can be tailor made according to your plan, time, interests and demands. If you are interested, please feel free to contact us and tell us your needs.
Most Popular Dunhuang Tours
Useful Dunhuang Travel Guide
Travel Dunhuang & More Silk Road Destinations
Recommended Lanzhou Dunhuang Tours
Top 3 Lanzhou Dunhuang tours chosen by most customers to explore Lanzhou Dunhuang in the best way. Check the detailed itinerary, or tailor your own trip now with us.
6 Days Hexi Corridor Discovery Tour(Zhangye/Jiayuguan/Dunhuang)

Lanzhou - Zhangye - Jiayuguan - Dunhuang
8 Days Gansu Highlights Tour

Lanzhou / Xiahe / Jiayuguan / Dunhuang
7 Days Ancient Silk Road Treasure Tour from Tianshui

Tianshui - Lanzhou - Zhangye - Jiayuguan - Dunhuang
Start planning your tailor-made holiday to China by contacting one of our specialists. Once inquired, you'll get a response within 0.5~23.5 hours.
Customize a Trip
Have a question? Get answers from our travel experts or guests
Your Question:

Your Name:

Your Email: