Chengdu to Lhasa Train: Route, Distance, Schedule and Ticket Price
Located in a close distance to Lhasa, Tibet and endowed with adorable Giant Pandas and abundant nature, culture and history to explore, Chengdu has become a popular gateway city to get to Lhasa, Tibet. The train journey from Chengdu to Lhasa not only is a once-in-a-lifetime-experience offering wonderful scenery along the route, but also offers great chance to witness the world's famous engineering miracle of Qinghai Tibet Railway. Plus, Chengdu to Lhasa's 36-hour train travel is much shorter than departing from Beijing, Shanghai, Guangzhou. Check our most useful detailed and updated guide to plan your Chengdu Lhasa train tour.
Chengdu to Lhasa Train Route and Distance
Chengdu to Lhasa train travels about 3,360KM (2,088mi), crossing Sichuan Province, Gansu Province and Tibet, three different regions in Southwestern and Western China. Since Sichuan Tibet Railway directly linking Chengdu and Lhasa is still under construction, the current Chengdu to Lhasa train actually runs on 4 different rail lines, including the Chengdu to Guangyuan Section on Baoji-Chengdu Railway, Guangyuan to Lanzhou Section on Lanzhou-Chongqing Railway, Lanzhou-Xining Section on Lanzhou-Qinghai Railway and Xining to Lhasa Section on Qinghai Tibet Railway.
At present, the trains from Chengdu to Lhasa are all overnight sleeper trains (Z-serials trains) running at a traditional speed of 120~160KM per hour, taking 36 hours and 18 minutes. Besides the departure station - Chengdu and terminus - Lhasa, there are 6 midway stations for stop and reloading, and they are Guangzhou (广元) in North Sichuan, Lanzhou (兰州) in Gansu Province, Xining (西宁) , Delingha (Delhi, 德令哈), Golmud (格尔木) in Qinghai Province and Naqchu (那曲) in Tibet.
Chengdu to Lhasa Train Schedules 2023
Unlike Beijing, Shanghai, Xian, Xining and Lanzhou delivers trains to Lhasa every day, Chengdu runs train to Lhasa every other day. Z322 is the one and only Chengdu to Lhasa train, which leaves at 21:37 from Chengdu Railway Station in the evening and arrives at Lhasa Railway Station in Lhasa at the 09:55 on the third morning. It takes nearly 36.5 hours.
Chengdu to Lhasa Train Timetable
Check the following real-time Chengdu to Lhasa train timetable with departure station, time, stops and arrival time.
Referential Currency: RMB=1USD
Train No.
Departure / Train Staiton
Duration
Seat Type / USD Price / Availability
Note: Train information is subject to final confirmation due to the delay of data occasionally.
Lhasa to Chengdu Train Schedules 2023
For returning trip back to Chengdu, there is also a train scheduled every two days. Z324 departs from Lhasa at 18:40 at dawn and gets to Chengdu at 06:26 on the third morning. The whole train journey costs 35 hours and 46 minutes. Stations passing through are exactly the same as the opposite Chengdu to Lhasa train.
Lhasa to Chengdu Train Timetable
| | | | | | |
| --- | --- | --- | --- | --- | --- |
| Train No. | Departure Station | Arrival Station | Departure & Arrival Time | Duration | Frequency |
| Z324 | Lhasa Railway Station | Chengdu Railway Station | 18:40 ~ 06:26 (3rd day) | 35 hours & 46 minutes | every other day |
Note: The above Lhasa to Chengdu train timetable is listed for reference only and is subject to change.
Chengdu to Lhasa Train Ticket and Price
On each Chengdu to Lhasa train and Lhasa to Chengdu train, three types of tickets are provided, namely, the Soft Sleeper, Hard Sleeper and Hard Seat. Soft Sleeper Berth is highly recommended than the other two, because you will spend 2 nights on board, a relative comfortable and private space ensure you get better rest. (Hard Sleeper may be a budget choice but you need to overcome lost of inconvenience and Hard Seat is the cheapest but it seriously is not a good idea considering the travel experience.)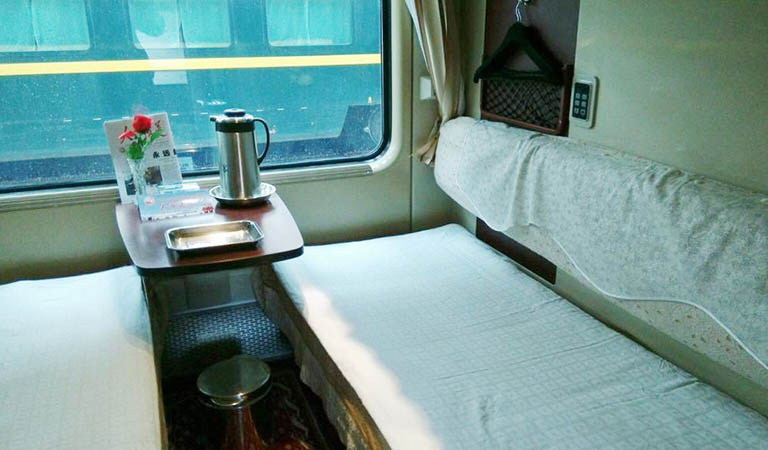 Soft Sleeper on Chengdu to Lhasa Train
Chengdu to Lhasa Train:Z322
Soft Sleeper
Hard Sleeper
Hard Seat
¥997.5
¥627.5
¥302.5
Lhasa to Chengdu Train: Z324
Soft Sleeper
Hard Sleeper
Hard Seat
¥997.5
¥627.5
¥302.5
Note: Soft Sleeper has upper and lower berths, and Hard Sleeper has upper, middle and lower berths, so the real ticket price is different according to specific location.
Top Destinations to Visit Along Chengdu to Lhasa Train
1. Chengdu 成都
Chengdu is the capital of Sichuan and a top popular destination in China, most notable for the cute Giant Pandas , Hotpot and spicy Sichuan Cuisine, relaxing leisure lifestyle, culture of Sanxingdui and "Three Kingdoms"of Ancient Shu, etc. Usually, tourists spend 1 to 3 days to see the Giant Panda and tour major attractions in downtown. From Chengdu, many travelers also take side trips to Mount Qingcheng in Dujiangyan , Leshan Giant Buddha and Mount Emei in Leshan or farther to Jiuzhaigou Valley to witness outstanding scenery and culture highlights of those UNESCO World Heritage properties.
√ 1 Day Chengdu Relaxing Panda Highlights Tour
√ 4 Days Classic Leshan & Mount Emei Tour
● Popular Dujiangyan Tours / Leshan Giant Buddha Tours / Mount Emei Tours
Chengdu Railway Station 成都站
Location: No.1 Zhandong Road, Jinniu District, Chengdu, Sichuan
Transportation: Chengdu Railway Station is an old train station serving most normal railways to Chengdu. It is located near the 2nd Ring Road of north Chengdu, which is well-linked by public transportation like city bus, taxi, Chengdu BRT (Bus Rapid Transit), subway (Chengdu Metro Line 1 & Line 7).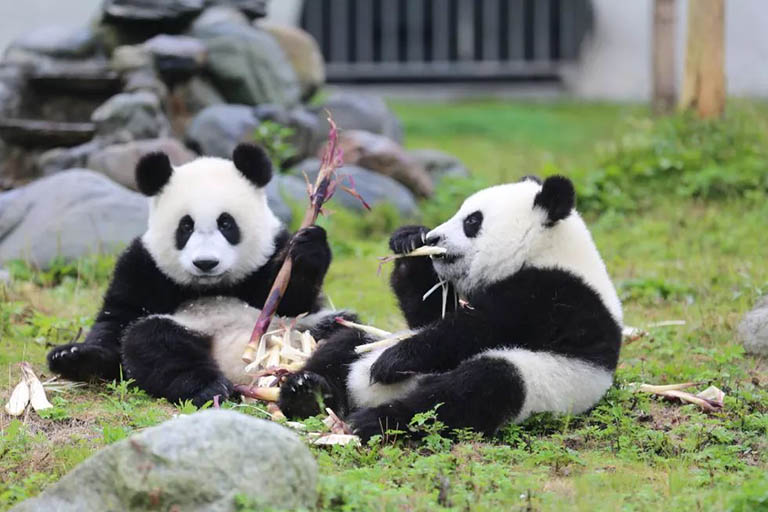 Giant Pandas in Chengdu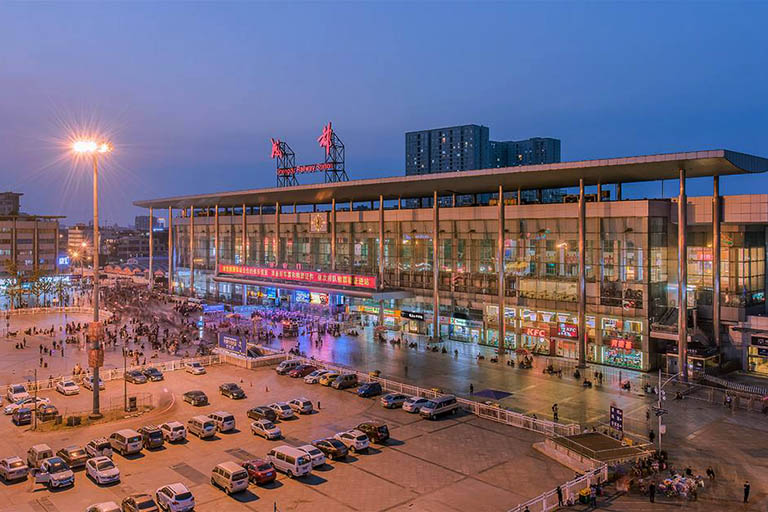 Chengdu Railway Station
2. Guangyuan 广元
Guangyuan is a prefecture-level city in northeast Sichuan bordering Gansu and Shaanxi Province in the north. Guangyuan is an important channel to enter Sichuan since ancient time and it is still the birthplace of Wu Zetian (the only empress in China's history). Among all cultureal relics, Jianmen Pass is the must-visit site in Guangyuan.
Guangyuan Railway Station 广元站
Location: Zetian Road, Shangxi Street, Lizhou District, Guangyuan, Sichuan
Transportation: City bus and taxi are two ways to get to the station. In future, three rail transit lines will be built to connect Guangyuan Railway Station.
Jianmen Pass in Guangyuan
3. Lanzhou 兰州
Lanzhou in central Gansu is the capital city, a vital transportation hub in northwestern China and a famous stop on China's ancient " Silk Road". Tourists usually spend 1 day on visiting landmarks in Lanzhou, such as Gansu Provincial Museum, Iron Bridge of Yellow River (Zhongshan Bridge), Whitel Pagoda Park, try the famous Lanzhou Beef Noodle and local snacks in a night market, and then go on trip to Zhangye, Jiangyuguan and Dunhuang.
√ 6 Days Hexi Corridor Discovery Tour (Zhangye/Jiayuguan/Dunhuang)
Lanzhou Railway Station 兰州站
Location: No.393, Huochezhan East Road, Chengguan District, Lanzhou, Gansu
Transportation: Passenger can take a taxi to get to/off the station, and there are also over 20 city bus lines available.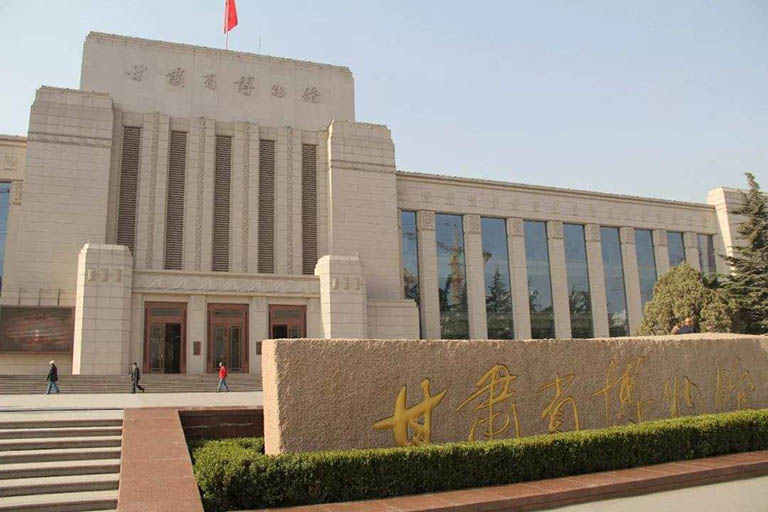 Gansu Provincial Museum in Lanzhou
4. Xining 西宁
Xining, the capital city of Qinghai, is the eastern portal of Qinghai Tibet Plateau and the necessary pass of south ancient "Silk Road" and Tangfan Ancient Road. As one of the world's highest cities, Xining has more than 2,000 years' history, great plateau scenery and stunning Tibetan Buddhist culture.1 to 2 days is enough to visit top attractions in and near Xining, such as the Qinghai Lake, Xining Ta'er Monastery, Dongguan Mosque.
√ 3 Days Qinghai Short Stay Tour
Xining Railway Station 西宁站
Location: No.128 Huzhu Middle Road, Chengdong District, Xining, Qinghai
Transportation: Xining Railway Station lies very close to Dongguan Mosque. Taking a taxi is very convenient for transfer. And there are about 15 city bus lines you can use.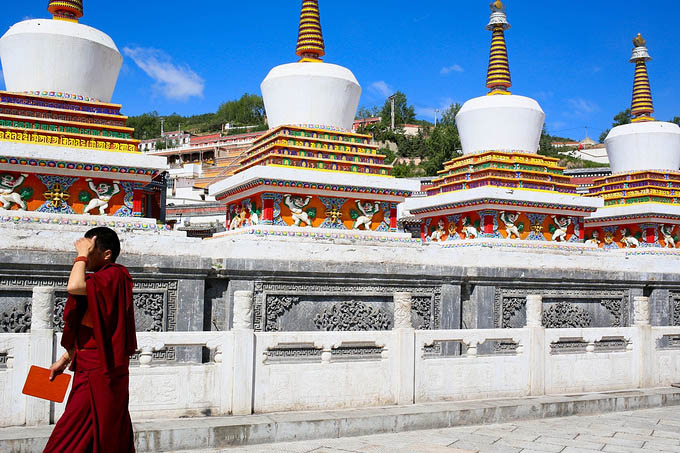 Ta'er Monastery in Xining
5. Lhasa 拉萨
Lhasa is more than the capital of Tibet, but also the holy spirit heart and refreshing sun city on Qinghai Tibet Plateau. Wild geographical sights and sacred faith of Buddhism, lovely face of Tibetans are the essence of Lhasa. It's advised to spend at least 2 full days exploration major attractions in Lhasa, like th Potala Palace, Jokhang Temple, Barkhor Street, Sera Monastery. If time permits, you can extend Tibet tour to Namtso, Shigatse, Mount Everest, Mount Kailash, Nyingchi and else wonderful areas.
Lhasa Railway Station 拉萨站
Location: Tongzhan Road, Duilongdeqing District, Lhasa, Tibet
Transportation: Lhasa Railway Station is located in south Lhasa City, about 7KM (20 minutes by drive) from Potala Place. Because all foreign travelers must book Tibet tour package with a travel agency (like China Discovery), so after arrival, the transfer service will be offered together with tour guide, accommodation, Tibet Travel Permits application and other tour aspects.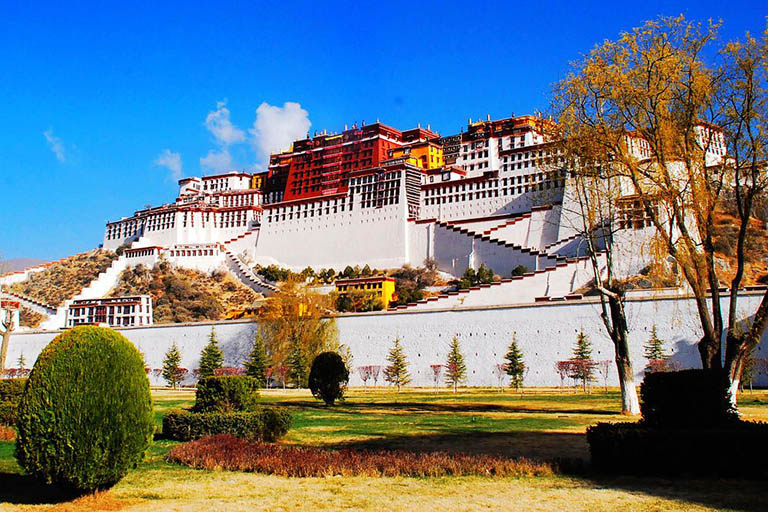 Potala Palace in Lhasa
Sichuan Tibet Railway - Upcoming 13-Hour Chengdu to Lhasa Train Travel
Qinghai Tibet Railway is world-known the first railway reaching to Tibet, but few hear the ongoing Sichuan Tibet Railway is the second one. Planned as a strategic rail in Southwestern China, Sichuan Tibet Railway is a east-west railway directly linking Chengdu, Sichuan and Lhasa, Tibet. With a total length of 1,838KM (1,142mi), the Sichuan Tibet Railway mainly consists of 4 segments: Chengdu - Ya'an (already in operation since December 2018), Ya'an-Kangding, Lhasa-Nyingchi and Nyingchi-Kangding, three latter sections are still under construction now.
It's predicted that, after completion of Sichuan Tibet Railway, the Chengdu to Lhasa train travel will be shortened from current 36 hours to merely about 13 hours short. Train speed will be 160 to 200 Km per hour. Passengers by then can enjoy amazing landscape in western Sichuan and eastern Tibet when passing by Hengduan Mountains and mysterious Yarlung Tsangpo Grand Valley and many incredible plateau areas.
How to Plan Your Chengdu Lhasa Tour
According to your travel plan and budget, your Chengdu Lhasa Tour can be in different length and themes. For a Chengdu tour, the top 1 must-do is to see cute Giant Pandas in Chengdu Research Base of Giant Panda Breeding, which needs half a day. Often people spend another half on downtown attractions like Wenshu Monastery, Jinli Ancient Street, Renmin Park. If time allows, try various Sichuan Cuisine dishes and Chengdu snacks, watch a Sichuan Opera show at night, trace the ancient Shu culture in Jinsha Site Museum and enjoy authentic culture and history in suburb ancient towns. Two days and above can make a side trip to Leshan Giant Panda and Emeishan hiking tour - two most popular itineraries for tourists to Chengdu.
When comes to Lhasa, better plan 2 and more days in Lhasa and surrounding Namtso and at least 5 days for a Lhasa-Gyantse-Shigatse-Everest Tour, or nearly 2-week long on a Lhasa to Mt Kailash trip. Nyingchi and Shannan in Tibet are good destinations to see beautiful nature and significant culture. Afterwards, you can have a non-stop flight to continue to travel in Nepal or enjoy an overland drive from Lhasa to Kathmandu, keep exploring the Himalayas.
Travel with China Discovery
As an experienced, professional and reliable travel agency based in Chengdu, China Discovery are try our best to make every clients' tour to Chengdu and Jiuzhaigou interesting, unique and memorable, and at the best value. Travel with us, you can enjoy a worry-free tour covering airport/train station pick-up services, knowledgeable tour guide and safe private transfer, accommodation and ticket booking help, visa application assistance and other needed services. Just contact us, tell your schedule, we will do the rest to creat you a wonderful Chengdu tour.
Most Popular Chengdu Lhasa Tours:
√ 7 Days Lifetime Tibet Train Tour from Chengdu
√ 4 Days Best of Lhasa Toru from Chengdu by Flight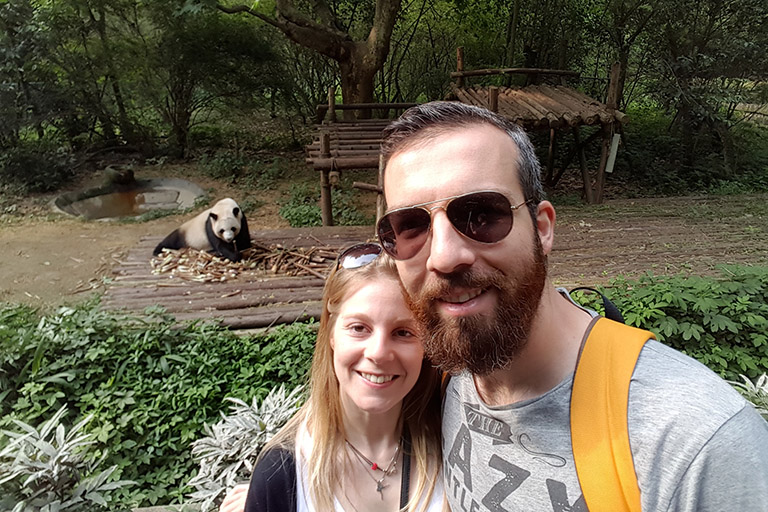 China Discovery's Customzied Chengdu Tour with Giant Panda Visit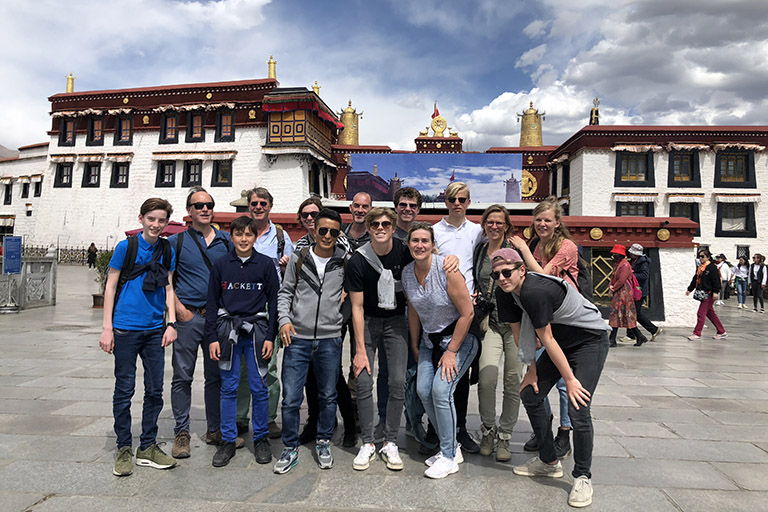 Our Tourists Visited Jokhang Temple in Tibet
Useful Chengdu Travel Guide
Popular Chengdu Tours
Recommended Chengdu Lhasa Tibet Tours
Top 3 Chengdu Lhasa Tibet tours chosen by most customers to explore Chengdu Lhasa Tibet in the best way. Check the detailed itinerary, or tailor your own trip now with us.
6 Days Classic Chengdu & Lhasa Highlights Tour

Chengdu / Lhasa
7 Days Lifetime Tibet Train Tour from Chengdu

Chengdu / Lhasa
10 Days Panda & Qinghai Tibet Railway Memorable Tour

Chengdu / Xining / Qinghai Lake / Lhasa / Namtso
Start planning your tailor-made holiday to China by contacting one of our specialists. Once inquired, you'll get a response within 0.5~23.5 hours.
Customize a Trip
Have a question? Get answers from our travel experts or guests
Your Question:

Your Name:

Your Email: