Beijing Zhangjiakou High Speed Trains: Schedules, Tickets and Rail Map 2022
Updated on February 12, 2019
Big News! The Beijing Zhangjiakou High Speed Railway opened to public on December 30, 2019. The new rail is an intercity high speed railway connecting Beijing and Zhangjiakou in Hebei Province, an landmark achievement of China's railway development making lots of new creations and features. Its predecessor, Beijing Zhangjiakou Railway was the first self-designed rail in China, an engineering heritage unparalleled then.
The rail begins from Beijing North Railway Station and Qinghe Railway Station in Beijing and goes to Zhangjiakou Railway Station in Zhangjiakou with a total length of about 174 km (108 miles). High speed train travel now only takes about 1 hour, while previous normal train needs almost 3.5 hours. Every day, there are about 25 pairs of high speed bullet trains running between Beijing and Zhangjiakou from 06:30 to 20:30. If you like, you can continue the high speed train journey from Zhangjiakou to Ulanqab, Hohhot and Baotou in Inner Mongolia, or to Datong, Taiyuan and Xian.
Beijing Zhangjiakou High Speed Rail Map
Useful Links: Beijing to Hohhot High Speed Train / Beijing to Datong High Speed Train / Beijing to Xian High Speed Train
Highlights of Beijing Zhangjiakou High Speed Railway
What makes this rail so different? Here are special records and features you shouldn't miss.
● It is the world's first smart high speed railway, an intelligentized high speed railway with a designed speed of 350 km/h, and also the first such kind of rail cross through high and cold area, strong-wind district in the world.
● It conveniently links Beijing and Zhangjiakou, the two host cities for 2020 Winter Olympics. Surely, in the future, it will deliver numerous visitors between the two destinations and stimulate skiing in Zhangjiakou.
● First driverless newest and most advanced Fuxing Trains are running on it. The automated trains offers special facilities and services, including the 5G signals, wireless charging, specialized baggage storage area for skiing equipment, more comfortable environment, and many automated functions.
● The railway has 2 branches to Taizicheng and Yanqing, and the main rail goes through 2 stations, 3 bridges and 4 tunnels, passing the Juyongguan and Badaling Great Walls.
● It is China's first rail line adopting self-developed Beidou satellites-navigated system.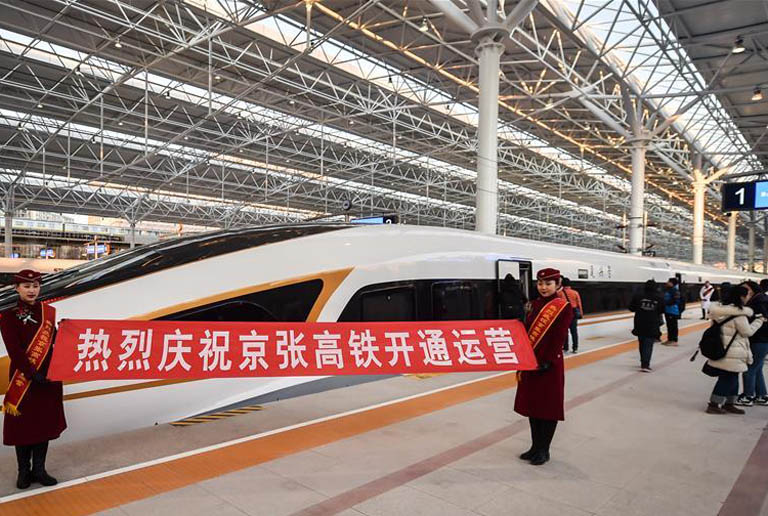 Operation of Beijing Zhangjiakou HSR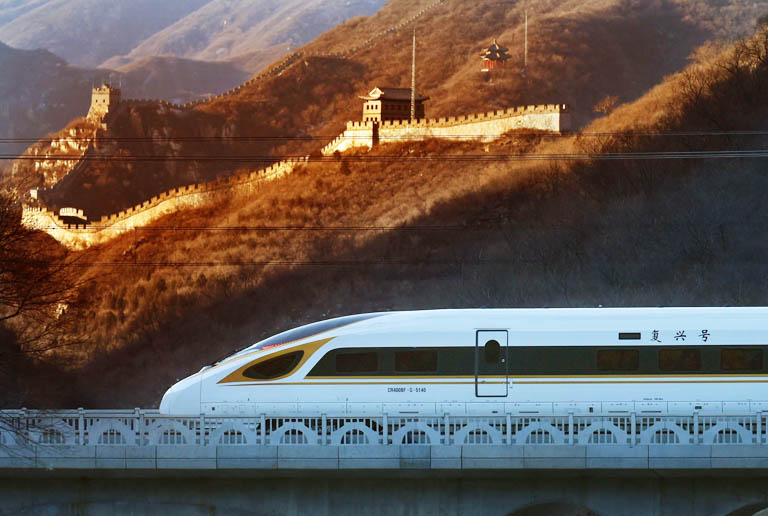 Beijing Zhangjiakou Fuxing Train Passing Juyongguan Great Wall
Beijing Zhangjiakou High Speed Train Schedules
● Beijing to Zhangjiakou
From
To
Frequency (day)
Operating Hours
Duration
Detailed Train Schedule >>
Beijing North/Qinghe
Zhangjiakou
about 25
(including 3 driverless bullet trains)
about 06:00-20:00
about 1 hour
Check the real-time Beijing to Zhangjiakou High Speed Train Schedules below:
Referential Currency: RMB=1USD
Train No.
Departure / Train Staiton
Duration
Seat Type / USD Price / Availability
Note: Train information is subject to final confirmation due to the delay of data occasionally.
● Zhangjiakou to Beijing
From
To
Frequency (day)
Operating Hours
Duration
Detailed Train Schedule >>
Zhangjiakou
Beijing North/Qinghe
about 25
(including 3 driverless bullet trains)
about 07:30-22:30
about 1 hour
What to See along Beijing Zhangjiakou High Speed Railway
Beijing
Beijing, the great capital city of China with a long and splendid history, has more than 200 tourist attractions and the most number of UNESCO World Heritages for public visit. Abundant culture and history and incredible convenient transportation network nationwide let Beijing a top place and one of the best gateway to visit China. A trip of 2 to 3 full days is enough for a essence tour, to hike the Great Walls (Popular China Great Wall Tours >>), see the magnificent "Forbidden City", beautiful Temple of Heaven, Summer Palace and more royal buildings. If time permits, spend more days to feel the mixed atmosphere of tradition and modern life in Beijing.
Most Popular Beijing Tours:
>> 2 Days Beijing Layover Highlights Tour
>> 3 Days Beijing Essential Short Stay Tour
>> 4 Days Classic Beijing Tour Package
Beijing North Railway Station 北京北站
Address: NO.1 North Binhe Road, Beida Street, Xizhimen, Xicheng District, Beijing 北京市西城区西直门北大街北滨河路1号
Transportation: The station is located close to the northwest corner of the 2nd Ring Road, about 10 km to city center (Tiananmen Square), about 30 minutes' driving to the "Forbidden City", 1.5 hours' ride to Mutianyu and Badaling Great Walls. Passengers can take public city bus and subway (Beijing Metro Line 2, Line 4 and Line 13) to get to/leave Beijing North Railway Station. The most convenient way is traveling with China Discovery and enjoying our private transfer service to catch your train or go for sightseeing in Beijing.
Beijing Qinghe Railway Station 北京清河站
Address: Qinghe Street, Qinghe Town, Haidian District, Beijing 北京市海淀区清河镇清河街道
Transportation: Qinghe Railway Station is located outside the 5th Ring Road in north suburb area. It lies about 25 km (about 45 minutes' drive) to Tiananmen Square and city center, about 20 km (50 minutes' drive) to "Forbidden City" , 1 hour's ride to Badaling Great Wall and 1.5 hours' drive to Mutianyu Great Wall.
There has about 6 bus lines, 1 subway (Beijing Metro Line 13) to get to Qinghe Railway Station. Taxi can be found on the West Square.
Useful Links: How to Get to & around Beijing | How to Get to Great Walls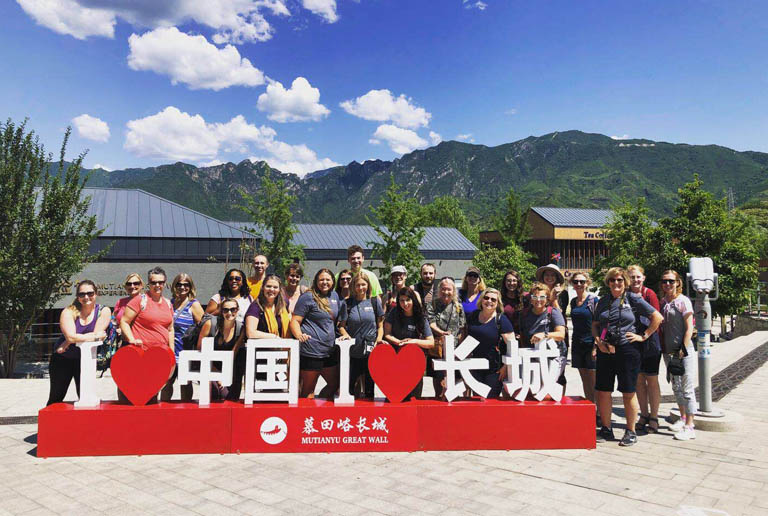 Our American Tourists Visited Mutianyu Great Wall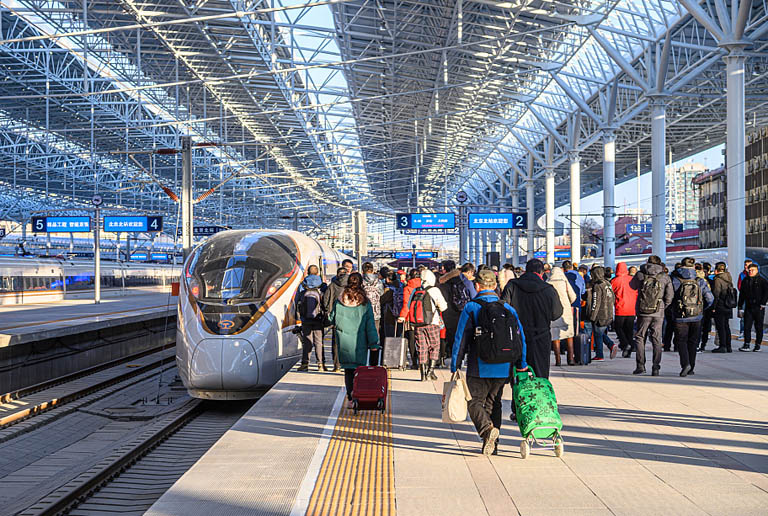 Beijing North Railway Station
Beijing Qinghe Railway Station
Zhangjiakou
Zhangjiakou, situated in Northwest of Hebei Province, is an important traffic hub connecting Beijing, Hebei and Innmer Mongolia. The city keeps a very long history and used to be a center northern ethnics lived together. Now, it has the largest number of existing Great Walls in China, up to 1,400 km in different architectural styles. Besides, Chongli (崇礼) and Chicheng (赤城) in Zhangjiakou are the two biggest natural ski resorts in Northern China, which makes Zhangjiakou another host city of 2020 Winter Olympics with Beijing. Natural Scenery, especially the vast grassland and forest there is worthy visit as well.
Zhangjiakou Railway Station 张家口站
Address: No.11, Zhanqian West Avenue, Qiaodong District, Zhangjiakou, Hebei 河北省张家口市桥东区站前西大街11号
Transportation: Zhangjiakou Railway Station is located close to downtown, about 2 km to city center. There are public city bus, long-distance coach, taxi available for transfer. If take a private car or taxi, it takes about 30 minutes (nearly 12 km) to get to the Dajing Gate scenic area, about 1.5 hours to the Wanlong Ski Resort and 1.5 hours to Bashang Prairie of Zhangbei. (Note: Zhangjiakou is a small city where major ski resort needs a little longer transfer. Thus, it's best to Travel with China Discovery, using our considerate, safe, convenient vehicle to go around.)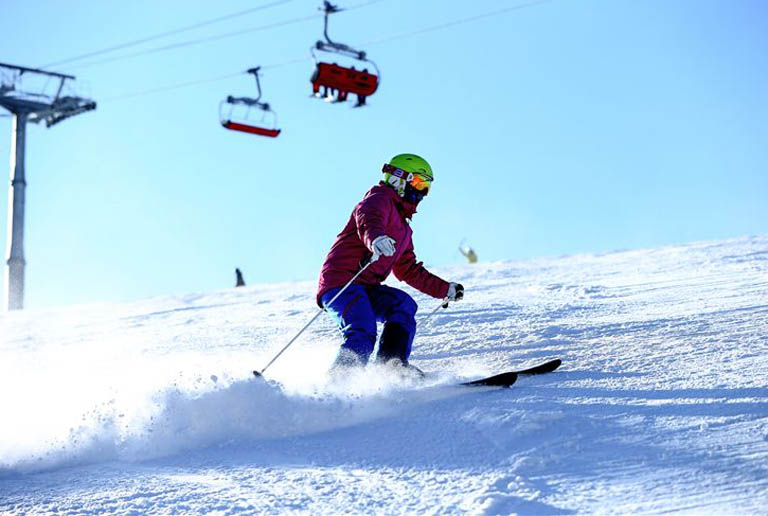 Zhangjiakou Wanlong Ski Resort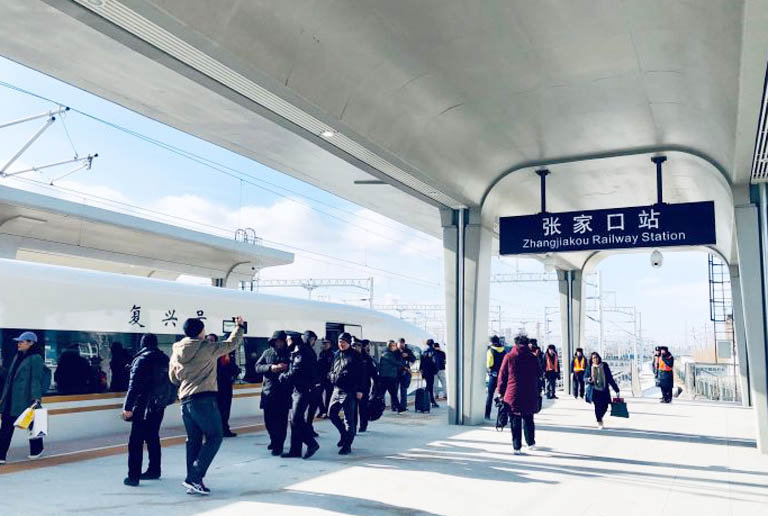 Zhangjiakou Railway Station
High Speed Train Tips
Class of Ticket
There are three kinds of tickets are provided on high speed train from Beijing to Zhangjiakou, Business Class Seat, First Class Seat and Second Class Seat. Second Class Seat is the most budget level you will share a row space with other passengers. And the First Class of Seat is more comfortable and quieter for those who prefer a good rest on the way. If you would like to try the most luxury and superior train travel experience, the Business Class better than the business level on airplane will shock you beyond expectation. Check All Types of Seats on China High Speed Train>
Book, Collect, Alter and Cancel
Foreign tourists can book train ticket online or ask help from ticket agency, or buy the tickets physically at the train station with your valid passport. One thing you should remember is to book the ticket as early as possible, especially in peak tourist seasons. After collecting the tickets, please read carefully about the train number, departure date and station to make sure you won't miss the train. If you want to cancel, alter your train tickets, you are required to bring your passport to the ticket counter and make the adjustments. Check details about How to Book, Collect, Alter, and Cancel Train Tickets>
Board & Get off
1) Prepare your documents well (valid passport with China Visa); 2) Get to the right train station in advance; 3) Collect train tickets; 4) Read your train ticket; 5) Pass the security control; 6) Pass through Security & Luggage Checks; 7) Find the right waiting room; 8) Cross the ticket checking gate; 9) Get to the right platform; 10) Get on your train. Keep the ticket well, because the ticket will be checked again to leave the station after you get off. Check details about How to Board & Disembark a Train>
Baggage Allowance
China train travel with luggage is much easier than taking flight, for you don't need to check luggage separately. Each passenger with a train ticket is allowed to carry luggage in certain weight and volume, but without limitation of amount and types. Though there are written regulation and rules about the luggage allowance, in practice, passengers can take as much luggage as you can if only you handled them properly. Check detailed Baggage Allowance & Policy to Take China Train>
Facilities and Service
All high speed trains in China are equipped with advanced facilities and good service to make your journey more convenient and comfortable. There are different places you can put your luggage onboard, racks and specialized luggage storage areas. Besides, the air-conditioner train offers you plug under the seats to charge your phone or laptop, sightseeing window to view the outside scenery as well as western-style toilets. There is also available dining area you can get some supplies. Bilingual signs and the broadcast use both Chinese and English so that you don't need to worry about the communication. Check All Facilities & Service on China Train>
Extension Readings of High Speed Train Travel in China
More Popular Beijing High Speed Train Schedules
Recommended Beijing Tours
Top 3 Beijing tours chosen by most customers to explore Beijing in the best way. Check the detailed itinerary, or tailor your own trip now with us.
8 Days Shanghai Hangzhou Beijing Highlights Tour by High Speed Train

Shanghai / Hangzhou / Beijing
9 Days Pandas Terracotta Warriors Great Wall Encounter by High Speed Trains

Chengdu / Leshan / Emeishan / Xian / Beijing
Start planning your tailor-made holiday to China by contacting one of our specialists. Once inquired, you'll get a response within 0.5~23.5 hours.
Customize a Trip
Have a question? Get answers from our travel experts or guests
Your Question:

Your Name:

Your Email: