Travel from Beijing to Chifeng: by Bullet Train, Flight & Car 2023
Beijing, the capital of China, is the top favored gateway city for a China trip and is quite popular to marvel at the rich historical culture of this vast country. While, Chifeng in nearby Inner Mongolia Prefecture is a beautiful destination attracting lots of visitors with its superb geological wonders and rich Liao Dynasty royal stories! Many travelers like to discover Chifeng from the convenient Beijing. So, how far between Beijing and Chifeng and how to get to Chifeng from Beijing? Check all the useful information to travel from Beijing to Chifeng by high speed train, flight, private car, etc. and more warm tips and planning ideas!
Location of Beijing and Chifeng - Distance Between Beijing and Chifeng
Beijing to Chifeng Distance: The direct distance between Beijing and Chifeng is 330 kilometers, which usually takes 2.5 hours by a high speed train, 5.5 hours by car driving, and 1 hour & 20 minutes by direct flight.
Beijing Location: Beijing is located in North China, neighboring Tianjin to the east and southeast and surrounded by Hebei Province in other sides.
Chifeng Location: Chifeng is situated at southeast Inner Mongolia in north China, with Liaoning Province to the southeast, Chengde City (Hebei Province) to the southwest and Xilingol League (Inner Mongolia) to the northwest. It is 615 kilometers east to Hohhot, 780 kilometers south to Hulunbuir, 375 kilometers northeast to Tianjin, and 380 kilometers to Shenyang.
Beijing to Chifeng Transfer Map
Option 1: Beijing to Chifeng by Bullet Train - Top Recommended
● Frequency: about 10 runs per day
● Train Time: 2.5 hours
● From & To: Beijing Chaoyang Railway Station 北京朝阳站 → Chifeng Railway Station 赤峰站
Taking a high speed train is the most recommended and convenient way to transfer from Beijing to Chifeng. There are about 10 bullet trains including some Fuxing Trains departing from Beijing Chaoyang Railway Station and bounding for Chifeng Railway Station from early morning to night time. The whole riding needs only around 2.5 hours in total taking you from Beijing Chaoyang District to Chifeng downtown easily. And the trains make some stops at Huairou South Railway Station, Chengde South Railway Station, Jianping Railway Station, etc. on the middle way.
☛ 3 Days Beijing Essential Short Stay Tour
☛ 4 Days Classic Beijing Tour Package
Railway Station Information
Beijing Chaoyang Railway Station
Location: Yaojiayuan North Road, Chaoyang District, Beijing (北京市朝阳区姚家园北路)
Transportation: It is only 10 kilometers northeast from Tiananmen Square, 8.5 kilometers from Beijing Railway Station. There is no subway stations nearby. You can take public buses, taxi, private car, etc. to get there.
Chifeng Railway Station
Location: Xizhan Street, Mujiayingzi Town, Songshan District, Chifeng (赤峰市松山区穆家营子镇西站大街)
Transportation: It is located in downtown Chifeng and only 2 kilometers from the city center, which takes about 10-15 minutes by car. And it usually takes about 20 minutes to reach Red Mountain Park by taxi (9 kilometers driving distance). Besides, local public buses, taxi, private car, etc. are easy for your transfer around Chifeng.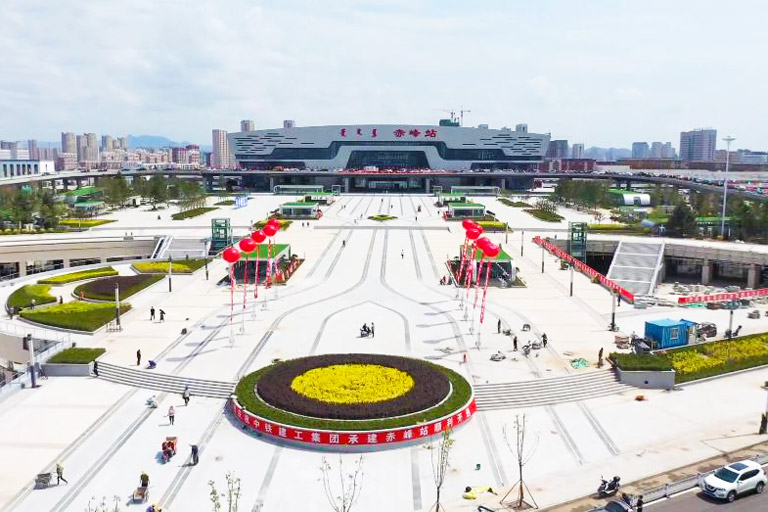 Railway Station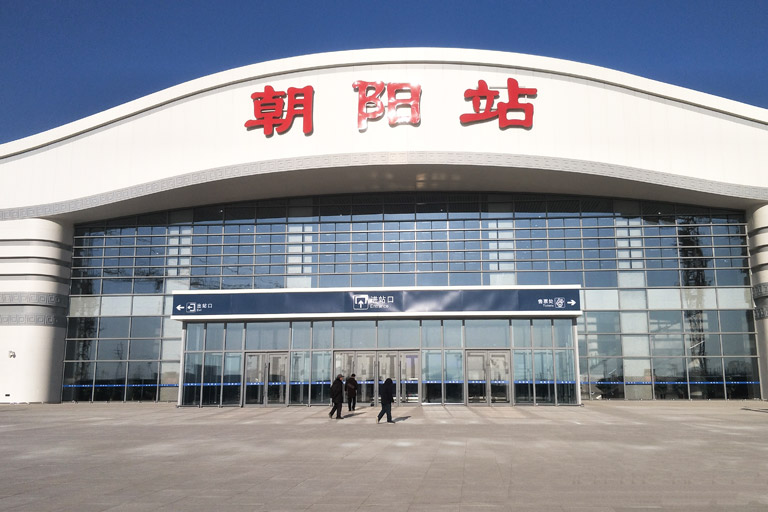 Railway Station
Referential Currency: RMB=1USD
Train No.
Departure / Train Staiton
Duration
Seat Type / USD Price / Availability
Note: Train information is subject to final confirmation due to the delay of data occasionally.
Option 2: Travel Beijing Chifeng with China Discovery by Private Car
Besides the bullet trains, transferring by a private car is also a great idea since it needs about 5~5.5 hours for the whore driving distance of about 415 kilometers.
However, for your convenient transfer and more enjoyable traveling around Chifeng, taking a private car is the most recommended way, since Chifeng is large and the major tourist attractions locate relatively separative around each banner and county. So, it is the best idea to travel with a private car. As an experienced, professional, and reliable travel agency in China, China Discovery offers convenient and efficient transfer service for all visitor guests booking tours with us. If you book a private tour with us, our local guide and driver can pick you up at the airport, train station, or from your hotel, and attractions in Beijing and escort you to Chifeng and its attractions by the non-smoking comfortable licensed private vehicle from China Discovery. So you can save lots of time, rest well on the way and focus on the trip itself. Travelling with China Discovery, you will enjoy a transfer worry-free Beijing Chifeng tour and get a better travel experience.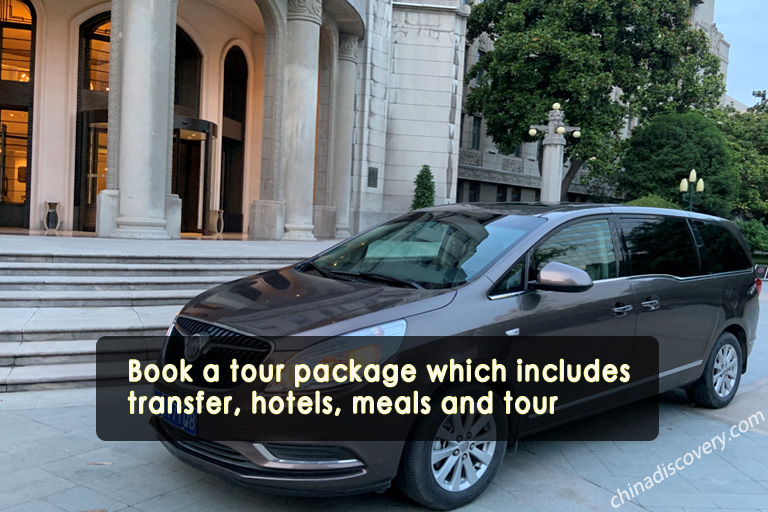 Travel Beijing Chifeng With China Discovery
Option 3: Beijing to Chifeng by Distance Bus
There are some distance coaches from Beijing to Chifeng every day, which needs about 4 hours to reach. The coaches launch from the Exit A of Lishuiqiao Railway Station (Metro Line 5 & 13) in Chaoyang District in Beijing and arrive at Aqua Park in downtown Chifeng.
Bus Station Information
Beijing Exit A of Lishuiqiao Railway Station (立水桥地铁站-a口)
Location: West side of the intersection of Litang Road and Beijing-Baotou Railway, Chaoyang District, Beijing (北京市朝阳区立汤路与京包铁路交汇处西侧)
Transportation: Beijing Metro Line 5 and Metro Line 13. It is about 16 kilometers from Tiananmen Square.
Chifeng Aqua Park (水上公园)
Location: No.189 Yinhe Road, Songshan District, Chifeng (赤峰市松山区银河路189号)
Transportation: It is situated in Chifeng downtown and usually needs about 15 minutes to reach Red Mountain Park by car.
Option 4: Beijing to Chifeng by Flight
There is only one daily flight from Beijing to Chifeng. And the airplane takes off at Beijing Daxing International Airport at around 17:20 and lands at Chifeng Yulong Airport at around 18:40, which takes totaly about 1 hour and 20 minutes.
Beijing Daxing International Airport
Location: Daxing District, Beijing & Guangyang District, Langfang City, Hebei(北京市大兴区礼贤镇、榆垡镇及廊坊 市广阳区交汇处)
Transportation: Daxing Airport is about 46 kilometers from Tiananmen Square. It usually takes about 1 hour by taxi and about 1.5 hours by airport shuttle bus and local metro system.
Chifeng Yulong Airport
Location: Niuyingzi Town, Harqin Banner, Chifeng (赤峰市喀喇沁旗牛营子镇)
Transportation: it is about 12 kilometers from Chifeng downtown and takes about 25 minutes to go by car (15 kilometers driving). Besides, airport shuttle buses and public buses are available to transfer to downtown and other places.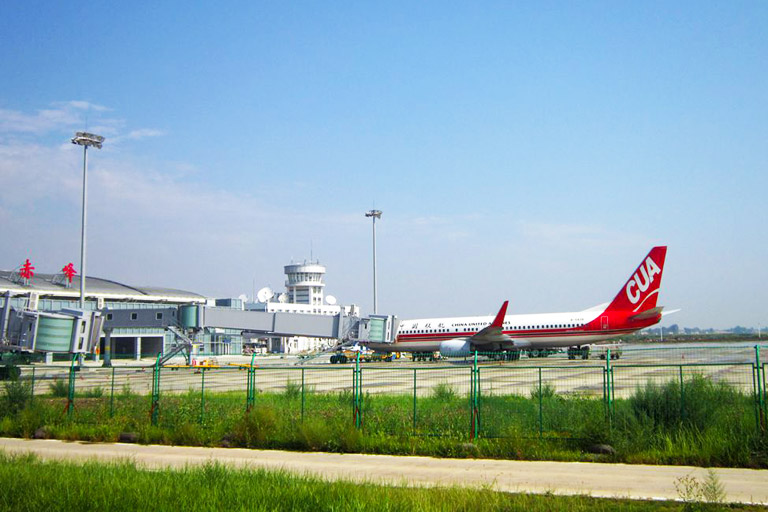 Chifeng Yulong Airport
China Train Travel Tips
Class of Ticket
You can usually choose from the First Class Seat, the Second Class Seat or Business Class Seat on the high speed trains. While, there are three types offered on the normal train, including Soft Sleeper, Hard Sleeper and Hard Seat. learn more >>
Book, Collect, Alter and Cancel
Foreign tourists can book train ticket online or via a ticket agency, or buy the tickets physically at the train station with your valid passport. Train ticket alteration and cancellation are only available at ticket counters. learn more >>
Board & Get off
1) Prepare your passport and China Visa; 2) Get to the right train station at least 30 mins in advance; 3) Collect your train ticket; 4) Read your train ticket; 5) Pass the security control; 6) Pass through Security & Luggage Checks; 7) Find the right waiting room; 8) Cross the ticket checking gate; 9) Get to the right platform; 10) Get on your train. learn more >>
Baggage Allowance
Passengers don't need to check luggage separately. Each passenger is allowed to carry luggage in certain weight and volume, but without limitation of amount and types. learn more >>
Facilities and Service
All high speed trains in China are equipped with advanced facilities and good service, including luggage racks, air-conditioner, power socket, dining car, hot water, etc. learn more >>
How to Plan a Beijing Chifeng Tour
Usually, you are suggested to spend 2 ~ 4 days visiting the landmarks of Beijing such as the world-famous manmade wonder - the Great Wall, magnificent Forbidden City, spacious royal garden Summer Palace, and lively Beijing Hutongs. Then take a high speed train, car or flight to Chifeng.
☛ 3 Days Beijing Essential Short Stay Tour
☛ 4 Days Classic Beijing Tour Package
In Chifeng, you can plan around 5 days to explore the top highlights there including the famous Ulan Butong Grassland and symbolic Heshigten Global Geopark (Dali Nur Lake, Asihatu Stone Forest, Gonggeer Grassland, etc.), Red Mountain Park, Yulong Sank Lake, Kalaqin Palace, etc. If you are interested in Liao Dynasty culture, you can add 1 day to enjoy the temples, towers and museums in Ningcheng and Badan Left Banner.
☛ 5 Days Classic Hexigten Scenic Tour with Wulan Butong Grassland (Chifeng)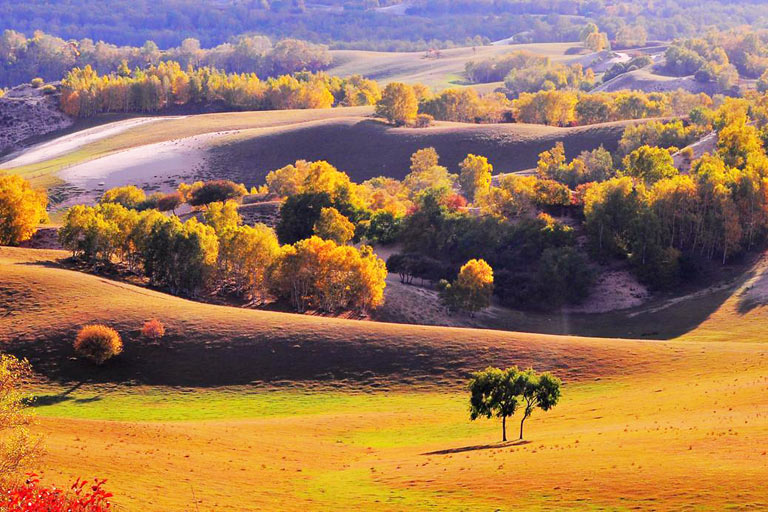 Chifeng Ulan Butong Grassland in Autumn
Recommended Beijing Chifeng Tours
Top 3 Beijing Chifeng tours chosen by most customers to explore Beijing Chifeng in the best way. Check the detailed itinerary, or tailor your own trip now with us.
5 Days Classic Inner Mongolia Tour

Hohhot / Huitengxile Grassland / Yemingsha of Kubuqi Desert / Hohhot
6 Days Inner Mongolia Bests Discovery Tour

Hohhot / Ulanqab / Huitengxile Grassland / Hohhot / Baotou / Yemingsha of Kubuqi Desert / Ordos
Start planning your tailor-made holiday to China by contacting one of our specialists. Once inquired, you'll get a response within 0.5~23.5 hours.
Customize a Trip
Have a question? Get answers from our travel experts or guests
Your Question:

Your Name:

Your Email: