Qinghai Tibet Railway - All about the Tibet "Sky Train" 2022
Qinghai Tibet Railway (also called Qingzang Railway) is a plateau railway that connects Xining of Qinghai Province and Lhasa in Tibet. It has made 9 world records for having the longest plateau railway, the highest train station, the highest permafrost tunnel, the longest track though frozen earth and other incredible achievements. As the first railway getting to Tibet, it ends the previous allegation of the impossibility of building a railway across the majestic Kunlun Mountains and perfectly proves the distinguished wisdom and perseverance of Chinese people. By successfully overcoming the three major worldwide engineering technical problems, the railway has been recognized as one of the four greatest engineering projects of China in the 21st century and selected for Global Centennial Project in 2013. The spectacular landscape along the rail is its another drawcard appealing to tourists. A Tibet train will take you pass through the pretty Qinghai Lake, Hoh Xil, sublime snowy mountains, azure Cuo'na Lake and many awe-inspiring regions on the way to the "Roof of the World". Read on to learn more extraordinary facts about the railway and find inspirations to plan your once-in-a-lifetime train journey to Tibet!
Latest News: Tibet has been reopened to expats in China since May 8. If you have a travel plan, we can arrange a worry-free Tibet tour for you, including the application of the Tibet Travel Permit. Contact us if you have any question.
Qinghai Tibet Railway Facts, Construction History and World Records
▶ Basic Information of Qinghai Tibet Railway
● Starting & Terminal Station: Xining Railway Station - Lhasa Railway Station
● Line Length: 1,956 km (1,215 mi): Xining-Golmud (814 km)+Golmud-Lhasa (1,142 km)
● Type: National Class I Railroad
● Sections: Xining - Delingha - Golmud - Amdo - Nagqu - Damxung - Lhasa
● Train Stations: 85 (main stations: Xining-Delingha-Golmud-Amdo-Nagqu-Damxung-Lhasa)
● Operation Date: 1984 (Xining-Golmud); 2006 (Golmud-Lhasa)
● Operating Speed: 140 km/h (Xining-Golmud), 100 km/h (Golmud-Lhasa)
▶ The Construction History of Qinghai Tibet Railway
The Qinghai Tibet Railway consists of two segments. The Xining-Golmud part started construction in sections in 1958 first and completed and opened to traffic in 1984. Most areas it passes are located over 3,000 meters above sea level. In early 21st century, this rail got capacity enlarging and reconstruction, built double tracks and was electrified. The second section is the single track railway from Qinghai's Golmud to Lhasa, which began in 2001 and opened in 2006. It has been expanded the capacity and done renovation. Electrification is under planned and will start in the near future.
▶ 9 Remarkable World Records of the Qinghai Tibet Railway
Awarded as the world's highest and longest plateau railway, Qinghai Tibet Railway has successfully overcome the three global engineering technical problems - permafrost, high-elevated, extreme cold & oxygen deficit environment, fragile ecosystem during the construction. It is embalmed as a glorious accomplishment marked by many world records.
❶ Qinghai Tibet Railway is the world's highest plateau railway.
The railway passes through around 960-kilimeter-long region whose elevation is above 4,000 meters. The highest point is the Tanggula Mountain Pass with an altitude of 5,072 m while the highest station Tanggulashan Railway Station lies 5,068 meters above sea level.
Golmud Railway Station Elevation: 2,829 m; Amdo Railway Station Elevation: 4,702 m; Nagqu Railway Station: 4,513 m
❷ Qinghai Tibet Railway is the longest plateau railway in the world.
❸ It has the world's longest rail mileage laid on permafrost, up to 600 km.
❹ It has the highest railway station in the world - Tanggulashan Railway Station which is at an elevation of 5,068 meters.
❺ It has built the world's highest permafrost tunnel - Fenghuoshan Tunnel that sits 4,905 meter above seal level.
❻ Kunlun Mountain Tunnel on the Qinghai Tibet Railway is the longest plateau permafrost tunnel with a total length of 1,686 meters.
❼ It has the most elevated track-laying base in the world - Amdo Track Laying Back at an elevation of 4,704 meters.
❽ It has the longest plateau permafrost railway bridge - Qingshui River Bridge.
The bridge, 11.7 kilometers long, stretches across the Hoh Xil Nature Reserve (elevation: around 4,500 m).
❾ Trains on the Qinghai Tibet Railway runs the top speed on the plateau permafrost area over the world.
The regular running speed on permafrost sections is 100 km/h and 120 on non-permafrost grounds.
Qinghai Tibet Railway Map
The Qinghai Tibet Railway was constructed parallelly along the Beijing-Lhasa Highway (China National Highway G109). It starts from Xining, Northwest China's Qinghai Province, and goes southwestward through Delingha, Golumd, Chumar River (head stream of the Yangtze River), Ulan Moran (Tuotuo River) in Qinghai and enters Amdo of Tibet after passing the Tanggula Mountains and Tongtian River. The railway continues to extend southward via Tsonag Lake (Cona Lake, or Cuo'na Lake), Nagqu, Nianqing Tangula Mountains, Damxung, Yangbajain and finally terminates in Lhasa, southeast-central Tibet.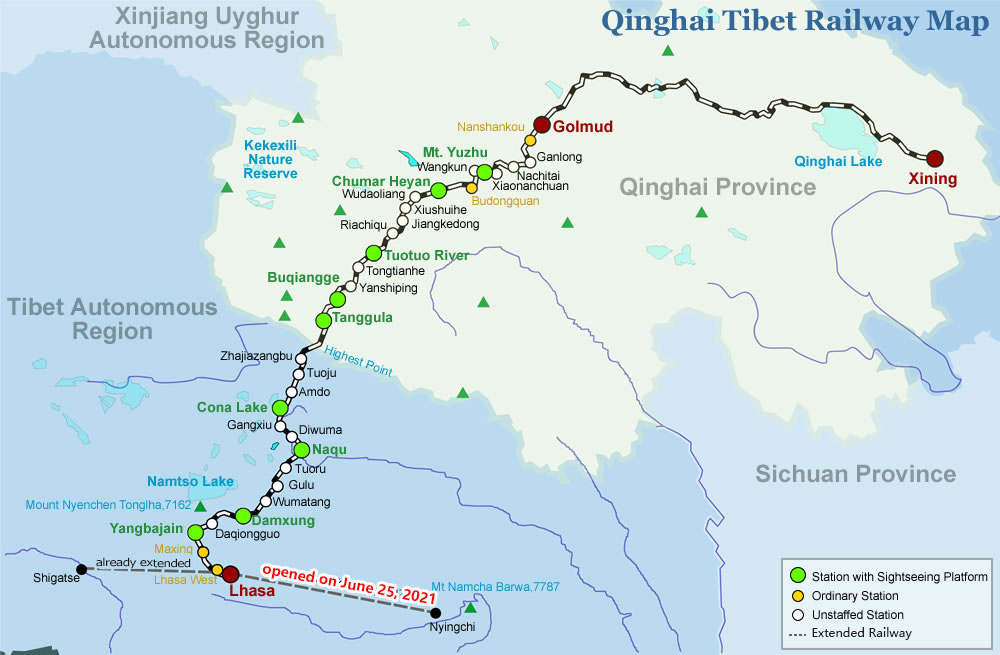 Beautiful Scenery along the Qinghai Tibet Railway
Between Xining and Lhasa, visitors traveling on this railway line will pass through beautiful Qinghai Lake, deserted mountains in Delingha, Hoh Xil Nature Reserve with scattered Tibetan antelopes, yaks and donkeys, Kunlun Mountains, Sanjiangyuan (Three Rivers) National Nature Reserve and grasslands in northern Tibet.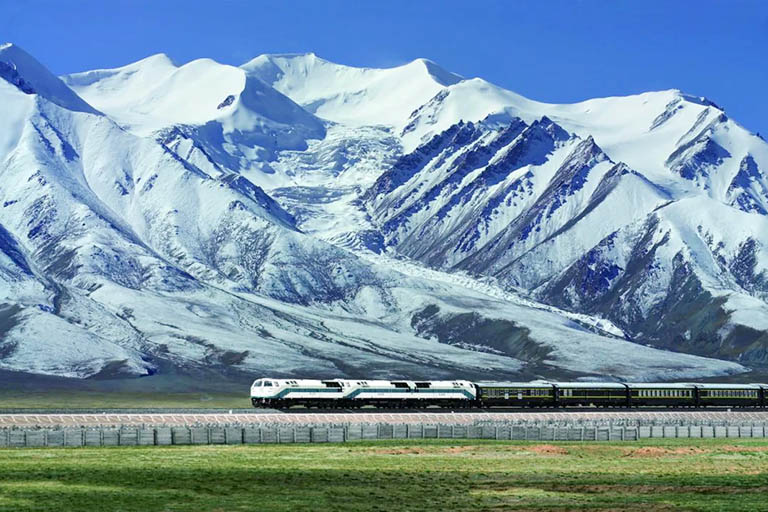 Snow-covered Mountains in Northern Tibet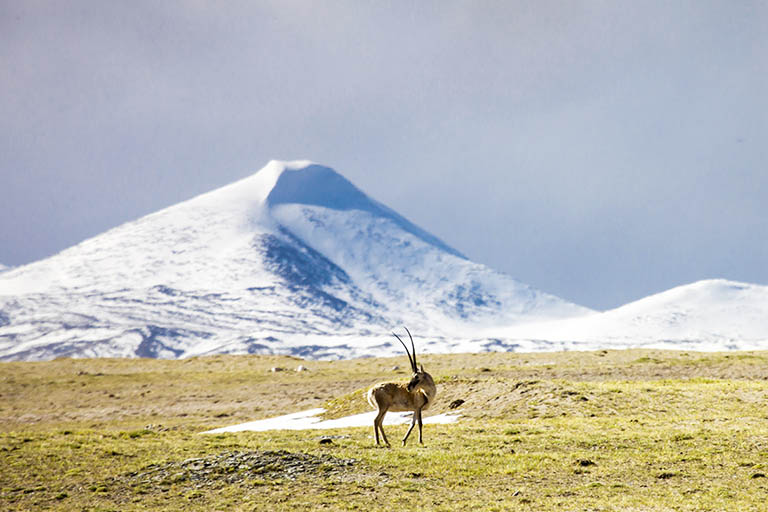 Tibetan Antelope in Hoh Xil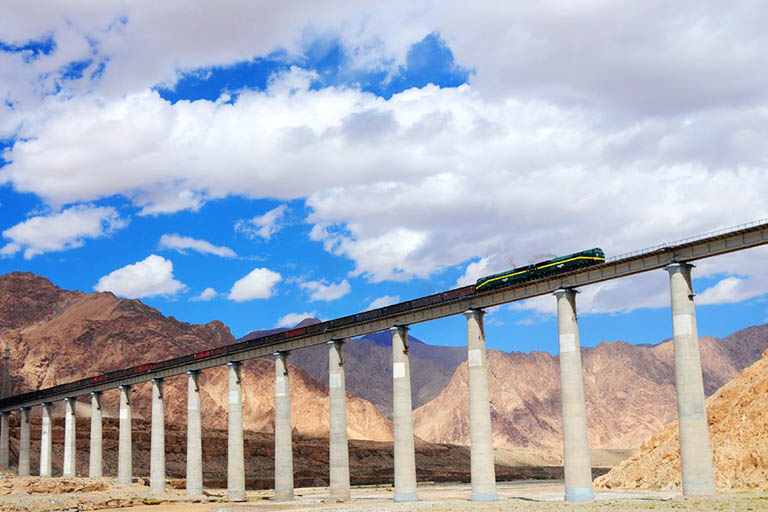 Sanchahe Bridge (elevation: over 3,800m) in a Alpine Valley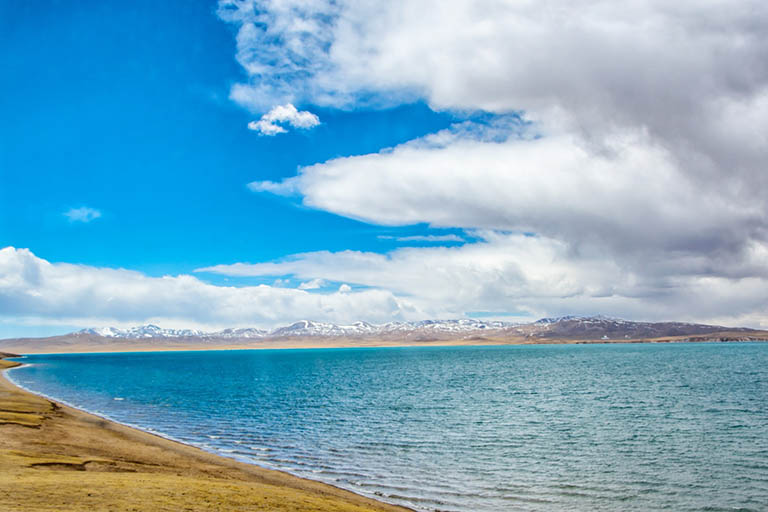 Limpid Cuo'na Lake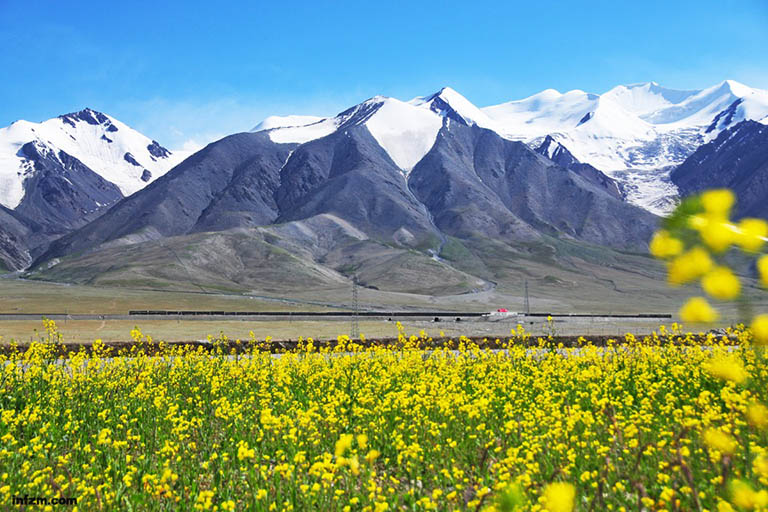 Yuzhu Peak (elevation: 6,178 m) - the Highest Peak of the East Kunlun Mountains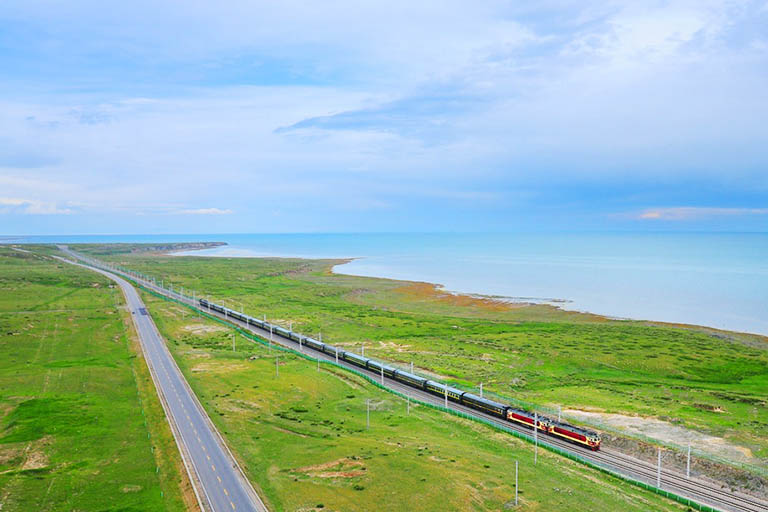 Qinghai Lake - the Largest Inland Lake in China
FYI: If you want to enjoy the picturesque Qinghai Lake, you'd better take train Z223 running through the lake rightly in the daytime and Z165 and Z265 have good chances to view the wildlife in the Hoh Xil. Nearly all trains offer the opportunity to see the Cuo'na Lake and vast grassland in northern Tibet. (Since China Railway will adjust train times all over China seasonally, please contact us to check the updated train time and advice.)
Top Qinghai Tibet Train Routes
Tibet Train Route
Distance
Train Number
Departure Station
Ternimal Station
Dep.~ Arr. Time
Duration
Frequency
Train Schedule
Xining-Lhasa
1,956 km
Z223/Z6801/Z21
Z265/Z6811/Z165
Xining Railway Station
Lhasa Railway Station
12:20~21:20 -10:00~19:30
20~22hrs
5~6 trains daily
Xining to Lhasa Trains
Beijing-Lhasa
3,756 km
Z21
Beijing West Railway Station
Lhasa Railway Station
20:00-12:30
40.5hrs
1 train daily
Beijing to Lhasa Trains
Shanghai-Lhasa
4,372 km
Z164
Shanghai Railway Station
Lhasa Railway Station
20:07-19:30
47.5hrs
1 train daily
Shanghai to Lhasa Trains
Guangzhou-Lhasa
4,979 km
Z264
Guangzhou Railway Station
Lhasa Railway Station
11:40-15:45
52hrs
1 train daily
Guangzhou to Lhasa Trains
Chengdu-Lhasa
3,360 km
Z322
Chengdu Railway Station
Lhasa Railway Station
21:37-09:56
36.5hrs
1 train every other day
Chengdu to Lhasa Trains
Chongqing-Lhasa
3,055 km
Z223
Chongqing West Railway Station
Lhasa Railway Station
22:25-09:56
35.5hrs
1 train every other day
Chongqing to Lhasa Trains
Xian-Lhasa
2,863 km
Z265/Z165
Xian Railway Station
Lhasa Railway Station
09:54-15:45; 11:22-19:30
30~32hrs
2 trains daily
Xian to Lhasa Trains
Lanzhou-Lhasa
2,187 km
Z223/Z21/Z265/Z165
Lanzhou Railway Station
Lhasa Railway Station
09:26~18:37 - 09:56~19:30
23~25hrs
4 trains daily
Lanzhou to Lhasa Trains
Note: The train timetable will be adjusted seasonally. You can contact us to check the latest train times and get more Tibet train travel information.
Qinghai Tibet Train Ticket Types, Price & Booking Tips
Three Types of Tibet Train Ticket
A Tibet train usually has a seating capacity of 936 passengers and three types passenger compartments - Soft Sleeper, Hard Sleeper, Hard Seat. The train ticket price varies from the train ride distance, train number and the exact upper, middle or lower berth. Below are reference price of major Tibet train routes.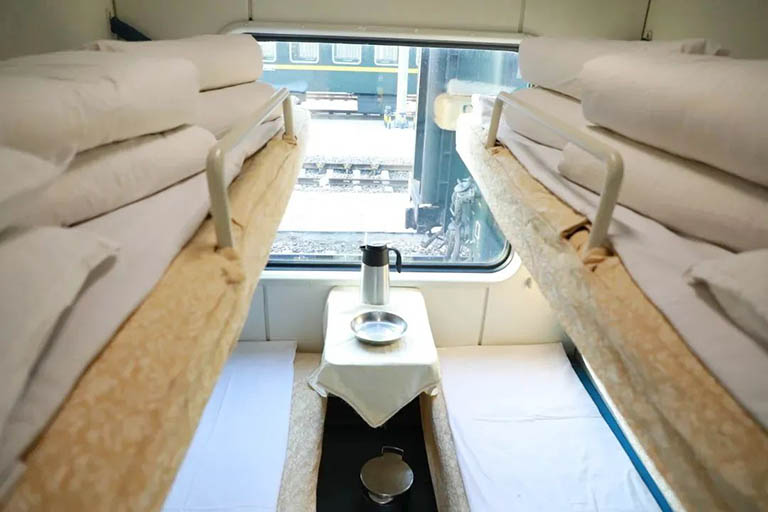 Soft Sleeper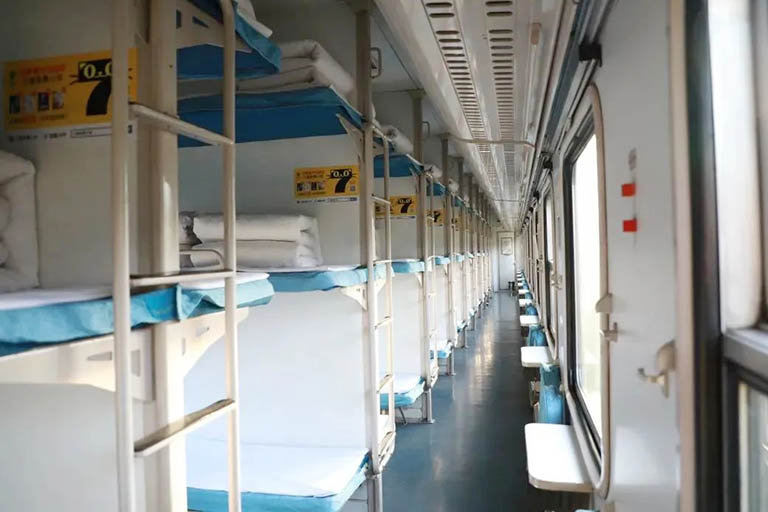 Hard Sleeper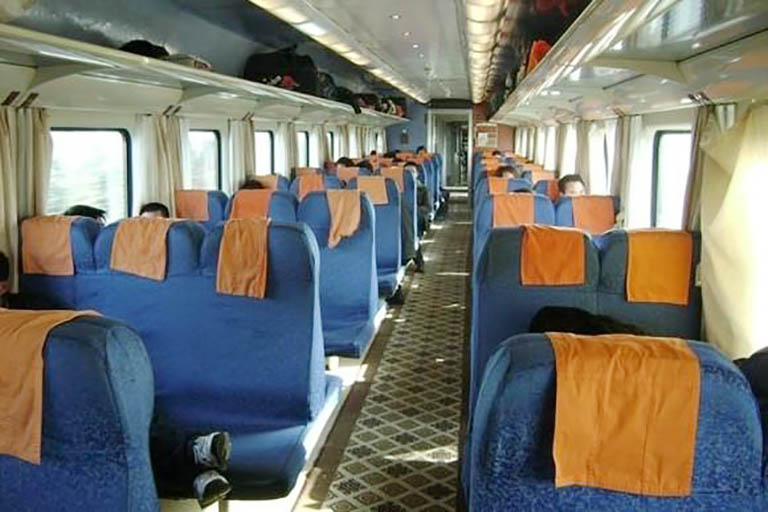 Hard Seat
Price of Tibet Train Ticket
| Tibet Train Route | Soft Sleeper | Hard Sleeper | Hard Seat | Tibet Train Route | Soft Sleeper | Hard Sleeper | Hard Seat |
| --- | --- | --- | --- | --- | --- | --- | --- |
| Xining-Lhasa | about 800 RMB | about 500 RMB | about 250 RMB | Chengdu-Lhasa | about 1,000 RMB | about 650 RMB | about 300 RMB |
| Beijing-Lhasa | about 1,150 RMB | about 750 RMB | about 360 RMB | Chongqing-Lhasa | about 1,000 RMB | about 650 RMB | about 300 RMB |
| Shanghai-Lhasa | about 1,300 RMB | about 800 RMB | about 400 RMB | Xian-Lhasa | about 1,000 RMB | about 650 RMB | about 300 RMB |
| Guangzhou-Lhasa | about 1,500 RMB | about 900 RMB | about 450 RMB | Lanzhou-Lhasa | about 850 RMB | about 550 RMB | about 250 RMB |
Note: The Tibet train ticket prices above are listed for your reference only. You can contact us to check the updated and detailed fares.
Which one is the BEST Choice?
Soft Sleeper: With the highest level of comfort and privacy, Soft Sleeper is the most popular and recommended choice. Each Tibet train has 64 Soft Sleepers in 16 compartments. In each compartment, there are four Soft Sleepers (upper and lower berths) with clean, delicate sheet and quilts, a small desk, luggage storage area, a TV and a sliding door that can isolate you from the public corridor.
Hard Sleeper: There are 8 to 11 Hard Sleeper compartments on every Tibet train. Each compartment has 6 Hard Sleepers (upper, middle, lower berths) with basic sheets and quilts. There is no door, so it's not good for you to rest well, for passengers often walk in the hallway, and you can hear people talking all the way.
Hard Seat: No one will endure the long sitting which may last 1 or 2 days, despite it's the cheapest option.
How to Book a Tibet Train Ticket?
Foreigners have 5 ways to book a train ticket in China.
1. Buy the ticket on China Railway's official platforms - website (https://www.12306.cn/en/index.html) or app 铁路12306.
2. Buy the ticket from a ticket window at a railway station.
3. Book the ticket by telephone.
4. Buy the ticket via a train ticket outlet or travel agency.
5. Buy the ticket on an automatic ticket machine at the railway station (only available for holders of China's Foreign Permanent Resident ID Card).
For foreign travelers, the process of completing the registration, identity verification, seat choosing and make payment is quite complicated. Meanwhile, a foreigner wishing to visit Tibet must preconcert an itinerary, local tour guide and vehicle and get a Tibet Travel Permit. All that can only be arranged by a local travel agency like China Discovery. So, we can also help you book the Tibet train ticket and train/flight leaving Tibet. You just need to provide your passport and travel information for we will book it for you and make sure your Tibet train journey go smoothly.
Tips: Tibet is one of the popular tourist destinations in China. It's suitable for travel from April to October. The summer months - June, July and August are its peak seasons. To ensure you successfully get a train ticket, it's better to plan your trip and book the ticket as early as possible.
Facilities on Qinghai Tibet Train
All trains running on the Qinghai Tibet Railway are totally enclosed plateau trains with special facilities and services. The oxygen supply system offers a comfortable level of oxygen concentration. Moreover, there is an emergency room and many medical facilities, emergency button and unique waste disposal procedures on board to provide passengers with good train travel experience. Let's see what are the major differences between a Qinghai Tibet train and other normal green slow trains in China.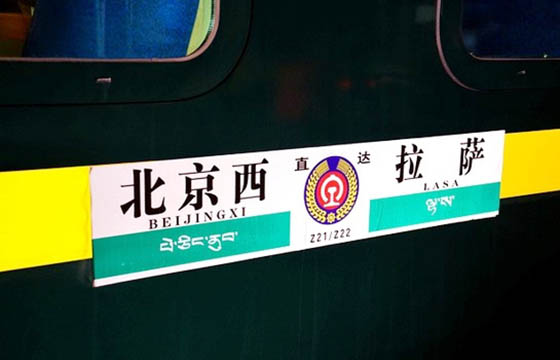 Multilingual Notes of Train Information
In the front electronic display of each carriage, the elevation, real-time temperature of the carriage, train running speed and arrival station are broadcast in Tibetan, Chinese and English. Many facilities on board are noted in the three languages.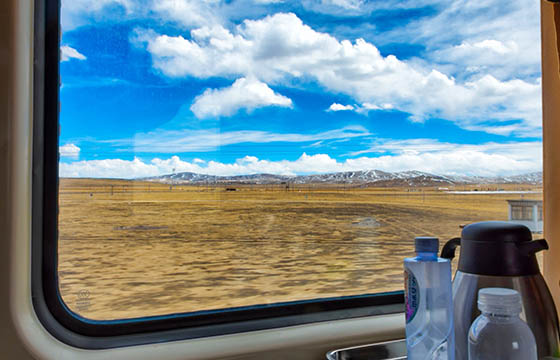 Super Wide & Big Window
The windows all install pressure equalizers to maintain the impermeability and insulation performance which possibly caused the distortion. The window interlayers are equipped with ultraviolet-proof diaphragms.
Oxygen Supply
There are diffuse oxygen supply systems on the top of each carriage and oxygen outlets under each seat and sleeper and in the corridor and between the cars. You can inhale oxygen conveniently to alleviate the effects of the altitude rising.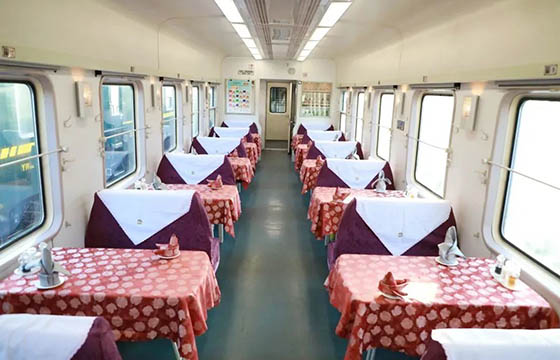 Dining
You can go to the dining car, order and eat in the "restaurant" on a big table and siting on a soft couch or buy a set meal (packed meal) when the staff pushing the dining car during the meal time.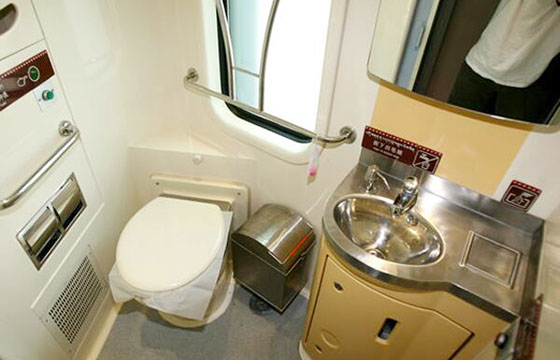 Toilet
There are western style toilets and squat-toilets on the Tibet Train. The toilet is available during your entire train trip. Rest assured that trash compactors and centralized processing are used to protect the environment.
Medical Care
All Tibet trains equip doctors and nurses for emergency. When entering Tibet, every passenger need to fill in a Health Registration Card and take temperature. Medical aid stations are set up in Amdo and Nagqu. Please ask for help if you fell uncomfortable.
Know More Facts & News about Qinghai Tibet Railway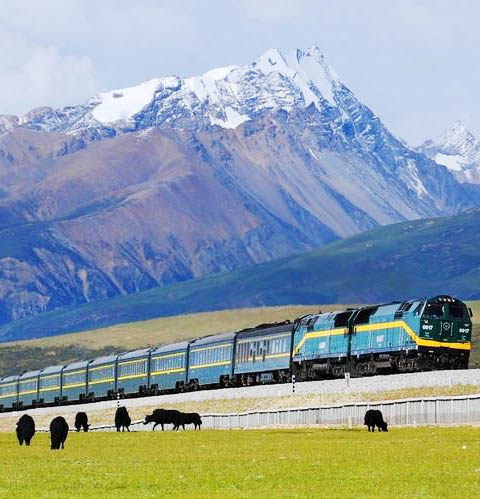 Qinghai Tibet Railway
1. Some train routes need to change to a plateau train in Xining
If you take a train to Lhasa from Shanghai, Guangzhou, Chengdu and Chongqing, you will get off and change to a plateau train in Xining. The carriage and your sleeper location are the same as before.
2. Different train locomotives along the railway
Upon arrival in Golmud, the train will change into a diesel locomotive from the electric one. Because electricity network is over the regions between Xining and Golmud (relatively plat area) while the latter section is inconvenient to use the electrical power.
3. Extended railway lines of Qinghai Tibet Railway
Qinghai Tibet Railway has been extended in Tibet with more branches, such as the Lhasa-Shigatse Railway, Lhasa-Nyingchi Railway (will open in July 2020) and the future Lhasa-Kathmandu Railway connecting Tibet and Nepal.
>> Learn more about the Sichuan Tibet Railway
(Chengdu-Lhasa Train)
Get Inspired by Our Customers' Qinghai & Tibet Travel Stories
Seeing is believing. As an experienced and reliable China travel agency, China Discovery has helped hundreds of thousands of travelers enjoy a trip to Tibet, Beijing, Shanghai, Xian, Chengdu, Guilin and other parts of China. Some of them shared their wonderful travel moments with beautiful photos and high compliments to our service. Below we select two excellent tour stories in Qinghai and Tibet respectively. You can read more details to get inspired for your Tibet travel. Here are more Tibet Travel Stories >>
Two China Trips during the Pandemic Year - Keep Calm and Journey on

-- 9 Days Qinghai Gansu Trip and 7 Days Guilin Zhangjiajie Trip of Simona and Thomas

Thomas and Simona are a lovely nice couple who had booked the Yangtze River Cruise from my company before. They love travel and see more unknown wonders in China. Surely, it must be a safe place and open to tourists. In late July, they traveled from Shanghai to Xining, visited the unmissable Qinghai Lake and Chaka Salt Lake and later extended trip to the "Rainbow Mountains" of Zhangye and China's most beautiful desert - Badain Jaran Desert in western Inner Mongolia. In November, they make another trip to idyllic Guilin and fantastic Zhangjiajie.
Destinations Visited: Shanghai - Xining - Zhangye - Badain Jaran Desert - Zhangye - Shanghai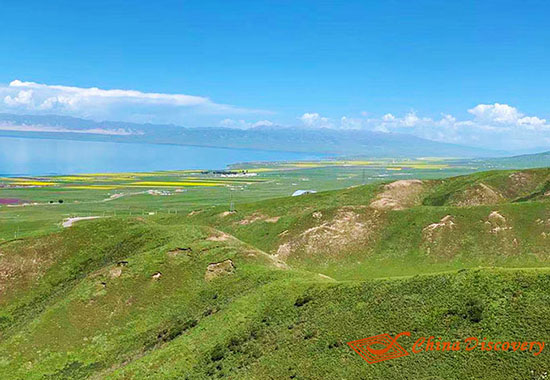 Warm People, Warm the World – Annual Tibet Trip for Love Sharing

-- Jack's Wonderful Yearly Tibet Trip in China

Jack from a nonprofit organization in USA contacted with us in 2013 for the first time, after he saw our attractive website and the holy land of Tibet. Since then, we've been in contact for 6 years. Every year they'd get back to Tibet from the distant United States, and until now, they've visited Tibet for 6 times, helped the local people. "A highly recommended experience!" He reviewed his first 4-day Lhasa & Namtso Lake trip was an outstanding experience in every way! He also gave the highest ratings about his following trips to Tibet and other destinations in China.
Destinations Visited: Tibet (Lhasa – Gyantse – Lhasa)