Guangzhou to Hong Kong Train
Are you planning a China tour from Hong Kong or Guangzhou to discover the real essential culture and food in China? One of the common ways for going between Guangzhou and Hong Kong is to take a through train. Guangzhou is about 130 kilometers from Hong Kong, and train needs only about 2 hours for covering the whole rail of 183 kilometers between Guangzhou East Railway Station to Hung Hom Station in Kowloon, Hong Kong. With the so short time, you could easily go to see the traditional culture of Lingnan area and taste the delicious Cantonese snacks after admire the collisional culture of Chinese and Western feature in Hong Kong. You could check the detailed train schedules, major railway stations, tickets booking tips, and other useful information for your tour in Guangzhou and Hong Kong at below.
Guangzhou Hong Kong Through Train Map
Hong Kong to Guangzhou Train Schedule
From Hong Kong, there are 12 daily through trains departing from Hung Hom Station to Guangzhou East Station, via Changping. The first train Z812 starts at 07:25 and would arrives at Guangzhou at 09:24, for about 1 hour and 59 minutes. The rest trains are Z824 at 08:15, Z820 at 09:24, Z804 at 10:52, Z808 at 11:32, Z812 at 12:23, Z826 at 13:11, Z818 at 14:32, Z810 at 16:35,Z828 at 18:00, Z816 at 18:44, and Z802 at about 20:01. Among them, Z808 and Z814 would not stop in Changping Station. You could choose a train from all the 12 options to transfer from Hong Kong to Guangzhou.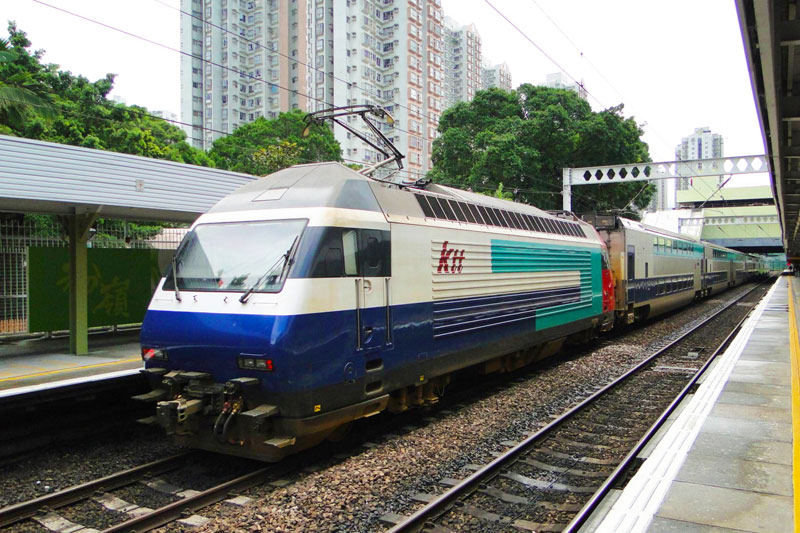 Guangzhou Hong Kong Ktt Train
Guangzhou to Hong Kong Train Schedule
For the convenience of world travelers and local business people and visitors, there are also 12 daily through trains from Guangzhou to Hong Kong matched with that from Hong Kong to Guangzhou. You could take the earliest train Z801 at 08:19 to reach Hung Hom Railway Station at about 10:17. Also, the rest trains would leave Guangzhou at about 09:04, 09:55, 10:37, 12:03, 14:04, 15:38, 16:14, 17:33, 18:20, and 20:30. The last Guangzhou-Kowloon Through Train (广九直通车) Z811 would start at 21:32 and arrive at Hong Kong at about 23:25 during late night.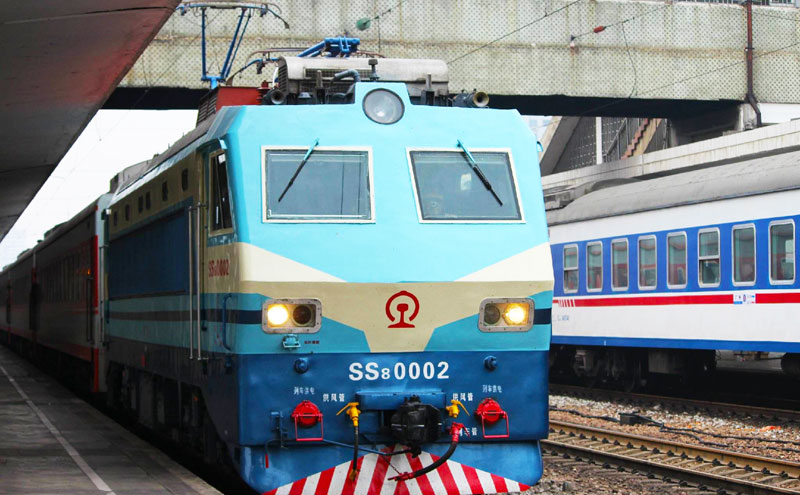 Guangzhou Hong Kong Through Train
Note: 1. Z824, Z826, and Z828 from Guangzhou, and Z823, Z825, and Z827 from Hong Kong are Ktt (Hong Kong Canton Railway Through Train 九广通), which are double-decker trains. Others are single decker trains. 2. The above information of schedule of Guangzhou Hong Kong trains is only for your reference. Detailed data may be slightly varied according to practical situation, and you could contact our travel expert for the latest and specific schedules.
Major Stations for Guangzhou Hong Kong Trains
For your Guangzhou Hong Kong train traveling, Guangzhou East Railway Station and Hong Kong Hung Hom Station are mostly used. Both stations are in the downtown area, and you could easily get to and from by local vehicles.
Guangzhou East Railway Station
Location: No. 1 Dongzhan Road, Tianhe District, Guangzhou City, Guangzhou Province (广东省广州市天河区东站路1号 广州东站)
Local transfer: from Guangzhou East Railway Station, you could take Guangzhou Metro Line 2 for about 40 minutes to Guangzhou Baiyun Airport, take Line 1 and 2 to Yuexiu Park and Sun Yatsen Memorial Hall for about 30 minutes, take Line 1 to the central area for about 40 minutes and to Chen's Family for about 30 minutes, take Line 1 and Line 6 to Shamian Island for about 40 minutes, etc.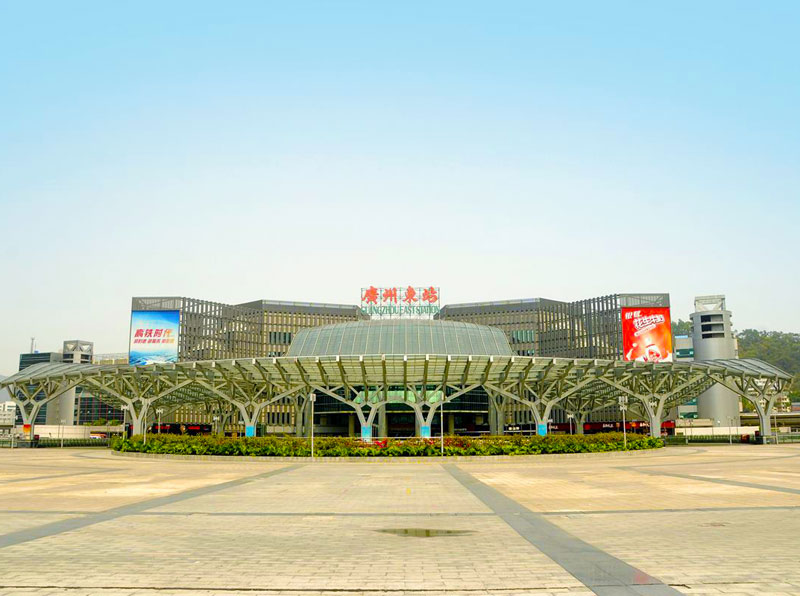 Guangzhou East Station
Hong Kong Hung Hom Station
Location: No. 8 Cheong Wan Road, Hung Hom, Hong Kong (香港红磡畅运道8号 红磡火车站)
Local transfer: from Hong Kong Hung Hom Railway Station, you could take West Rail Line, East Rail Line and Disneyland Resort Line to Hong Kong Disneyland for about 70 minutes, take bus 170 to Ocean Park for about 50 minutes, take East Rail Line to Mong Kok for about 20 minutes, take West Rail Line to Tsim Sha Tsui for about 20 minutes, take the Citybus 811 to take the Victoria Peak Tram for about 40 minutes, the West Rail Line to the Avenue of the Stars. Besides, you could take a taxi to Stanley Market for about 30 minutes, etc.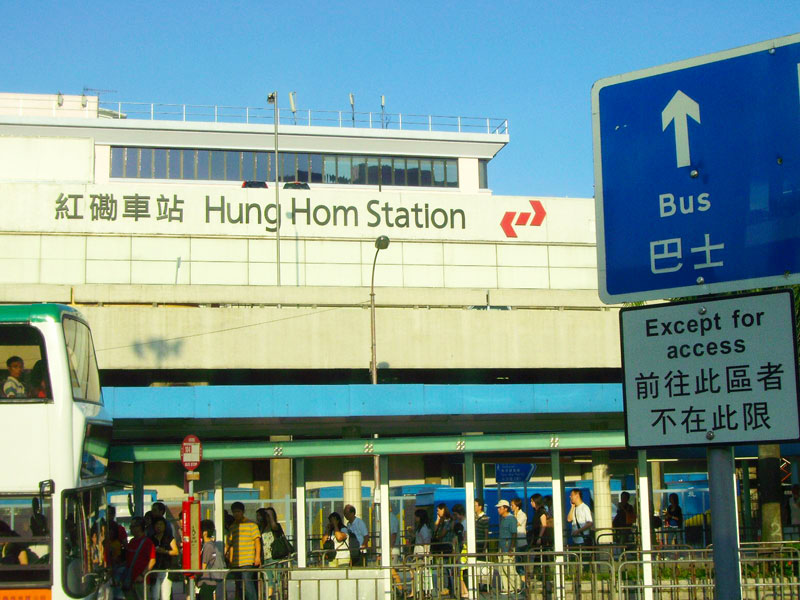 Hong Kong Hung Hom Station
Moreover, We China Discovery provide local transfer service. So you book this great service with nice payment to get to or from the station with real speed and comfortable transfer without waiting for the vehicles and detour. Just contact our Travel Consultant for detailed information.
Guangzhou Hong Kong Train Tickets & Booking Tips
On Guangzhou Hong Kong trains, there are Premium Class Seats and First Class Seats, with the former type costs HK$ 250 (about 32 USD) for each adult, and the latter one costs HK$ 210 (about 27 USD). Children of 5-9 years enjoy half price.
How to book the tickets?
In fact, as there are enough tickets sold, you could buy the train ticket on site in the station in Guangzhou or Hong Kong. And if you want to book it in advance, you could do it at Guangzhou East Station and Hong Kong Hung Hom Station, and also, you could book it online through the official Website of Hong Kong MTR. Besides, if you book a tour including Guangzhou or Hong Kong, you could directly leave all the steps to us China Discovery, and our local guide would do it perfectly for you.
How to get the tickets?
If you buy the tickets on site in the train station, you can get it immediately. For collecting your train tickets booked in other ways, you are recommended to go to the service windows in the specific railway station in Guangzhou or Hong Kong. However, if you book online, you should collect your tickets only in Hong Kong.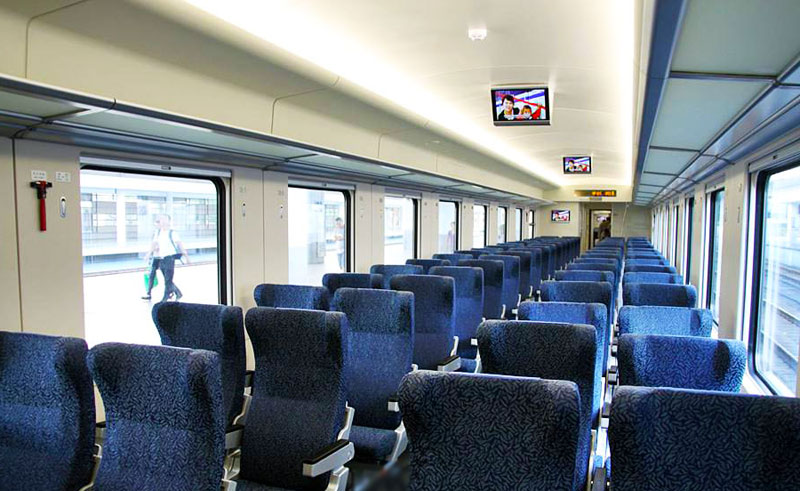 Seats on Guangzhou Hong Kong Train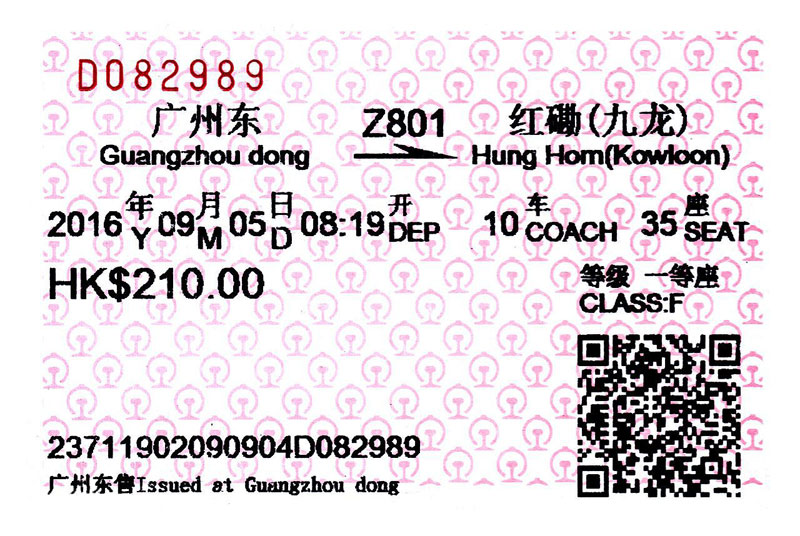 Guangzhou to Kowloon Train Ticket
What Highlights to Experience after Disembarkation?
No matter you take the Guangzhou Hong Kong train at the beginning or at the end of your China tour, you could spend wonderful and highlighting days in both destinations in China.
In Guangzhou
If you take a Hong Kong to Guangzhou train, you could take 2, 3 or 4 days to taste the world famous Cantonese food like their special breakfast with tea and dim sum, Wonton, etc. As you savoring the Cantonese flavor, you could visit the Sun Yatsen Memorial Hall to know about the biography of Mr. Sun and the history of China. Neat the hall, you could take a leisure walk or fresh breath in the Yuexiu Park established on the old Guangzhou city. Moreover, the Ancestral Temple of Chen Family and Shamian Island are two recommended sites for history seekers and construction lovers. And if you tour with your friends or children, the Changlong Safari Park is not to be missed. What's more, you could go to Tianhe District to appreciate the really tall Canton Tower and the sparkling lights of it and the surrounding during evening. Check more highlighting things to do in Guangzhou.
In Hong Kong
If you go by a Guangzhou to Hong Kong through train, 1 to 3 days is suitable for you to unveil Hong Kong, the Pearl of the Orient. Hong Kong is one of the best destinations to see the traditional Chinese culture and the super modern prosperity. You could wander to watch the old structures facing the skyscrapers on the same one street. Also, the day view and night view of Victoria Harbor is really stunning and famous. The Hong Kong Disneyland Resort and Ocean Park are two must visiting places for visitors with childlike innocence and who travel with kids. And the Victoria Peak is the best observation site for the panorama of HK. Take a walk along the streets in Hong Kong, you could find countless tasteful food from difference countries and regions and great products to select. What's more, you are also recommended to go to the Repulse Bay, Stanley Market, Wong Tai Sin Temple and many other islands in this special area. Check more highlighting things to do in Hong Kong.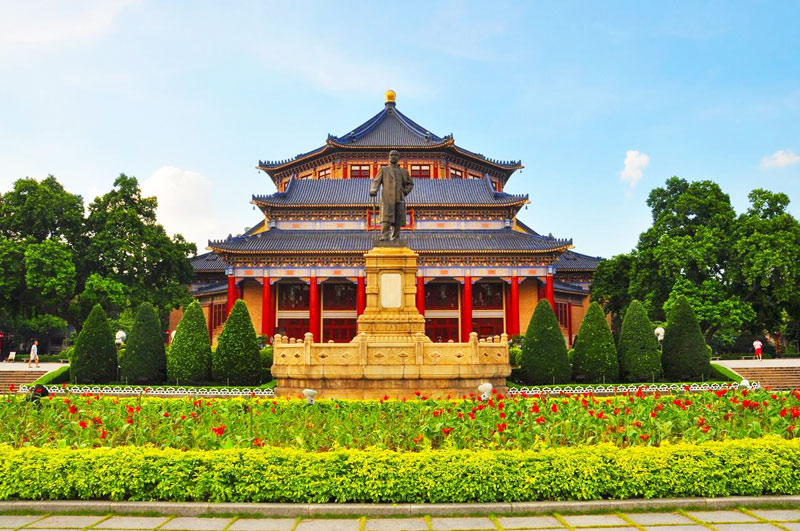 Guangzhou Sun Yatsen Memorial Hall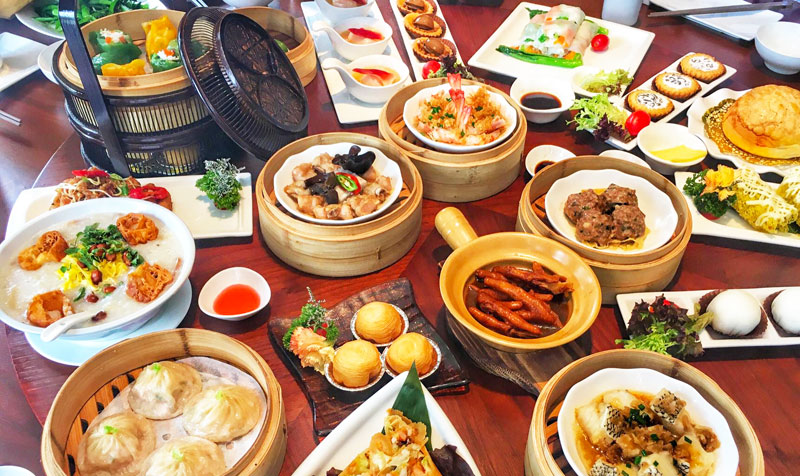 Delicious Cantonese Food
Hong Kong Panorama from Victoria Peak
Other Ways to Go between Guangzhou and Hong Kong
Apart from taking the train to go between Guangzhou and Hong Kong, other ways like flights, high speed trains, coaches, ferries, etc. are also good choices for your tour with Guangzhou and Hong Kong. Check the details at below.
By flight
There are two pairs of daily flights between Guangzhou Baiyun International Airport and Hong Kong International Airport, one in the morning and the other one at night needing 1-1.5 hour.
By high speed train
From Guangzhou, there are many high speed train to Shenzhen, which takes only about 30 minutes, after reaching Shenzhen, you could pass the checkpoint and get to Hong Kong downtown by the Hong Kong MTR for about one hour. And in the autumn in 2018, the high speed rail between Shenzhen and Hong Kong would be completed, thus, visitors could take the high speed train between Guangzhou and Hong Kong for about only 50 minutes.
>> Check more details about Guangzhou Hong Kong High Speed Trains.
By coach
Guangzhou and Hong Kong have many coaches running between each other, and the whole riding needs about 2 to 3.5 hours.
By ferry
Ferries are available between Guangzhou and Hong Kong, which would take about 1.5-2.5 hours for arriving. However, as the port is not at the downtown of Guangzhou and not very convenient to get to, we suggest you choose other means of transportation to travel between Guangzhou and Hong Kong.
Plan a Train Tour from Guangzhou or Hong Kong
Taking a train to travel from Guangzhou to Hong Kong and from Hong Kong to Guangzhou is special but also popular. With great services onboard, nice sceneries along the rail and good duration, travelers could easily arrive in the two destinations. Moreover, with the really convenient and smooth transference in the two train stations, you could also highly recommended to plan a richer China tour to other hot destinations in this amazing country, such as Guilin, Beijing, Shanghai, Xian, Chengdu, Tibet, Chongqing, etc. Also, spend a leisure holiday on the Yangtze River cruise is a must-do highlight for a lot of friends to China.
If you are interested to plan a (train) tour in China, please feel free to contact our professional Travel Consultant for help, and they would provide great suggestion for you with nice quotation.