China Bullet Train First Class Seats
Different from the First Class Seats being the best rank on a plane, China bullet train First Class Seats belong to the middle class, between the normal Second Class Seats and the deluxe Business Class Seats. To benefit your comfortable train trip in China and better experience of the advanced and fashionable high speed train, the First Class Seats are relatively recommended for all of you. Why? Let's see more about the high value, full function and equipment and more advantages of them at below.
First Class Seats, the Best-value Type on High Speed Trains!
Why to choose the First Class Seats for your China high speed train travel?
Large Seats
Actually, they are the best-value class of seats onboard the bullet train. Every passenger can enjoy a larger seat sized of about 48cm in width, so plump people can get a better sitting ride than on a second class one. Also, the wider armrests on both sides can truly relax your arms. Moreover, every row of seats has a space of about 40cm to the front and back rows, thus, passengers, especially taller people, will enjoy more legroom to sit in a more satisfying way.
Less People
First Class Seats are arranged every 4 in one row, with every 2 seats on each side, separated by an aisle in the middle. Usually, in the First Class Seat carriage, there usually are below 60 seats, some only about 28, moreover, as there are more business people and fewer families with children, passengers will enjoy a much quieter and less crowded carriage environment during the trip.
Full Equipment
You will enjoy more on the First Class Bullet Train Seats? Besides those for the second ones, you can find the larger tray table, footrest, more hookers, wider windowsill, pillow, private sliding door, more sockets, earplug socket, and so forth to make your train trip cooler, more comfortable, convenient and satisfying.
Nice Prices
First Class Seats offer more great aspects to experience, however, they are not much expensive. For example, from Beijing to Shanghai, the Second Class Seat costs 553RMB, and the First Class Seat needs only about 933RMB. Only about 380RMB more, you can spend much better 4.5-6.5 hours between the two cities far away.
How to Adjust Your Seat?
All First Class Seats are adjustable!
Usually the button is placed at the armrest part, and most at the inner side of the right armrest. Just press it while lying back with little strength, and you can adjust your seat backward at any angle between about 5 - 32 degrees. Therefore, you can admire the sceneries outside or sleep at ease. Before your embarkation, you can press the button again to adjust your seat into the upright position.
Where is the Equipment & How to Use?
First Class Seats offer many great facilities and much complimentary equipment for every guest onboard. Most of them are arranged on and around your seats. Find it to enjoy. And if you don't know where they are, just feel free to ask the attendants on your high speed train.
Tray Table
Different from those for the Second Class Seats, which are folded on the back of the front seats, the tray table for Second Class Seats passengers is usually hidden in the armrest part, and usually on your left side. Open the cover, and then you will see the table and the operation instruction diagram at the inner side of the cover. Follow the instruction to pull out the table and unfold it above your legs. Therefore, you can continue your reading, working, journey diary, and dining as you wish.
Footrest
Footrest will be found under your front seat. Every passenger enjoys a single one. There are two sides on the footrest, one of hard material for stepping with shoes, and another of softer cloth for stepping barefoot or with socks. Step on it, maybe with a little strength, the footrest will come down flat to hold your feet and make them relax better. Step on the metal trigger by side, the footrest will be stowed.
Sockets
First Class Seat passengers can enjoy more electrical sockets. They are offered on both sides and every row of the First Class Seat carriage. They are usually installed behind and below of your front seat, with one two-hole and one three-hole outlet. As the socket is at the middle of two seats, you can charge your phones, computers, tablets, etc. very conveniently no matter you are sitting near the window or the aisle.
Water Dispenser
Water Dispenser is placed at the connection part of two carriages. Clean boiled water and paper cups are prepared there. As the water may be too hot, you can put the paper cup below the water outlet and then press the button to get your drinking water.
Toilets
Both Chinese and Western styled toilets are offered at the end of the First Class Seat carriage. In the toilet of most trains, there is mirror, toilet paper, washing sink, undrinkable water, sanitary toilet seat paper cover, sockets, etc. Therefore, you can forget your worry about the problem of only Chinese toilet offer on most other trains in China. However, in case of the use up of toilet paper and sometimes late supply by the staff on the train, you are suggested to prepare some before your boarding. >> Check more about Toilets onboard High Speed Train!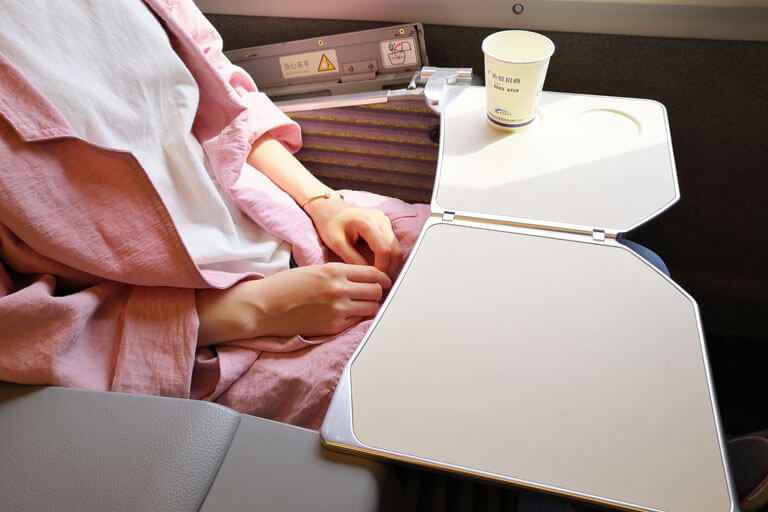 Unfold Your Tray Table from the Armrest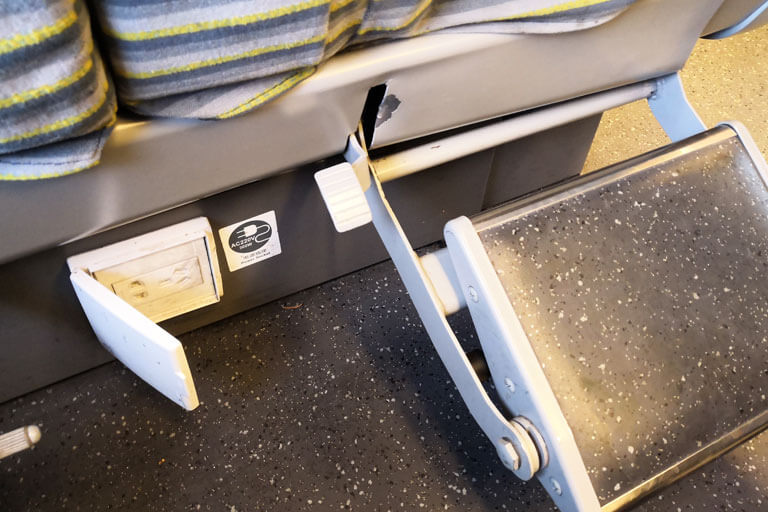 Footrest & Sockets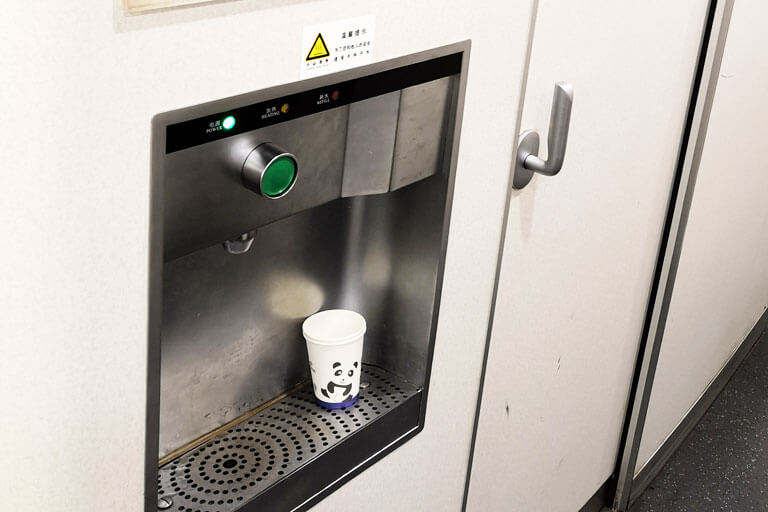 Water Dispenser Onboard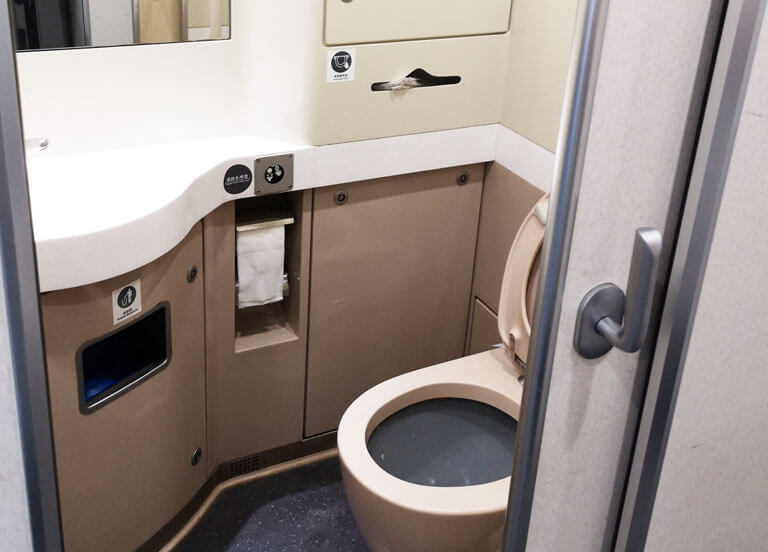 Western Style Toilet Onboard
Apart from the above equipment and facilities most interested and asked, there are more great things to enjoy and benefit your trip onboard, including the LCD TVs, LED Display Screens, window shades, etc. If you have any questions about the China High Speed Train First Class Seats, please feel free to ask our Travel Consultant for help, who will give you good answers and help you plan your high speed train tour in China. Also, if you want to know more about the differences between the First Class Seats and the Second Class Seats, please check at First Class Seats vs. Second Class Seats to know the details.
Other Routes to Experience D High Speed Trains
As high speed train travel are becoming much popular and recommended by large portion of visitors in China, here we also list some top high speed train routes chosen by most people during their China tour. See the routes at below and pick one to experience the great advantages of travelling by high speed train. Also, you could check all high speed train routes to select which section to experience.
Extension Readings of Bullet Train Types & Seats
More Practical High Speed Train Travel Guide Articles
Recommended Tours
Top 3 tours chosen by most customers to explore in the best way. Check the detailed itinerary, or tailor your own trip now with us.
9 Days East China & Mt. Huang Tour by High Speed Train

Shanghai / Suzhou / Hangzhou / Huangshan
7 Days Shanghai Suzhou Beijing Contrast Tour by High Speed Train

Shanghai / Tongli / Suzhou / Beijing
Start planning your tailor-made holiday to China by contacting one of our specialists. Once inquired, you'll get a response within 0.5~23.5 hours.
Customize a Trip
Have a question? Get answers from our travel experts or guests
Your Question:

Your Name:

Your Email: