Differences between First Class and Second Class Seats on China Bullet Train
What's the difference between First Class and Economy Class Seats on China high speed train? Which one type of seat is better to choose for your bullet train tour in China? Here we will show you the benefits of each type through the comparison of the First Class Seat and the Second Class Seat. Let's begin!
First Class Seats vs. Economy Class Seats
Literally, the First Class Seats are better than the economy Second Class Seats. So, what do you get on the First Class Train and Second Class Train Seats in detail? Regardless of the higher price, you will enjoy larger seats and legroom, quieter carriage environment less crowded, more use-friendly tray tables, extra comfortable footrests and pillows, and so forth. Compare them at below.
First Class Seats vs. Second Class Seats
Price
Price is the major difference apparently. The ticket price of a First Class Seat is about 1.6 times of that of a Second Class Seat on most high speed trains in China. As the First Class Seats are really expensive especially for long distance trip, which even needs over 1,000 RMB, if you are travelling with families or based on strict budget, the Second Class Seats would be a nice choice.
Seat Sizes & Spacing
First Class Seats are mainly larger than the economy class ones. Usually, the First Class Seats on G trains, C trains, and D trains are designed into about 48cm wide, however, the Second Class Seats are only about 45cm. Furthermore, the spacing between each row in the first class carriage is much larger than in the second class carriage, which creates much better and more satisfying legroom for you. Besides, although all Second Class Seats can be adjusted backward within 5-24 degrees, that is much less than the 5-32 degrees for the First Class Seats. Therefore, if you care more about the comfort onboard, the wider and cozier First Class Seats are absolutely better for booking and enjoying.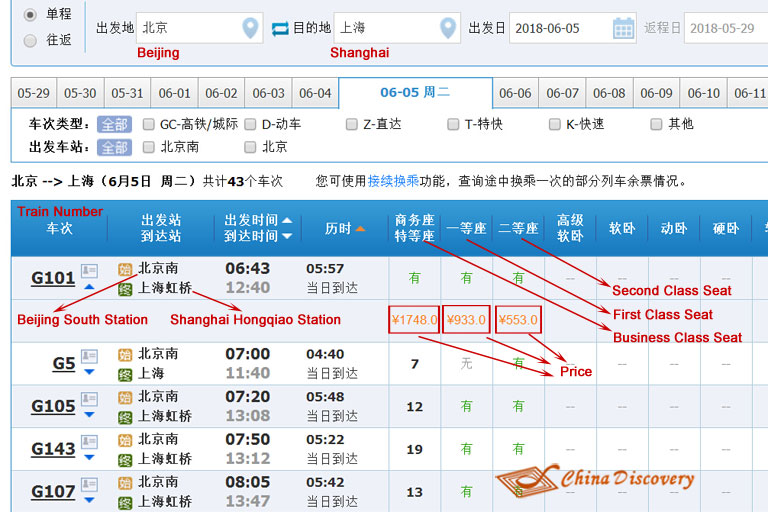 Compare Ticket Prices of Bullet Train Seats
Carriage Capacity & Environment
In the First Class Seat carriage, there are much fewer passenger seats, which are about 28 in one carriage. As every row arranges 4 seats with each two seats on one side, passengers would feel less crowded and relaxed. Also, most passengers in First Class Seats are on business travel or just want to have a good rest, so there would be much fewer noises or sounds of people walking back and forth to disturb your sleeping. However, there usually arrange over 70 seats in the Second Class Seat carriage. Every row has 5 seats, in the display of 3+2, so if you are plump, you may feel restrained. Besides, usually, Second Class Seats are the common choice for family travelers in China, therefore, you may hear some children playing, running or crying sometimes along the way.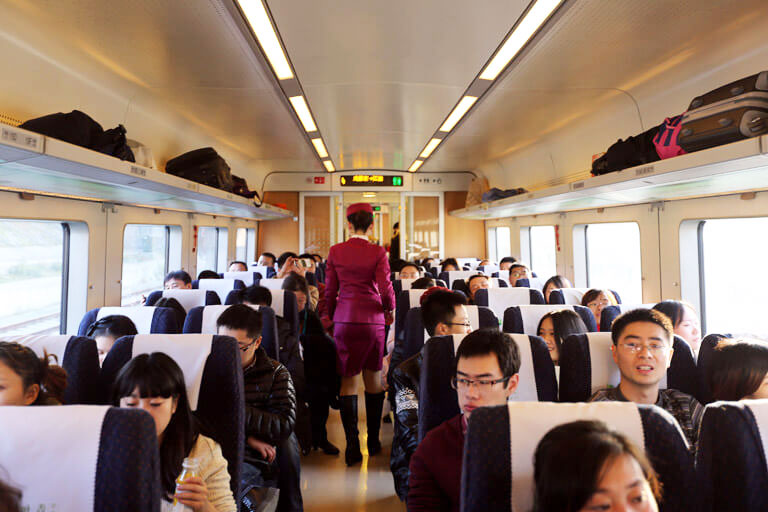 Second Class Seat Carriage Environment
Get into Local Culture
Rightly because there are most people in the Second Class Seat carriages, especially many Chinese people, you will have a really good environment to practice your Chinese by communicating with them. Since Chinese people are very friendly and hospitable, they will be willingly to talk to you to improve your language. Also, such type of carriage offers you a nice place to get close to the real life of ordinary people and know the Chinese culture better. However, such advantage is not available for First Class Seat passengers.
Tray Table
The tray tables for First Class Seat passengers are not only just larger than that for Second Class Seat passengers. On the First Class Seats, tray tables are hidden in the armrest part, usually on the left side, and you can take them out to unfold into a large on to spread across to your seat width. But, for tray table on the Second Class Seats, the tray tables are attached on the back of your front seat, which is about the half size of the first class one. One problem is that, if passengers on the two rows want to turn their seats to sit face to face, they will fail to use the tray table at the backside.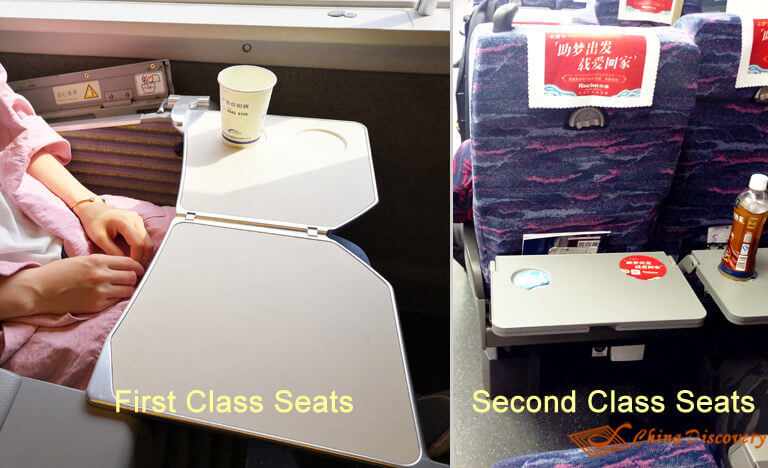 Tray Table of First & Second Class Seats
Footrest & Pillow
Nearly all Second Class Seats have no footrest or pillow for passengers on the high speed train. In order to benefit your comfortable experience and rest onboard, footrest of both hard and soft sides are arranged below your individual front seat to relax your feet, and also, a soft pillow is attached at the head part on your seat to protect your neck.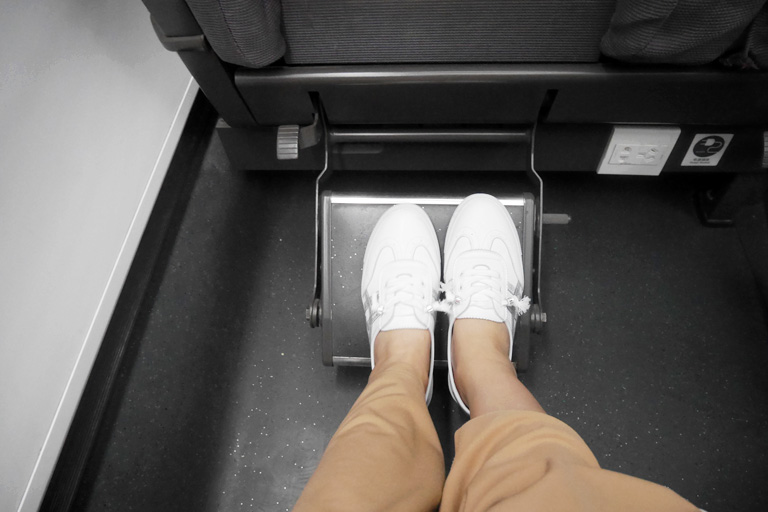 First Class Seat Footrest
Is First Class Seat Worth It?
First Class Seats on High speed trains are really more expensive than the Second Class Seats, so is it worth to pay the extra amount of money to experience? The much more comfortable seats, better carriage environment, good equipment, etc. are the major factor to decide your level and satisfying extent of high speed train traveling in China. If you are travelling with business which requires a comfortable and quiet atmosphere, the First Class Seats are absolutely better and worth your spend. However, for people who want to learn more about Chinese and the local Chinese culture and life, or who go with limited budget, the Second Class Seats are better suggested. Here you could check the comparison table to have a clear understanding of the differences between the First Class Seats and the Second Class Seats on China bullet train for reference.
Item
First Class Seats
Second Class Seats
Train Types
G, D, & C Train
G, D, & C Train
Ticket Price
About 0.6 times higher
(Beijing - Shanghai: About 933RMB)
(Shanghai - Hangzhou: About 117.5RMB)
(Chengdu - Xian: About 421RMB)
Much lower
(Beijing - Shanghai: 553RMB)
(Shanghai - Hangzhou: About 73RMB)
(Chengdu - Xian: About 263RMB)
Overall Comfort
4 Stars
3.5 Star
Cost Performance
5 Stars
4 Stars
Seat Arrangement
2+2 each row
3+2 each row
Adjustability
5-32 degrees backward
5-24 degrees backward
Seat Size
48cm wide
45cm wide
Capacity
About 28 for an 8 coach train
Over 70 on an 8 coach train
Tray Table
Large folded type; at the armrests
Small attached type; at the back of front seats
Sockets
Both sides of every row
Either side of every row
Footrest
N/A for most trains
N/A
Pillow
√
N/A
Suitable for
Business people, who prefer more comfort and quiet, etc.
Family tour group, budge based travellers, Chines local life inclined people, etc.
(Note: the above information of price, size, facilities, equipment, etc. of the First Class Seats and Second Class Seats on China high speed trains is only for your reference, which is various according to the difference of types of trains and sizes, and railway sections between different destinations.)
After comparing the two types of seats on high speed train in China, you must have a better understanding of which type of seats to experience and are interested to have a try. Share your ideal high speed train route with us, and our professional Travel Consultant will help you book your ideal seats directly to spare more free time for you. Also, if you tell us about your interested destination of type of highlights to enjoy, we will also give you professional recommendations and help tailor make your special and wonderful high speed train tour!
Other Routes to Experience D High Speed Trains
As high speed train travel are becoming much popular and recommended by large portion of visitors in China, here we also list some top high speed train routes chosen by most people during their China tour. See the routes at below and pick one to experience the great advantages of travelling by high speed train. Also, you could check all high speed train routes to select which section to experience.
Extension Readings of Bullet Train Types & Seats
More Practical High Speed Train Travel Guide Articles
Recommended Tours
Top 3 tours chosen by most customers to explore in the best way. Check the detailed itinerary, or tailor your own trip now with us.
9 Days East China & Mt. Huang Tour by High Speed Train

Shanghai / Suzhou / Hangzhou / Huangshan
7 Days Shanghai Suzhou Beijing Contrast Tour by High Speed Train

Shanghai / Tongli / Suzhou / Beijing
Start planning your tailor-made holiday to China by contacting one of our specialists. Once inquired, you'll get a response within 0.5~23.5 hours.
Customize a Trip
Have a question? Get answers from our travel experts or guests
Your Question:

Your Name:

Your Email: