Chongqing Chengdu High Speed Trains
Chengdu and Chongqing are both famous tourist destinations and important transportation hubs in southwestern China. As the capital of Sichuan Province, Chengdu attracts large amounts of tourists with its picturesque natural landscape and numerous cultural relics, and can't-be-missed giant pandas. Chongqing, also called "Mountain City", acts as an amazing pearl along the Yangtze River. The frequent high speed trains make a combined Chongqing Chengdu tour much easier and convenient within merely 2 hours.
Apart from the visual feast of wonderful UNESCO World Heritages of Jiuzhaigou, Huanglong National Park, Sichuan Giant Pandas, Mount Qingcheng, Dujiangyan Irrigation System, Leshan Giant Buddha, Mt. Emei and Dazu Rock Carvings in Chengdu and Chongqing, there are lots of unique local culture, gourmet and lifestyle you can experience in both cities.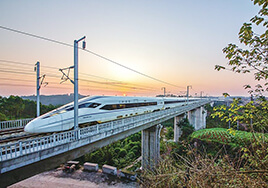 Chongqing to Chengdu High Speed Train
Chongqing Chengdu High Speed Train Schedules
● Chongqing to Chengdu
From
To
Frequency (day)
Operating Hours
Duration
Detailed Schedule >
Chongqing West/North/Shapingba
Chengdu East/South/Chengdu
Over 70 trains
About 07:00-22:00
About 1.5-2.5 hours
● Chengdu to Chongqing
From
To
Frequency (day)
Operating Hours
Duration
Detailed Schedule >
Chengdu East/South/Chengdu
Chongqing West/North/Shapingba
Over 70 trains
About 06:30-23:00
About 1.5-2.5 hours
Recommended Chongqing Chengdu Tour Packages:
>> 1 Day Chongqing Short Stay Tour
>> 9 Days Luxury Yangtze Cruise & Panda Tour by High Speed Train
Other Recommended Section on Chongqing Chengdu High Speed Railway
Chengdu is located in western Sichuan Basin and northwest of Chongqing, neighboring Ziyang, Deyang, Meishan, Ya'an and Aba Tibetan and Qiang Autonomous Prefecture in different directions. Starting from Chongqing, the high speed trains run westward to Rongchang or Dazu in Chongqing, then pass by Neijing, Ziyang (in Sichuan) to Chengdu with a total length of 319 km (198 miles). Most trains on Chongqing Chengdu High Speed Railway will stop at 1 ~ 5 midway stations, which offers passengers beautiful countryside views with green hills along the route. And if you would like an in-depth Sichuan discovery tour, you can visit highlight city below to have more fun. Please check the train time schedule of each one popular railway sections:
| From - To | Frequency (day) | Operating Hours | Duration |
| --- | --- | --- | --- |
| Chongqing - Dazu: | over 5 G trains | about 09:00-19:00 | about 0.5 hour |
| Chengdu - Dazu: | over 5 trains | about 07:30-19:00 | about 1 hour |
Please Note: This information of time and duration might changes slightly, please feel free to contact us for the up-to-date schedule.
What to See along Chongqing Chengdu High Speed Railway
A Giant Panda tour, especially a Panda Volunteer experience is always the top thing to do when travelling in southwest China. Also making a Yangtze River Cruise tour is becoming more and more popular among foreign tourists. Besides, both Chengdu and Chongqing have gorgeous city landscape, great cultural and historical legacies, beautiful natural scenery, distinctive local lifestyles and convenient transportation to other cities in southwest China. Ready to enjoy you leisure time? Let's start a Chong Chengdu tour with following guide!
Chongqing
Chongqing, one of the four direct-controlled municipalities in China, is also a popular tourist destination in southwest China. Known as "Mountain City" and surrounded by Yangtze River and Jialing River, it presents every visitor with its interesting city views, spicy Hotpot, abundant cultural and historical sites as well as two famous World Heritages. Chongqing also serves as a vital transportation hub, flight and rail, to other major cities in southwest regions of China.
● Yangtze River Cruise: Chongqing is located on the upstream Yangtze River, working as a major inland port in China. From here, you can take a 4 days' downstream Yangtze River Cruise tour to catch the quintessence section of gorgeous scenery of China Three Gorges, meet the continuous steep hills, appealing waterscape and cultural and historical attractions, serene natural streams, local customs and ethnic culture.
● Downtown Area: Normally, tourists spend 1 ~ 2 days to visit landmarks of central Chongqing before boarding Yangtze River Cruises. The Chongqing China Three Gorges Museum helps you catch a glimpse of this natural wonder, and movie-like history of the local life, economic development via large collection of exhibitions and relics. Want to see an epitome of Chongqing? Ciqikou Ancient Town is a perfect place to taste various kinds of delicious snacks and observe distinctive buildings. The most bustling city sights can be seen in the Jiefangbei Commercial Street, dazzling night view of Hongyadong Cave and amazing scene that light rails passing through building at Liziba Station (李子坝站).
● Around Chongqing: If time permits, you can extend longer trip to nearby attractions from Chongqing. You could see many ancient sculptures, old folk stories in Dazu Rock Carvings (in west Chongqing) and personally witness natural wonder of Karst Landform of Wulong (in east Chongqing).
Useful links:
Popular China Yangtze River Tours | Popular Chongqing Tour Packages | Chongqing Travel Guide | Top Chongqing Things to Do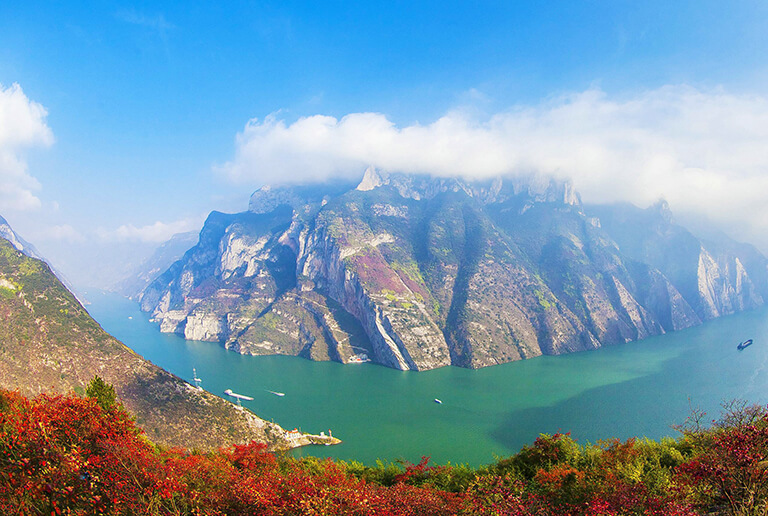 Yangtze River Cruise along China Three Gorges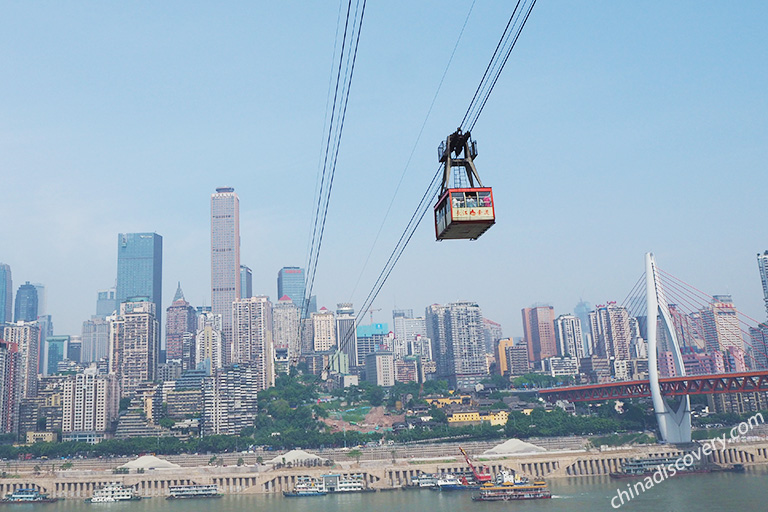 Chongqing City Landscape along Yangtze River
Chongqing West Railway Station
Address: No.168, Fengzhong Road, Shapingba District of Chongqing City (重庆市沙坪坝区凤中路168号 - 重庆西站)
Transportation: Chongqing West Railway Station is a recently-built high speed train station in southwest suburb of Chongqing. As one of the large rail hubs in southwest China, the station is equipped with all kinds of modern facilities and supporting service. The station is about 1 hour's driving to downtown, 0.5 hour to Ciqikou Ancient Town, 1.5 hours to Chongqing Jiangbei International Airport and 45 minutes to Chaotianmen Port. Currently, taking buses, airport shuttle express (Line K06) and taxies (the most fast and convenient choice) are only available ways to get to Chongqing West Railway Station, because there is no light rail connecting the station. > Check more about Chongqing West Railway Station.
Chongqing West Railway Station
Chongqing North Railway Station
Address: No. 51 #8 Kunlun Avenue, Yubei District, Chongqing (重庆市渝北区昆仑大道51号附8号)
Transportation: Chongqing North Railway Station is the most important train station used in Chongqing. It mainly handles trains on Chengdu Chongqing High Speed Railway, Lanzhou Chongqing Railway and etc. The two squares - North Square and South Square are separated with different train schedules and transportation. Passengers can take Chongqing Rail Transit (CRT) Line 3 to South Square and Line 10 to North Square. Both lines will pass through the airport. Also, there are nearly 20 bus lines running from the station to other regions, airport express (Line K02) to Chongqing Jiangbei International Airport. For travelers who are going to board a Yangtze River Cruise, it takes less than 40 minutes to get to Chaotianmen Port by taxi.
Chongqing Shapingba Railway Station
Address: Shapingba Railway Station is located No. 19, Tianchen Road, Yubei Avanue, Shapingba District (重庆市沙坪坝区渝碚路街道天陈路19号 - 沙坪坝站)
Transportation: Shapingba Railway Station is an old train station in Chongqing. It has been rebuilt to be a larger high speed train stop on Chengdu Chongqing High Speed Railway. The Ticket Office and Waiting Hall are located on the first ground, and other function zones are in the basement floors, including the public buses on basement 1, taxi service on basement 2, private cars on basement 3 and the subway level are on basement 4. The station has over 25 bus routes to other areas of Chongqing, airport bus to Chongqing Jiangbei International Airport and Chongqing Light Rail Line 1 connected to downtown.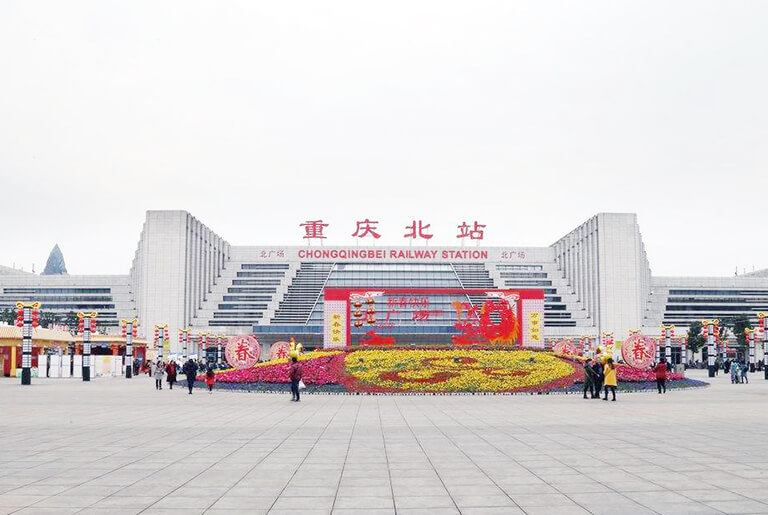 Chongqing North Railway Station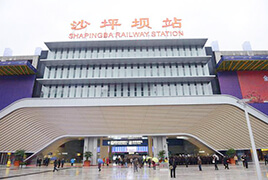 Chongqing Shapingba Railway Station
Dazu
Dazu is a major district in western Chongqing, upstream Yangtze River, and borders Sichuan Province in the northwest. It is the location of Dazu Rock Carvings, a UNESCO World Cultural Heritage site of Chongqing. The property stands the highest level of world's grottoes art during the 9th to 13th century and one of the top cultural symbols of Chongqing. It is a series of cliffside sculptures of religious statues, which mainly show different culture and history about the Buddhists, Confucian and Taoists and ancient characters of all levels. When you travel between Chengdu and Chongqing by high speed trains, it's recommended to drop by this place to explore more fantastic Chinese culture and art if time allows.
Dazu South Railway Station
Address: Liehuo Village, Youting Town, Dadu District, West Chongqing (重庆市大足区邮亭镇烈火村 - 大足南站)
Transportation: Dazu South Railway Station, opened in 2015, is a small train station serving Dazu District. It is located about 260 km to Chengdu in the west, and about 80 km to Chongqing in the east. A high speed trip from Chengdu to Dazu takes about 1 hour while it needs around 30 minutes from Chongqing to Dazu. After exit, tourists still need 1 hour's driving to Dazu Rock Carvings. As for a budget option, you can take Bus Line 206, 204, and then transfer to Bus Line 205 to the site, costing nearly 2 hours.
Chongqing Dazu Rock Carvings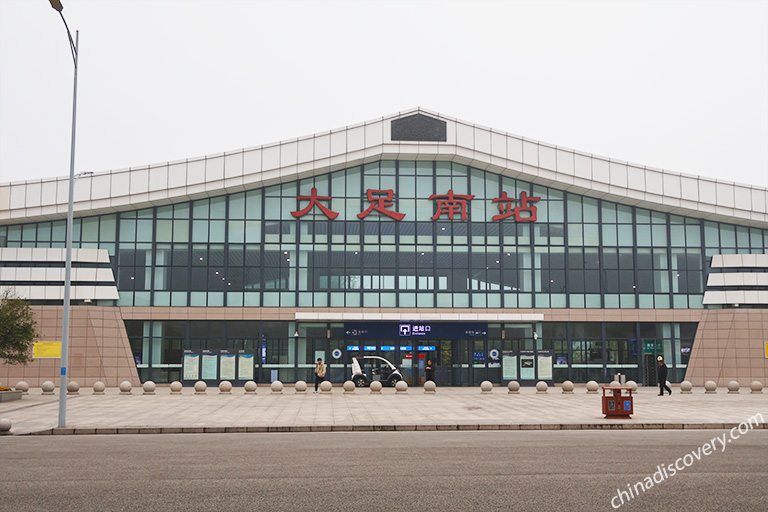 Dazu South Railway Station
Chengdu
Chengdu is famous as the "Land of Abundance" in Sichuan and Hometown of Giant Panda in the world. The rich culture, history, art, beautiful natural scenery, local customs and food, leisure lifestyle makes Chengdu the most livable city and one top destination in China.
● Downtown Area: Most key sites of Chengdu are scattered in downtown area, can be easily reached by public transportation or taxi. The most highlight is the Chendgu Panda Base, where you can closely observe Giant Pandas, even the baby bears. Moreover, you can visit the Jinsha Site Museum to get more history and culture about Chengdu, Renmin Park to join the local leisure life, Wenshu Monastery to seek Buddhism, Dufu Thatched Cottage to catch profound poetic of ancient culture, Jinli Old Street to try many local snacks and learn to make Sichuan food in Sichuan Cuisine Museum.
● Around Chengdu: Intercity high speed railway offers fast and comfortable side trips from Chengdu to Leshan, Emeishan and Dujiangyan. Within half an hour, you can travel to Dujiangyan to have a Panda Volunteering Tour, Mount Qingcheng climbing, Dujiangyan Irregation System visiting. Or spend 1 hour's high speed train travel to the World Natural and Cultural Heritage - Leshan Giant Buddha and Mount Emei. With more days, you can explore further to Langzhong Ancient City, Mount Heming and other attractions surrounding Chengdu
Useful links:
Hot China Panda Tours | Chengdu Travel Guide | Popular Chengdu Tour Packages | Top Chengdu Things to Do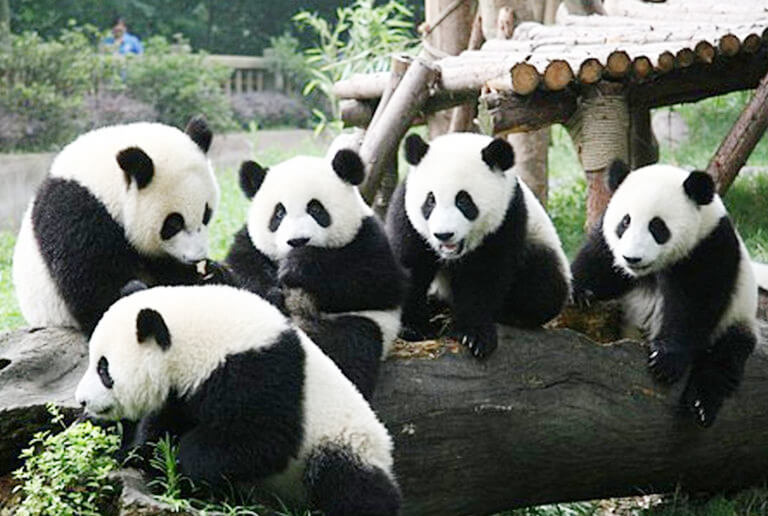 Cute Giant Pandas in Chengdu Panda Base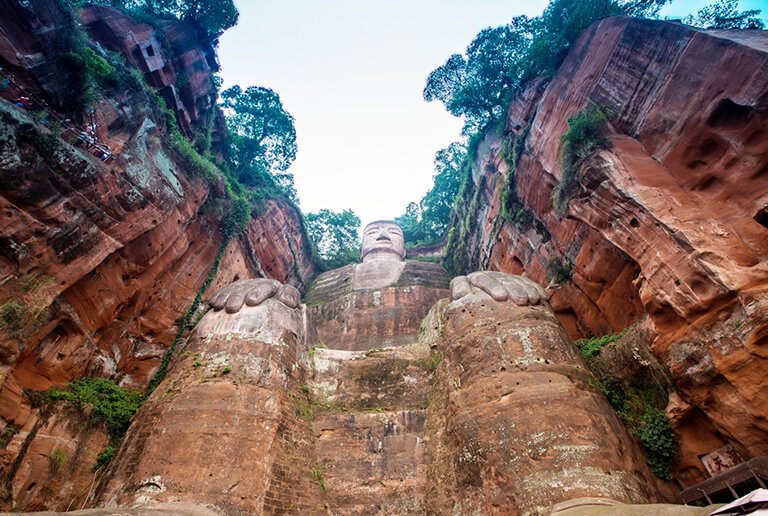 Magnificent Leshan Giant Buddha
Chengdu East Railway Station
Address: Qingyijiang Rd, Chenghua District, Eastern Chengdu (成都市成华区青衣江路 - 成都东站)
Transportation: Chengdu East Railway Station is the most frequently used high speed train station of Chengdu. It is located in the east Chengdu, about 9km (20mins' ride) to downtown Chengdu; 23km (40mins' driving) to Chengdu Shuangliu International Airport & 15km (25 mins' ride) to Chengdu Railway Station & 12km (20 mins' driving) to Chengdu South Railway Station. The station operates hundreds of high speed trains on Chengdu Chongqing High Speed Railway, Xian Chengdu High Speed Railway, Chengdu Guiyang High Speed Railway, Chengdu Mianyang Leshan Intercity Railway and so on. With developed traffic system, tourists can get to the station by Chengdu Metro Line 2 (from Chunxi Road, Tianfu Square, Renmin Park, Kuanzhai Alley) & Line 7 (at Chengdu North Station, Jinsha Site Museum,Chengdu South Railway Station), airport express from Shuangliu International Airport, and taxis, city buses. > Check more about Chengdu East Railway Station.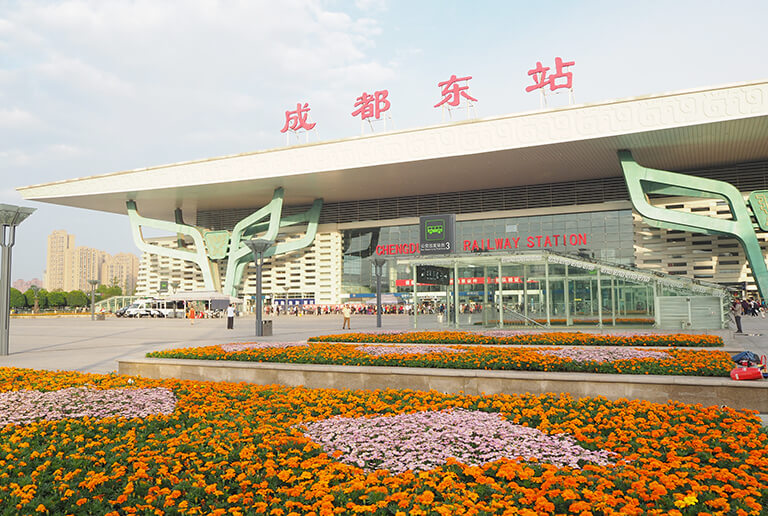 Chengdu East Railway Station
Tips for Booking and Taking Chongqing Chengdu High Speed Train
1. Seats choosing & price comparing
There are three kinds of seats offered on G trains and two kinds of seats on D trains from Chongqing to Chengdu and Chengdu to Chongqing. On G trains, passengers could book Business Seat (the most luxury and expensive standard, equal to first class on plane – over 400 RMB), First Class Seat (the middle grade – over 200 RMB) and Second Class Seat (the most cheap class – nearly 150RMB). Usually, train tickets of D trains are cheaper than that of G trains (However, the G trains run faster and introcued the newest trains, facilities and etc.). The Second Class Seat is priced about 100 RMB and Second Class Seat is about 150 RMB. You can decide which class to buy according to your own requirements.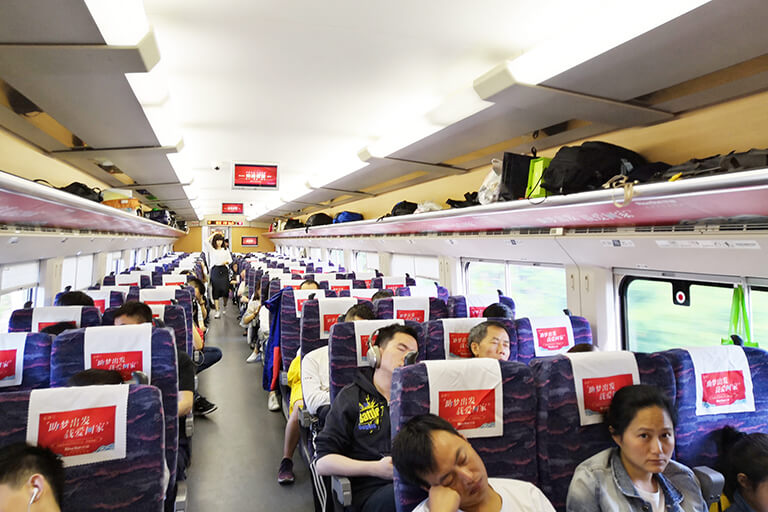 Second Class Seat on Chengdu Chongqing Bullet Train
2. Booking & collect your bullet train ticket
To book a Chongqing Chengdu high speed train ticket, you could choose to book it at the official website: China Railway Customer Service Center or with a travel agency, also you could directly tell China Discovery to book the tickets for you. Besides, you could go to the Railway Station or Designated Ticket Offices to do that.
To collect your high speed train ticket, you could go to the railway station nearby, however, the Self-service Ticketing Machines are not serving foreign people. Besides, you can tell China Discovery to help you to do the collection, which only needs your passport information.
>> Check more about booking and collecting high speed train tickets.
3. How to embark the bullet train?
1) Prepare your documents well (valid passport with China Visa); 2) Get to the right train station in advance; 3) Collect train tickets; 4) Read your train ticket; 5) Pass the security control; 6) Pass through Security & Luggage Checks; 7) Find the right waiting room; 8) Cross the ticket checking gate; 9) Get to the right platform; 10) Get on your train. Keep the ticket well, because the ticket will be checked again to leave the station after you get off.
>> Check more about boarding on & getting off a high speed train.
4. Facilities and service
All high speed trains in China are equipped with advanced facilities and good service to make your journey more convenient and comfortable. There are different places you can put your luggage onboard, racks and specialized luggage storage areas. Besides, the air-conditioner train offers you plug under the seats to charge your phone or laptop, sightseeing window to view the outside scenery as well as western-style toilets. There is also available dining area you can get some supplies. Bilingual signs and the broadcast use both Chinese and English so that you don't need to worry about the communication.
>> Check more about facilities & service on high speed train.
High Speed Train Travel with China Discovery
We China Discovery are very willing to help you with the high speed train tickets booking, tour customization and local guide and transfer arrangement, so you can be able to experience the superb bullet train in style and enjoy all the highlights of your ideal destinations in China without any worry. If you are interested, please feel free to contact our professional travel consultants who are here ready to build your own tour to best suit for your needs and likes.
More Popular High Speed Railways
Read More about China High Speed Trains