"High-speed rail has made the journey much more convenient. I felt more relaxed and confident that I would arrive safely," said by Bob, an expat who is living in Shanghai, and has traveled China with high speed trains for many years. Yes, the vast high speed railway system makes travelling in China more and more convenient and comfortable. But it also has brought tons of problems for western travelers who don't know the railway system well – what do I do because I don't speak and read Chinese? How to book train ticket and how to collect ticket offline? First Class and second class, which seat should I choose? Which trains have power plus? What to expect with the toilets on board? One may even get fearful with so many things to worry about.
Don't worry! With our Ultimate Guide on Travelling China by Train, you will get all the right answers to you have and will have, no matter you are going to take the newest Fuxing high speed trains from Shanghai to Beijing, or take the short inter-city trains from Chengdu to Leshan Giant Buddha.
Super Fast - China high speed trains run at speeds about 250~350km/h. The newest Fuxing trains' speed can reach to 400km/h. You can get to Beijing from Shanghai (over 1,200km) within 5 hours.
More Punctual & Reliable - High speed trains are on time. They are affected less by variations in climate and traffic. The chances are small that your trains will be delayed and even be canceled for bad weathers factors like thunderstorm, snowstorm, low visibility, low clouds, wind shear, etc.
Comfortable - your journey on China high speed train will be very comfortable. You will seat on seats which are much better than airplanes. Some seats can even be laid flat.
Saves Money - taking a high speed train in many cases are cheaper than flight and driving especially for short-distance rides, such as Beijing Tianjin, Shanghai Hangzhou, Chengdu Xian. Besides, the prices for high speed train tickets don't fluctuate like flights do.
Handy Facilities & Functions - Most daily used equipment, facilities and items are provided at conspicuous areas on the train – western toilets, dinning car, water, power plugs, even Wi-Fi(on some G-series trains) …
Unique Experience with Landscape Outside - Down on the land by high speed train, you will see the real China IN STYLE, up close and personal from the super large train windows.
Keep Reading: - Top 10 Advantages of Travelling by High Speed Train in China
A High Speed Train is running through Beijing
Business Class Seats on High Speed Train
Generally speaking, China trains are divided into two kinds: High Speed Trains and Normal Trains with different speeds, facilities and names.
China's High Speed Trains ("G", "D" and "C")
There are three kinds of High Speed Trains in China, differed by the letters G/D/C plus several digits. They usually look like bullets (so the China High Speed Trains are also known as China Bullet Trains), and are all fast, clean and well equipped with friendly facilities.
G-series High Speed Trains - the Fastest & Most Advanced Trains in China
G-series trains (Pinyin: Gaotie, 高铁) are the fastest trains among all the high speed trains in China which usually run with a speed of 250-400km/h. Currently, there are more than 500 railway stations in China's major cities (about 113 cities) linked to the China's massive railway network by G-series high speed trains. Compared with D and C trains, the G-series trains take less time to reach final destination as they stop at fewer stations on route. Air-conditioner, dining car, western-style toilet, large luggage racks, power plugs, and visual systems are generally equipped on the G-series trains. Fuxing Trains, the newest generation of China's G-series high speed train, run faster, and provide more comfortable seats and lager space. Wi-Fi is also available. Learn more about China G-series Trains.
D-series High Speed Train - Electric Multiple Units (EMU) & Second Fastest High Speed Train in China
D-series trains, (Dongche, 动车), are the second fastest high speed trains in China, usually running at a speed between 200km/h and 250 km/h. They are the earlier generation of China Railway High-speed (CRH). The D-series trains can not only large cities, like Beijing, Shanghai, Guangzhou, Shenzhen, Chengdu, Wuhan, Chongqing, Hangzhou, Suzhou, also can get to smaller cities in China, such as Luoyang, Pingyao, Guilin, even some very small towns along the railways. Only D-series operate overnight high speed trains in China. The facilities in the D-series are much like that of G-series trains. Learn more about China D-series Trains.
C-series High Speed Trains - High Speed Trains Running between Two Neighboring Cities
C-series trains (C stands for Chengji城际, English: Intercity) usually connect provincial cities, like Chengdu-Leshan, Leshan – Emeishan, or two neighboring cities, like Beijing – Tianjin, Guangzhou – Shenzhen, etc. They usually run at speeds below 200km/h. Till May, 2018, there are over 260 railway stations with C trains running through. Learn more about China C-series Trains.
China's Normal Trains
Usually colored blue, red or green, they are identified by Z/T/K/L/Y/S plus digits or just several digits without letters. They run at a lower speed than high speed types, but they run day and night. The facilities are generally of a lower standard, e.g. the toilets are mostly squatting ones. With relatively lower prices, they are often the choice of budget travelers.
Standard trains are the older version of China's rail system and rarely exceed 140 km/hr. Although less common than they used to be before the high speed train came into existence, you'll still find these standard trains going to smaller cities or throughout less-developed regions of China.
Usually, these trains are divided into "Soft Sleeper", "Hard Sleeper", "Hard Seat" and sometimes a "Soft Seat". They don't always have a western toilet or air conditioning, but they are cheaper.
China's Normal Trains are identified by letters Z/T/K/L/Y/S plus several digits (such as K145, Z23, T660…). They are usually in green colors with more carriages, and run at speeds below 160km/h. Before the operation of High Speed Trains, the Normal Trains aver very common in China. Now the number of the Normal Trains is declining, but there are still a lot of trains of this type under operation, especially on railway to small cities and towns. There are three kinds of seats available on the Normal Trains – Hard Seats, Hard Sleepers and Soft Sleepers. Compared with High Speed Trains, they are much cheaper, but not very comfortable, and cost more time. Western toilets are not available. Air-conditioners are only equipped on some trains. Learn more about China Normal Trains.
Fuxing China High Speed Train - the newest generation
A Normal Train on Qinghai Tibet Railway
Air-conditioner: all China high speed trains are fully air-conditioned. The train is totally sealed so smoking is prohibited even in the toilets.
Luggage Racks: there are luggage racks above the seats in the carriages of First Class and Second Class for you to put smaller and normal-size luggages. You can also put your larger luggages (28 inch suitcase) in the closets at the end of each carriage.
Train Bathrooms: there are both western-style toilets and squat toilets on the high speed trains. There is also a special toilet for the disable and moms with infants. Tissue papers are provided in the bathrooms, but you'd better bring some on your own as they may run out fast. Hand sanitizer and soaps are only provided on some trains.
Food and Drinks: every China high speed train has a dining car, usually the No. 5 carriage, where you can buy packed Chinese meals of different standards (15¥to 65¥). The attendants will also bring some foods and snacks to each carriage to sell. Free drinkable water can be fetched at the water dispensers at the junctions of two carriages. There are also some beverages for sale on the train.
Technologies facilities: A 220V power plugs can be found below the front seats but you have to bring one adapter. Every carriage has several TV screens, but only Chinese videos are available. Wi-Fi is available on the newest Fuxing trains.
Keep Reading: Check more facilities on China high speed trains >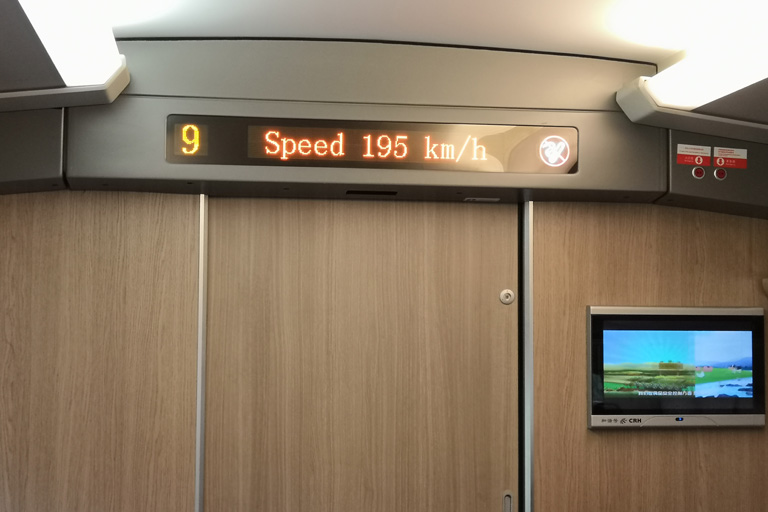 Modern and clean carriage on high speed train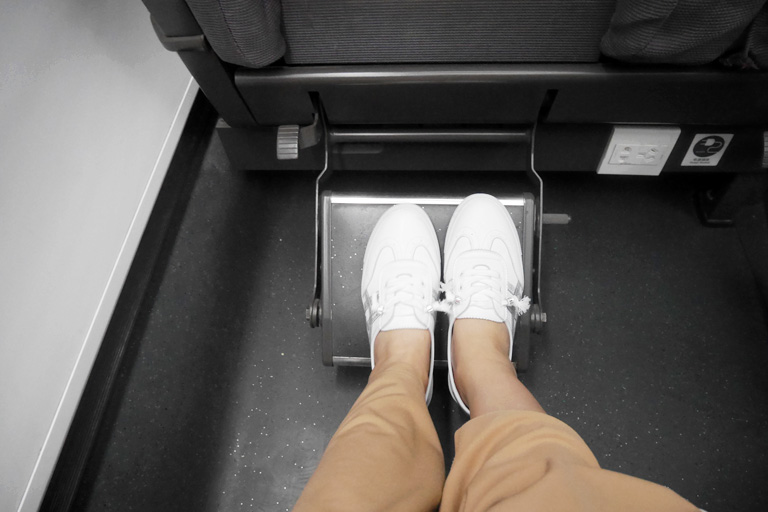 Footrest and power plug on the Second Class Seat
Second Class Seats, First Class Seats, Business Class Seats are three common seats you can find on most China high speed trains. There are a few trains which have only Second Class Seats, or Second Class Seats plus First Class Seats. These trains usually serve short-distance railway routes. Some overnight high speed trains also provide Soft Sleepers. The difference between these seats has to do with the size of the seat as well as the personal space allowed.
Second Class Seats
The Second Class Seats, the cheapest seats on China high speed trains, are usually arranged in the carriages from 2 to 8, so generally speaking, more than 90% of the seats on the high speed trains are the Second Class Seats. The carriage of the Second Class Seats has two seats on the side of the aisle and three on the other. The seats are relatively comfortable with a width of about 43cm (17inch), and can slant 5~24°. The leg room is enough, and feels more like economy class on the airplane. A 220V power plugs can be found below the front seats but you have to bring one adapter. Read more about Second Class Seats
Frist Class Seats
The First Class Seats, a little more expensive than the Second Class Seats, are usually located on the first carriage, together with the Business Class Seats. There are usually 28 seats, usually 4 seats in a row on two sides of the aisle. The seats are wider and can slant 5~32°. Each seat has a tray table (folded in the armrest), a headphone jack (below armrest), and a footrest. Power charge is available. Compared with the Second Class Seats, the First Class Seats are more spacious and quieter. Read more about First Class Seats
Business Class Seats
Beyond the First Class and Second Class Seats are the Business Class Seats which are much luxury and comfortable, made of leather and fully-reclining, just like the business class on the airplane. They are great treats for those who want to enjoy a relaxing journey on a long train journey in China. They are usually 5 egg-like multifunctional seats in a private room behind the cab (before the First Class Seats Carriage), can be slanted 180° down to sleep on. You can also rotate your seat to face the window and enjoy the landscape along the railway. Snacks, drinks and food (meal time only) are provided for free. The fare is the highest- about twice that of first class, sometimes even higher than flight fare. Read more about Business Class Seats
Sleepers
Some D-series China high speed trains also provide sleepers of different types for overnight travelers. These high speed trains usually run long-distance railway routes, such as Beijing – Shanghai, Shanghai – Xian, Beijing – Guangzhou, Beijing – Shenzhen, Shanghai – Chengdu, etc. At present, there are mainly three various types of sleeper on the high speed trains – New Individual Sleepers (Dong Wo动卧), Soft Sleepers Compartment (Ruan Wo软卧), Deluxe Soft Sleeper Compartment (Gao Ji Ruan Wo高级动卧).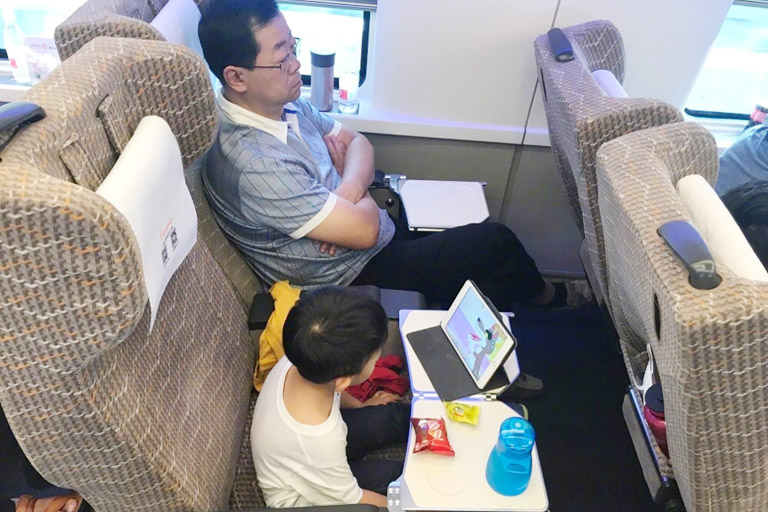 First Class Seat on high speed train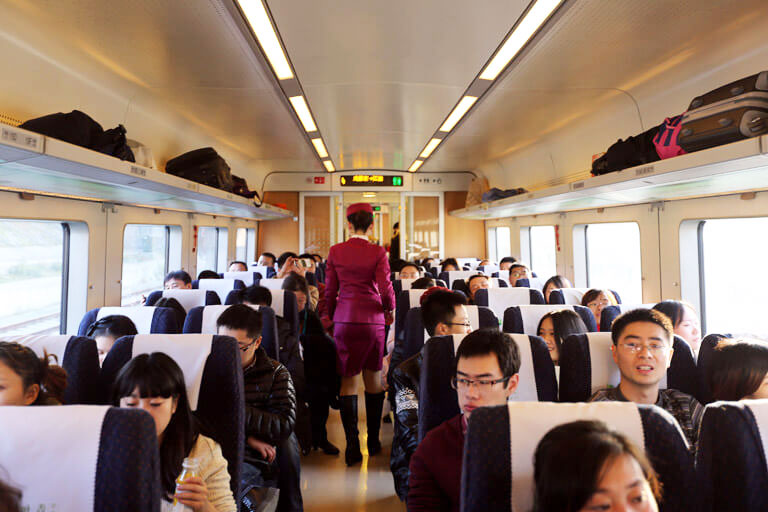 Second Class Seat on high speed train
Currently, you can only book China train tickets 15 days in advance. You can book on China Railway's official website or some online travel agencies, or go to purchase tickets at any of China's railway station. Passport is always required no matter you book online or at railway stations.
Book Train Ticket Online
English version of its ticketing website - https://www.12306.cn/en/index.html, allows foreign passengers who don't understand Chinese to register and purchase train tickets themselves. It is important to note that currently, the English version only supports the registration of valid foreign passports. When registering an account and adding passengers, the English version only requires an email address and does not require a Chinese phone number. The website supports multiple payment methods such as VISA, MasterCard, JCB, and Diners, etc.
Book Train Ticket at Railway Stations
If you are already in China, you can go to any railway station close to you to book tickets at the ticket hall. Original passport and cash are required. You can also try to find the small ticket offices located on some major streets in big cities to book tickets if the railway station is too far from you. A booking fee of 5¥is required. These ticket offices only open between 9am~6pm.
Let Your Hotel Book for You
If you are staying in a luxury hotel in China, such as JW Marriott, Mandarin Oriental, InterContinental, St. Regis, The Ritz-Carlton, you can ask your hotel to book train tickets and have them billed to your room.
Book a China tour including train ticket with China Discovery
We, China Discovery, have designed many valuable China tours which take you to explore the most beautiful destinations in China by high speed trains, such as Beijing, Xian, Shanghai, Guilin, Chengdu, Suzhou, Hangzhou, Huangshan, etc. You can book a tour with us to get rid of all the daunting booking processes, and focus only on enjoying your vacation.
Keep Reading: How to Book China Train Tickets
How to Collect Your Tickets
Passengers need a paper ticket to board train in China. There is no E-ticket currently. If you book ticket at railway station, you can collect your ticket immediately. If you book ticket online, you can collect ticket at the ticket counters in any railway station in China any time, for example booking a train ticket of Shanghai to Chengdu in your home country, collecting ticket at a counter in Beijing Railway Station. You need to present your original passport and a Ticket Pickup Number (you will get the Number after booking ticket successfully online. It is like E123456789/EA12345678…) to the staffs in the ticket office. If you collect ticket on the same day of departure, you'd better get to station at least 1~1.5 hours in advance so that you have enough time to collect ticket and check in station.
If you book ticket with 3rd party agencies, like Trip.com, you can use the ticket delivery service to save time. If you travel with China Discovery, we can book ticket and deliver to you, or let your local tour guide collect ticket for you.
Keep Reading: How to collect your train tickets online, at train station, automatic ticket machine and outlets.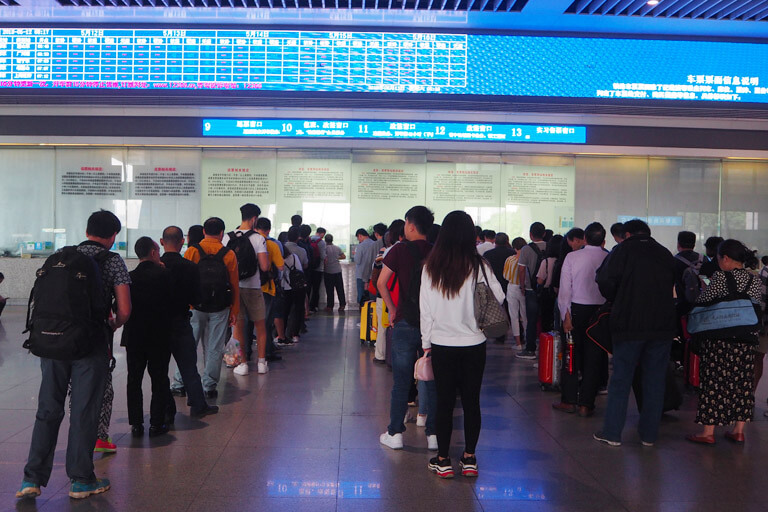 Book train ticket at railway station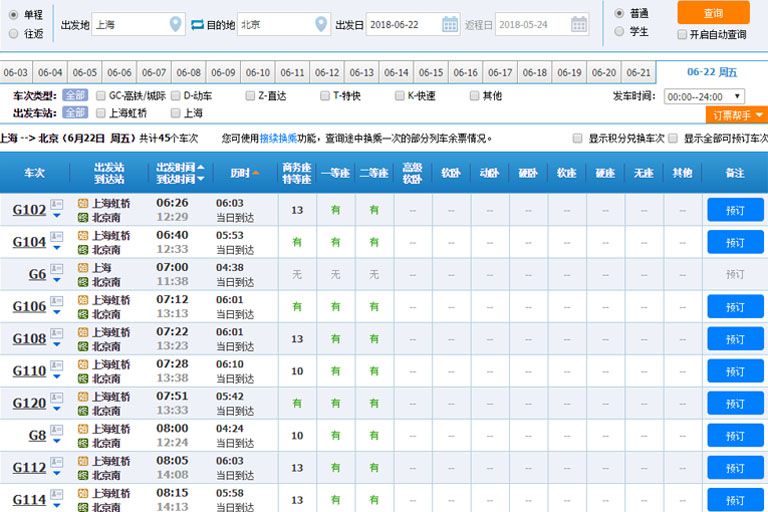 Book train ticket on 12306.cn
After getting your ticket, you can get a lot of important information on the small paper.
Boarding Gate (right of the 1st line): on the top right corner shows your boarding gate. For example A21/B21检票 says you should go to check in your train at the gate of A21 or B21.
Shown on the top right corner of your ticket, boarding gate is the exact place for you to board after get into the train station. Not every ticket has the boarding gate information (though Most of them have). If there is no gate information, you should check that at the big LED Screen as soon as you ended the security check when enter the station.
Departure and arrival railway stations (the 2nd and 3rd lines): they are written in Chinese characters, like "成都东" indicating "Chengdu East Railway Station", "西安北" indicating "Xian North Railway Station". Below the Chinese characters are their Chinese pronunciations in pinyin, not English name.
Train type and number: the train numbers usually start with G, D or C. For example D1920 is a D-series high speed train; G stands for G-series high speed trains and C stands for C-series high speed trains.
Departure date hour(left of the 4th line): for example 2018年5月17日 09:19开 means the departure date and hour is 09:19AM, May 17, 2018.
Carriage Number / Seat Number / Seat Class (right of the 4th line): right after the Departure date and hour is your carriage number and seat number. For example 1车4F says your seat is 4F (4th row) in the No. 1 carriage. Below the carriage and seat numbers is your seat class. For example 一等座(First Class Seat), 二等座(Second Class Seat), 商务座(Business Class Seat).
Ticket price (5th line): the price of your ticket can be found at the 5th line. It's in CNY only. For example ¥397.0元 says your ticket cost 397 CNY.
Your identity info (7th line): the left of this line is your passport number. The last two letters (or digits) are hidden by mosaics.
Please note there are two kinds of paper tickets – Blue Ticket and Red Ticket. The only difference between these two kinds of tickets is that the Red Ticket can only be checked by manually while the Blue Ticket can be checked by the automatic entry.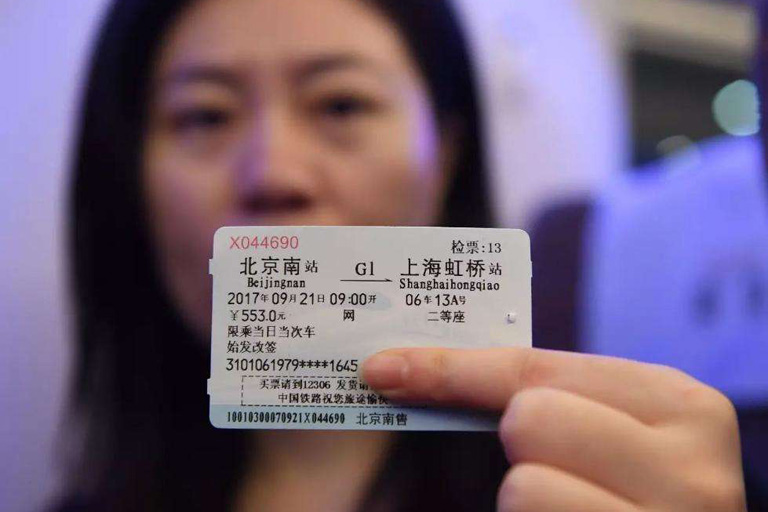 The most common Blue Ticket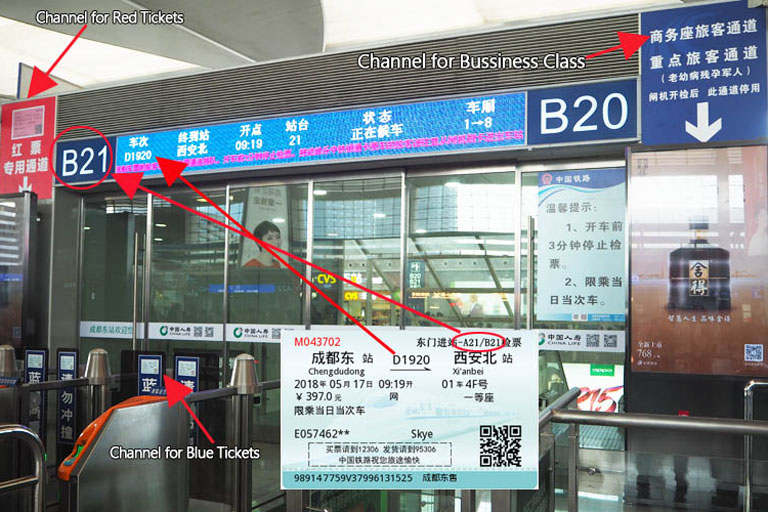 Check boarding gate from your ticket
China's railway stations, especially those newly built high speed railway stations, are usually very large. Some stations, Beijing South Railway Station, Chongqing West Railway Station, Chengdu East Railway Station, are even larger than some major international airports. But don't get intimidated by their massive labyrinths of halls, doors, floors and waiting areas. In fact, the process for boarding and disembarking from a railway station in China is much simpler and easier than that of a plane. Usually, the larger railway stations are all user-friendly, and have signs in English for you. Below are the basic steps to board your train at a China railway station:
1) Get your passport prepared. Travelers from Hong Kong, Macau and Taiwan need to carry your valid Mainland Travel Permit.
2) Get to the Right Train Station in Advance: please note that there are usually more than one train stations in one city, even 3 and more in some big cities, like Beijing (Beijing South, Beijing West, Beijing North…) , Chengdu (Chengdu, Chengdu South, Chengdu East…). So please navigate the right station before your trip. Besides, remember to leave early to catch your train because there are traffic jams on the roads to the railway stations. Usually you should arrive at your railway station at least 30 minutes in advance. Most railway stations in big cities can be reached by subway, taxi and public bus.
3) Collect your tickets at railway stations. If your ticket was booked online, you can collect ticket at the ticket hall which is usually outside the main entrance to the station.
4) Present your ticket and passport: As you enter the main station, you will find some lines where you'll stand in to pass ticket check. Present both your ticket and passport to the agent who will checks whether your identities on ticket and passport match exactly.
5) Security Check & Luggage Check: this process is very fast, and can be finished in 1~2 minutes. Just place your luggage and bags on the inspection equipment, and go through the safety-check. Don't have to take off your shoes, coats and belt. Then a security guard will use a metal detector to pat down your body to check you don't have any dangerous items brought.
6) Find the Right Waiting Room: check your waiting hall (gate) on the right up corner of your ticket, or from the big LED screen in the railway station. Find a seat and waiting for check in.
7) Board your train: usually about 15~20 minutes before the departure, the check-in door will open. You can leave your seat to let the stewards check your ticket, then walk a few steps to find your train. Enjoy your ride!
Keep Reading: How to Get On/Off the High Speed Train in China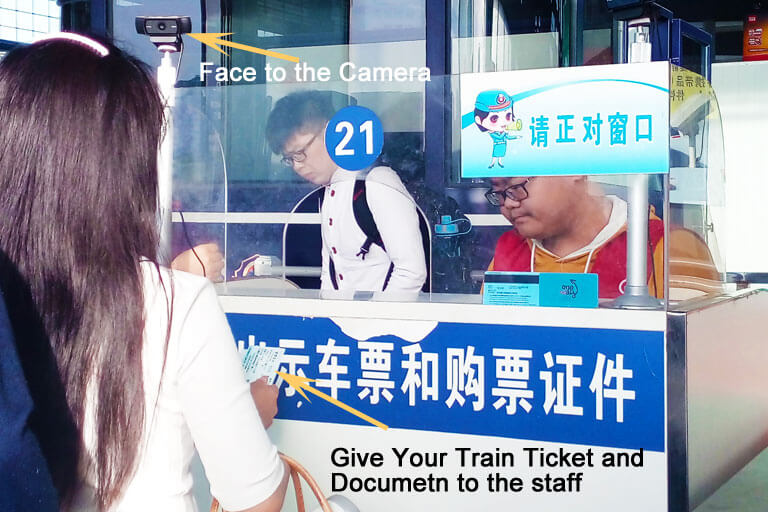 Pass the Identity Check
Find Your Correct Boarding Gate
Travelling with luggages on China train is not a problem. If you take high speed trains, it will be easier to handle your luggage because there are plenty of spaces to place your luggage, and there are also many ways to deliver your luggages.
Baggage Allowance Policy
According to the China Rail Safety Management Regulations, passengers who have already bought tickets are allowed to bring certain amount and volume of luggages to board China trains for free. Each adult passenger can bring 20kg (44pounds) luggage. Each child (having a ticket) can bring luggage of less than 10kg (22pounds). The total sum of the length, widths and height of each luggage can't exceed 160cm (63inches). The length of the rod-shaped baggage can't exceed 200cn (79inches). But in fact, these official rules are usually not enforced. Generally speaking, if your luggage can be carried with you on person, and fits through the scanning machine, it will be permitted. But don't too bring extremely large or long staffs which may be denied. Also never pack the prohibited items with you, such as Weapons, knives, live animals, etc.
Where to Put Your Luggage
After you get on the train, find the luggage rack to put your luggage. If you take high speed train, you can put the large-size suite cases in the luggage cabinets at the junction of two carriages or the empty room behind the last row of seats in your carriage. Carry-on suitcases or smaller luggage can be placed on the luggage racks above your seats. In general, there are more spaces in carriages of First Class, Business Class and Soft Sleeper to store luggage than that of in the Second Class Carriages. If you take a normal train, you can only put your luggages on the racks above seats, or under your seat.
If your luggage is very large or heavy, you can consign it at the railway station. If you have too many luggages to bring, you can also hire a Red-cap porter in the station to carriage luggage for you.
Keep Reading: China Train Baggage Allowance & Luggage Racks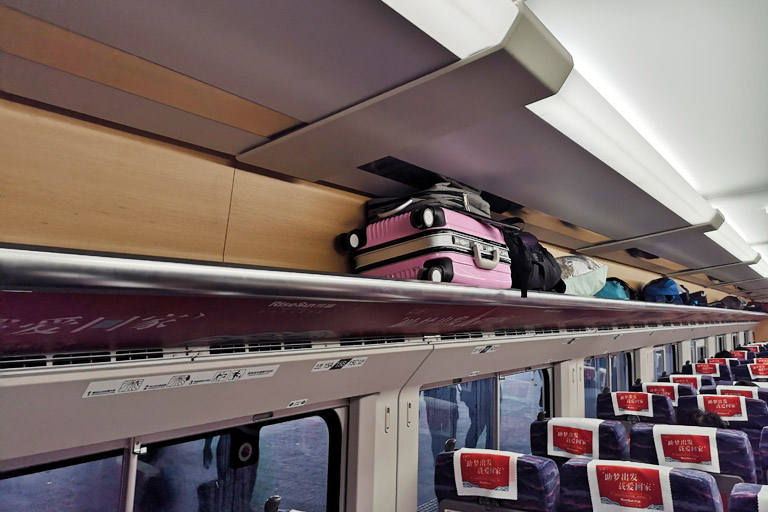 Luggage racks above seats in 2nd Class Seats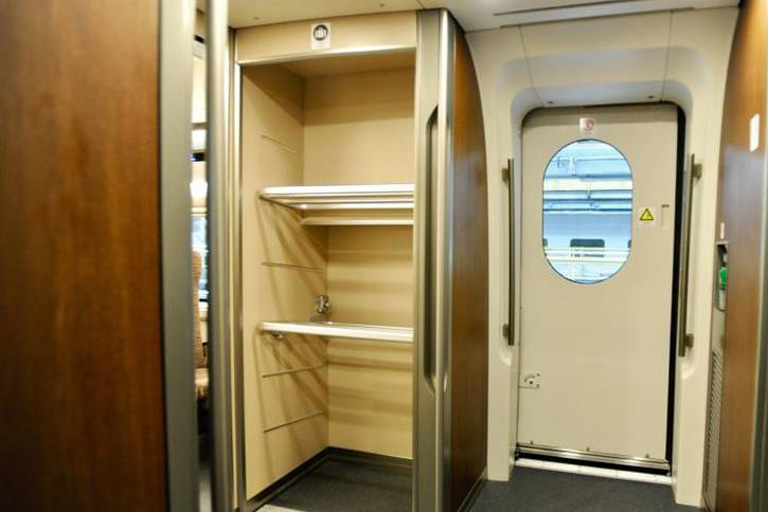 Luggage cabinets at the junction of two carriages
Foods, snacks and drinks are provided on the high speed trains. But if you are a westerner, and not a Chinese food lover, the meals may not suit your palates well. You can have lunch before taking your train in your hotel or local restaurants if your train departs in the afternoon. You can also pack some foods with you if you are going to have long train ride. Large stations usually have. You can find something to eat at KFC, MacDonald and some food stalls in the railway stations.
Dinning Car
The dining car is usually on the 5th carriage. It is usually a small kitchen with a counter. Some dining cars have table and seats, and some don't. There are several Chinese boxed-meals on the menu with prices from 15~65¥, and only served during meals hours. Western food is not provided. Some packed snacks sell at the counter, such as chips & cookies, breads, nuts, dried fruit and so on. Instant noodles are not provided on high speed trains. Breakfasts are usually breads, milk, porridge, eggs, baozi, etc. The types of foods and snacks usually differ by rail routes.
If you take a seat in the Business Class or First Class, you can order food from the attendant in your carriage. Meals and drinks are free if your seat is business class. Sometimes the attendants will also push a trolley to sell food, snacks and drinks.
Drinks
The dining car offer some common drinks, such as cola, juice and water of bottles. Hot water can be fetched at the dispenser at the end of your carriage.
Keep Reading: All the food, drinks, snacks on China high speed train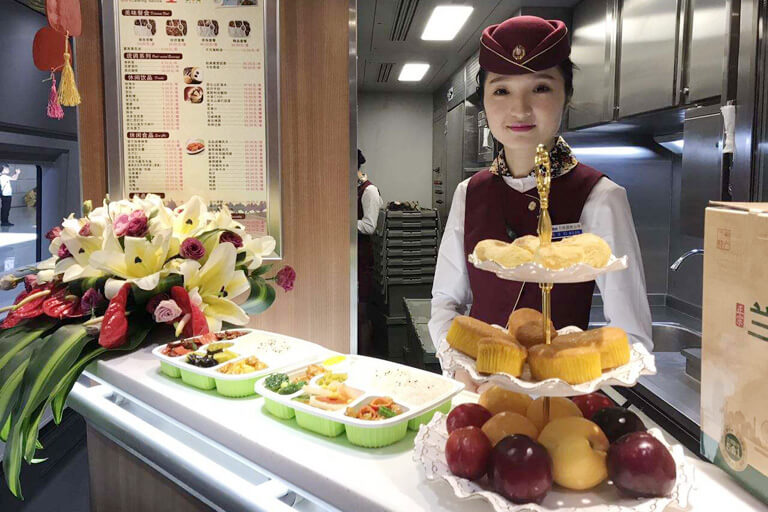 Dining Car on the high speed train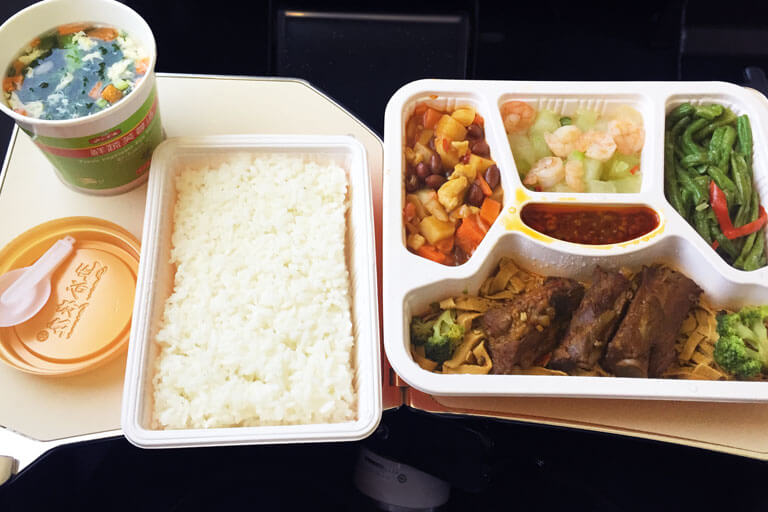 Chinese boxed-meal (65¥ standard)
Both Western and Square Toilets Are Available
There are both western-style toilets and squat toilets on the high speed trains. The number and locations may differ by the type of trains. They are usually modern and clean. The attendants clean the toilets frequently. Toilet paper is provided in the bathroom, but easily run out. You can bring some on your own. Smoking is not allowed in the toilets. When the train stops at stations, the toilet doors will close. You can check toilet availability from the signs on the doors of toilets – the red sign with "有人" means the toilet is occupied, and the green sign "无人" means it's not occupied. The LED screen above the aisle also shows if the toilet in your carriage is occupied or not.
Barrier-free Toilet for the Disable and Infants
There is a barrier-free toilet on most high speed train in China, usually in No. 5 carriage. It's specially design for the disable passengers. There is a small stage inside the toilet where moms can change diapers for infants. The toilet has a large auto-door with both English and Chinese sighs on. The space inside the toilet room is rather large with a western style toilet, a large wash basin, hand rails, mirrors. Toilet paper is provided.
Keep Reading: Toilets & Washrooms on China High Speed Trains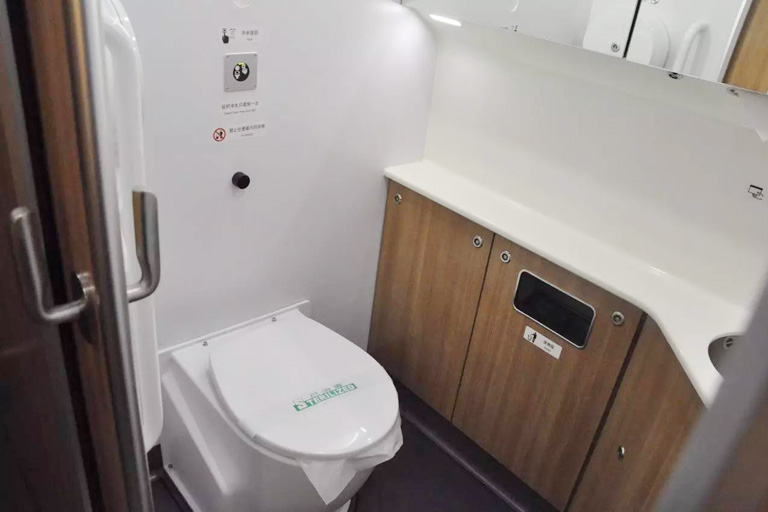 Western style toilet on high speed train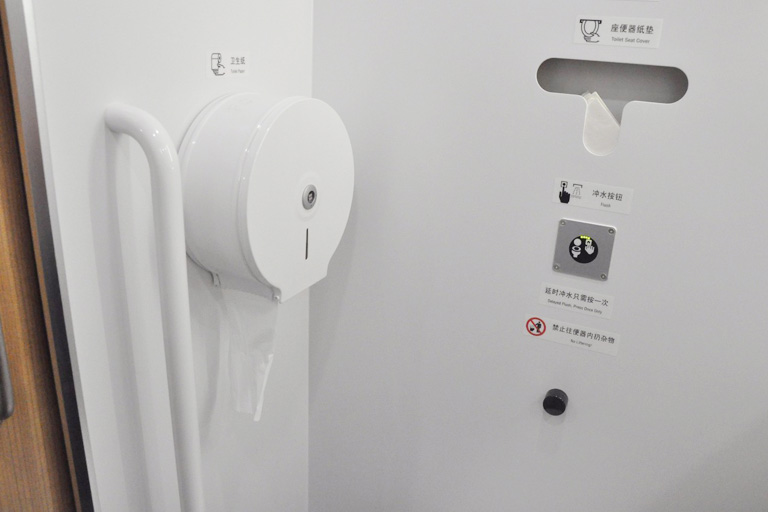 Toliet paper is provided but you can bring some on your own
The high speed trains in China usually arrive at the final destination on time to minutes. Don't have to leave your seat in a hurry to push and squeeze in the crowds to exit. The attendants won't urge to leave the train in minutes. Sit two or three more minutes to check all your belongings packed well, and then get off the train.
Check out railway stations in China is very easy. The pass out the station is usually not long, and has no many sideways. Just follow the stream of people. Before exiting the railway station, you have to check out with your ticket. Passport is not required this time. If you ticket is blue one, go through the auto-gate. If your ticket is the red one, go through manual service gate.
Currently, most of railways stations are connect to downtown with subways, such as Beijing South, Chengdu East, Chongqing North, Shanghai Hongqiao, Hangzhou East, Xian North, etc. You can easily take a subway in the station to get to central city area easily. Some railway stations even have an area inside the station for passengers to take taxi to destinations.
Currently, most of railways stations are connect to downtown with subways, such as Beijing South, Chengdu East, Chongqing North, Shanghai Hongqiao, Hangzhou East, Xian North, etc. You can easily take a subway in the station to get to central city area easily. Some railway stations even have an area inside the station for passengers to take taxi to destinations.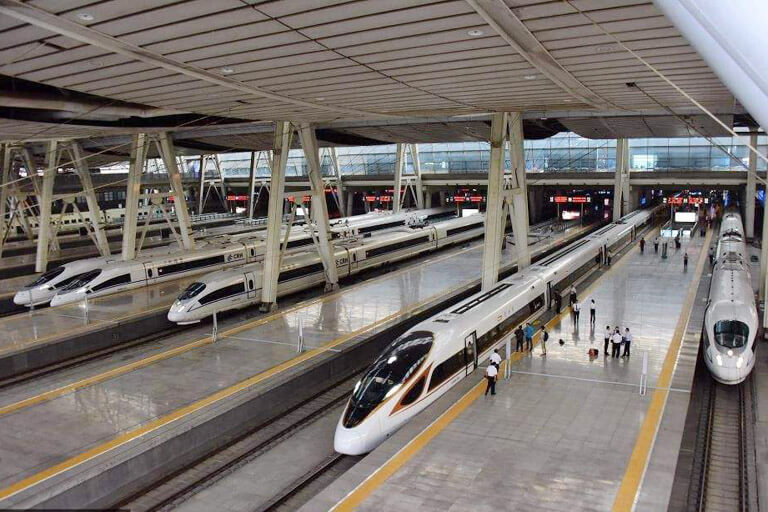 High speed trains stop at Shanghai Hongqiao Railway Station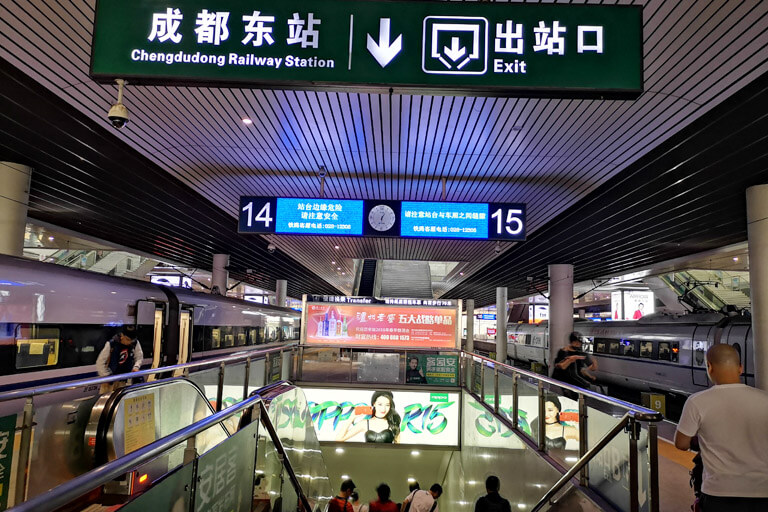 Exit in Chengdu East Railway Station