Wutaishan Railway Station - The Only Train Station in Wutaishan
Built in 1971, Wutaishan Railway Station (五台山站) is the only train station serving travelers to Mount Wutai and it's also the nearest one. Currently, it just runs very few normal trains between Wutaishan and Beijing, Taiyuan and some nearby cities within Shanxi Province. If you want to get to Mount Wutai by train, here are the most useful tips about the location and transportation, available train routes of Wutaishan Railway Station. (Tips: According to official news, the planned Xiong'an Xinzhou High Speed Railway will build new high speed train stations near Wutaishan Airport and Mount Wutai Scenic Area. Fast and convenient high speed train journey to Mount Wutai is just around the corner.)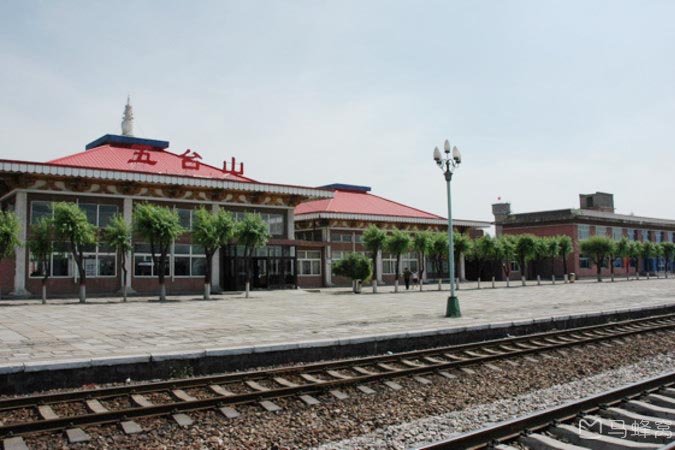 Wutaishan Railway Station
Wutaishan Railway Station Location
Address: Wenhui Road, Shahe Town, Fanshi County, Xinzhou City, Shanxi Province 山西省忻州市繁峙县砂河镇文慧路
Distance: about 70 km from Mount Wutai, 50 km to Taihuai Town, almost 160 km from Wutaishan Airport; about 150 km from Datong, 350 km from Pingyao, 240 km from Taiyuan and 700 km from Yellow River Hukou Waterfall; about 330 km from Beijing.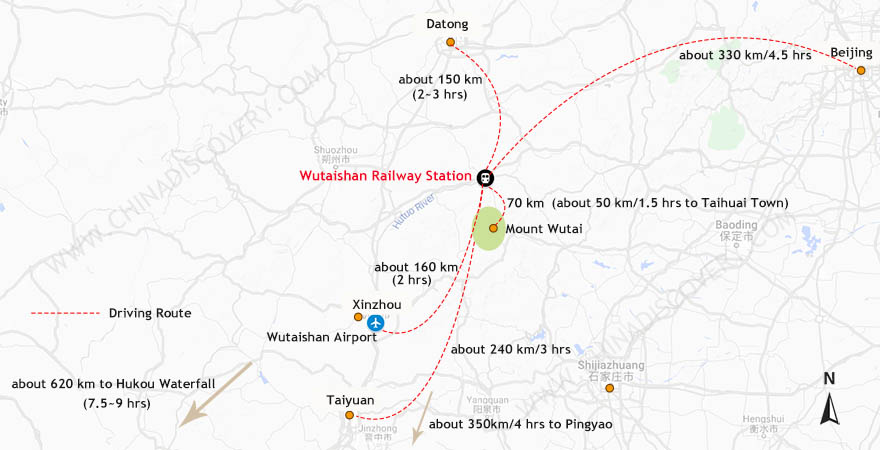 Wutaishan Railway Station Location Map
How to Get to Mount Wutai from Wutaishan Railway Station
Route: Wutaishan Railway Station - Taihuai Town - Five Terrace on Mount Wutai
Tourists for hiking and pilgrimage to Mount Wutai usually start visiting from the temples in Taihuai Town at the foot of the hills. As the geographic center where visitors often base themselves, Taihuai Town can be reached through three driving route: the north, the south and the east ways. Taihuai Town is located about 50 km south of Wutaishan Railway Station, so the north way is the shortest route. It takes about 1.5 hours by private car or 2 hours by the direct local bus. After nearly 1 hour's driving, some hikers may get off at Hongmen Rock to begin their hiking.
Private cars are not allowed to reach the five terraces, so all tourists have to take minibus from bus stop near Dailuo Peak to get to each terrace. You can buy tickets to the East Terrace (CNY 60), North Terrace (CNY 70), Central Terrace (CNY 80), West Terrace (CNY 80) and to the South Terrace (CNY 60) separately or pay CNY 360 for a ticket packages for all terraces.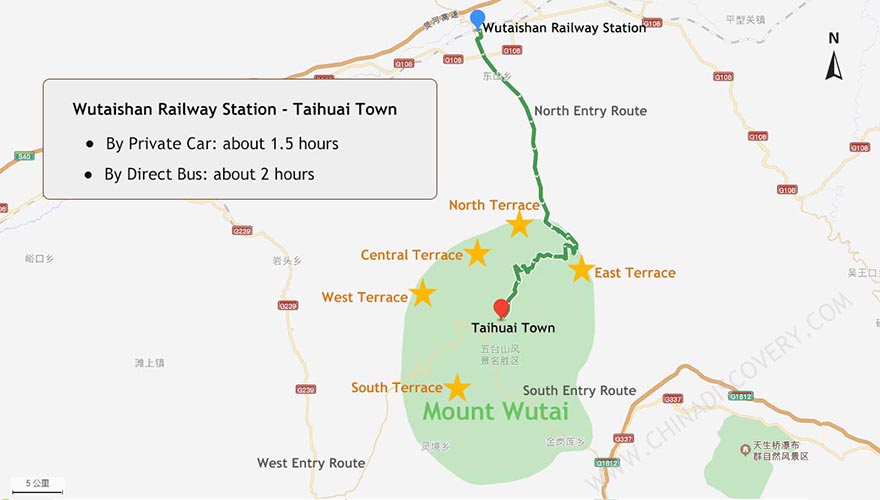 Wutaishan Railway Station to Mount Wutai Transportation Map
Main Train Route of Wutaishan Railway Station
As a very small and old train station, Wutaishan Railway Station only runs trains on the Beijing Yuanping Railway (京原铁路), which begins from Beijing and terminates in Yuanping (a county-level city in Xinzhou City), Shanxi. At present, there are daily trains heading to Wutaishan Railway Station from Beijing, Taiyuan, Pingyao, Xinzhou, Linfen, etc.
Some Normal Trains to Wutaishan Railway Station
| | | | | |
| --- | --- | --- | --- | --- |
| Train Route | Departure Station | Train Type | Duration | Frequency |
| Beijing - Wutaishan | Beijing Railway Station | K trains | about 6.5 ~ 7 hours | 1 ~ 2 trains per day |
| Taiyuan - Wutaishan | Taiyuan Railway Station | K trains | about 3.5 ~ 5.5 hours | about 3 trains per day |
| Pingyao - Wutaishan | Pingyao Railway Station | K trains | about 5.5 hours | 1 train per day |
| Xinzhou - Wutaishan | Xinzhou Railway Station | K trains | about 2 ~ 3.5 hours | about 3 trains per day |
| Linfen - Wutaishan | Linfen Railway Station | K trains | about 8 hours | about 1 train per day |
How to Get to Wutaishan by Flight & Bus
Get to Wutaishan by Flight
Xinzhou Wutaishan Airport (IATA: WUT) serves travelers to Mount Wutai and Xinzhou City. It is located in Wuwei Village, Hongdao Town, Dingxiang County, Xinzhou City, Shanxi Province, about 37 km from Xinzhou City center and around 70 km from Mount Wutai. At present, tourists can take non-stop flight to Wutaishan from Shanghai, Chengdu, Hangzhou, Tianjin, Nanjing, Chongqing and some Chinese cities. Near all are daily flights costing just a couple of hours.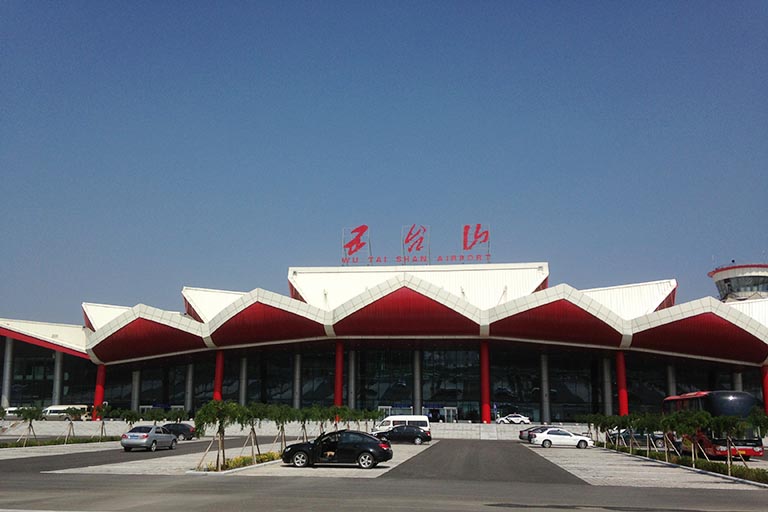 Xinzhou Wutaishan Airport
Get to Wutaishan by Bus
There are also long-distance buses running to Taihuai Town, Wutaishan County from Beijing, Tianjin, Shijiazhuang, Datong, Taiyuan, Xinzhou, etc. If you depart from one of the places and don't like additional transfer from airport and train station, you can take a bus straight to Taihuai Town. Learn more about How to Get to & around Wutaishan >>
Some Buses Schedules to Wutaishan:
Bus Route
Departure Station
Frequency
Departure Time
Duration
Beijing - Wutaishan
Beijing Liuliqiao Bus Station
2 buses per day
09:30,15:30
about 5 hours
Taiyuan - Wutaishan
Taiyuan East Bus Station
Taiyuan Railway Station
7 buses per day
07:00, 08:00, 09:40, 11:25, 11:40, 14:40, 15:30
about 3.5 ~ 4 hours
Datong - Wutaishan
Datong East Bus Station
Datong Xinnan Bus Station
3 buses per day
07:30, 14:00, 14:30
about 4 hours
How to Plan Your Mount Wutai Tour
How to Get to Mount Wutai: You can get there by flights from Shanghai (2.5hrs), Chengdu (2.5hrs), Hangzhou (2hrs), etc. or travel to Mount Wutai from Datong, Pingyao, and Taiyuan by driving.
Best Time to Visit Mount Wutai - May to September: Bring your extra layers and umbrella/raincoat always.
A classic Mount Wutai tour usually starts from Taihuai Town, the tourist center of the entire scenic area, then takes a day to visit the most important temples of Mount Wutai, such as Xiantong Temple, Pusa Ding Temple, Tayuan Temple, etc. which are conveniently located around Taihuai Town. If you are Buddhists, you can take the Xiao Chaotai (Small Kora) to Dailuo Ding Temple if you are short on time, or go to the high-altitude Five Terraces to worship Manjusri Bodhisattvas on the five peaks of Mount Wutai – East Terrace, North Terrace, Central Terrace, West Terrace and South Terrace, which usually costs two full days. If you prefer a hiking tour, you can find some amazing high plateau hiking trails among the Five Terraces. Below are most recommended Mount Wutai tours:
☛ 3 Days Mount Wutai Trekking Tour
☛ 3 Days Mount Wutai Buddhism Tour from Taiyuan
Mount Wutai is usually visited with other famous destinations in Shanxi Province, such as Pingyao Ancient City and Wang's Family Compound in Pingyao, Yungang Grottoes and Hanging Temple in Datong, Jinci Temple in Taiyuan and Hukou Waterfall in southern Shanxi. Below are the most recommended Shanxi tours:
☛ 5 Days Datong & Wutaishan Discovery Tour
☛ 6 Days Essence of Shanxi Tour
If your time allows, it's strongly recommended to visit Mount Wutai with other sacred Buddhist sites in China, such as Mount Emei, Mount Putuo, Shaolin Temple, etc. If you want to explore more Chinese culture, you can also extend your tour to Xian, Beijing, Luoyang, Chengdu, etc. Below are some recommended China tours for you: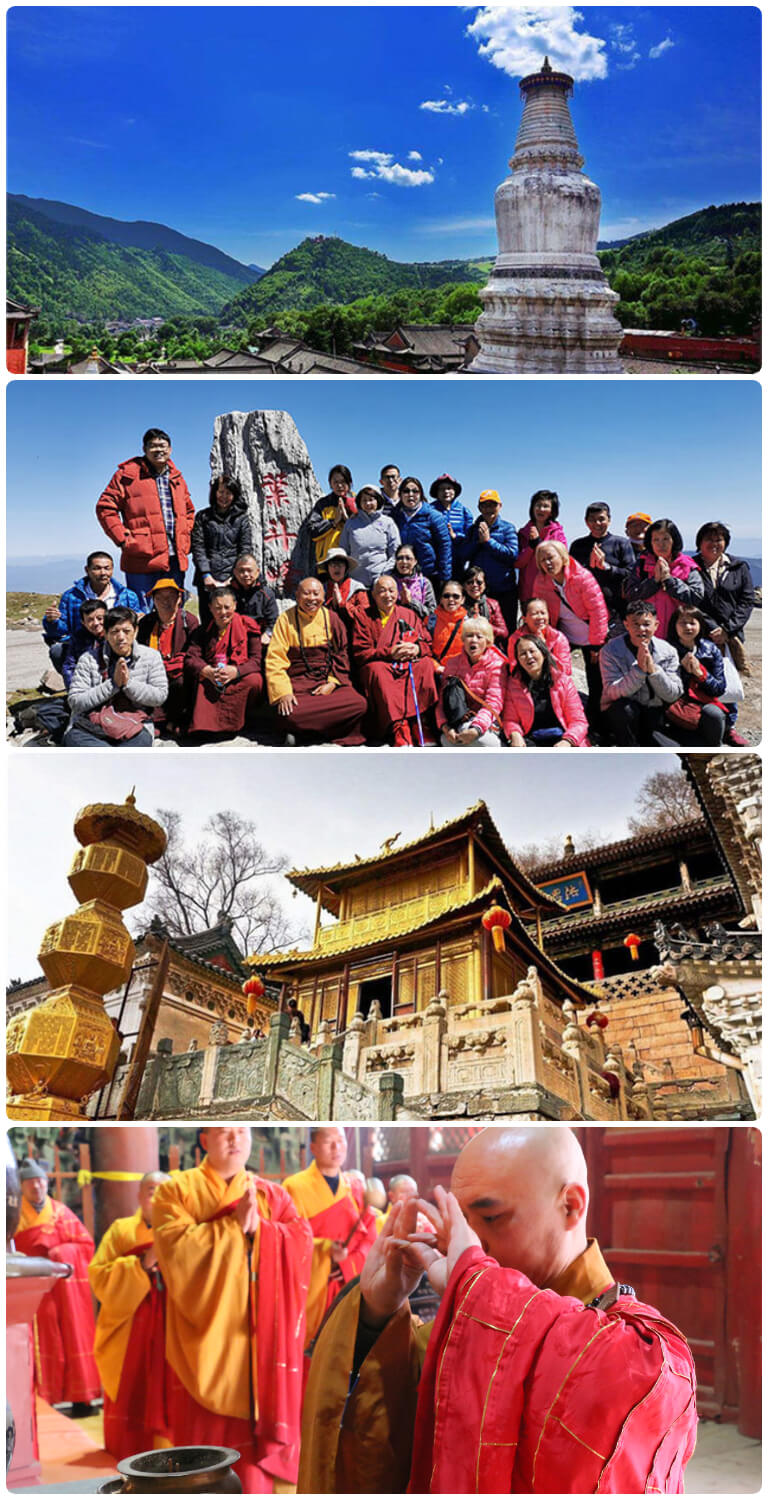 Mount Wutai, Nourished by Profound Buddhist Culture
China Train Travel Tips
How to Book, Alter and Cancel a Ticket
There are many ways to book a train ticket, including booking online, booking with a travel agency, booking at the ticket offices in China's Railway Stations, etc. For foreign travelers, you are suggested to book with travel agency so you won't meet with the language barrier. A ticket can be altered at appointed counters in railway station to an earlier or later train. It is also available to cancel your ticket before the scheduled departure time. However, you might be charged with service fee. Check details>
How to Collect a Ticket
You need to go to the Collecting Window of the railway station or the ticket agency to collect your ticket. If you want to collect your ticket in the departure day, we suggest you get to the railway station 2-3 hours early. It is best to collect your tickets as early as possible during the peak seasons (like in Spring Festival, Chinese National Day). Check details>
How to Read a Ticket
From the train tickets, travelers could see the departure time, departure and arrival train stations, train number, carriage number, seat class/number, passport number & passenger's name, boarding gate, prices etc. Please pay specially attention to the departure How to Board & Disembark a train station and make sure which one you should go to. Check details>
How to Board & Disembark a Train
Before boarding a right train, you have several steps to follow: 1) Prepare your documents well (passport, visa); 2) Get to the right trains station in advance 3) collect train tickets; 4) Read your train ticket; 5) Pass the security control; 6) Security check & luggage check; 7) Find right waiting room; 8) Cross the ticket checking gate; 9) Get to the right platform; 10) Get on your train. After you get off your train, your ticket will be check again to leave the station. Check details>
Baggage Allowance
Traveling with a train, each passenger is permitted to take baggage in certain amount, weight and volume. Besides, some items are prohibited to be carried to the railway stations and the trains, like weapons, knives, live animals, etc. Check details>
Explore Wutaishan Train Travel with China Discovery
China Discovery is professional in offering you a high-value Wutaishan tour. Moreover, traveling with us, you won't need to worry about the complicated transfer. your local guide will meet you at the exit of the railway station and drive you to your hotel or attractions. You can choose from top Pingyao tour packages we selected for you, or contact us to customize a unique one.
Top Mount Wutai (Wutaishan) Tours
Helpful Mount Wutai Travel Guide
Recommended Wutaishan Tours
Top 3 Wutaishan tours chosen by most customers to explore Wutaishan in the best way. Check the detailed itinerary, or tailor your own trip now with us.
6 Day Datong Pingyao Tour Plus Wutaishan Visit

Datong / Wutaishan / Taiyuan / Pingyao
3 Days Mount Wutai Trekking Tour (Suspended)

Mount Wutai
4 Days Datong Wutaishan Discovery Tour

Datong / Wutaishan
Start planning your tailor-made holiday to China by contacting one of our specialists. Once inquired, you'll get a response within 0.5~23.5 hours.
Customize a Trip
Have a question? Get answers from our travel experts or guests
Your Question:

Your Name:

Your Email: