www.12306.cn - China Railway Official Website
Latest China Train News (Updated on July 16, 2021):
1. Summer vacation beginning from early July to August is the peak tourist season for most destinations in China, such as Northwest China's Qinghai, Gansu (Dunhuang, Zhangye...), Xinjiang (Urumqi, Kashgar, Turpan...), Tibet, Inner Mongolia (Hohhot, Hulunbeir Grassland...), Guizhou, Jiuzhaigou, etc. Book your train ticket as early as possible if you are planning a summer holiday, because the ticket will be sold out soon after it is released.
2. On June 25, Tibet's first electrified railway - Lhasa-Nyingchi Railway opened. The first Fuxing bullet train began to run in Tibet and the fastest train journey between Lhasa and Nyingchi is 3.5 hours only.
3. The pre-sale period of train tickets in China has been adjusted to 15 days during the COVID-19 period.
China Discovery will update the latest news about China train travel for you. Remember to wear mask and protect yourself during the trip.
You may feel confused what is the best way and the most efficient way to buy train tickets in China? You may encounter some difficulties to book train tickets on your own, right?
At present, www.12306.cn is the ONLY China Railway official website for China train tickets booking. No matter you want to book high speed train tickets (G train, D train or C train), or purchase normal train tickets (like T, Z or K train), travelers can check latest train routes & schedules, seat classes and prices and as well as buy tickets on this website.
Popular China High Speed Bullet Train Tours
Hot China Normal Train Tours
It has only Chinese language version and the language barrier could be the huge challenge for foreigner travelers to use this site. Besides, to book train tickets successfully, you need to prepare a Chinese SIM card for registration and receiving message as well as a China bank card for payment. It could be difficult and a little complex for you. China Discovery is here giving you a handy guide to book train tickets on www.12306.cn as well as use other service provided by the official website. Go step by step with us!
www.12306.cn Main Service, Navigation & Function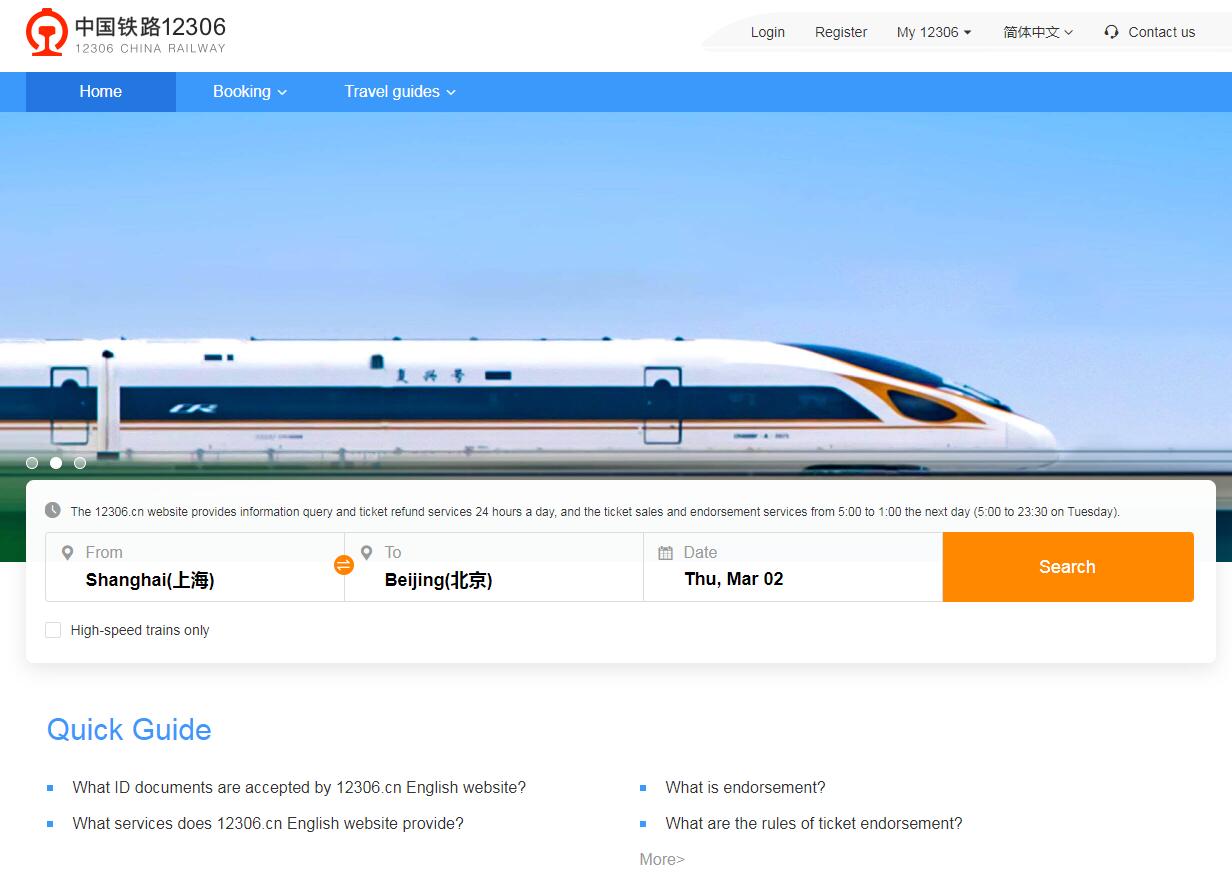 ● Homepage: It contains everything about the main service, ranging from registration, remained ticket searching & booking, weather forecast, latest news, frequent asked questions about train tickets, etc. Food & Drinks on China High Speed Bullet Trains >
● Ticket Service: Travelers can choose to but single & return tickets, cancel train tickets, change the destination, buy through trains to Hong Kong, check international train schedules and informations and so on. How to Buy Tickets? First enter the departure city, arrival city, departure date and select the passenger type, and then "search". Updated China Train Schedules & Routes >
● Railway Station Service (站车服务): Here you can find station help for special passengers (like the old & who are difficult to take trian), lost and found service, convenient train consignment service, customize pick-up and drop-off, railway station introduction. China Train Baggage Allowance, Policy & Consign Luggage Service >
● Train Travel Guie (出行指南): You can find many useful guide for taking train travel in China, including FAQs about booking, cancelling train tickets, detailed introduction of train tickets and important regulations all passengres need to know.
● Information Search (信息查询): You can check the ticket price, real-time weather, ticket agents, ticket checking gates, custom service contact number, the earliest time to buy ticket.
Pre-Sale Period on www.12306.cn & When Can you Buy Tickets Ahead
Pre-sale period about train tickets refers to the days prior to the train departure. Since December 30, 2016, the train tickets pre-sale (including high speed train tickets) period in China has been gradually returned to 30 days when booking online. That's to say, travelers can buy train tickets one month ahead. China Discovery suggests you buy your train tickets in advance to guarantee yourselves a booked ticket and a smooth trip along the way. Once you booked successfully online, you can collect the train tickets any time you like.
Useful Links: How to Book China High Speed Train Ticket | How to Collect Train Ticket | How to Read Train Ticket
What Kinds of Documents Can Book Train Tickets on www.12306.cn?
When booking train tickets on www.12306.cn, it can generally accept several kinds of documents for different passengers no matter in mainland China, in Hong Kong, Macau and Taiwan, or from other countries.
● Chinese citizen 2nd-generation ID Card
● Valid Passport
● Permit of Inland Entry and Exit for Hong Kong and Macau Residents
● Mainland Travel Permit for Taiwan Residents
● Home-return Permit
● Permit for Mainland Residents to Hong Kong, Macau and Taiwan
● Other valid documents
Valid Documents to Buy China Train Tickets
How to Check Train Route, Schedules and Classes of Seats?
For travelers who want to have a look at your favored train route and schedules to well suit for your travel date, you can click "Passenger Service" (客运服务) on the navigation and search. The search doesn't require any of your personal info and you don't need to log into your account.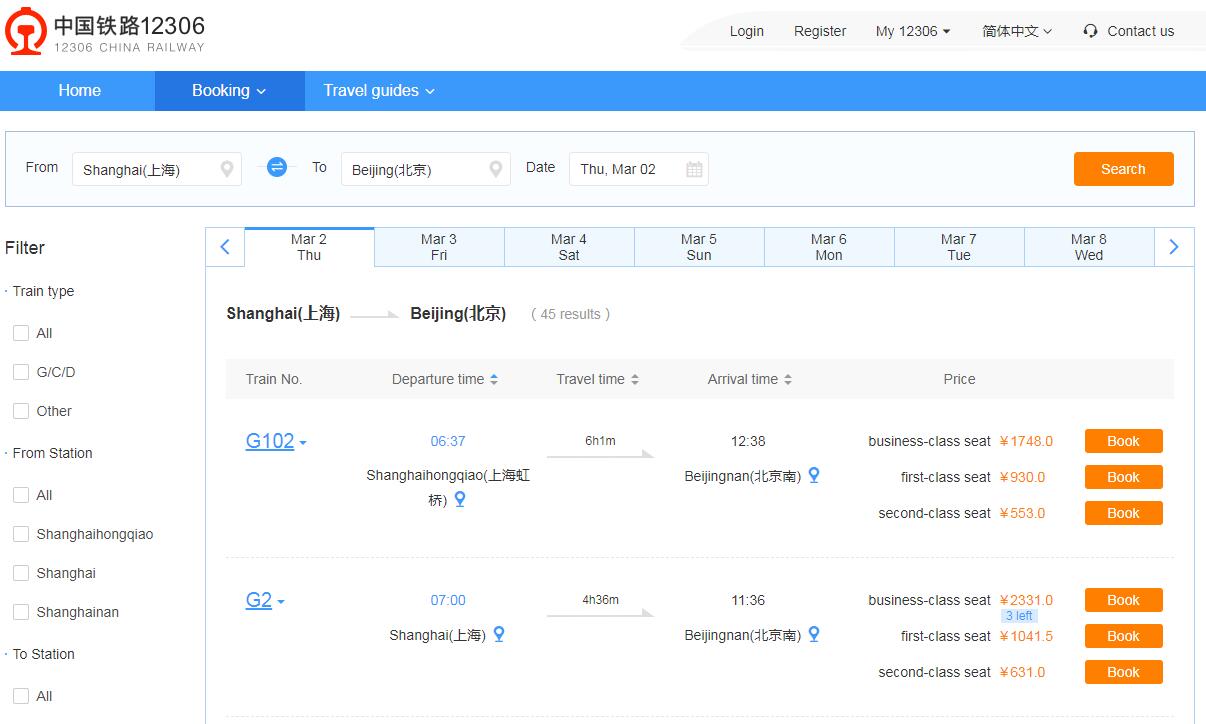 After enter the info and begin to search, you can enter into the list shown the schedules. You can filter by train types, duration, railway stations and so on. Every schedule on the day will be shown on a page with detailed departure railway station and arrival railway station, departure time and arrival time, duration, classes of seats (availability or not). If you want to change your route for in-depth searching, just do as above procedures.
How to Buy Train Tickets Online (on www.12306.cn)?
If you know some Chinese or can overcome the language barrier to go through, or can get help from a friend who know Chinese, you can buy tickets online. Booking tickets on China Railway official website is no service fee charged as well as offering seat choosing in advance. It has ten steps from opening the website to receive the successfully booked message. Learn with China Discovery and get an in-depth understanding about how to book train ticket on www.12306.cn.
Step 1: Install "Root Certificate"
To make sure you can buy tickets smoothly, you can first install the "root certificate". Just click the link and download the "srca12306.zip" and install.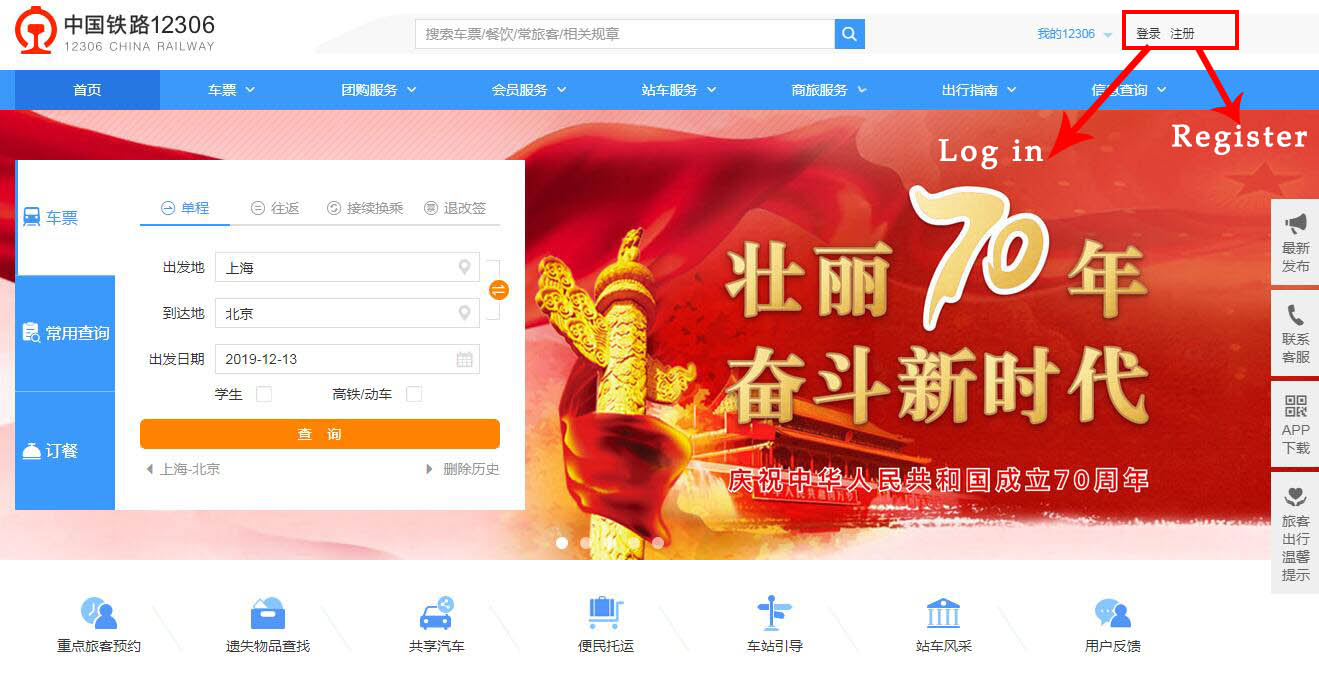 Step 2: Sign up for a New Account
Find "Register (注册)" at the left sidebar of the page and click. Then fill a form based on the following instructions to sign up for a new account.
● Username (用户名): The entry must be in the range of six to thirty characters. Letter, numbers, hyphens and a few other special characters are permitted. You can use anything like email address as your username. It will remind you whether your username is ok or not.
● Password (登录密码): It is limited to six to twenty characters including letters, numbers or hyphens or other symbol.
● Confirm your Password (确认密码): Input the same passwords here again.
● Name (姓名): Input your name listed on the passport.
● Document Type (证件类型): Click the dropdown and choose "Passport (护照)".
● Document Number (证件号码): Input your passport number.
● Gender (性别): Click "Male (男)" or "Female (女)".
● Country/Region (国家/地区): Click the dropdown and select your nationality.
● Date of Birth (出生日期): Choose your date of birth on the calendar.
● Email Address (邮箱): Input your most-frequently used email.
● Mobile Phone (手机号码): Input your Chinese mobile phone number.
● Passenger Type: Click the dropdown and select the passenger type - Adult (成人), Students (学生), Children (儿童) or the disabled soldier/police (残疾军人和残疾警察).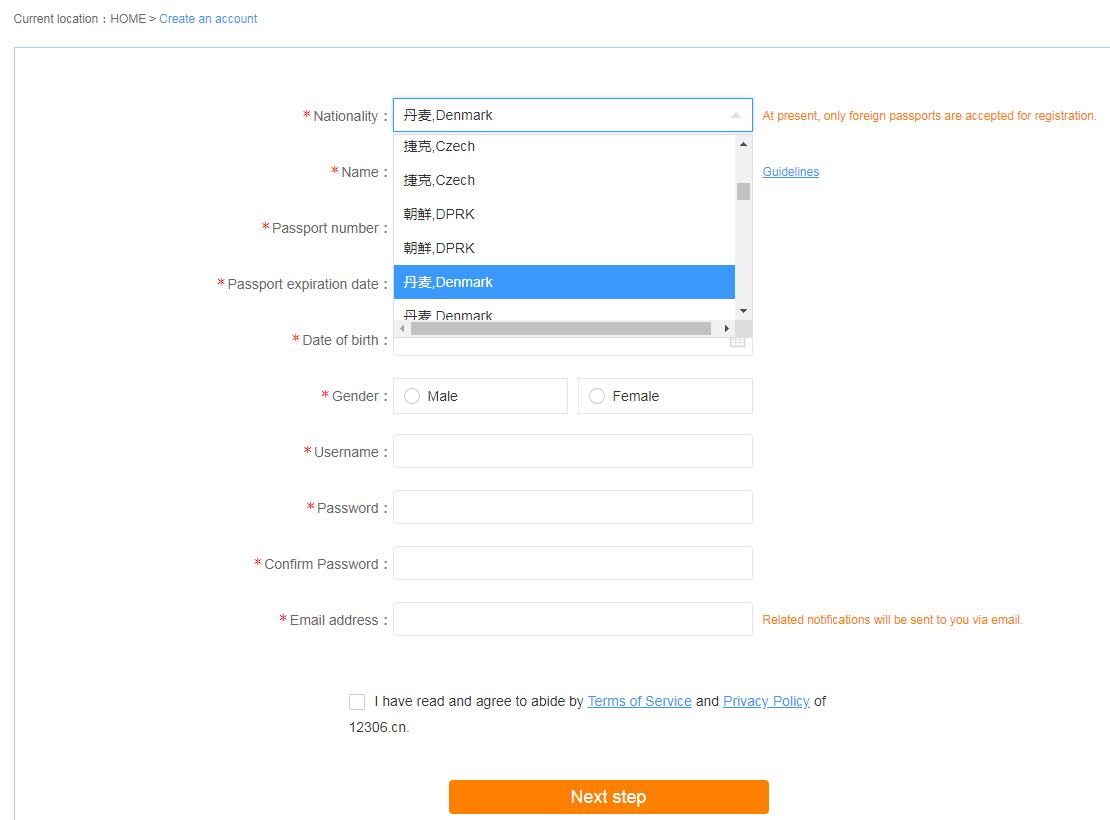 After filling out all your personal info for registration, you should "click agree to China Railway Official Website Policy" and move to next step.
Then, you will be turned to another page where you need to verify your Chinese mobile phone number. The official website will send a text of verification code to your Chinese mobile phone, and fill the six code in the box next to the Chinese character (验证码). Then, the registration will completely be finished.
Step 3: Log into your Account
You should input "Username/Email Address" (登录名), enter your password and input the identifying code to log in.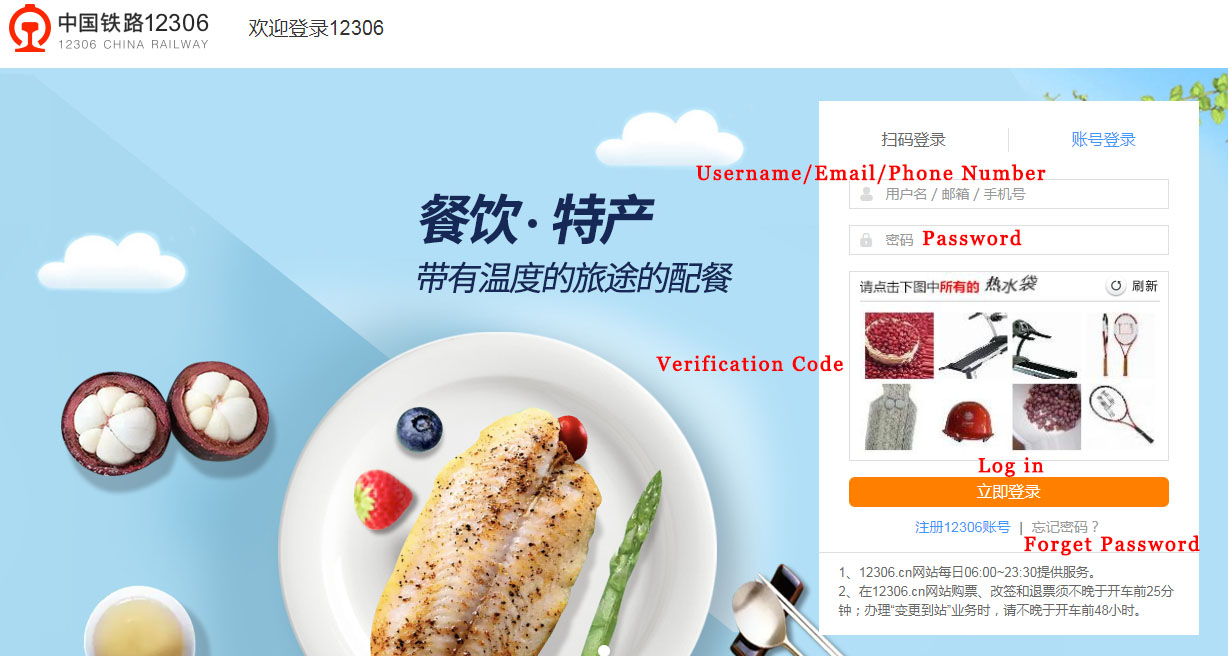 Step 4: Check your Account
You are now on your personal account center. Move to click "车票预订" to book your train tickets.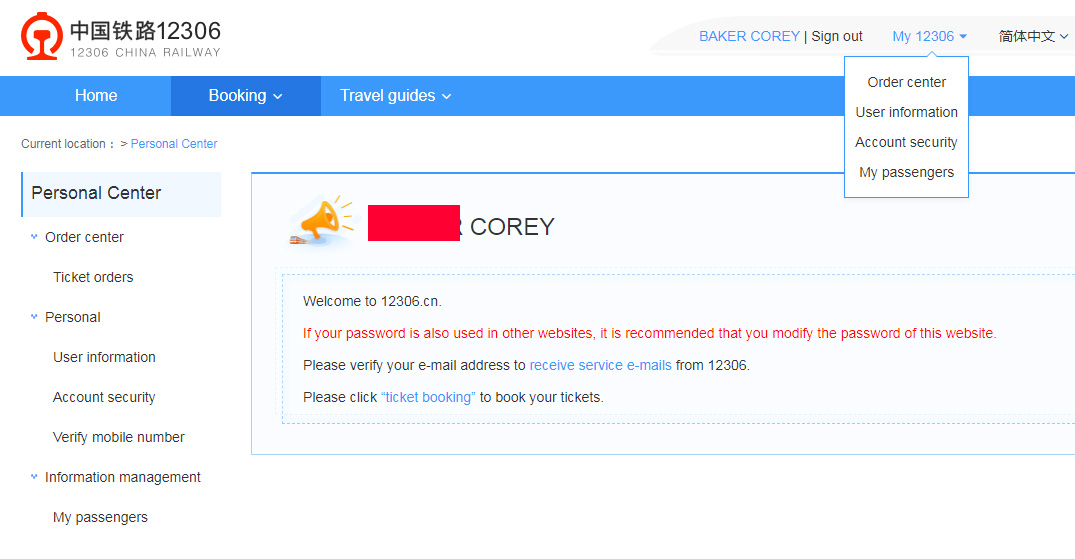 Step 5: Search your Train Route & Schedule
On this step, you can begin to search the train route and schedules after input the departure city/arrival city/departure date. When all the result coming out, filter base on your likes and choose your train type, and select your suitable schedule on the day. You can also check the classes of seat price and availability. Select your favored time with available seats and then click the button "book (预订)" and move to next step.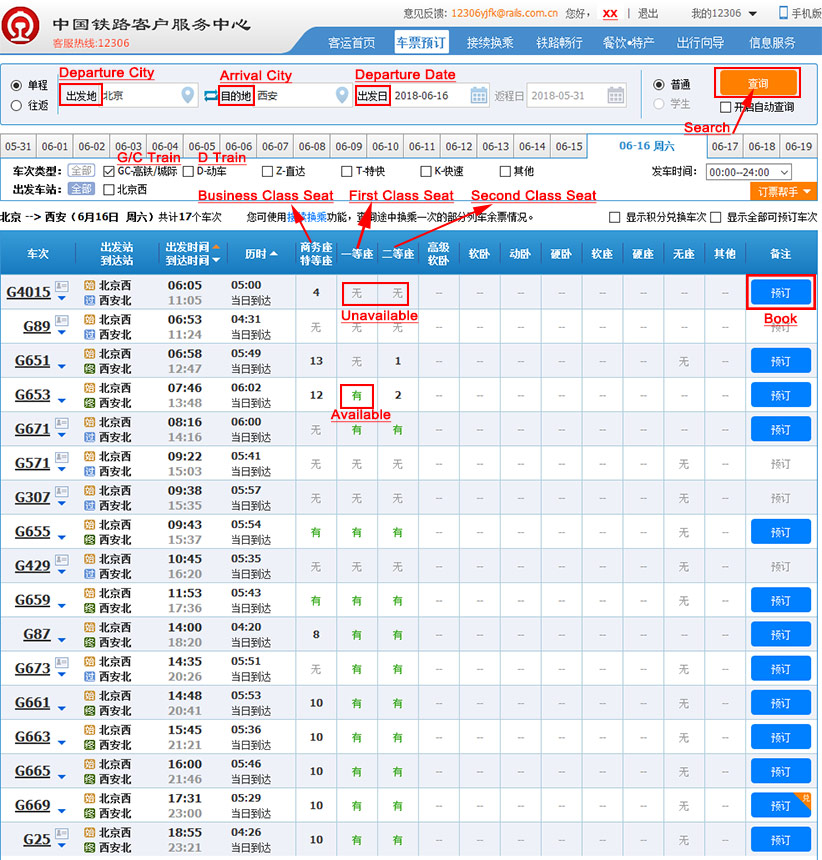 Learn More about China High Speed Train Seat Types:
Business Class Seat | First Class Seat | Second Class Seat | First Class Seat VS Second Class Seat
Step 6: Book your Train Tickets
The page will turn to the booking info page which is listed with your favored train schedules, train number, departure station/arrival station, departure time, classes of seats with detailed prices.
Step 7: Fill Passengers' Personal Info
Fill out passengers' personal info (name/document type/passport number/nationality) and confirm. And choose the seat type for you and your group (Please note one account are limited to buy five tickets in one time). Then, submit the order!!!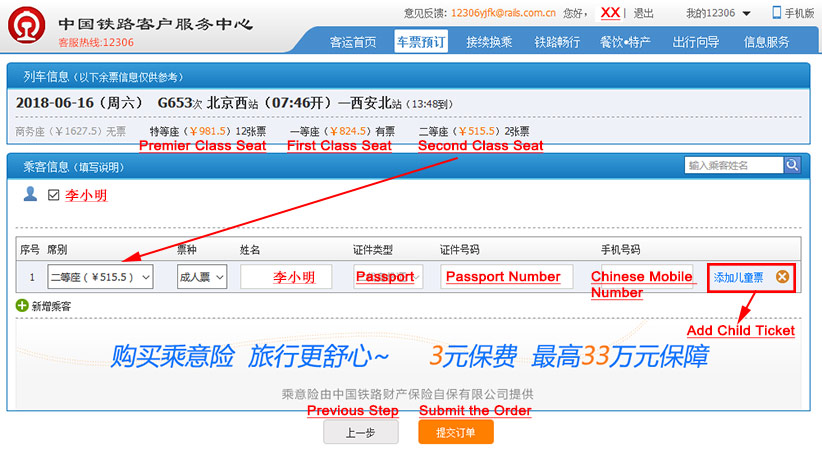 Step 8: Choose Your Seat
After submission, you can select your seat to be arranged close to window or aisle. Please note if your seat need cannot be satisfied, the system will arrange your seat automatically.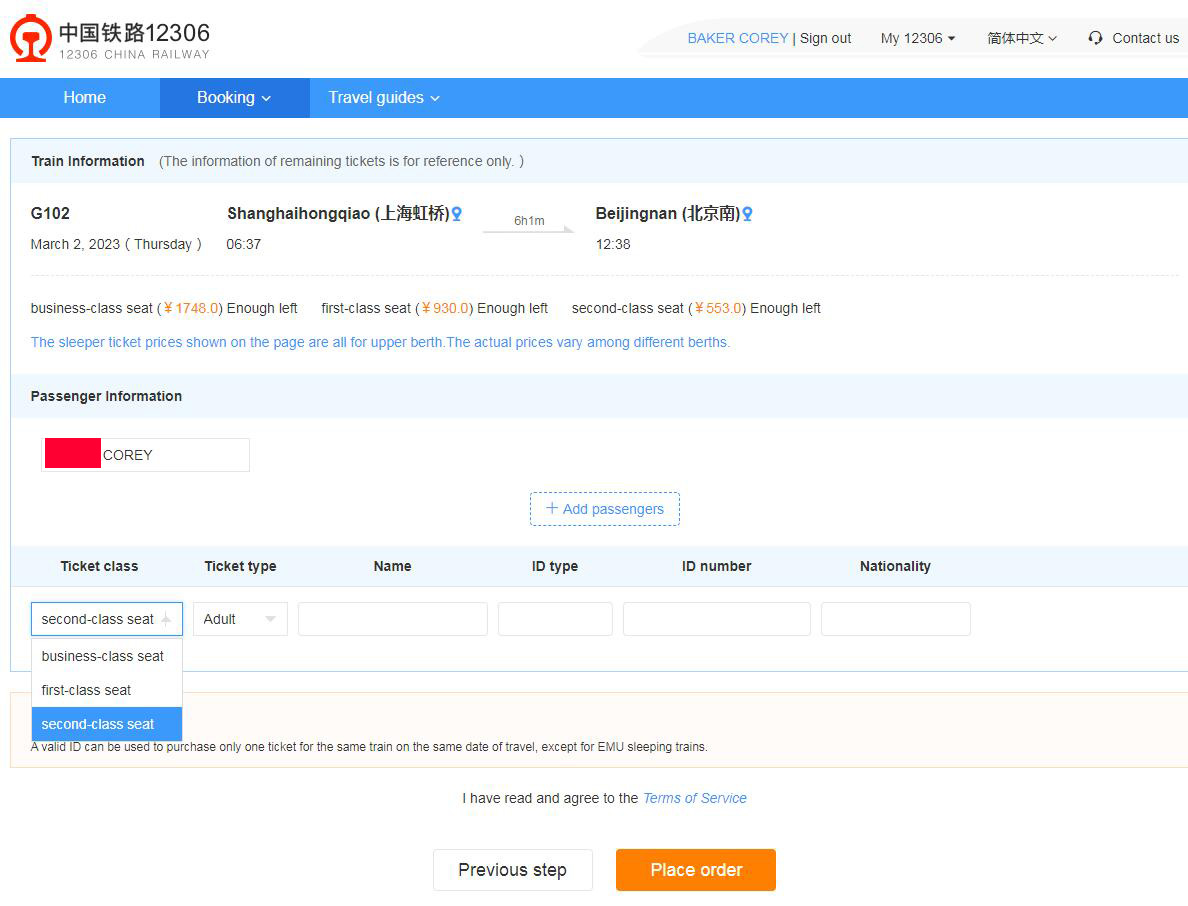 Step 9: Check the Confirmation Page & Make the Payment
After choosing your seat and filling your personal info, you should confirm your info and make the payment within 30 minutes.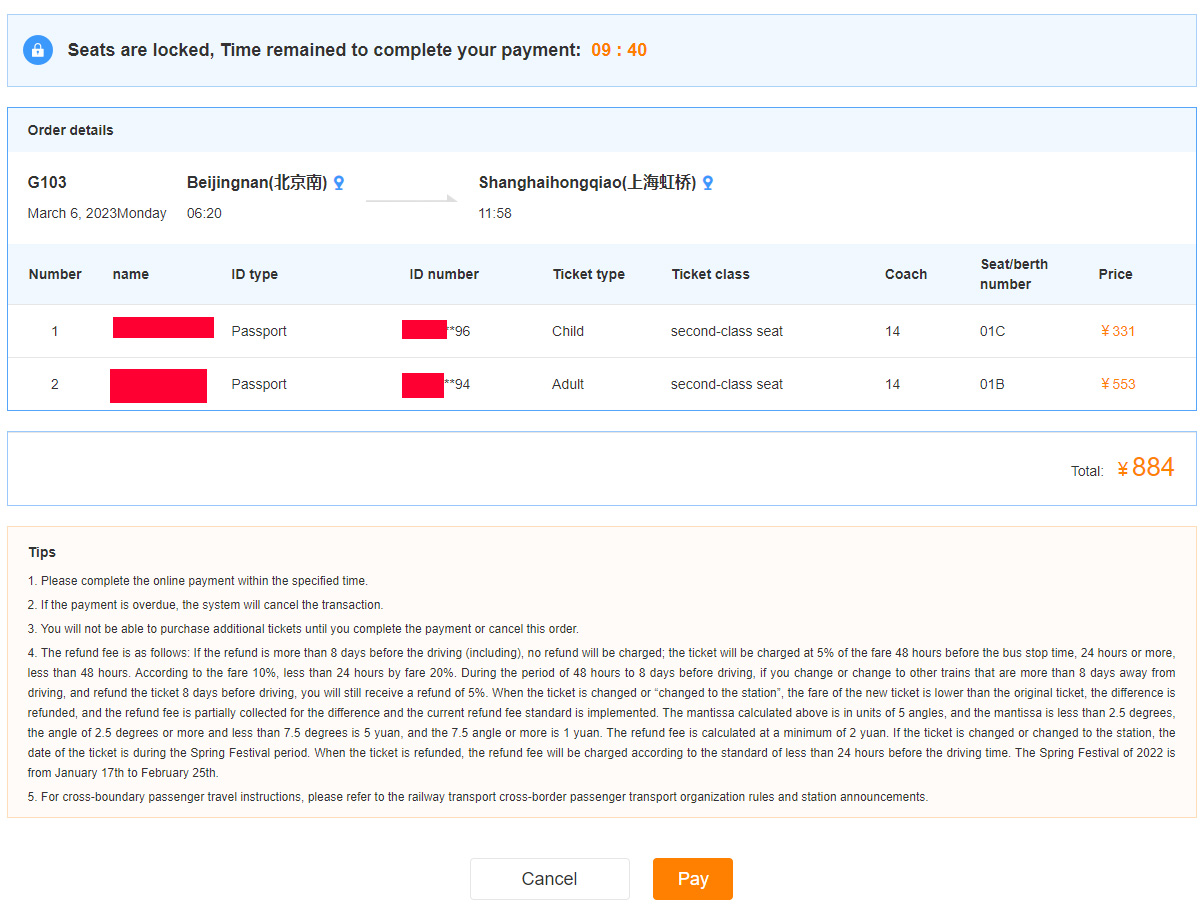 On this step, you can choose to buy the railway insurance or not as well as choose the way to collect your train tickets. You can collect the tickets on your own or choose to mail you (fill the consignee address). After confirmation, go on making the payment. (Please note: You are only permitted to change your selection three times in any 24-hour, if you exceed that, your account will be blocked for 24 hours.)
On the payment page, you can pay through Chinese Band Cards (Bank of China, Industrial and Commercial Bank of China, Agricultural Bank of China, China Construction Bank, etc.), UnionPay, Alipay and Wechat.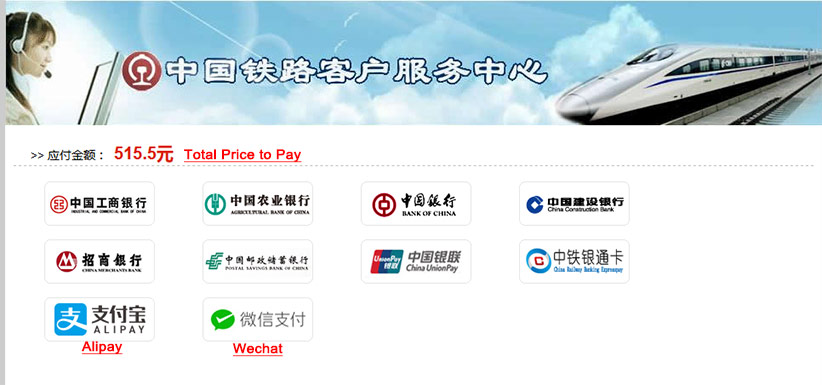 Step 10: Receive Message & Collect your Train Tickets
You are on the last step. After the payment, you will receive the booking number, like "E123456789" and train info on your mobile phone. The booking number is necessary for ticket collection. You will be required to take your original passport with you (a copy is not allowed).
Other Info about China Train Tickets:
How to Collect China Train Tickets? | How to Alter China Train Tickets? | How to Cancel China Train Tickets? | How to Read a China Train Ticket?
Food Delivery Service to Your High Speed Train
Looking forward to try the new food delivery service offered by China Railway? If you know Chinese, you can use the food delivery service to book food online.
According to the China Railway official site, any passengers on train routes starting with the letter "G" or "D" can pre-order food either online (www.12306.cn) or through the official railway APP. This kind of service are available in many big railway stations (27 railway stations at present), like Shanghai Hongqiao, Xian North, Chengdu East, Guangzhou South, Changsha South, Tianjin West, Nanjing South and Chongqing North Railway Stations and more. This kind of service is available during 10:00-20:00. You have to order the food at least two hours before your train departs and pay through either Wechat or Alipay.
The procedure to order food is simple:
● Enter your trip information on the official China railway website to see what food options are available.
● Make your choice.
● Create an account and fill your trip details and meal preferences.
● Complete your payment.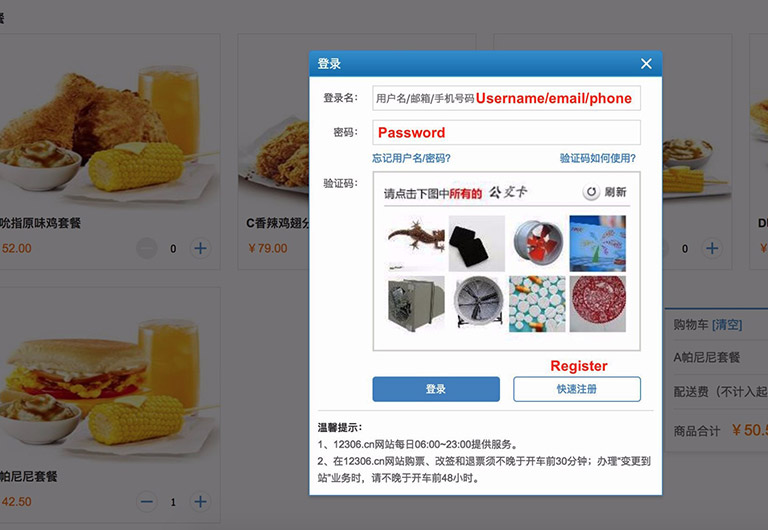 Use Food Delivery Service of Official Railway to Order Food to your Seat (Click to Enlarge)
Then, your meal will be delivered straightly to your seat at the meal time. (Please note the food delivery service is new and if you are interested, you can have a try. Besides, you can order food and drinks in the dining car/food trolley on the high speed train. >> Food & Drinks on China High Speed Train)
How to Plan Your High Speed Train Travel in China
Since there are so many tourist cities connected by high speed rail network, tourist have lots of choices and routes to experience the super fast, comfortable and fashionable high speed trains. China Discovery offers you featured high speed train tours in different routes, length, themes and landscape.
If it's your first time to visit China, Beijing, Shanghai and Xian are the top recommended destinations to enjoy the newest Gaotie and most representative attractions in China. It takes about 4.5-6 hours from Beijing to Shanghai or Xian by high speed train, and Shanghai Xian express needs about 6-7 hours. You can experience the top standard seat - Business Class Seats to enjoy the half day train travel. Here is our 6 Days Beijing Shanghai High Speed Train Tour and 8 Days Best of China Tour. If you want to an in-depth train trip to discover more interesting cities, you can have a new Hong Kong Guilin Train Tour, an Ancient Silk Road Tour (15 Days Classic Ancient China Silk Road Tour with Bullet Train Experience) and ethnic culture tour in Yunnan. Check updated train schedules and route to get inspired for you China train tour!
Book Train Tickets with China Discovery
If you have more questions about booking train tickets on China Railway official website (www.12306.cn), you can feel free to ask our professional ticket booking team. Or, you can tell your favorite train routes, schedules and seat type, China Discovery can handle all the trouble and help you book the China train tickets! Wish you a nice, smooth and enjoyable train journey in China!!!
Highly Recommended Routes to Experience China High Speed Trains
As high speed train travel are becoming much popular and recommended by large portion of visitors in China, here we also list some top high speed train routes chosen by most people during their China tour. See the routes at below and pick one to experience the great advantages of travelling by high speed train. Also, you could check all high speed train routes to select which section to experience.