www.12306.cn - China Railway Official Website
Latest China Train News (Updated on February 27, 2023):
The second high speed railway from Chengdu to Kunming has been put into operation. It makes middle stops at Xichang(西昌), Panzhihua(攀枝花), etc.

- 15/01/2023

Zhangjiajie has high speed railways now. Currently you can take high speed train to Zhangjiajie from Shanghai, Guilin, Zhengzhou, Guangzhou, etc. You can also take a high speed train to Fenghuang Ancient City from Zhangjiajie now.

- 24/12/2021
China Discovery will update the latest news about China train travel for you. We are also good at create tailor-made China train journeys. Find a tour here »
In November 2020, China Railway officially launched an English version of its ticketing website, 12306, allowing foreign passengers who don't understand Chinese to register and purchase train tickets themselves. On the 12306 website, there are options to choose between "English" and "Simplified Chinese" in the top right corner of the page, and by clicking on "English", users can enter the English version. China Discovery is here giving you a handy guide to book train tickets on www.12306.cn as well as use other service provided by the official website. Go step by step with us!
At present, www.12306.cn is the ONLY China Railway official website for China train tickets booking. No matter you want to book high speed train tickets ( G train, D train or C train), or purchase normal train tickets (like T, Z or K train), travelers can check latest train routes & schedules, seat classes and prices and as well as buy tickets on this website.
Popular China High Speed Bullet Train Tours
Hot China Normal Train Tours
www.12306.cn Main Service, Navigation & Function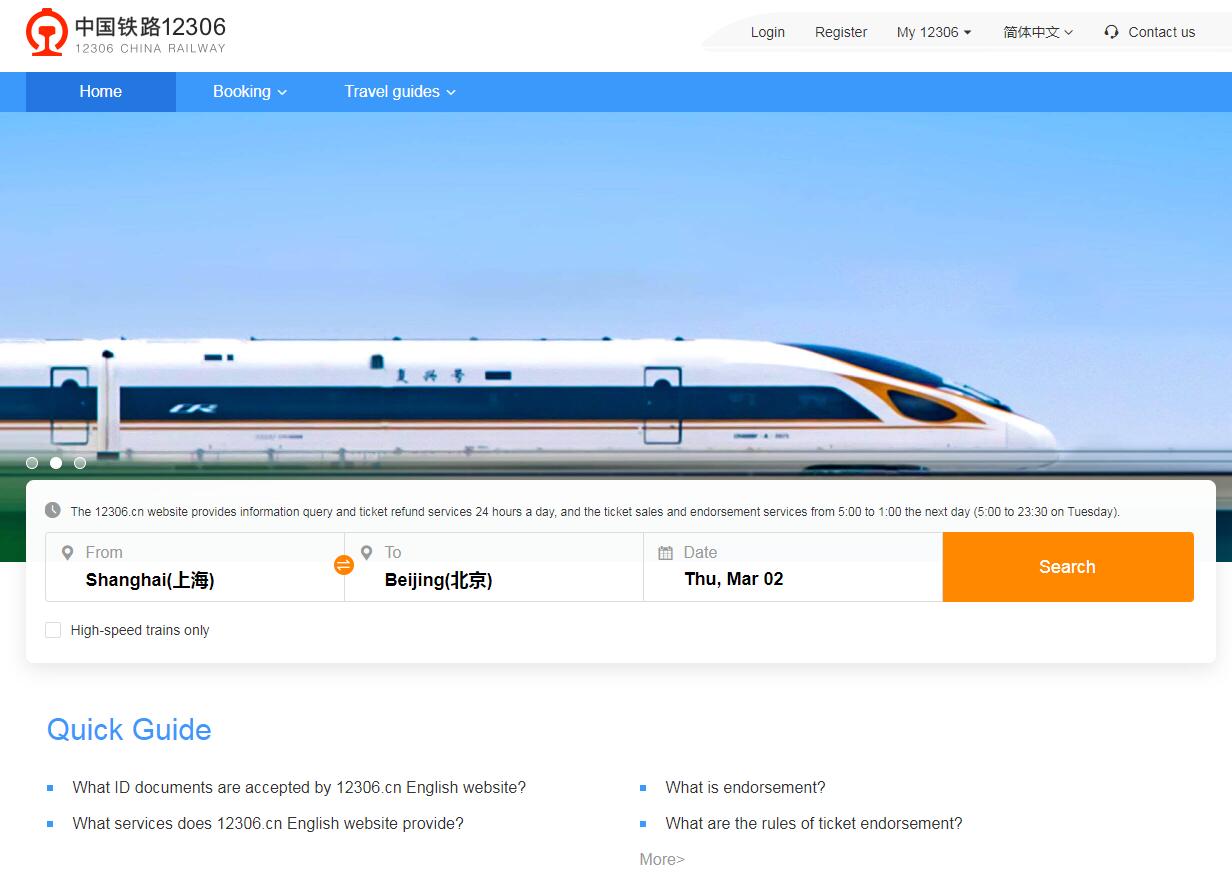 Compared to the Chinese version, the English version of the 12306 website has simplified functions, offering registration, login, one-way ticket purchase, changes to arrival station, ticket refunds, and order inquiries, but it does not provide other services such as points, catering, or tourism information. The ticket purchasing process is similar to the Chinese website, and the station names are provided in both Chinese and English, with reminders given when ticket availability is low.
Pre-Sale Period on www.12306.cn & When Can you Buy Tickets Ahead
Pre-sale period about train tickets refers to the days prior to the train departure. It is subject to change. On June 1, 2022, the train tickets pre-sale (include high speed train tickets) period in China was changed to 30 days from previous 30 days. More trains will be arranged during the major Chinese festivals. China Discovery suggests you buy your train tickets in advance to guarantee yourselves a booked ticket and a smooth trip along the way. After booking successfully online, you can collect the train tickets any time you like.
Useful Links: How to Book China High Speed Train Ticket | How to Collect Train Ticket | How to Read Train Ticket
What Kinds of Documents Can Book Train Tickets on www.12306.cn?
When booking train tickets on www.12306.cn, it can generally accept several kinds of documents for different passengers no matter in mainland China, in Hong Kong, Macau and Taiwan, or from other countries.
● Passport of foreign nationality
● Chinese citizen 2nd-generation ID Card
● Permit of Inland Entry and Exit for Hong Kong and Macau Residents
● Mainland Travel Permit for Taiwan Residents
● Home-return Permit
● Permit for Mainland Residents to Hong Kong, Macau and Taiwan
● Other valid documents
Valid Documents to Buy China Train Tickets
How to Sign Up for www.12306.cn English Version?
It is important to note that currently, the English version only supports the registration of valid foreign passports. When registering an account and adding passengers, the English version only requires an email address and does not require a Chinese phone number, which is likely designed to be convenient for foreign passengers who are visiting for a short period of time and do not have a Chinese phone number.
Go to https://www.12306.cn/en/index.html, find "Register" button in the header bar of the page and click. Then fill in the registeration form based on the following instructions to sign up for your account.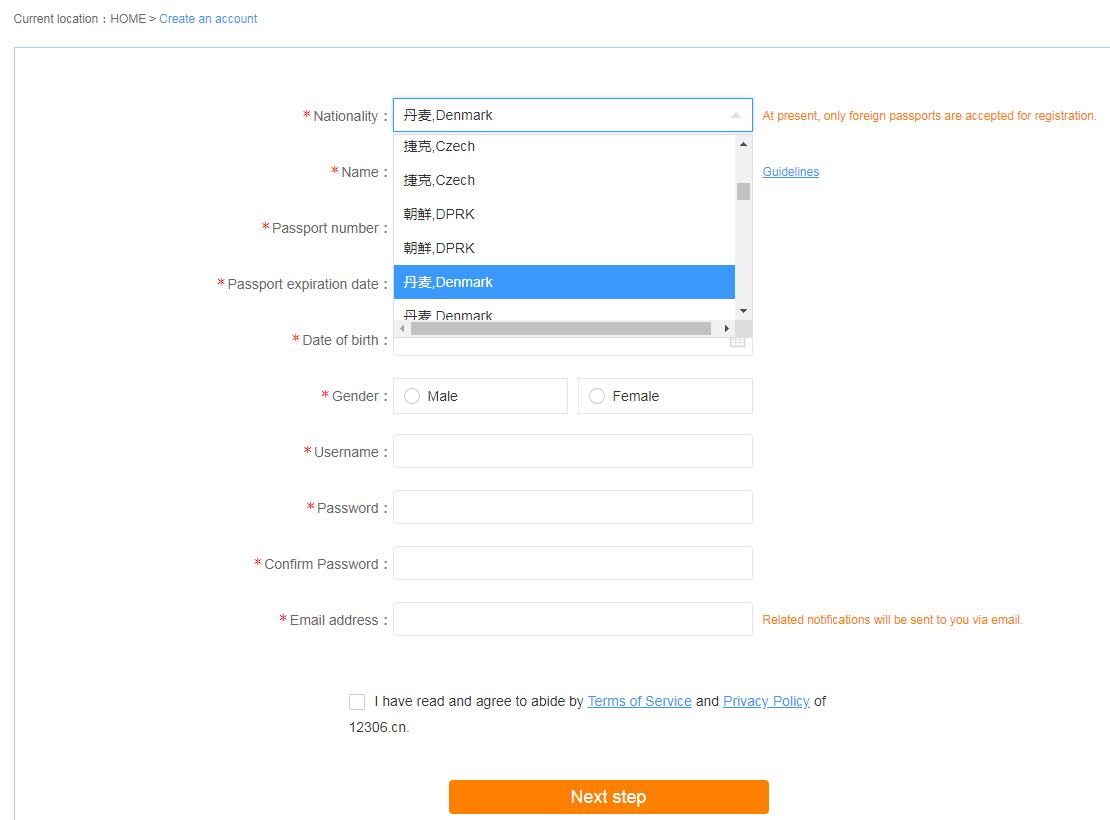 ● Nationality: Click the dropdown and select your nationality.
● Name: Fill in your name exactly as the name on your passport. Maximum of 30 characters allowed for passenger's name(Length of name includes spaces). If a name contains more than the maximum number of characters allowed, please enter only the first 30 characters in the same order as they appear on the passenger's passport: Surname, Given Name and Middle Name.
● Passport Number: Fill your passport number.
● Passport Expiration Date: select the date when your passport will expire.
● Date of Birth: Choose your date of birth on the calendar.
● Gender: Click "Male" or "Female".
● Username: Username will be used to log in to 12306.cn. It must be in the range of six to thirty characters. Letter, numbers, hyphens and a few other special characters are permitted. You can use anything like email address as your username. It will remind you whether your username is ok or not.
● Password: It is limited to six to twenty characters including letters, numbers or hyphens or other symbols.
● Confirm your Password: Input the same passwords here again.
● Email Address: Input your most-frequently used email. Related notifications will be sent to you via email.
After filling out all your personal info for registration, reading and agreeing with the "Terms of Service and Privacy Policy of 12306.cn", click the "Next step". A email will be sent to your mail box to request activating your account. Your 12306 account registration completes.
Log into your Account
You should input "Username/Email Address", enter your password and input the identifying code to log in. You are now on your "Personal Center"(My 12306). Here you can not only find access to "train booking", but also can manage your order, such as canceling order, changing trains, etc., and manager your passengers (which means you can book train tickets for others).
How to book train tickets for others?
To book tickets for your relatives or friends, you need to add them to your Passengers list. If you are your account owner, you don't have to add your own passenger information as it will be generated automatically based on your registration data. To add other passengers, find the "My Passengers" in the left sidebar to fill in the form. Required information includes nationality, passport, name, date of birth, gender, email and passenger type. Please note one account are limited to buy five tickets in one time.
Passport Verification
Only with "verified" and "ready to be verified" passports can book tickets for themselves or others on 12306.cn. After registration on 12306 and adding other passengers' information, your passport and other passengers' passports will be marked as "ready to be verified". You can book train tickets for yourself and other passengers, but cannot enter train station to board your train when your passports are "ready to be verified". You need to find a ticket counter to verify your passports then collect your train tickets. After verification, your passport information will be changed to "verified" in your 12306.cn account.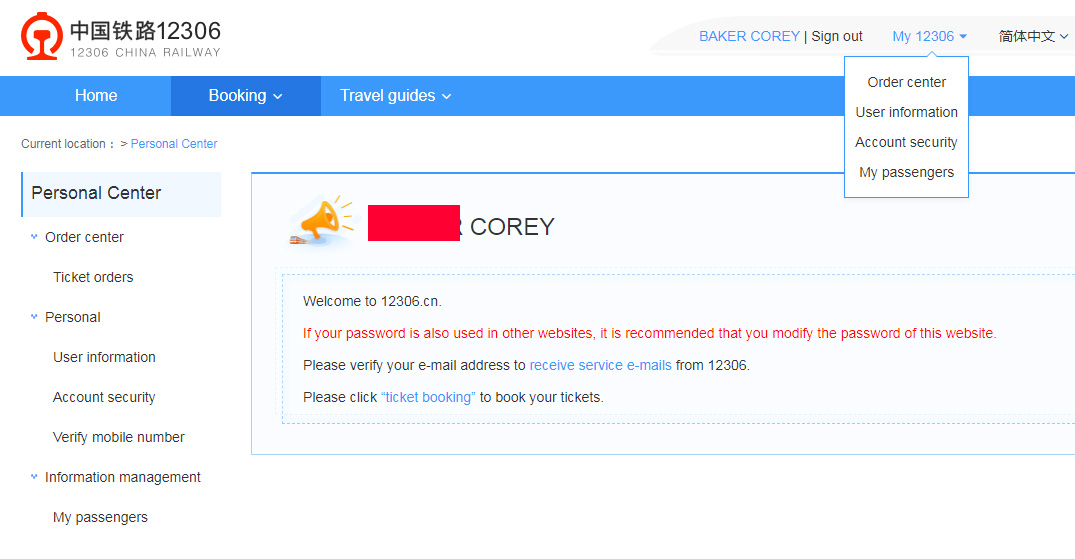 How to Check Train Route, Schedules and Classes of Seats on 12306.cn?
You can begin to search the train route and schedules after input the departure city/arrival city/departure date. You can filter by train types, duration, railway stations and so on. Every schedule on the day will be shown on a page with detailed departure railway station and arrival railway station, departure time and arrival time, duration, classes of seats (availability or not). If you want to change your route for in-depth searching, just do as above procedures. You can also check the classes of seat price and availability. Select your favored time with available seats and then click the button "book" and move to next step.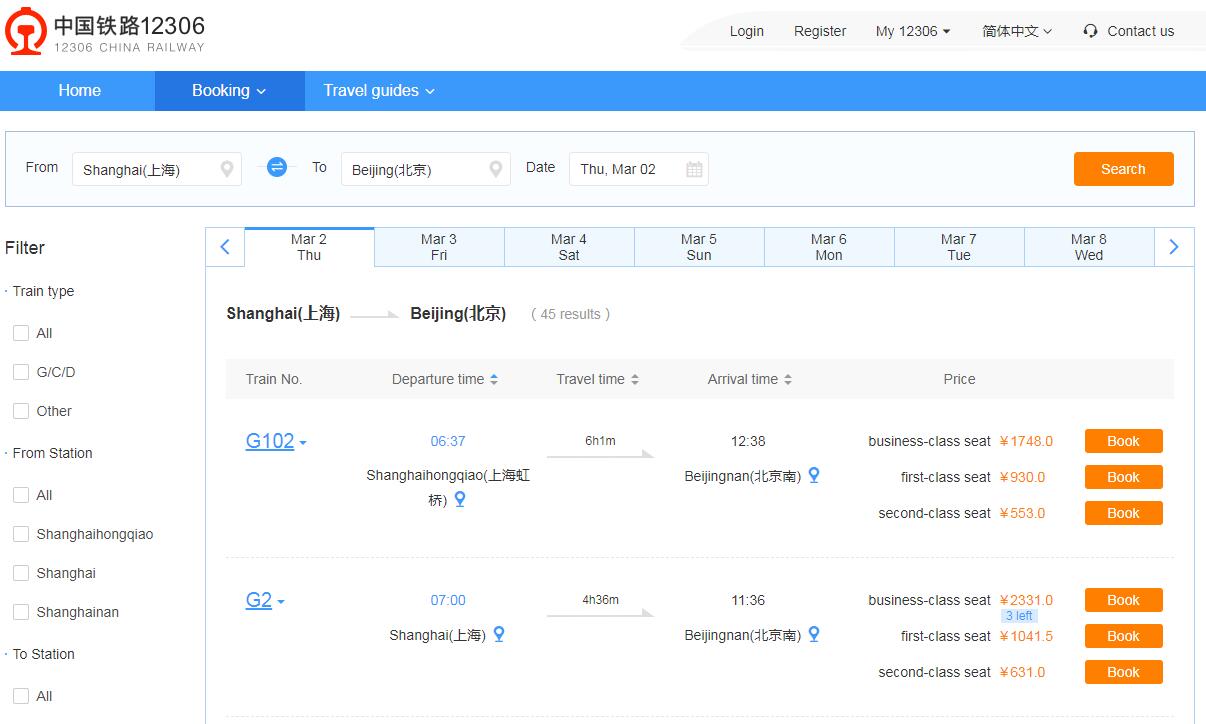 Learn More about China High Speed Train Seat Types:
Business Class Seat | First Class Seat | Second Class Seat | First Class Seat VS Second Class Seat
After choosing the seat type and clicking "book", you will be turned to the booking info page which is listed with your favored train schedules, train number, departure station/arrival station, departure time, classes of seats with detailed prices. Choose the passenger who will take the train under the "Passenger Information" tab, then submit the order!!!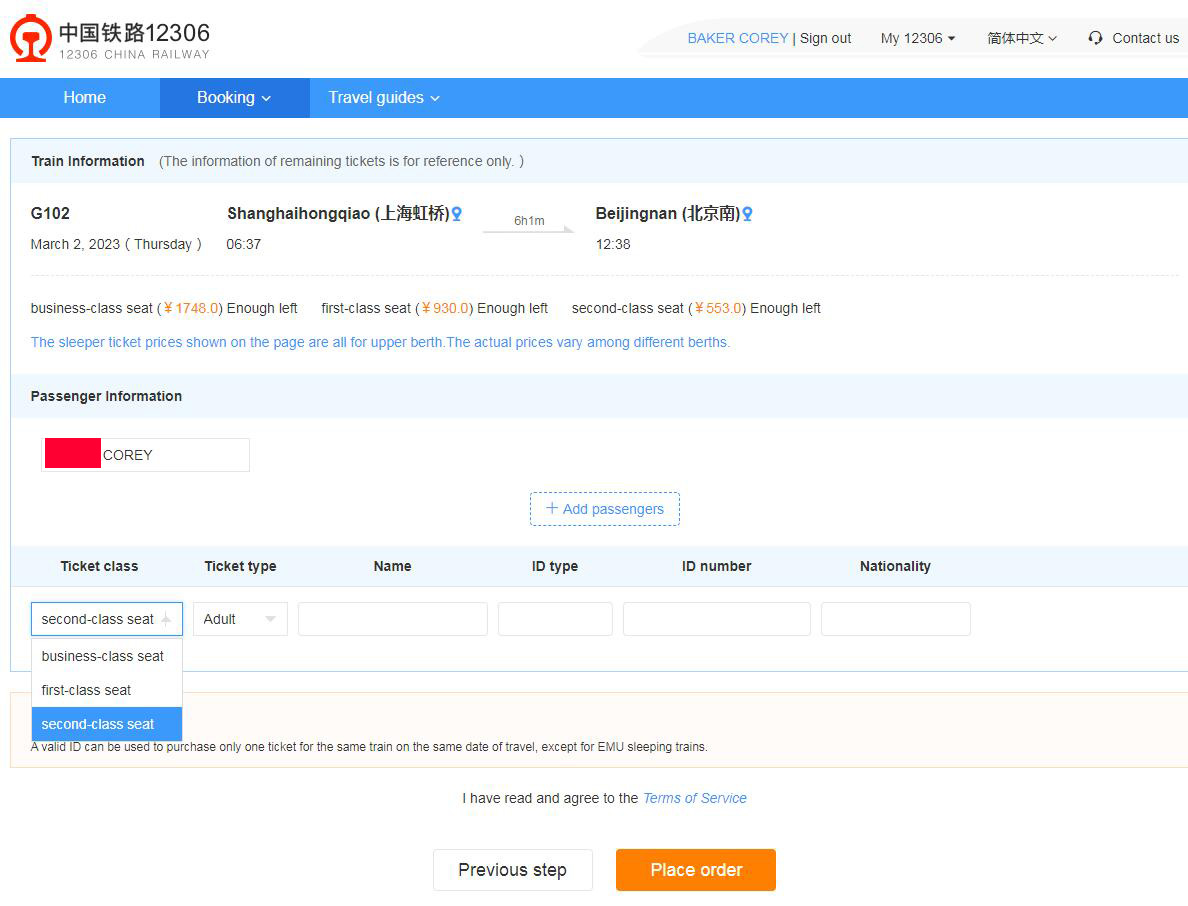 Check the Confirmation Page & Make the Payment
After choosing your seat and filling your personal info, you should confirm your info and make the payment within 30 minutes. The website supports multiple payment methods, including existing payment methods available on the Chinese version (major banks, Alipay, WeChat, etc.) as well as four major international card organizations (VISA, MasterCard, JCB, and Diners). Ticket display and transactions are all processed in Chinese yuan and international card payments are completed through the Bank of China.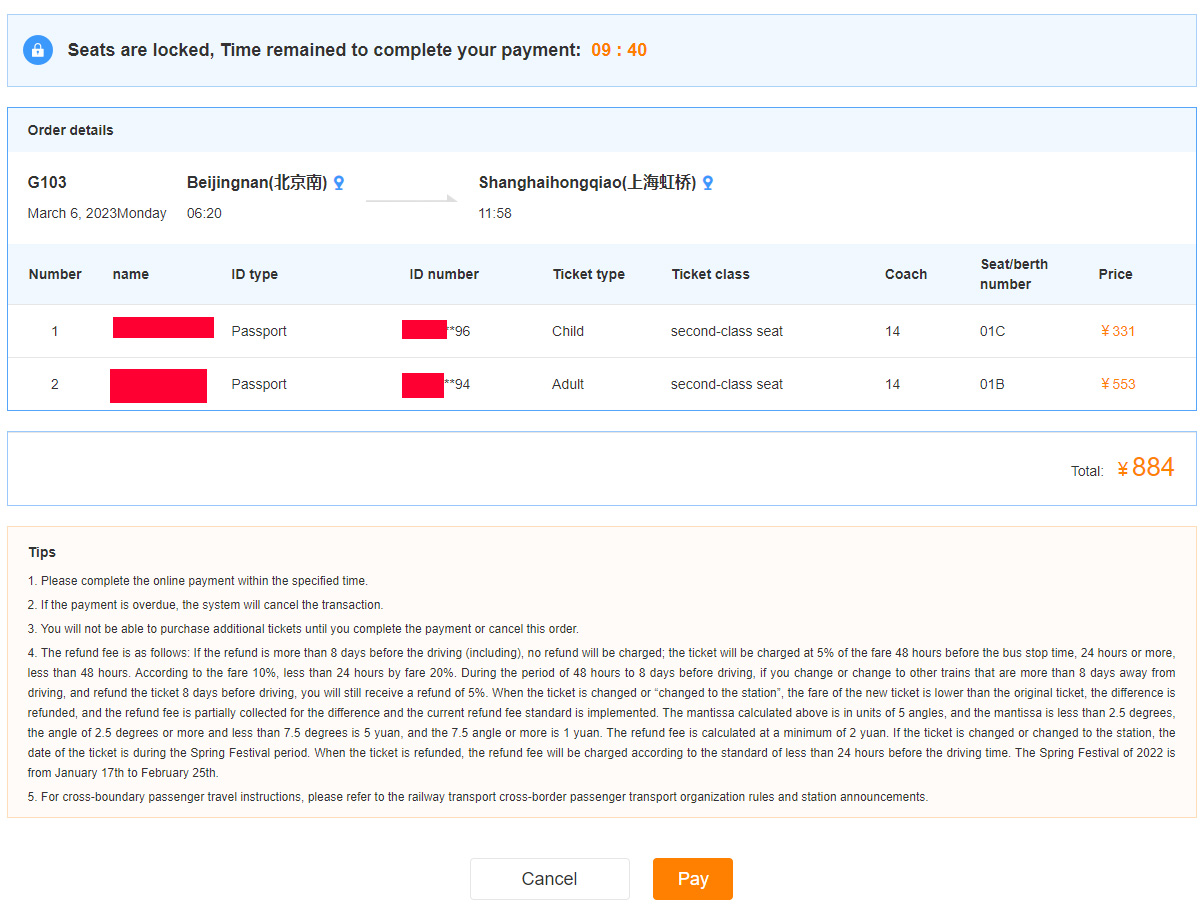 Please note: You are only permitted to change your selection three times in any 24-hour, if you exceed that, your account will be blocked for 24 hours.)
Receive Message & Collect your Train Tickets
You are on the last step. After the payment, you will get the "itinerary sheet". You can print or download the "itinerary sheet". Please note neither "itinerary sheet" nor reimbursement receipt can be used as tickets. Currently China Railway electronic ticketing system only supports Chinese ID cards and passports. Foreign passengers cannot directly use their foreign passports to enter the station. They have to go to verify ID information (passport) and collect paper ticket at the ticket counters in train station.
Other Info about China Train Tickets:
How to Collect China Train Tickets? | How to Alter China Train Tickets? | How to Cancel China Train Tickets? | How to Read a China Train Ticket?
How to Plan Your High Speed Train Travel in China
Since there are so many tourist cities connected by high speed rail network, tourist have lots of choices and routes to experience the super fast, comfortable and fashionable high speed trains. China Discovery offers you featured high speed train tours in different routes, length, themes and landscape.
If it's your first time to visit China, Beijing, Shanghai and Xian are the top recommended destinations to enjoy the newest Gaotie and most representative attractions in China. It takes about 4.5-6 hours from Beijing to Shanghai or Xian by high speed train, and Shanghai Xian express needs about 6-7 hours. You can experience the top standard seat - Business Class Seats to enjoy the half day train travel. Here is our 6 Days Beijing Shanghai High Speed Train Tour and 8 Days Best of China Tour. If you want to an in-depth train trip to discover more interesting cities, you can have a new Hong Kong Guilin Train Tour, an Ancient Silk Road Tour ( 15 Days Classic Ancient China Silk Road Tour with Bullet Train Experience) and ethnic culture tour in Yunnan. Check updated train schedules and route to get inspired for you China train tour!
Book Train Tickets with China Discovery
If you have more questions about booking train tickets on China Railway official website (www.12306.cn), you can feel free to ask our professional ticket booking team. Or, you can tell your favorite train routes, schedules and seat type, China Discovery can handle all the trouble and help you book the China train tickets! Wish you a nice, smooth and enjoyable train journey in China!!!
Highly Recommended Routes to Experience China High Speed Trains
As high speed train travel are becoming much popular and recommended by large portion of visitors in China, here we also list some top high speed train routes chosen by most people during their China tour. See the routes at below and pick one to experience the great advantages of travelling by high speed train. Also, you could check all high speed train routes to select which section to experience.
More Articles about China Bullet Train Tickets
Extension Readings of High Speed Train Travel in China
Recommended Tours
Top 3 tours chosen by most customers to explore in the best way. Check the detailed itinerary, or tailor your own trip now with us.
9 Days East China & Mt. Huang Tour by High Speed Train

Shanghai / Suzhou / Hangzhou / Huangshan
7 Days Shanghai Suzhou Beijing Contrast Tour by High Speed Train

Shanghai / Tongli / Suzhou / Beijing
Start planning your tailor-made holiday to China by contacting one of our specialists. Once inquired, you'll get a response within 0.5~23.5 hours.
Customize a Trip
Have a question? Get answers from our travel experts or guests
Your Question:

Your Name:

Your Email: