Chengdu Guiyang High Speed Trains
Latest News: The through Chengdu Guiyang High Speed Railway has been fully opened since 16 December 2019. It takes only about 3 to 4 hours traveling from Chengdu to Guiyang, viewing special regional landscape in Southwestern China.
High speed train travel is one of the highlights of southwest China exploration tour. Within 3.5 hours the soonest, tourists can traverse from the Home of Giant Panda - Chengdu to another promising tourist destination in neighboring Guizhou Province - Guiyang on the clean, punctual, comfortable and advanced high speed trains. The travel time of the 649 km (403 miles)-long journey between Chengdu and Guiyang has been largely shortened from nearly 20 hours to 3.5-4 hours. If you plan to visit colorful Yunnan from Chengdu, just extend the Chengdu Guiyang high speed train travel two extra hours.
After touring Chengdu, travelers can take a super-fast way to visit Guiyang and an excellent chance to physically witness the landscape variation from Sichuan Basin to Yunnan-Guizhou Plateau. The midway stations like Chongqing (重庆), Zunyi (遵义), Neijing (内江) are also popular destinations you may drop by to feel authentic local culture and see distinctive sceneries.
Chengdu Guiyang High Speed Train Schedules
● Chengdu to Guiyang
From
To
Frequency (day)
Operating Hours
Duration
Detailed Schedule >
Chengdu East/South
Guiyang East/North
Over 20 trains
About 06:30-19:00
About 3.5-5 hours
● Guiyang to Chengdu
From
To
Frequency (day)
Operating Hours
Duration
Detailed Schedule >
Guiyang North/East
Chengdu East
Over 20 trains
About 08:00-17:00
About 3.5-5 hours
Recommended Chengdu and Guiyang Tour Packages:
>> 3 Days Chengdu City Break with Panda Volunteering Experience
>> 5 Days Chengdu, Leshan & Mount Emei Tour
>> 2 Days Guiyang Qingyan Ancient Town Tour
Other Recommended Sections on Chengdu Guiyang High Speed Railway
After running out Sichuan, the Chengdu Guiyang high speed trains will stop at another top favored destination - Chongqing, where is known as Mountain City, Hometown of China Hotpot and starting point of Yangtze River Cruise Tour. Then, the trains go southward to Zunyi, north Guizhou, where visitor can view UNESCO World Heritage properties of Tusi and Danxia landform. Check the train schedules of the follow rail line segments:
| From - To | Frequency (day) | Operating Hours | Duration |
| --- | --- | --- | --- |
| Chengdu - Chongqing: | over 50 G trains & 25 D trains | about 06:30-23:00 | about 1.5-2.5 hours |
| Chengdu - Zunyi: | about 10 G trains & 5 D trains | about 06:30-19:00 | about 3-4 hours |
| Chongqing - Guiyang | over 20 G trains & 30 D trains | about 07:30-21:30 | about 2-2.5 hours |
Please Note: This information of time and duration might changes slightly, be free to contact us for the up-to-date schedule.
What to See along Chengdu Guiyang High Speed Railway
Adorable Giant Panda? Mysterious Miao Nationality culture? Whatever you expect from the Chengdu Guiyang high speed train travel, they will offer much more than your expectation. Running on the combined high speed railroads via 2-7 stations, the trains not only reduce the travel time from nearly a fully day to several hours, but also connect major destinations in the neighboring provinces in southwest China, even to Kunming, Guangzhou and other popular destinations in south China. Hence, passengers could experience characteristic local culture and history, taste delicious cuisines and view natural beauties in the two destinations and along the route. Besides, you can know more about Chinese history and red revolutionary culture in stations like Zunyi and Xifeng in Guizhou.
Chengdu
Chengdu, the capital city of Sichuan Province, is best known as hometown of Giant Panda in the world and "Land of Abundance" in China. With over 3000 years' history, Chengdu is city full of historical and cultural legacy.
● Downtown Area: A short stay within few days or in-depth Chengdu tour can't miss the highlights like Chendgu Panda Base where you could closely watch those black and white cute bears, Chengdu Jinsha Site Museum where presents the profound cultural heritage and history of Chengdu, Renmin Park to enjoy the leisure lifestyle, Wenshu Monastery to make pilgrimage to Buddhist, Dufu Thatched Cottage to touch great Chinese poet, Jinli Old Street to try various kinds of local snacks, Chunxi Road to witness the bustling city center and Sichuan Cuisine Museum to learn to make Sichuan Cuisines and plenty more.
●Around Chengdu: Take half an hour intercity high speed train travel from Chengdu to experience Panda Volunteer and tranquil Mount Qingcheng and great Dujiangyan Irrigation System in Dujiangyan, and 1.5 hours to see the Giant Buddha Statue and discover magnificent mountain views of Mount Emei. More splendid sightseeing, cultural and historical sites in and around Chengdu waits your exploration.
Useful links:
Hot China Panda Tours | Chengdu Travel Guide | Popular Chengdu Tour Packages | Top Chengdu Things to Do
Popular Chengdu Tours:
>> 1 Day Chengdu Tour with Giant Panda & Cooking Experience
>> 3 Days Chengdu Highlights Tour
Chengdu East Railway Station
Address: Qingyijiang Road, Chenghua District, Eastern Chengdu City (成都市成华区青衣江路 - 成都火车东站); About 20 kms' driving distance (8km) to downtown; nearly 20 minutes (22km) to Chengdu Shuangliu International Airport for about 30 minutes.
Transportation: The station, located in east Chengdu, serves as the main station for bullet trains and high speed trains in and outside Sichuan Province. Conveniently, it is connected with downtown area, Chunxi Road, Tianfu Square, Remin Park, Kuanzhai Alley by Metro Line 2, and Jinsha Site Museum, Chengdu Railway Station, Chengdu South Railway Station by Metro Line 7. The fastest and most convenient way to Chengdu Panda Base is taking a taxi, which drives about 15km for 25 minutes. Also, there are airport shuttle buses you can transfer to Shuangliu International Airport, and city buses, taxi you can take to city center, hotel and attractions. > Check more about Chengdu East Railway Station.
*Tips: Basement 1 in East Square used for local bus, while the first floor underground in West Square is where taxi parks.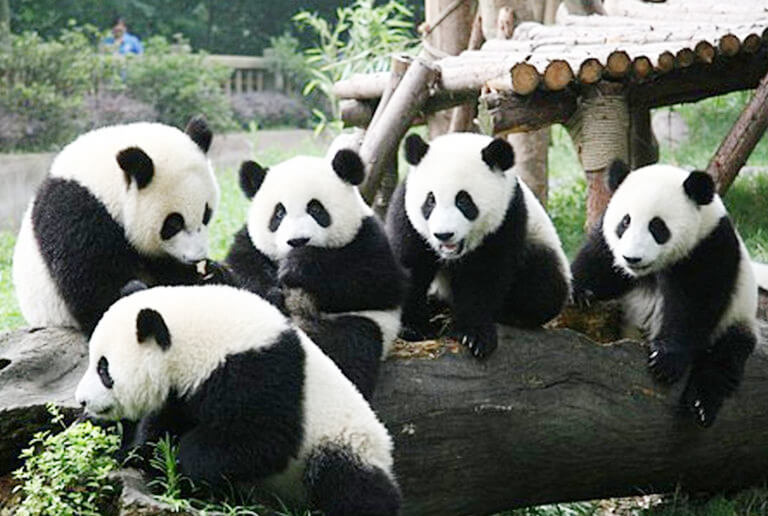 Cute Giant Pandas in Chengdu Panda Base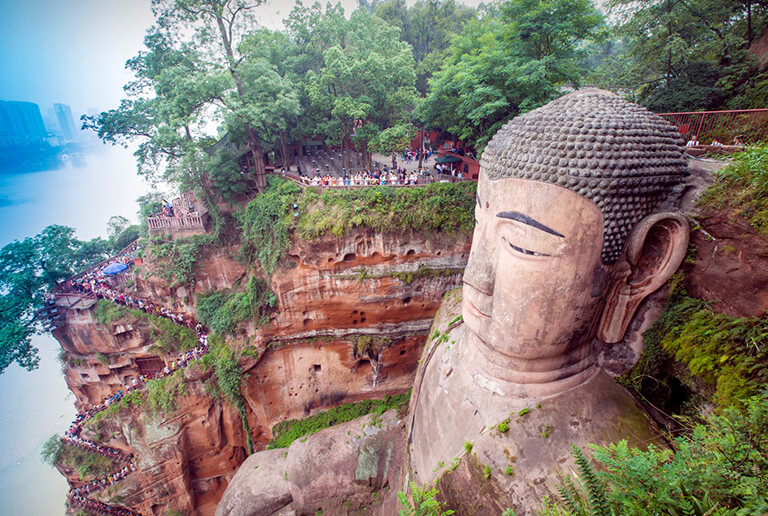 Leshan Giant Buddha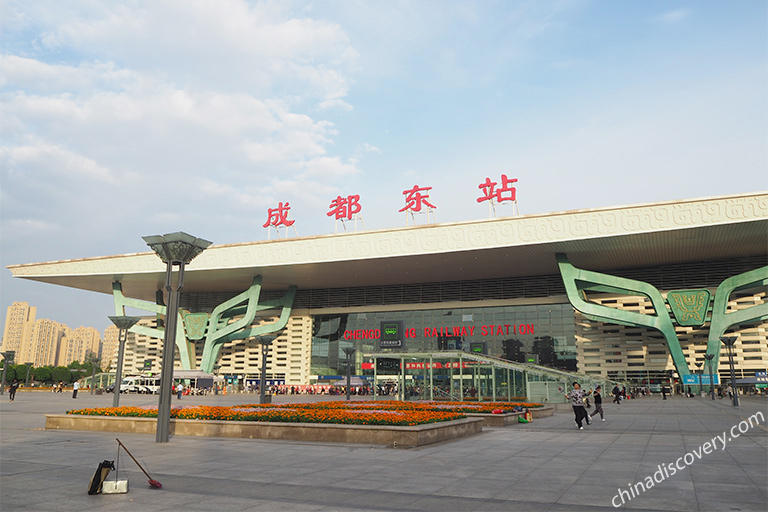 Chengdu East Railway Station
Chongqing
Chonqqing is well-known as the Mountain City, Home of Spicy Hotpot, a major port city on upper Yangtze River, a vital transportation hub in southwest China and an important headquarter during the past WWII period. All that makes Chongqing a special and fast growing tourism destination. For its unique terrain, attractions are scattered over Chongqing. In downtown, you can easily transfer to Chaotianmen Port to take your Yangtze River Cruise, visit Chongqing China Three Gorges Museum to learn more background about the Three Gorges and dig more development history and local culture of Chongqing city. Move west, the Ciqikou Ancient Town is the perfect place to taste and observe different kinds of traditional folk shows and local snacks and buildings. Moreover, Dazu Rock Carvings and Wulong karstNaltional Geology Park around Chongqing are two World Heritages sites popular among all tourists. You can take normal trains from Chongqing to Dazu (about 30 minutes) and Wulong (2-4 hours), or go there directly by driving.
Useful links:
Popular China Yangtze River Tours| Popular Chongqing Tour Packages | Chongqing Travel Guide | Top Chongqing Things to Do
Popular Chongqing Tours:
>> 2 Days Chongqing Highlights Tour with Dazu
>> 4 Days Chongqing Essence Tour with Yangtze Cruise
Chongqing West Railway Station
Address: No.168,Fengzhong Road, Shapingba District, Southwest Chongqing City (重庆市沙坪坝区凤中路168号 - 重庆西站), about 1 hour' driving to downtown, Chaotianmen Port and Chongqing Jiangbei International Airport, about 0.5 hour's driving to Ciqikou Ancient Town.
Chongqing West Railway Station is a newly built large high speed train station in Chongqing, which is little far away from downtown area. Now, taking a taxi is the most convenient and fast efficient way to transfer to any places in Chongqing. If you want to take public transportation, there are over 10 urban bus lines available and one airport express – Airport Line K06 to Chongqing Jiangbei International Airport. In the future, Chongqing will construct two light rail lines, Line 5 and Line 12 to connect Chongqing West Station with other regions of Chongqing. Recently, a 2 years' construction near Chongqing West Stations starts, leading to traffic jam around there. For travelers who want to leave or visit Chongqing from this station, we suggest you set aside enough time ahead of the departure, and choose the most convenient way to leave. > Check more about Chongqing West Railway Station.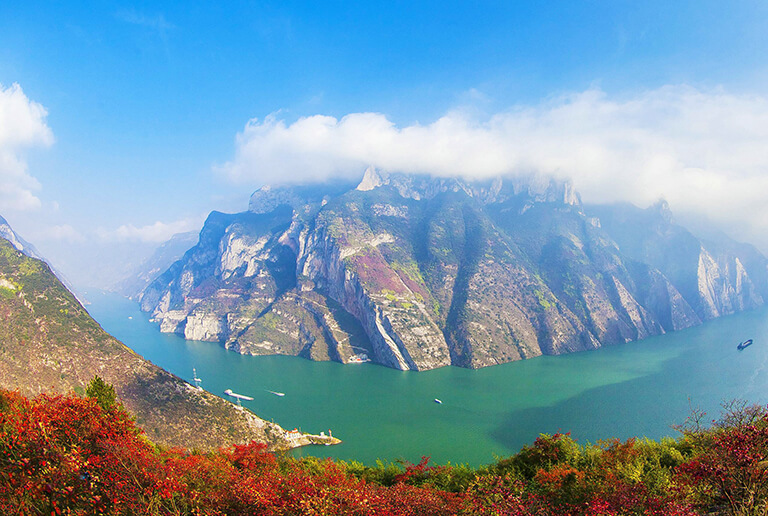 Yangtze River Cruise along China Three Gorges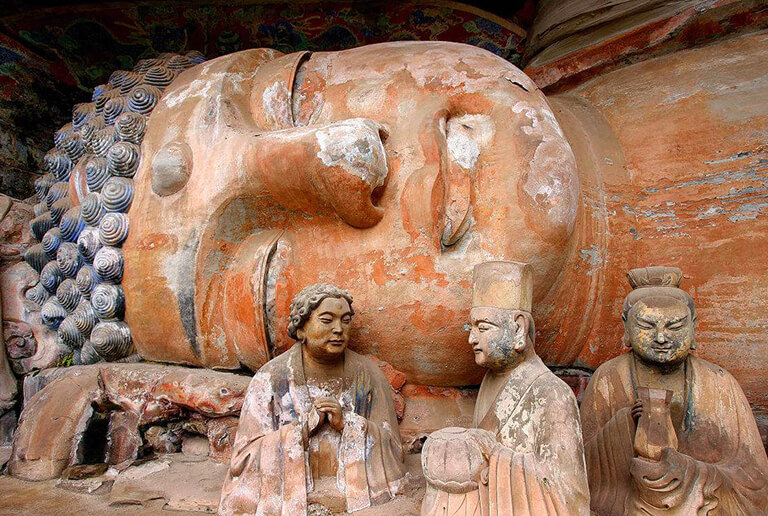 Dazu Rock Carvings nearby Chongqing
Chongqing West Railway Station
Zunyi (遵义)
Zunyi, a prefecture-level city in northern Guizhou Province, is a famous national cultural and historical city. It is the location of Hailongtun Fortress (Tusi) and Chishui Danxia - two UNESCO World Heritage Properties, and the famous Zunyi Meeting and leadership election for Mao Zedong during revolutionary period. Visiting the Hailongtun Fortress, you could see well-reserved minority tribal domains of military architectures and palace during 13th and early 20th century in the only large Tusi castle. And the Chishui Danxia will present every visitor the biggest and most spectacular Danxi landscape and very long Karst cave in China. Besides, this small city keeps many historical figures, where you can wander and admire the tough spirit of Chinese Red Army. It is also the hometown of famous Chinese liquor - Kweichow Maotai and origin of Guizhou tea.
Zunyi Railway Station
Address: Yan Village, Honghuagang District, Zunyi City (遵义市红花岗区颜村 - 遵义站), about 5km to downtown,4 hours' driving to Chishui Danxia and 1.5 hours' driving to Hailongtun Fortress.
Transportation: Put into use from January 2018, Zunyi Railway Station (once called Zunyi East Station) is a new high speed train station built serving trains on Chongqing Guiyang High Speed Railway. So far, there are 5 bus lines (Bus 25, 26, 27, 303 and 307) and 5 specialized high speed train express routes provided for local transportation.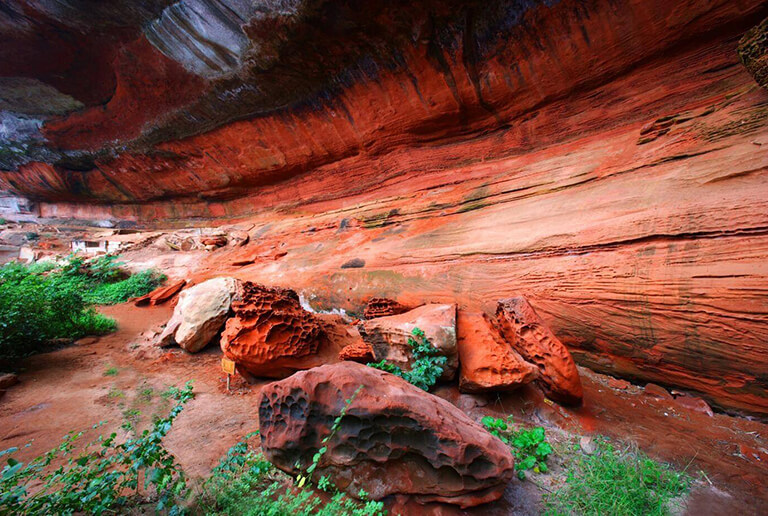 Chishui Danxi Landform (A UNESCO World Heritage Property) in Zunyi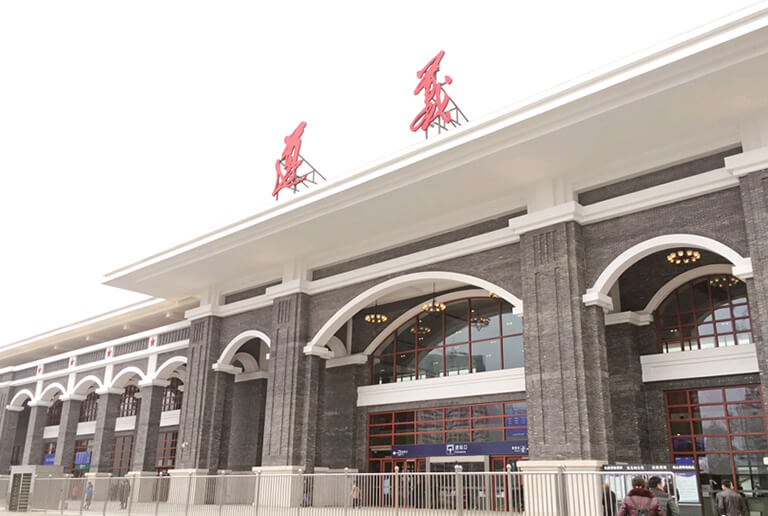 Zunyi Railway Station
Guiyang
Guiyang is the capital city of Guizhou Province and an essential gateway city to other destinations in Guizhou. Located in southwest China, Guizhou updates the former image to a charming province with characteristic sightseeing, rich minority culture and habitudes from various ethnic groups and fascinating countryside scenery. The appealing highlights includes the gorgeous Huangguoshu Waterfull, the Dong minority villages, ethnic people dressed in exotic costume, accessories, unique architectures, interesting festivals and originally reserved ancient towns. See popular attractions in and around Guiyang below to design your trip to Guizhou.
● Guiyang: landmarks include Jiaxiu Tower, Qingyan Ancient Town, beautiful Qianling Park and Huaxi Scenic Resort, and other historical sites; traditional Chinese cultural legacies have particular Miao Embroidery in Huaxi and the oldest incense paper making by ancient way in Wudang District of Guiyang.
● Libo: about 4.5 hours' driving to Guiyang; the Karst Landform of Seven Small Arches (Xiaoqikong - 小七孔) in Libo, which is part of South China Karst UNESCO World Heritage Site, offers wonderful natural landscape, beautiful cascades, blue and clean water scenic spots.
● Chishui: at least 5 hours' driving from Guiyang; main sites are the most splendid Chishui Danxia National Geopark, Chishui Waterfall, Chishui Bamboo Forest Park.
●Kaili: a popular minority destination in Qiandongnan Miao & Dong Autonomous Prefecture, east Guizhou, about 3 hours' driving from Guiyang; Xijiang Qianhu Miao Villages with thousands of stilted houses and Kaili Fengyu Bridge are top attractions to catch a glimpse of Miao minority.
Useful links:
Popular Guiyang Tours | Things to Do in Guiyang | Guizhou Travel Guide | Kaili Travel Guide
Popular Guiyang Tours:
>> 6 Days Authentic Guizhou Tour to Anshun & Kaili
>> 6 Days Diverse Guizhou Tour (Guiyang/Fanjingshan/Kaili)
Guiyang North Railway Station
Address: East Jiaxiubei Rd, Guanshanhu District, Northwest Guiyang City, Guizhou Province (贵州省贵阳市观山湖区甲秀北路东侧 - 贵阳北站); about 25 mins' driving distance (10 km) to downtown, 15 km to Guiyang East Railway Station & 14km to Guiyang Railway Station.
Transportation: Guiyang North Railway Station is a principle high speed train station in Guiyang, handling both G series High Speed Trains and D series Bullet Trains to/leaving Guiyang. The station is well connected with downtown area and airport through metro lines, BRT (Bus Rapid Transit), local bus, taxi, city rail express ring. Taking a taxi is very convenient to transfer among attractions in Guiyang. It takes about 30 minutes (13 km) from the station to Jiaxiu Tower, same 30 minutes to 7.5 km-far Qianling Park, 40 minutes (25 km) to Huaxi Scenic Resort - 1 hour by taking special fast bus No.3 or B267. Besides, passengers can take Metro Line 1, Fast Bus 1, 2, 3 and 1.5 BRT Ring bus to Guiyang North Railway Station, and take high speed trains to Kaili for nearly 40 minutes.
Guiyang East Railway Station
Address: Near County Highway 138, Dairy Farm Area, Wudang District, Northeast Guiyang City, Guizhou Province (贵州省贵阳市乌当区奶牛场片区,近138县道 - 贵阳东站), about 35 minutes' driving to downtown & 20 minutes to 15km away Guiyang North Railway Station.
Transportation: Served as a junction station, Guiyang East Railway Station distributes arriving trains from different directions and help Guiyang North and Guiyang Railway Station relieve passenger volume. If you go to Jiaxiu Tower from Guiyang East, it takes about 50minutes' driving (15km) or over 1 hour via Fast Bus 272. It takes about 20 minutes from the station to Qianling Park and 1 hour to Huaxi Scenic Resort. (*Fast Bus 270 shuttles between Guiyang North and Guiyang East Railway Station from 10:00 to 20:00 with 3 midway stops.)
Note: All the above railway station transportation information is given for your reference. You can contact us to check the latest traffic guide to/off those railway stations and get more messages of rest stations, like Zunyinan Railway Stations, Loushanguannan Railway Station.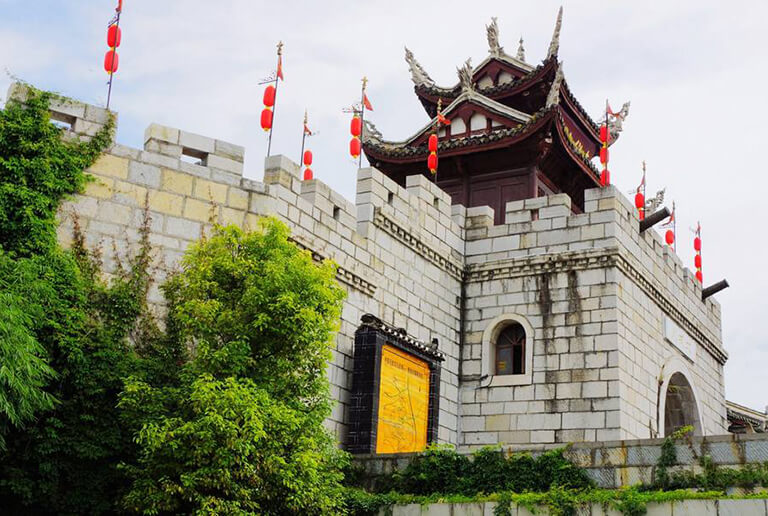 Qingyan Ancient Town in Guiyang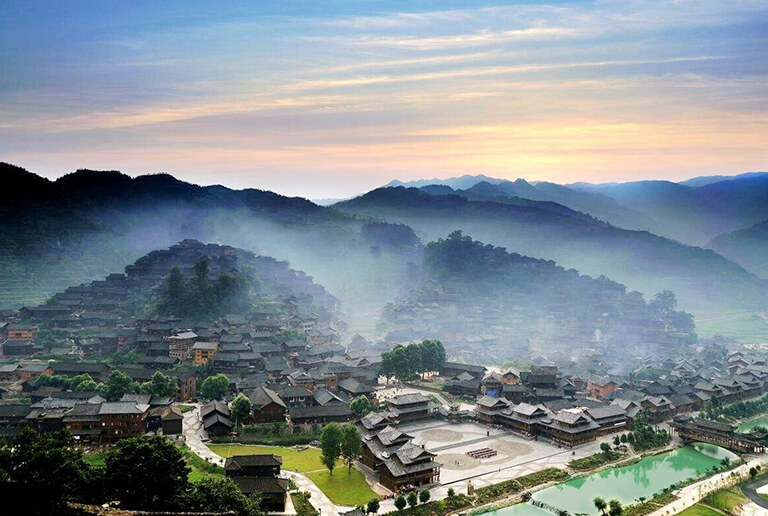 Featured Xijiang Qianhu Miao Village in Kaili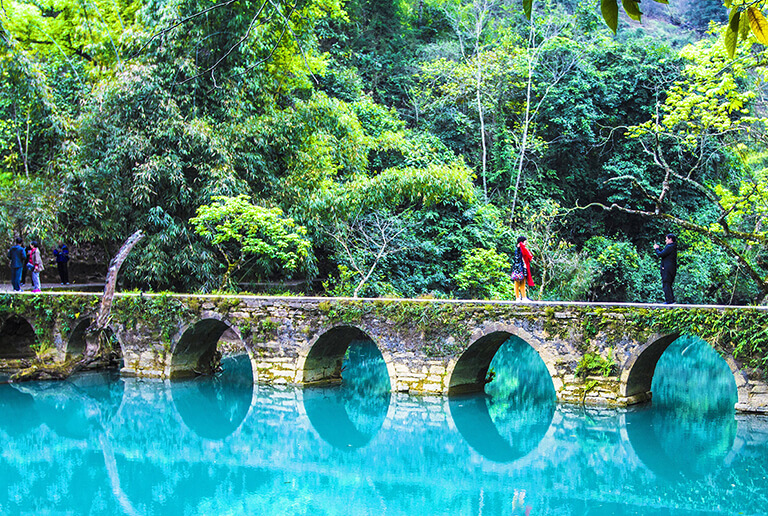 Crystal Blue Water of Xiaoqikong, Libo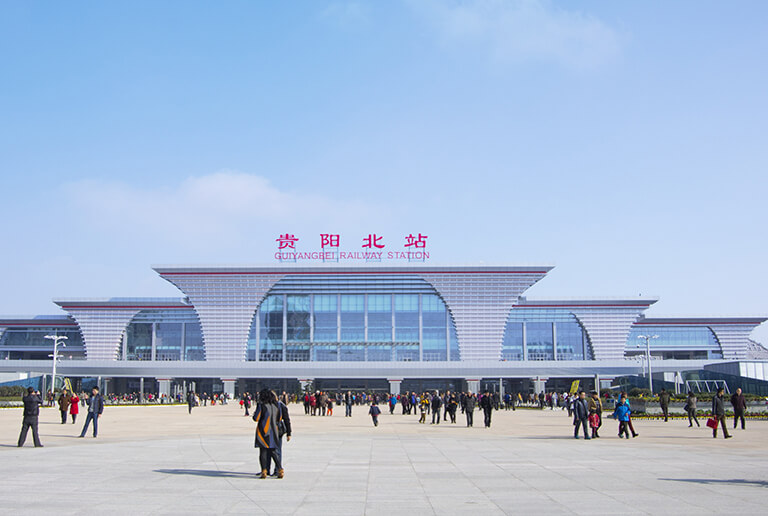 Guiyang North Railway Station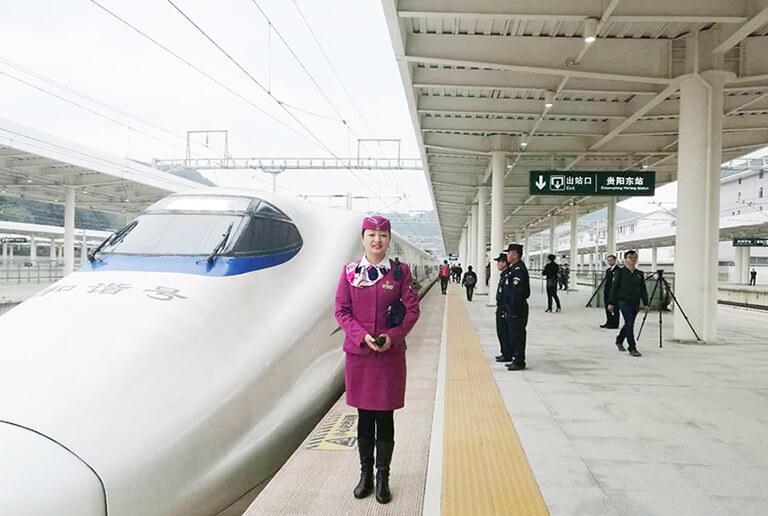 A Bullet Train Stopping at Guiyang East Railway Station
Tips for Booking and Taking Chengdu Guiyang High Speed Train
1. Seats choosing & price comparing
There are three kinds of seats offered on G trains and two kinds of seats on D trains from Chengdu to Guiyang and Guiyang to Chengdu. On G trains, passengers could choose from Business Seat (the most luxury standard equal to first class seat on plane – 823RMB), First Class Seat (middle class - about 440RMB) and Second Class Seat (the most budget choice - 275RMB). While on D trains, there are only First and Second Class Seats provided, and both charges lower than same class of G trains.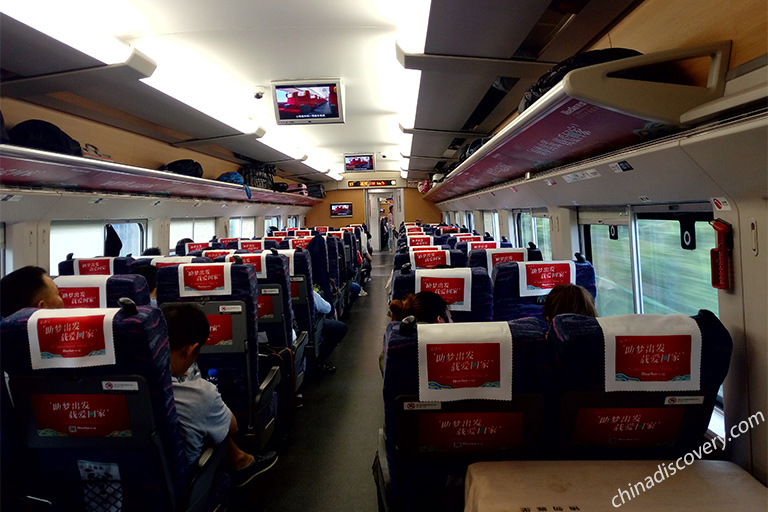 Second Class Seat on Bullet Train
2. Booking & collect your bullet train ticket
To book a Chengdu Guiyang high speed train ticket, you could choose to book it at the official website: China Railway Customer Service Center or with a travel agency, also you could directly tell China Discovery to book the tickets for you. Besides, you could go to the Railway Station or Designated Ticket Offices to do that.
To collect your high speed train ticket, you could go to the railway station nearby, however, the Self-service Ticketing Machines are not serving foreign people. Besides, you can tell China Discovery to help you to do the collection, which only needs your passport information.
>> Check more about booking and collecting high speed train tickets.
3. How to embark the high speed train and bullet train?
1) Prepare your documents well (valid passport with China Visa); 2) Get to the right train station in advance; 3) Collect train tickets; 4) Read your train ticket; 5) Pass the security control; 6) Pass through Security & Luggage Checks; 7) Find the right waiting room; 8) Cross the ticket checking gate; 9) Get to the right platform; 10) Get on your train. Keep the ticket well, because the ticket will be checked again to leave the station after you get off.
>> Check more about boarding on & getting off a high speed train.
4. Facilities and service
All high speed trains in China are equipped with advanced facilities and good service to make your journey more convenient and comfortable. There are different places you can put your luggage onboard, racks and specialized luggage storage areas. Besides, the air-conditioner train offers you plug under the seats to charge your phone or laptop, sightseeing window to view the outside scenery as well as western-style toilets. There is also available dining area you can get some supplies. Bilingual signs and the broadcast use both Chinese and English so that you don't need to worry about the communication.
>> Check more about facilities & service on high speed train.
High Speed Train Travel with China Discovery
We China Discovery are very willing to help you with the high speed train tickets booking, tour customization and local guide and transfer arrangement, so you can be able to experience the superb bullet train in style and enjoy all the highlights of your ideal destinations in China without any worry. If you are interested, please feel free to contact our professional travel consultants who are here ready to build your own tour to best suit for your needs and likes.
More Popular High Speed Railways
Read More about China High Speed Trains
Recommended Tours
Top 3 tours chosen by most customers to explore in the best way. Check the detailed itinerary, or tailor your own trip now with us.
9 Days Sichuan Panda Volunteer Tour with Guizhou Ethnic Panorama

Chengdu / Dujiangyan / Chengdu / Leshan / Emei / Chengdu / Guiyang / Kaili / Guiyang
7 Days Kunming & Guizhou Ethnic Culture Tour

Kunming / Kaili / Guiyang
10 Days Yunnan & Guizhou Amazing Minorities Tour

Kunming / Lijiang / Shangri-La / Kunming / Fanjingshan / Kaili / Zhaoxing / Congjiang
Start planning your tailor-made holiday to China by contacting one of our specialists. Once inquired, you'll get a response within 0.5~23.5 hours.
Customize a Trip
Have a question? Get answers from our travel experts or guests
Your Question:

Your Name:

Your Email: