China High Speed Train (C Train)
C train (C stands for Chengji城际, English: Intercity), is a kind of high speed train generally running between neighboring cities or only cities within a province, operating service on high-speed track at designed speeds at and below 200km/h (124 mph). It is called the "Time Tunnel" with stunning features of "Medium & Short Distance", "large traffic volume", "high speed", "safe", "punctual" and "eco-friendly". C trains give travelers total fresh feelings and awesome experience to get out of a big city to its neighboring destination in very short time!
It is a time-saving as well as money-saving way to travel two destinations in a short distance by C train. No matter you are planning a long China tour and want to add some single attraction close to the big city into your bucket list, like Leshan Giant Buddha / Dujiangyan Panda Base / Mount Qingcheng near Chengdu, Hangzhou West Lake near Shanghai, or looking for a short break in one hot destination with in-depth exploration to its neighbor destinations, you can choose the fast and convenient c-class high speed train as the transport. Check the following detailed info to get further understanding about C train!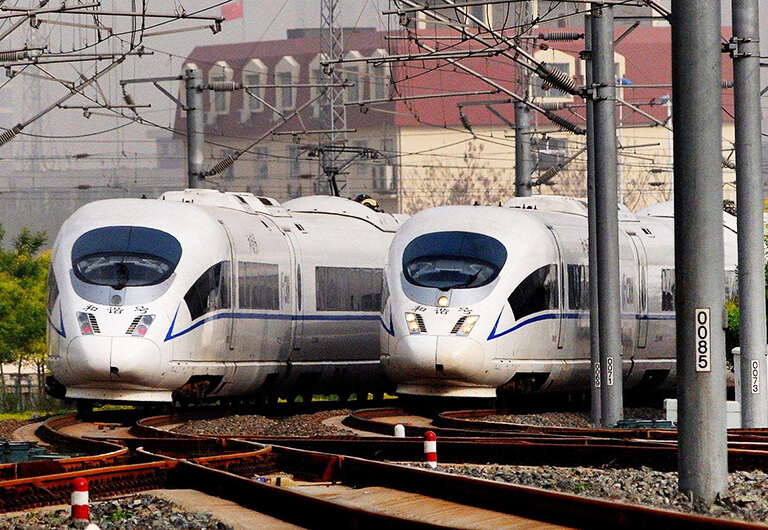 China High Speed Intercity Trains - C Trains
C Trains - High Speed Trains Running between Two Neighboring Cities
Over 260 Railway Stations with C Train Running Through
According to the development plan for railway construction released by China's National Development and Reform Commission (NDRC), total mileage of intercity railway of China is expected to reach 6,222 kilometers by 2020.
C trains are well served among the big cities and intermediate cities in the densely-populated area or metropolitan area in China. The distance between two cities is about 50~200 kilometers and it stops a few stations or is non-stop. Till May, 2018, there are over 260 railway stations with C trains running through. Travelers for short trips can take Guangzhou - Shenzhen intercity train, Beijing - Tianjin intercity train, Chengdu - Dujiangyan - Qingchengshan intercity train, Chengdu - Mianyang - Leshan intercity train, Nanjing - Shanghai intercity train, Shanghai - Hangzhou intercity train, Changchuun - Jilin intercity train, and Zhengzhou - Kaifeng intercity train, etc. The operation of C trains brings great convenience and shortens the travel time between the cities.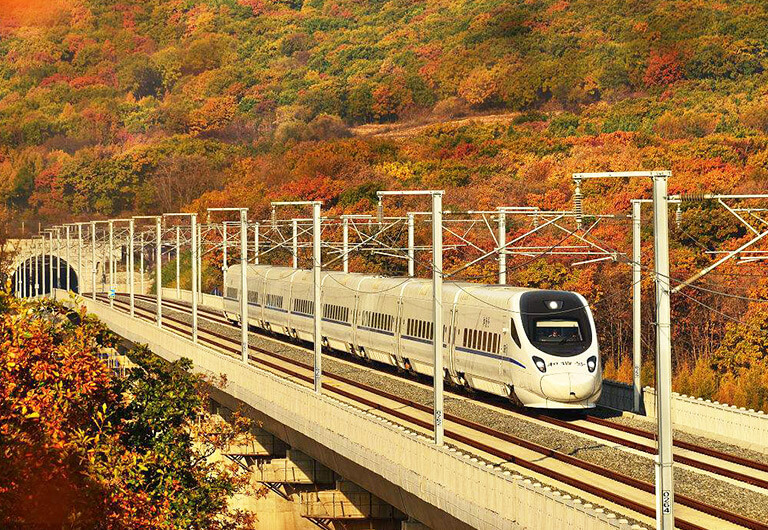 Changchun Jilin Intercity High Speed Trains
The Intercity Train with a Fast speed usually at 200km/h
C-class train is the multiple unit train running on the intercity railway. That's to say, C train is a kind of CRH (China Railway High-speed) with a designed speed at or below 200km/h. The daily schedules, stops, speeds of each route are different which are based on the real needs of passengers. Some intercity train can reach up to 350km/h at the highest speed!
Different Choices of Seats to Fully Meet your Demands
Though distance is not long and the travel time may be within 2 hours, you can choose your favorite seats among several choices - Business Class Seat, VIP Class Seat, First Class Seat, Second Class Seat, or Soft Seat. If you decide to go suddenly before the train moving, you can buy "Standing Ticket". Almost all C trains are without sleepers onboard.
For example, the distance between Chengdu and Dujiangyan is about 57 kilometers (0.5 hour). For the short distance and travel time, there are only two types of seats available on all C trains - Soft Seats and Standing Tickets. The distance between Beijing and Tianjin is about 120 kilometers (about 35-41 minutes). Business class seat, first class seat and second class seat are equipped on the C trains.
For more Seats Info, please go and see High Speed Train Seat Classes.
Not All Intercity Train Starting with "C"
Travelers should make a distinction between C trains and intercity train. Most of the C trains runs on intercity railway. C trains belong to intercity train, but not all intercity trains start with letter "C". Some D trains and G trains belong to intercity train.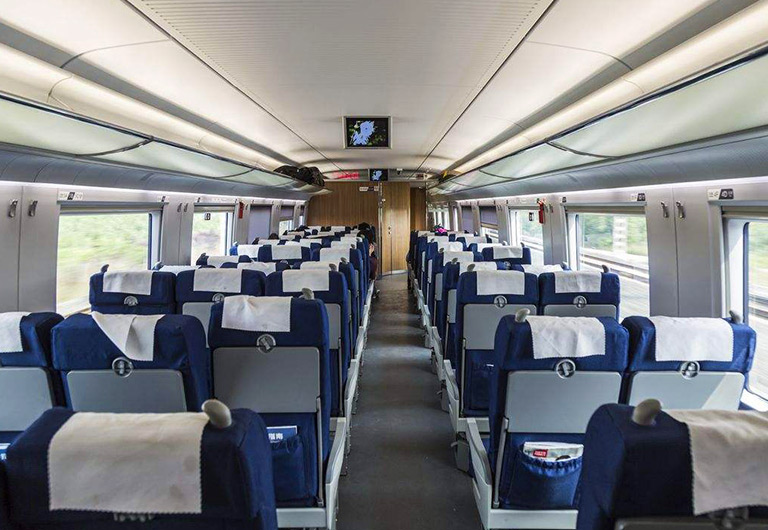 Second Class Seats on Intercity Train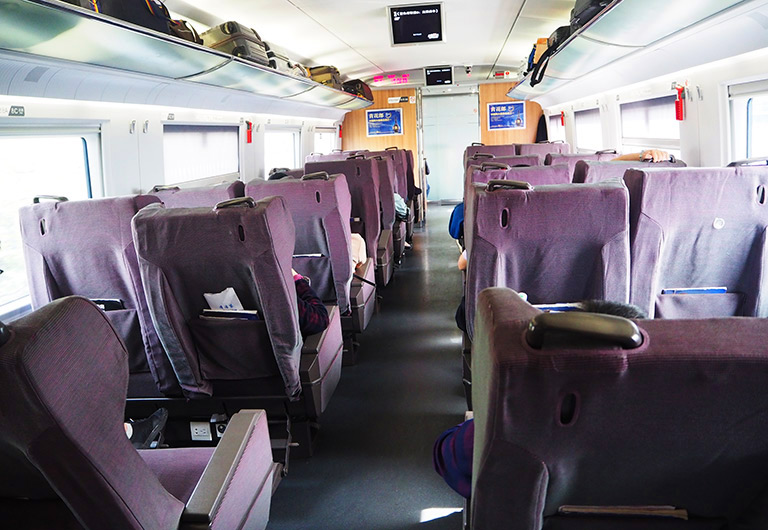 First Class Seats on Intercity Train
Highly Recommended Routes to Experience C Trains
Beijing - Tianjin: Capital of China & Largest Port in Northern China
Length: 120km; about 35-41 minutes
Frequency: 83 daily C trains during 06:01~23:05 (Note: the schedules may adjust based on the real situation.)
Highlights:
Beijing Tianjin Route is suitable for travelers who travel to Tianjin by cruise and make a short break to Beijing. Tianjin is bounded to the east by Bohai Gulf portion of the Yellow Sea. In Tianjin City, you can appreciate the colonial architectures and streetscapes along Wu Da Dao (The Five Avenues), have a leisure walk on Tianjin Ancient Culture Street, view the exquisite porcelain by visiting Porcelain House; catch a C train from Tianjin to Beijing at the end of Tianjin tour to explore the highlights of ancient capital of China. You won't miss Great Wall, Forbidden City, Summer Palace, Temple of Heaven, presenting you Ming Dynasty history and royal family scene.
>> Beijing Tianjin Round Trip by High Speed Train (Beijing / Tianjin / Beijing)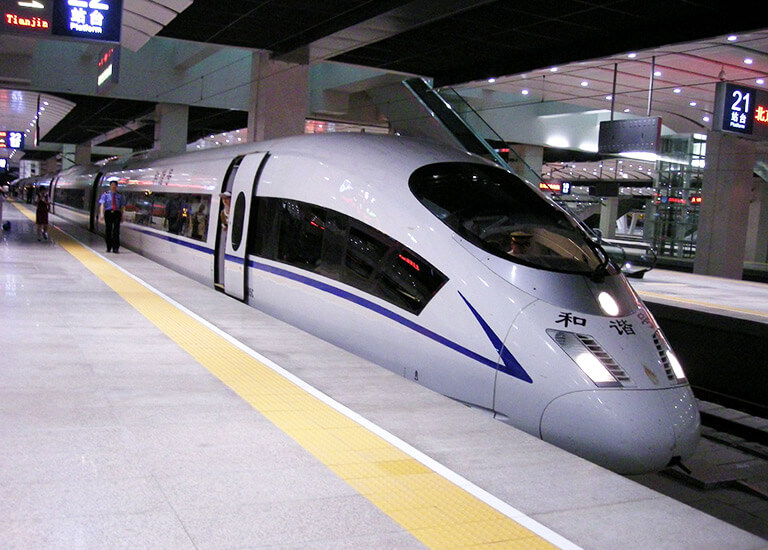 Beijing Tianjin Intercity High Speed Trains at Tianjin Railway Station
Chengdu - Dujiangyan: Encounter with Pandas & Great Irrigation System
Length: 57km; about 0.5 hour
Frequency: 21 daily C trains during 06:02~21:19 (Note: the schedules may adjust based on the real situation.)
Highlights:
Called the "Land of Abundance", Chengdu is an amazing place to see and experience! From the laid-back lifestyle which you can witness everywhere especially in the Renmin Park, to the fast development of city constructions, Chengdu offers you more than Giant Pandas but the new face of China! With 0.5 hour C train getting out of downtown area to Dujiangyan, you can have a nice tour to do a full-day panda volunteer program in Dujiangyan Panda Base as well as get awed by the Dujiangyan Irrigation System, the oldest existing large-scale water project in the world. If you have more time, you can hike up and explore Mount Qingcheng and have a basic understanding about Taoism.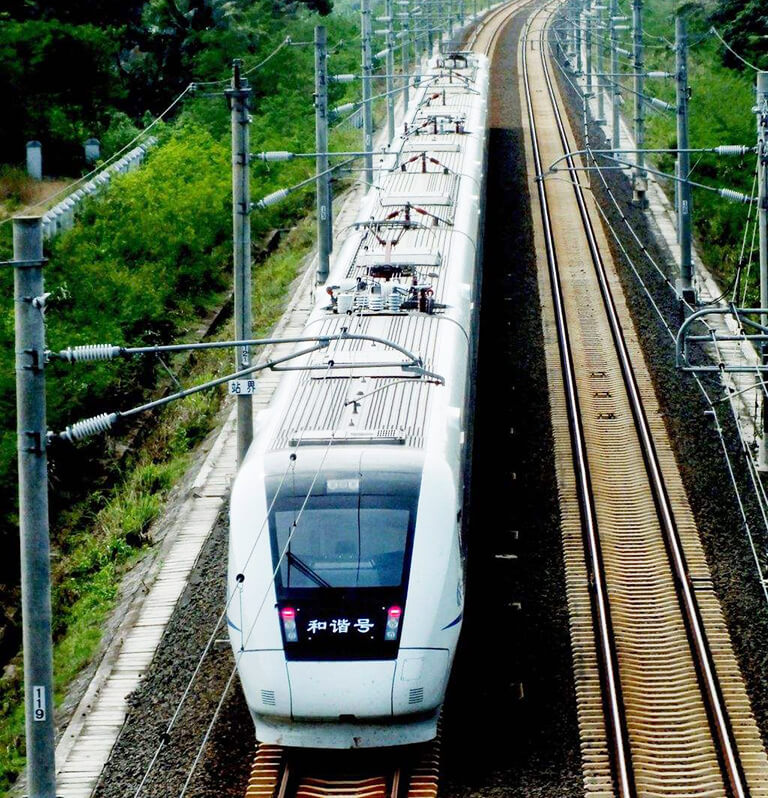 Chengdu Dujiangyan Intercity High Speed Trains - Scenery on the Road
If you have more ideas to take high speed train (C Train) to explore vast China, please feel free to tell us your likes and we are here ready to offer you some useful suggestions, customize a satisfactory tour as well as book the train tickets for you!
Highly Recommended Routes to Experience High Speed Trains
As high speed train travel are becoming much popular and recommended by large portion of visitors in China, here we also list some top high speed train routes chosen by most people during their China tour. See the routes at below and pick one to experience the great advantages of travelling by high speed train. Also, you could check all high speed train routes to select which section to experience.
Extension Readings of Bullet Train Types & Seats
More Practical High Speed Train Travel Guide Articles
Recommended Tours
Top 3 tours chosen by most customers to explore in the best way. Check the detailed itinerary, or tailor your own trip now with us.
5 Days Essence of Tianjin Beijing Tour - East Meets West

Tianjin / Beijing
3 Days Hangzhou Suzhou Beauty Tour by High Speed Train

Hangzhou / Suzhou
5 Days Essence of Shanghai & Hangzhou Tour

Shanghai / Hangzhou / Shanghai
Start planning your tailor-made holiday to China by contacting one of our specialists. Once inquired, you'll get a response within 0.5~23.5 hours.
Customize a Trip
Have a question? Get answers from our travel experts or guests
Your Question:

Your Name:

Your Email: