China High Speed Train Business Class Seats
China Bullet Train Business Class Seats are the best among all types of seats onboard, which is offered on most G trains, some C trains and and some D trains, which is a little different from the classification of seats on a plane. Although the Business Class Seats need high prices, they truly offer the superb services, comfort, convenient equipment and facilities to enjoy your most satisfying high speed train travel along the whole way. Here you could see what surprisingly benefits you will get from booking the Business Class Seats and the differences between it and the First Class Seats.
Business Class Benefits
What to experience from the high speed train Business Class Seats? How better are they than the first and second class seats onboard? Let's check the detailed ideal large sized seats, handy equipment, good services and more privileges for Business Class Seat passengers at below.
● Superior 180 Degree Rotating Leather Seat for Sightseeing
The leather chair with milky white back is probably is the most shining spot of the Business Class Seat. These seats are magic. You could press the buttons at the inner of your right armrest to adjust it into different angle backward and forward to different angles within 90 degrees. Among all the buttons, there are three special shortcut ones to adjust it to directly meet your needs of sitting upright, half lying and also the full lying. Once it is adjusted into a business class flatbed seat, it enables a passenger who is even of about 180cm tall to sleep flat comfortably and turn easily. As there is a small pillow on the seat, no matter you sit or lie down, you will feel good.
Moreover, all seats in the Business Class carriage can be rotated horizontally 180 degrees, therefore, you can turn it to face the big glass window to catch the nice sightseeing and landscape of hills, blossoms, trees, houses, rivers, lakes, bridges, etc. outside with better angle of vision along the trip. That's way the Business Class Seats are also called the best sightseeing seats on China high speed trains. (PS: if you don't know how to adjust the seat or can't find the button, please feel free to ask the train attendant for help.)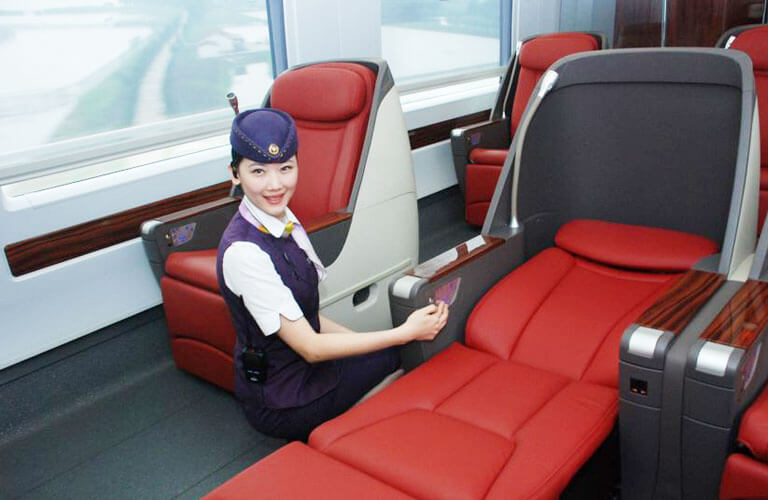 Adjust Your Seat into a Flatbed Seat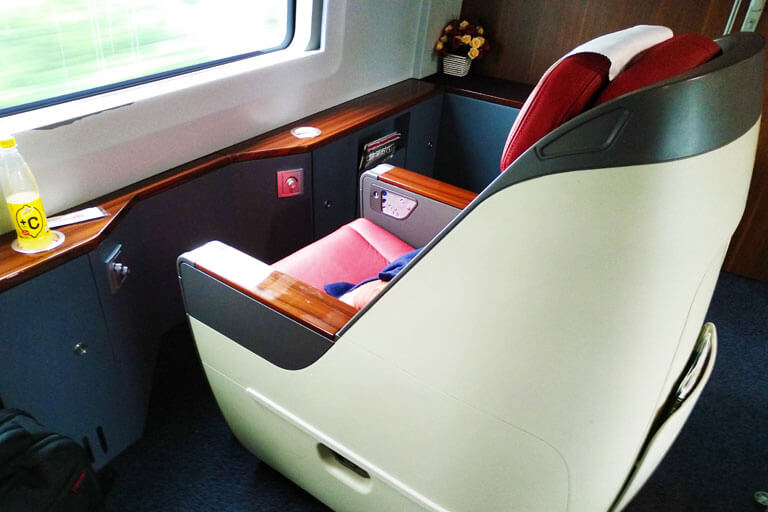 Adjust Your Seat into a Sightseeing Seat
● VIP Lounge
Just like the air passenger of the top two classes of seats, China high speed train Business Class Seat passengers also could wait your train and have a rest in the VIP Lounge area in a quieter and less crowded space. Show your Business Class train ticket and passport to the staff at the reception desk at the lounge to demonstrate your qualification to enter the VIP Lounge. Then you could rest on the soft sofa or armchair, watching the TV, playing with your cellphone, etc. Besides, there usually are some snacks like sugar, biscuits, bakeries, etc. and drinks, so you could kill the time by enjoying the leisure food while waiting for your train. Apart from that, there usually are private washrooms, electrical sockets, Wi-Fi, etc. for your convenience in the VIP Lounge.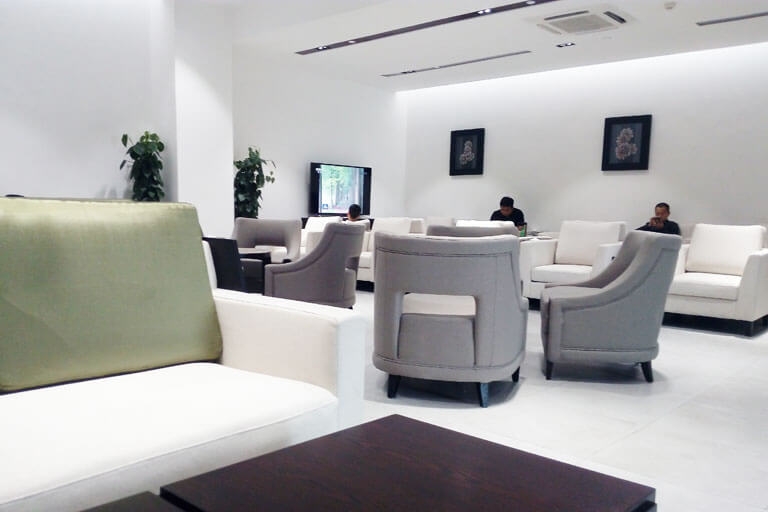 VIP Lounge for Business Class Seat Passengers
Usually, about 15-20 minutes prior to departure time of the train, the staff there will come and inform passengers to go through the ticket checking step and board their train. Also, in most big train station, Business Class Seat passengers could go through the "special pass" to directly check the tickets and board on, which avoids you from waiting and moving with others in the queue at the boarding gate.
● Less Passenger Capacity
On a bullet train of 8 carriages, the Business Class Seats is usually arranged at the head one carriage, just behind the driver's operation cab. In this carriage, there set usually only 5 seats into two rows, with 2 seats near the cab and the other 3 seats near the carriage door. Therefore, passengers will not feel crowded at all.
● Spacious Carriage
You will have super large space within the Business Class Seat carriage. The space between the two rows of seats is about 2 meters wide, so fully stretch your legs is no matter a problem. Also, behind the last row, there is also spacious room, which is really good for you to walk freely to stretch body after sitting too long or store your luggage if you do not want to uplift it high into the rack above head.
● Extremely Quiet Environment
As most Business Class Seat passengers are business people who will have a rest or deal with their business with concentration, there are much fewer noises and passengers will feel much quieter and easeful during the trip. Also, the Business Class Seat carriage is separated from the other carriages by a sliding door which needs to be opened by pressing the button, so, you will not be bothered by the sounds from other carriages.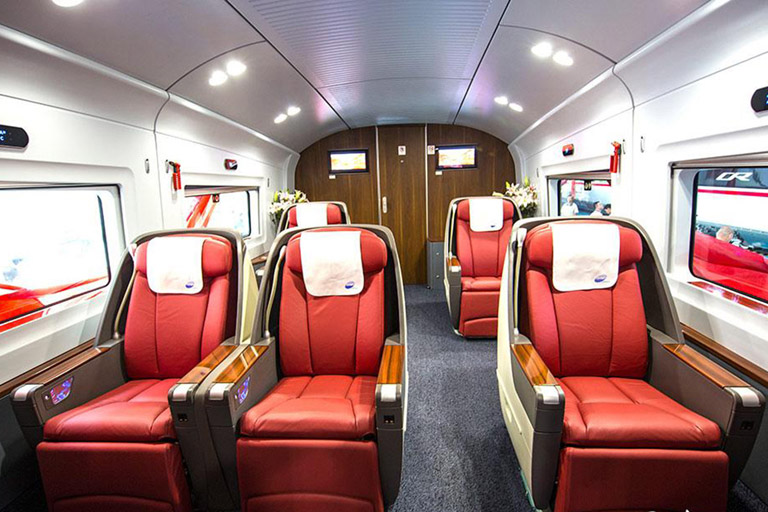 Less Capacity in Business Class Carriage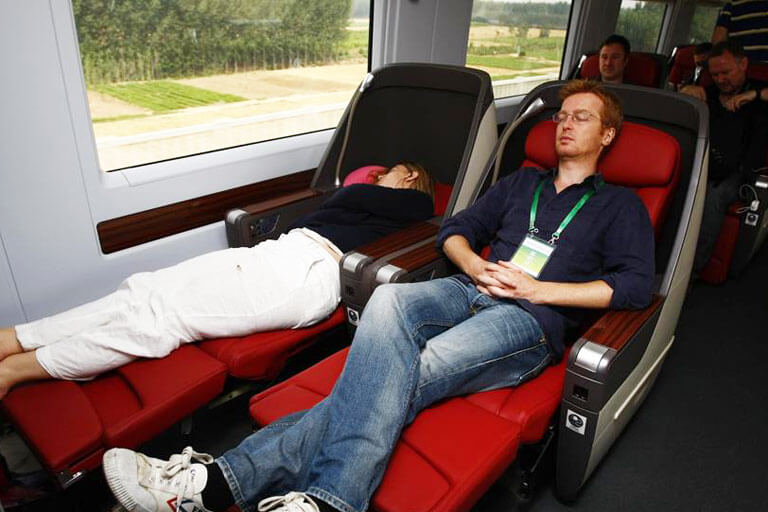 Quieter Environment in Business Class Carriage
● Exclusive Equipment & Facilities
Most of what you want to use are provided in and around the Business Class Seat carriage.
Large Tray Table
The tray table is hidden in the right armrest of the seat. Open the cover, and you will see it. Follow the operation instruction diagram at the inner of the cover to unfold it for any of your needs, like reading, laptop using, dining, etc.
Service Call
Service call is usually near the seat adjusting buttons at the inner of your right armrest. Press it if you need any service or have any questions, and then the train attendant will come to help you very soon.
Reading Lamp
If you want to read, the reading lamp is installed at the right inner side of your seat. It is adjustable randomly to suit your most comfortable needs in the best position. Also, the switch is at the upper position on the lamp and can adjust the brightness into two kinds.
Toilet
Usually, one Western styled toilet is provided just outside the door of your Business Class Seat carriage. In there you will see toilet paper, sanitary toilet seat paper cover, wash basin, mirror, sockets, etc. for your free use. Usually, the electrical sign of the toilet in your carriage will show the occupancy, green for vacant and red for occupied.>> Check More about Toilets onboard China High Speed Train!
Washbasin
Washbasin is across from the toilet, outside the Business Class carriage. Clean water, mirror, dustbin, tissue, hand sanitizer, sockets, handrail, hooker, etc. are usually all provided.
Luggage Racks
On both the right and left sides of the carriage provide luggage racks above, which are suitable for suitcases below 24 cuns (42cm*68cm*26cm), the total dimensions is no more than 135cm usually. If you have larger or very heavy luggage, you can also just put it on the floor at the vacant space.
>> Check More about Facilities onboard China High Speed Train!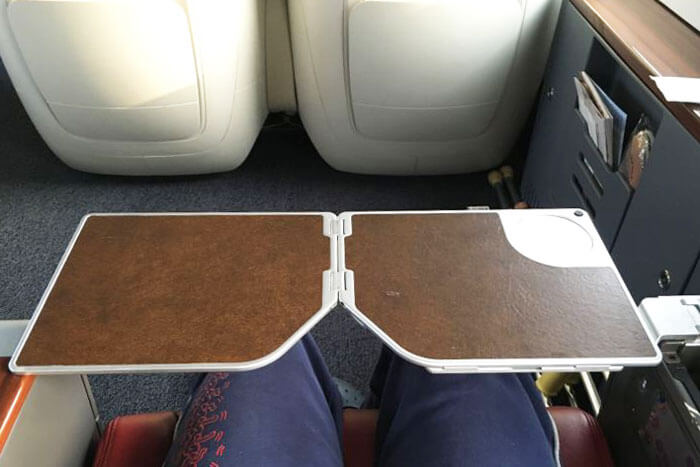 Large Tray Table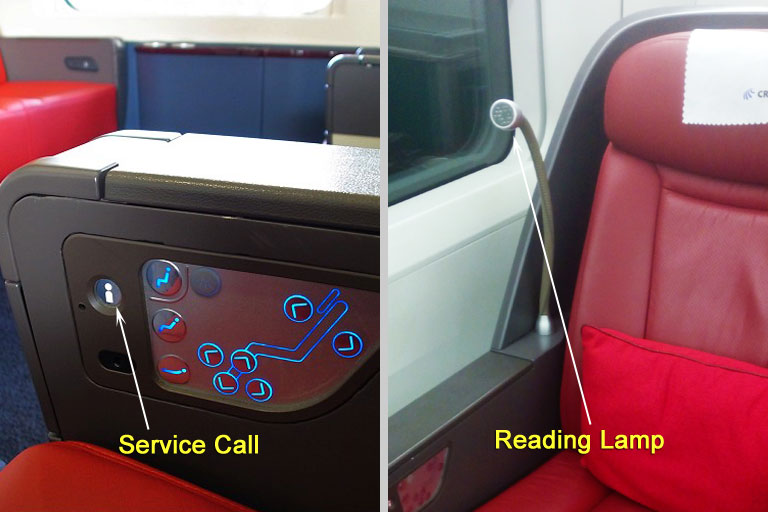 Service Call & Reading Lamp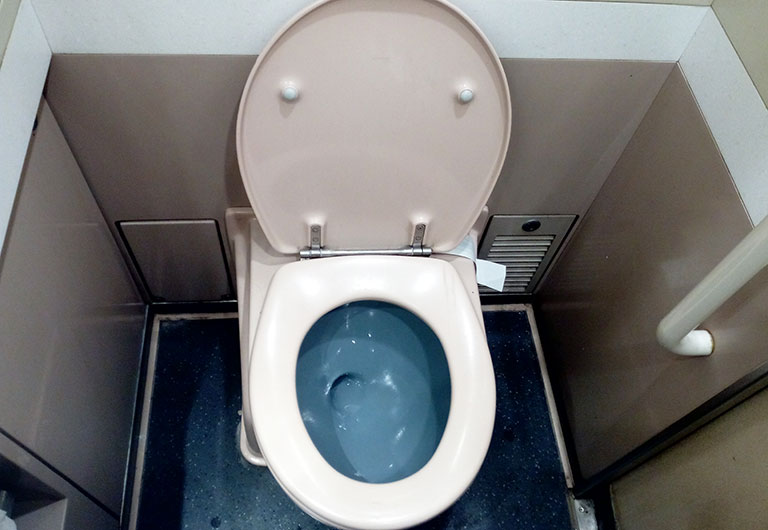 Western Toilet for Business Class People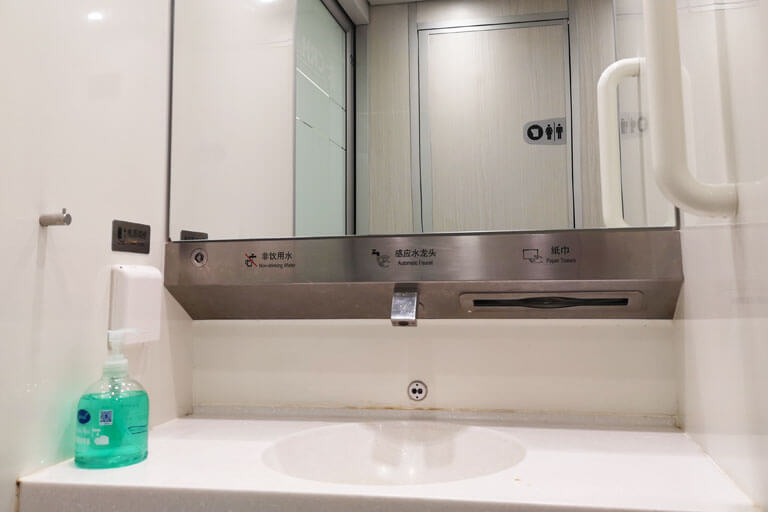 Washbasin outside Business Carriage
● Thoughtful Complimentary Items
Business Class Seat passengers will be specially cared for, so they will enjoy more complimentary services that others in the Second and First class carriages can't get.
Complimentary Meal during Dining Hours
After you sit down there onboard, the attendant will come to ask if you want to have breakfast / lunch / dinner and your ideal dining time. Usually there are 1-3 kinds of choices of packages usually including meat, vegetable, rice, and soup. If you order the food, the attendant will send the food at time for you and collect it after you enjoy. (Please note: such meal is served for free during the specified dining hours. Breakfast before 08:00, lunch during 11:30-13:00, and dinner during 17:30-19:00.)
Snacks Pack & Drinks
The attendant will offer a snack gift pack for every Business Class Seat passenger, which usually includes 6-8 snacks in case you feel hungry or bored on the train. Besides, about 5 kinds of drinks are offered free. He/she will ask your favor of tea, juice, coffee, cola, or water, and serve you well.
Earplugs / Earphones
On most high speed G trains and C trains (except Fuxing Trains), an LCD TV is installed in the left armrest. Some music and movies are available, so you could ask the attendant to give the earplugs or earphones to enjoy the songs and films. The socket is usually near the service calling button. However, since the pages are all in Chinese, you could ask the attendant for help.
Blindfolds, Blankets & Slippers
One pair of disposable slippers are placed in the case near your seat, just put them on to rest your feet. Also, blankets and blindfolds are prepared for your cozy sleep onboard. You can tell the staff if you need.
Apart from the above, there are also some other items you could use freely, indulging tissue, newspaper, magazine, Business Class Seat Service guide, etc.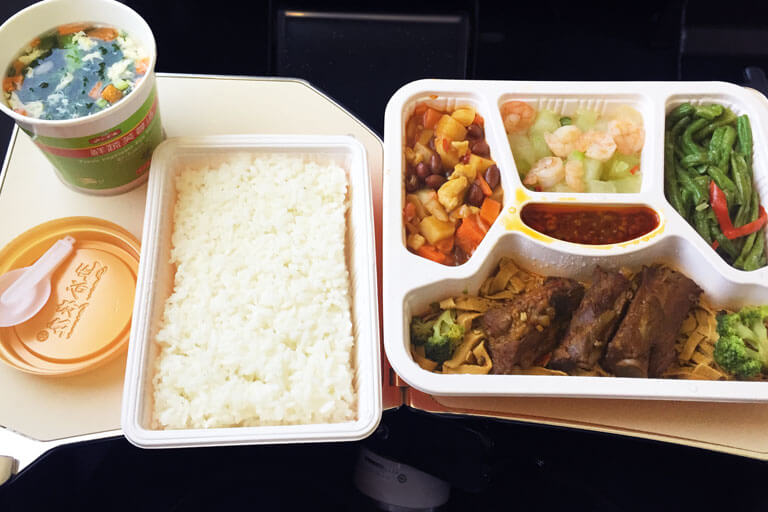 Complimentary Meals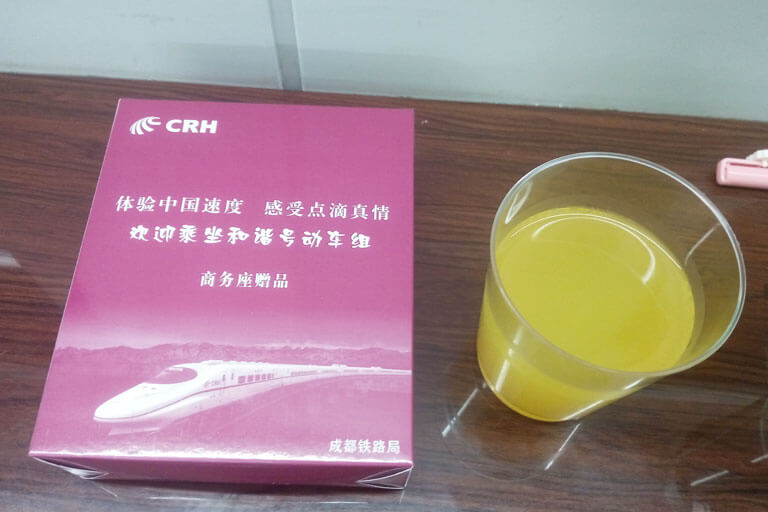 Complimentary Drinks & Snacks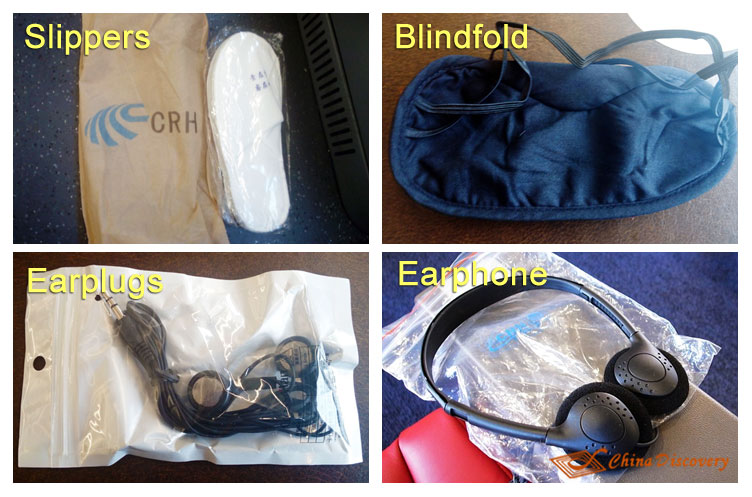 Click to See Other Complimentary Items
Business Class vs. First Class
What is the difference of Business Class Seats and First Class Seats onboard high speed train? You can compare them from the seats themselves, services, enjoyed equipment and facilities, comfort level, and so forth to understand why the expensive Business Class Seats are so popular among people.
Usually the button is placed at the armrest part, and most at the inner side of the right armrest. Just press it while lying back with little strength, and you can adjust your seat backward at any angle between about 5 - 32 degrees. Therefore, you can admire the sceneries outside or sleep at ease. Before your embarkation, you can press the button again to adjust your seat into the upright position.
Item
Business Class Seats
First Class Seats
Train Type Available
G, D & C Train
G, D, & C Train
Ticket Price
About 0.8 times higher
(Beijing – Shanghai: About 1748RMB)
Much lower
(Beijing – Shanghai: About 933RMB)
Overall Comfort
5 Stars
4 Stars
Cost Performance
4 Star
5 Stars
Size of Seat
52cm wide
48cm wide
Adjustability
Any angle within 90 degrees backward to a flatbed seat;
180 degrees horizontally to face the glass window
5-32 degrees backward
Passenger Capacity
5-10 for an 8 coach train
About 28 for an 8 coach train
VIP Lounge
√
N/A
Line-Jumping Privilege
√
N/A
Drinks
About 5 kinds;
hot water from the water dispenser
Hot water from the water dispenser
Snacks
Gift pack (6-8 kinds)
Always need to pay
Meals
Free during dining hours
Always need to pay
Tray Table
Large folded type
Large folded type
Footrest
N/A
√
Pillow
√
√
Other Items
Blindfolds, Blankets, Slippers, Earphones, Earplugs, etc.
N/A
(Note: the above information of price, size, facilities, equipment, etc. of the First Class Seats and Business Class Seats on China high speed trains is only for your reference, which is various according to the difference of types of trains and sizes, and railway sections between different destinations.)
After comparing the two types of seats on high speed train in China, you must have a better understanding of the cool and superior Business Class Seats and are interested to have a try. Share your ideal high speed train route with us, and our professional Travel Consultant will help you book the Business Class Seats directly to spare more free time for you. Also, if you tell us about your interested destination of type of highlights to enjoy, we will also give you professional recommendations and help tailor make your special and wonderful high speed train tour!
Recommended Popular High Speed Train Routes
As high speed train travel are becoming much popular and recommended by large portion of visitors in China, here we also list some top high speed train routes chosen by most people during their China tour. See the routes at below and pick one to experience the great advantages of travelling by high speed train. Also, you could check all high speed train routes to select which section to experience.