Yichang High Speed Trains
Yichang (宜昌), located on Yangtze River, is always served as the starting or ending point of Yangtze River Cruise Tour. From Yichang, you can have a memorable Yangtze River Cruise to Chongqing and vice versa. Besides, the world-famous Three Gorges Dam is also situated in Yichang. Yichang can be reached by flights and high speed trains. Choosing a cruise tour combing with a high speed train experience will make your China tour more enjoyable. Yichang can be reached by high speed trains from many nearby cities and several major cities.
High Speed Trains from Yichang
Currently, there are over 140 high sped trains running connecting Yichang and many different cities, including some top tourist destinations, like Beijing, Shanghai, Chengdu, Chongqing, Nanjing, Hangzhou, Suzhou, Zhengzhou, etc. Usually, travelers prefer to take a high speed train from these cities and then enjoy an upstream Yangtze River Cruise journey.
Most Popular High Speed Train Routes
Wuhan Yichang High Speed Train and Shanghai Yichang High Speed Train are the most popular high speed trains connecting Yichang. Because of the short distance between Wuhan and Yichang, many travelers usually plan a tour combining Wuhan and Yichang together. Since Shanghai is one of the best starting cities or ending cities for a China tour, it is also popular to travel between Shanghai and Yichang.
● High Speed Trains from Wuhan to Yichang
Railway Stations: Wuhan / Hankou / Wuchang - Yichang East
Distance: 292km (181 miles)
Duration: about 2 ~ 2.5 hours
From about 5:30 to 21:00, there are more than 70 speed trains transferring from Wuhan to Yichang. Both D-trains and G-trains are available from three train stations in Wuhan to Yichang East Railway Station, including Hankou Railway Station, Wuhan Railway Station and Wuchang Railway Station. Almost every half an hour, there is one high speed train from Yichang to Wuhan and it is very convenient to catch one high speed train. The fastest high speed train takes only 1 hour and 43 minutes and the slowest train cost no more than 2 hours and 42 minutes.
Useful Links:
Wuhan to Yichang Trains | Yichang to Wuhan Trains
Related Tours:
◆ 3 Days Best of Wuhan Tour from Yichang
Yichang Wuhan High Speed Train
● High Speed Trains from Yichang to Shanghai
Railway Stations: Yichang East - Shanghai Hongqiao / Shanghai
Distance: 292km (695 miles)
Duration: 6.5 ~ 8 hours
There are about 10 pairs of high speed trains running between Yichang East Railway Station and Shanghai Hongqiao Railway Station or Shanghai Railway Station. All of high speed trains are D-trains at present. The earliest train starts Yichang at 06:33 and the last train starts at 14:55. They usually take about 6.5-8 hours to travel between Yichang and Shanghai by high speed trains. Taking a high speed train allows you to enjoy the moving scenery out of the window as well as appreciate the comfortable environment and advanced facilities in the train. If you want a more efficient transportation means, you can take flight as well.
Useful Links:
Shanghai to Yichang Trains | Yichang to Shanghai Trains
Related Tours:
◆ 7 Days Shanghai & Yangtze Cruise Tour (Upstream)
◆ 12 Days Classic China Tour with Yangtze Cruise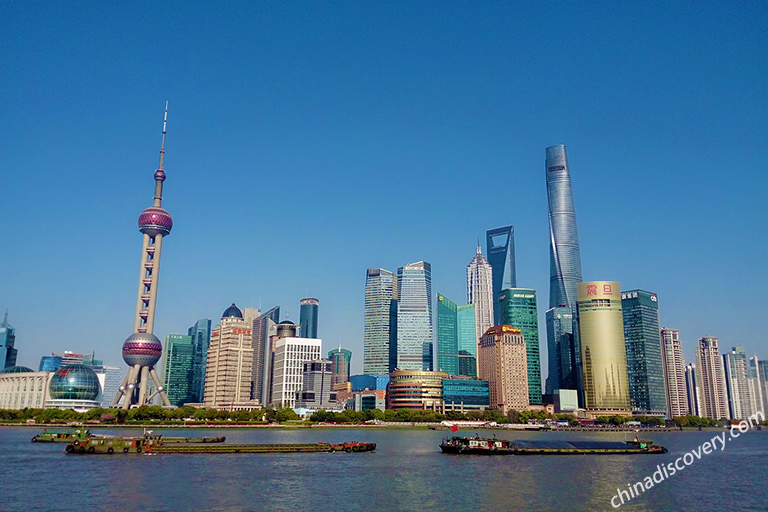 Shanghai Skyline
More High Speed Trains from Yichang
High Speed Train from Yichang East
Besides the above popular rail routes chosen by most travelers, you could also take high speed trains to Nanjing, Suzhou, Hangzhou, Beijing, Chongqing, Chengdu, Nanchang and more.
● Yichang - Beijing: It is also possible to take a high speed train to travel between Yichang and Beijing. There are 3 high speed G-trains available the they take about 7 ~ 8.5 hours.
● Yichang - Nanjing: There are about 20 high speed D-trains accessible to transfer from Yichang East Railway Station to Nanjing South Railway Station. The duration is about 4.5 ~ 6 hours.
● Yichang - Hangzhou: If you want to explore the paradise city Hangzhou after your downstream Yangtze River Cruise, there are about 5 high speed trains from Yichang East Railway Station to Hangzhou East Railway Station for your choices. The trip takes about 6.5 ~ 7.5 hours.
● Yichang - Suzhou: All of the Yichang Shanghai High Speed Trains will take a stop in Suzhou, which means that you can travel between Yichang and Suzhou by high speed trains easily. The whole train journey takes about 6 ~ 8 hours.
Most Recommended Yichang Normal Train Travels:
>> 15 Days China Best Treasure Tour with Yangtze Cruise & Zhangjiajie Landscape
>> 15 Days China Splendors Tour with Avatar Zhangjiajie
Besides, tourists can take high speed trains to Yichang from Chengdu, Chongqing, Guangzhou, Shenzhen and etc. If you are interested in a China high speed train tour package from or to Yichang, please select from our recommended High Speed Tours, or just contact our travel experts, they will help your tailor make the itinerary and arrange the train ticket and accommodation quickly and professionally.
Most Frequently-used High Speed Railway Station
Located in Chengdong Avenue, Wujiagang District, Yichang City (宜昌市伍家岗区城东大道), Yichang East Railway Station is an important stop in Shanghai-Wuhan-Chengdu High Speed Railway. It is about 60km (about 1 hour and 20 minutes' driving) to Maoping Pier and 45km (about 1 hour's driving) to Three Gorges Dam. As the main railway station in Yichang, it operates both high speed trains and normal trains. Yichang Transportation Guide >>
Want to take more Yangtze Cruise Tour from/off Yichang, please read our China Yichang Tour Packages.
Extension Readings of High Speed Train Travel in China
Practical Yichang Travel Guide