Top 10 Advantages of Travelling by High Speed Train in China
Traveling by flights is the most common way for recent travelers, especially in a broad country. However, in China, you can change to take a high speed train moving from cities. Why take a train instead of flight?
High speed trains in China have linked most big and small cities and popular tourist places together, which offer better access for you to a lot of destinations in this beautiful country. Also, at the average speed of 250 km/h for D trains, 350 km/h for G trains and 400 km/h for the new Fuxing trains, much faster than normal trains, the high speed trains sharply cut down the transferring hours between two cities. Besides, the comfortable seats, large room, better budget, nice view outside your window, advanced equipment…… are all good reasons to take the cool and super high speed train in your tour. Still hesitate? Let's see the top 10 advantages concluded by most travelers at below and understand why they highly recommend travelling by high speed train in China as a great way, instead of flights.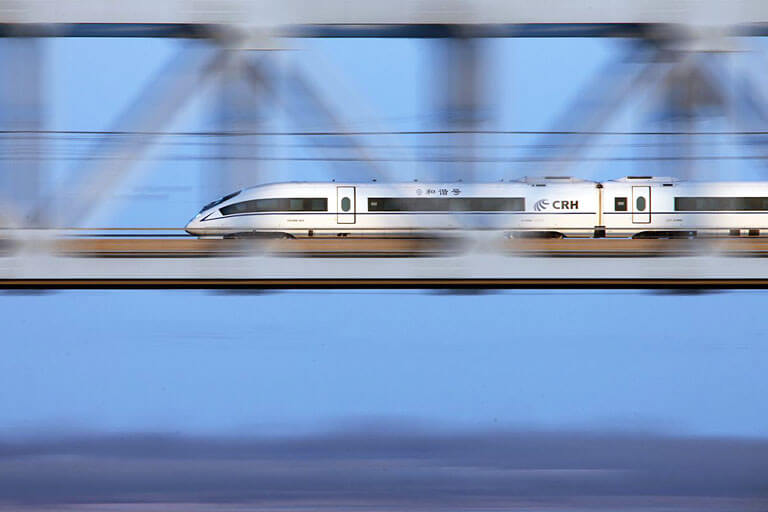 Super Fast High Speed Train
Advantage 1: Higher Speed at 250-400 km/h
You can also "fly" on land!!
The super speed of the high speed train is like that of the unbelievable development of China, so it also is regarded as the "Chinese Speed" by some foreign media. So far, all high speed trains are under good service with the high speed at about 250-350 km/h for the D trains and G trains, which has saved many hours than the normal trains that usually need over 10 hours. Furthermore, the latest generation of Chinese high speed train – Fuxing train even has drawn the attention of world people with its highest speed at 400 km/h, and that proudly is now the world's fastest high speed train. While from Beijing to Shanghai, it takes around 15 hours by normal trains (a distance over 1200 km), the high speed trains just need 5 hours. And if by the Fuxing trains, it even need only less than 4.5 hours, which has no big difference from the flight catching that need about 2.5 hours for flying and another over 2 hours for the check in, security check, luggage collection, etc. By comparing, the high speed Fuxing train is the best way to go between Beijing and Shanghai.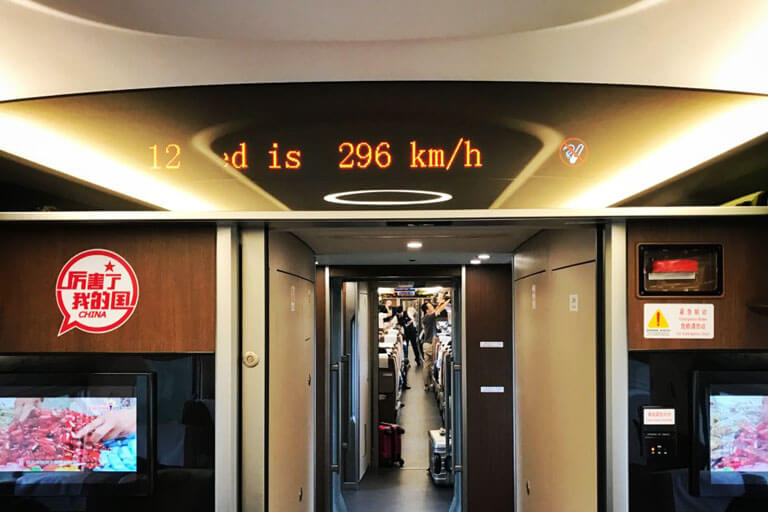 Speed Notice of Beijing Shanghai G Train
Advantage 2: More Punctual & Reliable
Don't want to be tricked??
High speed trains are on time, reviewed by most travelers. Flights could be delayed and even be canceled for bad weathers factors like thunderstorm, snowstorm, low visibility, low clouds, wind shear, etc. And driving can be easily influenced by traffic jams, bad road conditions, road control, etc. to be late. However, high speed trains are much more reliable without much less influential factors. Also, you don't' have to be tricked by those object things and wait more time in the ports or on the way reluctantly. So, choose the high speed train and keep your travel in a good pace and within your schedule.
Advantage 3: Safe & Comfortable
You may think flying in the air cannot meet your high consciousness of safety. The high speed trains will do that. Running on land and on the particular well-constructed railway, the high speed train assures a safe journey for every passenger, without any bumper like a flight meets unsteady winds. In the carriage, there is one police on duty in every carriage. Moreover, as every person need to go with the real-name policy to get onboard, you can feel relieved in such safe and peace environment.
High speed trains offer you highly smooth trips, which has been testified after one person lifted his coin on the shelf of the window and witnessed its 9 minutes' steady standing there. As every place on the train is neat and clean, like that on an airplane, you can totally leave alone your worries and use all the equipment there. Besides, all seats of all classes are elaborately designed and use good materials to meet most satisfaction of people, such as the bigger legroom, adjustable seats, etc. Furthermore, unlike on a flight, there are much fewer announcements to disturb you, thus, you will spend every minute in great comfort in reading, music, chatting, view appreciation, etc.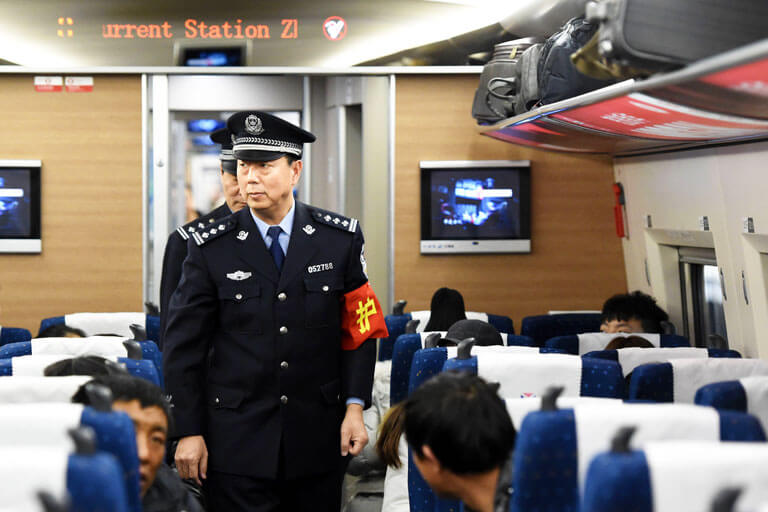 Bullet Train Police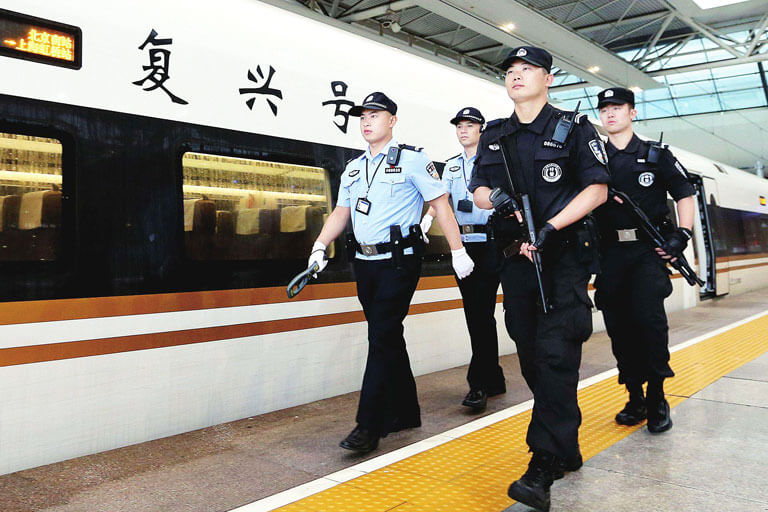 Fuxing Train Policies
Advantage 4: Kid Friendly
High speed trains are much better for travelling with kids and babies, since they who dislike to keep sitting for long time can stand up, stretch out and walk around from one carriage to another to relax their exciting minds and bodies. However, on a flight, your children have to sit there on still with the seat belt fastened to ensure safety. Moreover, service staff would recommend various snacks and beverages about every half an hour, so your kids could move their attentions and enjoyment onto the food during the hard hours.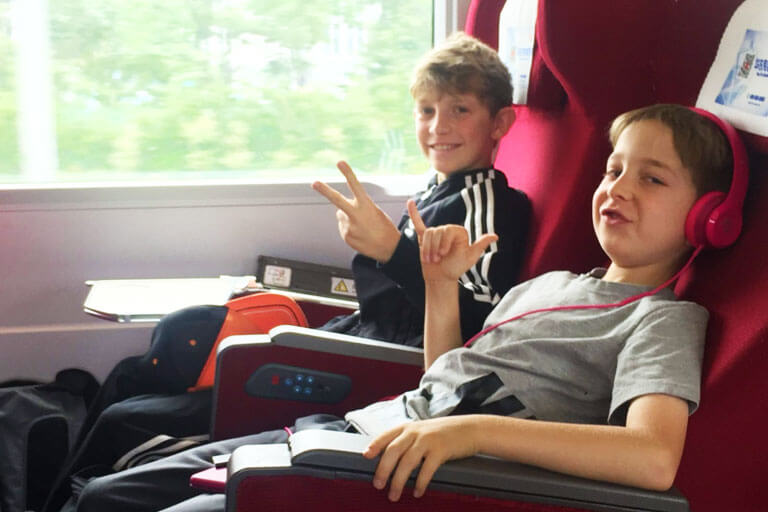 Kids on Beijing Tianjin G Train
Advantage 5: Cheaper
High speeds do not mean high prices!
Though the fast high speed trains are like flying, it is actually cheaper than taking flights most of the time. Usually, the flight ticket of an economy seat is over 1000 RMB for a person, and some even need up to 1500 RMB or 1800 RMB. Although, yes, you may get some discounts by booking in advance for many days or several months, there still are not too many expenses going back into your wallet. However, the high speed trains charge only no more than 800 RMB of a second class seat mostly for long distance ridings, and usually only about 200-600 RMB for most common railway routes between cities. Furthermore, it is necessary to say that it is much worthy traveling by high speed trains since you can get the awesome natural view outside the window. However, on an airplane, you also have paid, there is nothing but only the clouds out there.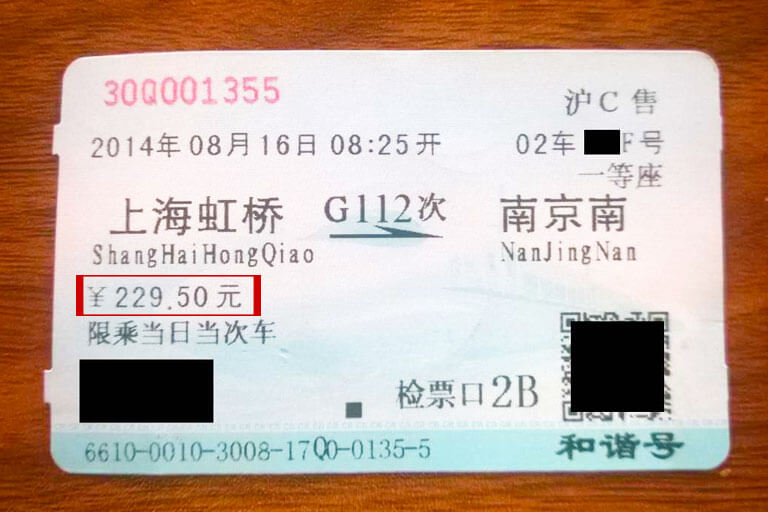 Cheap High Speed Train Ticket
Also, by comparing with driving, high speed trains still win in most cases, due to the sorts of high fees of gas, tolls, food, etc. along the way. Honestly, with the large amount of money saved, you will get more opportunities to more highlights and those activities you want to experience without much hesitation.
Advantage 6: Unique Experience with Landscape Outside
Beauty is just outside your train window!
There would be no minutes boring like when sitting in the air, you have to keep 1.5 and more hours watching the monotonous clouds or browsing the not much interesting magazine in the bag on the 30,000 feet high place. Down on the land by high speed train, you will see the real China IN STYLE, up close and personal from the super large train windows. Just let it take you to see the real countryside and super natural scenery as it departs from the railway station in the city. In the several hours or dozens of minutes, you can totally feel ease to know what there are between the two cities, and during different seasons, you may meet the exact time to appreciate the seasonal blossoms and other exciting scenes in good mood. However, if you go by driving, you need to pay high attention on the road and cars, so you also would miss the highlights on the way.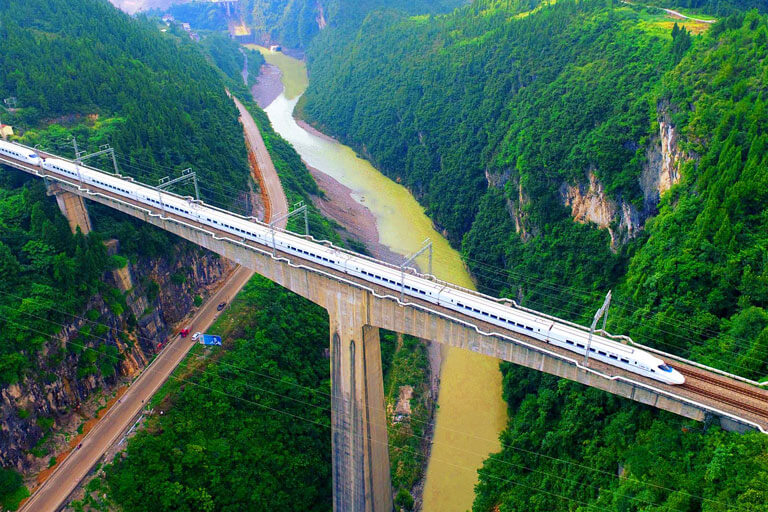 Appreciate Sceneries outside High Speed Train
Advantage 7: Handy Facilities & Functions
Much more convenient than you think!
You will feel it more convenient on a high speed train than on a plane since almost daily used equipment, facilities and items are provided at conspicuous areas on the train. As every seat has big enough table board like that on a flight, you can feel it good reading, keeping going your travel diary, and doing some other stuffs. Also, under nearly every seat, there are power supplies of 2-3 kinds of interfaces, so passengers can recharge their devices during the train journey. You can also keep connecting with the Internet on the train, which is not available when you are on the plane. At present, most high speed trains offer good signals for 4G, and on the Fuxing trains, passengers can even enjoy the well Wi-Fi for the freedom time of entertainment and chatting online. Furthermore, Chinese and English broadcasting, central air conditioner system, clean toilets, luggage racks, water dispenser, dining car, sick bags, etc. on there would meet your needs during the smooth trip.
Advantage 8: Easy Access to the City
As most airports are located at the outskirts, very far away from the city center, people usually spend long time on the way between the airport terminal and the accommodation in the downtown. However, railway stations are usually built much closer to the city with some even within the central area like Hongqiao Railway Station in Shanghai. Also, most of them have good and nice transportation to the city center. So it lets you have a big time saving on the way and avoid the exhausting experience of too many transfers on different public vehicle.
Advantage 9: Much Time Saving from Hassel Checks
Taking a high speed train can avoid too many procedures and steps. The line moves very quick as the ticket checking is very simple but still serious. You do not have to take off your coat and shoes for the security check, or spend more time showing your digital devices to the staff. The Automatic Ticket Checkers cut much more time to make people can go through that step within 5-15 minutes. After that, you can directly get to the platform and easily find your right carriage usually for about 1-5 minutes. However, by taking a flight, you have to wait in a queue for at least half an hour to check your boarding pass and get the security check, what's more, you have to walk another long way to reach your boarding gate, which often costs 10-20 minutes.
That's not over. Besides the about 1-2 hours spent before it taking off, you still need more time to pick up your luggage, find the right gate out and decide the transportation to the downtown after landing in your destination.
By such comparison, it shows again that traveling by high speed trains saves you a lot of time than by flight. Especially for a journey within 5 hours, the long procedure for taking a flight would make such way cost exceeded hours.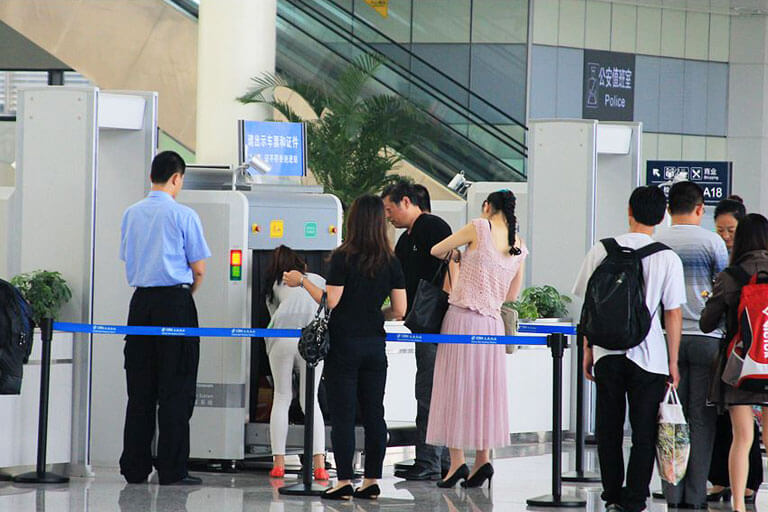 Security Check Procedure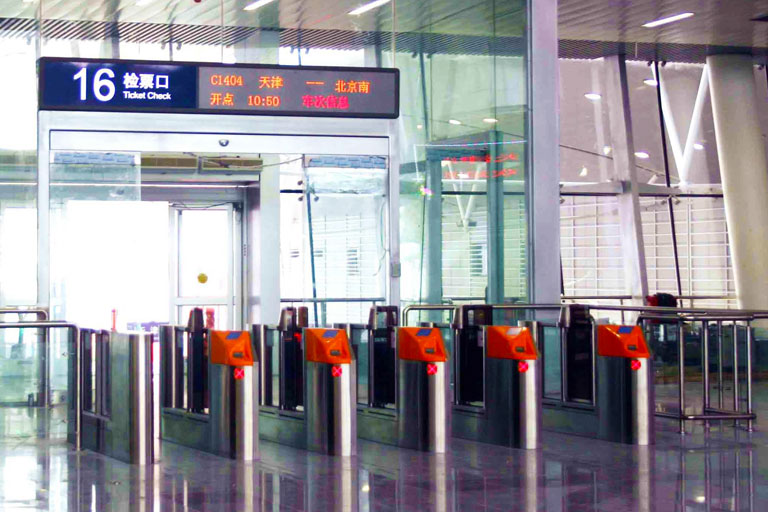 Convenient Automatic Ticket Checker
Advantage 10: Environment Friendly
Recent years, environment protection is among the top key missions of global citizens, and you must want to make a contribution. So taking a high speed train is better option among other transportation ways for a person concerning about ecological protection. According to many researches by scientists in some high speed train counties, by riding the same long distance, carbon emission from the high speed train is only 15-25% of that from the car and plane. Besides, if you give up traveling by car, it also would relieve the traffic pressure and also reduce the exhaust emission during the traffic jam situations. Therefore, to support the sustainable development of our earth, traveling by high speed train is much better and beneficial to the environment we are living in.
Besides the above major advantages, taking high speed trains also have some other advantages for your travel. For example, high speed trains have covered many small cities that has no airports, thus, you don't have to transfer many times by flight, trains, and buses to that small places with must-see highlights. Also, taking a high speed train is much flexible. As you don't have to make a reservation in advance as taking a flight, you can decide your travel and buy the ticket both on line and in site any time 30 minutes before the train departs.
Recommended Popular High Speed Train Routes
As high speed train travel are becoming much popular and recommended by large portion of visitors in China, here we also list some top high speed train routes chosen by most people during their China tour. See the routes at below and pick one to experience the great advantages of travelling by high speed train. Also, you could check all high speed train routes to select which section to experience.