Shanghai Wutaishan Flights - Schedules, Airports, Tickets...
Shanghai is the most popular gateway to fly to Wutaishan (Mount Wutai). Check up-to-date flights schedules, departing and arriving airports, duration and lowest prices below:
How to Plan Your Mount Wutai Tour
How to Get to Mount Wutai: You can get there by flights from Shanghai (2.5hrs), Chengdu (2.5hrs), Hangzhou (2hrs), etc. or travel to Mount Wutai from Datong, Pingyao, and Taiyuan by driving.
Best Time to Visit Mount Wutai - May to September: Bring your extra layers and umbrella/raincoat always.
Where to Stay During Your Tour: You can accommodate in Taihuai Town which provides flexible choices of hotels from guest house to luxury 5 stars. If you want to hike the Da Chaotai (Big Kora), you have to stay a night in a temple or local guest house.
A classic Mount Wutai tour usually starts from Taihuai Town, the tourist center of the entire scenic area, then takes a day to visit the most important temples of Mount Wutai, such as Xiantong Temple, Pusa Ding Temple, Tayuan Temple, etc. which are conveniently located around Taihuai Town. If you are Buddhists, you can take the Xiao Chaotai (Small Kora) to Dailuo Ding Temple if you are short on time, or go to the high-altitude Five Terraces to worship Manjusri Bodhisattvas on the five peaks of Mount Wutai – East Terrace, North Terrace, Central Terrace, West Terrace and South Terrace, which usually costs two full days. If you prefer a hiking tour, you can find some amazing high plateau hiking trails among the Five Terraces. Below are most recommended Mount Wutai tours:
☛ 3 Days Mount Wutai Trekking Tour
☛ 3 Days Mount Wutai Buddhism Tour from Taiyuan
Mount Wutai is usually visited with other famous destinations in Shanxi Province, such as Pingyao Ancient City and Wang's Family Compound in Pingyao, Yungang Grottoes and Hanging Temple in Datong, Jinci Temple in Taiyuan and Hukou Waterfall in southern Shanxi. Below are the most recommended Shanxi tours:
☛ 5 Days Datong & Wutaishan Discovery Tour
☛ 6 Days Essence of Shanxi Tour
If your time allows, it's strongly recommended to visit Mount Wutai with other sacred Buddhist sites in China, such as Mount Emei, Mount Putuo, Shaolin Temple, etc. If you want to explore more Chinese culture, you can also extend your tour to Xian, Beijing, Luoyang, Chengdu, etc. Below are some recommended China tours for you: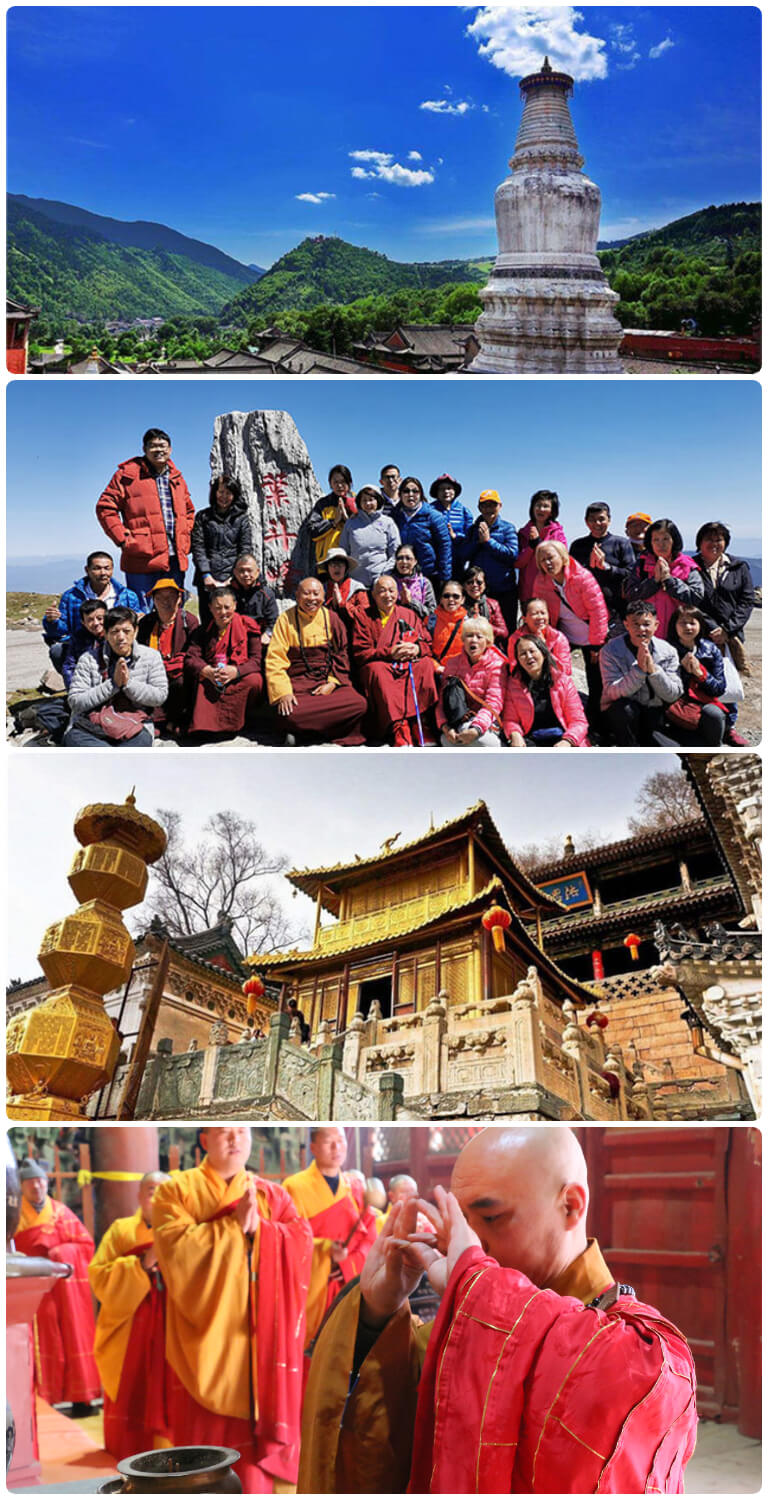 Mount Wutai, Nourished by Profound Buddhist Culture
Top Mount Wutai (Wutaishan) Tours
Helpful Mount Wutai Travel Guide
Recommended Shanghai Wutaishan Tours
Top 3 Shanghai Wutaishan tours chosen by most customers to explore Shanghai Wutaishan in the best way. Check the detailed itinerary, or tailor your own trip now with us.
6 Day Datong Pingyao Tour Plus Wutaishan Visit

Datong / Wutaishan / Taiyuan / Pingyao
4 Days Datong Wutaishan Discovery Tour

Datong / Wutaishan
Start planning your tailor-made holiday to China by contacting one of our specialists. Once inquired, you'll get a response within 0.5~23.5 hours.
Customize a Trip
Have a question? Get answers from our travel experts or guests
Your Question:

Your Name:

Your Email: