Bayannur Zhengzhou Flights - Schedules, Airports, Tickets...
There are several flights departing from Bayannur to Zhengzhou. Check up-to-date flights schedules, departing and arriving airports, duration and lowest prices below:
How to Plan Your Zhengzhou Tour
How to Get to Zhengzhou: You can take direct both domestic and international flight to Zhengzhou and take high speed train from Luoyang, Beijing, Shanghai, Xian, etc.
Best Time to Visit Zhengzhou: April to May and September to November are best time when temperature is moderate, weather is good with beautiful nature scenery.
Top Attractions to Visit in Zhengzhou: Shaolin Temple, Mount Song, Henan Museum, Henan Geological Museum and Yellow River Scenic Area …
With convenient flight and train network, Zhengzhou is more used as a transport hub in Henan. Usually, tourists make a Shaolin Temple day tour via Zhengzhou, visit the Pagoda Forest and main temple architectures and closely watch a wonderful Shaolin Kung Fu show in a leisured pace or leave half day for a Mount Song hiking trip. (If you and your kids are interested in long-term Chinese Kung Fu training class near Shaolin Temple, you can contact us to get the best recommendations.) Luoyang is another hotspot on a Henan tour bucket list. One day is suitable for visiting the top two sites, the Longmen Grottoes - a UNESCO World Cultural Heritage and the World's biggest Buddhist cave treasury with thousands of stone carvings, and China's first Buddhist temple - White Horse Temple. In early days of April and early May, tourists have chance to enjoy an eye-pleasing blossom of Peony Festival in Luoyang.
✔ 2 Days Shaolin Temple Tour from Zhengzhou
✔ 3 Days Shaolin Temple Longmen Grottoes Tour from Zhengzhou
✔ 3 Days Shaolin Temple Mount Song Hiking Tour with Luoyang Highlights
As one of the cradles of Chinese Civilization, Henan retains many profound cultural heritages and natural spectacles. If time and personal interests allow, you may visit more wonderful places, such as Yuntai Mountain with stunning canyon landscape of Taihang Mountain, ancient capital of Kaifeng, miraculous Guoliang Village on the sheer cliff, Yin Dynasty Ruins with interesting Oracle Bone Inscriptions, etc. Beyond Henan, China presents its diverse culture, history and city charm in different regions, and Beijing, Xian, Shanghai, Chengdu are top destinations to travel with Henan.
✔ 5 Days Henan Culture Tour from Zhengzhou to Luoyang & Kaifeng
✔ 6 Days Henan Highlights Tour (Zhengzhou/Anyang/Kaifeng/Dengfeng/Luoyang)
✔ 8 Days China Ancient Capitals Tour with Shaolin Temple (Beijing/Luoyang/Xian)
✔ 15 Days China Kung Fu Panda Family Tour
Travel with China Discovery
China Discovery is an experienced, professional and reliable travel companion devoted to offering high-quality and the best tour services for all travelers to China. In order to have a hassle-free travel and focus on the trip itself, it's highly recommended travelling with China Discovery. So, you can enjoy convenient airport pick-up and drop-off service and transportation to all scenic spots in a safe, clean, comfortable, air-conditioned and non-smoking vehicle. Also, we will arrange knowledgeable local tour guide, excellent accommodation and dining arrangements to ensure you rest well and get better understanding of Buddhism, Shaolin Zen and Kung Fu culture of Henan. You may select a favorite from our most popular Zhengzhou tours or contact us to design a unique itinerary according to your personal time and preference.
Our Customers visited Pagoda Forest of Shaolin Temple
China Discovery Customized Luoyang Longmen Grottoes Tour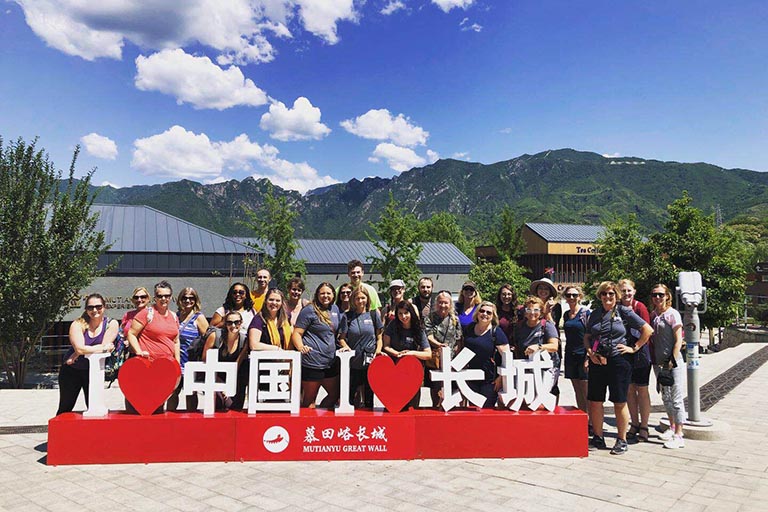 Our American Tour Group Enjoyed Mutianyu Great Wall Tour in Beijing
Recommended Bayannur Zhengzhou Tours
Top 3 Bayannur Zhengzhou tours chosen by most customers to explore Bayannur Zhengzhou in the best way. Check the detailed itinerary, or tailor your own trip now with us.
2 Days Shaolin Temple Tour from Zhengzhou

Zhengzhou / Dengfeng / Shaolin Temple / Zhengzhou
3 Days Shaolin Temple Longmen Grottoes Tour from Zhengzhou

Zhengzhou / Shaolin Temple / Luoyang
5 Days Henan Cultural Tour to Luoyang and Kaifeng

Zhengzhou / Kaifeng / Dengfeng / Luoyang
Start planning your tailor-made holiday to China by contacting one of our specialists. Once inquired, you'll get a response within 0.5~23.5 hours.
Customize a Trip
Have a question? Get answers from our travel experts or guests
Your Question:

Your Name:

Your Email: