China Desert Travel Tips & Packing List 2023
The earliest understanding of desert in ancient China was from ancient poetry of the famous poet Wang Wei, which was described as the picturesque scene, "From wastes of sand one smoke plume rises sheer. Past the long river, the round sun sinks low." The impression of the desert is the ruggedness and desolation of it for most people. The mysterious and unique desert also attracts many people to capture its splendor. Besides the magnificent scenery, the desert environment is very harsh and cruel, so getting prepared well in advance and having a professional guide with you are necessary for most visitors.
Dangerous Situations in the Desert
Getting Lost
If you are in a tour group, the guide will lead the way ahead, and there is no need to consider the routing problem, and you should stay in a group. It is very dangerous to leave the team without telling others when traveling in the desert.
It's very risky to travel alone in the desert. If you travel by yourself and your navigation equipment does not work, you may get lost, which is very dangerous. The navigation device can be GPS, map, compass, or even the track map downloaded by mobile phone, but only if you can use it. However, even for the professional, it's very challenging to cross the desert.
If you already get lost, you should calm down and stop to assess the current situation. Never sit or lie on the ground, because the sand temperature will be very high without any shade. Try to remember your last accurate location. Before deciding the next action, you'd better wait for rescue and set up a distress signal: you can take off your brightest clothes and put them high or use smoke in the daytime and a flashlight at night.
Lack of Water
Lack of water is a serious taboo in the desert, which is easy to cause dehydration under high temperatures. To reduce perspiration, wearing proper clothes for the desert, which will help slow down sweat evaporation and keep your pace. Just don't guzzle it all at the first sign of thirst. A better tactic is to ration it for yourself, taking smaller sips throughout the day.
Heat Stroke and Hypothermia
Walking at a high temperature for a long time can easily lead to sunburn and even heatstroke. Generally, the main symptoms of sunburn are skin redness and pain. In severe cases, swelling, blistering, and even fever and headache may occur. The temperature of the day and night in the desert varies a lot, especially in winter. Before departure, you shall check the temperature and make sufficient preparations and bring extra layers and blankets.
Sandstorm
The probability of a sandstorm is very low, and it is mainly dust, which basically will not affect normal walking. What we need to do is to wear windproof glasses, masks, headscarves, and other sand prevention measures. Never go to the leeward slope of the sand dune to avoid it and the leeward of the dune is very dangerous during the sandstorm. If you are in the desert with a camel, the right way is to lead your camel to the windward slope, and then hide behind the camel. If you are around the camp, you need to reinforce the tent and put all personal materials in the tent or inside the vehicle and wait for the sandstorm to subside. 
Suggestion on Safety - Travel with Professional Desert Tour Agency
Once these dangerous situations happen in the desert, it is very hard for travelers to deal on their own. Nowadays, there are many travel agency operating groups in the desert, with rich touring experience, you can just focus on sightseeing and enjoy a guaranteed high-quality safe trip, but the most important thing is to choose a professional one like us, China Discovery. If you are interested in our desert tours, please do not hesitate to contact us!
♦ Top Recommended Desert Tours
☛ 7 Days Qinghai Lake Zhangye Danxia Badain Jaran Desert Wonders Tour
☛ 3 Days Dunhuang HighlightsTour with Desert Camping Experience
What to Pack in the Desert
Clothing: Bring outdoor windproof, sandproof, and quick-drying clothes; bring sunblock items like sunglasses (goggles), sunhat, sunscreen, headscarves, masks, to reduce skin exposure, and remember to cover your neck. In the morning and evening, wear a light warm coat, or down jacket and take off at noon.
Shoes: Wear high-top climbing shoes or desert boots when crossing the desert on foot and bring a sandproof shoe cover.
Water: You can carry as much water as you can, and you can take two water bottles to fill them with water.
Supplement: Electrolyte tablets, energy drinks, energy bars, raisins, snacks.
Other Items: Walking stick, sleeping bags; medicine, toiletries, mosquito repellents, mobile power, camera, and sandproof covers, etc .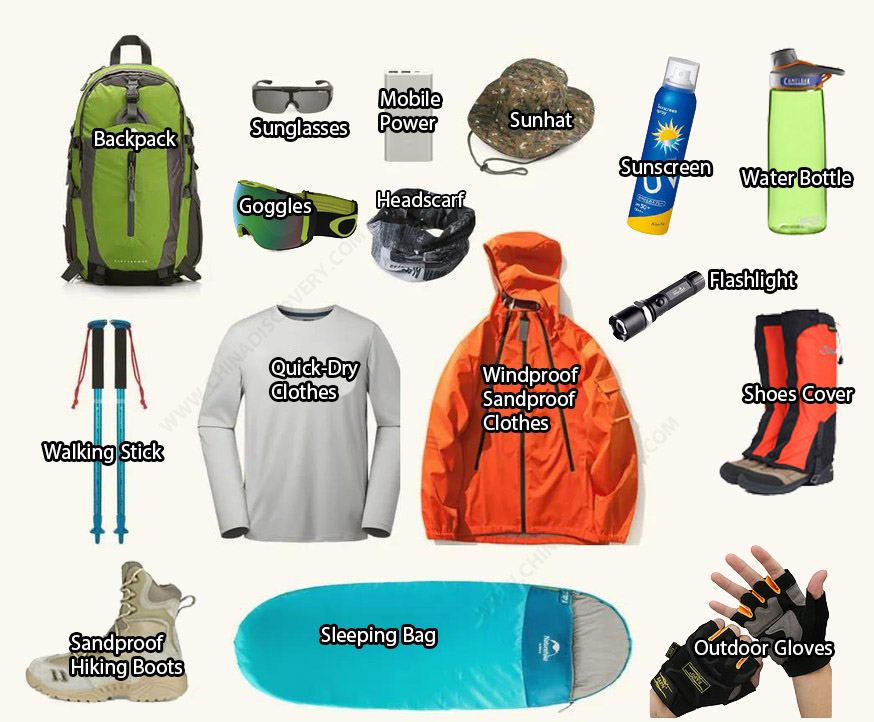 What to Pack in the Desert
Other Desert Travel Tips
Hiking: choose the windward side to walk near the upper part of the sand dune. Carry a walking stick, which can reduce the burden on the knee, and improve the efficiency of the road. Avoid activities during the hottest period of the day (10 am to 4 pm).
Walking stick: when using the strap on the hand, your wrist will be held on the strap and pull it backward as you walk. This walking stick can save a lot of strength when used well, and the walking speed will be improved greatly.
Best Time to Visit: The best season to visit the Badain Jaran desert is from mid-April to late October, and the best season for desert hiking is from September to October.
UV: Badain Jaran Desert is generally between 1200 and 1500 meters above sea level. The sunlight and the ultraviolet rays are strong. Please wear sunscreen, sunglasses, a sunshade hat, and other sunblock items..
Temperature: The temperature varies a lot between day and night in the desert and the weather is changeable. Please bring extra layers (to keep warm, windproof, sandproof).
Moisture: The climate in the desert area is dry. Please drink more water and bring a lip balm and skin moisturizer.
Drugs: Please bring your own necessary medicine to prevent fever, diarrhea, carsickness, and skin allergy for emergency use.
Photography: The sunrise and sunset in the desert are very beautiful. Tourists with photography equipment should pay attention to protect cameras, lenses, and other items to prevent sand from damaging the equipment.
Bugs: To prevent mosquitoes, bring some mosquito repellents.
Tradition: In the ethnic minority areas, beef and mutton are the main food. Tourist should respect their tradition and local customs and avoid talking about sensitive topics.
Camping: When camping in the desert, it's better to have professionals help you build tents and ask for their suggestions in advance. Please prepare sufficient drinking water, food, medicine, tents, and communication equipment.
Camels: Although the camel looks cute, don't get too close to the camel's hind feet and head, in case it kicks people. Although the camel is docile, it is very dangerous after being frightened. When riding a camel, it is necessary to have its owner around. 
Ecosystem: Tourists should take the garbage out of the desert. Please do not damage all kinds of plants in the desert and save water and protect the environment of the scenic spot, especially the water area.
Keep Reading
Recommended China Desert Tours
Top 3 China Desert tours chosen by most customers to explore China Desert in the best way. Check the detailed itinerary, or tailor your own trip now with us.
6 Days Hexi Corridor Discovery Tour(Zhangye/Jiayuguan/Dunhuang)

Lanzhou - Zhangye - Jiayuguan - Dunhuang
5 Days Zhangye Danxia Badain Jaran Desert Geography Miracle Tour

Zhangye - Badain Jaran Town - Badain Jaran Desert
8 Days Qinghai Lake Zhangye Danxia Badain Jaran Desert Wonders Tour

Xining - Zhangye - Badain Jaran Desert
Start planning your tailor-made holiday to China by contacting one of our specialists. Once inquired, you'll get a response within 0.5~23.5 hours.
Customize a Trip
Have a question? Get answers from our travel experts or guests
Your Question:

Your Name:

Your Email: