What to do in Chengdu & Jiuzhaigou
To plan a Chengdu Jiuzhaigou tour, the top priority is finding the top attractions in Chengdu and Jiuzhaigou. Varying in different features, Chengdu as the home of pandas takes you to the leisure and carefree life style; while in Jiuzhaigou, you will immerse into the fairy water land of authentic nature.
What to Do & Experience in Chengdu
Chengdu, known as the land of abundance will never let you down whenever you take a Chengdu tour. The Chengdu Panda Base as the first must-see in Chengdu will give you a unique experience to have a close look at these adorable creatures. Back to downtown, you can visit Wuhou Memorial Temple, a typical museum built in commemoration of Zhuge Liang and to appreciate the sincere relationship between emperor and minister in Shu State during the Three Kingdoms (A.D. 220-280) and numerous historical relics. Adjacent to Wuhou Temple, you can walk to Jinli Old Street, the flourishing commercial streets with local snacks, handicrafts, and traditional tea houses. Following the late Qing Dynasty style, all structures in this street will give you a feeling of going back to the ancient China. You can have a good taste of local food and traditional culture here. Go to Jinsha Relics Museum, where a large number of ivory, gold and jade pieces are displayed and you can find that Chengdu has much history to talk about.
What's more, there are other scenic spots related to Chinese ancient literature in Chengdu, Du Fu Thatched Cottage for instance. Here you can know many poems written by the poet Du Fu (A.D. 712-770) and his life, good for family visit and tourists who are interested in the literature of Tang Dynasty (A.D. 618-907). After learning so much about the ancient, the Renmin Park can take you to Chengdu today and explore the daily life of the locals. Renmin Park means people's park. It is a great place for local residents to linger all day to chat, dance, drink tea, play cards and chess, do tai chi and more activities. On the outskirts of Chengdu, you can go to Dujiangyan to view the heritage sites of Dujiangyan Irrigation System and the Mount Qingcheng to learn Taoism. The Luodai Ancient Town in eastern suburb gathering Hakka people is another site to view the well-preserved Ming and Qing styled buildings.
★Recommended Chengdu Tours:
√ 1 Day Chengdu Panda Tour | 2 Days Chengdu City Break | 3 Days Chengdu Highlights Tour
Chengdu Giant Panda
Renmin Park
What to Do & Experience in Jiuzhaigou
With kinds of scenic sights of colorful forests, emerald lakes, layered waterfalls, setting against the backdrop of snow-clad peaks, Jiuzhaigou forms a unique natural landscape of high mountains and deep gullies. Together with the Tibetan villages, Jiuzhaigou Valley creates the primitive, natural and idyllic beauty of its landscape harmoniously with local customs.
Following the way to explore the "Y" shaped Jiuzhaigou, you will be amazed about the different forests along with stunning waterfalls and colorful lakes. Just as the saying goes "Those who travel back from Jiuzhaigou may no longer want to see any other waterscapes". In different seasons, tourists can view the nature land of diverse tints by taking the scenic spot bus or walking along the pathways.
Nuorilang Waterfall as the landmark of Jiuzhaigou, is the must-see in Jiuzhaigou Valley. In Summer, the galloping currents rushing over the cliff overgrown with willows to form a chain of spectacular waterfalls of diverse shapes and sizes in a stair-like pattern; while in winter, it becomes a dazzling glacial cascade hanging over the steep cliff with different lengths of bunches of icicles, looking like swords and spears.
Five-Color Pond (Wucai Chi) and Five-Color Lake (Wuhua Hai) are the representatives to display the crystal water land of Jiuzhaigou Valley. With the changes of illumination, the reflections of side plants, and different viewing angles, the water shows in five colors and this spectacle can be seen all year round, even in winter as the water is never frozen here. Containing plenty of lakes and waterfalls, Jiuzhaigou Valley has more spots to show you, such as the Panda Lake, Spark Lake, Tiger Lake, Pearl Beach Waterfall, Jian zhuhai waterfall. Besides, take a side trip to Huanglong Scenic Area to enjoy the terraced calcified pond will delight you more.
★Recommended Jiuzhaigou Tours:
√ 3 Days Classic Jiuzhaigou Tour by Flight | 4 Days Enjoyable Jiuzhaigou Walking Tour | 4 Days Jiuzhaigou In-depth Photography Tour
Nuorilang Waterfall
Jiuzhaigou Waterscape
How to Plan a Chengdu & Jiuzhaigou Tour
Chengdu and Jiuzhaigou are about 530km away, 8-10 hours by car or 40min by flight. Generally speaking, people will spend 4-5 days exploring these 2 charming places. On the way, you can expand your trip to Huanglong National Park, which is about 150km from Jiuzhaigou and famous for its incredible calcified scenery.
If you have more days, other cities in Sichuan Province such as Leshan, Emeishan, Dujiangyan are also worth a visit, or you can travel beyond the province to Beijing, Xian, Chongqing...
If you have more questions about a Chengdu Jiuzhaigou trip, please feel free to contact us. We are specialized in customized tours according to your interests, budget, traveling time, etc. Just tell us your needs, and we will provided you with a satisfactory tour.
Recommended Chengdu Jiuzhaigou Tours:
√ 4 Days Classic Jiuzhaigou Tour from Chengdu | 5 Days Classic Chengdu & Jiuzhaigou Tour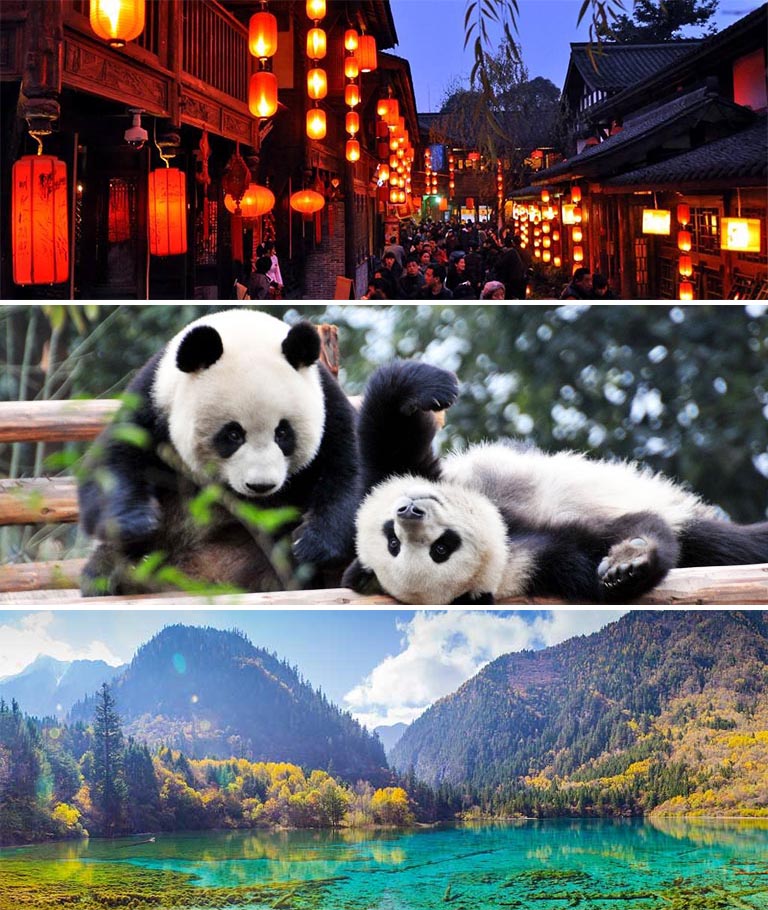 Chengdu & Jiuzhaigou
Recommended Chengdu Jiuzhaigou Tours
Top 3 Chengdu Jiuzhaigou tours chosen by most customers to explore Chengdu Jiuzhaigou in the best way. Check the detailed itinerary, or tailor your own trip now with us.
4 Days Jiuzhaigou Huanglong Highlights Tour from Chengdu by Private Car

Chengdu / Huanglong / Jiuzhaigou / Chengdu
5 Days Chengdu Jiuzhaigou Comfortable Tour

Chengdu / Huanglong / Jiuzhaigou
6 Days Chengdu & Jiuzhaigou In-depth Tour (Round Trip Flights)

Chengdu / Huanglong / Jiuzhaigou / Chengdu
Start planning your tailor-made holiday to China by contacting one of our specialists. Once inquired, you'll get a response within 0.5~23.5 hours.
Customize a Trip
Have a question? Get answers from our travel experts or guests
Your Question:

Your Name:

Your Email: